These Air Fryer Salmon Bites are dangerously addictive! Perfectly tender salmon bites tossed in a spicy honey mustard sauce, they're delicious as an appetizer or main dish and are insanely easy to make!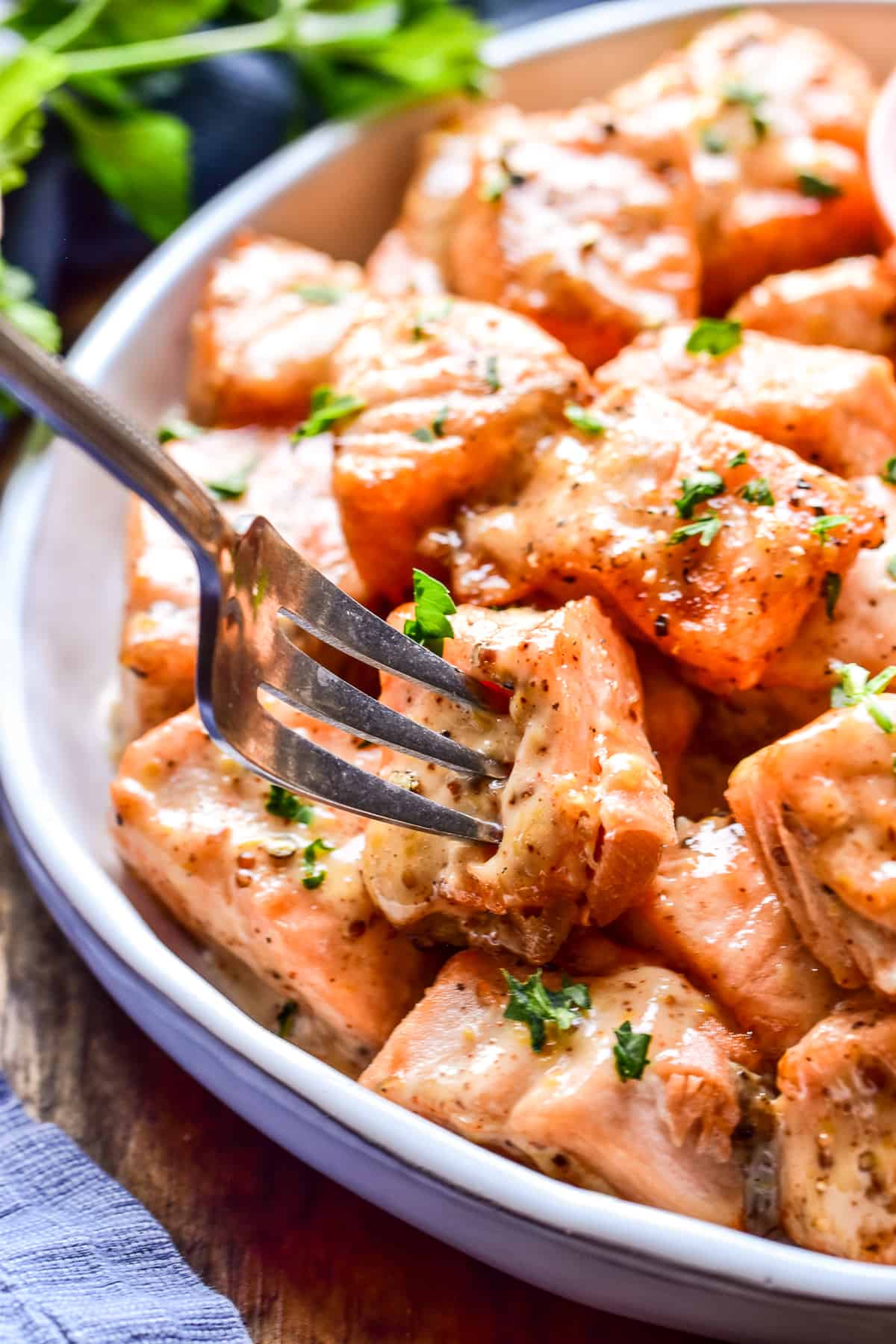 Let's talk salmon! It's one of my personal favorites, and one of those things I ALWAYS order when it's on the menu. I love the flavor, I love the texture, and I absolutely love how much you can do with it. From Salmon Tacos to Salmon Patties to Salmon Dip… the possibilities are endless… and always delicious!
I've recently been experimenting with different ways to make it, and these Air Fryer Salmon Bites are one of my newest favorites. They're insanely easy to make, they have the best spicy honey mustard flavor, and they come out perfect every single time.
These salmon bites make a delicious appetizer, served with toothpicks for dipping, and they're equally delicious as part of a main dish. Not a fan of honey mustard? Feel free to use another sauce or offer a variety of sauces to your guests. See my favorite sauce recipes at the end of this post!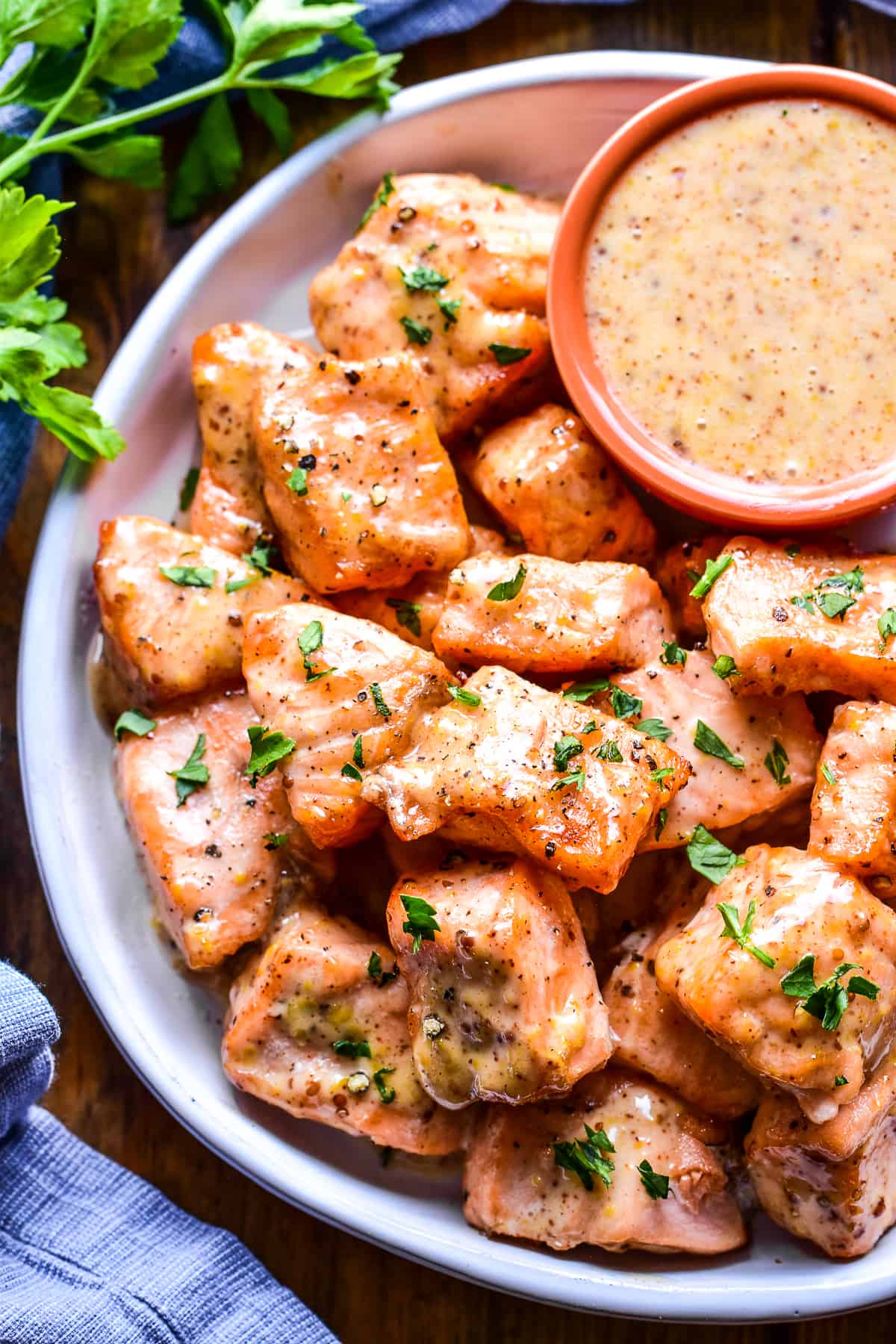 what you'll need for this recipe
Salmon – This recipe calls for one pound of fresh salmon. I used organic farm raised salmon, but you have a few different options based on where and how the fish were raised and caught. See the section below for more information.
Olive oil, salt & pepper – A simple coating of olive oil, salt and pepper is all this salmon needs for the perfect air fry! I used 1 Tablespoon of olive oil and 1/4 teaspoon of salt and pepper.
Spicy Honey Mustard – Spicy Honey Mustard is the perfect pairing for these salmon bites. Be sure to check out some of the other variations, too!
Parsley – I used fresh Italian parsley as a garnish. You can feel free to use another garnish or omit it altogether.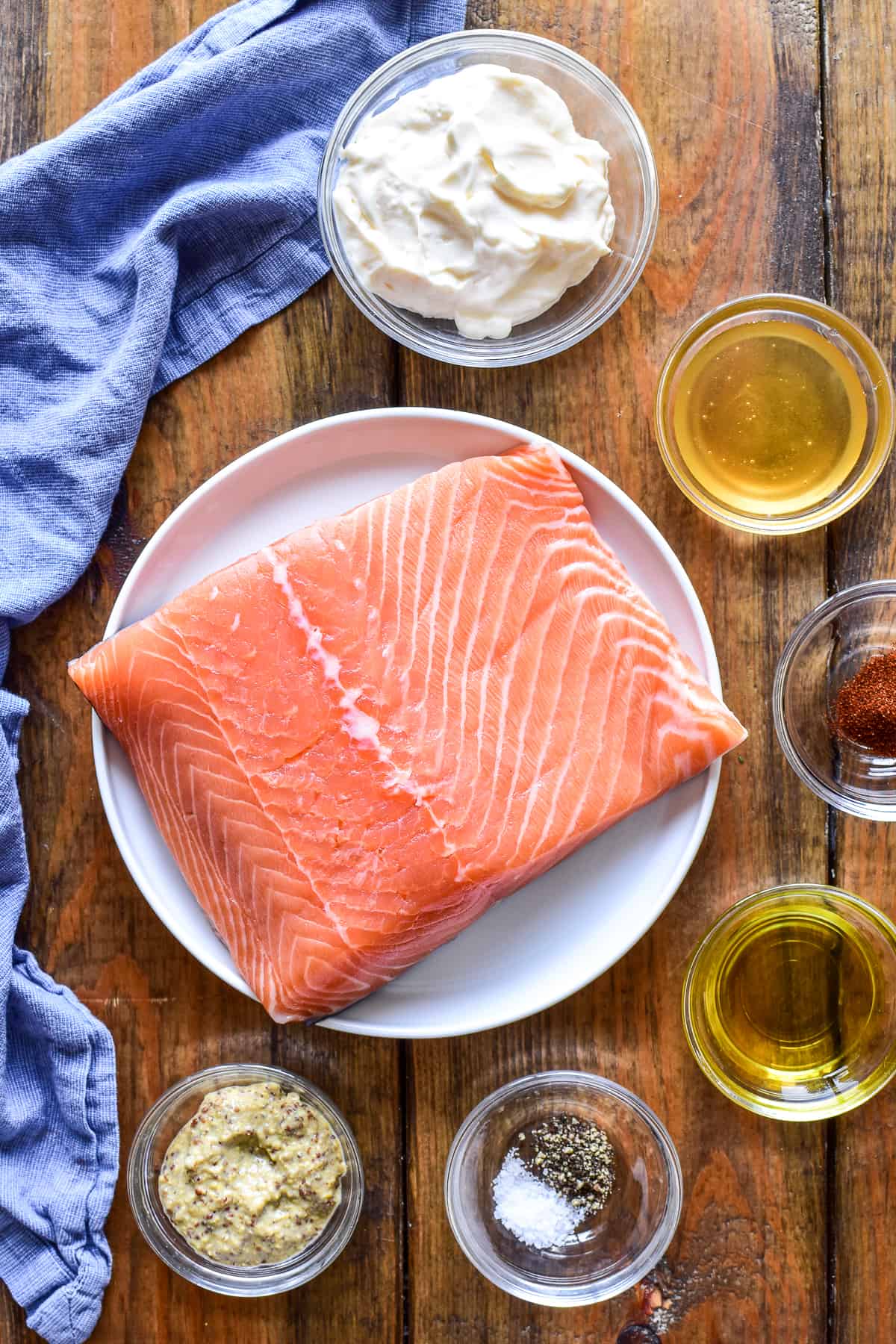 how to make air fryer salmon bites
Cut the salmon into pieces. Place the salmon skin side down on a cutting board. Using a sharp knife, cut it into 1 1/2 inch pieces. Carefully remove the skin from each piece.
Toss with olive oil, salt & pepper. In a medium bowl, toss the salmon pieces with olive oil, salt and pepper to coat.
Air fry. Working in batches, add the salmon in a single layer to the air fryer basket. Depending on the size of your air fryer, you will probably need to do 2-3 batches. Air fry at 400° for 5-7 minutes per batch, watching closely to prevent over-cooking.
Prepare the sauce. While the salmon is air frying, prepare the spicy honey mustard by combining the mayo, mustard, honey, and chipotle chili pepper in a small bowl. Mix well.
Toss in honey mustard. Remove the salmon from the air fryer basket and gently toss it in honey mustard sauce, reserving some sauce for dipping.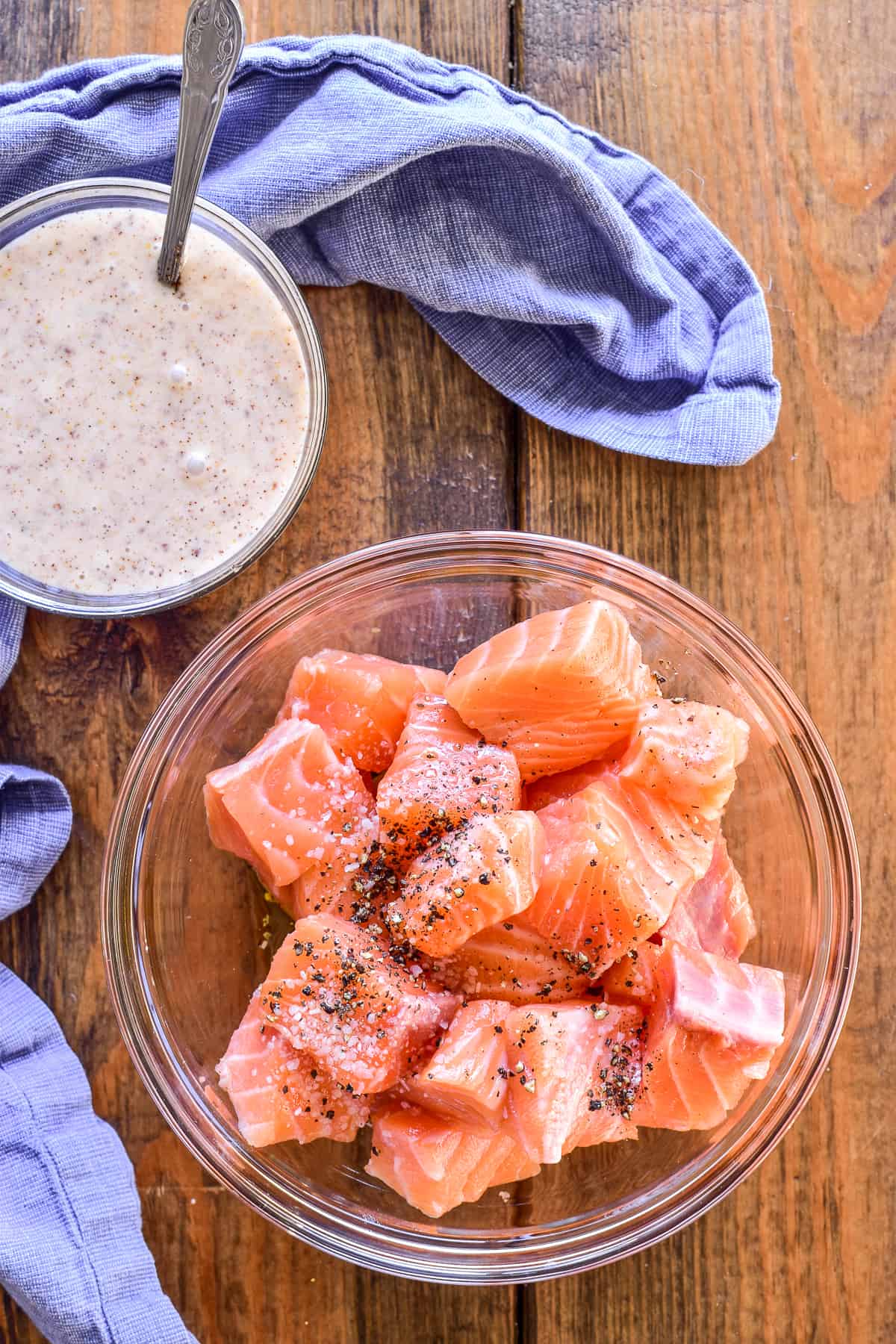 which type of salmon to use?
When it comes to salmon, you'll likely have a few different options at the grocery store. You may see Alaskan, Atlantic, or Pacific salmon, which tells you the location the fish was caught. You may also have the option of wild salmon or farm raised salmon. Wild salmon is the best you can buy, not only because it's environmentally sustainable, but also because it contains more omega-3 fatty acids than farm raised varieties. However, farm raised Atlantic salmon is more affordable and widely available than wild, and today farms have developed technologies that make farming safer and more sustainable for the fish and for the consumers.
Recipe Variations
Use any type of salmon you have available
Substitute another type of fish, such as halibut or cod
Add additional seasonings to the olive oil mixture before tossing with the salmon
Make a different version of honey mustard sauce
Use any of your favorite sauces for coating and dipping (see ideas below)
more sauce recipes you'll love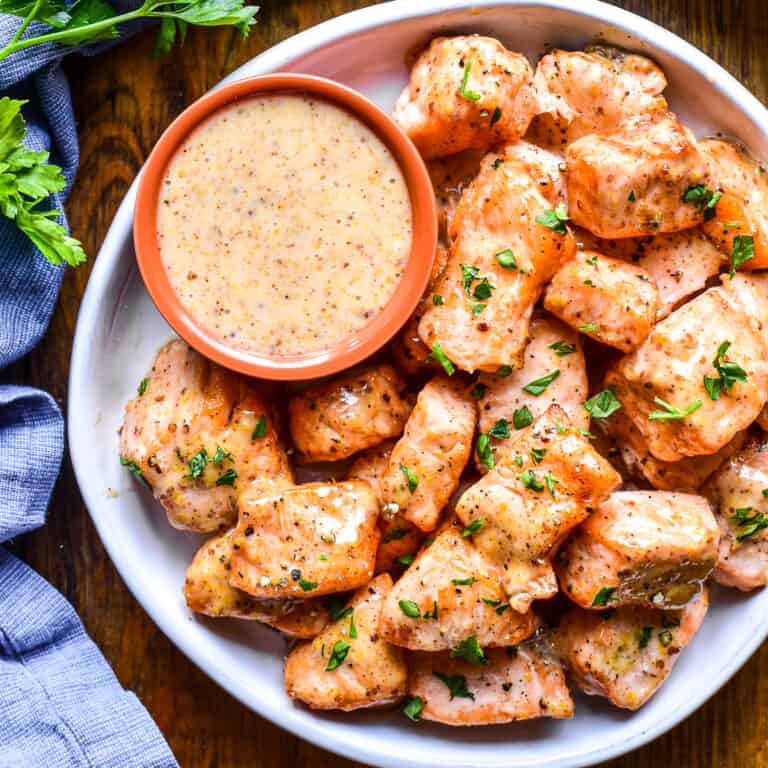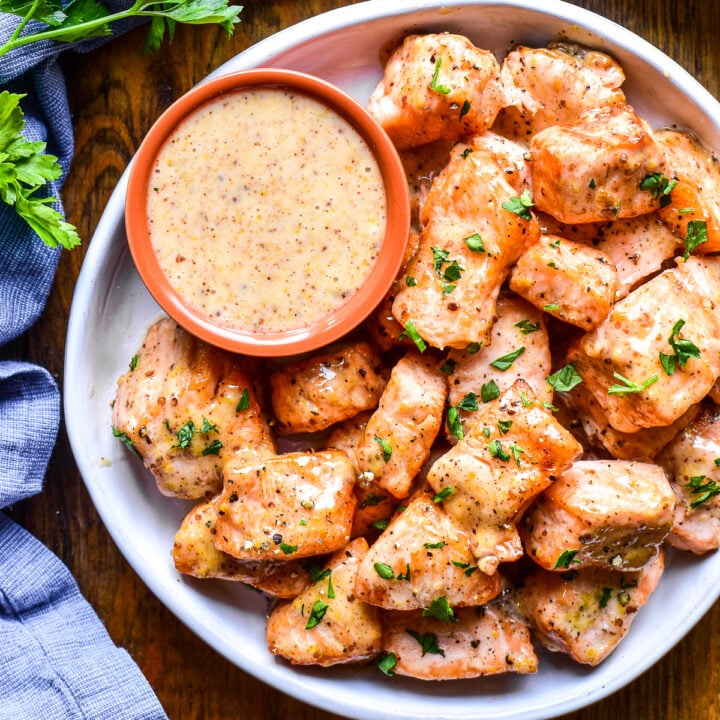 Air Fryer Salmon Bites
Ingredients
1 pound salmon
1 Tablespoon olive oil
1/4 teaspoon salt
1/4 teaspoon pepper
1/2 cup mayo
2 Tablespoons honey
2 Tablespoons stone ground mustard
1/2 teaspoon chipotle chili seasoning or cayenne pepper