Creamy Caesar Dressing… made from scratch! This recipe is ready in minutes and better than anything you can buy at a store. The BEST way to take any salad to the next level!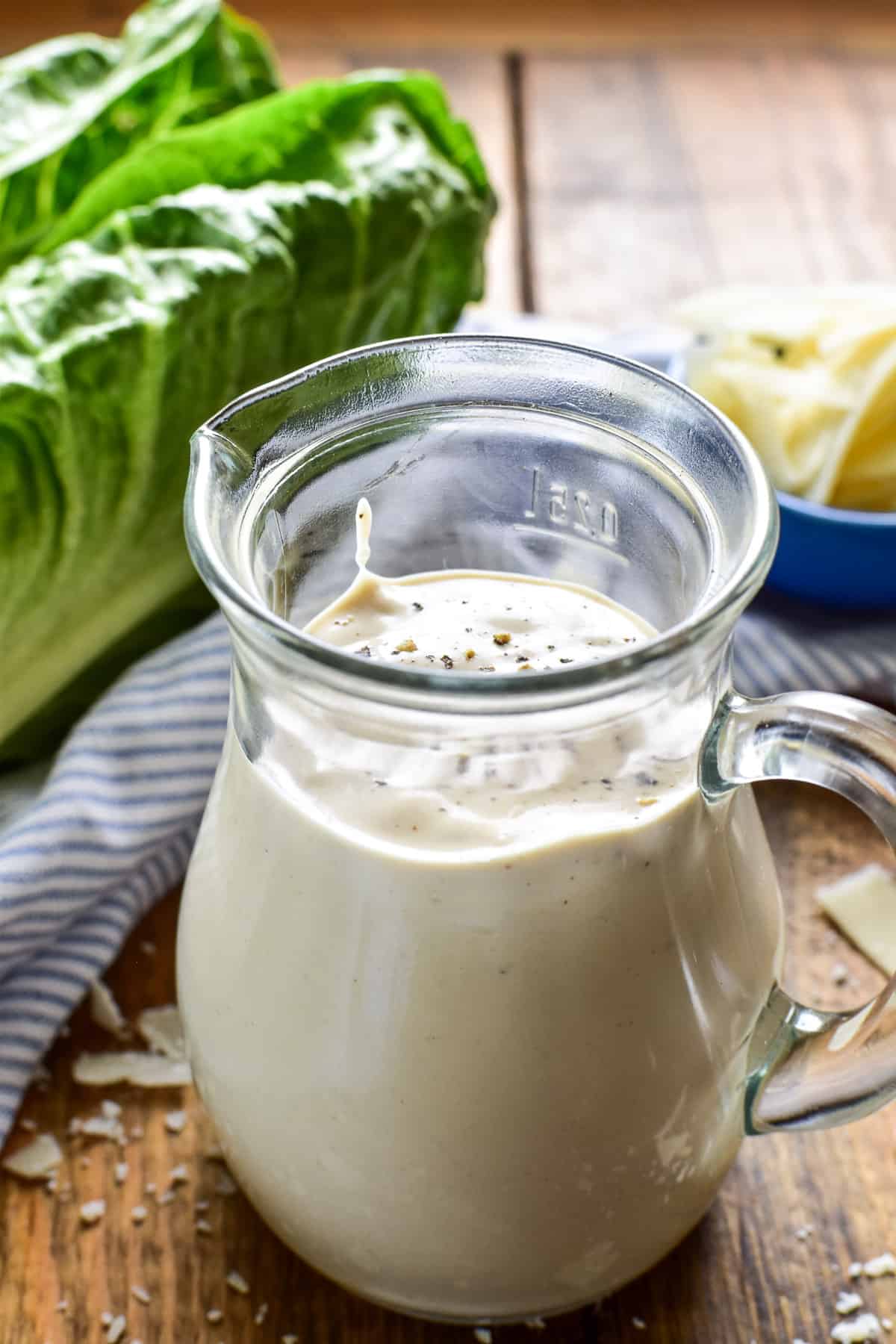 When it comes to salads, we all know that Caesar is king. It's a staple on restaurant menus… and honestly one of my favorite meals ever. It's simple, delicious, and such a classic… and also SO easy to make at home!
To be honest, I've made it countless times for lunch or dinner, but for some reason I've always shied away from trying homemade. Because caesar dressing has such a distinct flavor… and anchovies… and it's always felt just a bit too daunting.
Until now. I finally got on the ball, gathered my ingredients (including anchovy paste instead of whole anchovies) and conquered my fears. I tested it against all my favorite bottled dressings, and you better believe this recipe is SO MUCH BETTER! It's rich, creamy, salty, flavorful, and exactly what you're looking for in a delicious caesar dressing!
Best of all, it takes just minutes to make… and you'll never feel the need to order caesar salad at a restaurant again!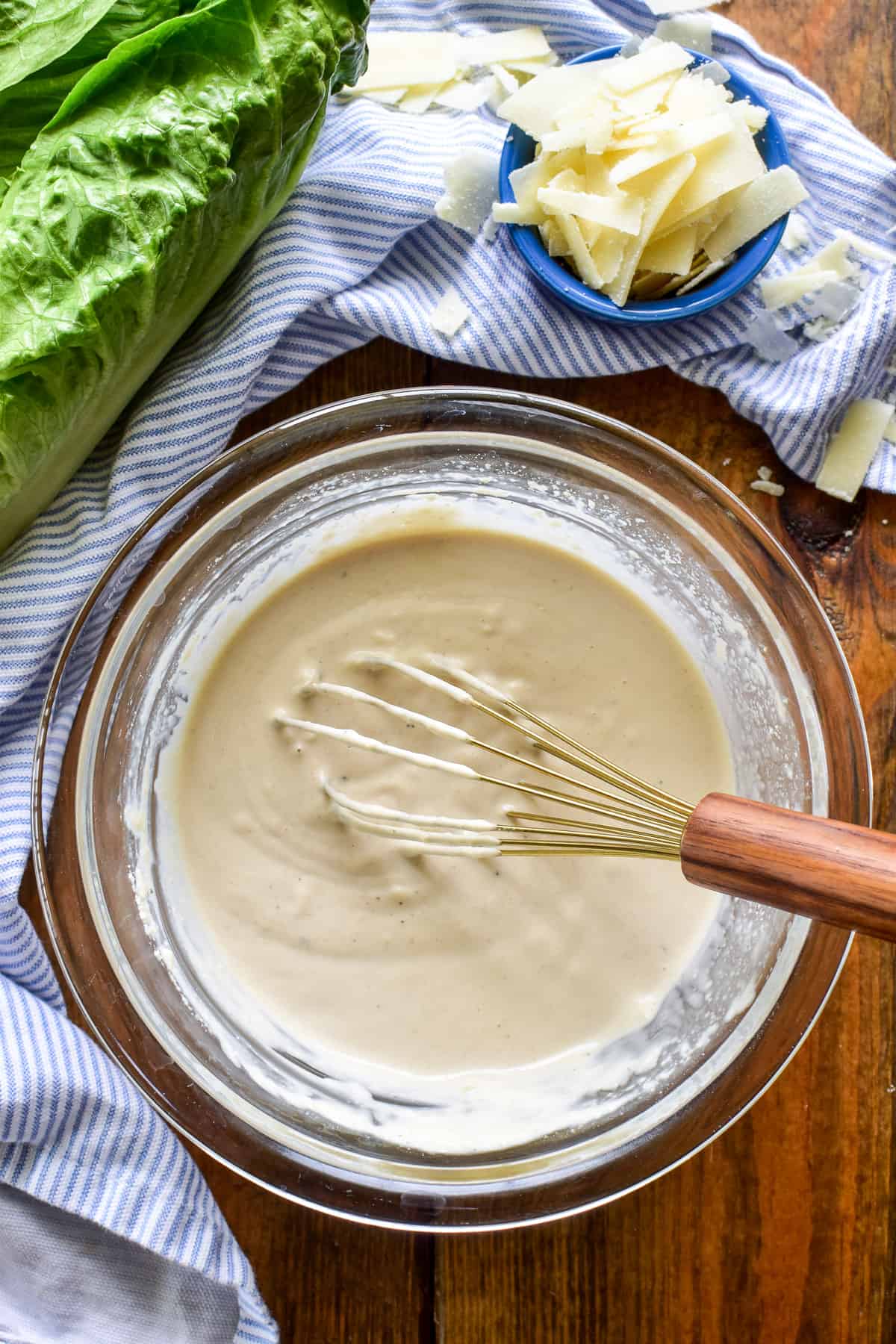 What's Caesar Dressing made of?
Mayo – Using mayo as the base for this recipe gives it the creamy richness you're looking for in a caesar dressing. I used full fat Hellman's mayo, but you can use low fat or any type you prefer.
Parmesan – Parmesan is a key ingredient, both in caesar salad AND the dressing that goes with it. I used grated Parmesan cheese, which blends with the other ingredients better than shredded.
Lemon juice – Lemon juice adds a delicious brightness to the dressing. As always, fresh is best!
Garlic – I used 2 fresh minced garlic cloves. You can substitute garlic powder or jarred minced garlic, but fresh will give you the best flavor.
Anchovy paste – Anchovies are a key ingredient in caesar dressing, and using paste is a quick and easy alternative to using whole anchovies without losing any of the flavor.
Worcestershire – Adding a touch of worcestershire sauce gives the dressing an extra level of savory flavor.
Dijon – I used dijon mustard. You can use stone ground as a substitute.
Salt & pepper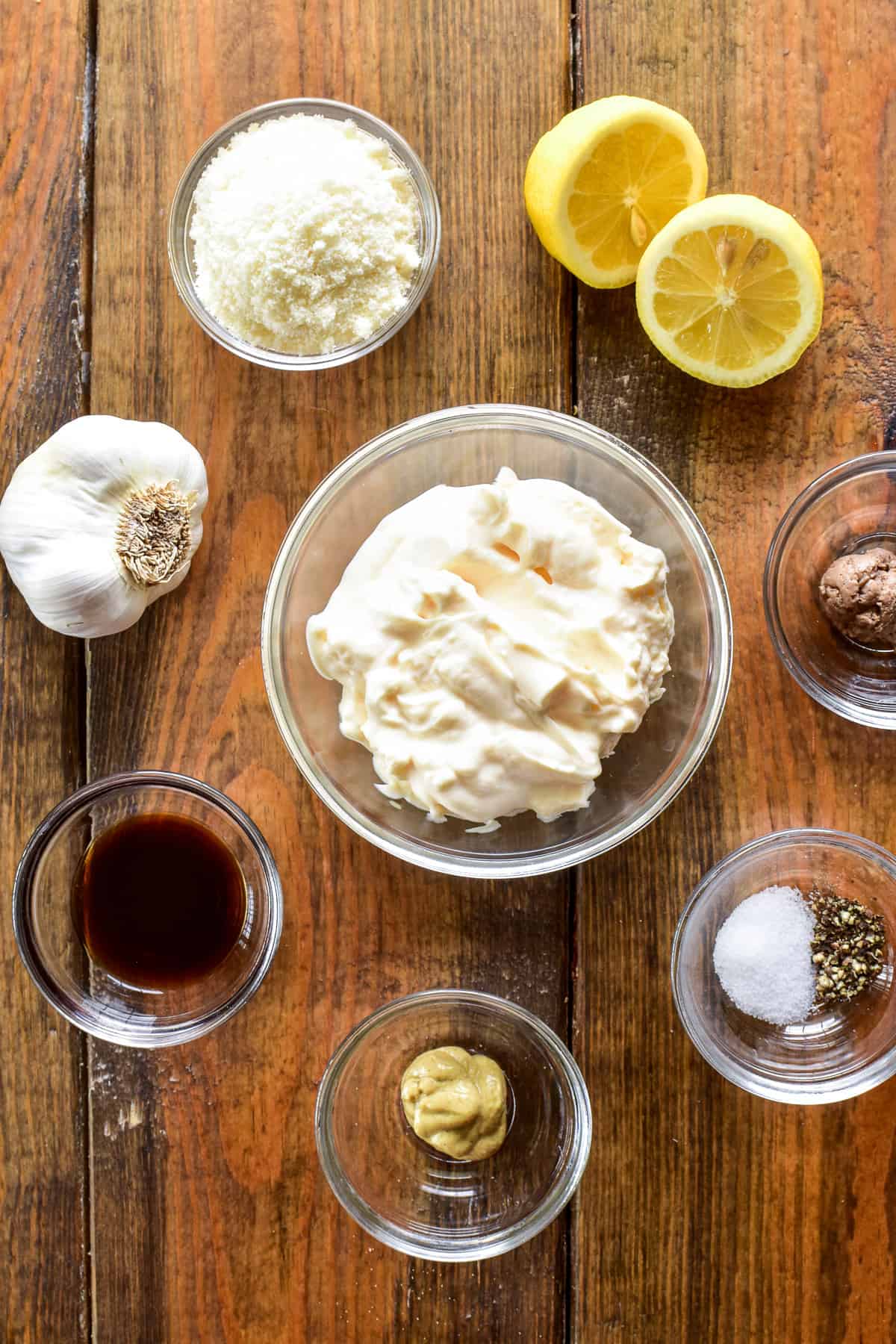 How to make Caesar Dressing from scratch
Measure out the ingredients
Combine them in a mixing bowl or small food processor
Mix well
Use immediately or store in the refrigerator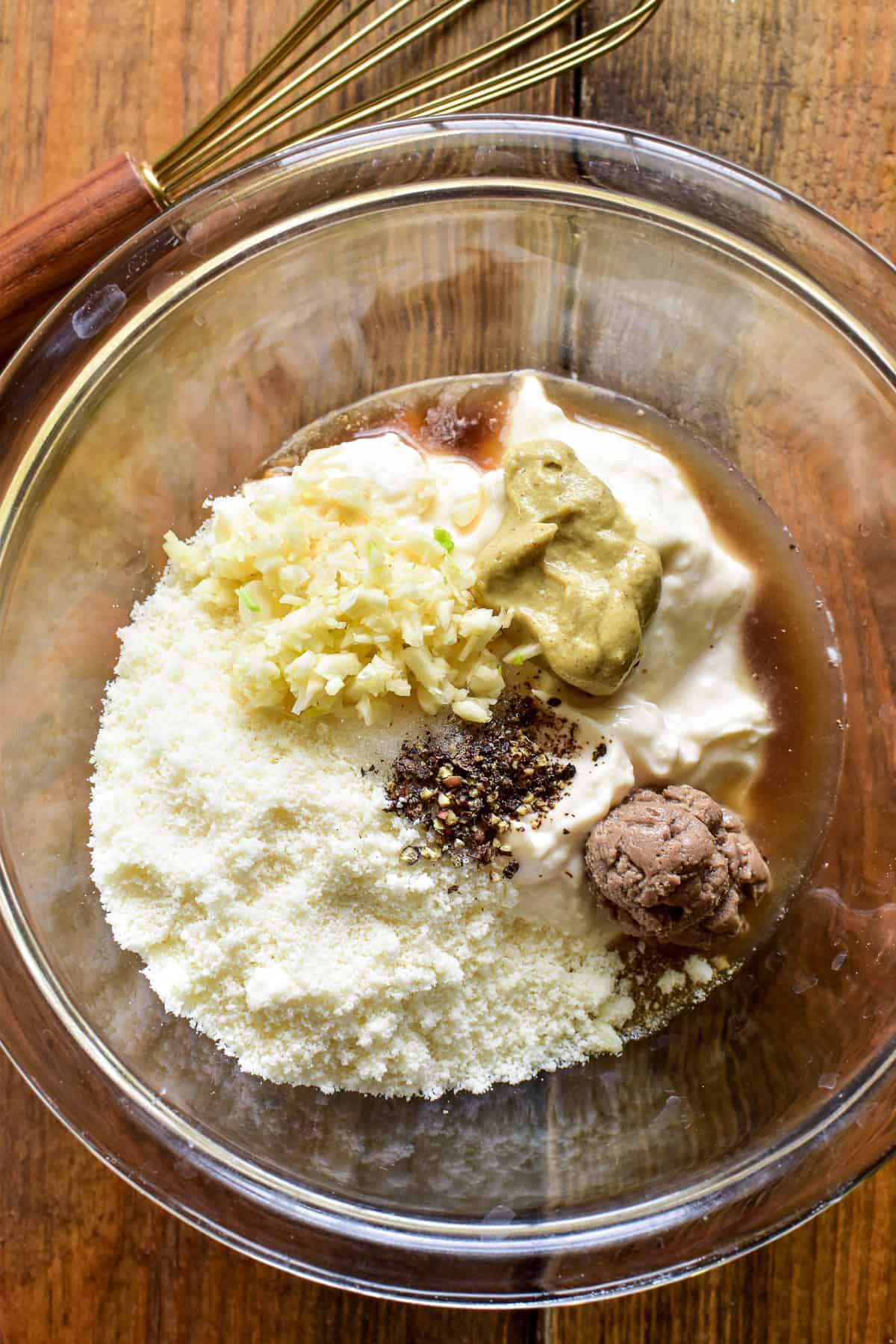 What to eat with Caesar Dressing
Caesar Dressing isn't JUST for salads! It makes a delicious dip, too. Try it with any of these favorites!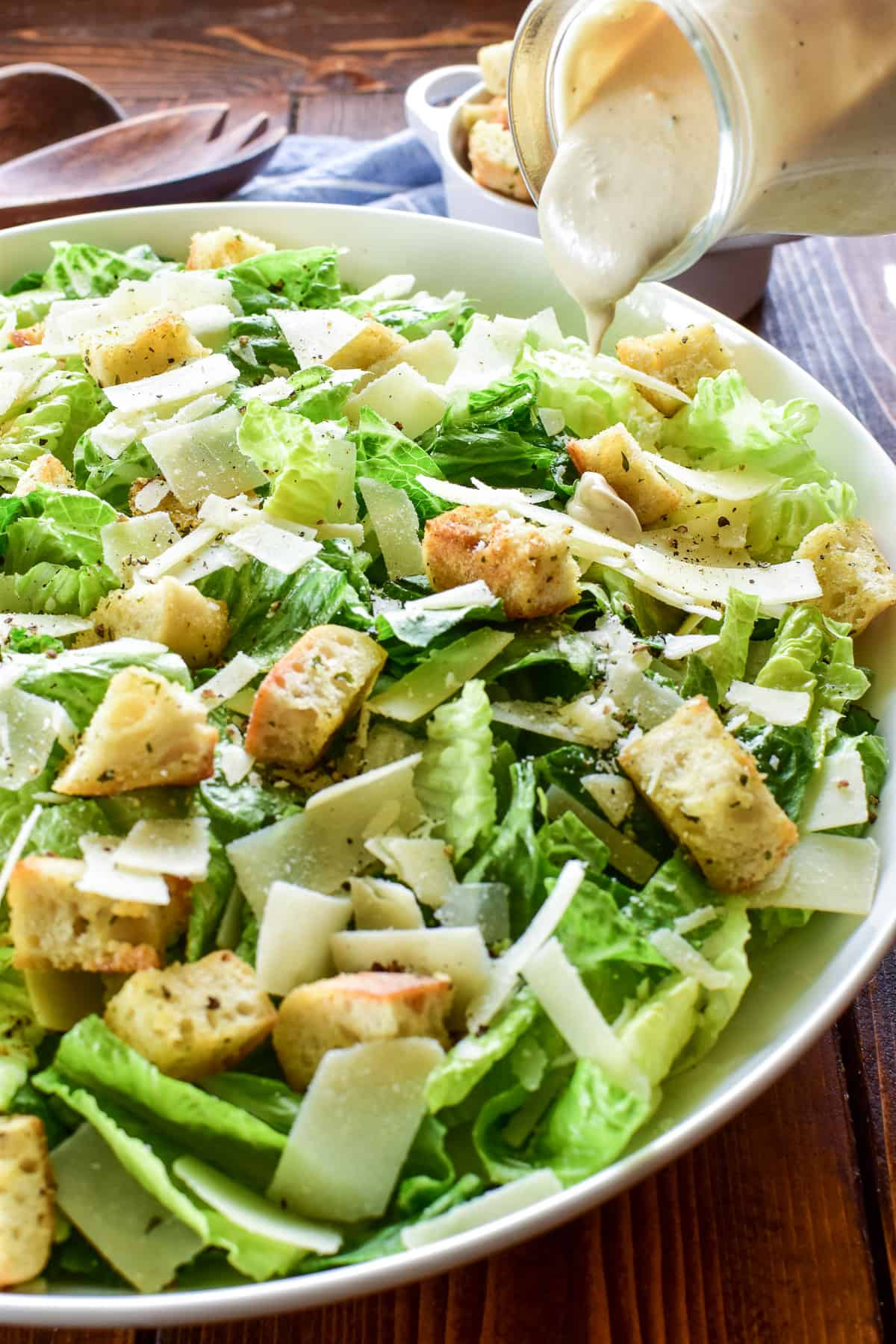 More sauces & dressings you'll love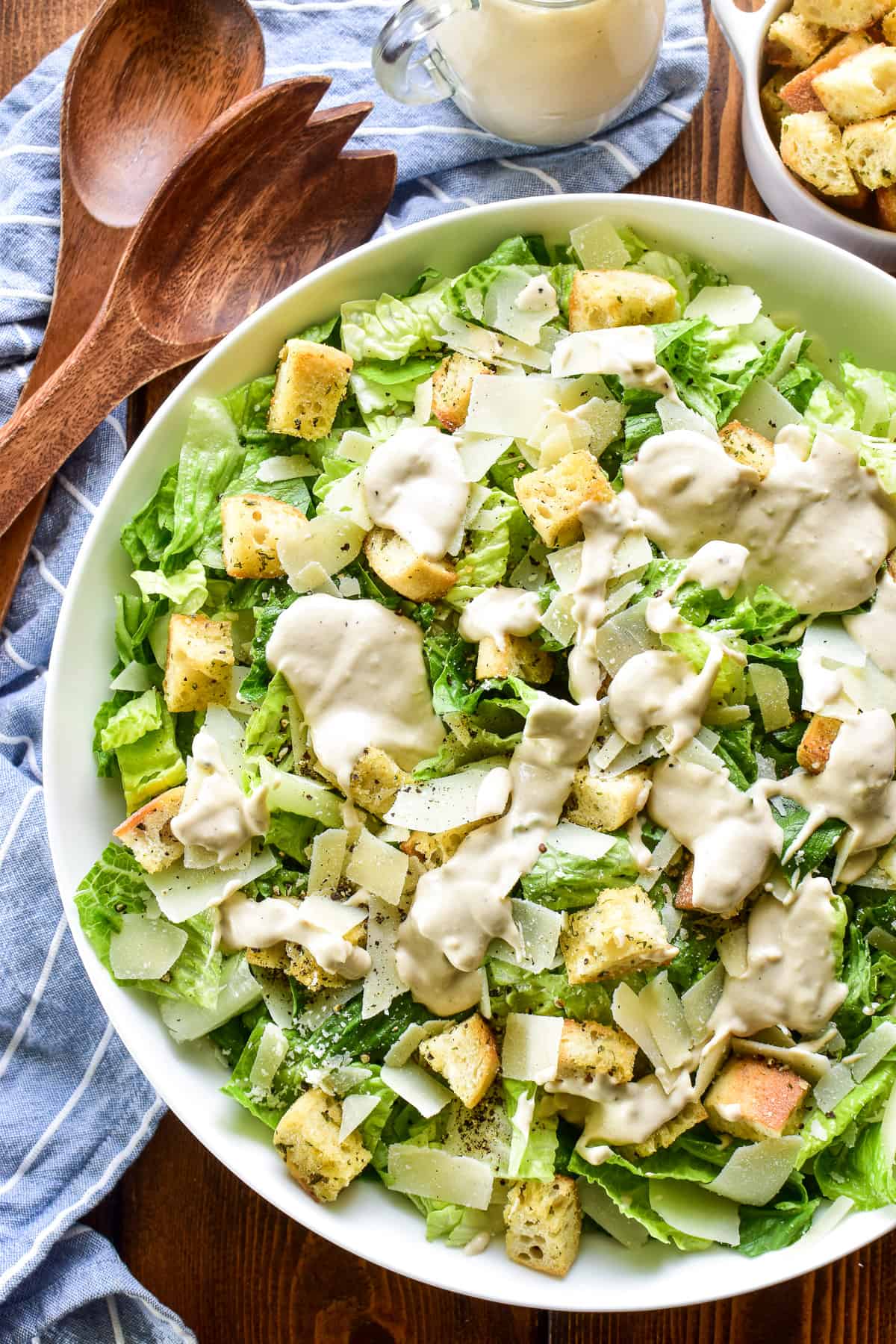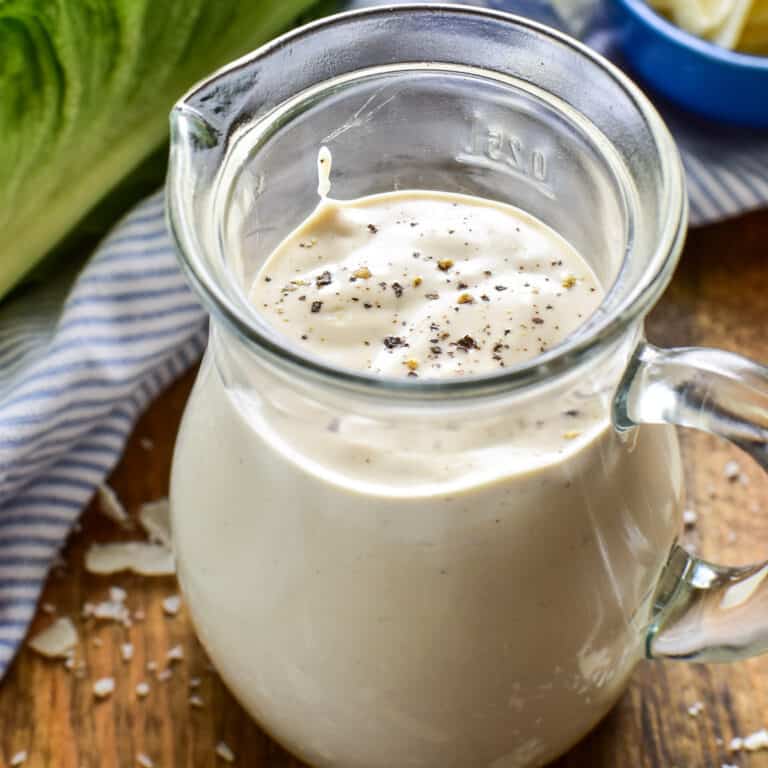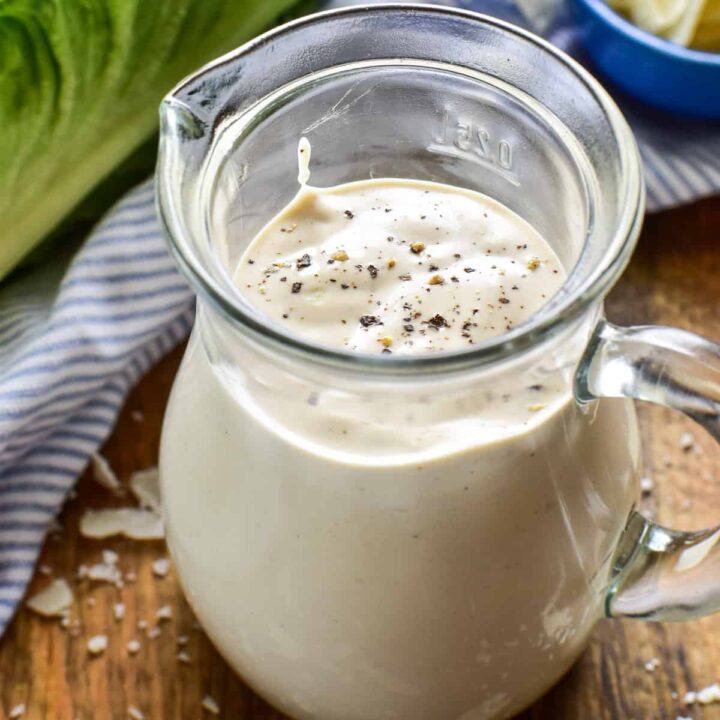 Caesar Dressing
Creamy Caesar Dressing... made from scratch! This recipe is ready in minutes and better than anything you can buy at a store. The BEST way to take any salad to the next level!
Ingredients
3/4 cup mayo
3 tablespoons grated Parmesan
1 tablespoon lemon juice
2 cloves minced garlic
2 teaspoons anchovy paste
1 teaspoon worcestershire sauce
1 teaspoon dijon mustard
1/4 teaspoon salt
1/4 teaspoon pepper
Instructions
Combine all ingredients in a small mixing bowl.
Whisk well.
Enjoy immediately or store in an airtight container in the refrigerator.