Fish tacos combine the deliciousness of salmon with the tropical flavors of mango salsa! These salmon tacos are super easy to make and perfect for the warmer months ahead. The fish tacos recipe is sure to become a new favorite!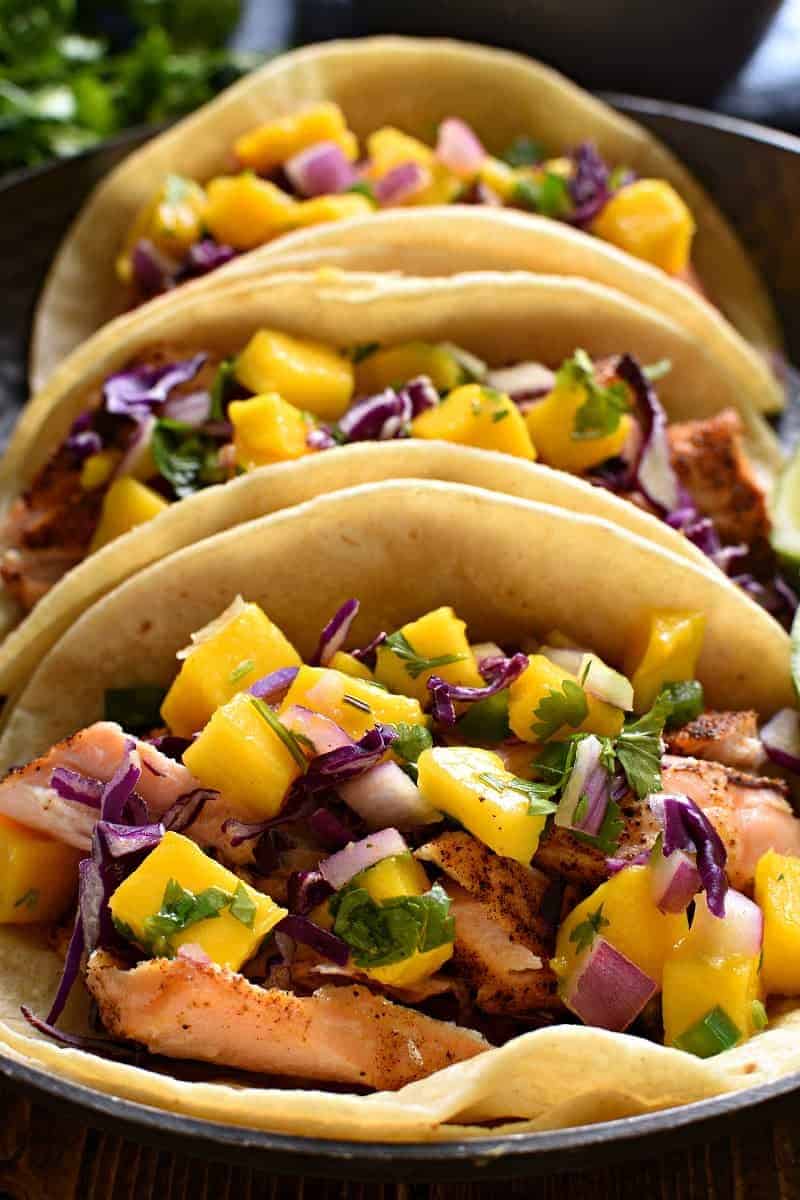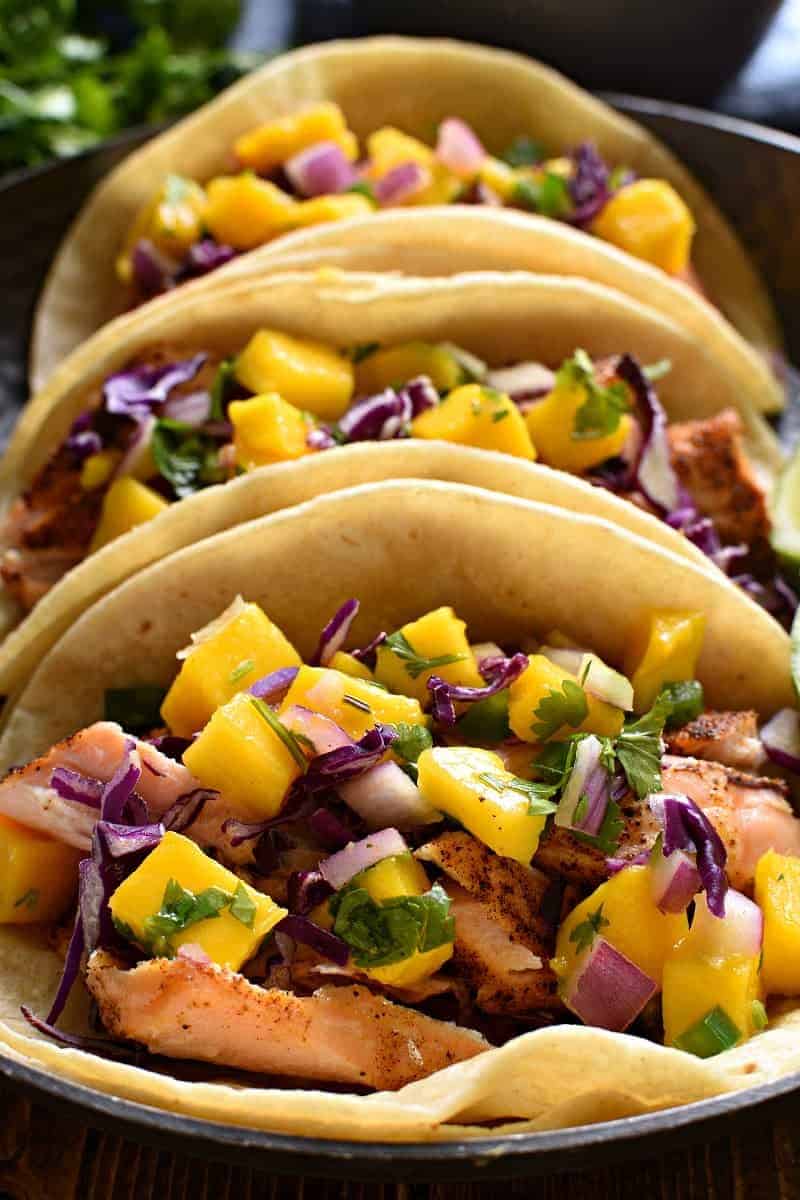 I partnered with Pick 'n Save to bring you this recipe, but all ideas and opinions are my own.
It's a pretty well known fact that I don't really leave my house much. Unless it's to go to the grocery store, or to pick the kids up from an after school activity, or unless it's the weekend and we're all leaving the house together, on a day to day basis I prefer to stay put. And drink my coffee leisurely. In my pajamas, if at all possible.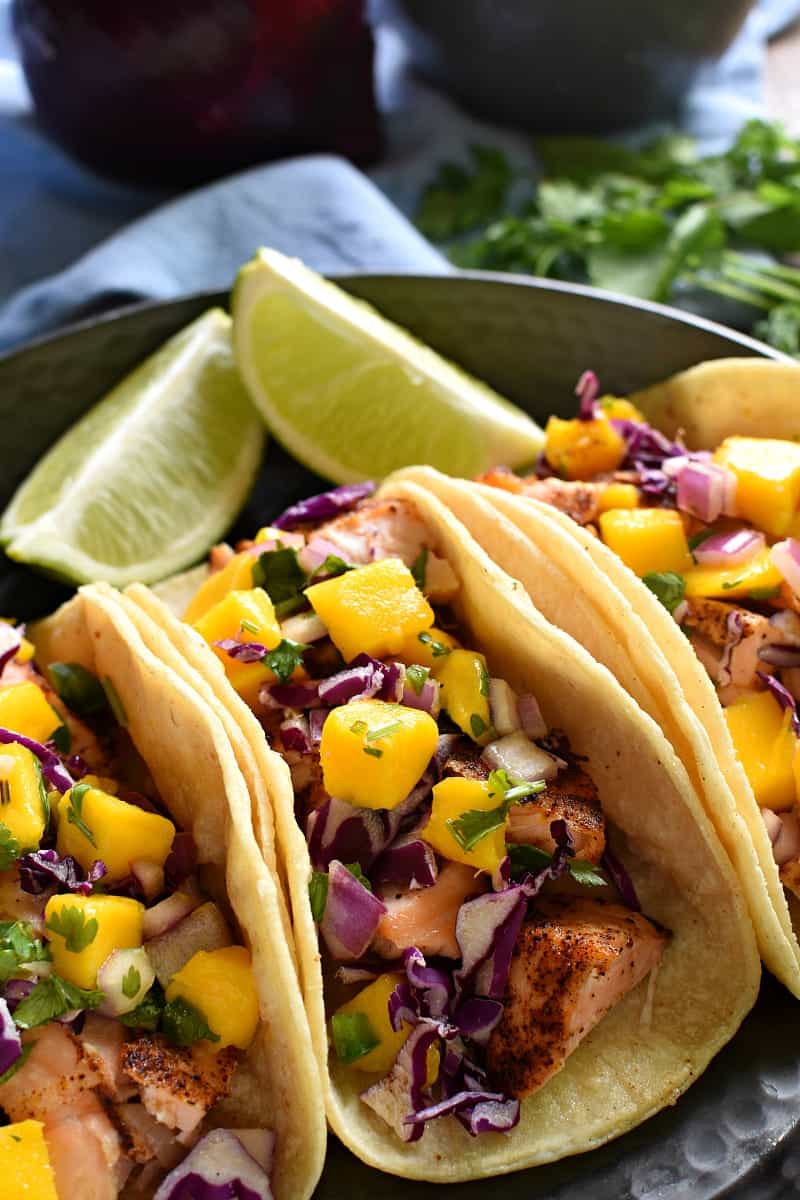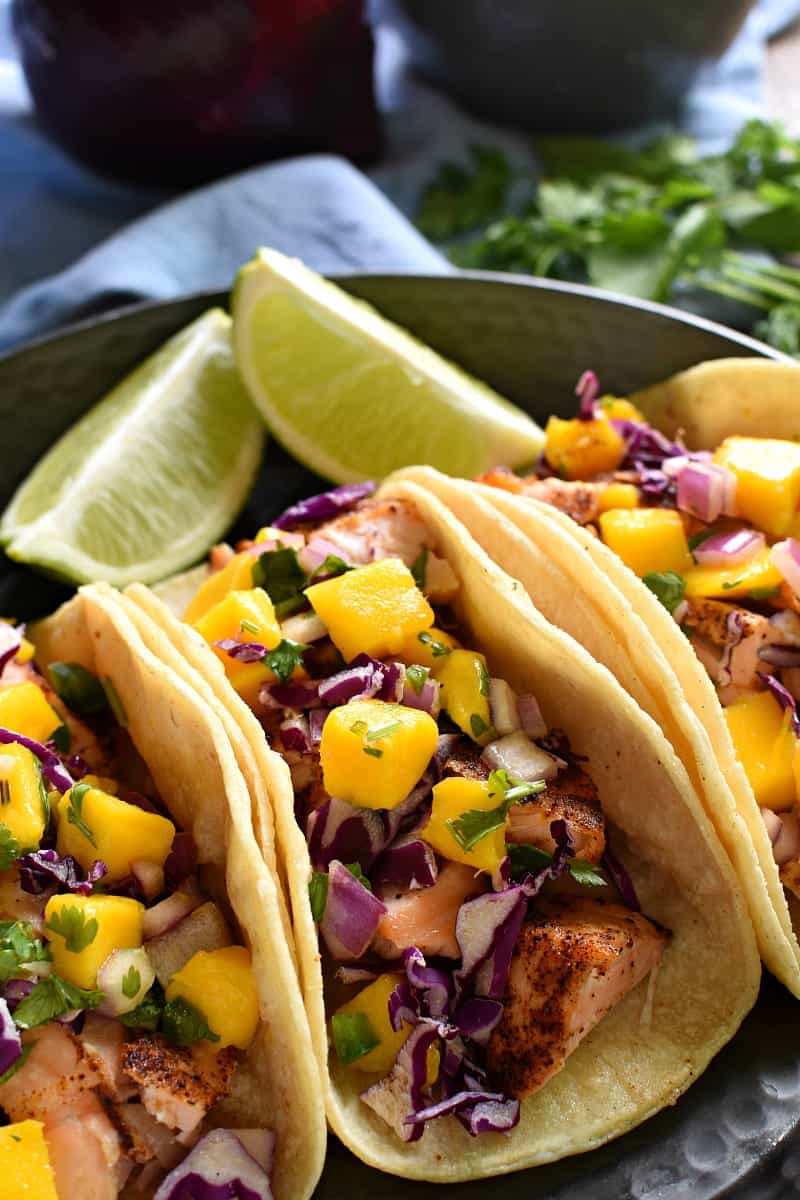 But this week….this week is different. Because this week I'M LEAVING MY HOUSE! I'm getting on a plane, and flying across the country, and not just for one or two days…but for five! I can hardly believe it. Yes, this week I'll be in Charleston, SC. At a blog conference. With other people. Which means I probably won't be in my pajamas much…but it's totally worth it.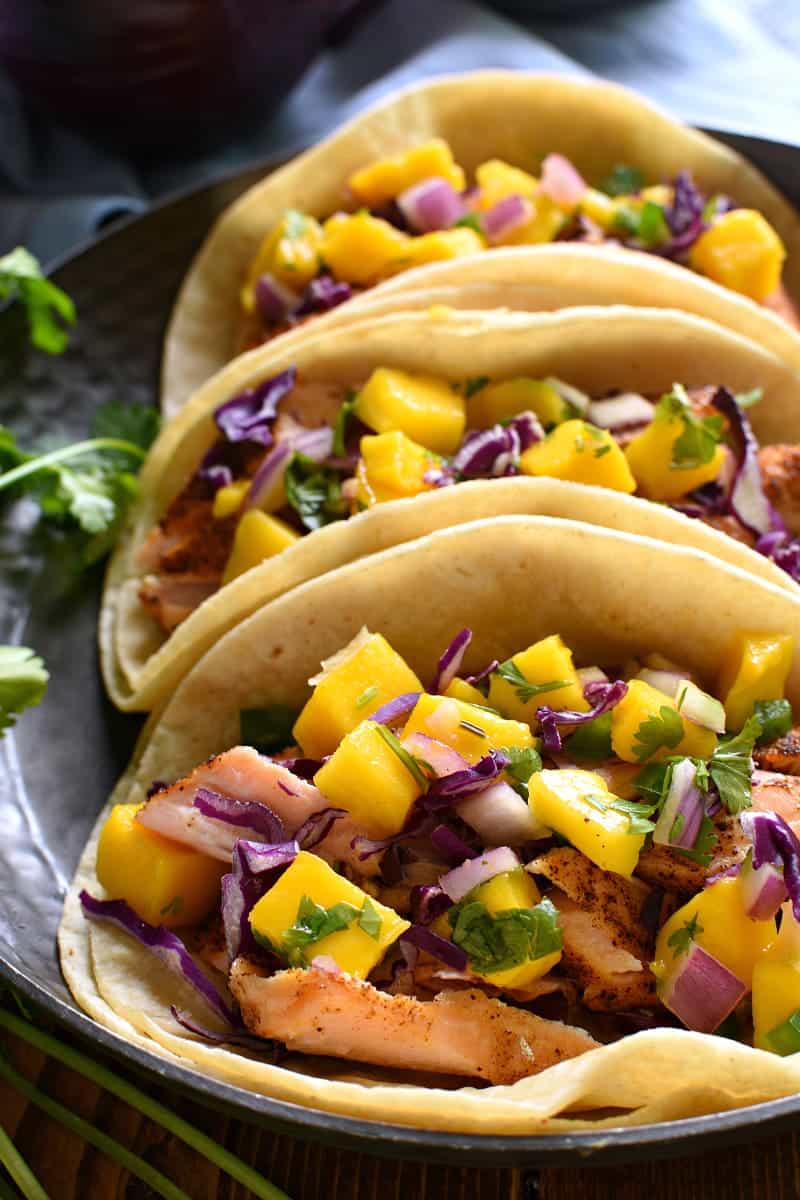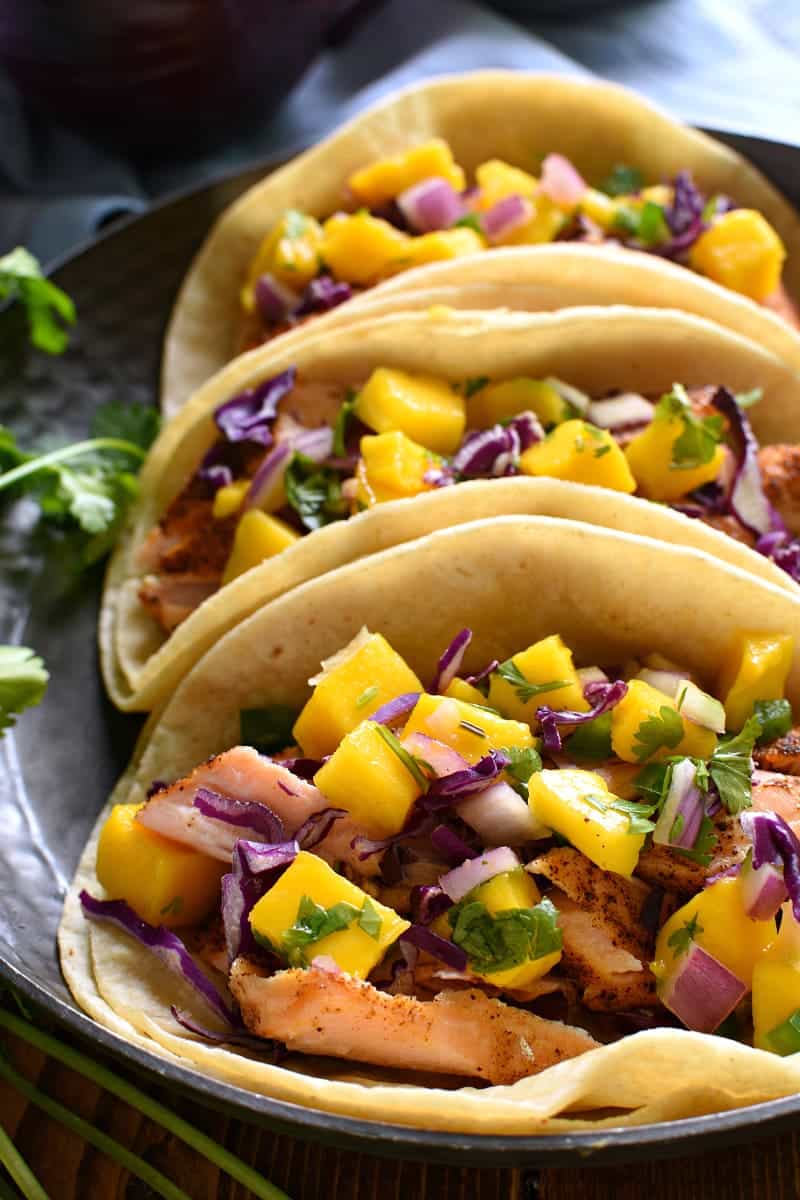 And even though it requires a little more daily effort than I'm used to, the reality is I couldn't be more excited. To go and learn and meet new people and come back re-energized. Because even though I'm a creature of habit, I still like trying new things. Especially when they include all kinds of amazing food.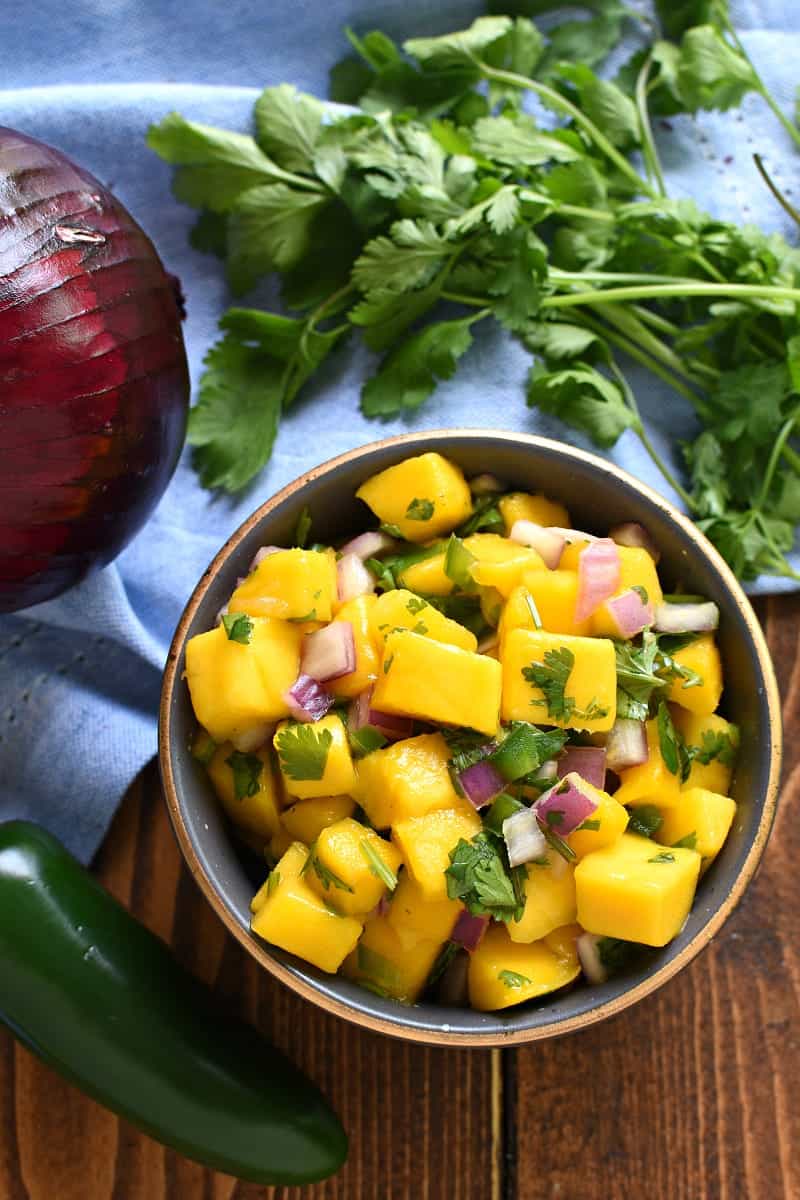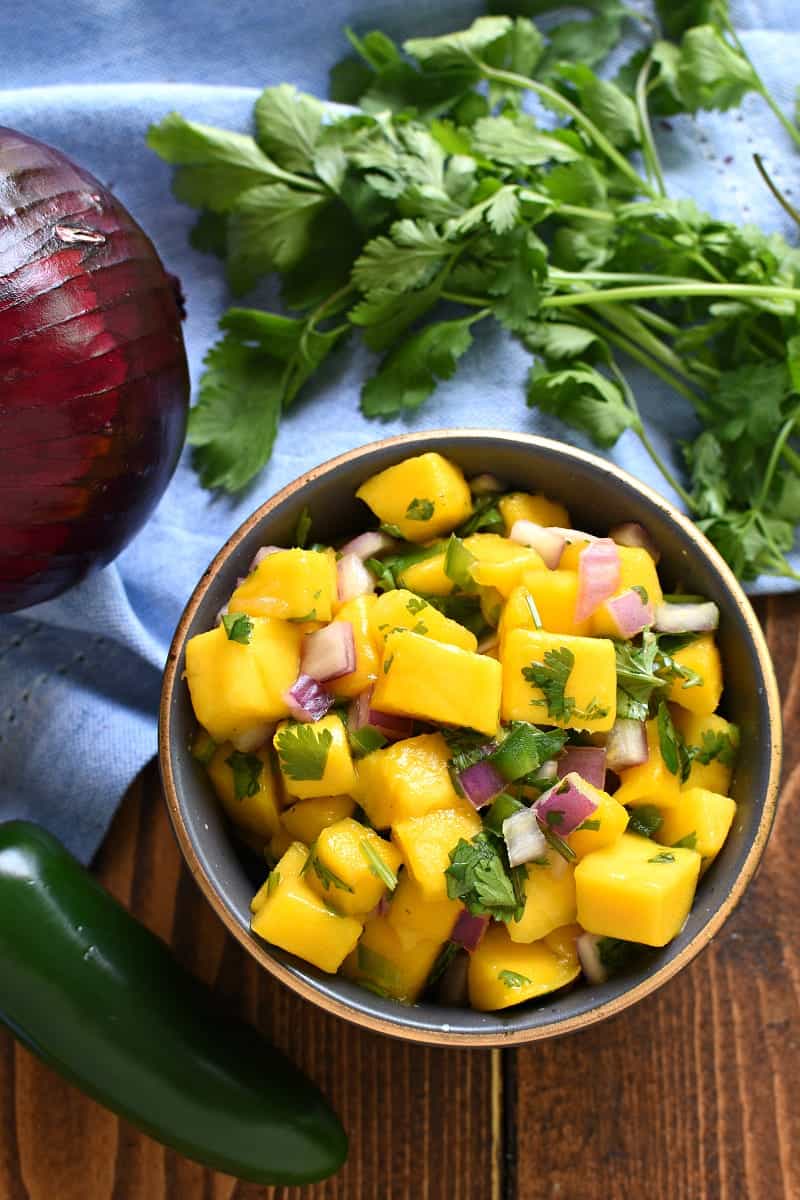 It's honestly one of my favorite things about traveling with other food bloggers. It's ALWAYS about food! And we'll be hitting up new restaurants daily, which just sounds amazing. Since I've never been to South Carolina, I'm hoping to be adventurous when it comes to ordering my meals. And I'll use these Fish Tacos as inspiration.
Fruity Fish Tacos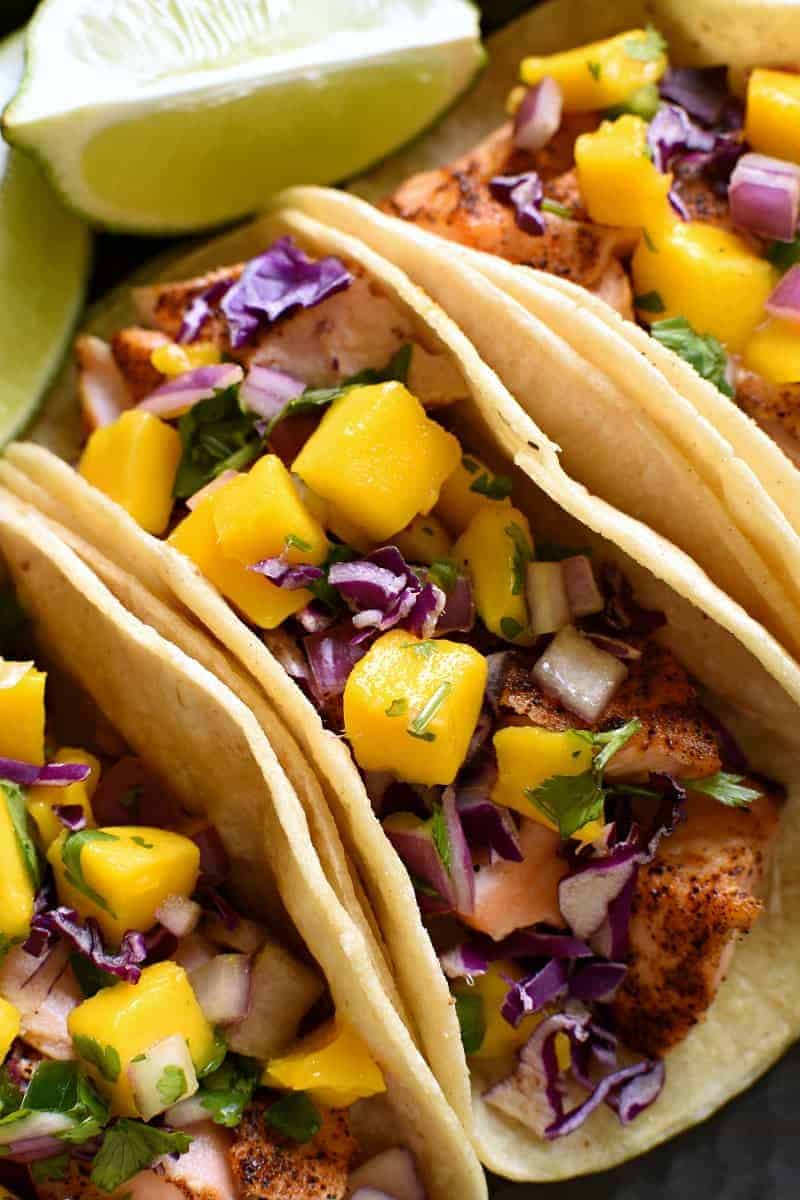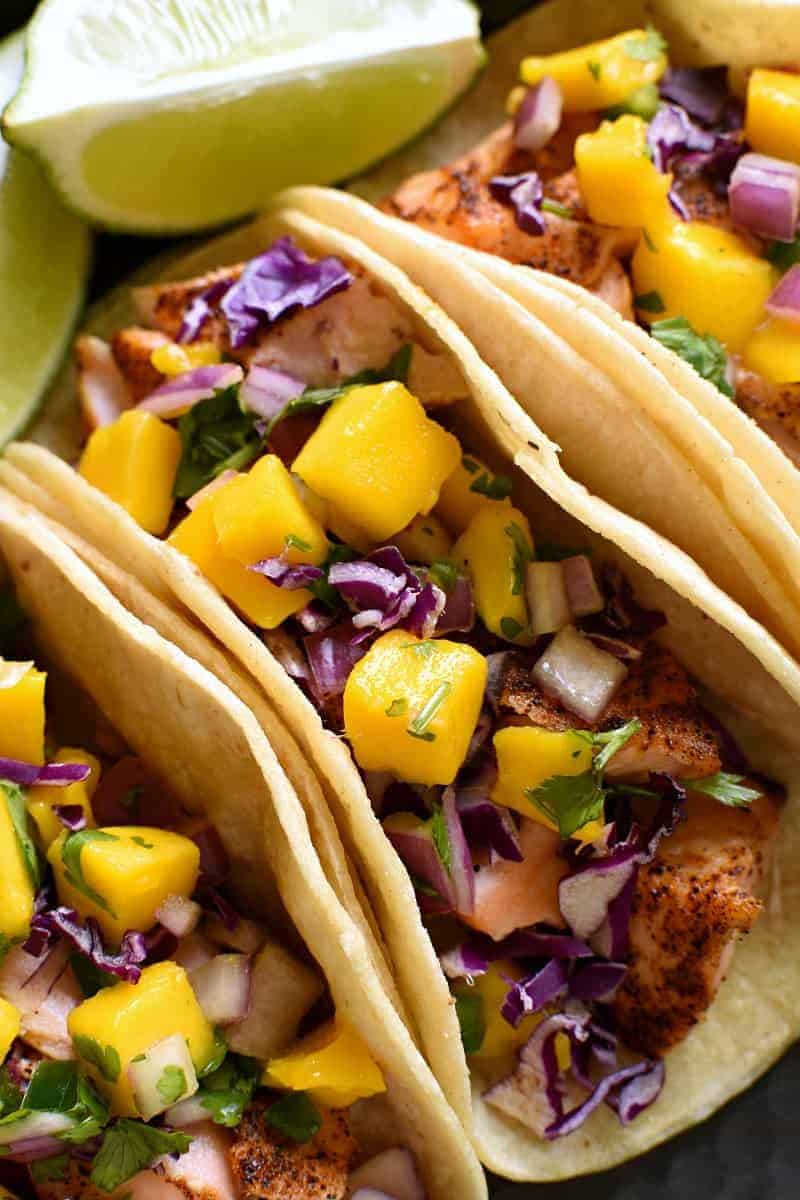 Have you ever tried fish tacos? I most definitely have….but to be honest, I've never had fish tacos that were as DELICIOUS as these! Made with fresh seasoned salmon and topped with the most amazing mango salsa, these salmon tacos are the perfect blend of savory, sweet, and summery. Perfect for the warmer months ahead… Delicious served with coconut rice! Follow the meal up with a light, fruity dessert like Pistachio Lush Dessert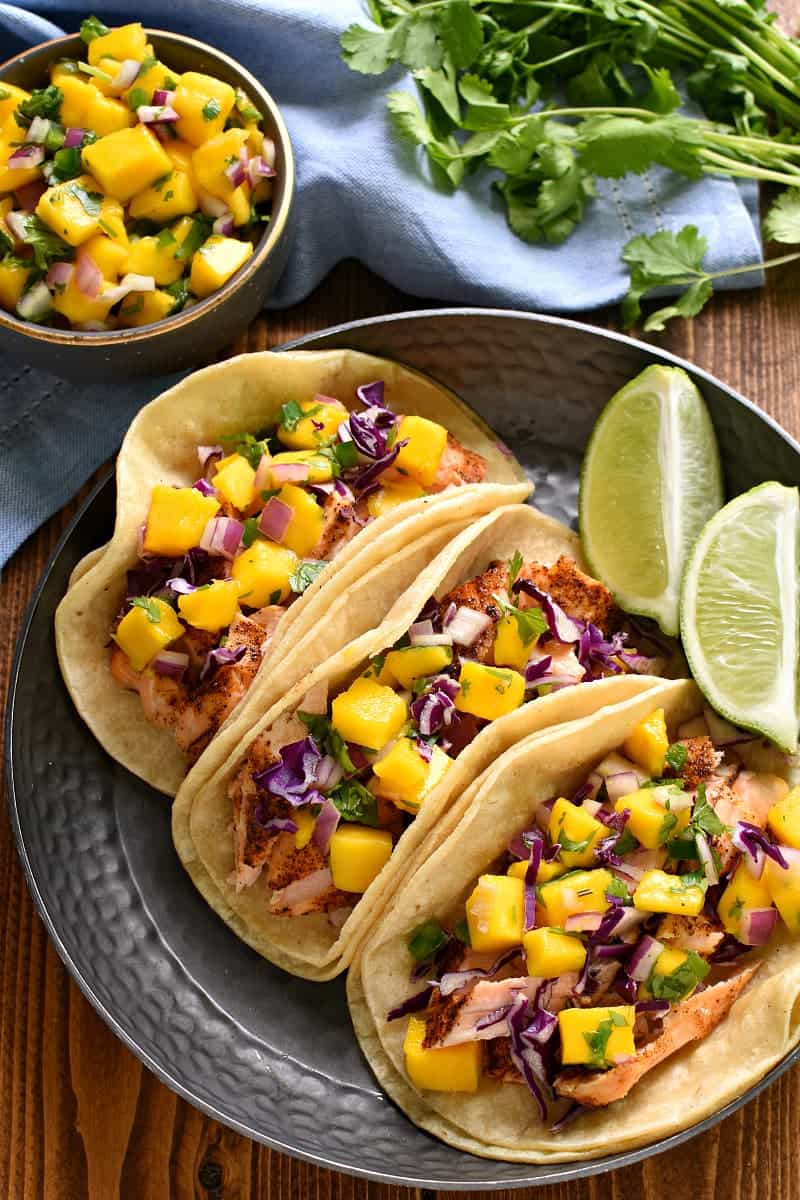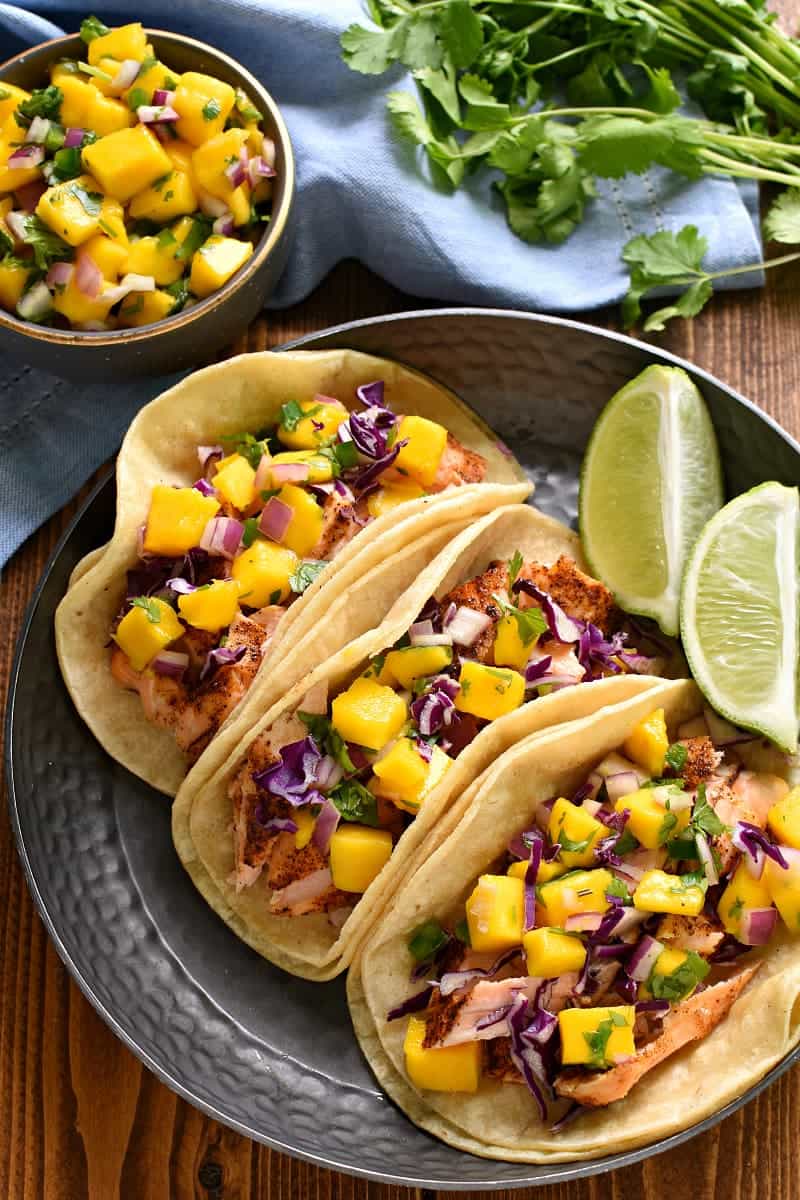 And best of all, I was able to find everything I needed to make them, plus a little inspiration, at Pick 'n Save. Pick 'n Save is ALWAYS my go-to grocery store, and for good reason. Their selection of fresh seafood and produce is amazing, and the proof is in the pudding. The fish tacos couldn't taste fresher or more delicious. Perfect for weeknight meals or gatherings with family and friends. I can't wait to make them all summer long….because sometimes trying new things is the BEST thing ever.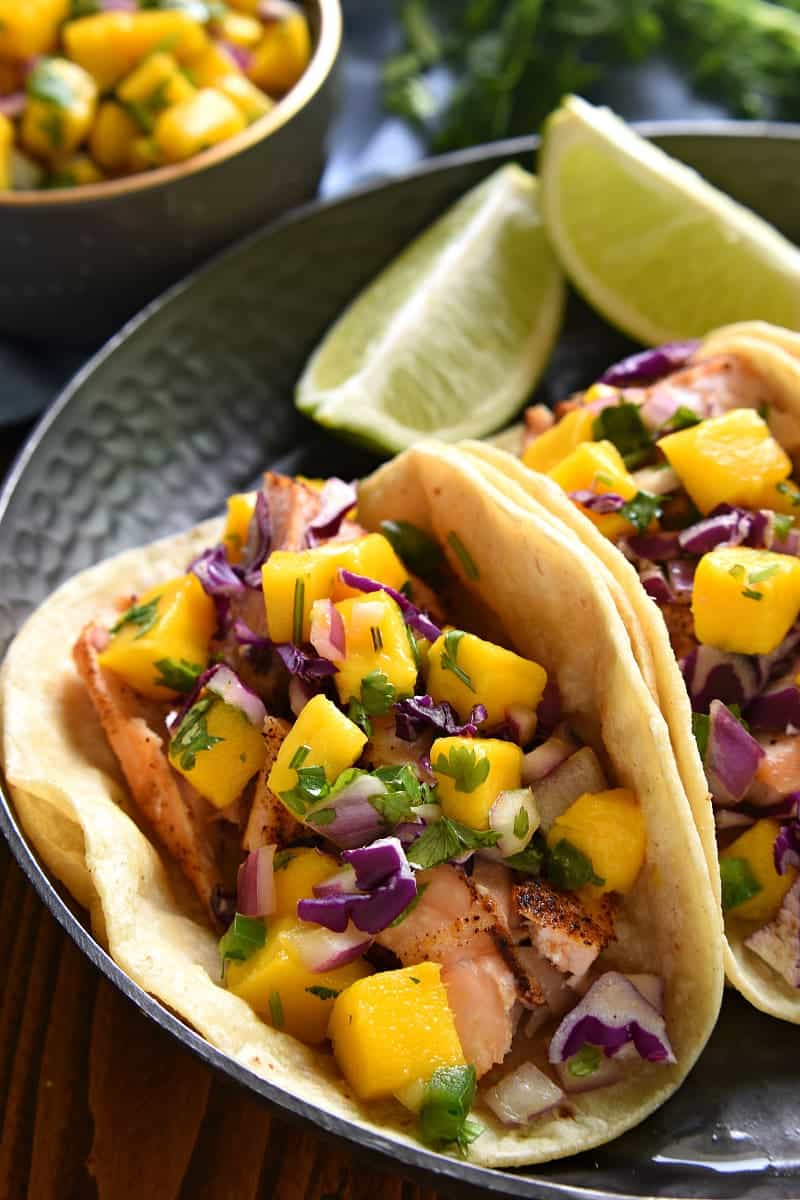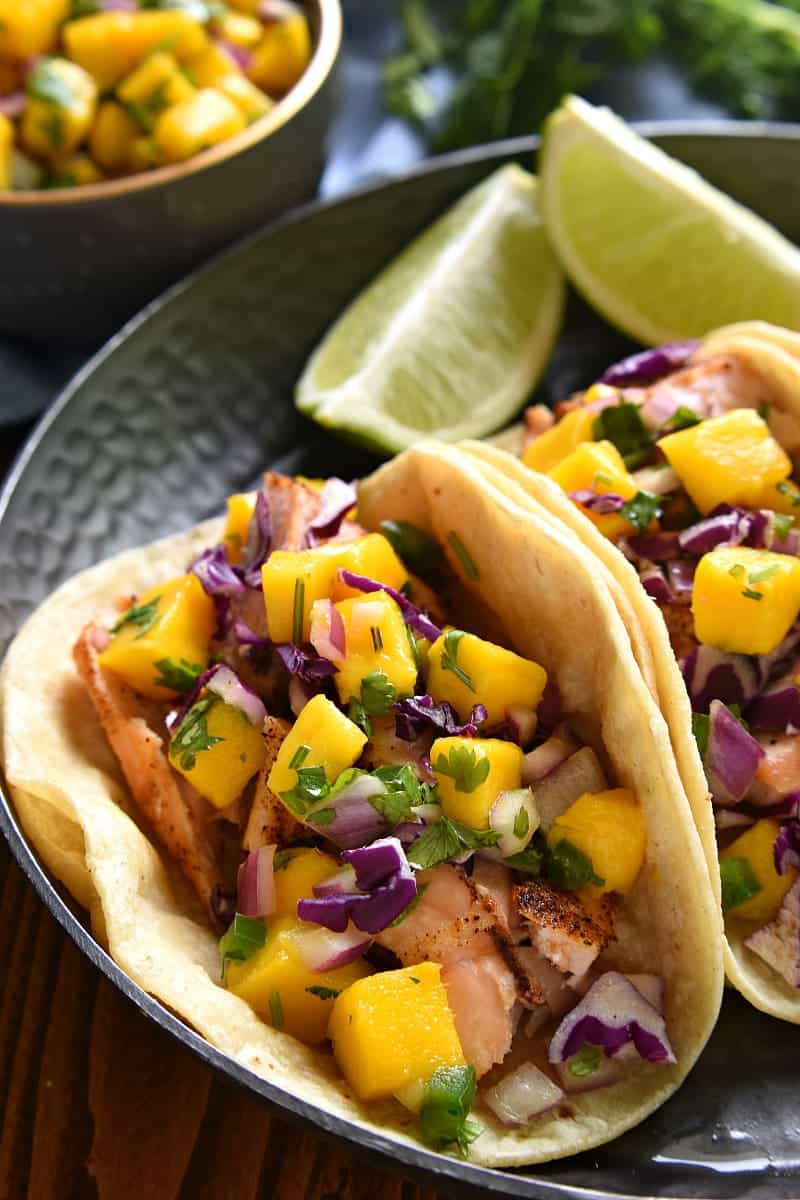 For more recipe inspiration, visit Pick 'n Save on Facebook, Twitter, and Pinterest!
How to Make Fish Tacos with Salmon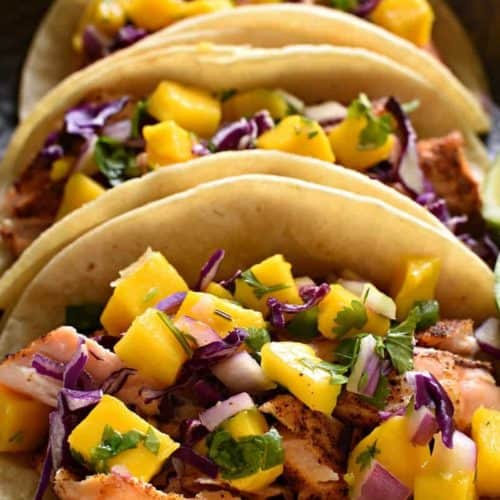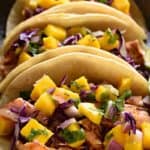 Fish Tacos with Mango Salsa
These Fish Tacos combine the deliciousness of salmon with the fun of mango salsa! They're super easy to make and perfect for the warmer months ahead....sure to become a new favorite!
Ingredients
Tacos
1 1/2

lb.

salmon

1

Tbsp.

olive oil

2

tsp.

chili powder

2

tsp.

cumin

1

tsp.

kosher salt

12

small corn tortillas

3/4

c.

shredded purple cabbage
Mango Salsa
2

mangoes

diced

1/4

c.

diced red onion

3

Tbsp.

minced fresh cilantro

1/2

jalapeno

seeded and minced

1

Tbsp.

lime juice
Instructions
Preheat oven to 400°.

Line a rimmed baking pan with foil.

Place salmon on foil, skin side down.

In a small bowl, combine olive oil, chili powder, cumin, and kosher salt. Drizzle over salmon.

Bake at 400° for 20 minutes or until fish flakes easily with a fork.

While salmon is baking, prepare salsa by combining all ingredients in a separate bowl.

Assemble tacos with salmon, salsa, and shredded purple cabbage.