Jalapeño Popper Wonton Cups are loaded with bacon, jalapeños, cream cheese, cheddar cheese, and sour cream….all in a crispy wonton shell. This easy appetizer comes together quickly and is perfect for parties or game days. If you love jalapeño poppers, you'll LOVE this delicious twist!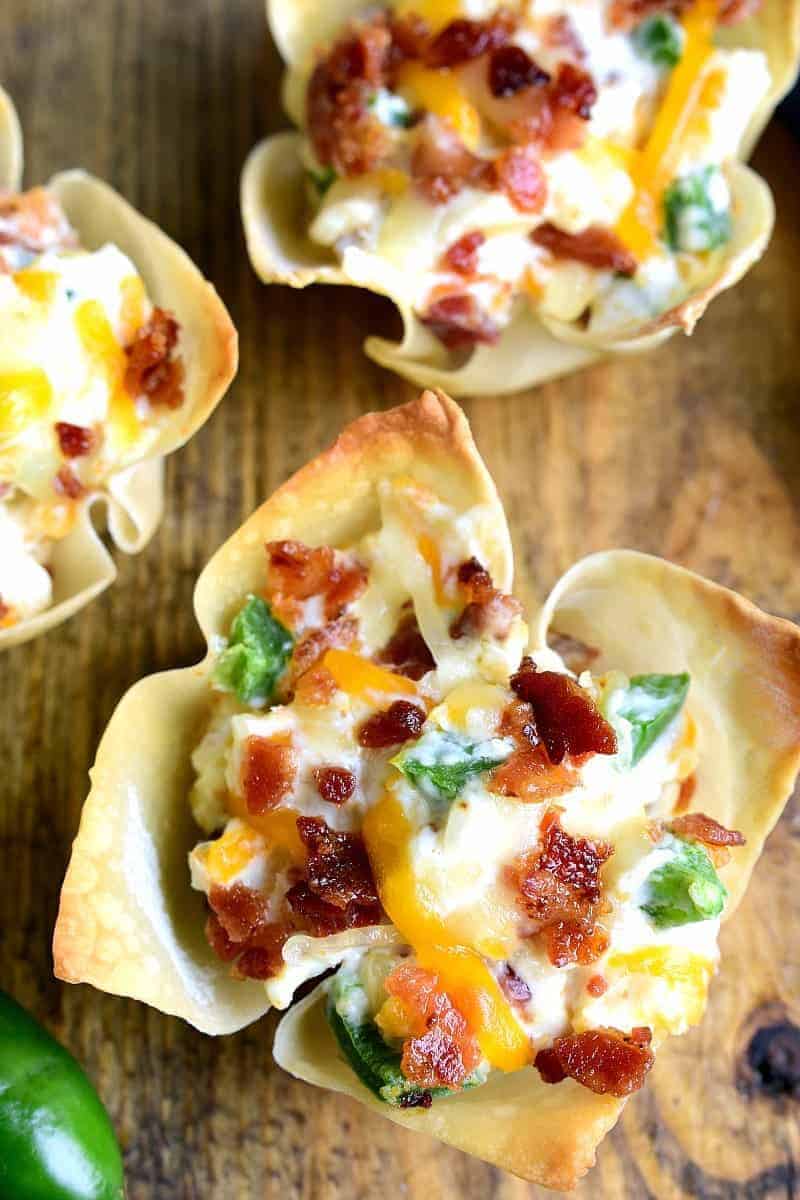 Is it just me….or does it feel like January is flying by? Seriously! It feels like just yesterday that we were ringing in the New Year, watching the ball drop, having confetti dumped all over our living room (which, by the way, we are still finding to this day….)
And now, we're less than two weeks away from the Super Bowl and just three weeks from Valentine's Day. Time flies when you're having fun!
Almost as quickly as it flies when you're supposed to be selling Girl Scout cookies. Like….right now. Yep, Girl Scout cookie sales are underway. And even though it feels like we just got the order forms yesterday, the truth is we only have 4 days left to sell the heck out of those cookies!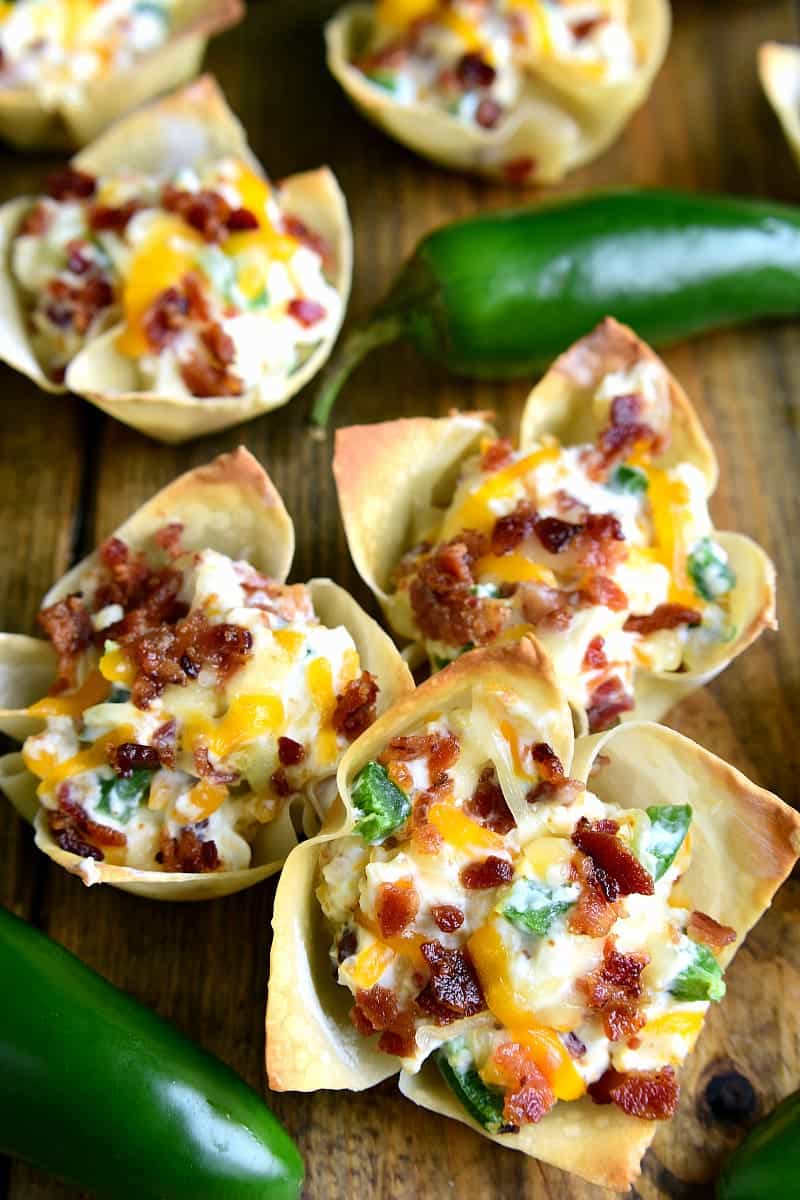 It's a little wild this year, because we have THREE kids selling. So even though we've sold close to 100 boxes, when you divide it by three, things aren't looking so good. And yes, Jorden has taken the order form to work.
Ha! So I guess there's nothing left to do but hit the streets, make some more phone calls, and hope for the best. Like I said, time flies when you're having fun.
And then, before we know it, selling cookies will be a distant memory and all thoughts will be on game day recipes. And Valentine's Day. And….these Jalapeño Popper Wonton Cups!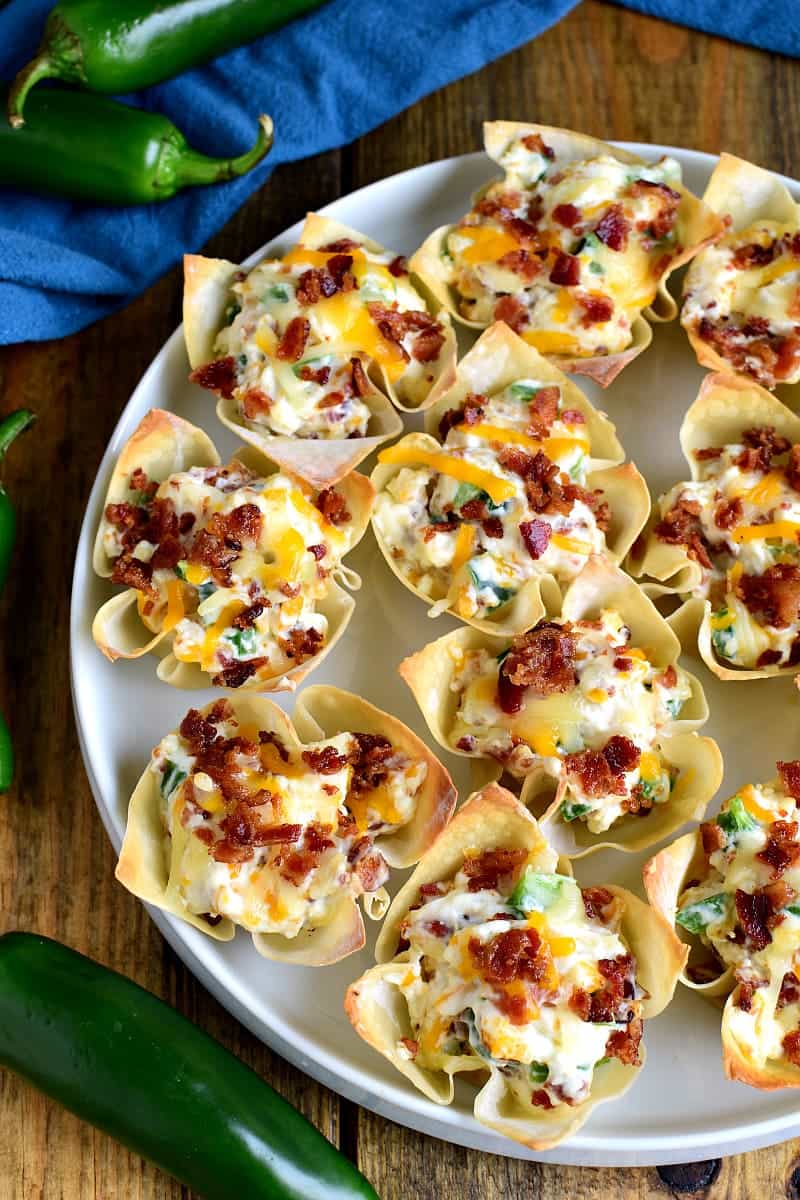 These easy game day appetizers are loaded with all the flavors of jalapeño poppers – cream cheese, bacon, jalapeños, and cheese – and baked inside a crispy wonton shell. They can be prepped in advance and baked in no time, and they're almost guaranteed to be the hit of any party.
You better believe they'll be on our Super Bowl menu and probably on every game day menu from this point forward. Truth be told, I plan on making these Jalapeño Popper Wonton Cups as often as I possibly can. They're just THAT good.
And you know what? I firmly believe making (and eating) delicious things like these Jalapeño Popper Wonton Cups helps make these long winter months feel shorter. Kinda like Girl Scout cookies! So make….eat….enjoy! You won't be sad you did.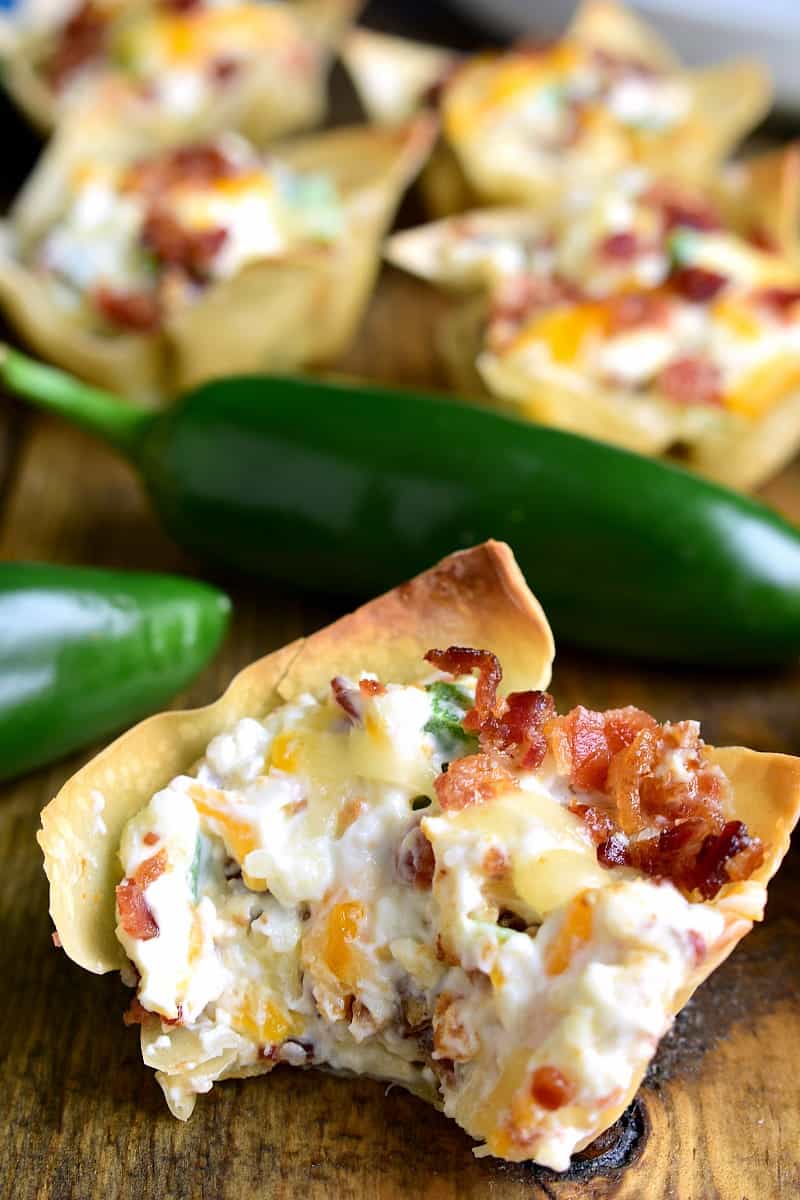 HOW DO YOU MAKE WONTON CUPS?
Start with wonton wrappers and a greased 12-cup muffin pan. You can find wonton wrappers in the produce section of your local grocery store.
Press wonton wrappers gently into muffin pan and pre-bake. This step is essential to ensure crispy (not soggy) wonton cups.
Prepare filling by mixing ingredients together. At this point you can either refrigerate the filling for later or use it right away by spooning it into pre-baked wonton cups. (*If you plan to save it for later, be sure to store your baked wonton cups in an airtight container.)
Bake filled wonton cups until golden brown; garnish as desired.
Store leftovers in the refrigerator and re-heat in the oven.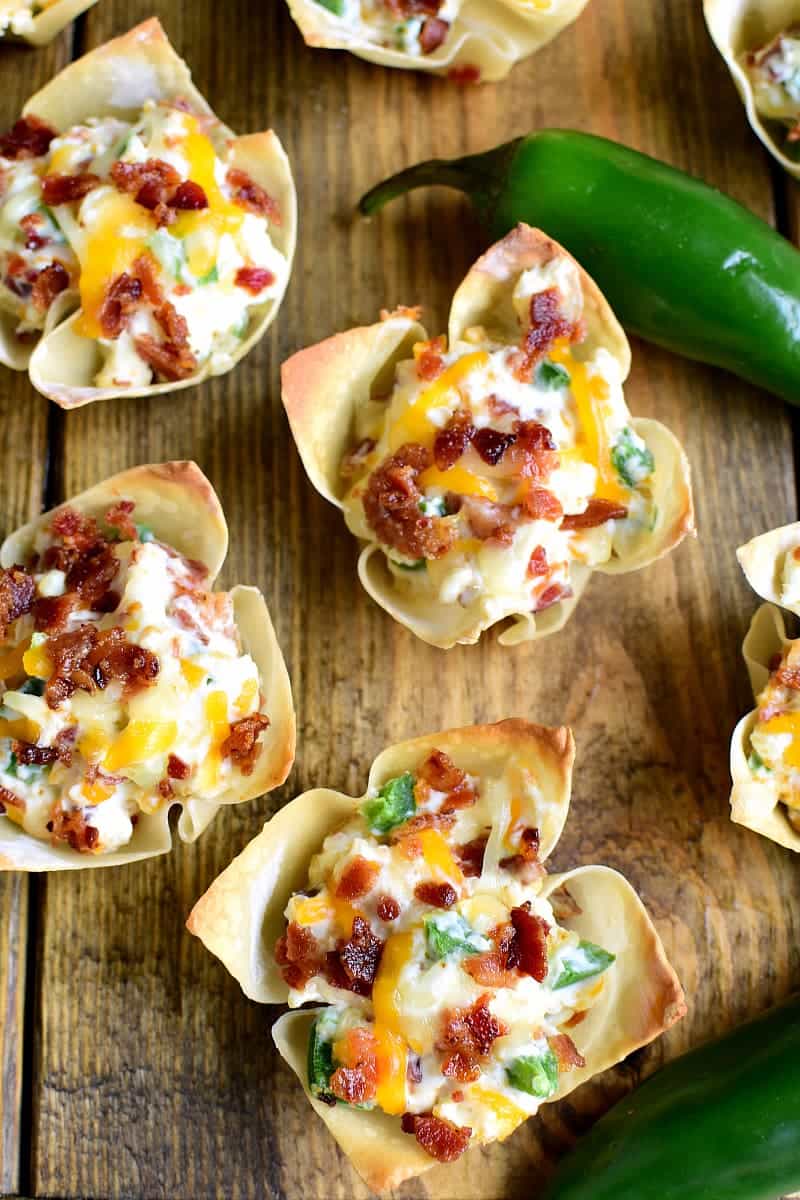 WHAT KIND OF FILLINGS CAN I PUT IN WONTON CUPS?
The short answer is….anything! Wonton cups are the perfect little wrappers for so many flavors. I like to use a combination of cream cheese, sour cream, and any of the following:
cream cheese
chicken
veggies
shrimp
ground beef
fruit
cheese
bacon
crab meat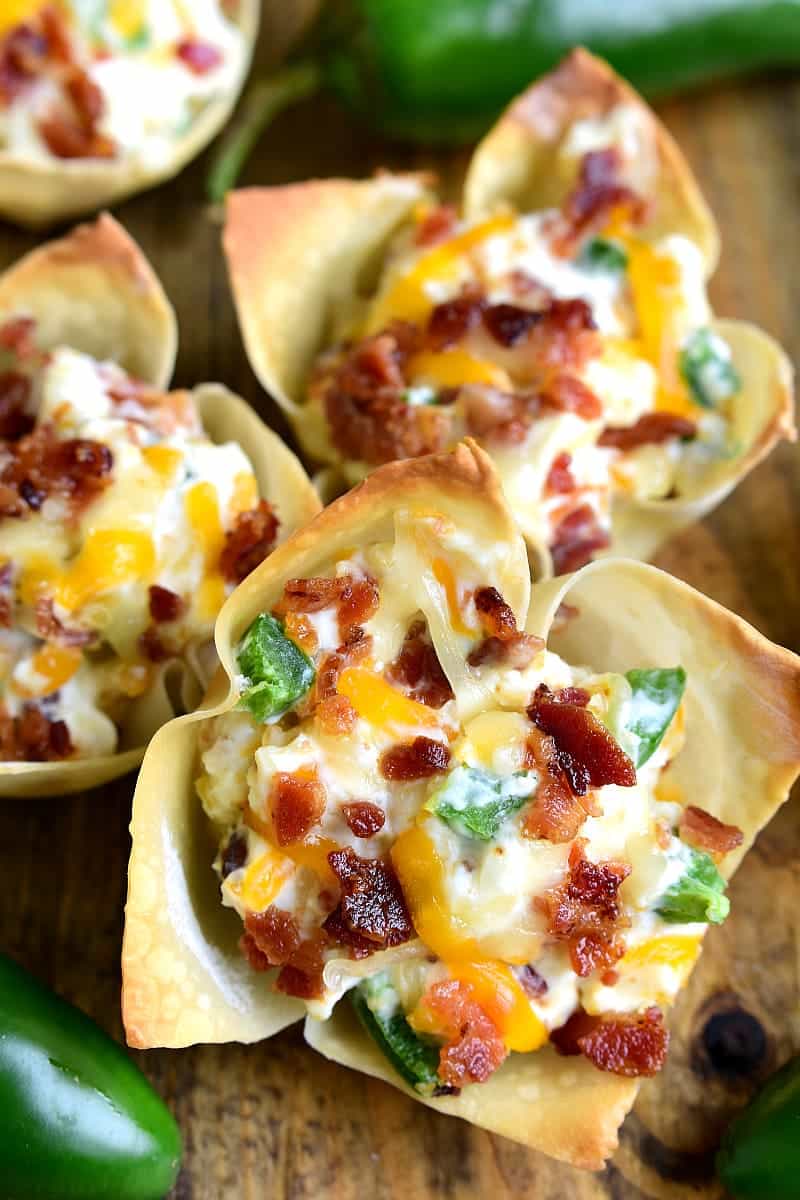 If you're looking for more Wonton Cup Recipes, you might like these:
And if you love jalapeno poppers, you'll love these Jalapeno Popper Recipes:
I hope you like these jalapeño popper wonton cups as much as we do!
Yield: 12
Jalapeno Popper Wonton Cups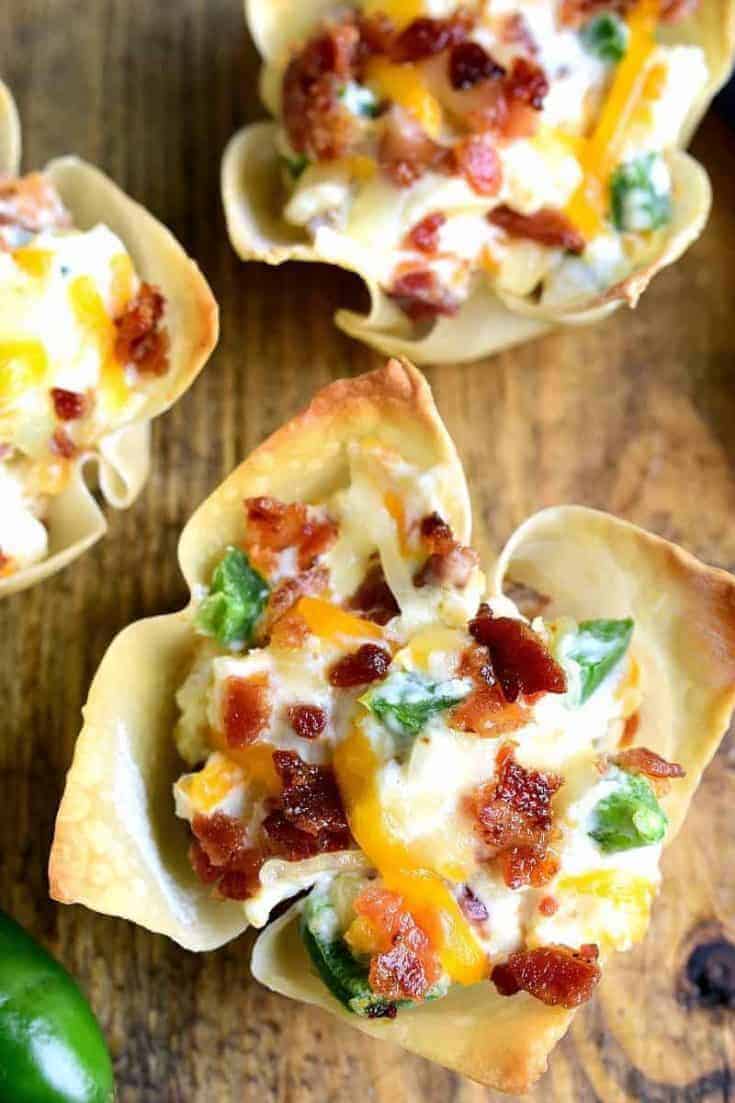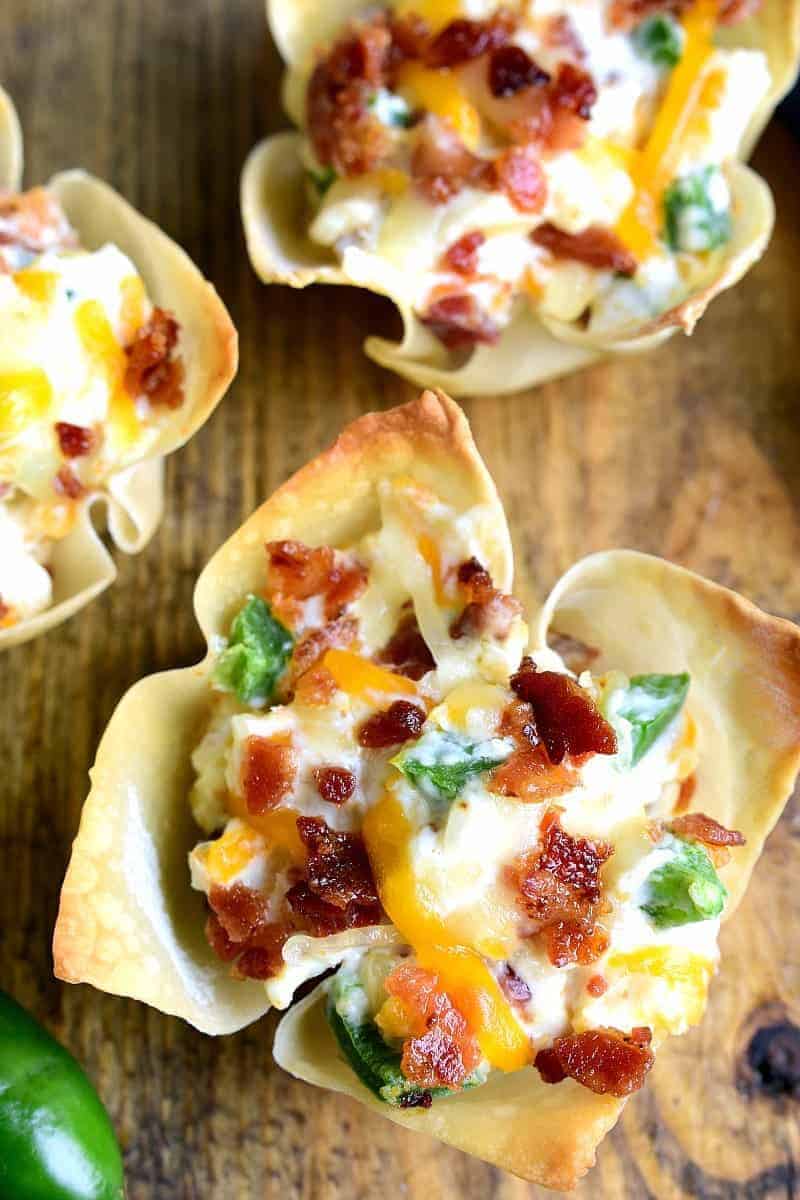 These Jalapeño Popper Wonton Cups are loaded with bacon, jalapeños, cream cheese, cheddar cheese, and sour cream....all in a crispy wonton shell! The perfect party or game day appetizer!

Prep Time 10 minutes

Cook Time 20 minutes

Total Time 30 minutes
Ingredients
12 wonton wrappers, *I found them in the produce section of my local grocery store
4 oz. cream cheese, softened
1/2 c. sour cream
12 oz. bacon, cooked & crumbled (reserve 2 Tbsp.)
1 c. shredded cheddar cheese, reserve 2 Tbsp.
3-4 jalapeños, seeded and chopped (**for more spice, do not remove all the seeds)
Instructions
Preheat oven to 350 degrees.
Spray muffin pan with cooking spray.
Place one wonton wrapper in each muffin cup; bake 10 minutes or until lightly browned.
Remove from oven and cool slightly.
In a medium-sized mixing bowl, stir together cream cheese, sour cream, bacon, cheddar cheese, and chopped jalapeños.
Spoon filling into wonton cups, then sprinkle with reserved bacon and cheese.
Return to oven and bake for an additional 8-10 minutes, until wontons are golden brown and cheese is melted.