Fresh greens topped with shredded BBQ chicken, sliced pears, chopped walnuts, and creamy Gorgonzola.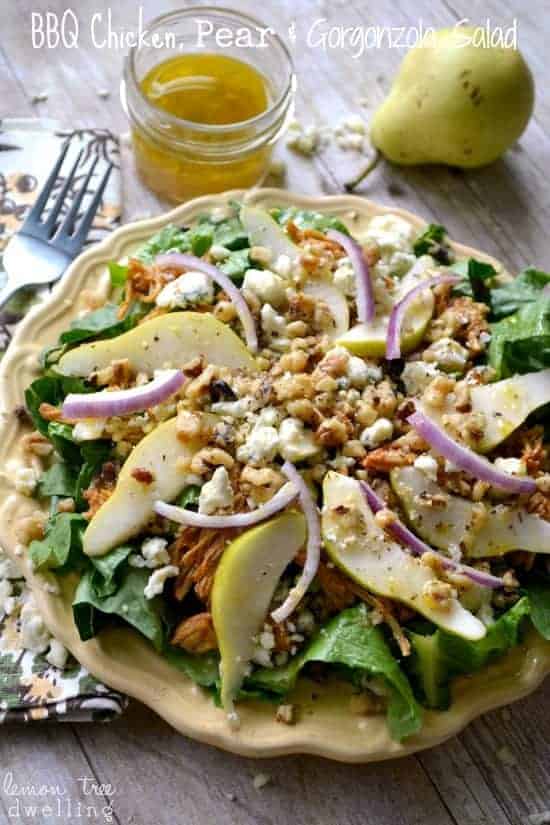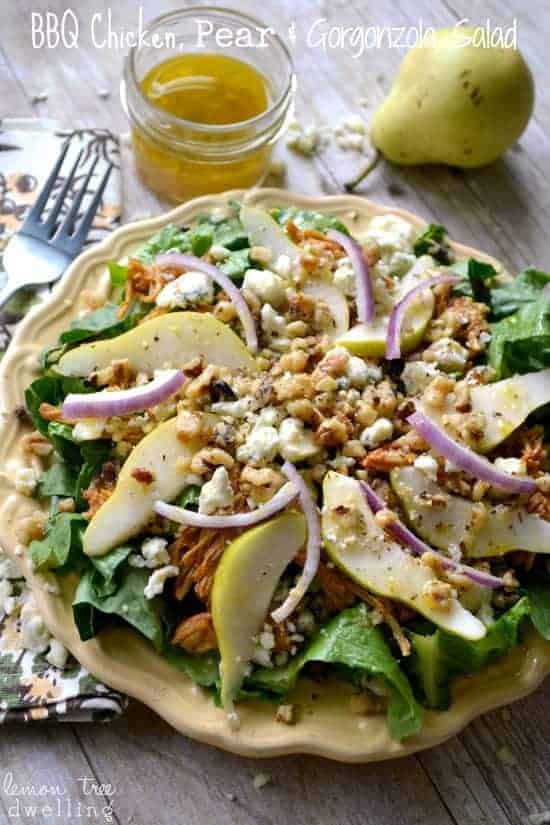 Do you ever look around your house and wonder how in the world it got to be such a disaster?? I'm not talking a little clutter here and there…..I'm talking knock your socks off, bring you to tears, awe-inspiring DISASTER, like the kind I have going on at my house right now! If you want, we can blame my feelings on "nesting" (I'm sure that's part of it) but the reality is there is a LOT of work to be done around here. And never enough time to do it!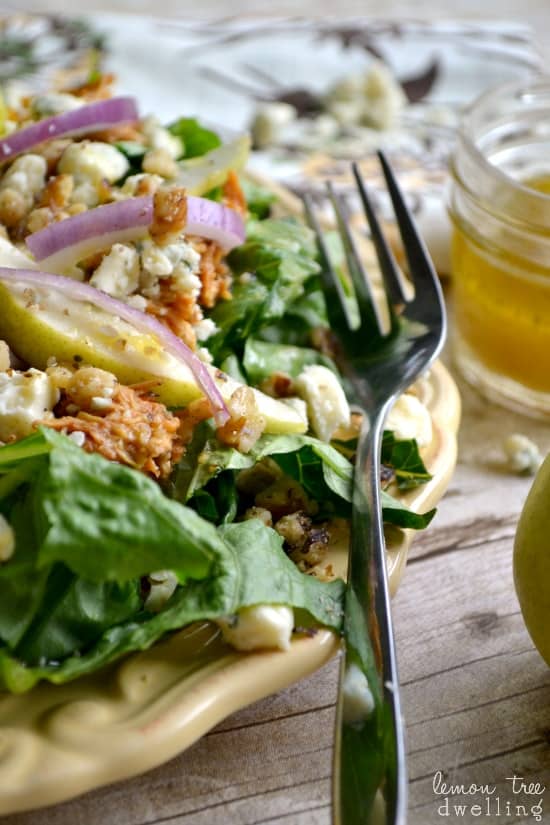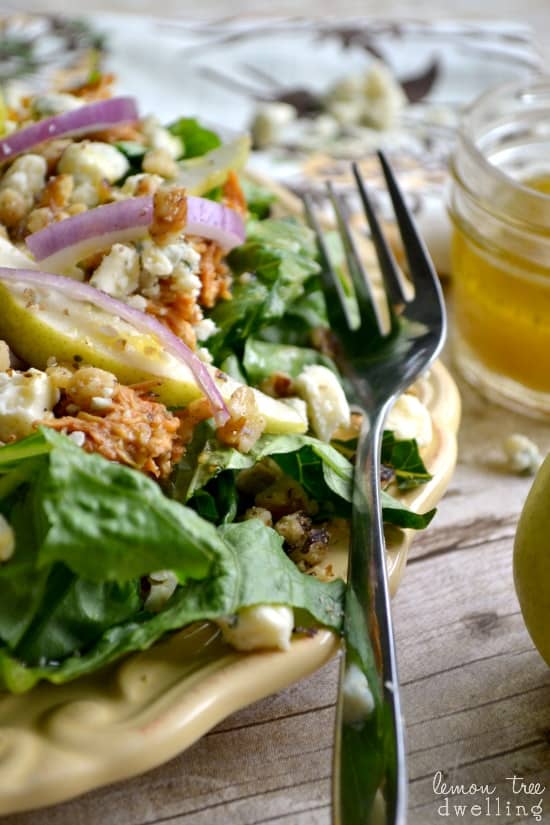 It's funny…..before I started blogging, my house was MUCH cleaner than it is now. Because every time I found myself without something to do, I would clean! I used to love the instant gratification of it – the fact that I could start with a mess and end with a beautiful, cleaned up space. It always felt like such a great accomplishment. The only problem is that now I NEVER find myself without something to do…!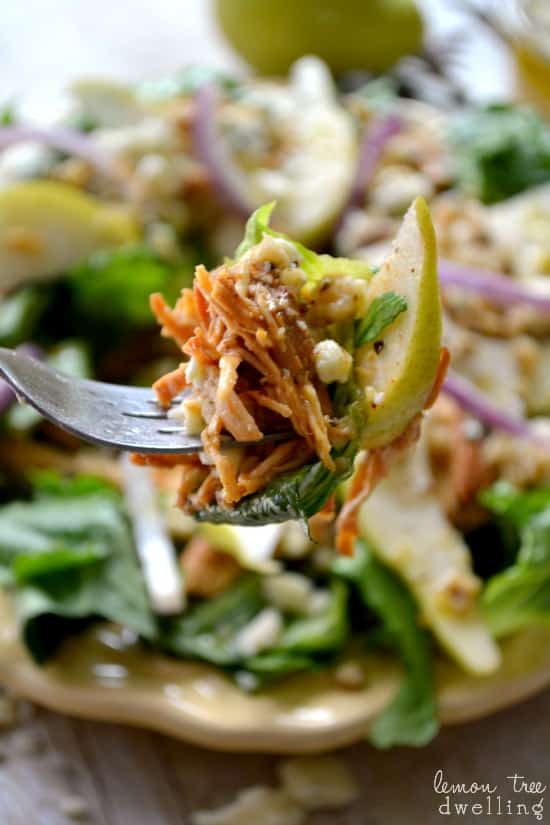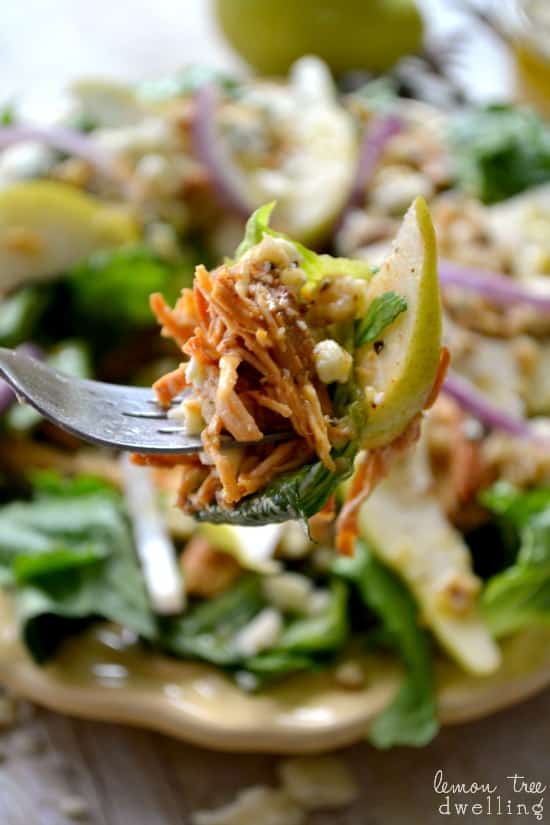 Instead, I find myself with TOO much to do…..so naturally, keeping the house clean takes a back seat. Don't get me wrong – I try to keep the main areas clean (I do the dishes and the laundry, sweep the floors, clean the bathrooms) – but it's the nether regions that suffer. The laundry room, basement, and even now the bedrooms are in a SAD state. A state where you CRINGE when someone else sees it. A state where you don't even really know where to begin, because it's THAT BAD.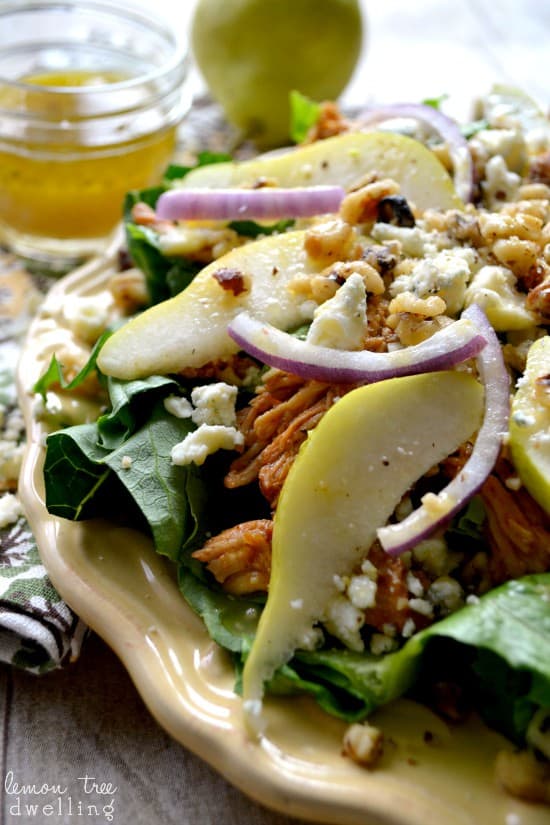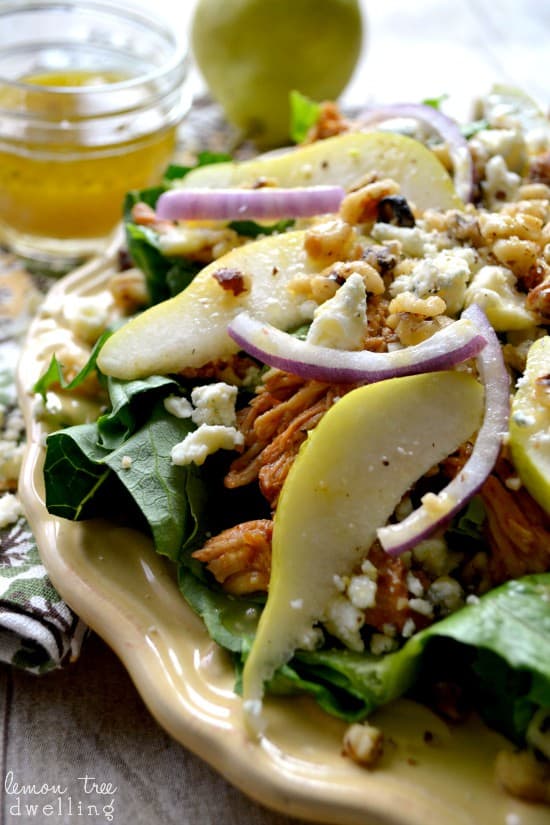 I actually had a little mini meltdown as I looked around at it all yesterday. Part of it is the change of seasons (swapping out clothes and shoes for 3 girls is NOT fun) and part of it is the fact that we had to clean out our guest room to make a nursery and part of it is the fact that we just had our basement drain tiles repaired and had to move everything away from one wall of the basement and part of it is just the way it is….. but I am convinced I need to devote a little time each day to the nether regions of my house. Before my mini meltdown turns into a full blown tantrum!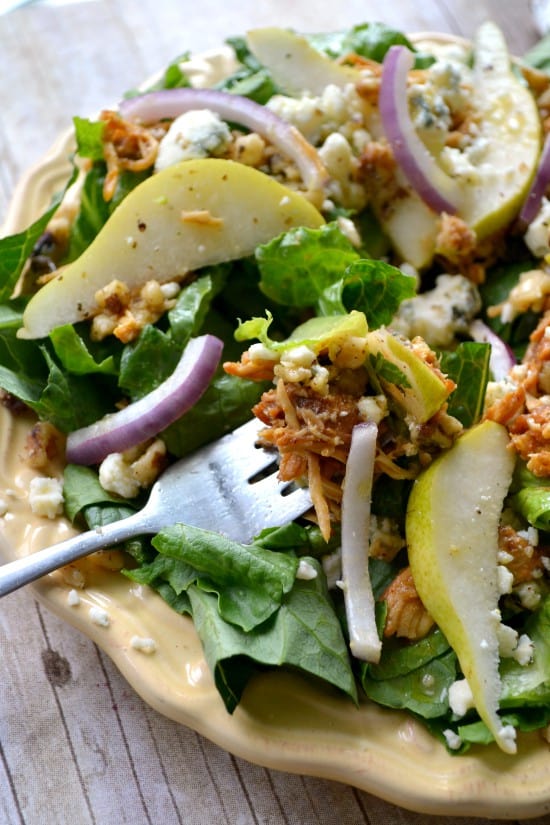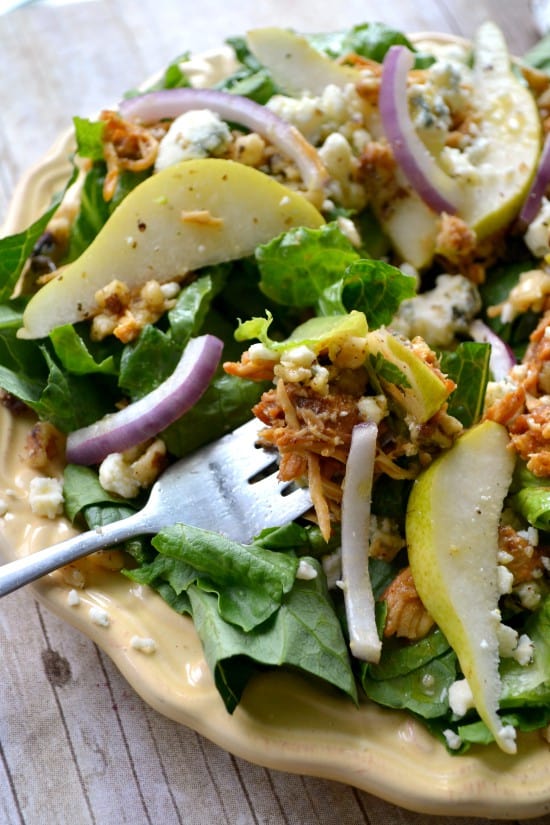 Yes, it is time to clean up and clear out here at our Lemon Tree Dwelling……(so if you see a little less of me, you'll know why!) Speaking of cleaning up and clearing out, this salad is perfect for that mindset! It's a great way of using up your leftover crockpot shredded chicken so you can clear out your fridge (another one of our nether regions) and the shredded chicken just happens to pair perfectly with the other simple, delicious ingredients. So in the midst of all your cleaning up (and mine) we can still treat ourselves to something delicious. And that makes everything just a little bit better.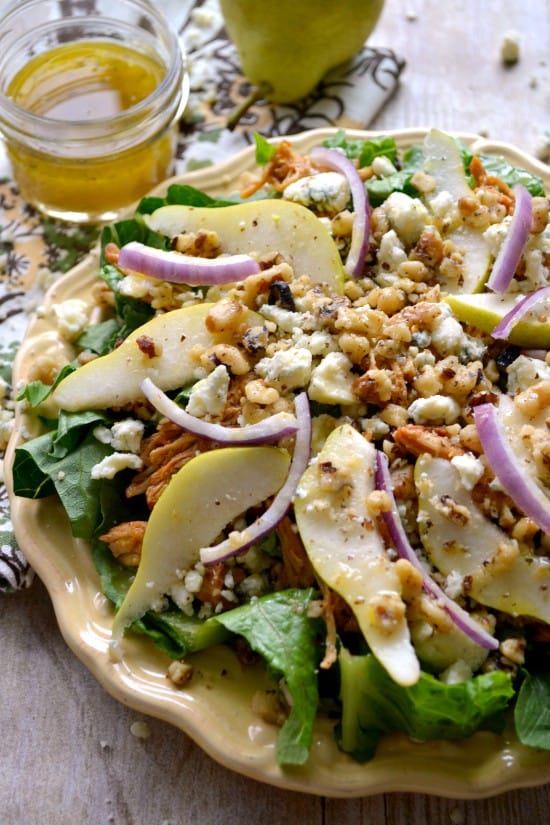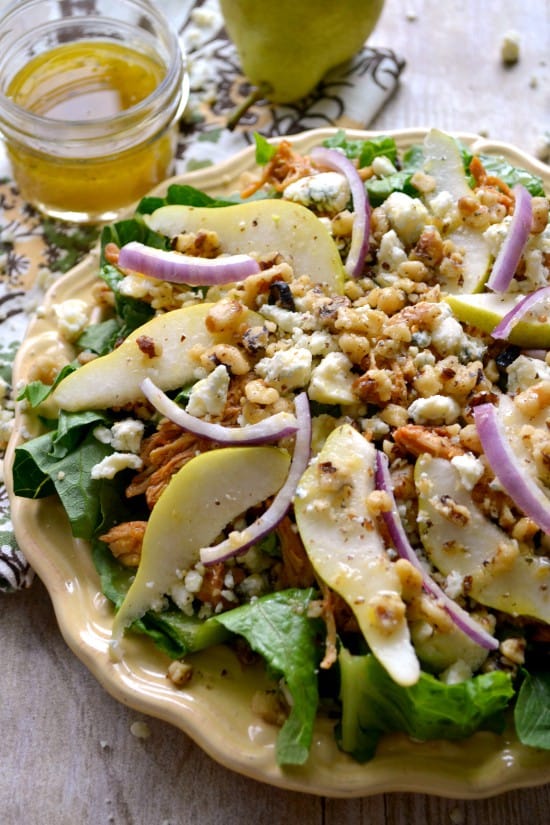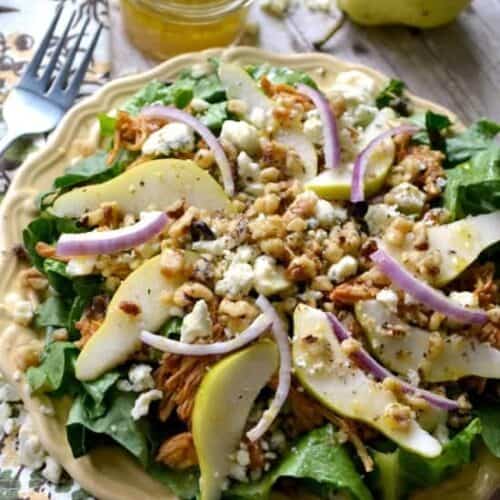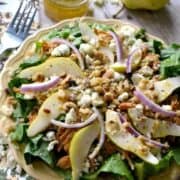 BBQ Chicken, Pear & Gorgonzola Salad
Ingredients
Salad
1

romaine lettuce heart

1/2

c.

BBQ shredded chicken

1/2

pear

sliced

1/4

c.

Gorgonzola cheese

crumbled

1/4

c.

chopped walnuts
Dressing
1/3

c.

olive oil

1/3

c.

cider vinegar

2

Tbsp.

honey

2

Tbsp.

Dijon mustard

1/2

tsp.

minced garlic

1/4

tsp.

onion powder

1/4

tsp.

rubbed sage
Instructions
Assemble salad by topping torn romaine lettuce with other ingredients and drizzling with dressing.
Dressing
Combine all ingredients in a small jar and shake vigorously to combine.