This BBQ Chicken Apple Pizza has all the flavors of the original, with the delicious addition of apples and cilantro…and extra bbq sauce drizzled on top! Made with individual flatbread crusts, this pizza comes together in no time at all and is sure to be a hit with the whole family!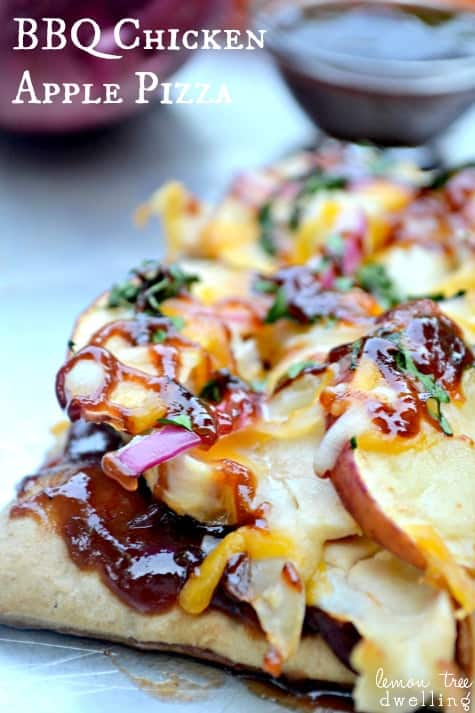 Anyone who has ever looked inside my fridge can tell you that I have a slight issue with condiments…..and by issue, I mean obsession! My fridge is packed-to-the-gills full….to the point where things are often falling out on you while you're looking for something….and I think it's safe to say that 50 percent of it is condiments!! I'm sure you think I'm exaggerating….(who has that many condiments in their fridge?)….but if you would take a look, you would understand!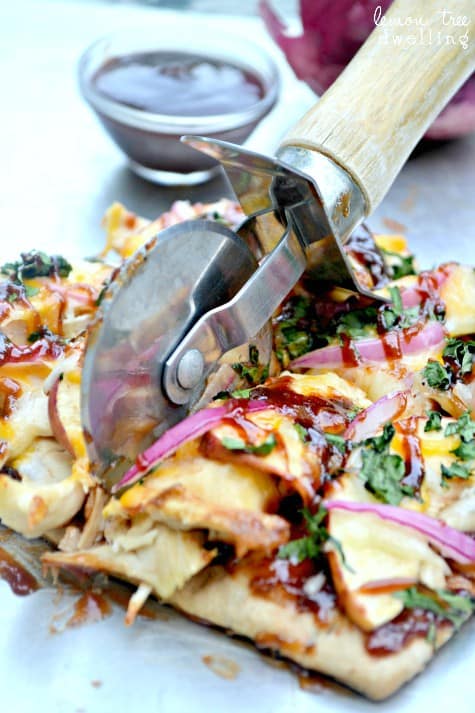 In addition to the usual suspects, like ketchup, 4 different types of mustard, mayonnaise, bbq sauce, 7 different types of salad dressing, tartar sauce, and a couple different types of taco sauce……(!) there's also pesto (2 flavors), sweet chili sauce, secret stadium sauce, hot giardiniera peppers, oyster sauce, several marinades, tapenade, various artichoke and eggplant spreads, sweet 'n' hot pepper relish, and about 4 different types of cream cheese…..and that's just what I can see without digging!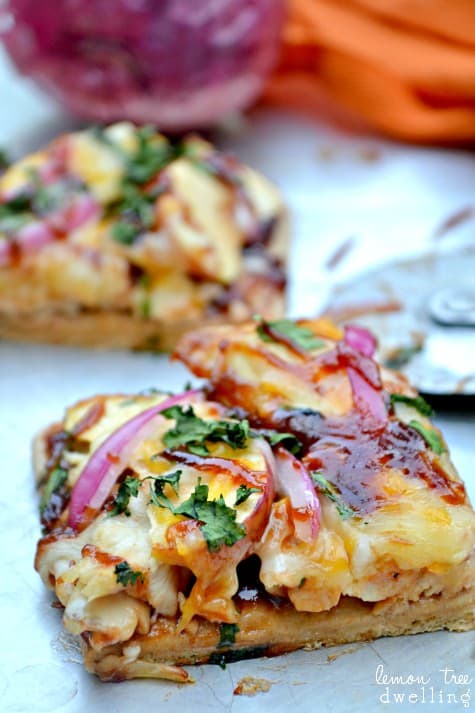 So, you see, I have a bit of an obsession with condiments. Which is fun when you're a food blogger and looking for different flavors to experiment with….and fun when friends stop by last-minute for a visit….but not so fun when you nearly break your toes every time you open your fridge! I'd like to say I'm in the middle of organizing and clearing it all out….but the reality is I'm NOT! Because I'm a condiment lover, and condiment lovers need their condiments. They make everything taste better….like this BBQ Chicken Apple Pizza! With bbq sauce on the bottom AND the top, it's a condiment-lover's dream. And you don't even need a packed-to-the-gills fridge to pull it off.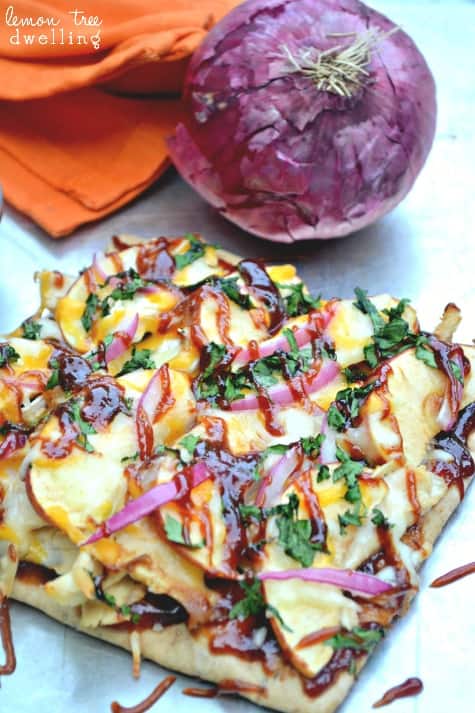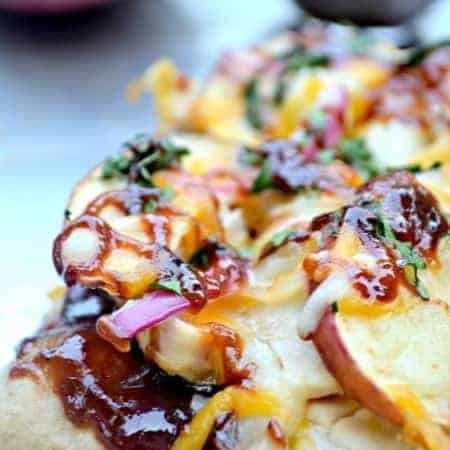 BBQ Chicken Apple Pizza
Yield: 4

Prep Time: 5 minutes

Cook Time: 12 minutes

Total Time: 17 minutes
Ingredients
4 small flatbreads, I used One Republic Artisan-Style Flatbreads
2 c. shredded, cooked chicken
1 red apple, thinly sliced
1/2 c. cooked, chopped bacon
1 c. shredded cheddar cheese blend
2 rings red onion
1/2 c. bbq sauce, plus more for drizzling
1/4 c. chopped fresh cilantro
Instructions
Top each flatbread with 2 Tbsp. bbq sauce, 1/2 c. shredded chicken, 1/4 sliced apple, 2 Tbsp. bacon, 1/4 c. cheese, 1/2 ring red onion pieces, and 1 Tbsp. chopped fresh cilantro.
Drizzle with additional bbq sauce and bake on cookie sheet at 400 degrees for 12 minutes.
Nutrition Information:
Yield: 8 Serving Size: 1 grams
Amount Per Serving: Calories: 353Total Fat: 12gSaturated Fat: 5gTrans Fat: 0gUnsaturated Fat: 6gCholesterol: 51mgSodium: 664mgCarbohydrates: 43gFiber: 2gSugar: 10gProtein: 18g