Peach Dump Cake – made with just 6 ingredients and perfect for feeding a crowd!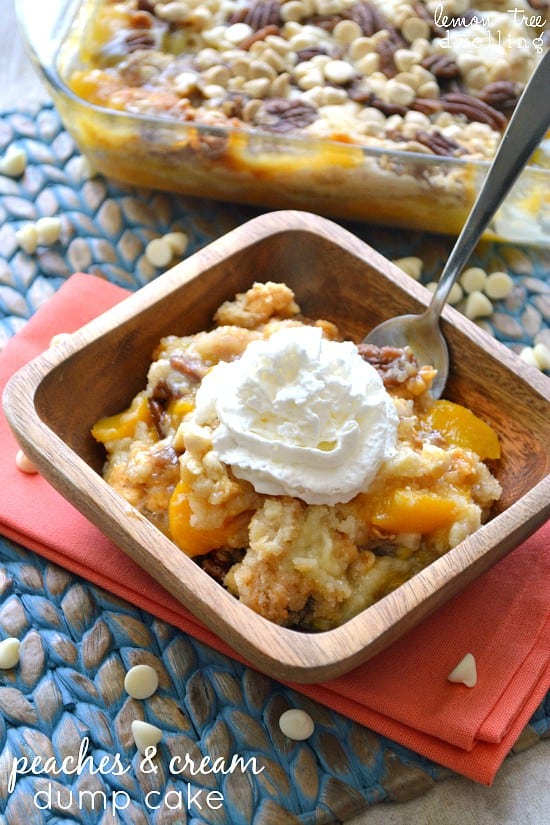 Yesterday was my sister's birthday, and we did something we haven't done in a long time. We went out to dinner with her to celebrate! Sounds like no big deal, right? People go out to celebrate birthdays all the time! And we used to be those people…..before we had 5 kids between us….!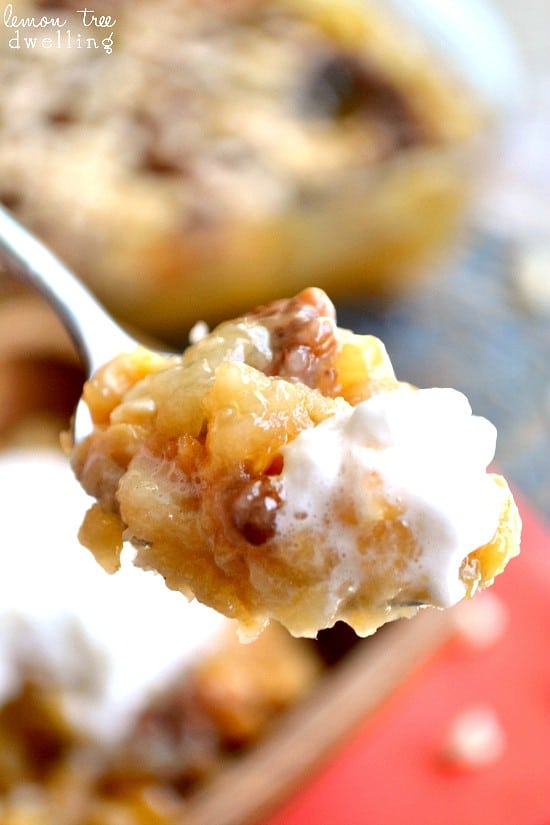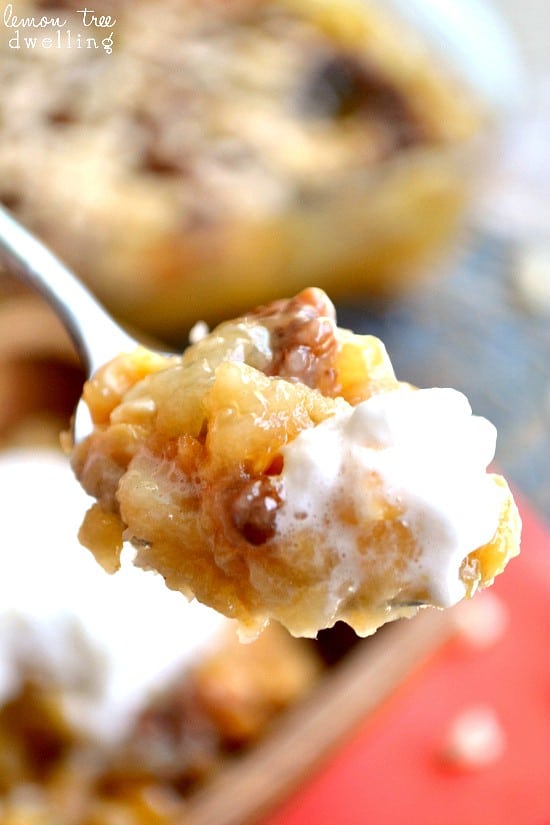 I'm not sure what got into us, or why we thought it was a good idea, but we decided to meet at Olive Garden at 5:30. Plenty of time before the kids' bedtime, and with four adults to our five kids, we figured we'd have things under control. All I can say is WE WERE WRONG!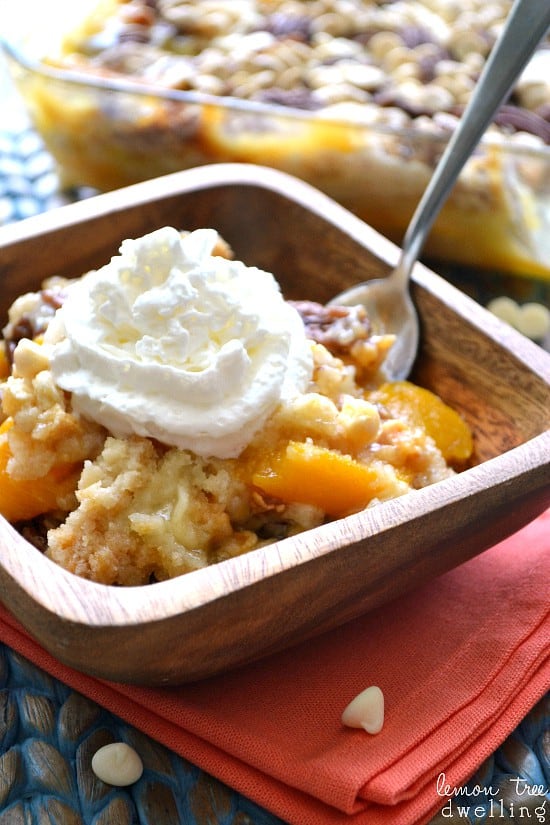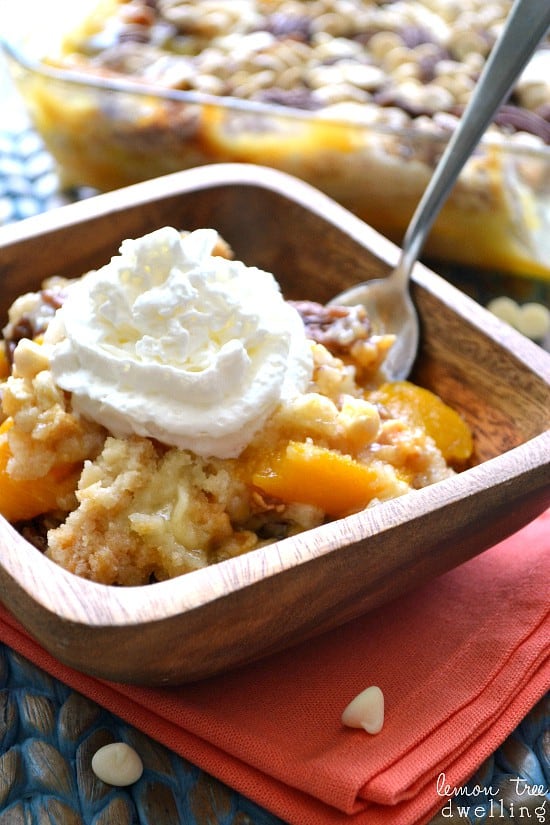 From the minute we pulled in next to them, it was clear that the kids were excited. And not just ours….theirs, too! Then came the 15 minute wait to get seated, during which the kids chased each another in circles, and the additional 15 minute wait to order our food, followed by 15 more minutes until our food actually showed up at the table. The kids all ate a few bites and then decided they were tired of sitting down….so within minutes they were up and chasing each other in circles. Again.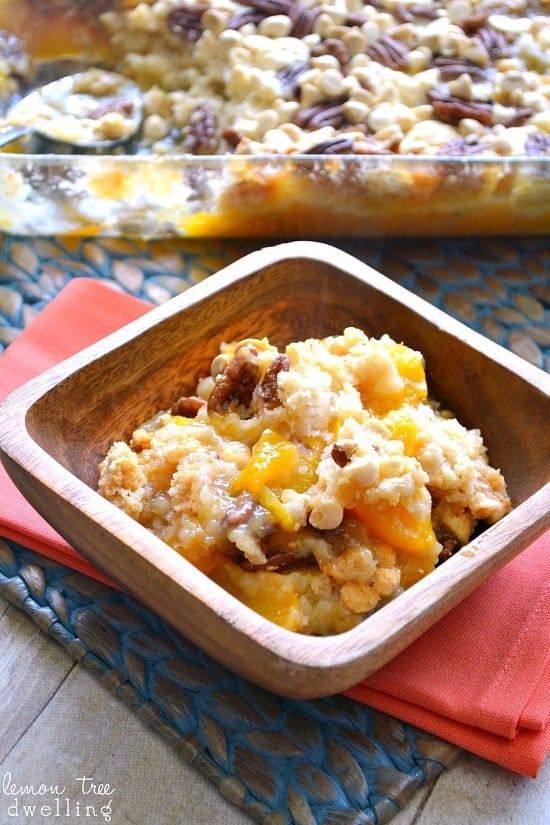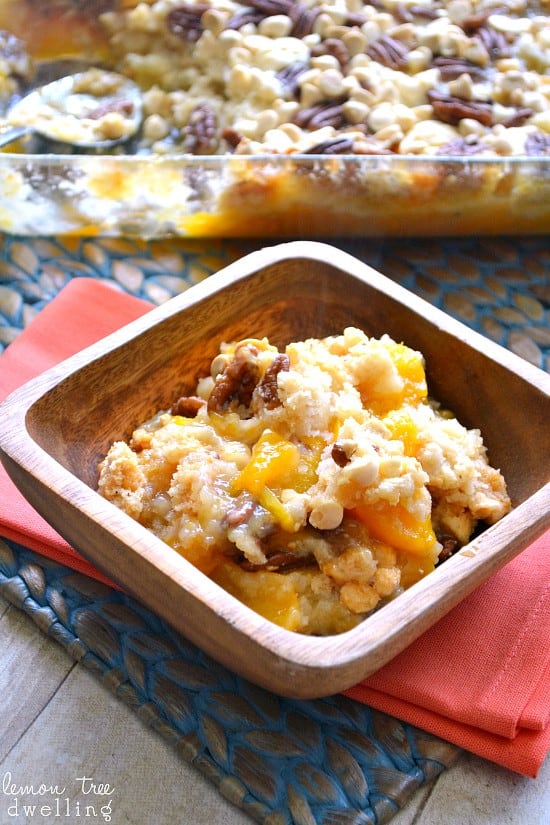 Of course, we didn't just let them run wild….we pretended to have things under control and made them sit back down! Which worked for about 5 minutes, until they slowly started creeping up out of their chairs, needing to use the bathroom, wanting to play on our phones, asking if we would please please please tell them the baby's name, running up and down the mini set of stairs that set our table off from the rest of the restaurant….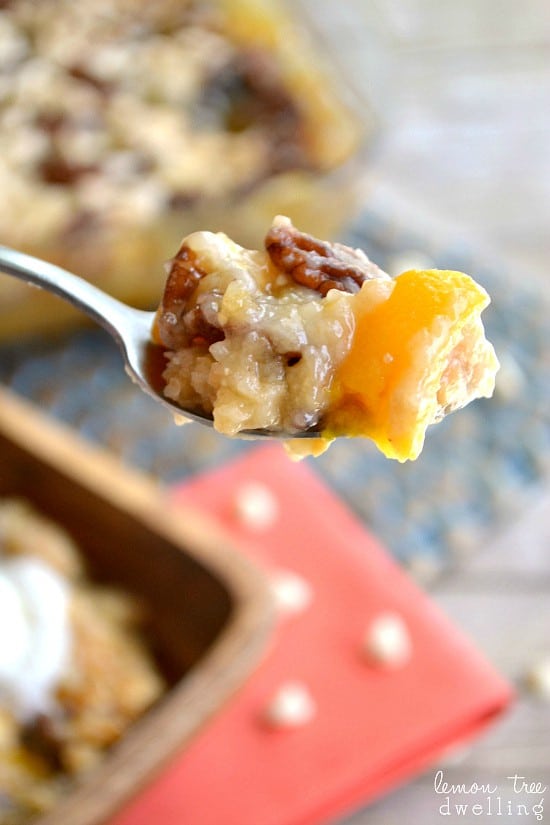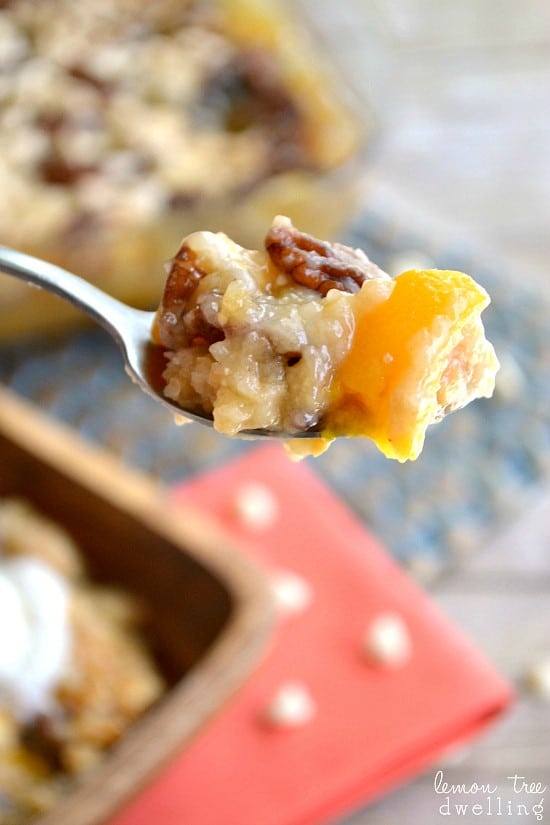 Needless to say, our dinner was somewhat distracting. (Not just for us, but for everyone around us!) And this was all before dessert. Yes, at the last minute, when we felt like we couldn't possibly stay a moment longer, my sister's birthday dessert arrived at the table. And it was at that moment that I wondered why we hadn't just stayed home, ordered pizza, and whipped up a dump cake. It would have been easy, delicious, and possibly even enjoyable….! (Oops- did I just say that outloud!?)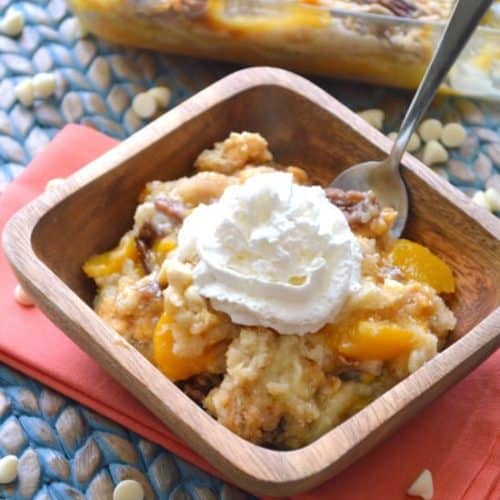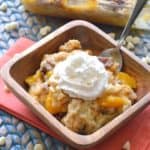 Peaches & Cream Dump Cake
Cook Time
1
hour
5
minutes
Total Time
1
hour
10
minutes
Ingredients
1

box white or yellow cake mix

1

can peach pie filling

1

15 oz. can sliced peaches in light syrup (don't drain)

1

stick unsalted butter

cut in pieces

1

c.

white chocolate chips

1

c.

pecan halves

optional
Instructions
Spread pie filling in a greased 9x13 inch pan.

Spoon on the peaches, then the dry cake mix.

Top with butter pieces, white chocolate chips, and pecans.

Bake at 325 degrees for 60-70 minutes.

*If necessary, cover with foil near the end to prevent over-browning.

Serve with whipped cream.


Also be sure to check out my Banana Split Dump Cake recipe!