Mini BBQ Chicken Pizzas – made in muffin tins – a new twist on pizza, and sure to be a hit!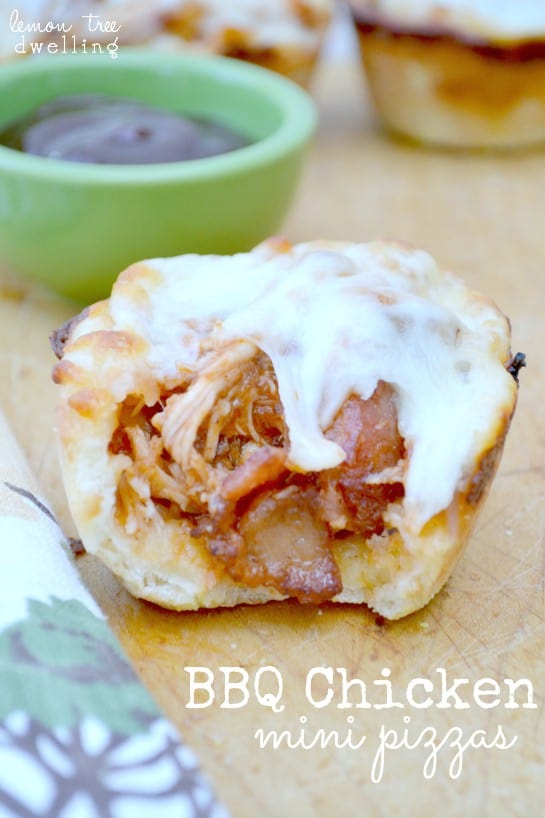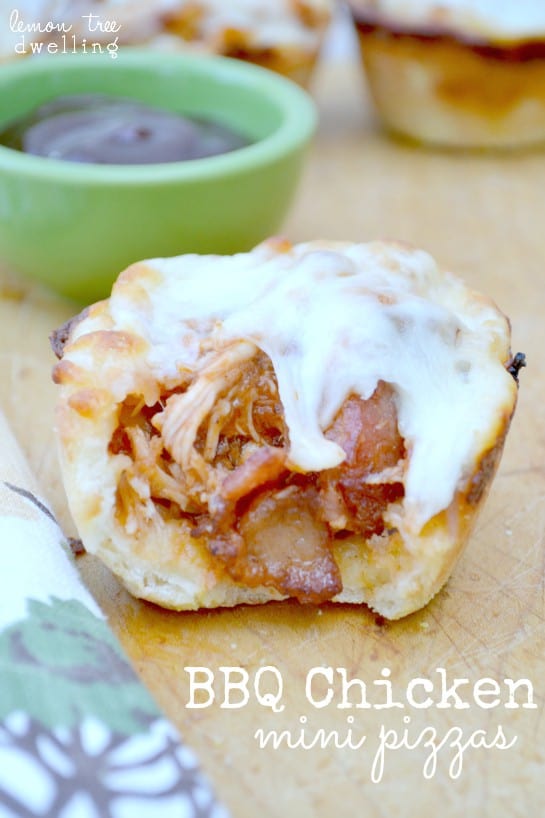 So what's a mom to do when her kids decide they are sick of pizza….!? Yes, really. Pizza. My favorite go-to dinner, movie night menu, sleepover food, take-out option…. My kids have recently gone from being excited about it to DONE with it. I guess maybe this would fit into the "too much of a good thing…" category.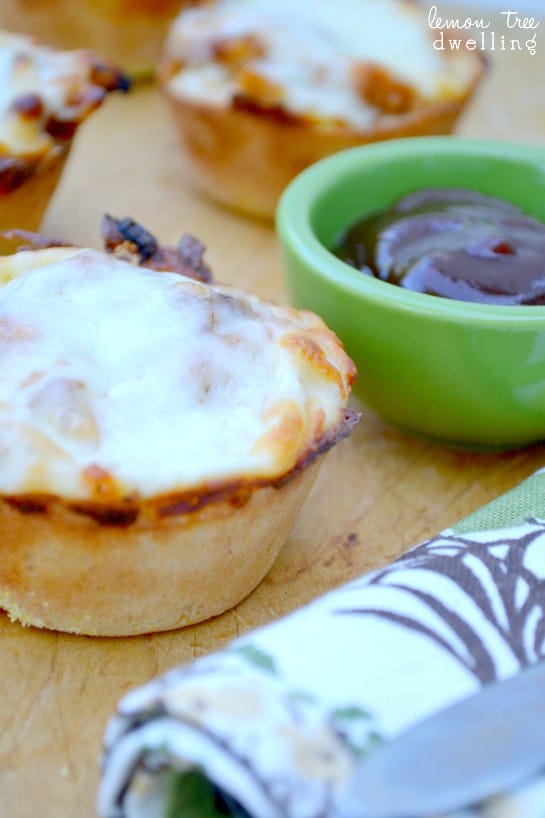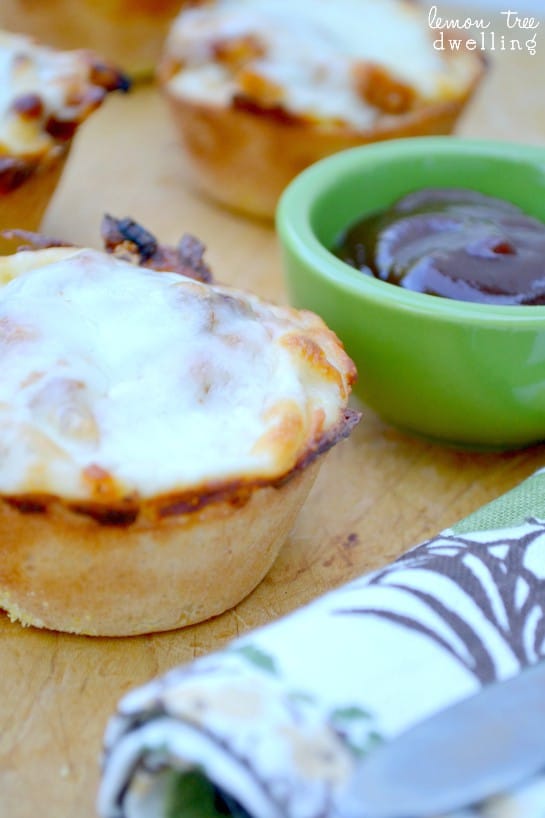 I am REALLY not ready for this to happen. I LOVE pizza! I love the fact that it can be a complete, all-in-one meal, I love the fact that there are so many different ways to go with it, and I especially love the fact that I almost always have the ingredients on hand to make it!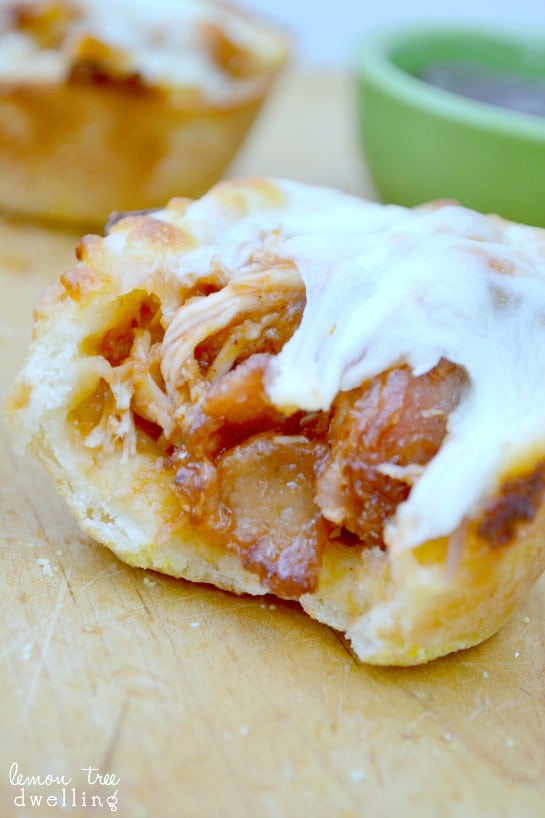 So when Jorden called from work yesterday and asked, "What's for dinner?" and I looked in the cupboard and saw a pizza crust mix, I knew right away I'd be using it. (Sorry, kids!) And when I looked in the fridge and saw half of a rotisserie chicken and a package of bacon, I knew I'd DEFINITELY be using it….despite the complaints and disappointment that were sure to come my way.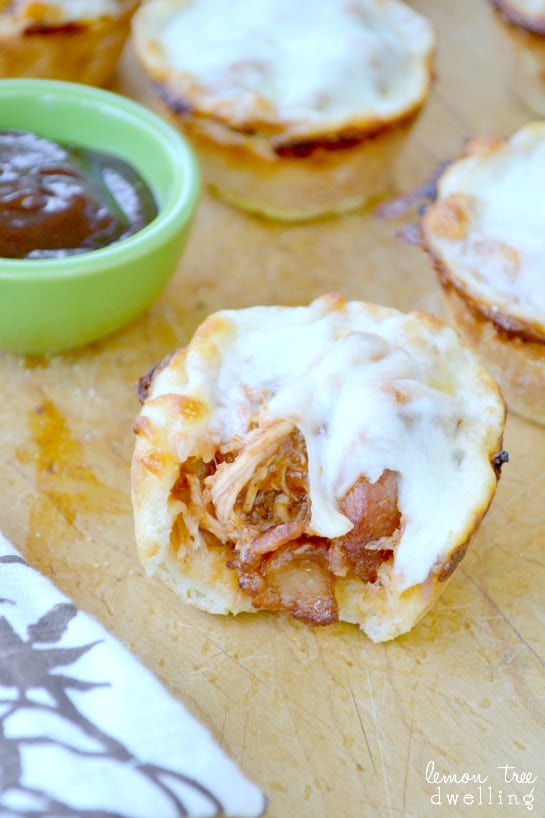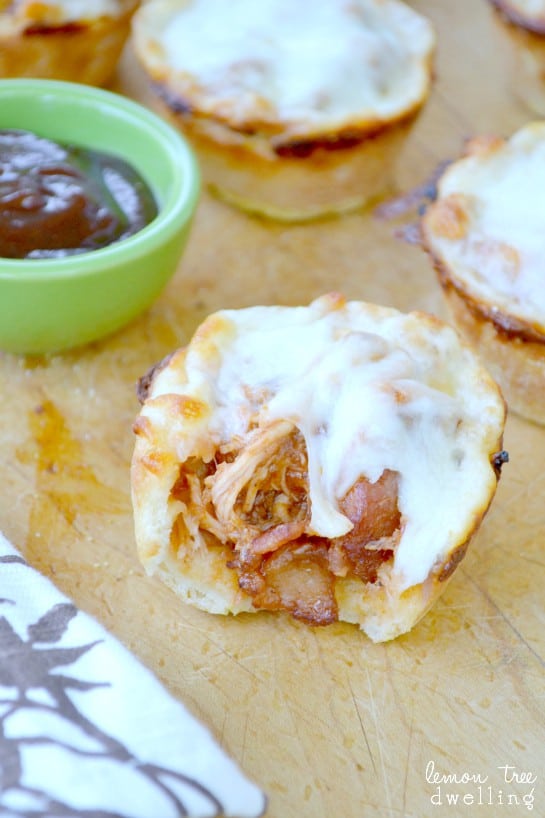 BUT. In an attempt to mix things up and make pizza "new" again, I made a last-minute decision to use the muffin tins. I figured anything mini is more fun. I figured, that way, every kid gets one mini pizza and eats it….rather than arguing over whose piece is bigger or "how many more bites." I had never made pizza in muffin tins before, but I found it was quite easy (as you might imagine!)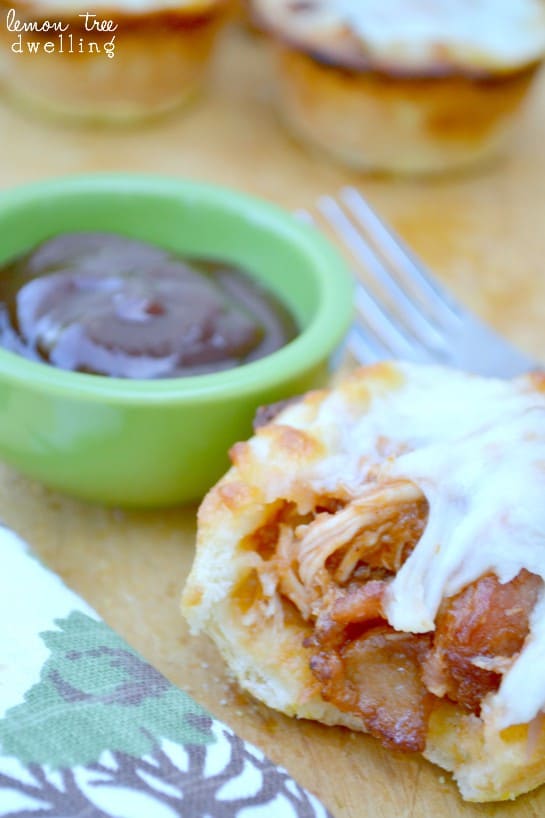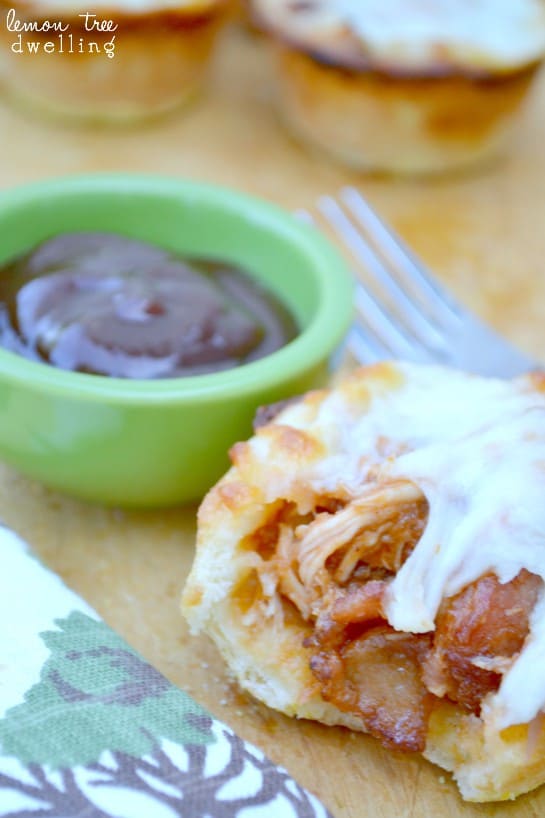 I simply mixed up the dough, divided it into 12 pieces, stretched it out inside the muffin tins, filled each cup with the fixings, and topped them with cheese. Because of the smaller size, 10 minutes was all it took for them to be hot and melted to perfection. And….it turns out…..the muffin tins were my best idea yet! Not only were there no complaints, the kids were excited to eat them!! The power of mini – who would've known!?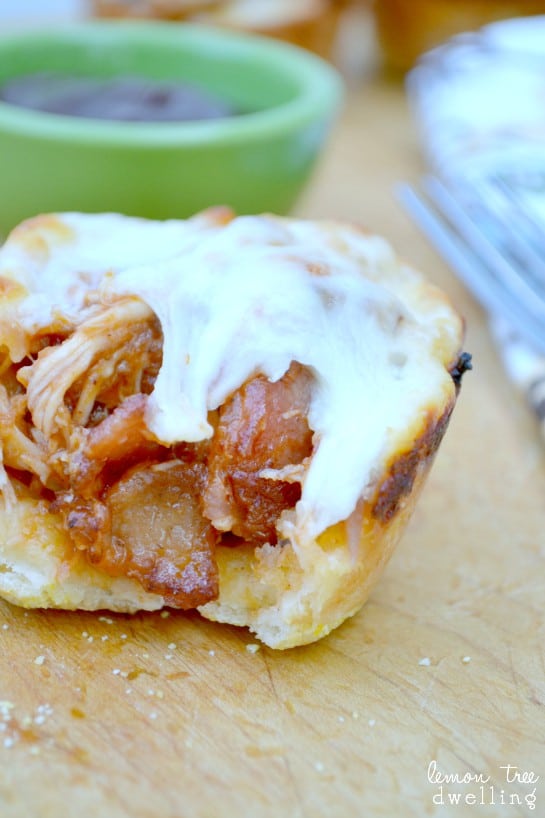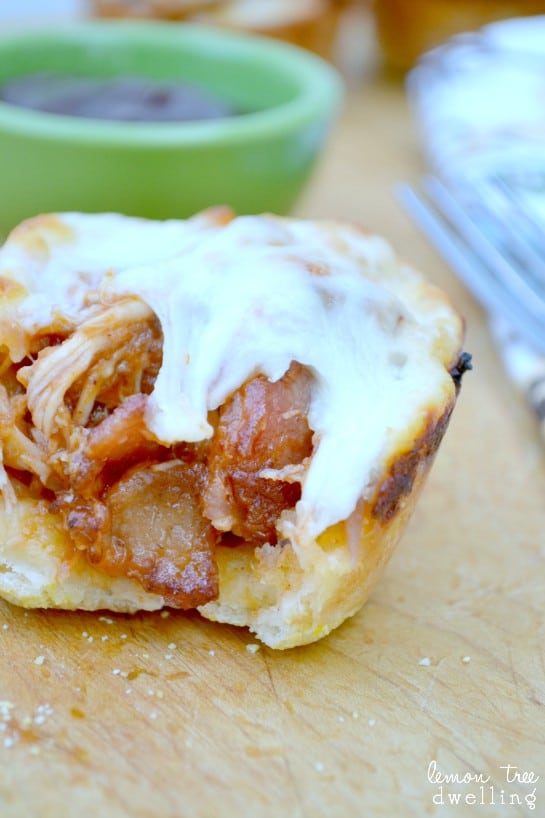 I guess this means I don't have to give up on pizza, or let it die the slow death I was imagining. Maybe, instead, I just need to get better about re-imagining the foods we (I) love. Either that….or just start making everything mini….!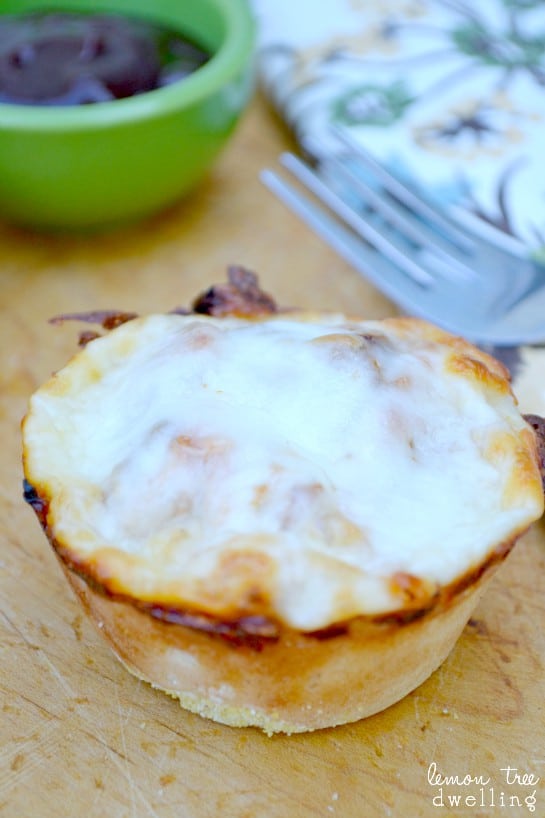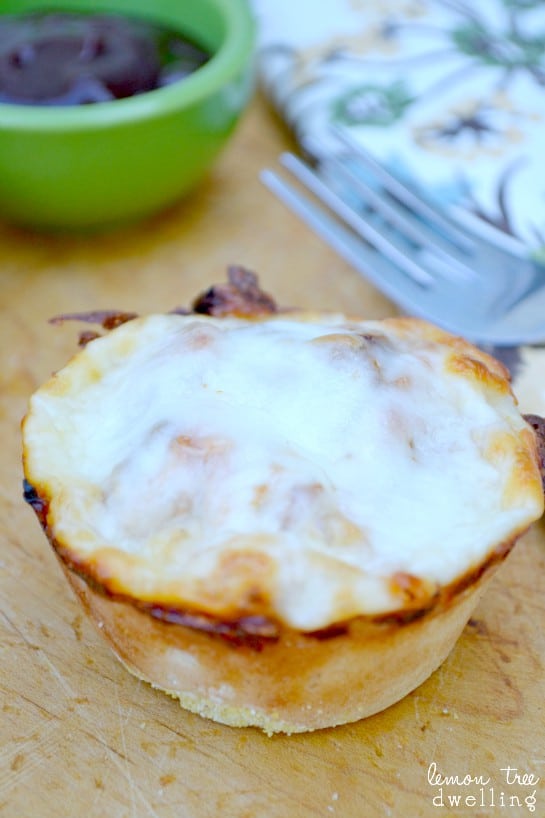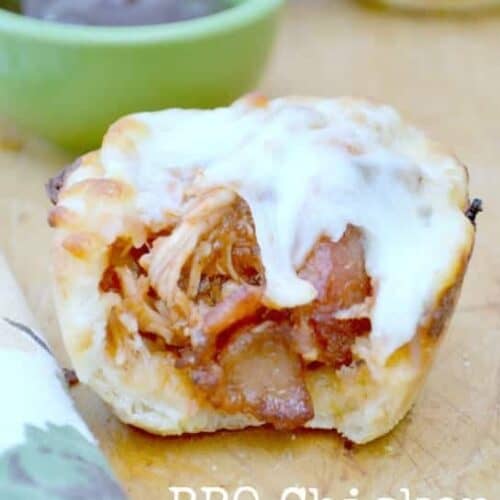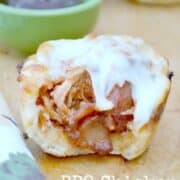 BBQ Chicken Mini Pizzas
Ingredients
1

roll Pillsbury pizza crust

cornmeal

2

c.

cooked

shredded chicken (I used rotisserie)

6

slices

bacon

chopped

2

c.

shredded mozzarella cheese

1/2

c.

thinly sliced red onion

1/4

+ 1/8 c. barbecue sauce

I used Sweet Baby Ray's Honey flavor

1/8

c.

ketchup
Instructions
Preheat oven to 450 degrees. Divide into 12 equal portions.

Grease 12 regular muffin tins. Sprinkle a small amount of cornmeal in the bottom of each tin, then spread a portion of dough on the bottom and up the sides of each.

In a small frying pan over medium heat, cook bacon and onion until bacon is browned.

Combine cooked chicken, bacon, onion, barbecue sauce, and ketchup in a medium bowl. Stir to combine.

Divide chicken mixture evenly among muffin tins. Top with mozzarella cheese, divided.

Bake at 450 degrees for 10-12 minutes.