The BEST Greek Salad recipe!
This easy Greek Salad is loaded with tomatoes, cucumbers, red onion, peppers, kalamata olives, and feta cheese. It's tossed in a homemade Greek dressing and packed with the most amazing flavor!
It makes a delicious main dish and can also be served alongside any of your favorite meals. If you love Greek flavors, you'll absolutely love this traditional Greek Salad…with a twist!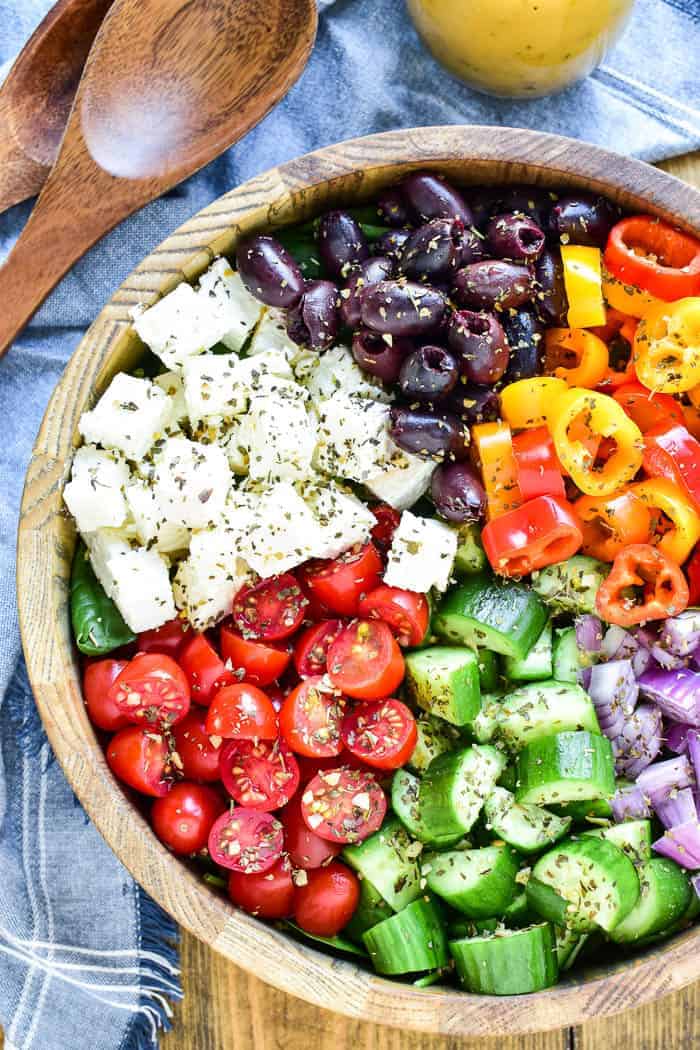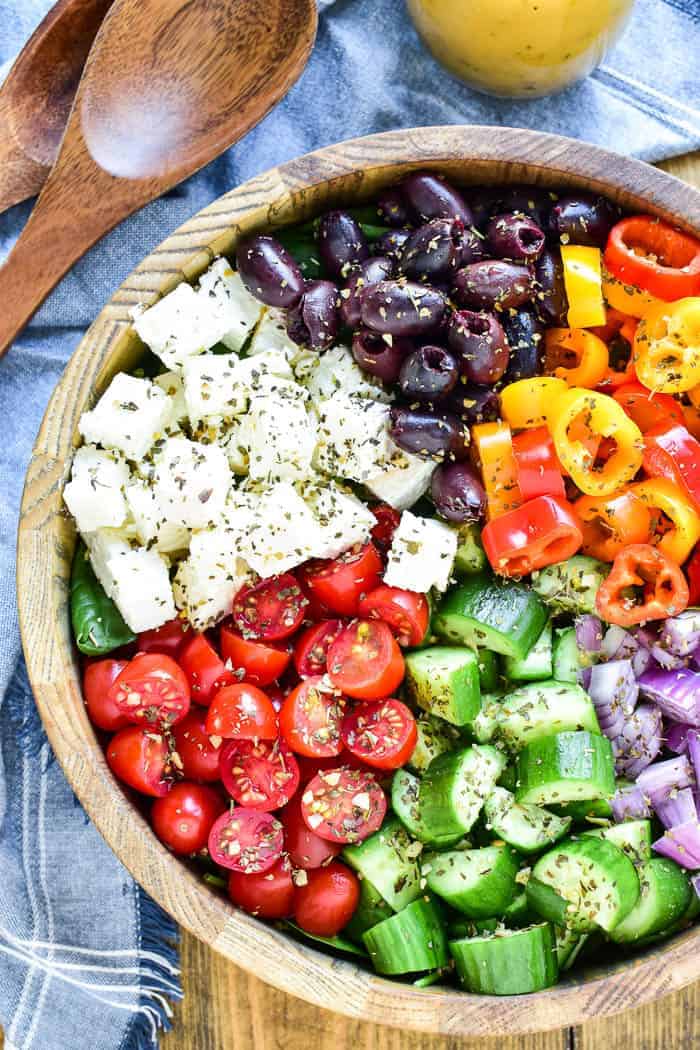 WHAT IS GREEK SALAD?
Traditional Greek Salad is made with tomato, sliced ​​cucumber, green pepper, sliced red onion, Kalamata olives, and feta cheese. It's seasoned with dried oregano and salt and dressed with extra virgin olive oil and a splash of red wine vinegar.
IS GREEK SALAD HEALTHY?
Yes! Greek Salad is low-calorie and nutrient-dense. It's packed with vitamins and minerals and contains phytonutrients and antioxidants, both of which reduce the risk of health problems such as heart disease and cancer.
WHY IS GREEK SALAD SO GOOD FOR YOU?
Tomatoes: Tomatoes are a good source of lycopene, which has been linked to many health benefits including reduced risk of heart disease and cancer. They are also a great source of vitamin C, potassium, folate and vitamin K.
Cucumbers: Cucumbers contain many important vitamins and minerals. They offer a number of important health benefits, including weight loss, balanced hydration, digestive regularity and lower blood sugar levels.
Oregano: Oregano helps reduce infections, prevent damage to cells by free radicals, prevent cancer, and reduce inflammation. It also helps combat bacteria, support heart health, and improve digestion.
Onions: Onions contain small amounts of calcium, iron, folate, magnesium, potassium and antioxidants.
Olives: Olives are high in vitamin E and other powerful antioxidants. They are good for the heart and may protect against osteoporosis and cancer.
Feta: Feta cheese contains significant amounts of protein, calcium, B-complex vitamins riboflavin, vitamin B6, B12, vitamin A, iron, phosphorus, zinc, and many trace minerals (selenium, magnesium, potassium, copper, and manganese).
Olive oil: Olive oil is rich in vitamins and has antioxidant properties, so it might help prevent or reverse damage from cancer-causing ultraviolet radiation. It also reduces brain inflammation and is said to help fight off Alzheimer's disease.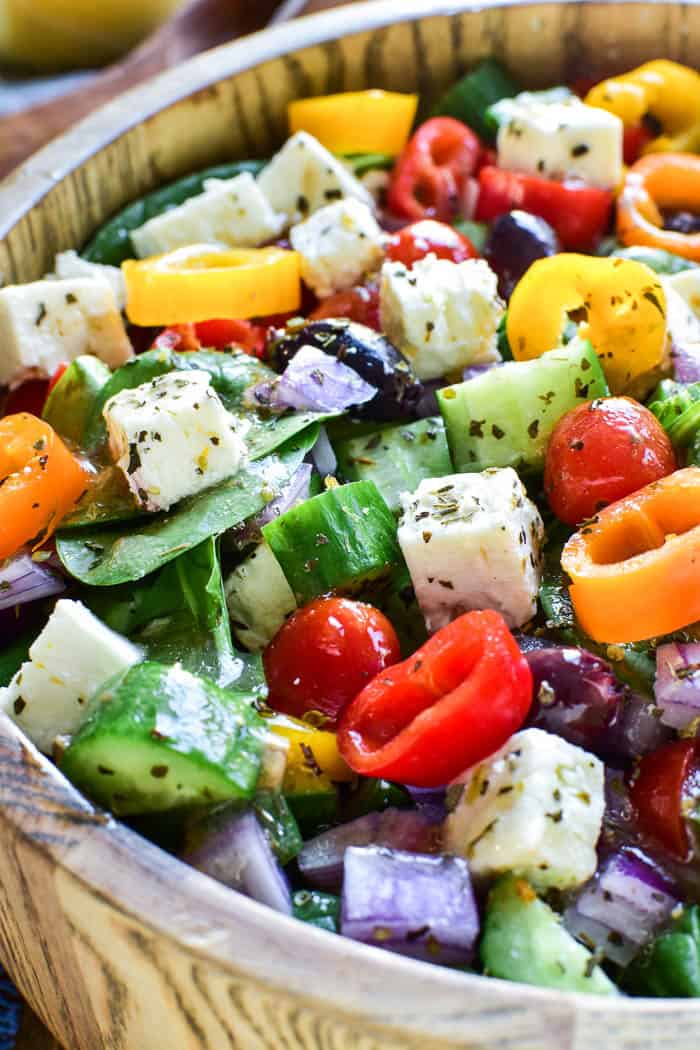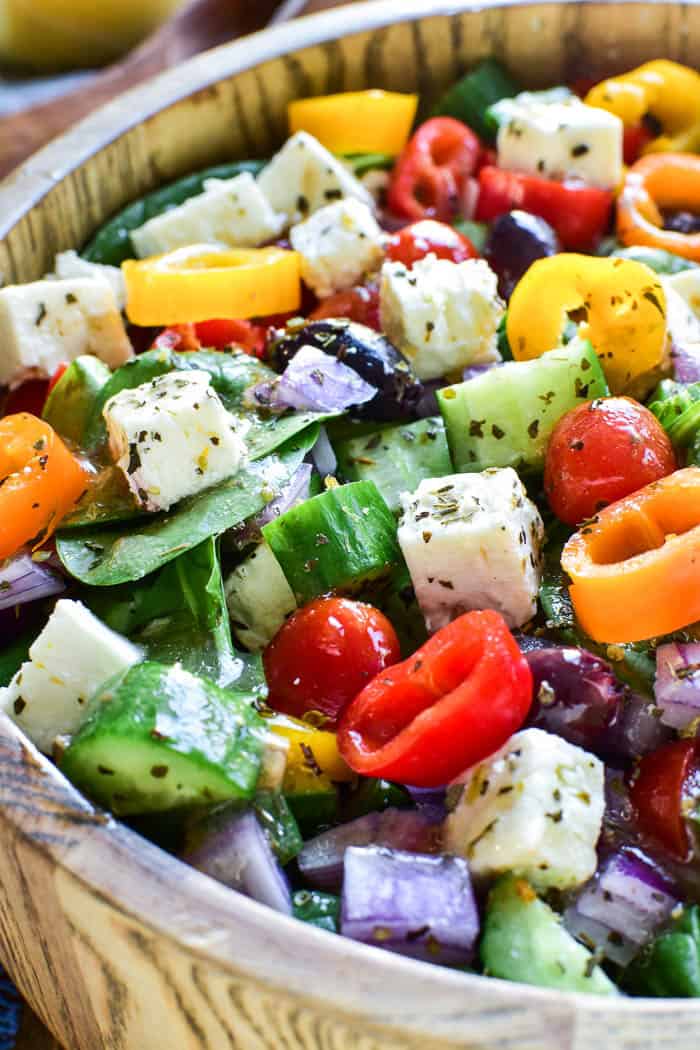 HOW DO YOU MAKE GREEK SALAD DRESSING?
In a small jar, combine olive oil, red wine vinegar, lemon juice, dried oregano, minced garlic, dijon mustard, salt, and pepper. Cover with a lid and shake vigorously; drizzle over salad as desired. Leftover dressing can be stored in an airtight container in the fridge for up 3 weeks.
WHAT DO YOU SERVE WITH GREEK SALAD?
Greek salad makes a delicious main dish (especially when you add grilled chicken) and can double as an amazing side dish. Try it with this Greek Souvlaki Chicken, Homemade Pita Bread, or Greek Quinoa Stuffed Peppers.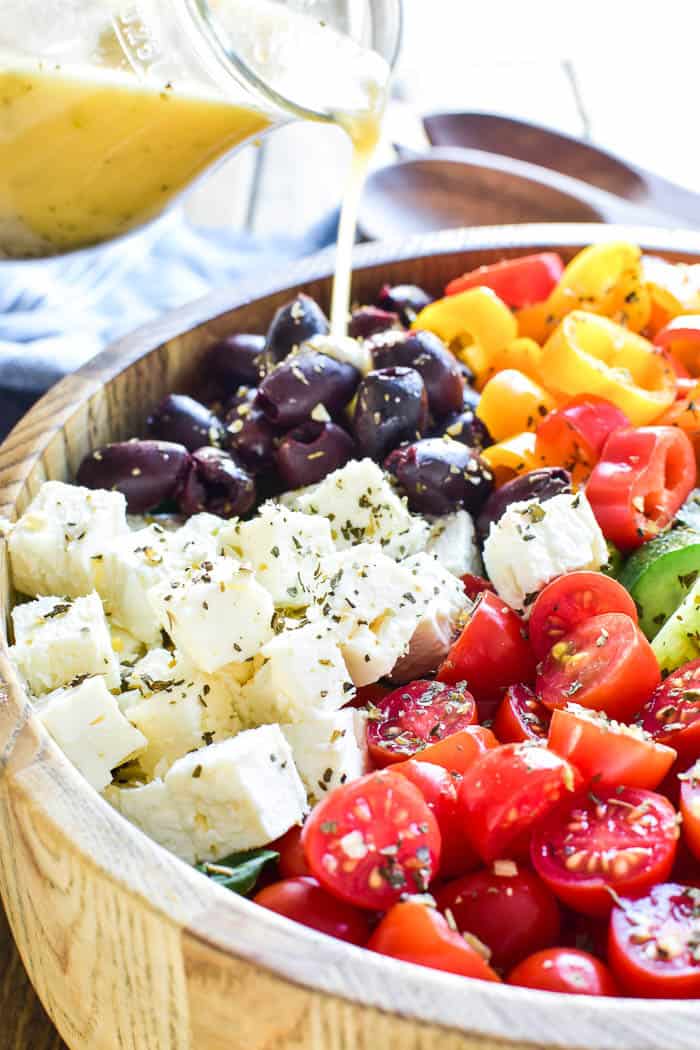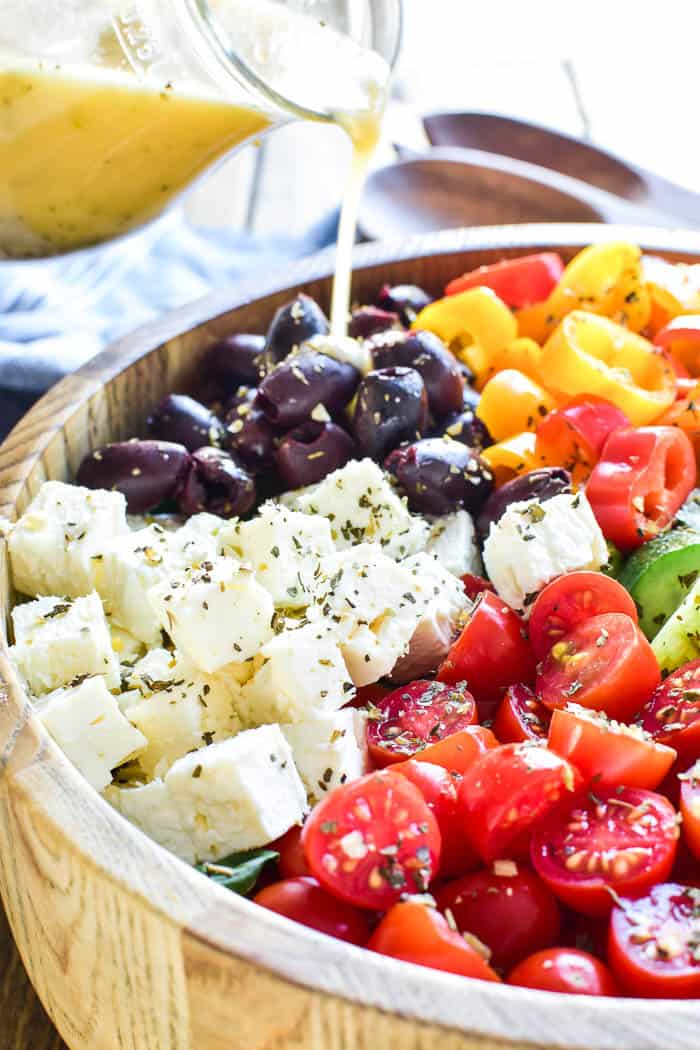 You guys….I am such a sucker for Greek salads….and so is the rest of my family!
I make them ALL the time…not just because I'm obsessed with the flavors, but because they're so easy to make and I usually have all the ingredients on hand.
Between the fresh veggies, the kalamata olives, the feta cheese, and the Greek dressing, this salad really is packed with flavor. And whether you add grilled chicken or not, it makes an incredibly satisfying meal lunch or dinner.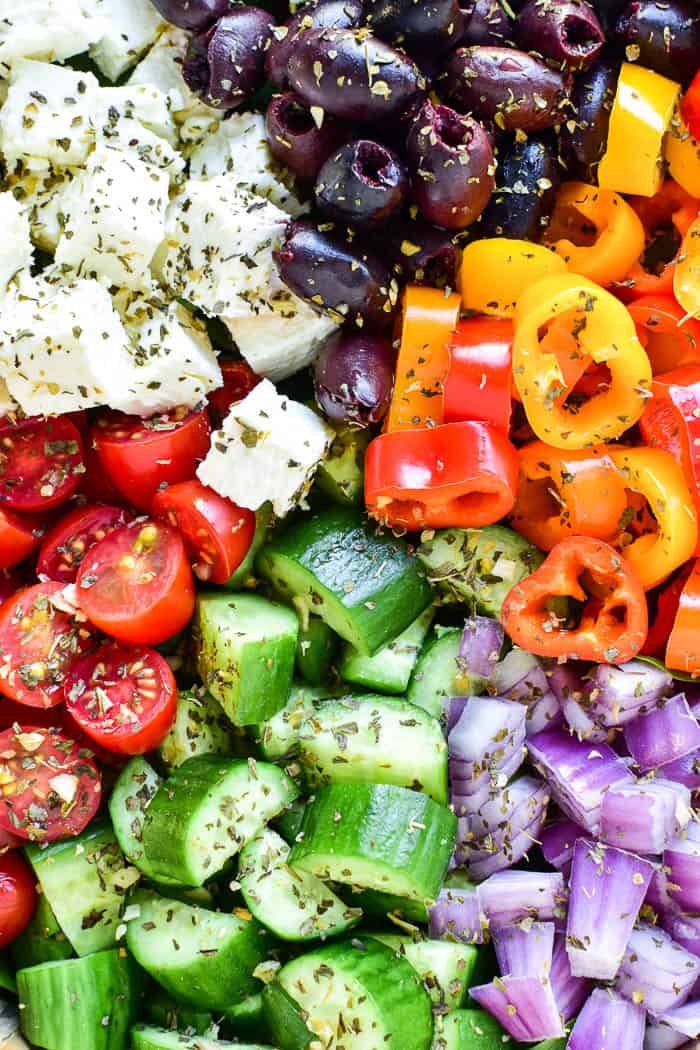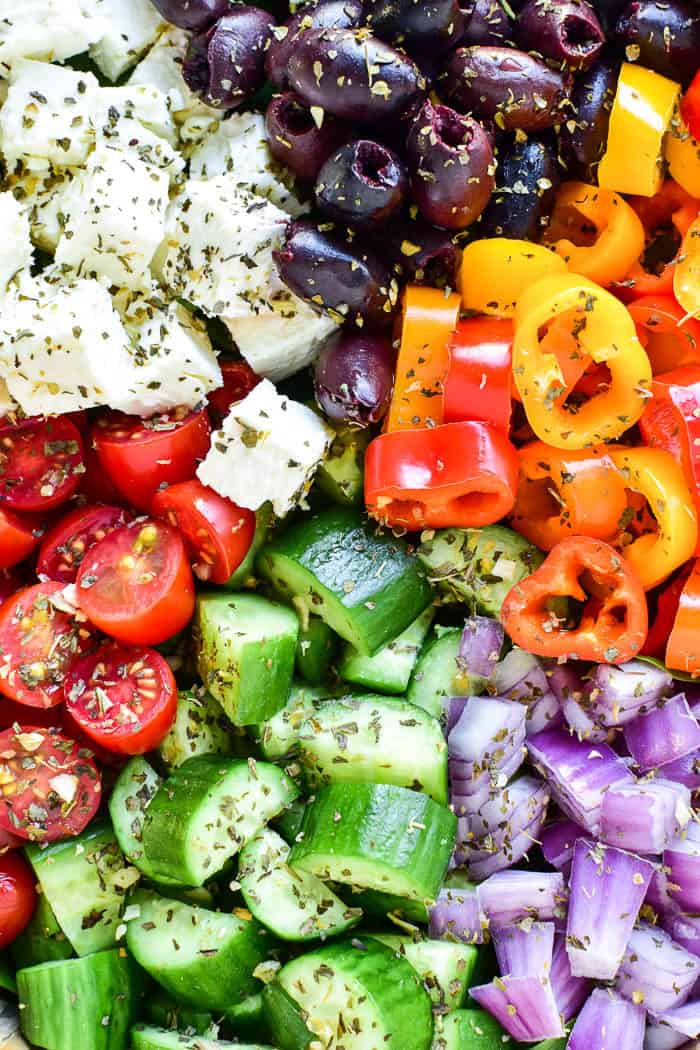 I'm pretty sure my love of this salad tarted in my early 20's, when I was living downtown and there was a cute little Greek cafe just around the corner.
It wasn't fancy by any means, but it had the BEST food! My husband and I were dating at the time, and we probably got Greek takeout about once a week. And I totally fell for it….hard.
Fast forward to today….we no longer live downtown, and there are NO good Greek restaurants nearby. And so I am left to my own devices. Good thing this salad is so easy to make. And good thing I've convinced everyone in my life to love it as much as I do!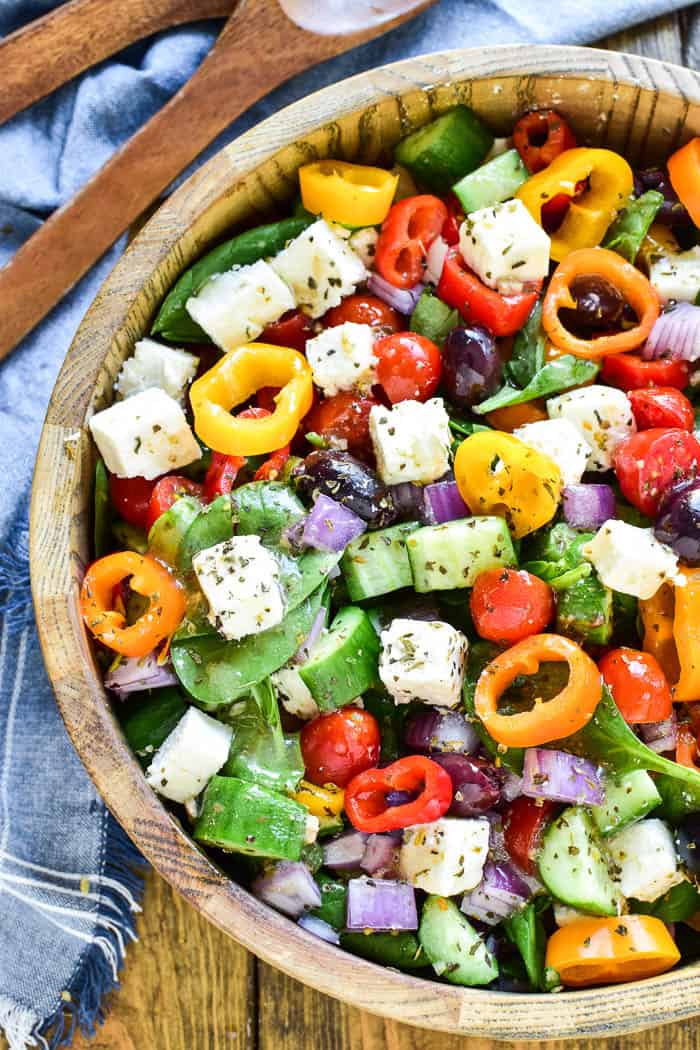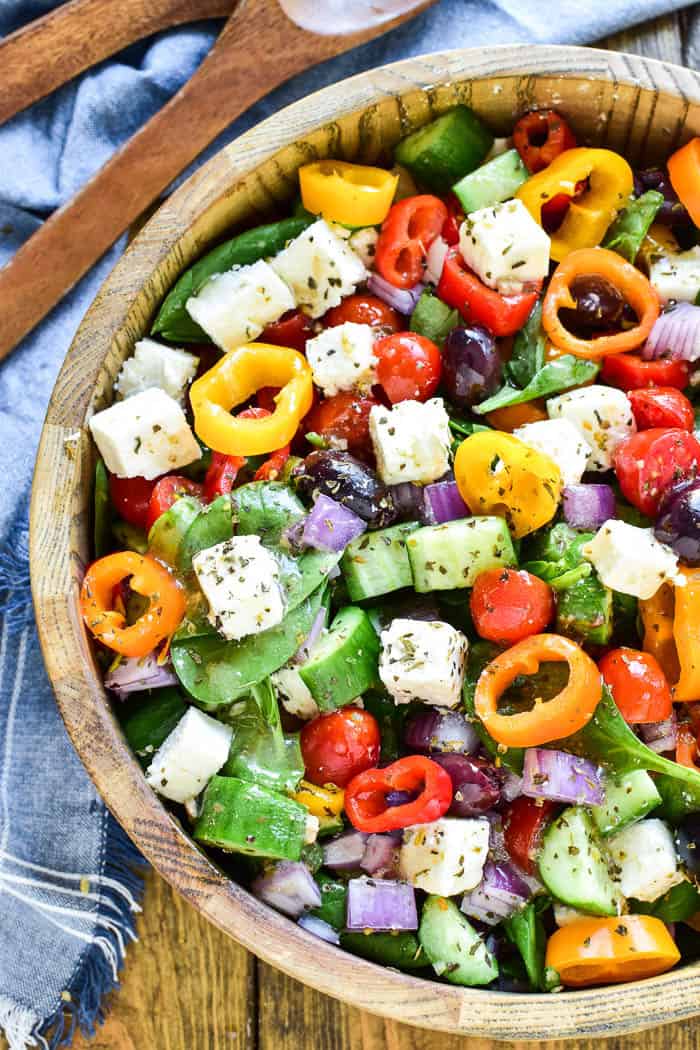 If you love salad recipes, be sure to check out some of our other favorites!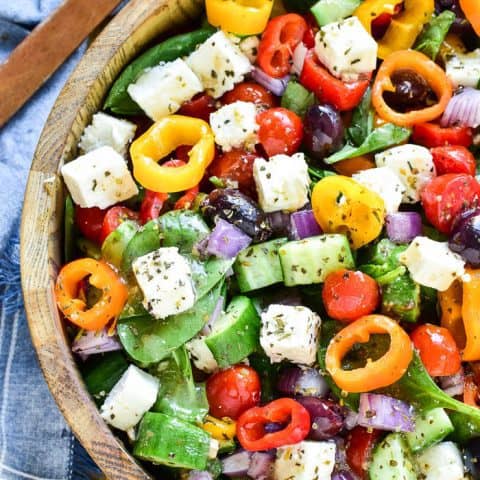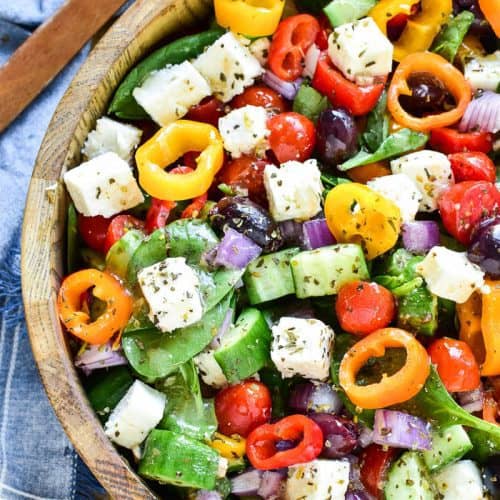 Greek Salad
The BEST Greek Salad recipe! This easy Greek Salad is loaded with tomatoes, cucumbers, red onion, peppers, kalamata olives, and feta cheese. It's tossed in a homemade Greek dressing and packed with the most amazing flavor!
Ingredients
Salad
10 oz. baby spinach
1 c. grape tomatoes, halved
1 c. cucumbers, chopped
1 c. bell peppers, chopped (I used mini peppers)
8 oz. feta cheese, cubed
1/2 c. pitted kalamata olives
1/2 c. red onion, diced
Greek Dressing
1/2 c. olive oil
1/4 c. red wine vinegar
2 Tbsp. lemon juice
1/2 Tbsp. dried oregano
3 cloves garlic, minced
1/2 tsp. dijon mustard
1/4 tsp. salt
1/4 tsp. pepper
Instructions
Spread spinach out in a large salad bowl.
Top with remaining ingredients, arranging as desired.
Prepare dressing by combining all ingredients in a small jar with a lid; shake vigorously until combined.
Pour dressing over salad as desired.
Serve immediately after adding dressing.
Nutrition Information:
Yield:

6
Serving Size:

1
Amount Per Serving:
Calories:

251
Total Fat:

24g
Saturated Fat:

3g
Trans Fat:

0g
Unsaturated Fat:

20g
Cholesterol:

0mg
Sodium:

271mg
Carbohydrates:

9g
Fiber:

3g
Sugar:

3g
Protein:

2g