This Caprese Panzanella combines fresh arugula and crusty bread with multicolored tomatoes, fresh mozzarella, Italian sausage, and fresh basil. Drizzle it with homemade balsamic vinaigrette for a light, fresh, flavor-packed summer meal!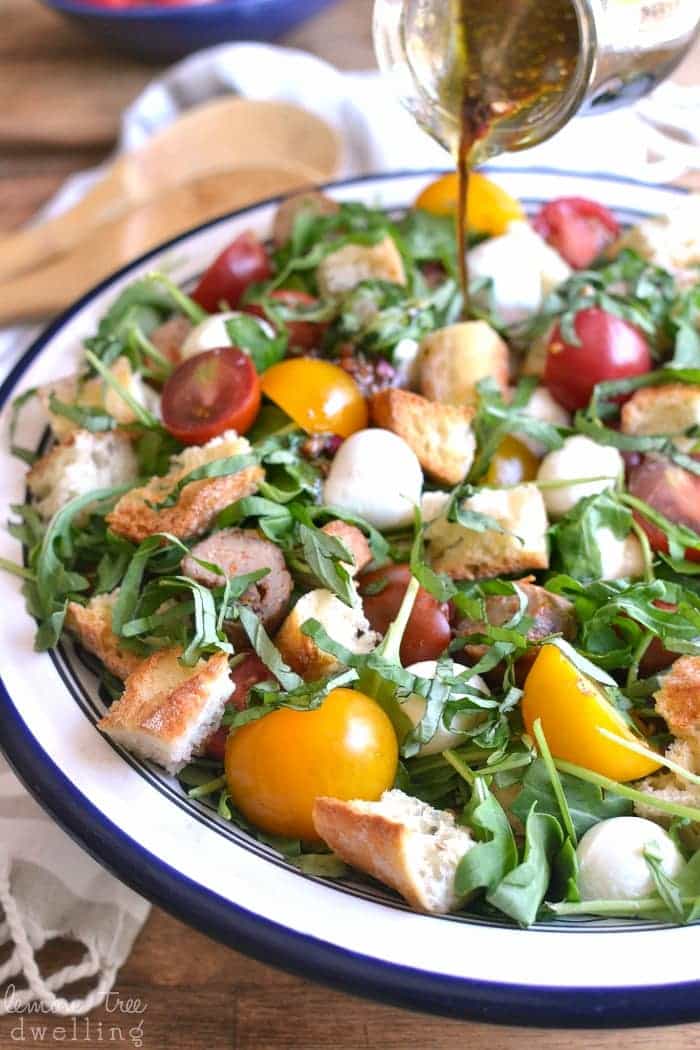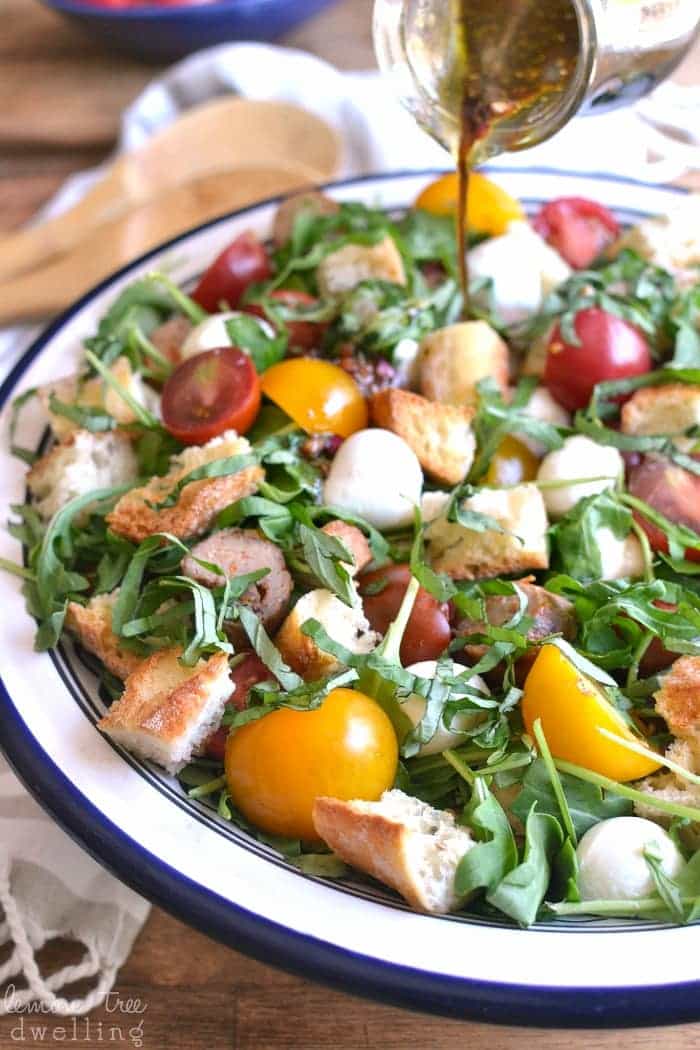 Let's talk farmer's markets for a minute….shall we? Are you a farmer's market fan? We have two of them that are within a 5-10 minute drive of our house, and I, for one, love them! Of course, you'd never know it by the frequency (or infrequency) of our visits. I'm a little embarrassed to admit this, but we don't take advantage of either of them nearly as often as we should. As in we've been there ONCE all summer. But we really do love them…..I swear!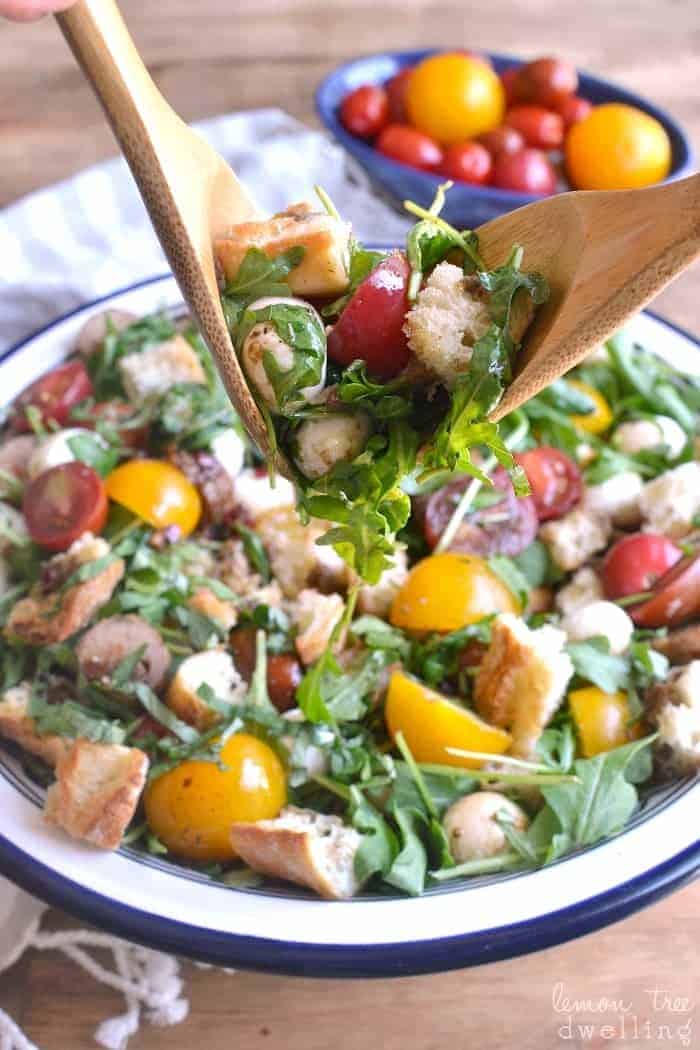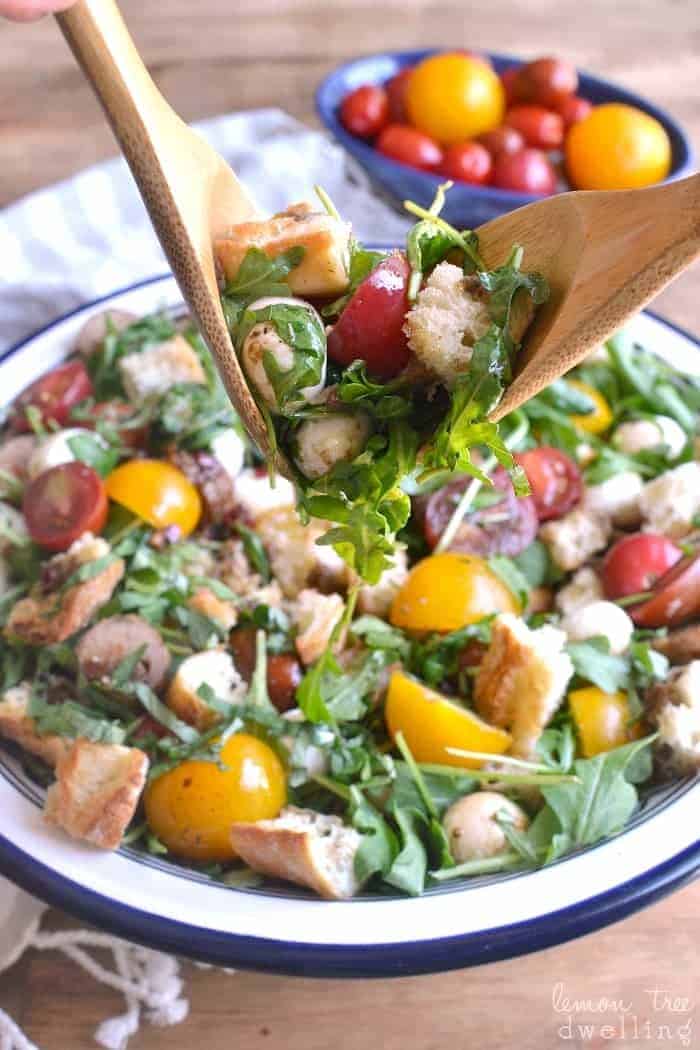 A few weeks ago we invited my parents to join us at one to celebrate my dad's birthday. We walked around, admired the gorgeous flowers and fresh produce, sampled some breakfast items from local restaurants, and yes….bought some fruits and veggies! Fresh raspberries, snap peas, and tomatoes, to be exact. And ohmygosh was that the best decision ever.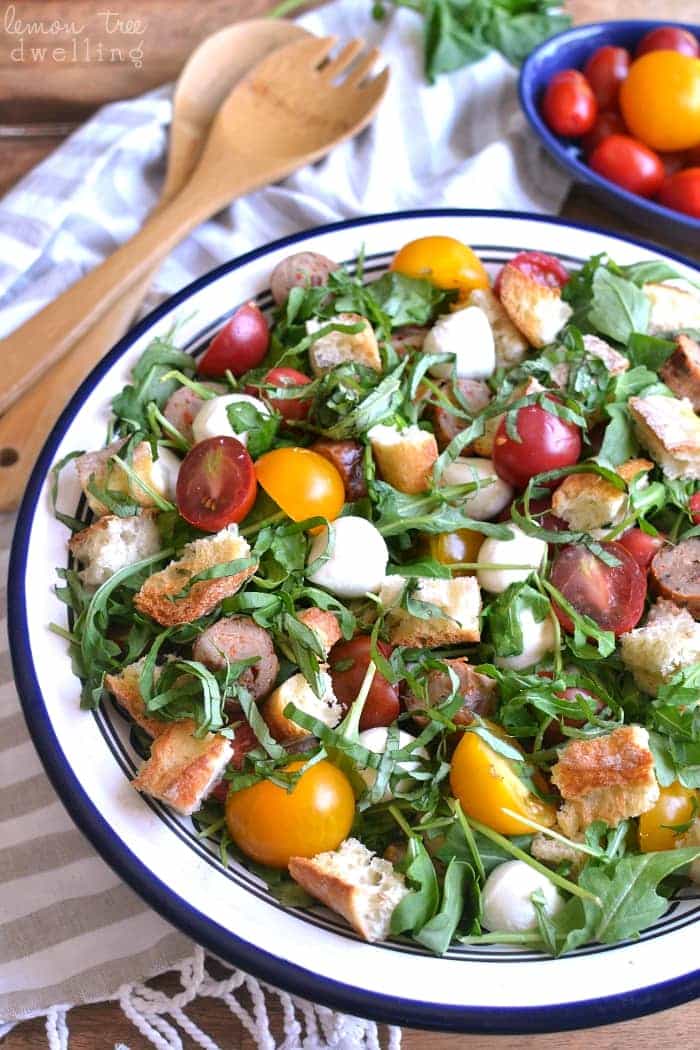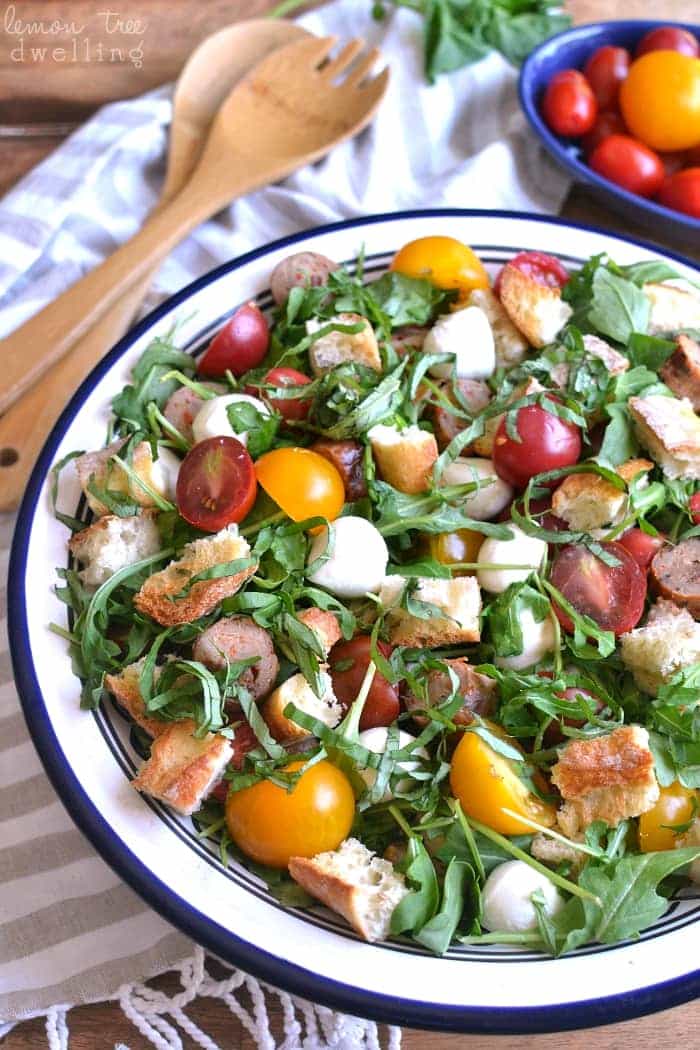 Because there is NOTHING like garden-fresh fruits and veggies. The flavor, the texture, the sweetness. It's like you're trying things for the very first time! See – I know this, but I had forgotten. Because it's been forever since we had a garden and, as I said, we don't really make it to the farmer's market as often as I'd like……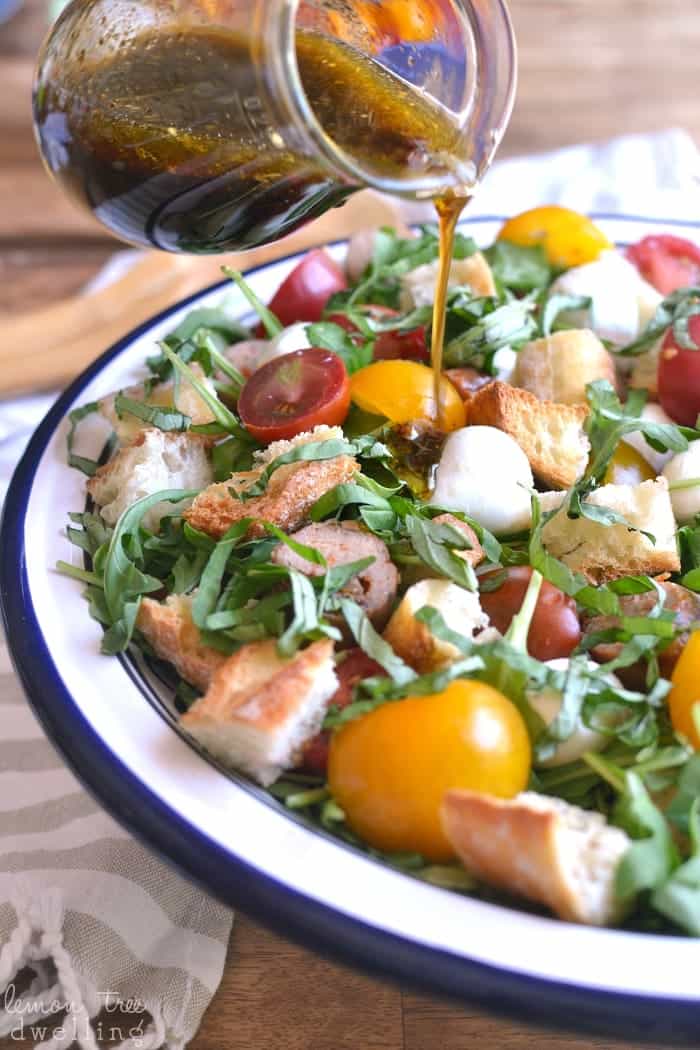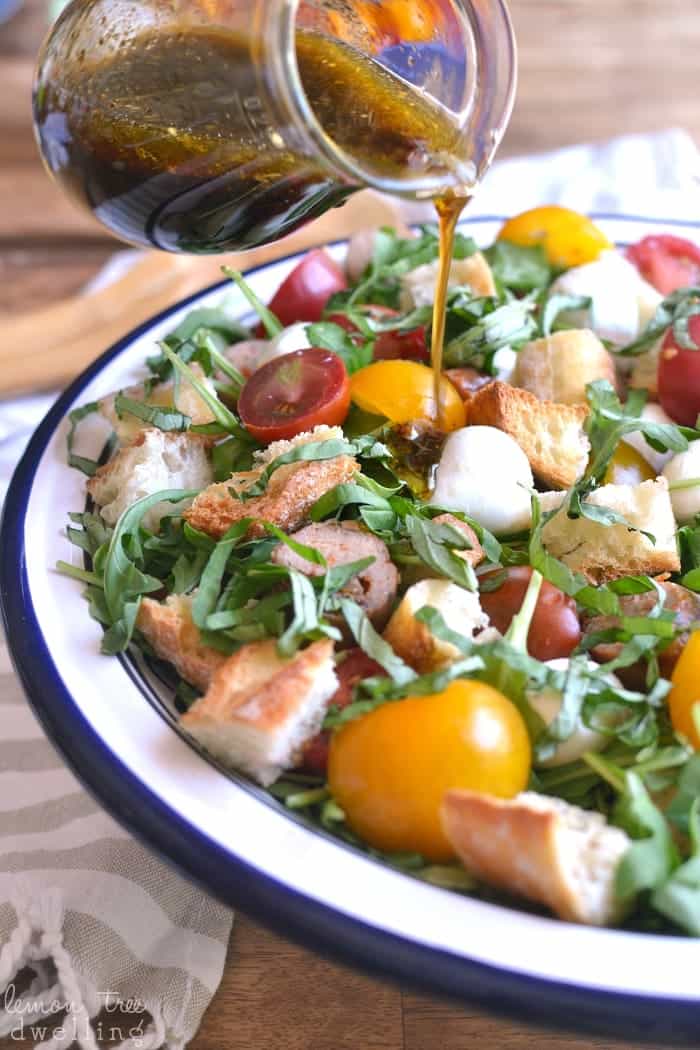 But all that's about to change, because I must make this salad again. SOON! And as delicious as it was with the veggies I used, with farmer's market veggies it would be out of this world! So have you ever had panzanella? It's a bread salad that's typically made without lettuce….although I decided to lighten mine up a bit with some arugula. The bread is crusty, the veggies are crisp, and all together it's like summer on a plate. I love adding Italian sausage and fresh mozzarella to make it more of a main dish, but if you're looking for a side dish, feel free to leave the sausage out. Either way, it's delicious. And totally worth a trip to the farmer's market.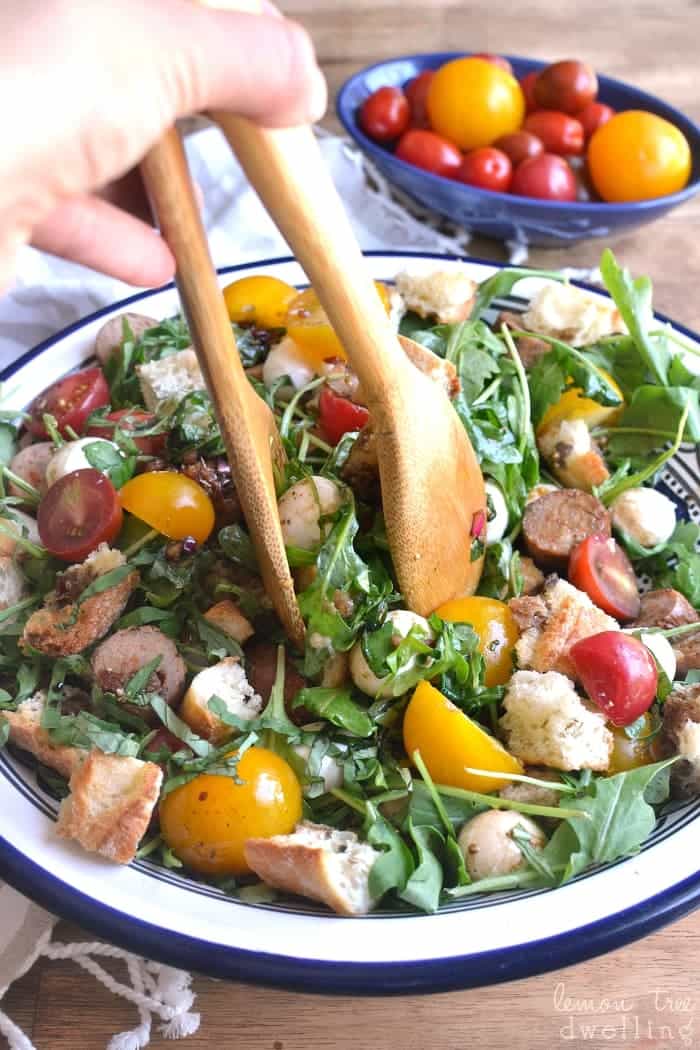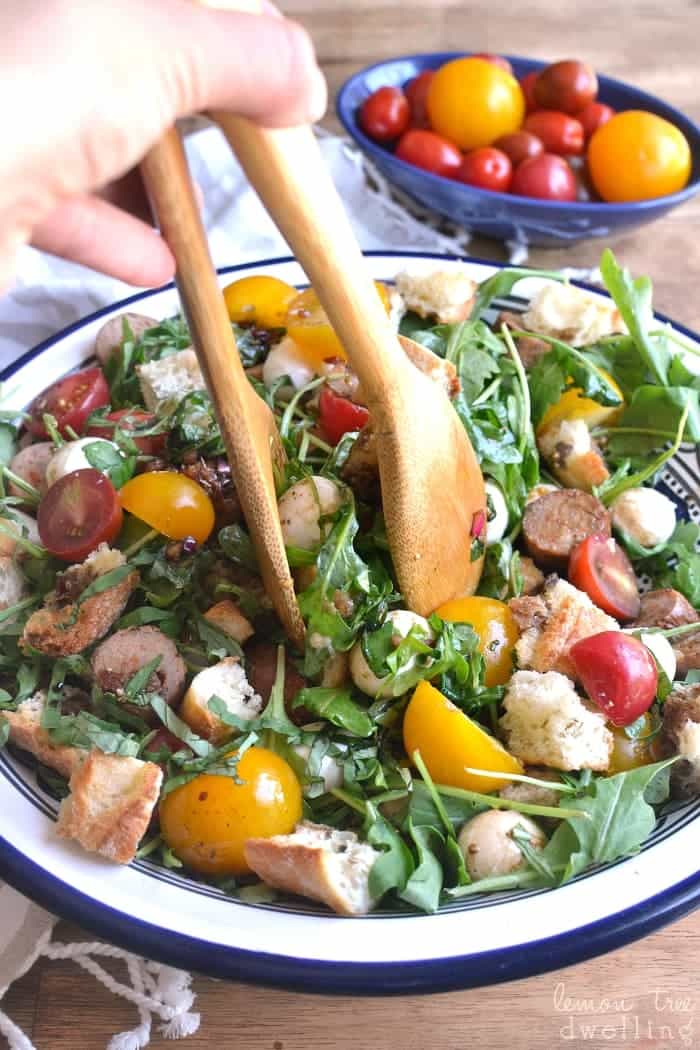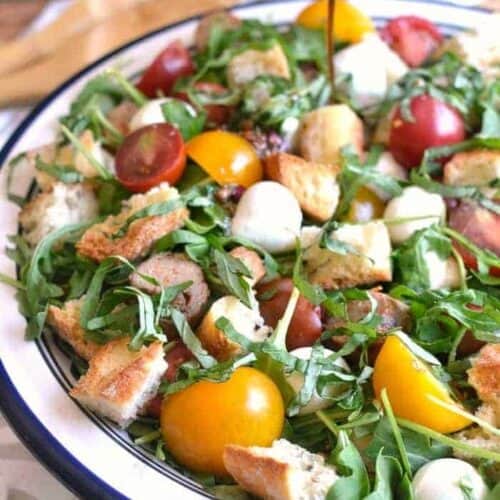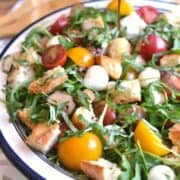 Caprese Panzanella
Ingredients
5

oz.

arugula

1

package

13.5 oz. pre-cooked chicken sausage, grilled and sliced

1

baguette

toasted and cubed

3

c.

cherry tomatoes

halved

8

oz.

"cherry size" fresh mozzarella cheese

1/4

c.

fresh basil chiffonade

For the dressing:

1/3

c.

olive oil

1/3

c.

balsamic vinegar

1

Tbsp.

minced red onion

1

garlic clove

minced

1/2

tsp.

dried oregano

1/2

tsp.

salt

1/2

tsp.

sugar

1/4

tsp.

pepper
Instructions
Combine arugula, chicken sausage, bread cubes, tomatoes, and mozzarella cheese in a large salad bowl.

Top with basil chiffonade.

Prepare dressing by combining ingredients in a small jar and shaking vigorously until well mixed.

Drizzle dressing over panzanella.