Grilled summer vegetables tossed with mixed greens, blue cheese, and a 4-ingredient pesto vinaigrette. A perfectly simple and delicious summer salad!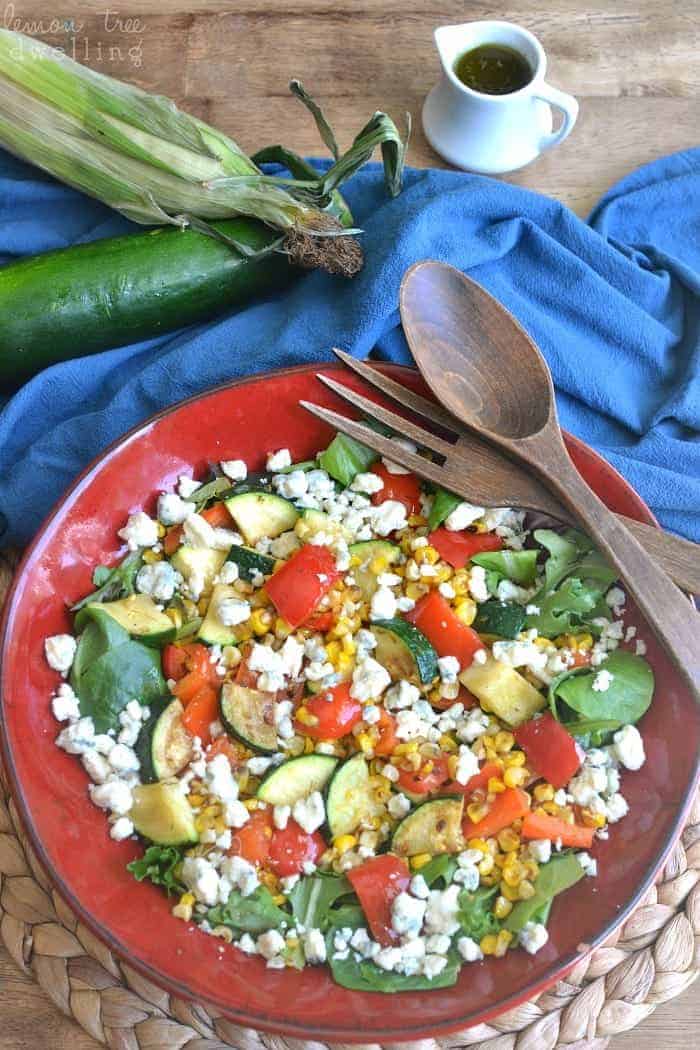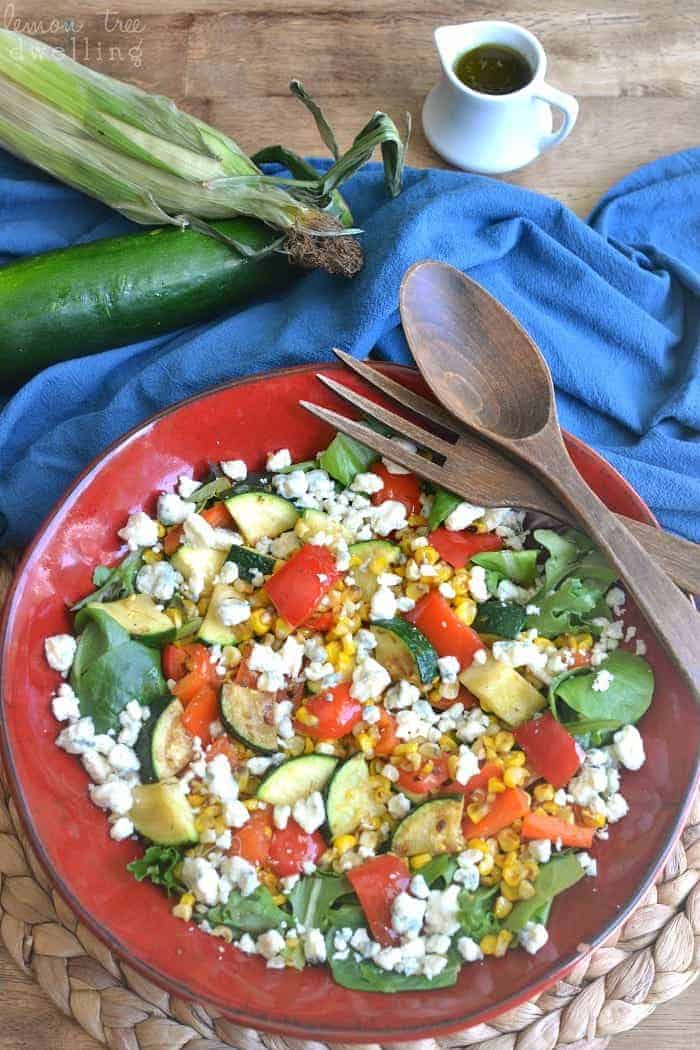 Well, we survived. 10 adults, 10 kids, 5 days, 1 house….and we all survived! You never know how things are going to go when the whole family gets together for a vacation. Will the kids sleep? Will the adults drive each other crazy? Will we all still be speaking to one another by the end of it? I'm happy to report that it all went well. In fact, we had a blast!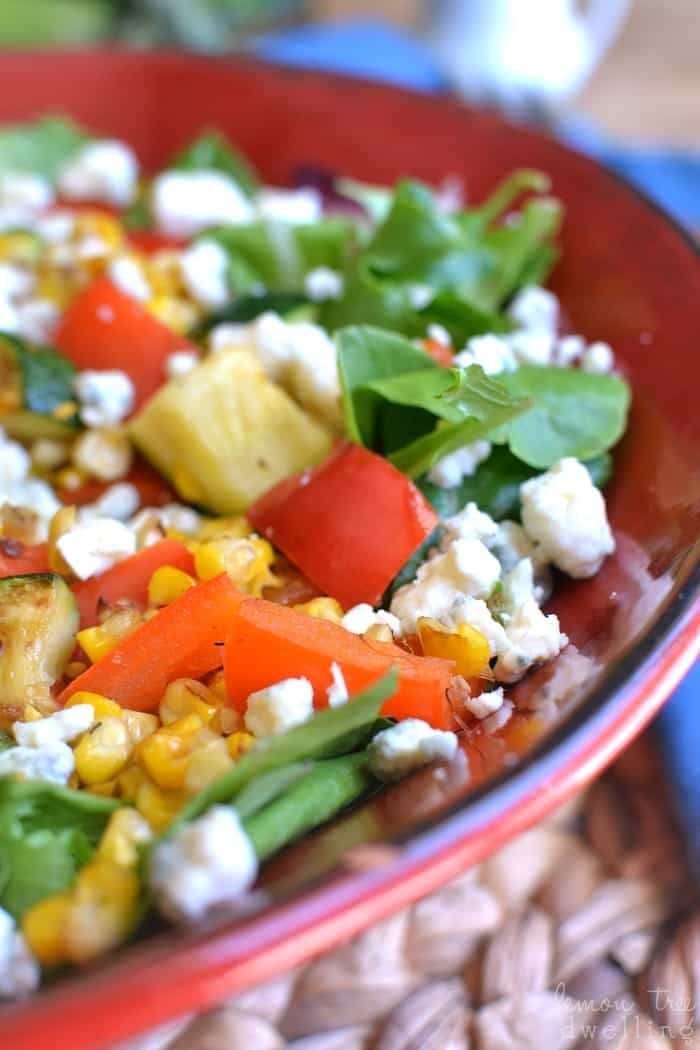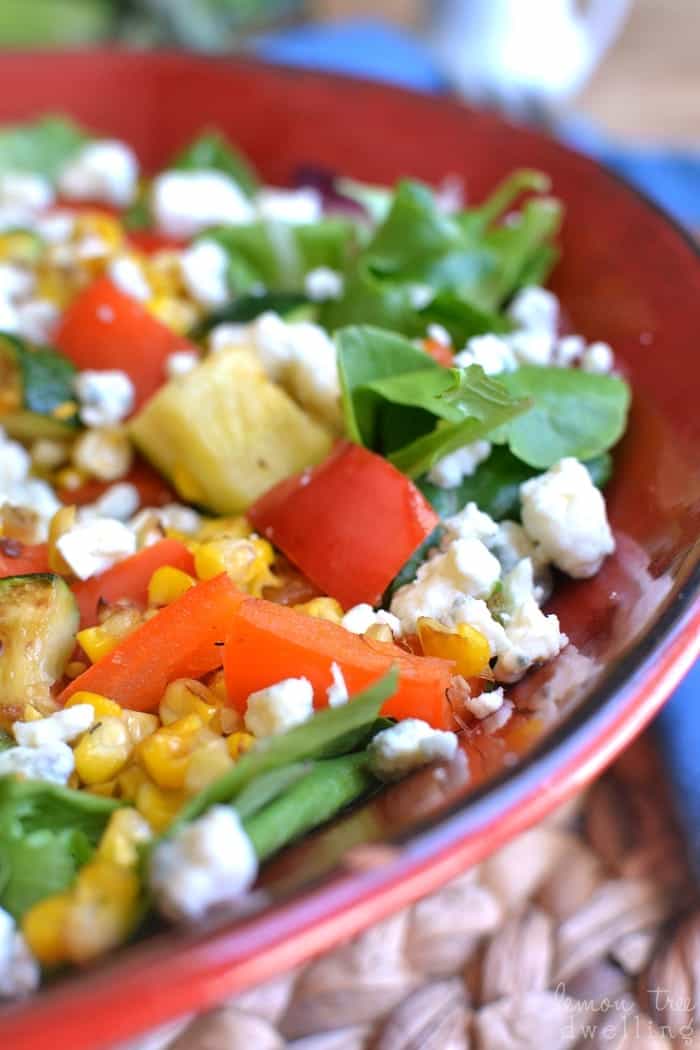 Now that we've been doing this for 6 years, we definitely have a sense of what to expect. A lot of time at the pool, a lot of games of Apples to Apples, a lot of chaos and commotion, a lot of fun…..and a LOT of food! Oh my goodness is there a LOT of food.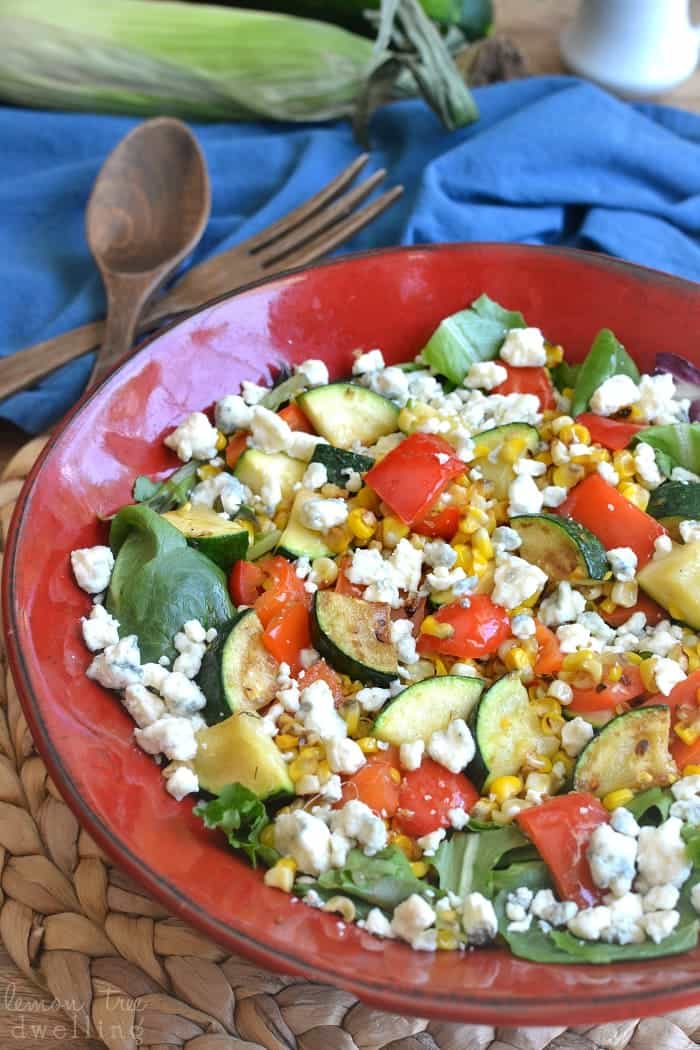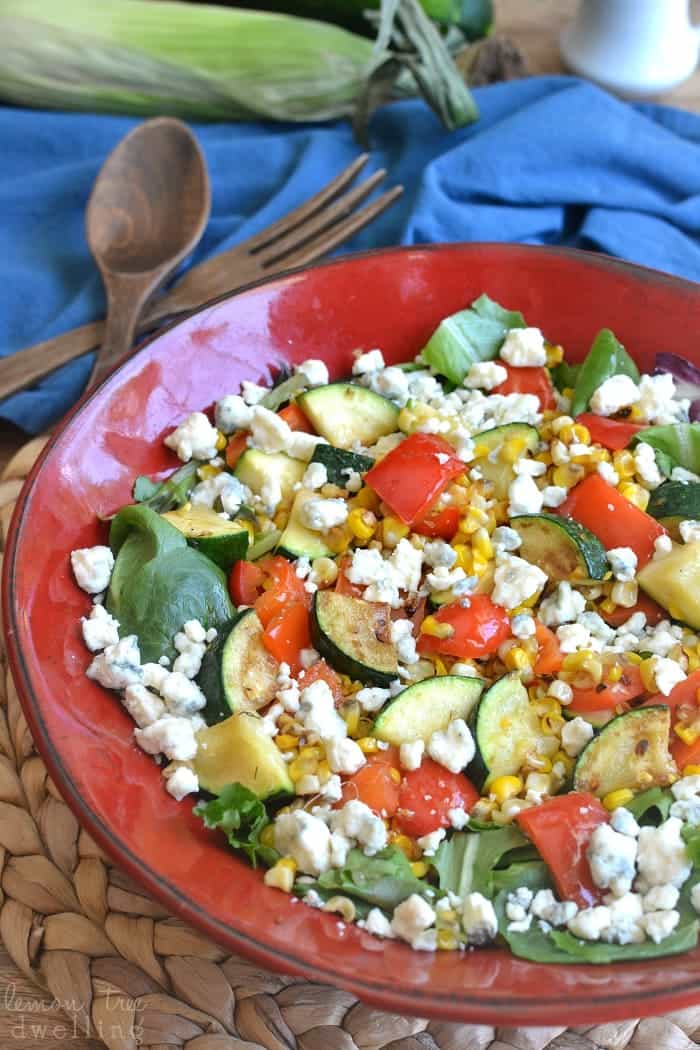 We've tried to cut back over the years by having each family just bring food for one meal. But if there's one thing that's true about my family, it's that none of us wants anyone to go hungry. And we go out of our way to make sure there's no chance of it! By the time we all get there the first night, the counter top is full of snacks, the refrigerator is packed to capacity, and there are enough coolers filled with ice and drinks to last us at least twice as long as we'll be there.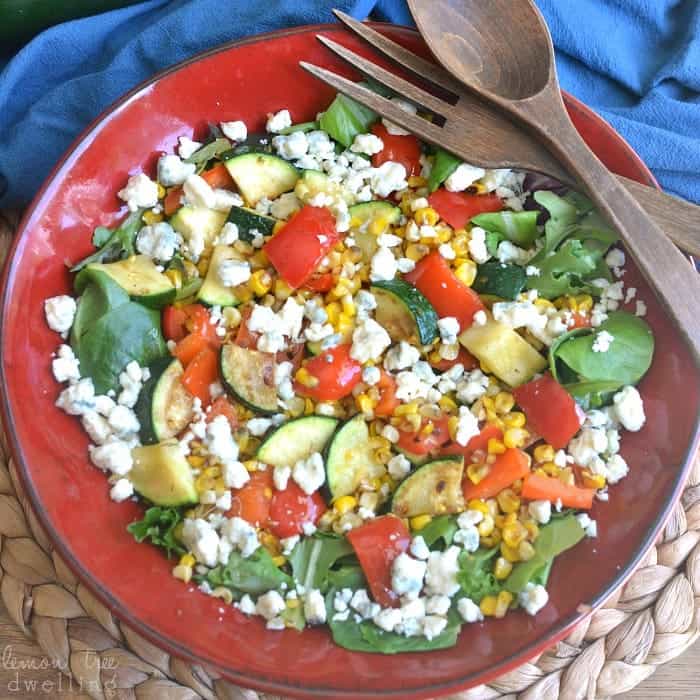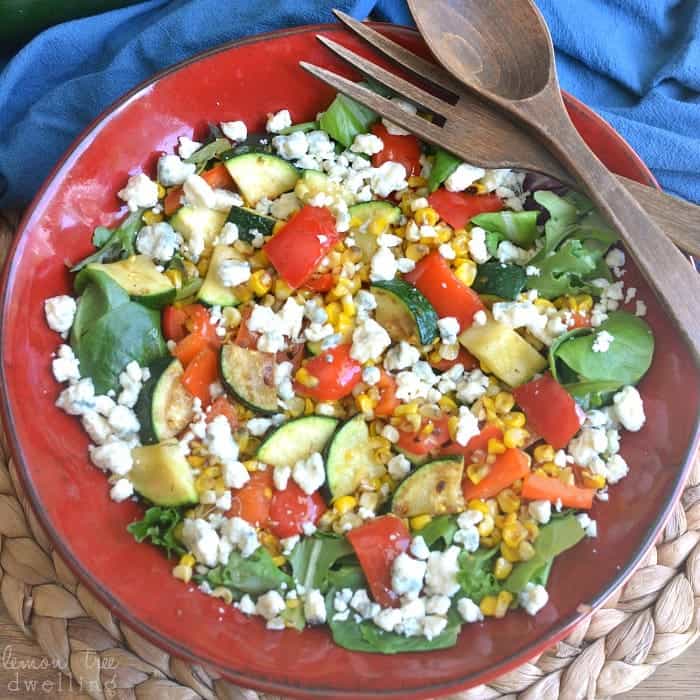 Could we cut back even more? For sure. Every year we end up going home with at least 2/3 of the snacks and drinks we brought. But the truth is, we like to have options! And there are options aplenty. So many options that I have to restrain myself from eating ALL. day. long. To be honest, I was pretty proud of myself. I tried to stick with salads for most of my meals. Of course, it helps that I love myself a good salad……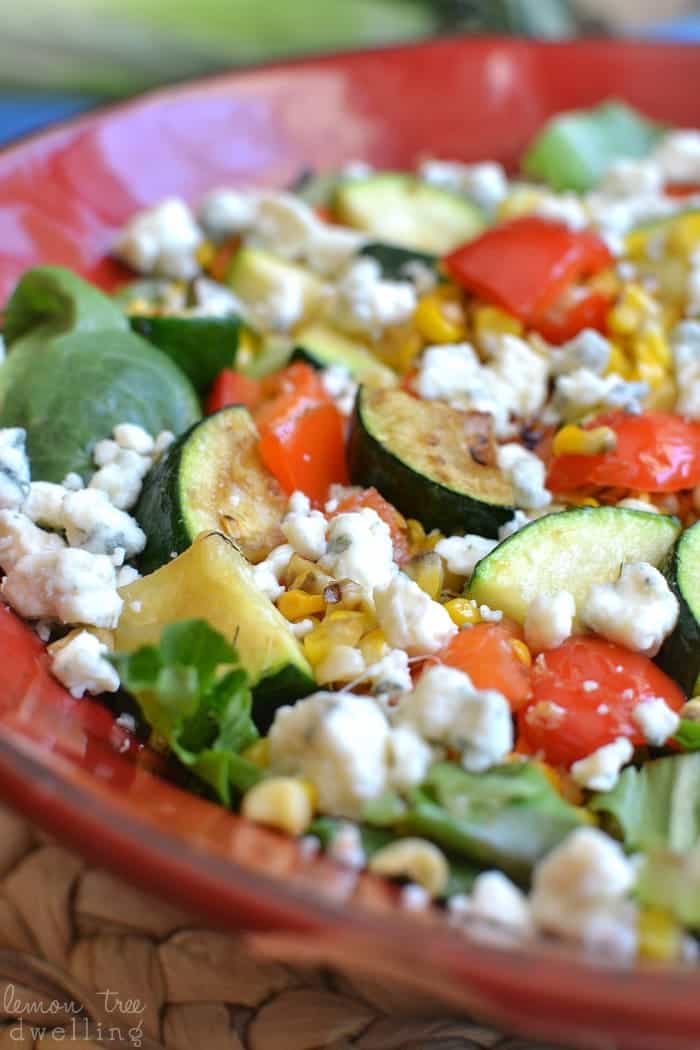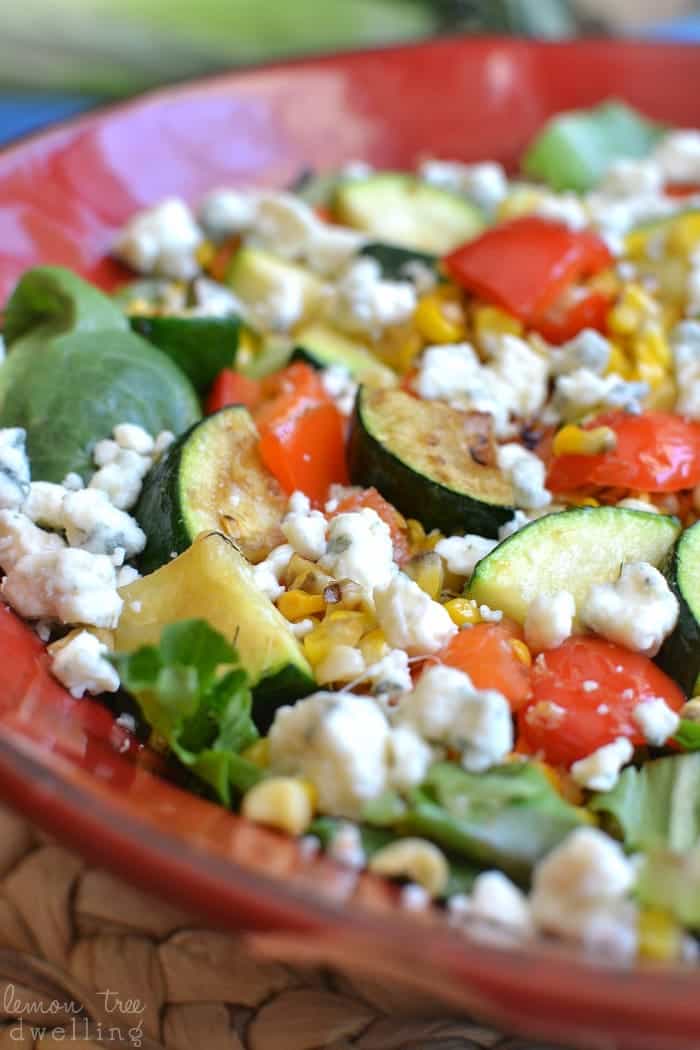 One of my favorites right now? This Grilled Vegetable Summer Salad! It uses all the best summer veggies – peppers, zucchini, and sweet corn – and I love the contrast of grilled veggies over fresh greens. Of course, a salad just isn't a salad without some delicious cheese….and I love the way the blue cheese pops. Top it off with a simple pesto vinaigrette dressing and you have yourself a salad that's fresh, flavorful, and satisfying enough to keep you away from all the snacks. Or…..at least some of them.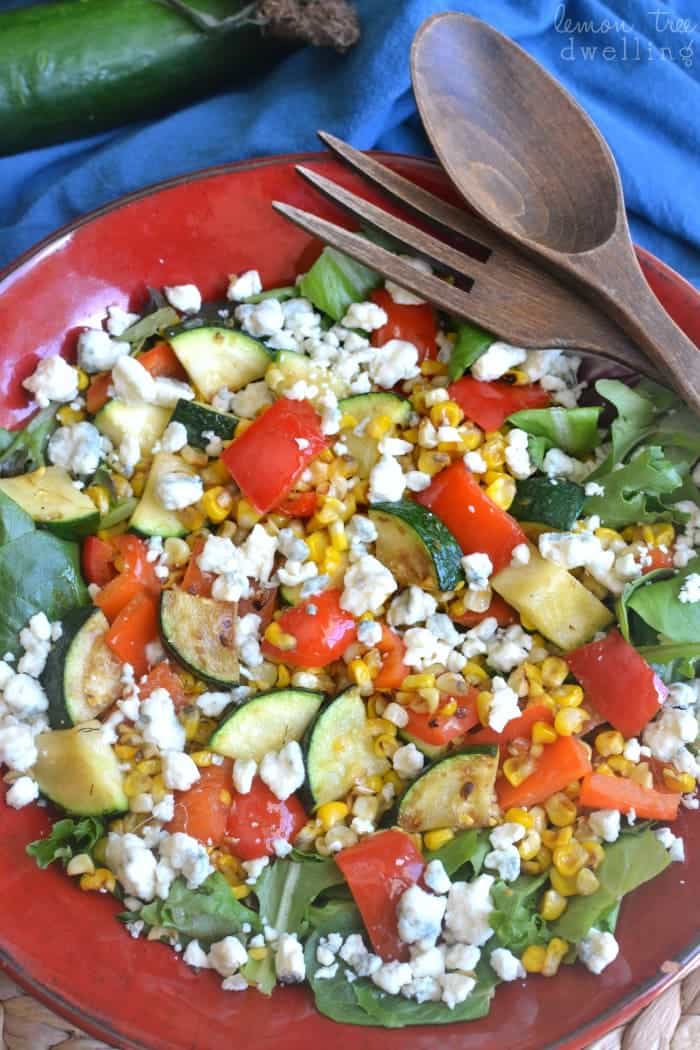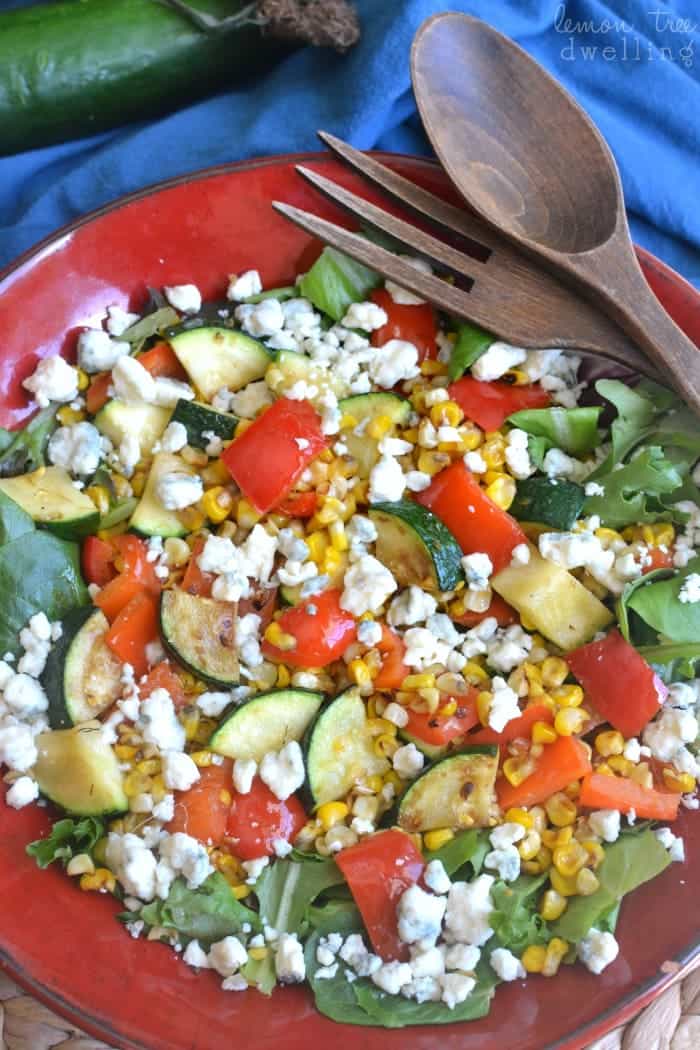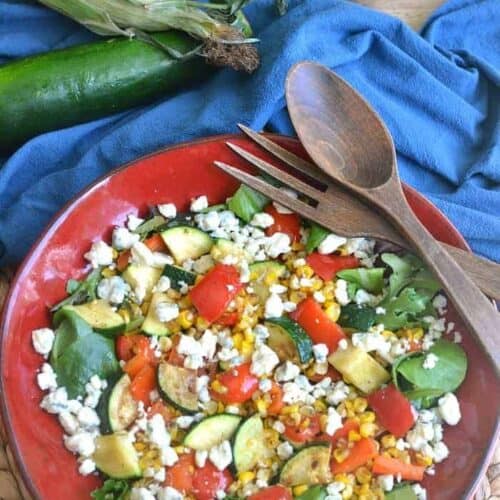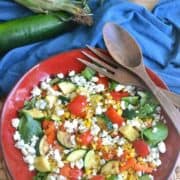 Grilled Summer Vegetable Salad
Ingredients
4

c.

mixed greens

1

c.

zucchini

grilled and chopped

1

c.

grilled corn

off the cobb

1

c.

red pepper

grilled and chopped

1/2

c.

blue cheese

For the dressing:

2

Tbsp.

prepared pesto

2

Tbsp.

white wine vinegar

2

Tbsp.

water

1

Tbsp.

olive oil
Instructions
Prepare salad by layering vegetables on top of greens.

Top with blue cheese.

Prepare dressing by combining all ingredients in a small jar and shaking vigorously to mix.

Drizzle salad with dressing and toss to combine.