This Protein Power Salad is loaded with veggies and protein from chicken, cheese, eggs, and lentils. This protein salad is packed with amazing flavor. Perfect for lunch or dinner, this is one salad recipe that is sure to satisfy you all day long!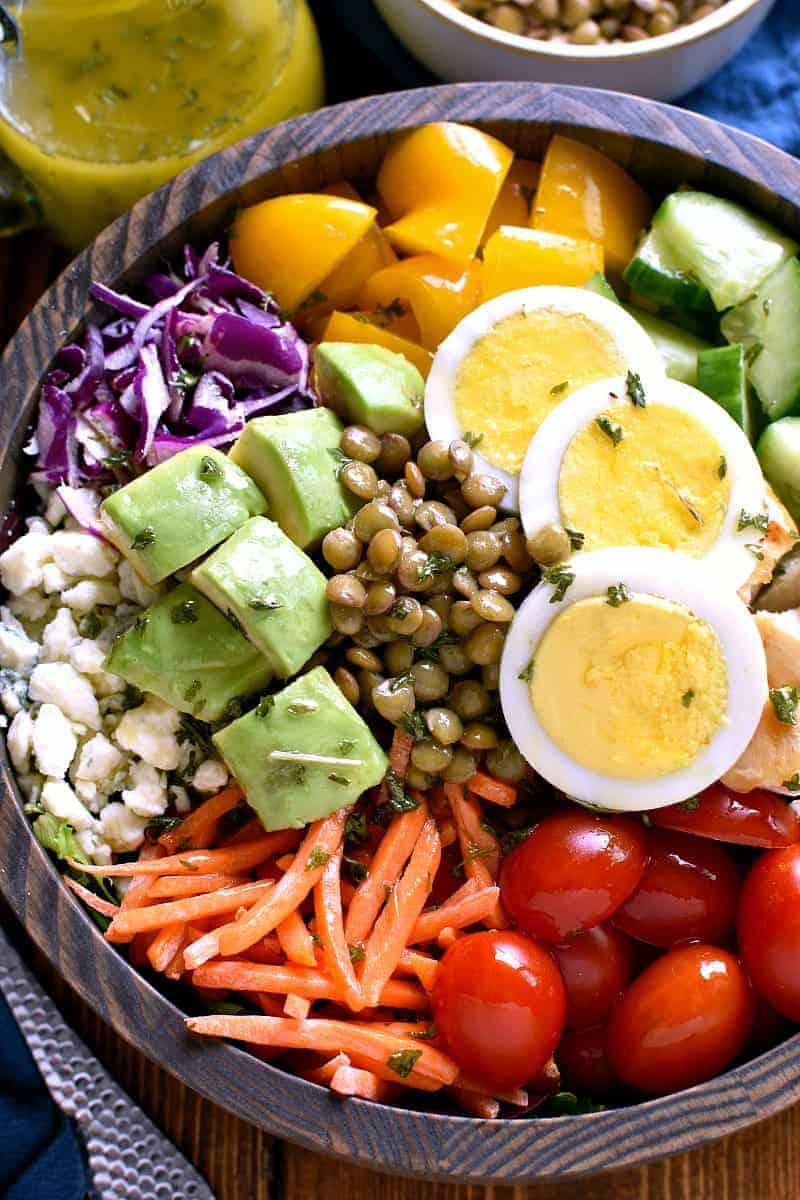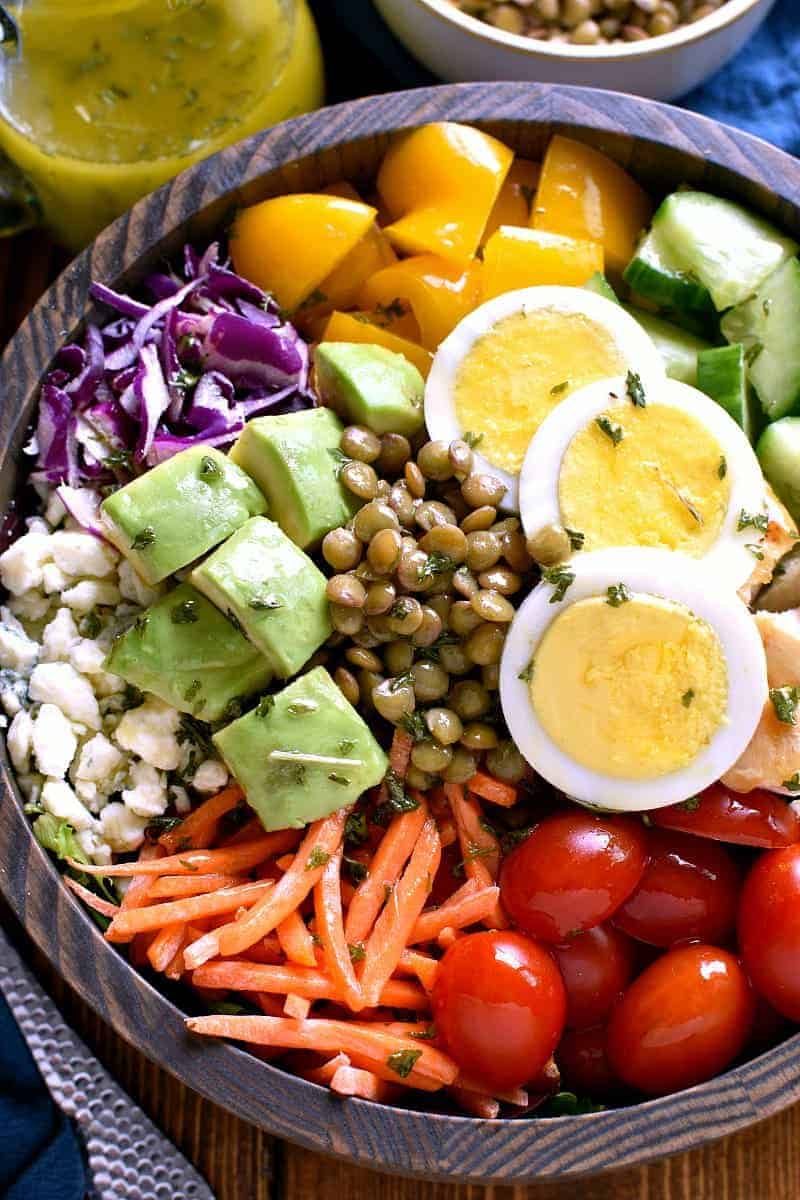 So have I told you we're renovating our kitchen? Because WE ARE! We've been thinking about it for a while, and finally decided to pull the trigger. And when I say kitchen, I mean kitchen + living room + dining room….because we're knocking down the walls and making it all one big space. And demolition starts in just a few weeks.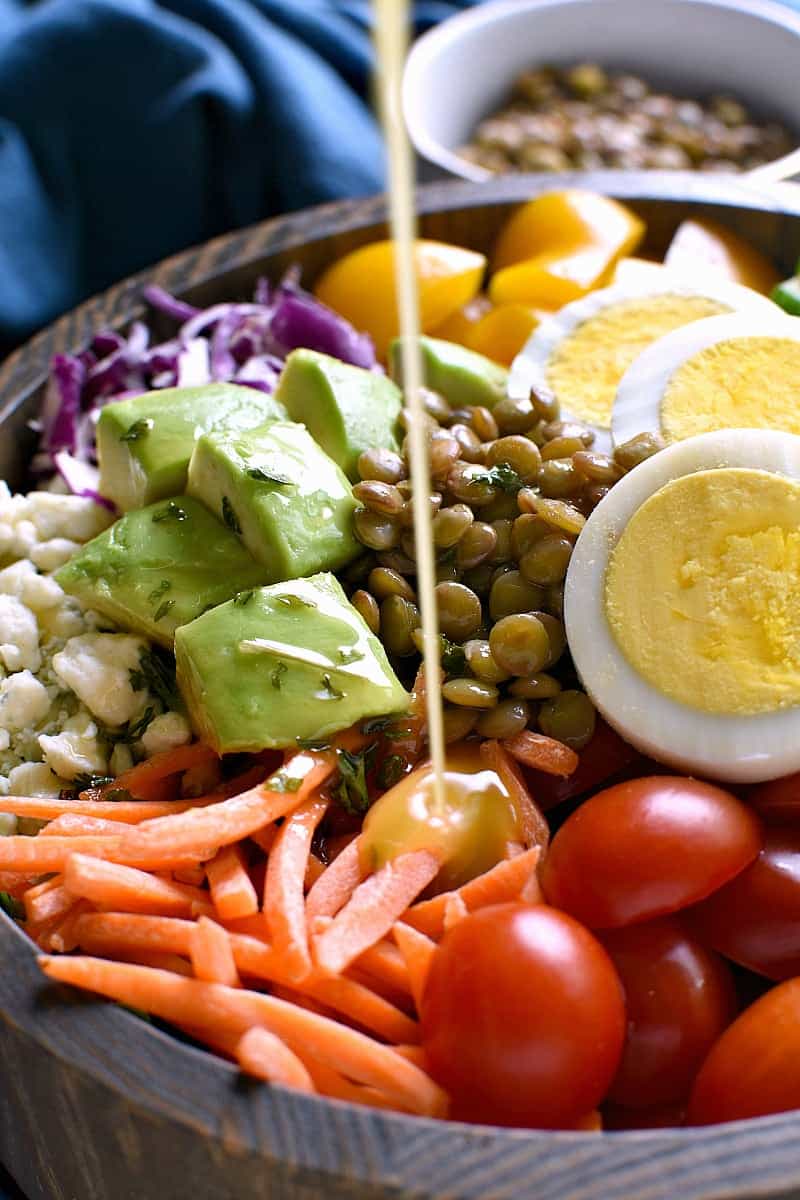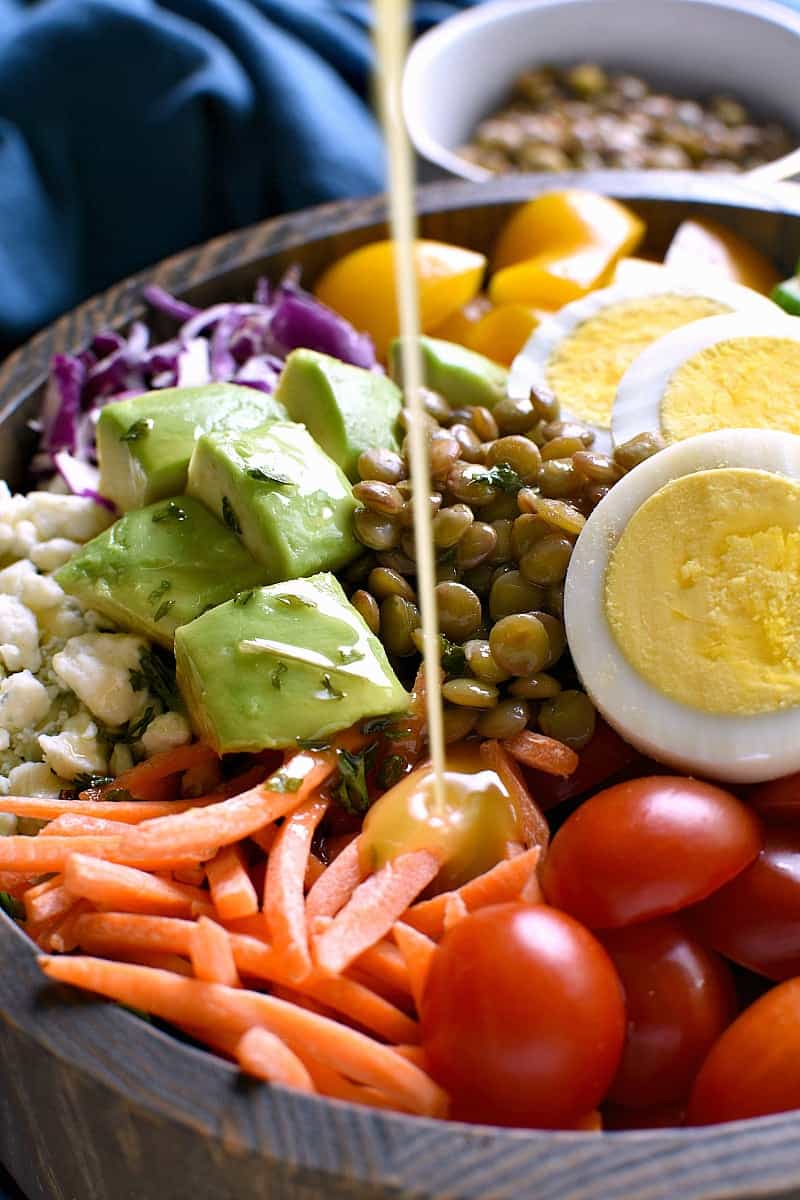 Which means that we're currently in the process of cleaning. out. everything. Because everything will be different! The cabinets, the closets, the storage space. And even though we're not technically moving, it feels an awful lot like moving. Because everything will be packed up and put into a POD until the renovation is complete…so we only want to pack the things we really want to keep. I may have mentioned this before, but decluttering is not exactly my strong suit. I wouldn't say I'm a "keep everything" kind of person, but I definitely struggle with organization. And I may hold onto more than the average person.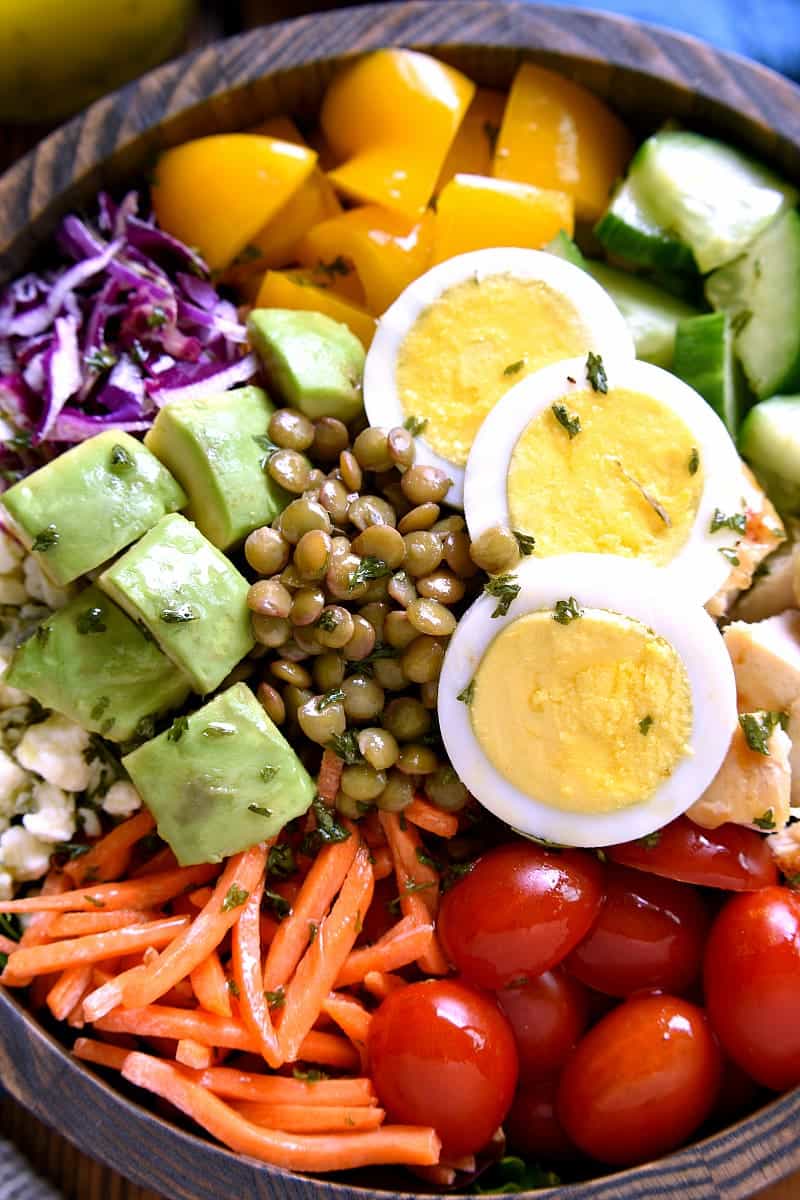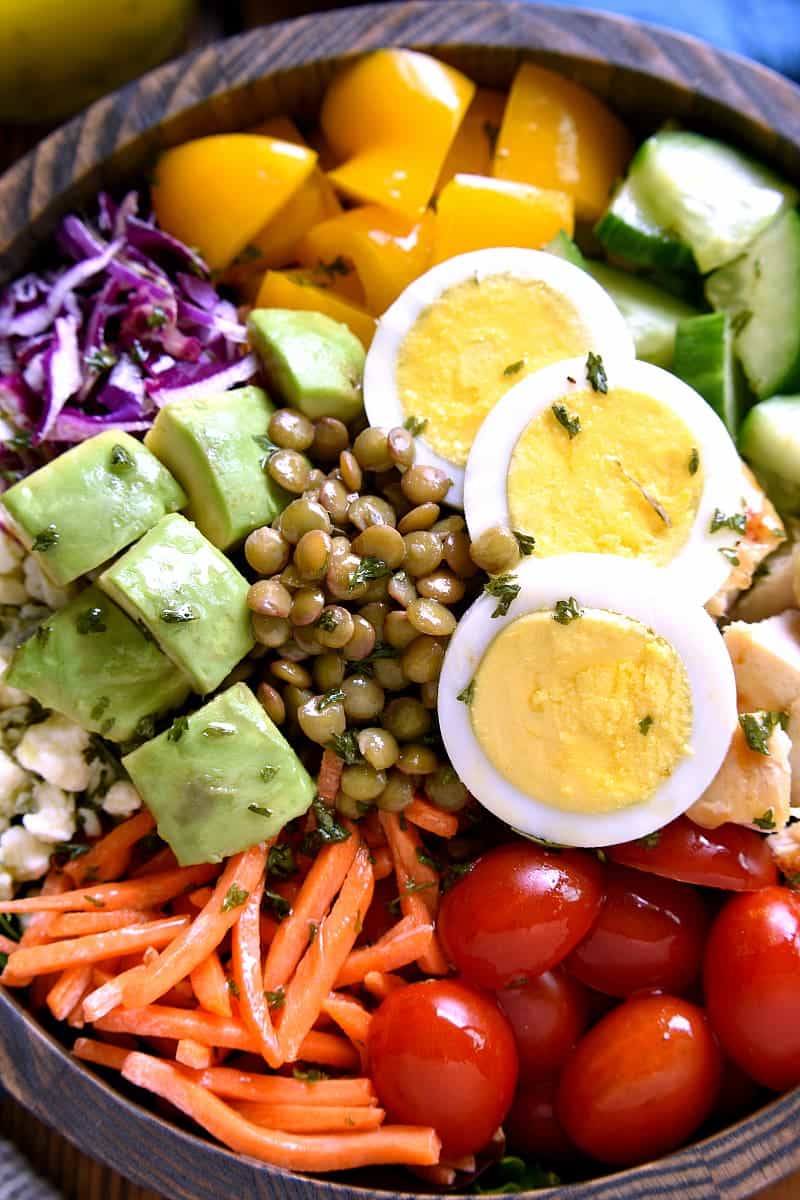 So needless to say, this process is challenging me. But in the end, it's exactly what I want! To declutter. And simplify. And cleanse. And the timing couldn't be more perfect. Because spring is all about fresh starts and new beginnings. And I really feel like once you declutter one area of your life, it's so much easier to declutter the rest. The effects tend to "spill over" – case in point, this Protein Power Salad! I'm on a cleansing kick, and I've been all about power salads lately.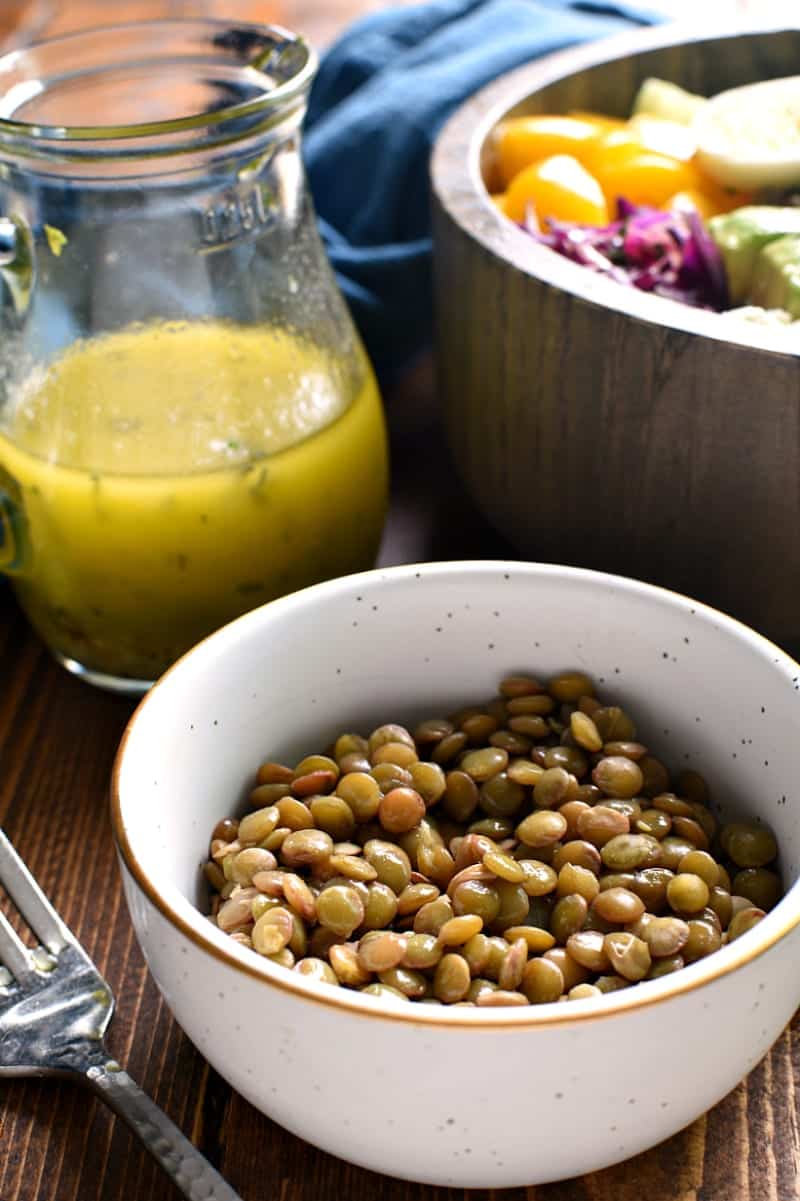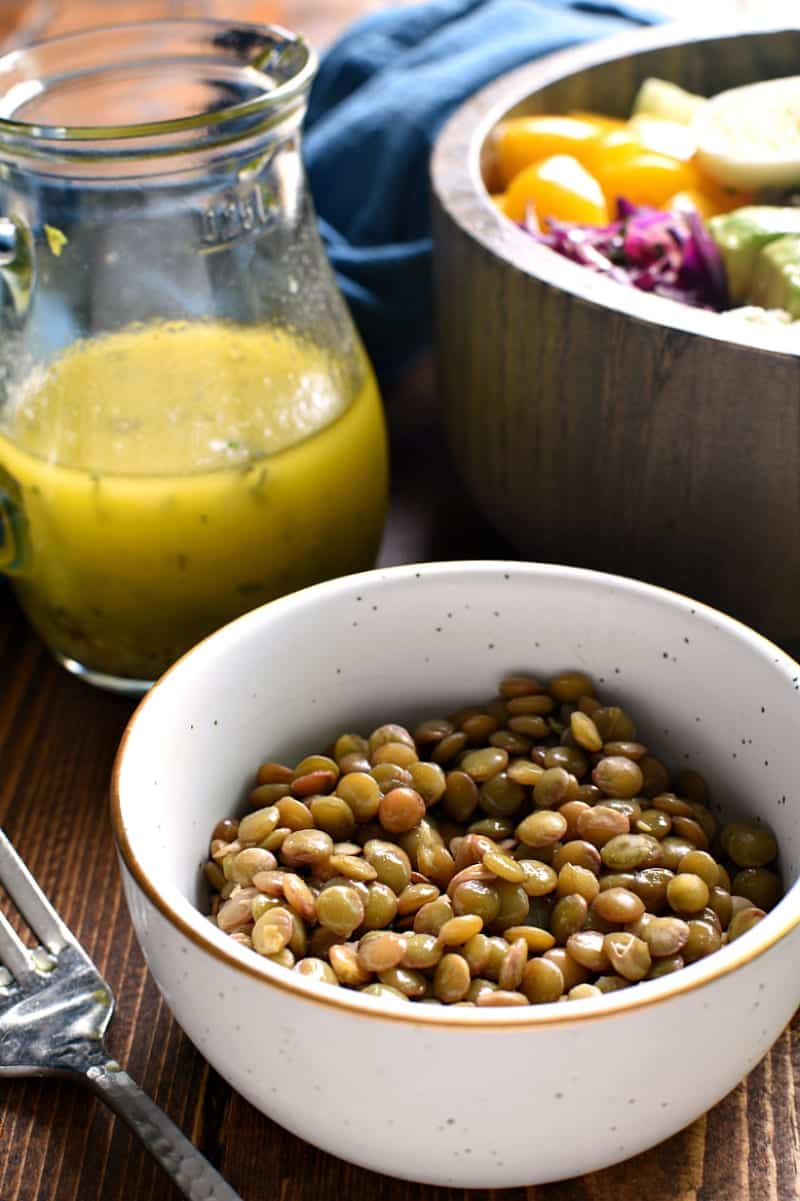 Protein Power Salad with Lentils
To be fair, I always love salads. This Strawberry Bacon Blue Cheese Salad and this Pineapple Crunch Salad are a couple of my other favorites right now. But there's something about a power salad that's even better. And my favorite "secret ingredient" to add to them? Lentils! Have you tried lentils? I love using them whenever I can because they're high in protein and fiber, heart smart, nutrient dense, and low in fat. Can you really ask for more? They're easy to store in your pantry, simple to cook, and they even freeze well. I used them in these Southwest Sloppy Joes, and they're the perfect addition to this Protein Power Salad!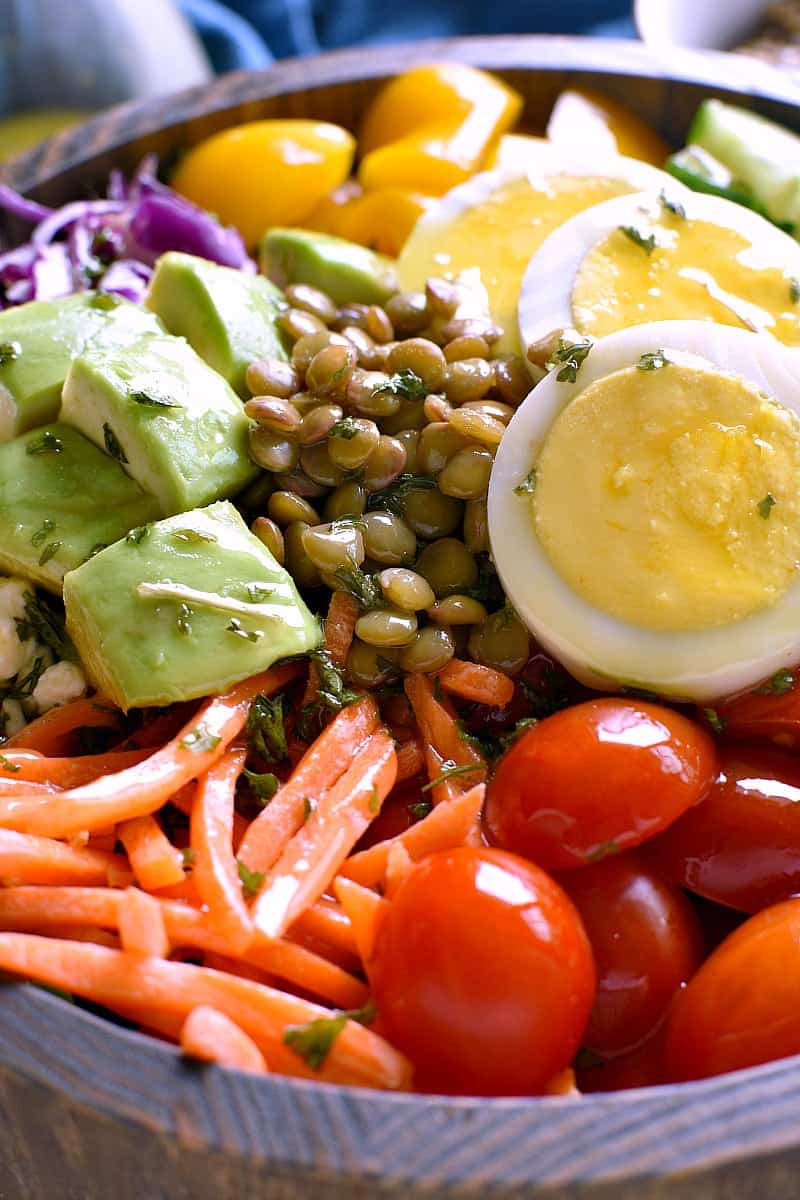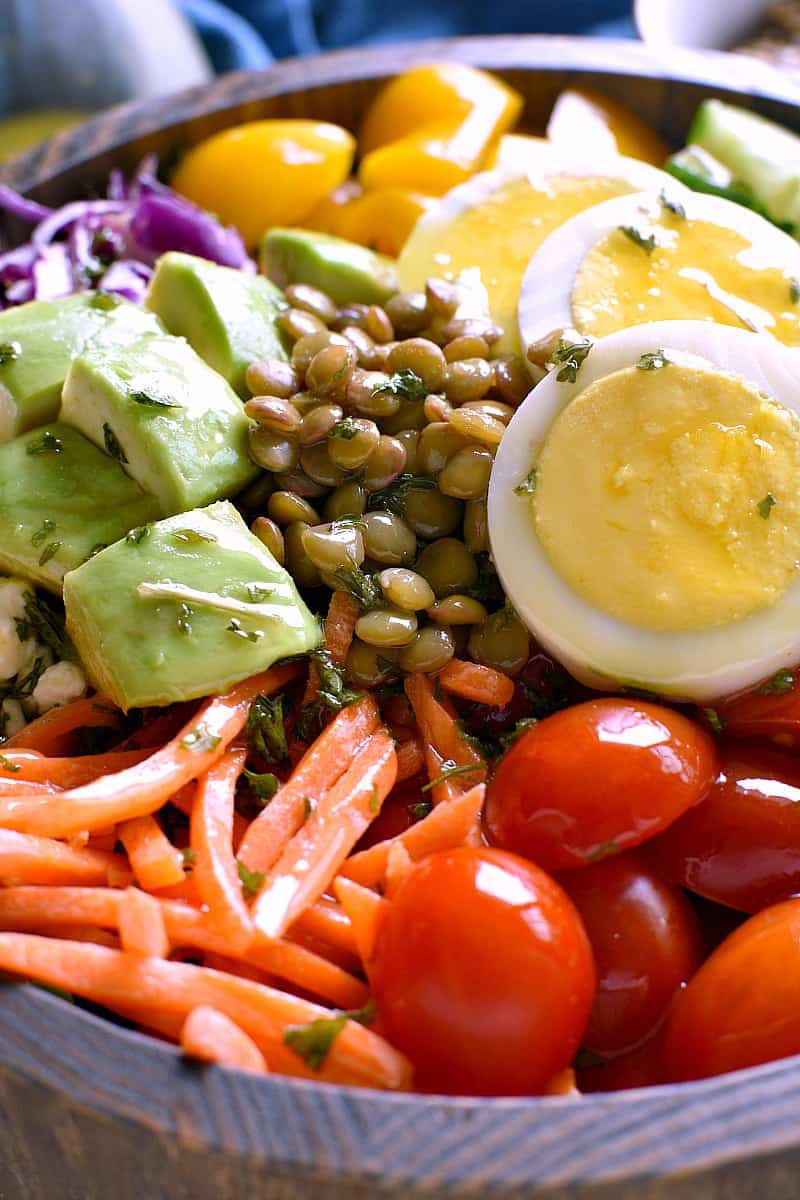 Between the chicken and the cheese and the eggs and the lentils, this salad packs a HUGE protein punch. And it's loaded with so many delicious vegetables, it will literally keep you satisfied all day long! So you have time and energy to declutter your house. Or go for a run. Or clean your fridge. Or whatever it is that gets you in that spring cleanse spirit. And that, most definitely, is a win.
Speaking of WIN, Lentils.org is giving away five #SpringCleanse prize packs, along with the grand prize of prize of a $2,000 #SpringCleanse shopping spree! Enter below for your chance to win!
Update: The giveaway is over and the entry form has been removed from this post.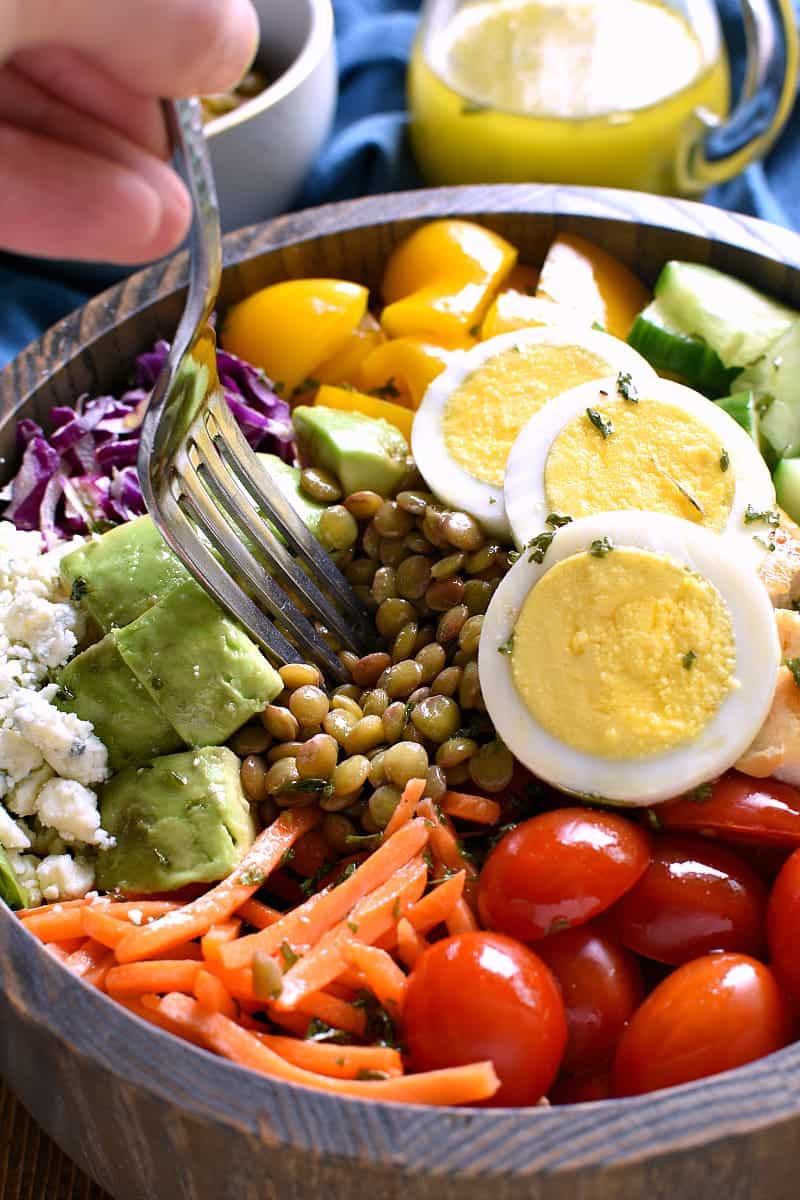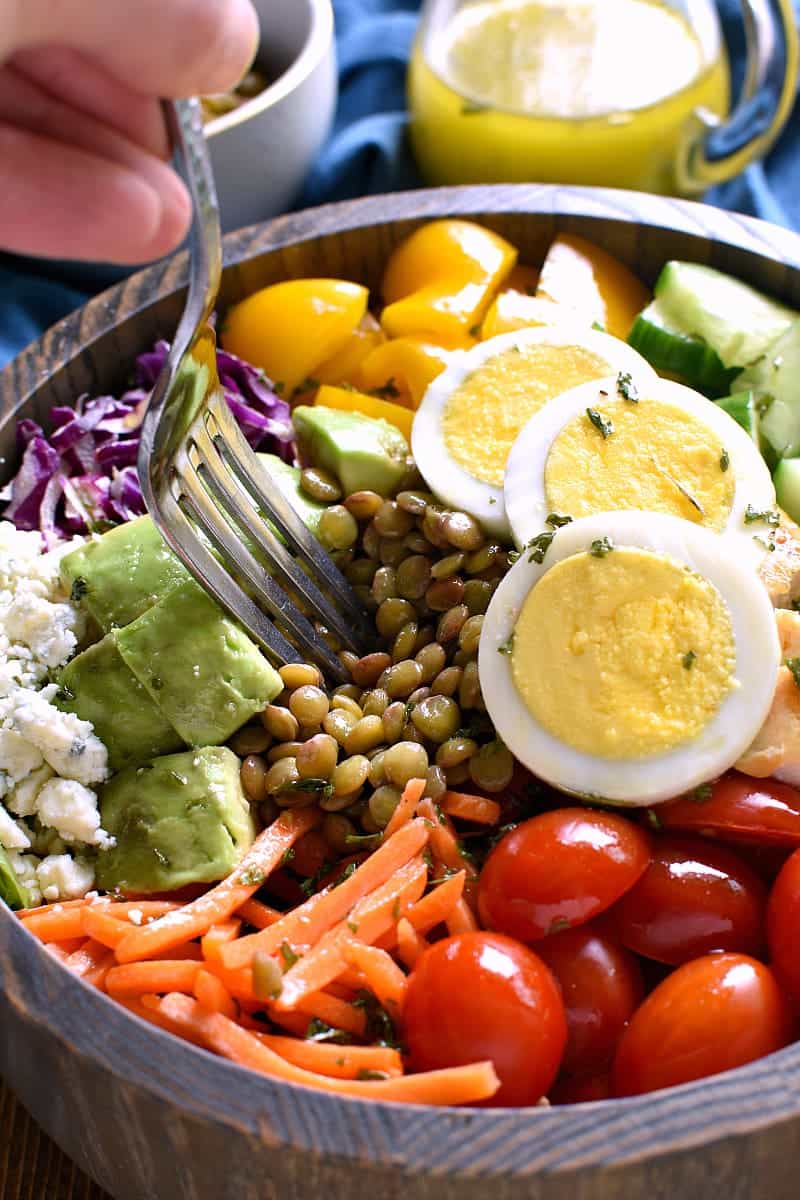 For more recipe inspiration, visit Lentils.org on Facebook, Twitter, Pinterest, Instagram, and YouTube.
Protein Power Salad Recipe: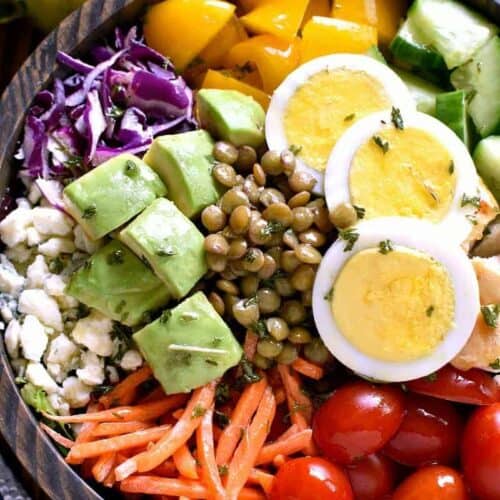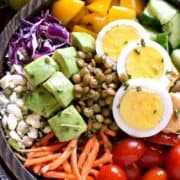 Protein Power Salad
Ingredients
Salad
4

c.

mixed greens

1/2

c.

grape tomatoes

halved

1/2

c.

cucumber

chopped

1/2

c.

yellow pepper

chopped

1/2

c.

crumbled blue cheese

1/4

c.

shredded carrots

1/4

c.

shredded purple cabbage

1

small chicken breast

chopped

1/2

hard boiled egg

sliced

1/2

c.

cooked green lentils
Dressing
1/2

c.

olive oil

1/4

c.

white balsamic vinegar

1

Tbsp.

lemon juice

1 1/2

tsp.

dried parsley

1/2

tsp.

dijon mustard

1/4

tsp.

fresh ground pepper
Instructions
Cook lentils according to package instructions. Set aside to cool.

Prepare salad by layering lettuce with remaining ingredients.

Combine dressing ingredients and shake well.

Pour over salad as desired.


This is a sponsored conversation written by me on behalf of Lentils.org. The opinions and text are all mine.