Wedge Salad is a CLASSIC… and this recipe is the best! Made with iceberg lettuce, grape tomatoes, crispy bacon, minced red onion, and homemade blue cheese dressing, it's everything you want in a Wedge Salad… and so easy to make at home!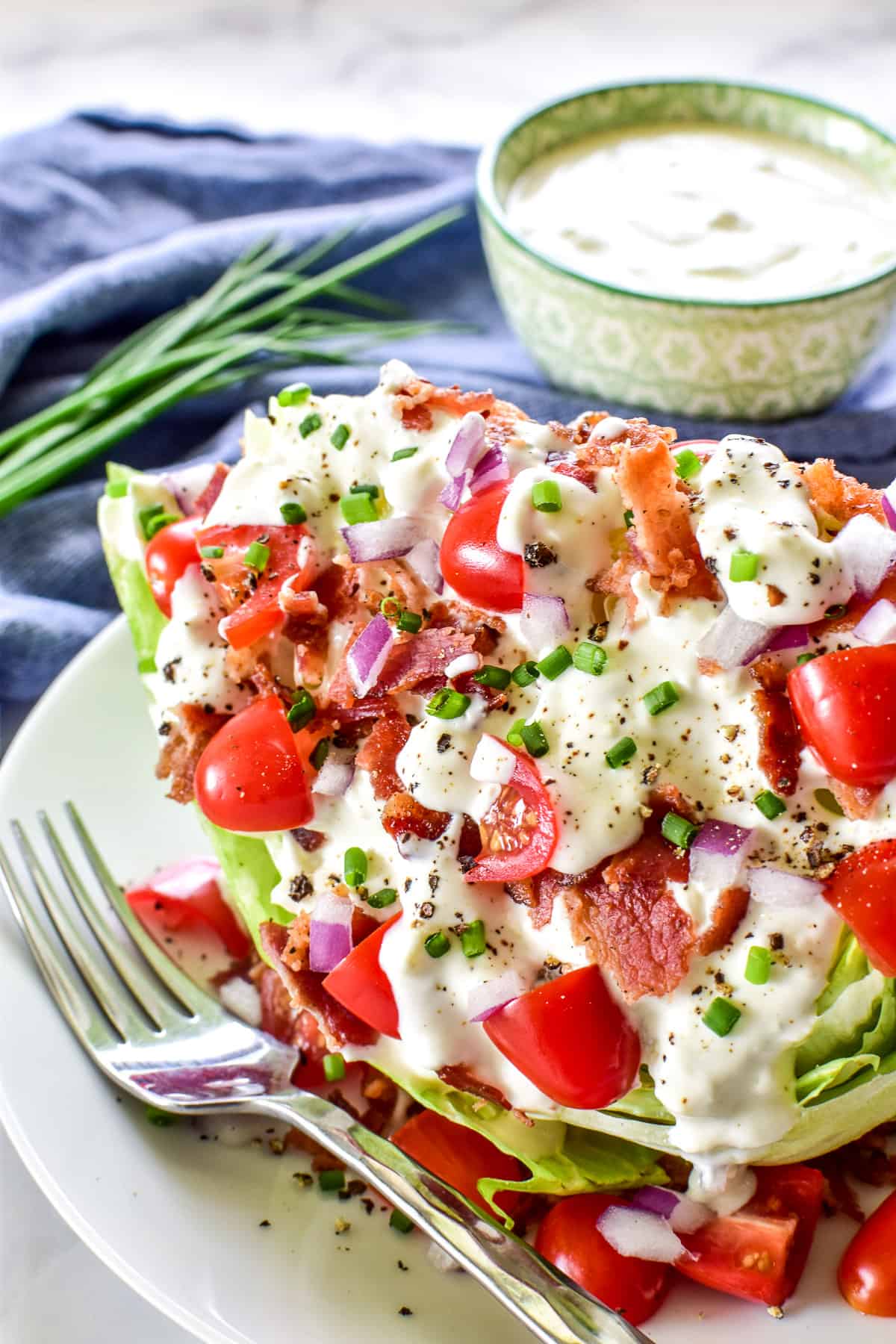 When it comes to salads, you can't go wrong with a classic Wedge. It's one of the simplest salads around – made with just 6 ingredients – but somehow it's also one of the BEST!
There's something about the flavor combination of crispy bacon, juicy tomatoes, and blue cheese dressing all on top of a crunchy wedge of iceberg lettuce. And in terms of presentation? It can't be beat!
Wedge Salad is one of my favorite salads to order at a restaurant, but to be honest, there's really no reason to order it out when it's so easy to make at home. It's ready in just minutes and makes a delicious lunch, dinner, or appetizer.
My ONLY suggestion? Don't skip the homemade blue cheese dressing! Sure, it's an extra step… but it's a step you definitely won't regret.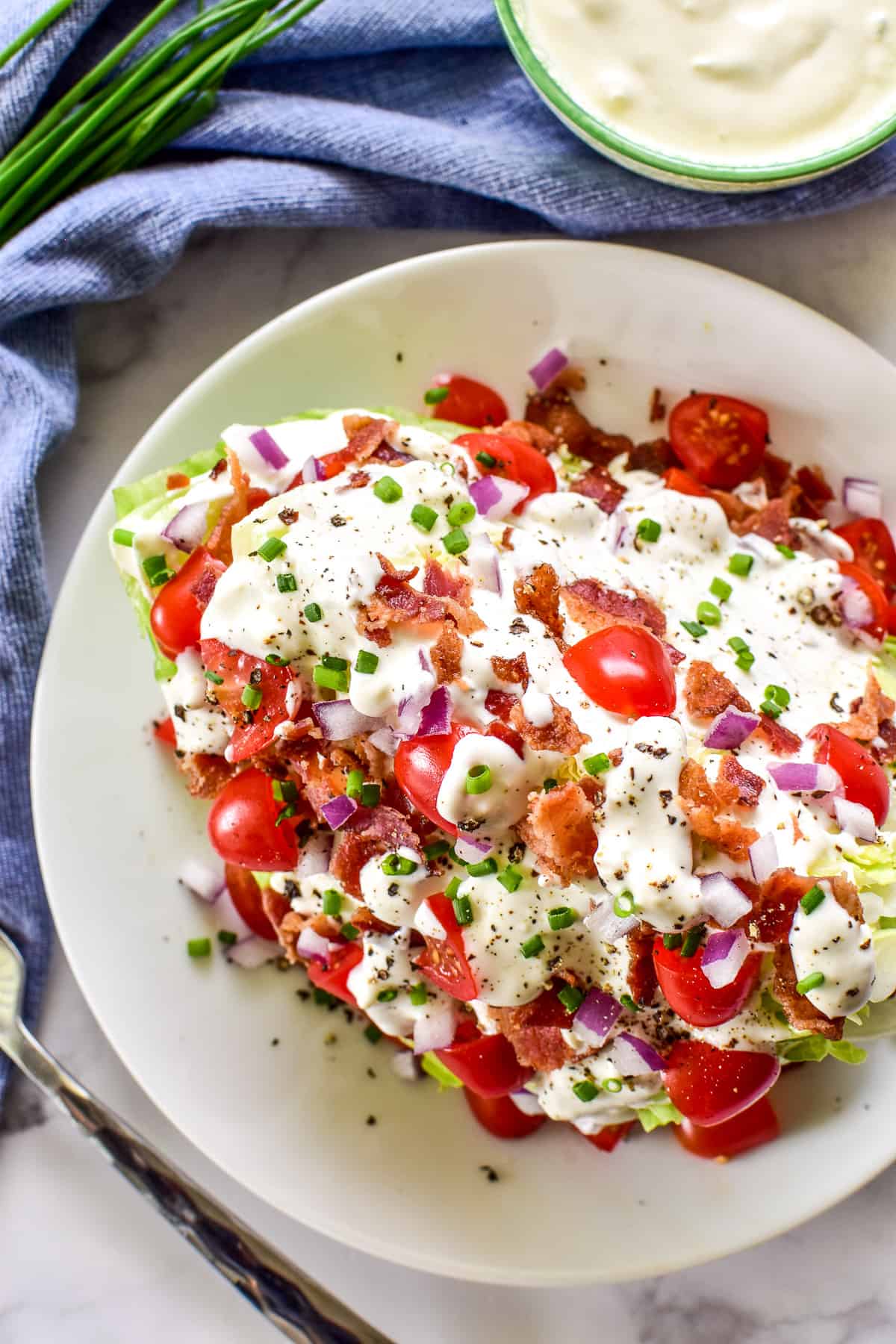 Wedge Salad Ingredients
1/2 head iceberg lettuce
4 pieces bacon
1/2 cup blue cheese dressing
1/2 cup grape tomatoes, quartered
1 tablespoon red onion
1/2 teaspoon minced chives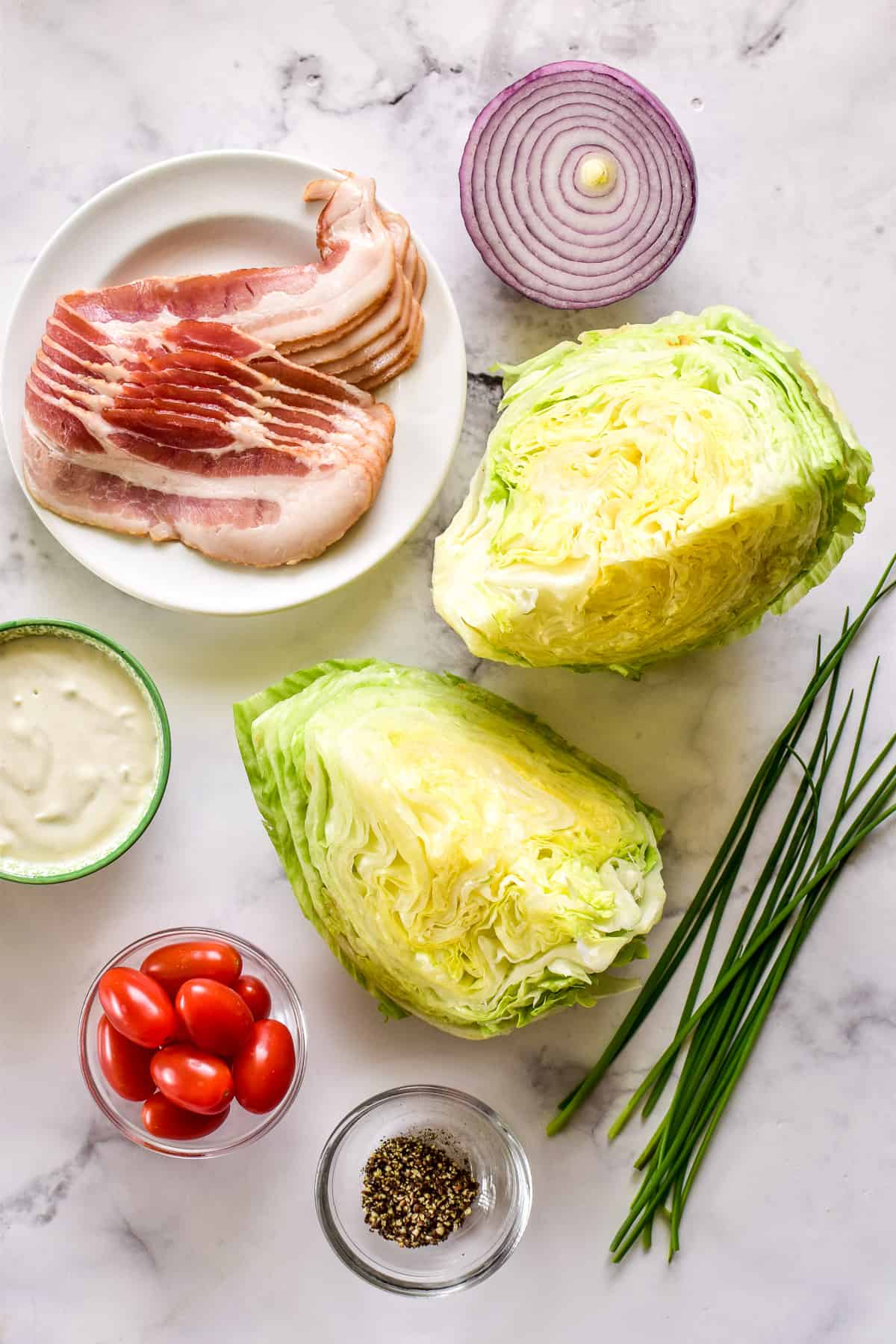 How to make Wedge Salad
Cook & crumble the bacon – My favorite type of bacon is Oven Bacon, which is a completely hands-free method. You can feel free to cook your bacon any way you'd like. Once it's cool, chop or crumble it into small pieces.
Cut the iceberg – Obviously Wedge Salad is named so because it starts with a wedge of iceberg lettuce. To cut the wedges, simply cut a head of iceberg into fourths.
Top the iceberg wedge – Once the lettuce is cut, top it with dressing, bacon, tomatoes, red onions, and chives.
Garnish & enjoy – Garnish with additional dressing and fresh pepper to taste, then enjoy!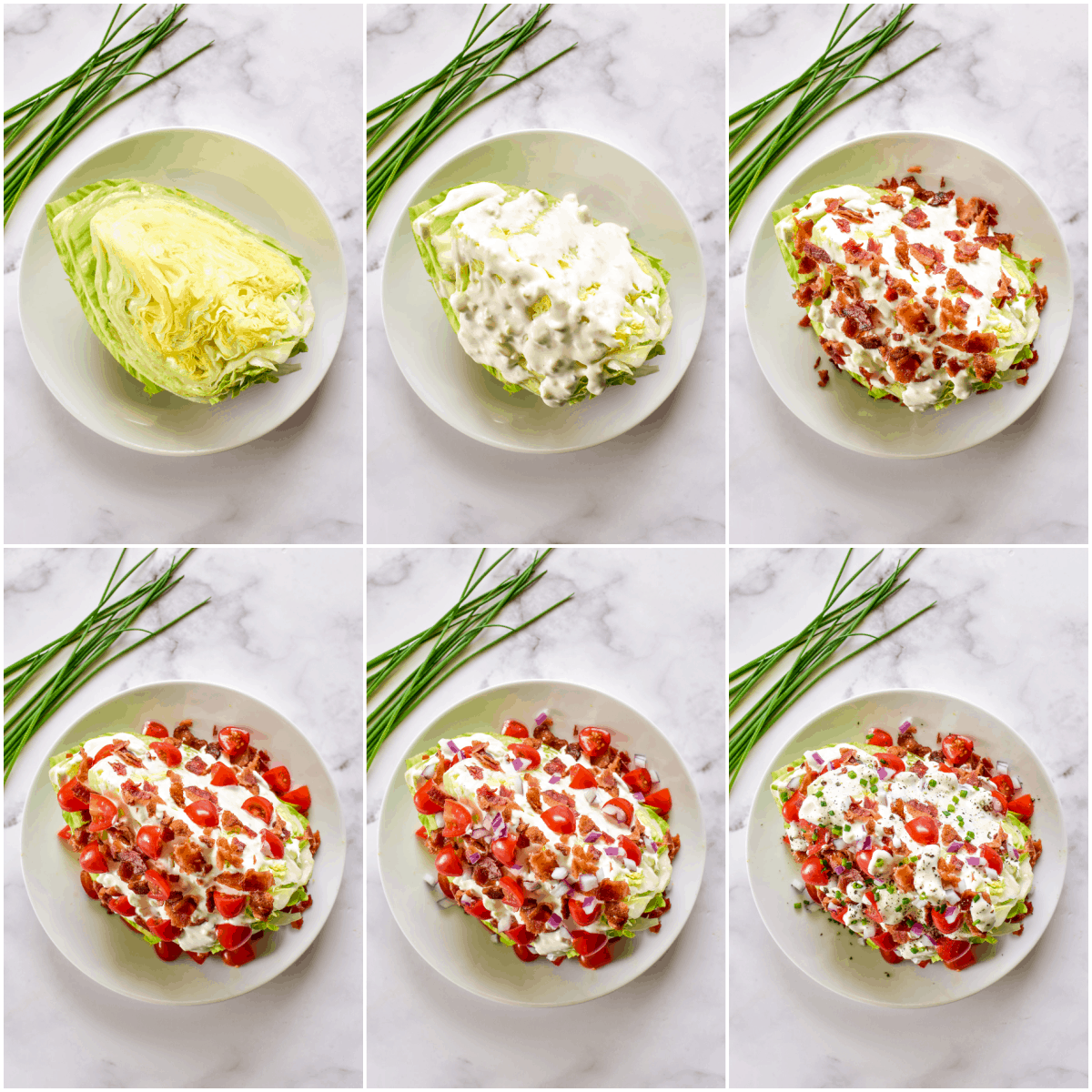 Recipe variations
Chop the iceberg for a less traditional Chopped Wedge Salad
Add chopped cucumbers or bell peppers
Substitute bacon bits for convenience
Add crumbled blue cheese
Substitute ranch dressing for blue cheese dressing
Use any type of tomatoes
Add sliced black olives
Storage tips
For best results, leftover ingredients should be stored separately in the refrigerator. If you have leftover salad that is already assembled, it can be stored in an airtight container in the refrigerator and should be eaten within 1 day.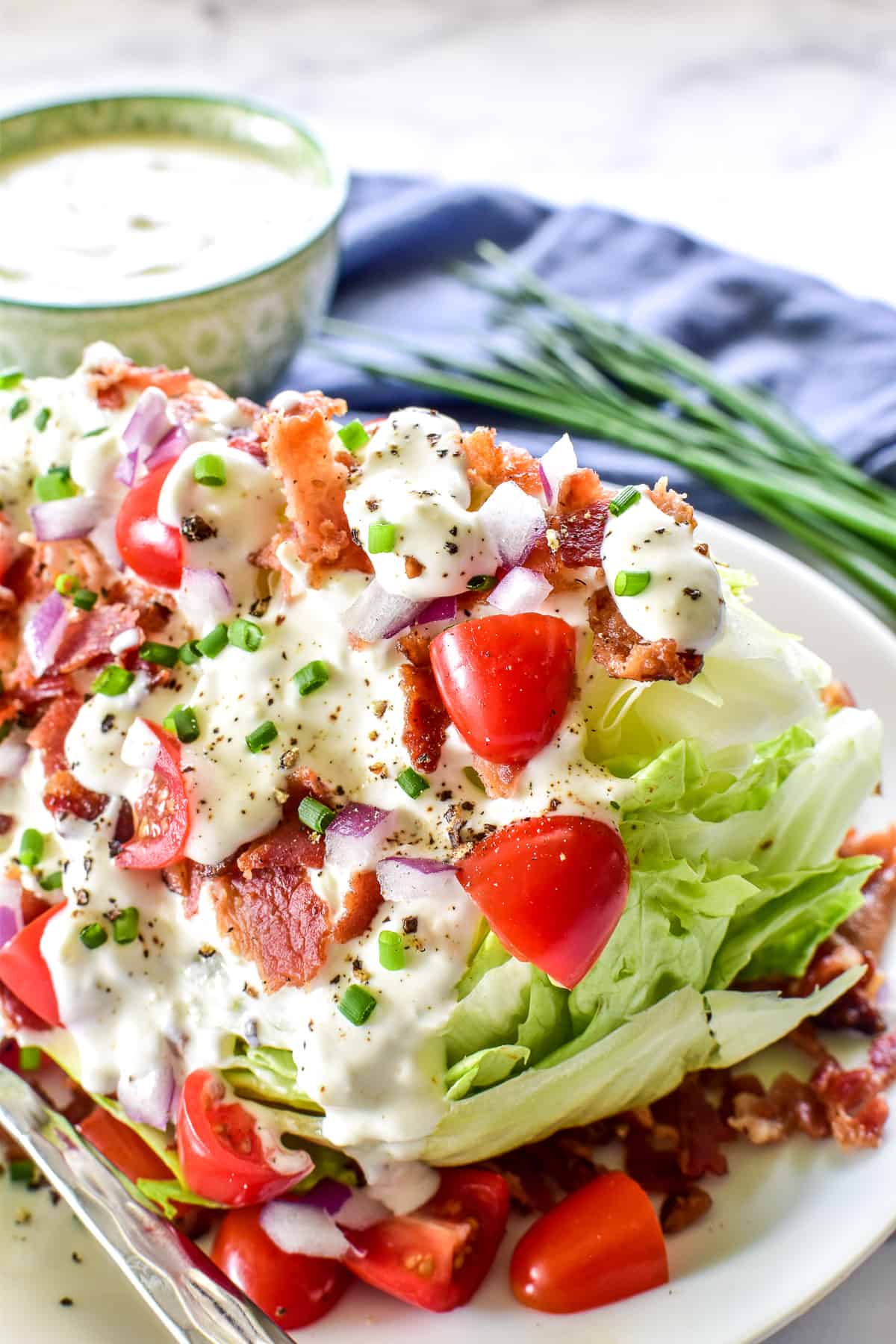 More delicious salad recipes