Rosemary Roasted Sweet Potatoes, simply prepared with olive oil, sea salt, fresh cracked pepper, and a touch of maple syrup, tossed with toasted pecans for extra crunch! This simply elegant side dish recipe is perfect for any table.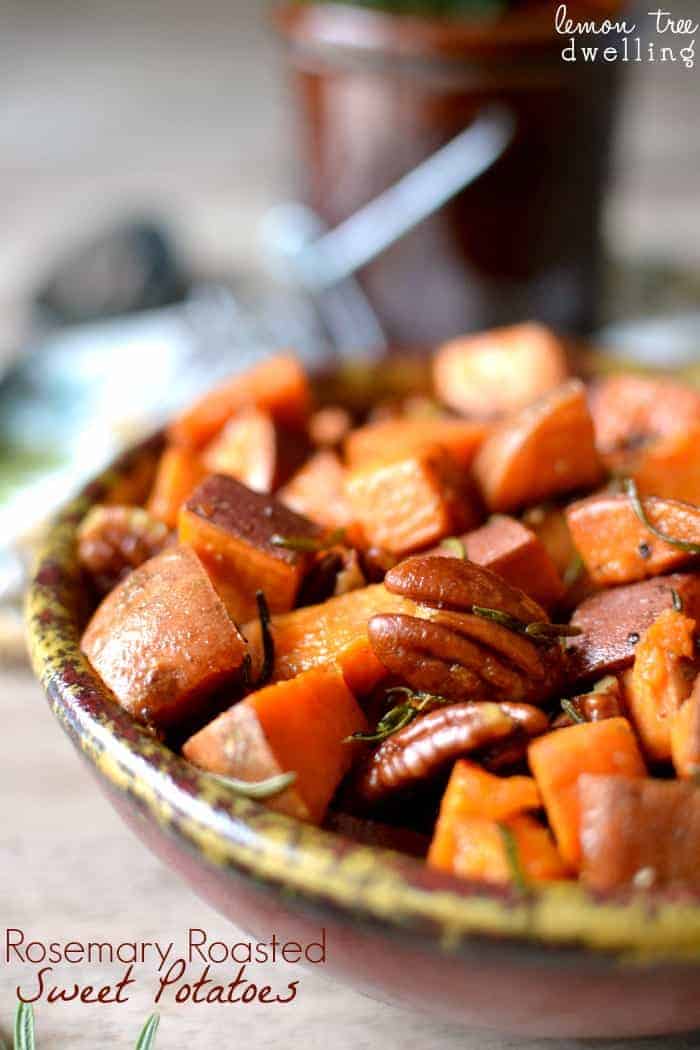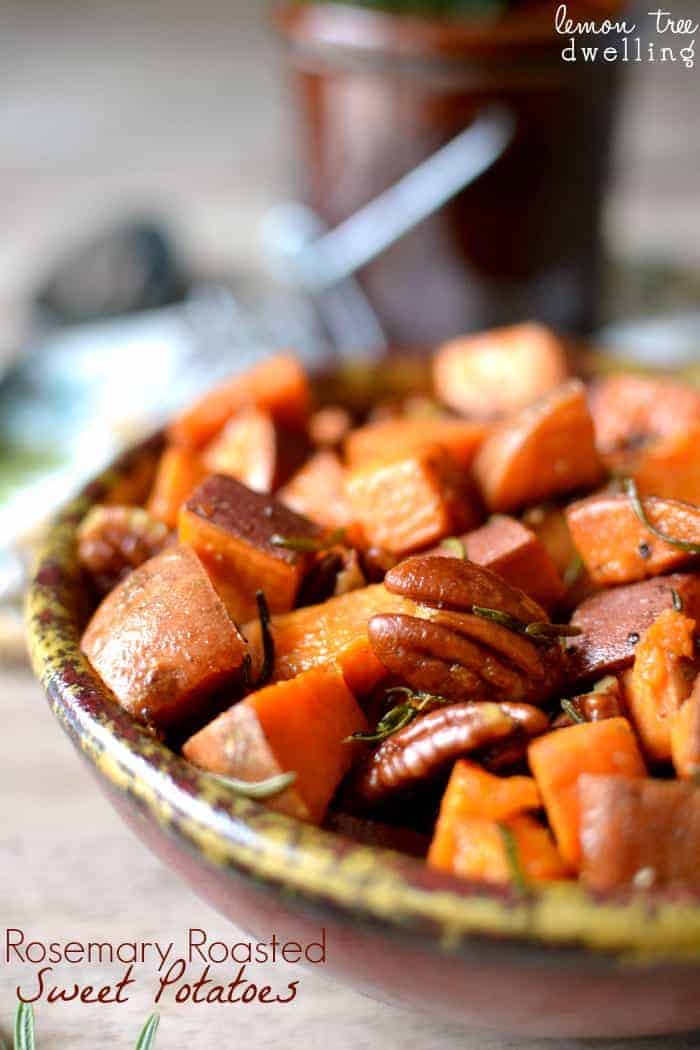 When it comes to food, I love trying new things. I'm much less of a traditional "American food" eater (a la burgers & fries) and much more likely to crave something different, something with an edge. It probably started back in college, when an Indian friend introduced me to a restaurant called Royal India…..and I fell in love with a dish called baingan bharta. For those of you who don't know, baingan bharta is a delicious roasted eggplant dish served with rice and made even better with naan. From the first time I had it, I was hooked!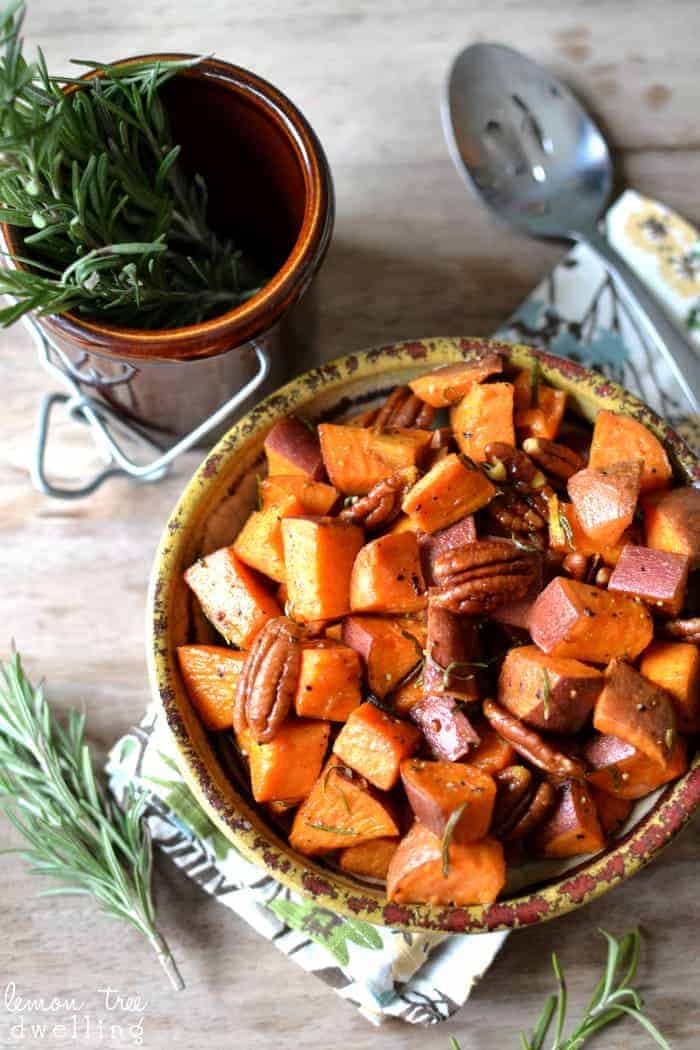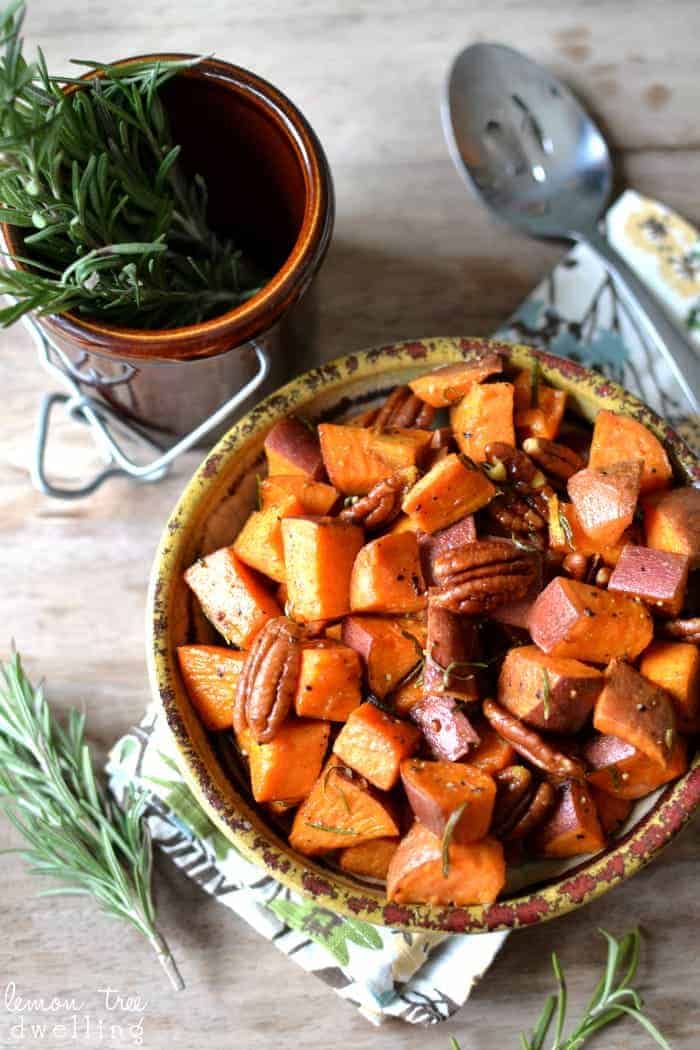 From there, I ventured into Thai and Japanese and Ethiopian…..and one of my very favorite restaurants today is a tapas place with dishes from around the world. I find it so much more exciting than more traditional bar & grill fare, and when given the choice, I will opt for a more ethnically adventurous menu 9 times out of 10!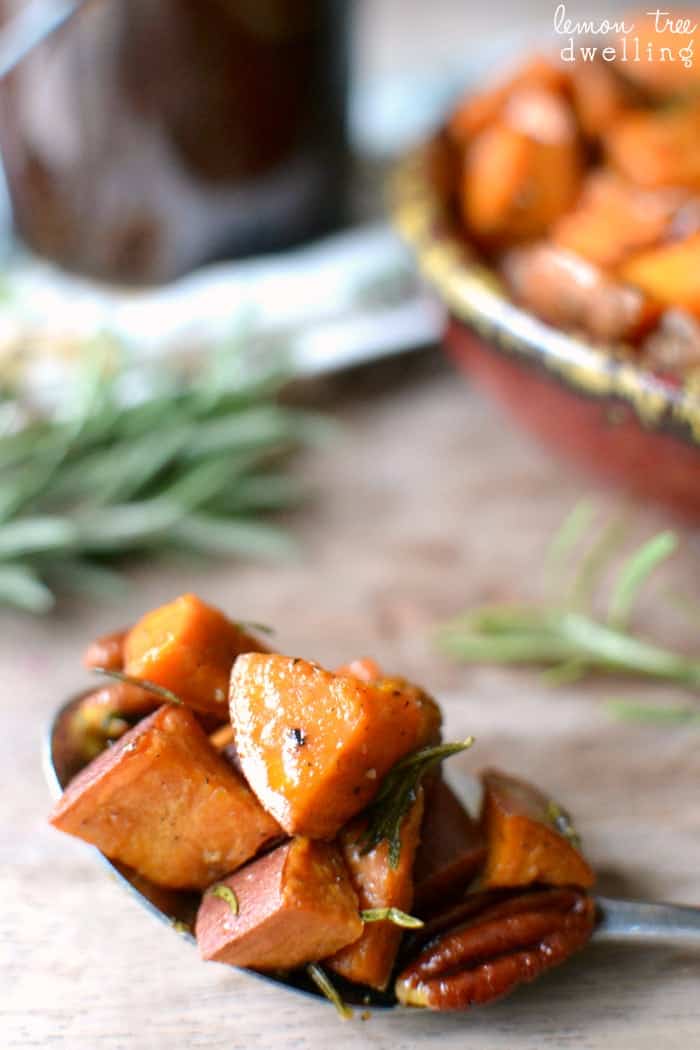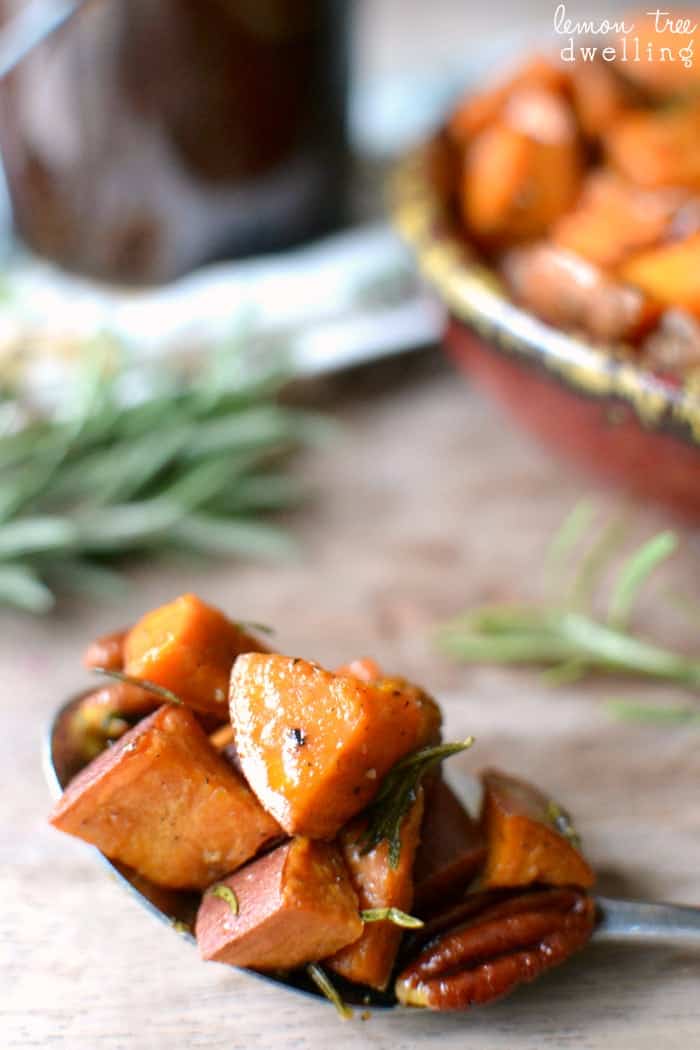 It's no wonder, then, that I like to mix things up when it comes to a traditional meal like Thanksgiving. Don't get me wrong – I do enjoy the comfort of a traditional meal every now and then – and my Thanksgiving menu will always include the basics like turkey, potatoes, vegetables, and pie…..it's just that I always try to keep the basics just a tad more interesting!
And that's why I love these Rosemary Roasted Sweet Potatoes.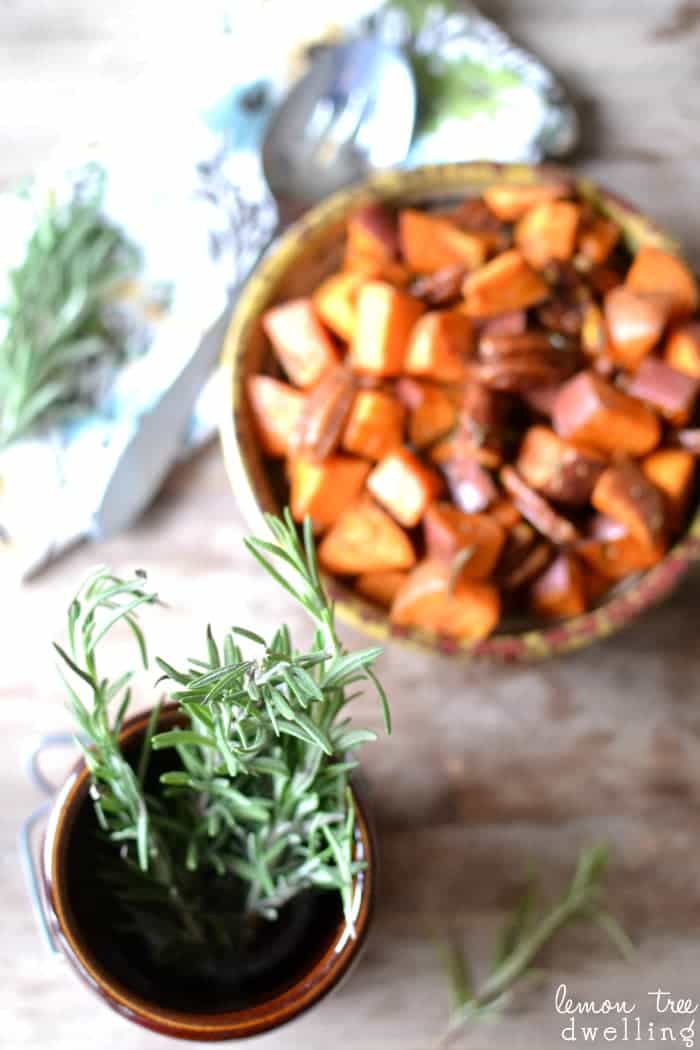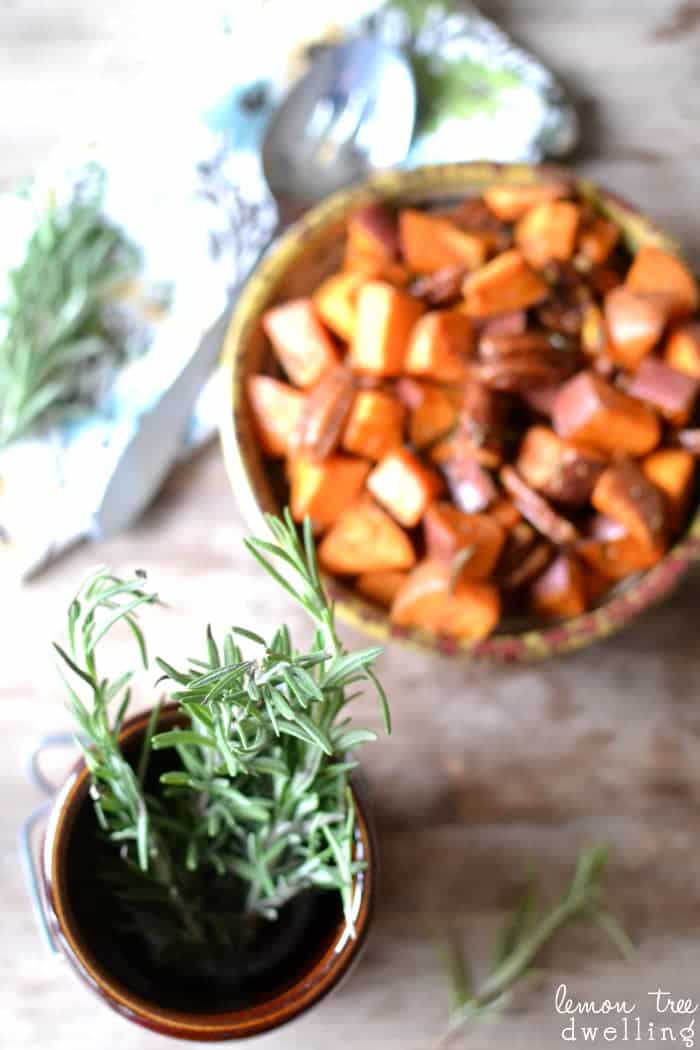 These sweet potatoes are a great example. Nothing crazy……just a few minor twists. Like fresh rosemary and pecans and maple syrup. All ingredients that will blend seamlessly into a traditional Thanksgiving menu, while making the sweet potatoes out of this world delicious. So if you come to my house for Thanksgiving, fear not! You will not be forced to dine on an around-the-world Thanksgiving feast (although I do LOVE that idea….)! Instead, I'll feed you all the basics. And they'll be the most delicious basics you've ever tasted! (Or at least close to it!) 🙂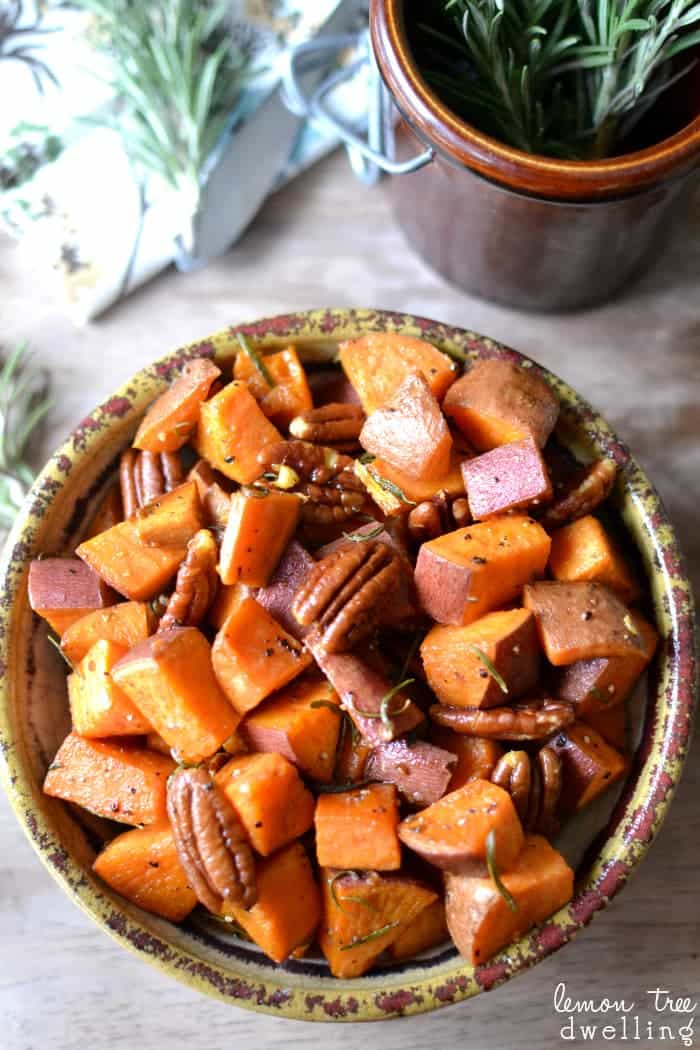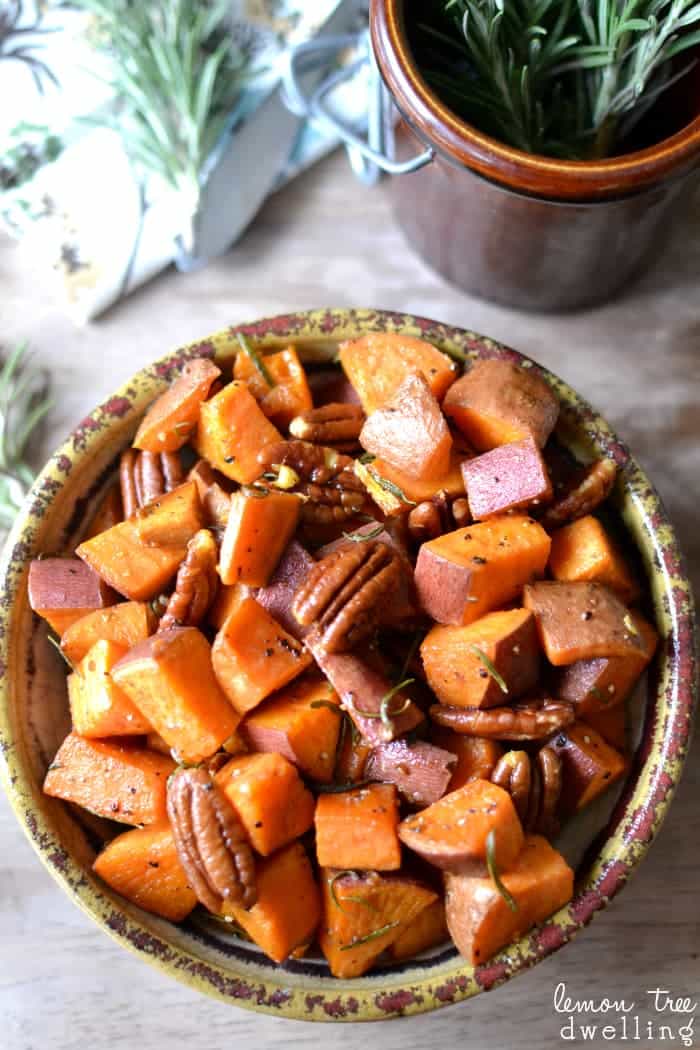 Looking for more great Thanksgiving dishes? Check these out!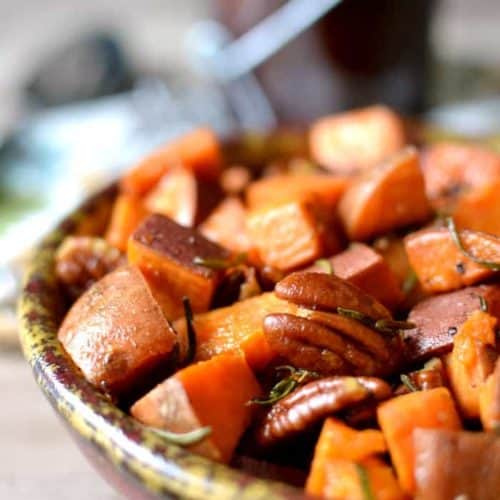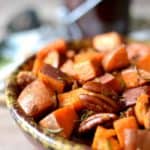 Rosemary Roasted Sweet Potatoes
Ingredients
4

c.

cubed sweet potatoes

skins on

4

fresh rosemary sprigs

needles only

1/4

c.

olive oil

1/2

tsp.

kosher salt

1/2

tsp.

fresh cracked pepper

1/2

c.

pecan halves

3

Tbsp.

maple syrup
Instructions
Combine sweet potatoes, rosemary, olive oil, salt & pepper in a large mixing bowl and toss to combine.

Spread on a large rimmed baking sheet and roast at 400 degrees for 15 minutes.

Remove from oven; add pecans and maple syrup and toss to combine.

Roast an additional 5 minutes or until potatoes are tender.
Love your sweet potatoes in french fry form? Then try these Crispy Baked Sweet Potato Fries from Cookie + Kate.