The ULTIMATE Sweet Potato Casserole! Loaded with fresh sweet potatoes, brown sugar, pumpkin pie spice, chopped pecans, and  a special secret ingredient, this casserole is crunchy, creamy, sweet, and so delicious. Perfect for all your holiday celebrations and easy to make in advance, so it's celebration-ready when you are. Whether you're a long time sweet potato lover or new to the game, you're going to fall in love with this recipe. It has the most amazing flavor and the BEST brown sugar pecan topping. Sure to become a new holiday favorite!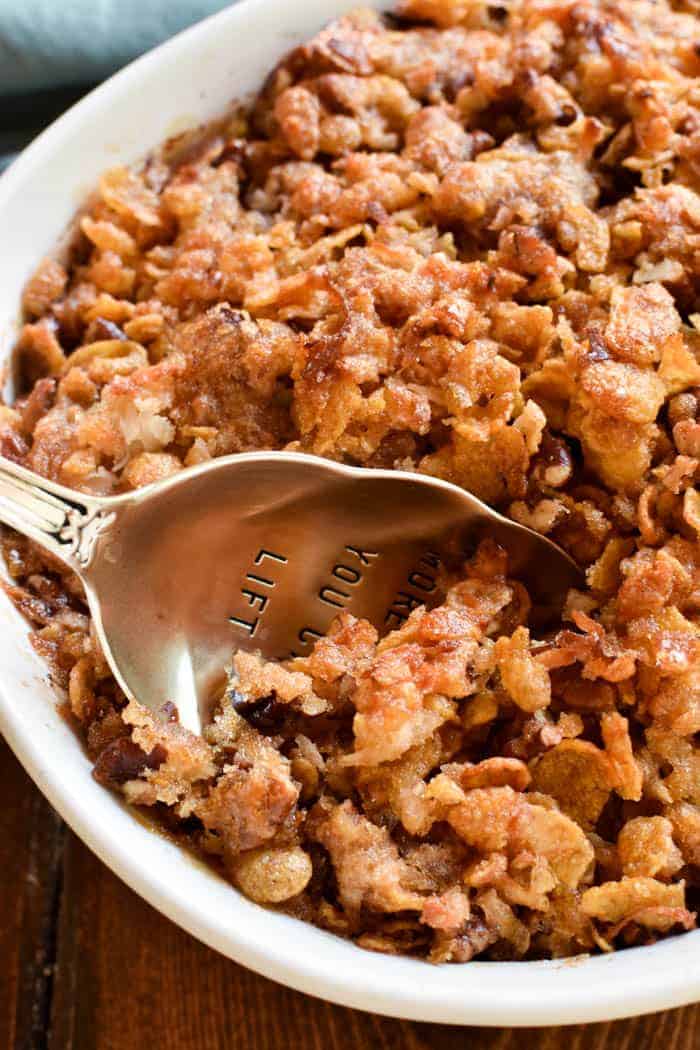 This may sound strange, but I still remember the first time I ever tried Sweet Potato Casserole. It was at a dinner theater, when I was in high school, with my boyfriend at the time, and I'm pretty sure the play I saw was Fiddler on the Roof. Not that it made a lasting impression or anything.
Have you ever been to a dinner theater? It's only the BEST THING EVER. We have one about an hour from our house and I've been there three times. And every time? I've loved it. Not just because they put on a great show, around a circular stage, with great ambiance….but because they serve great food. Every. Single. Time.
It's the perfect place to celebrate a birthday, an anniversary, or any special occasion. And the perfect place to try something new. Like sweet potato casserole.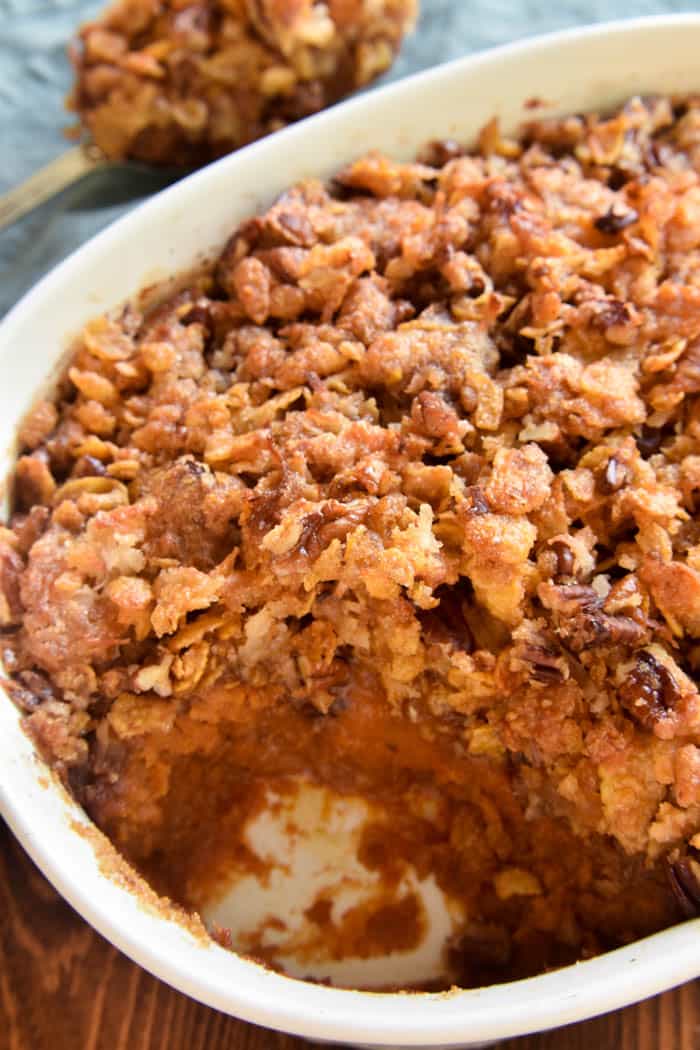 I'm not sure how I made it to high school without ever having tried it….but as soon as I did? It was love at first bite. The creamy whipped sweet potatoes? The crunchy brown sugar topping? What's not to LOVE?
It's the kind of side dish that's always served with the meal, but actually tastes a little more like dessert. The kind of dish that NEVER has leftovers. And even if you're stuffed? It's the kind of dish you'll definitely still make room for.
Mmmm……I can hardly wait for the holidays.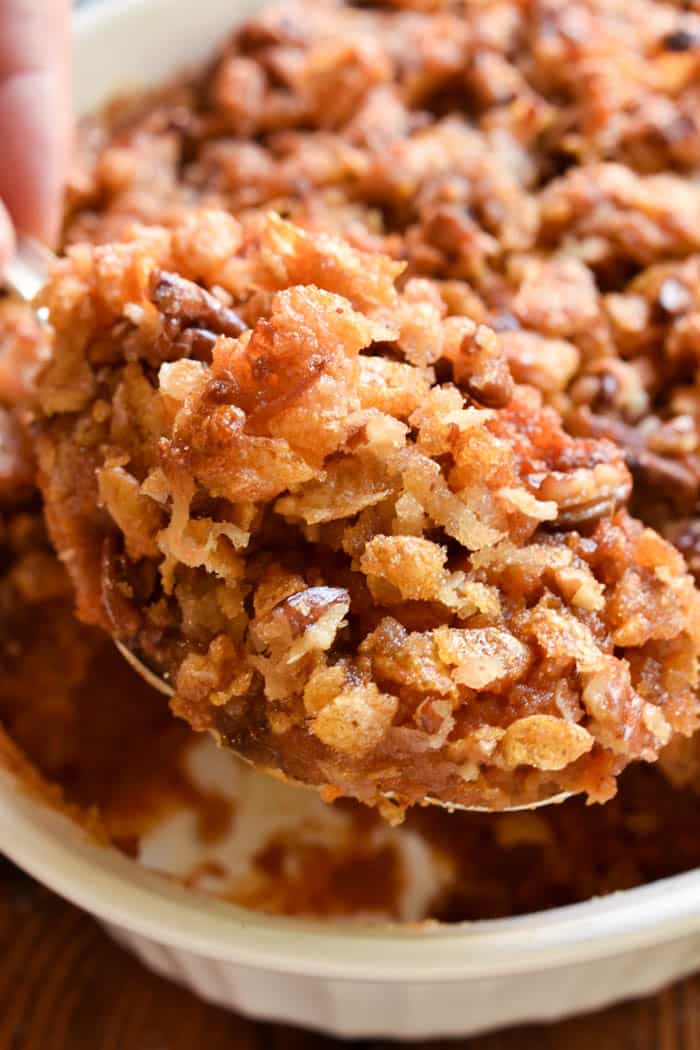 Sweet Potato Casserole with Brown Sugar Pecan Topping makes the ultimate holiday side dish!
I know there are a million ways to do sweet potatoes, and we have a few favorites ourselves. Like these Rosemary Roasted Sweet Potatoes or this Sweet Potato Cranberry Pecan Stuffing. And there are a million ways to do sweet potato casserole, itself. Sweet Potato Casserole with Marshmallows is probably the most well known, and as delicious as it is, I have to say I like this brown sugar pecan topping so much more.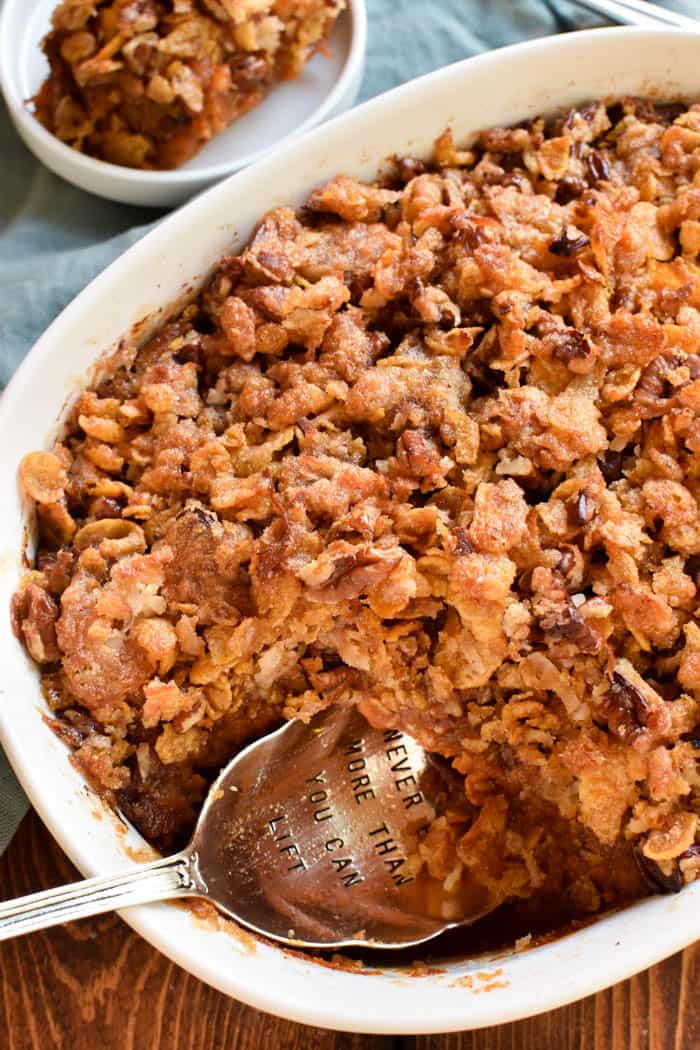 And you know what? I have the feeling that once you try it, you'll agree. In fact, I would venture to say that this Sweet Potato Casserole is enough to make a sweet potato lover out of anyone….even the most non-veggie-loving of the bunch. Because when you add brown sugar and butter and pecans….can you really even call it a veggie anymore? Nope. Just a DELICIOUS holiday side dish. And you can never have enough of those.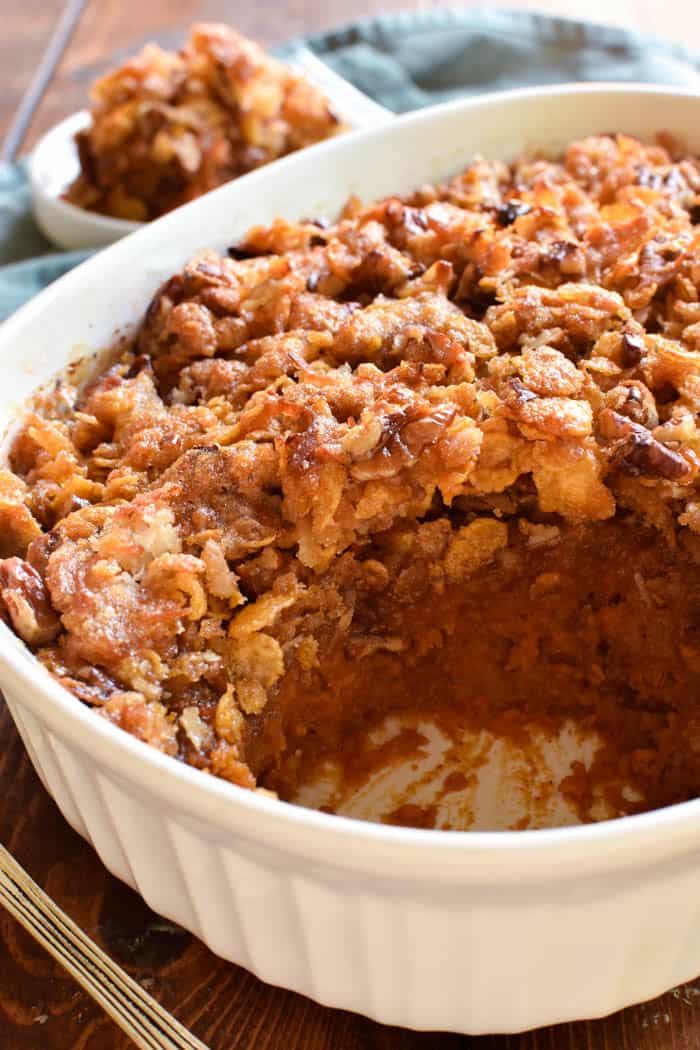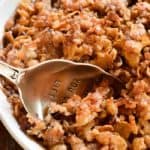 Sweet Potato Casserole with Brown Sugar Pecan Topping
Ingredients
Sweet Potatoes
4

cups

sweet potato

chopped

6

Tbsp.

unsalted butter

softened

1/2

cup

brown sugar

2

eggs

2

tsp.

pumpkin pie spice

1/8

tsp.

salt
Brown Sugar Pecan Topping
1

cup

cornflakes

crushed

1/2

cup

brown sugar

1/2

cup

pecans

chopped

1/4

cup

shredded coconut

4

Tbsp.

unsalted butter

melted
Instructions
Place chopped sweet potatoes in a large saucepan. Cover with water; bring to a boil.

Boil 15 minutes or until tender; drain.

Combine cooked sweet potatoes and softened butter in a large mixing bowl; beat until smooth.

Add brown sugar, eggs, pumpkin pie spice, and salt and beat until blended.

Spoon into a 1.5 quart baking dish. (*You may prepare up to this point one day in advance and store, covered, in the refrigerator. Baking time will need to be increased by 15 minutes.)

Bake at 400 degrees for 25 minutes.

Combine topping ingredients in a small mixing bowl; sprinkle over casserole.

Bake 10 minutes longer or until golden brown.
Recipe Notes
Recipe adapted from An Occasion to Gather.
Nutrition Facts
Sweet Potato Casserole with Brown Sugar Pecan Topping
Amount Per Serving
Calories 255
Calories from Fat 126
% Daily Value*
Total Fat 14g 22%
Cholesterol 53mg 18%
Sodium 83mg 3%
Potassium 216mg 6%
Total Carbohydrates 30g 10%
Protein 2g 4%
* Percent Daily Values are based on a 2000 calorie diet.