Pistachio Pineapple Dip is a dessert dip to die for! It's a deliciously sweet, creamy dip made with just 5 ingredients. Perfect for dipping cookies, fruit, or whatever your heart desires!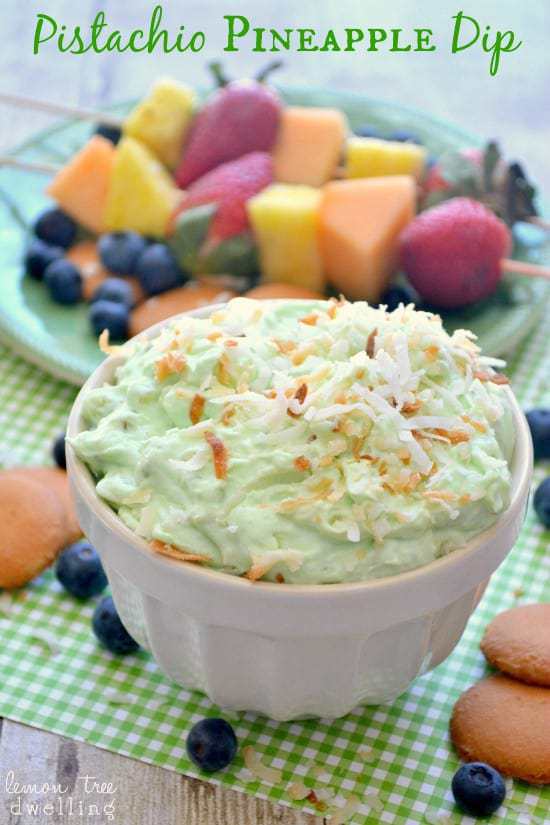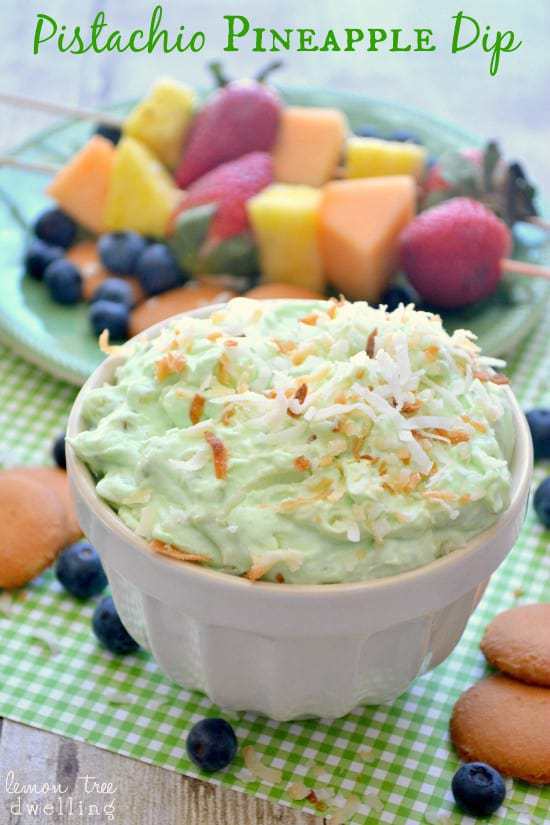 I have always thought it would be fun to have the kind of family that gets together every Sunday for dinner. You know – the kind where all the cousins are close and everyone knows everything that's going on with everyone else…?
It probably has something to do with the fact that I grew up without any of that……we rarely saw our aunts and uncles, barely knew our cousins and even our relationship with grandmas and grandpas wasn't a close one!
As adults, my siblings and I all made an unspoken pact to stay in the area, live close by, and try to give our kids a good chance of knowing one another. And I think, so far, we've done a decent job. But. We all bought houses just far enough away from one another that getting together on a weekly basis has never sounded easy. So, instead, we've tried to make a point of getting together to celebrate every birthday and every holiday….even the small ones!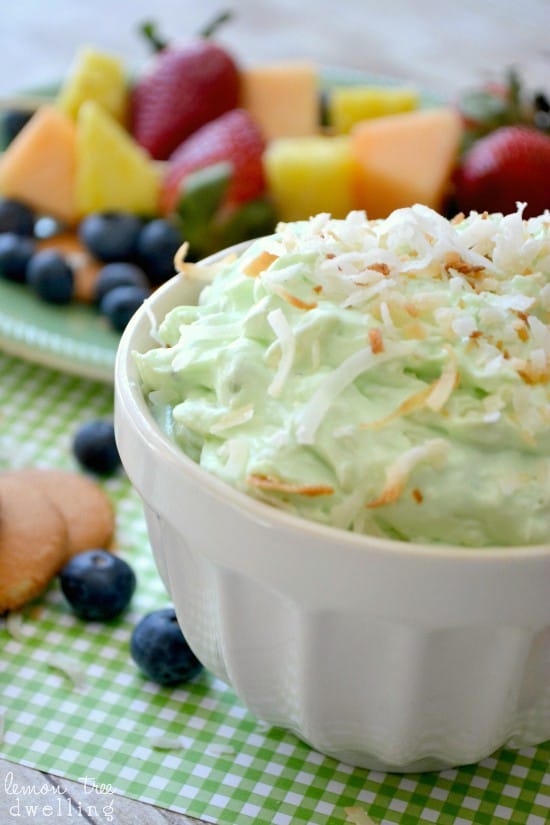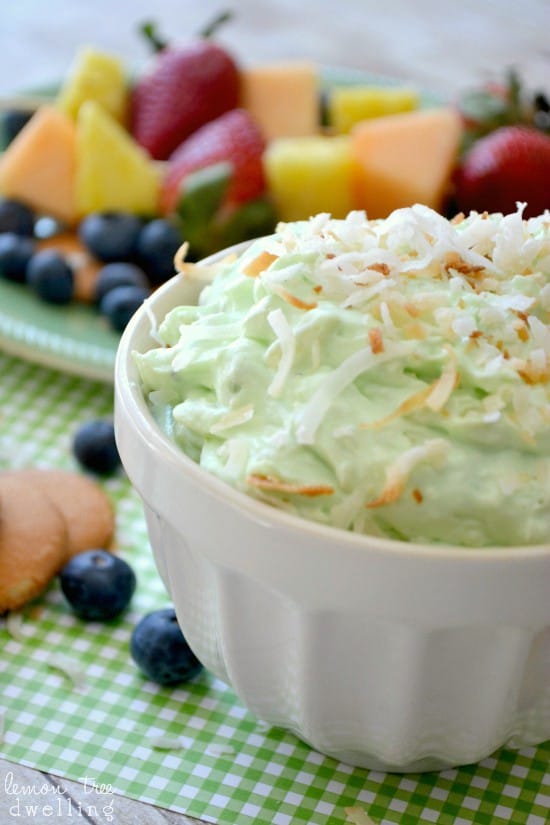 We had planned to get together for Valentine's Day, and even had everything set, right down to the menu. But then, at the last minute, sick kiddos forced us to cancel. Darn kids! And now it's been almost 2 months since we've all seen each other! Not so great for people who made a point of staying close by for one another…!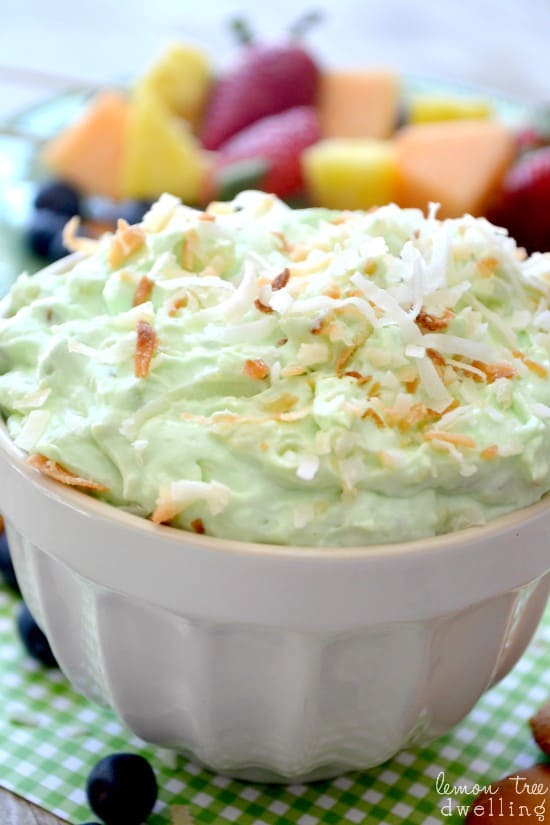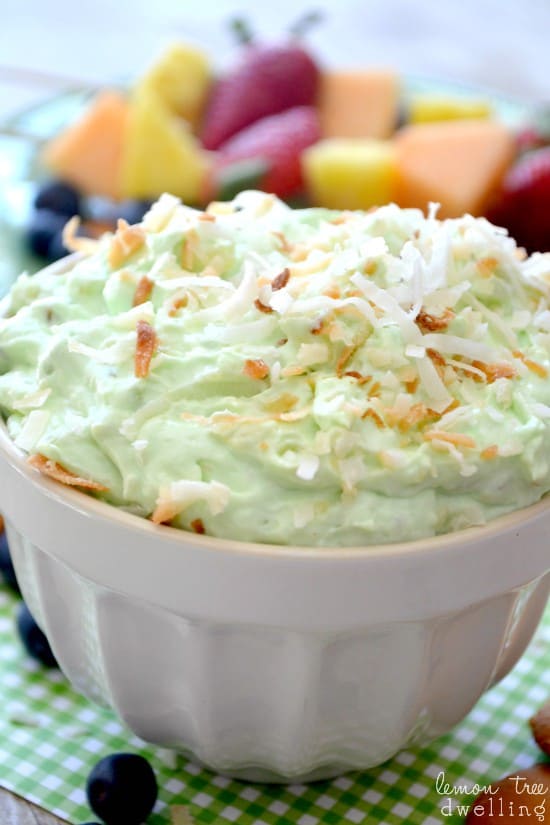 Pistachio Pineapple Dip – A perfect dessert dip!
I guess that just means we'll have to get together for St. Patrick's Day! We probably would have, anyway….but now it's crucial. And when we do, I know exactly what I'll be bringing. This creamy Pistachio Pineapple Dip will be perfect – for a snack, or even for dessert! It's similar to Watergate Salad but in dip form, and it's great for dipping any type of fruit, crackers, cookies, pretzels….you name it!
And best of all….it's made with relatively healthy ingredients. Greek yogurt, pineapple, cream cheese, toasted coconut….and, of course, pistachio pudding mix. Because what fun is a get together without a little something naughty. Especially when it comes to St. Patrick's Day! (We have to keep up with the leprechauns some way!)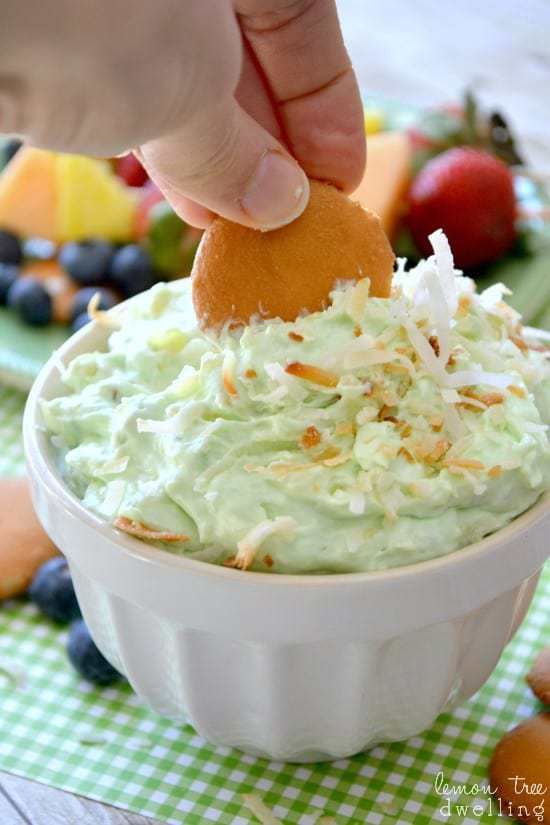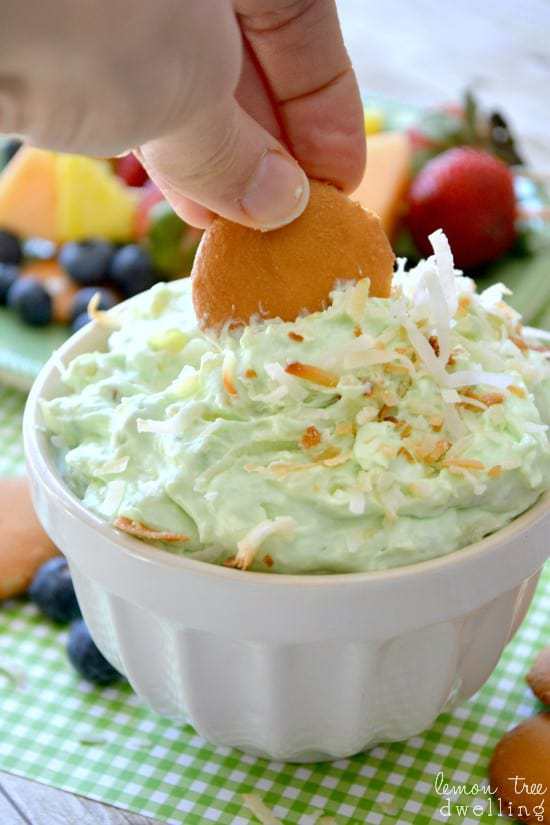 We love pistachio desserts, not just for their pretty green color but for their amazing flavor! One of our other favorites? Pistachio Lush Dessert…..which, if you haven't tried it, is seriously dreamy.
And if you're looking for more dessert dips? I've got you covered!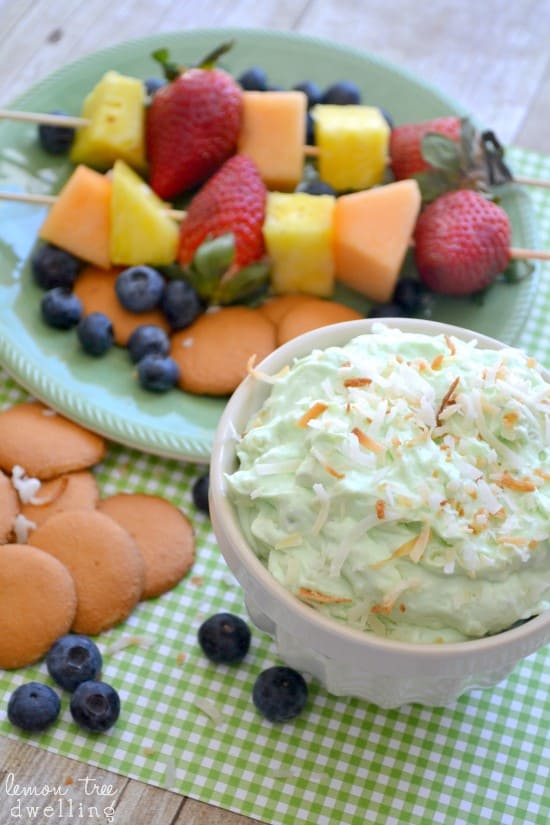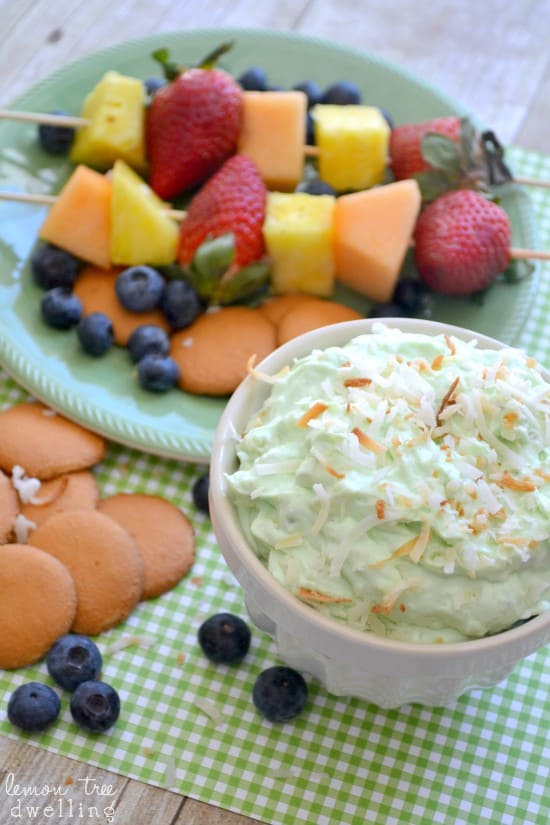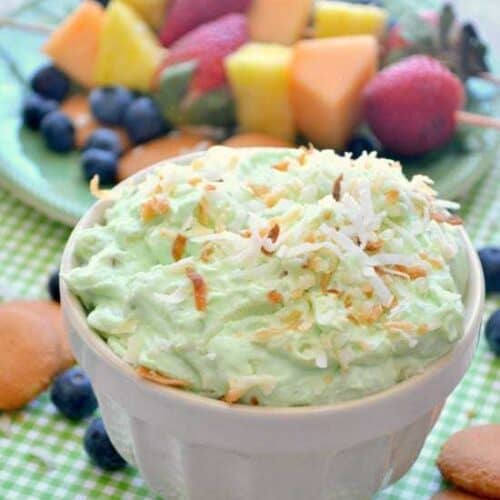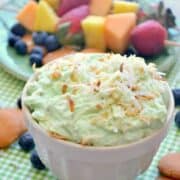 Pistachio Pineapple Dip
If you love dessert dips, this Pistachio Pineapple Dip is for you! It's a deliciously sweet, creamy dip made with just 5 ingredients. Perfect for dipping cookies, fruit, or whatever your heart desires!
Ingredients
1

8 oz. package cream cheese, softened

1

c.

crushed pineapple with juice

1/2

c.

vanilla yogurt

Greek or regular

1

3 oz. package pistachio pudding

1/4

c.

toasted coconut

plus more to sprinkle on top
Instructions
Combine cream cheese, crushed pineapple with juice, yogurt, and pistachio pudding mix in medium mixing bowl and blend on high speed until smooth and creamy.

If dip is too thick, add more pineapple juice to desired consistency.

Stir in 1/4 c. toasted coconut.

Spoon into serving bowl; top with additional toasted coconut.

Serve with fruit, crackers, or cookies.