Mint Chocolate Cookie Brittle is a delicious mix between a thin mint and a brownie. This chocolate treat is a kid friendly recipe and perfect for little hands. Add a little crunch to your St. Patrick's Day!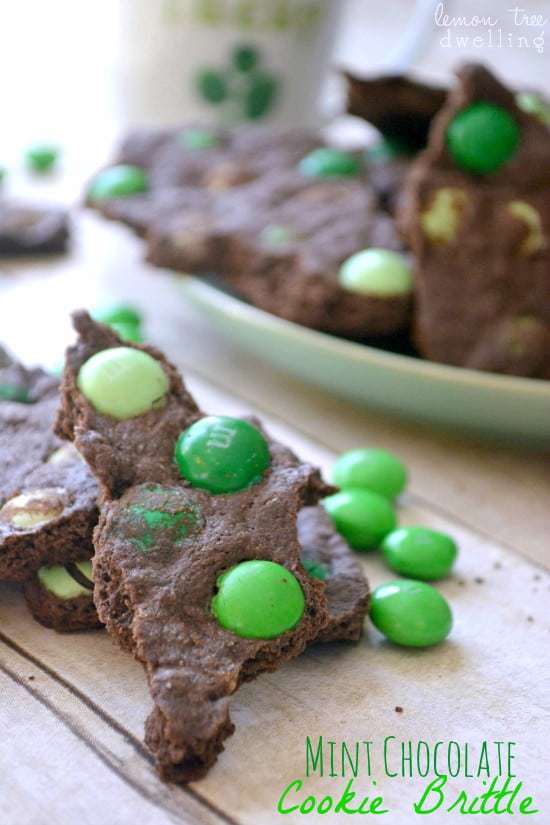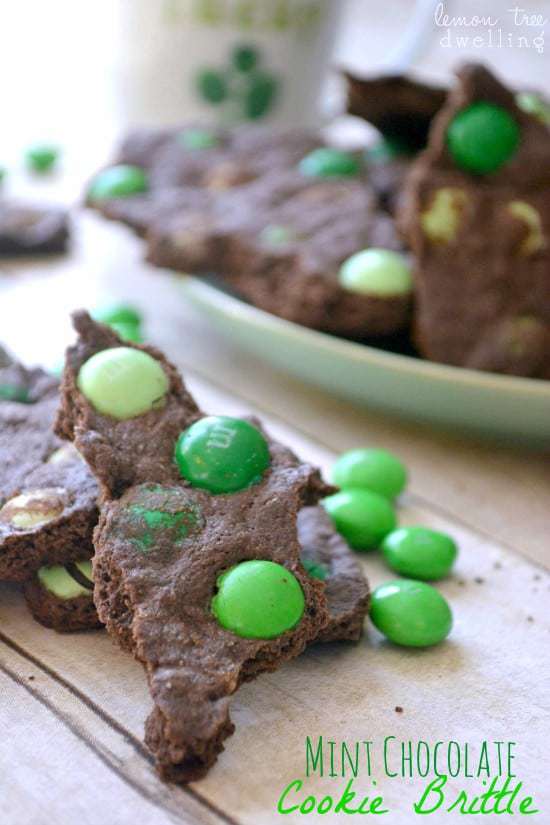 Well….it's that time of year again….Girl Scout Cookie time! Everywhere I look I see delicious copycat recipes or recipes using the actual cookies….and every time I walk into our laundry room I see the boxes of cookies we have yet to deliver! Yes, Greta is in her first year of Daisies and just finished her first cookie sale. And I must admit – we didn't reach our sales goal! It should come as no surprise, really…when Ellia was in Daisies she never reached her goal, either. And the truth is, we don't really try that hard. I send out an email and a text, Jorden takes the order form to work, Greta goes next door and hopes to sell a few boxes, and we call it a day. No door-to-door for this family!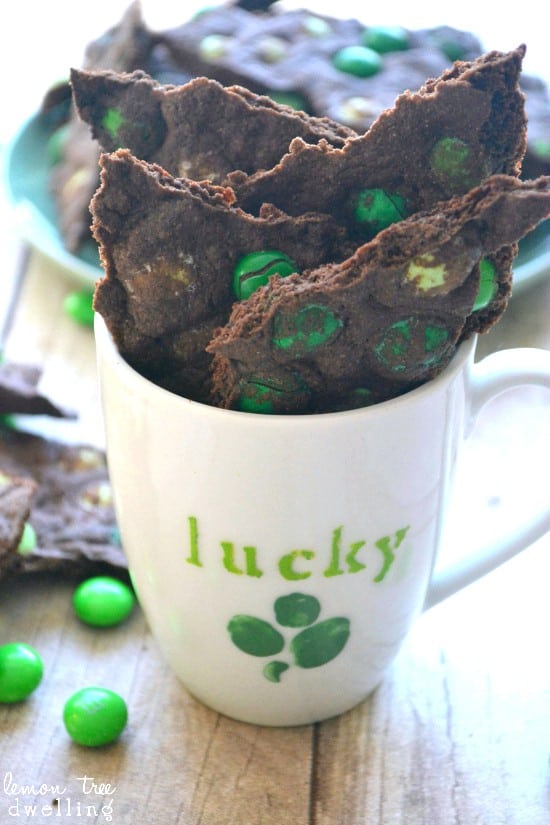 Part of our low order numbers is laziness (I don't really want to walk door-to-door with my kiddos, which is clearly what would need to happen), and part of it is that I don't really push the sales with friends and family. Sure, the cookies are delicious….but they're also insanely expensive for such a small box! And the last thing I want to do is guilt people into buying them or push them on people who really aren't interested….!
Mint Chocolate Cookie Brittle
To be completely honest, I'm even like that when it comes to my own homemade treats! Even though I've tasted them and know them to be delicious, I'm always leery of sharing them with other people! I guess it has to do with the possibility that, at any point, I could be wrong! Or….someone could just disagree and not love something as much as I do! Take this cookie brittle, for instance. I made it Friday night in anticipation of friends visiting for the weekend…..and as I handed out pieces for people to sample, I was completely on edge! I even gave the small little pieces in case they didn't really like it!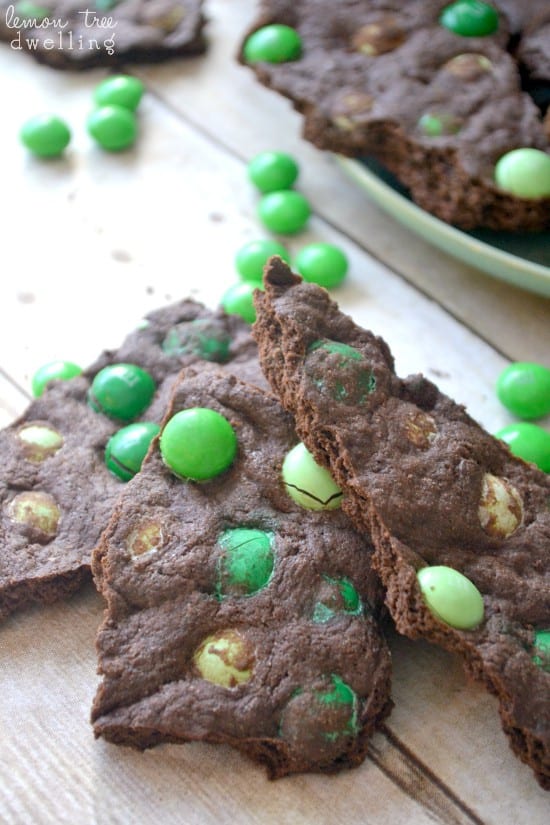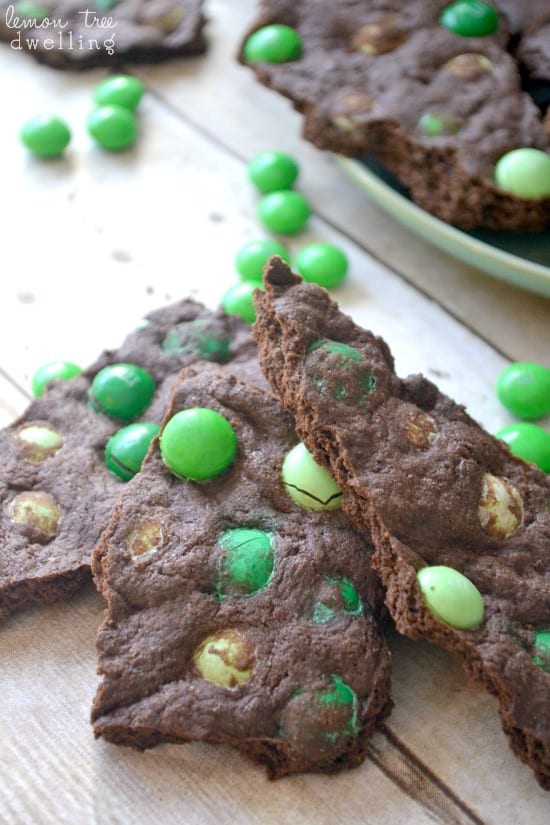 Well, it turns out they liked it. Not only did they compare it to Thin Mints (everyone's favorite cookie), but they went back for more. And more. And with every piece they helped themselves to, I could feel my confidence rising. To the point where I actually sent some home with them! Success! I guess the truth is you really can't go wrong with chocolate and mint…..especially when it's in the form of cookie brittle! Just like you really can't go wrong with Girl Scout Cookies…..although you could just make this brittle instead!!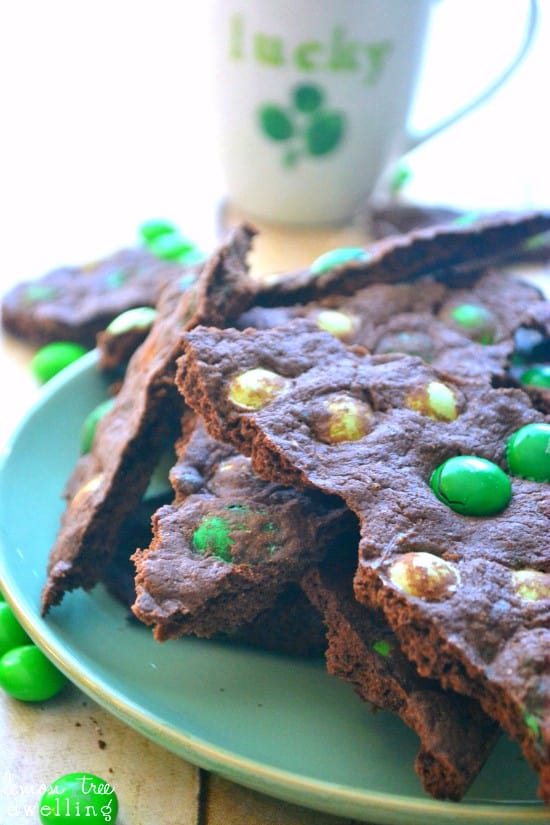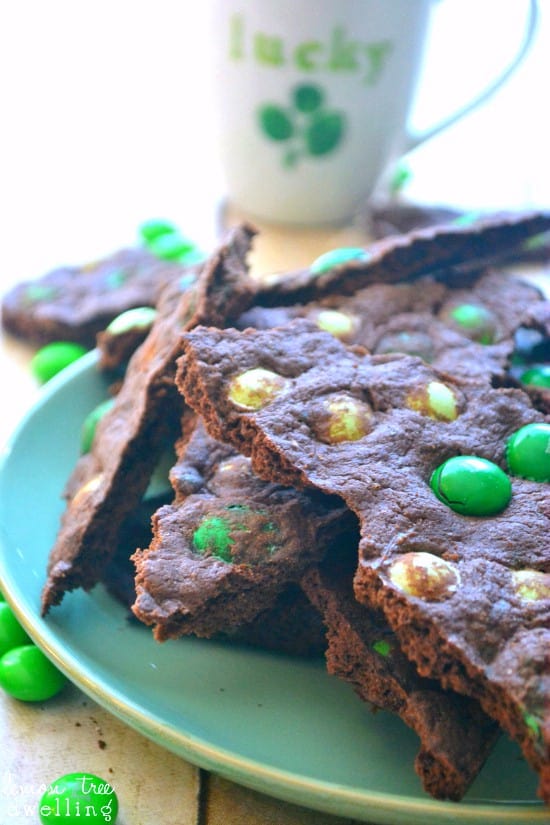 Mint Chocolate Cookie Brittle Recipe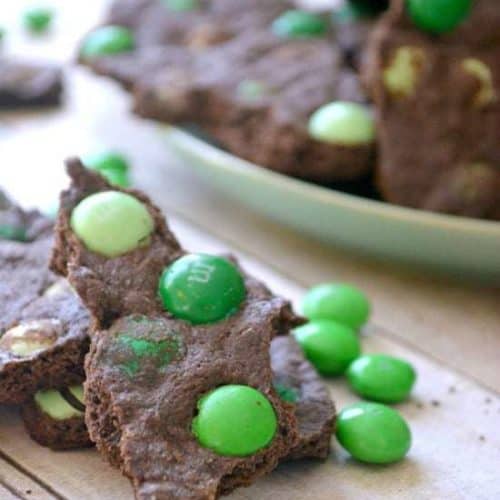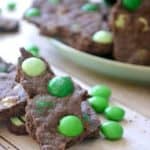 Mint Chocolate Cookie Brittle
Ingredients
1

stick

1/2 c. butter, softened

1/2

c.

granulated sugar

1/2

c.

cocoa powder

1/4

c.

packed brown sugar

1

tsp.

vanilla

2

egg whites

1

c.

flour

1/2

tsp.

baking soda

1

c.

Dark Chocolate Mint M&M's
Instructions
Combine butter, sugars, cocoa powder and vanilla and mix until smooth.

Stir in egg whites until incorporated.

Add flour and baking soda; mix until thoroughly combined.

Stir in most of M&M's, reserving some for top.

Cover a large jelly roll pan with aluminum foil. Spray with cooking spray and spread dough as thinly as possible (should cover all or most of a 16×12 inch pan). Press additional M&M's into dough.

Bake at 375 degrees for 14 min.

Cool on pan; break or cut into irregular pieces.


Be sure to check out my other delicious Brittle recipes!