Cherry Chocolate Eclair Cake is a dessert lover's dream! This easy no-bake treat combines layers of creamy pudding with graham crackers and cherry pie filling in a rich, decadent dessert that will have everyone begging for more.
Ideal for holidays, parties, and pot lucks… this cake is easy to make ahead and the perfect size for feeding a crowd. And since it has so many delicious flavors, it's basically a guaranteed win!
If you love eclairs but don't want to go through the work of making them, this is the dessert for you!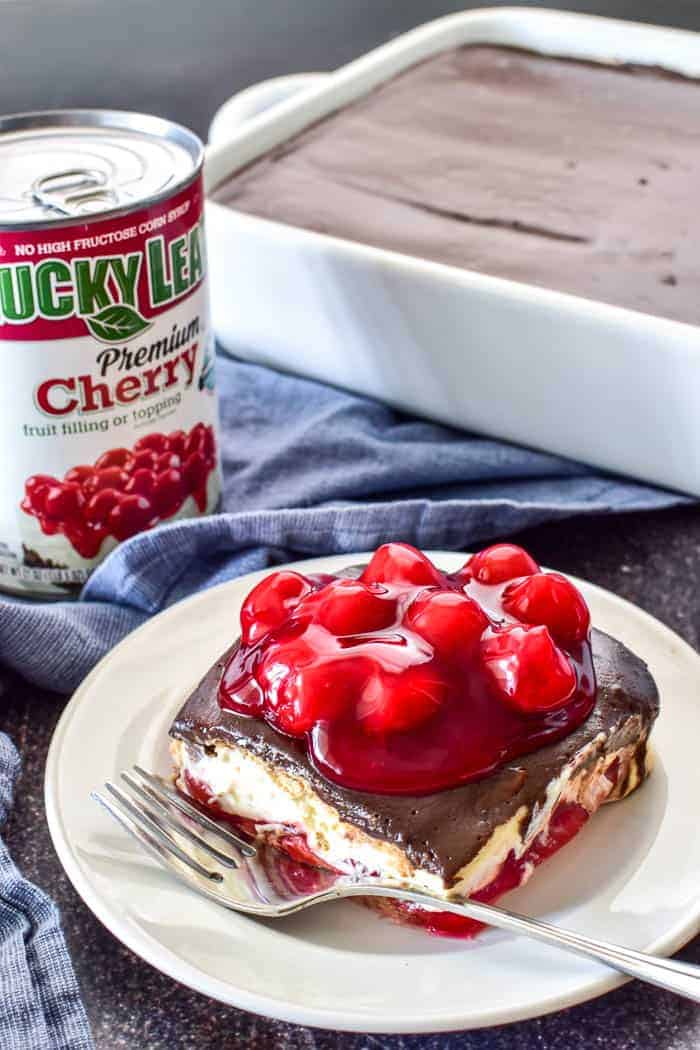 I partnered with Lucky Leaf to bring you this recipe. Thank you for supporting the brands that make Lemon Tree Dwelling possible!
Is it just me… or is there something about no bake desserts that makes life better?
Not only because you don't have to worry about something going wrong during the baking process (which happens more often than I'd like to admit) but because they're quick. And easy. And usually creamy. And ALWAYS delicious.
Case in point? This super yummy Eclair Cake! Made with just 8 ingredients and fridge-ready in 10 minutes, it's everything you could ask for in a dessert. No baking required.
This version puts a fun spin on the traditional recipe with the addition of Lucky Leaf Cherry Fruit Filling (our absolute favorite), and the end result is to die for. We LOVE Lucky Leaf products and the fact that they're convenient and easy to use, made with NO high fructose corn syrup, and easy to incorporate into all your favorite dessert recipes.
In fact, I would argue that adding Lucky Leaf Fruit Filling to ANY dessert makes it that much better!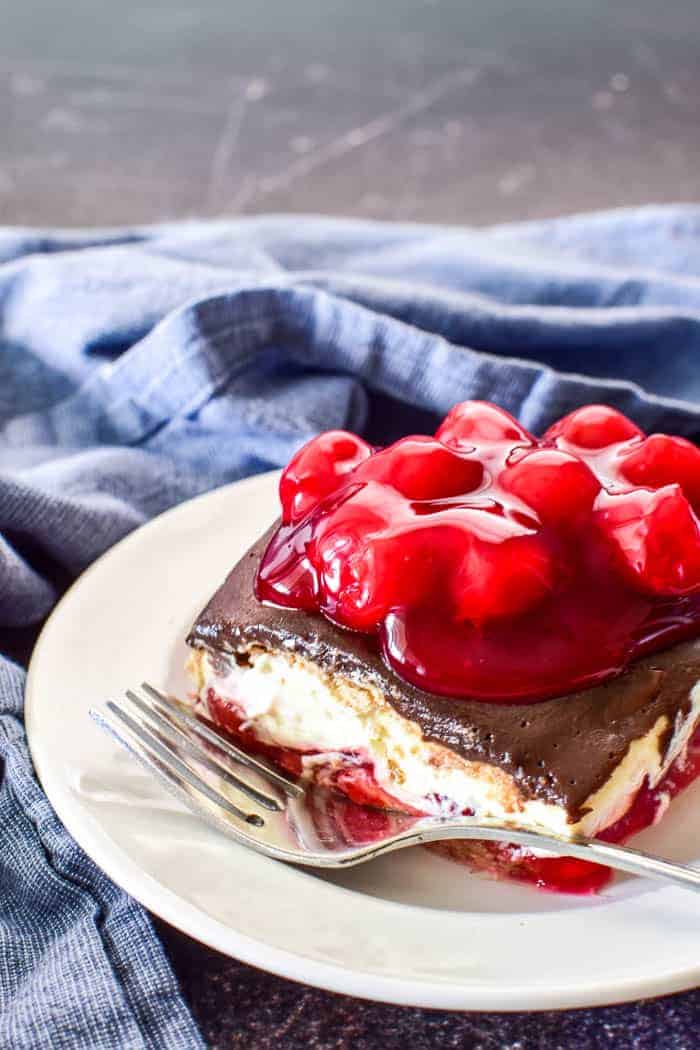 What is Eclair Cake?
A no-bake dessert that combines pudding, whipped topping, graham crackers, and chocolate in a layered cake. The name comes from the popular eclair pastry, which has all the same flavors.
Ingredients (full recipe below)
1 box graham crackers
3 c. whole milk (divided)
2 small boxes instant vanilla pudding mix
1 8 oz. container whipped topping
2 cans Lucky Leaf Cherry Fruit Filling
1 stick (1/2 c.) butter
1 1/2 c. powdered sugar
6 Tbsp. cocoa powder
Instructions
In a large mixing bowl, combine 2 1/2 c. milk with instant pudding mix. Use a hand mixer to blend until smooth; continue blending for 2 minutes.
Fold in whipped topping until fully incorporated. Set aside.
Place 1 layer of graham crackers in the bottom of a 9×13 inch pan.
Add half the pudding mixture (about 3 c.) and spread out smoothly over graham crackers.
Add another layer of graham crackers.
Add a layer of Lucky Leaf Cherry Fruit Filling (1 1/2 cans). Reserve remaining fruit filling to use as topping.
Add remaining pudding mixture and finish with a layer of graham crackers on top.
Prepare chocolate icing (instructions below) and drizzle over the top of the graham cracker layer.
Refrigerate cake 8-24 hours before serving.
What kind of pudding?
Since this is a no-bake dessert, it requires the use of instant pudding mix. I used vanilla, but you could also use French vanilla, cheesecake flavor, or even chocolate pudding as an alternative.
What kind of milk?
I would recommend whole milk for the richest, creamiest results. You could also substitute 2% if desired.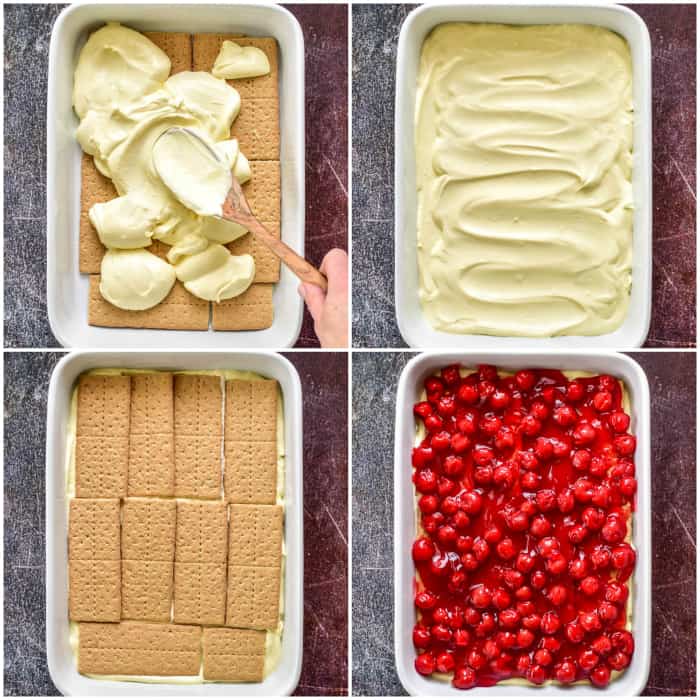 Recipe variations
Use cinnamon or chocolate graham crackers in place of original
Substitute a different flavor of instant pudding mix
Replace the cherry fruit filling with another variety of Lucky Leaf Fruit Filling
Add cream cheese to the pudding mixture for a thicker filling
Use canned chocolate frosting in place of homemade icing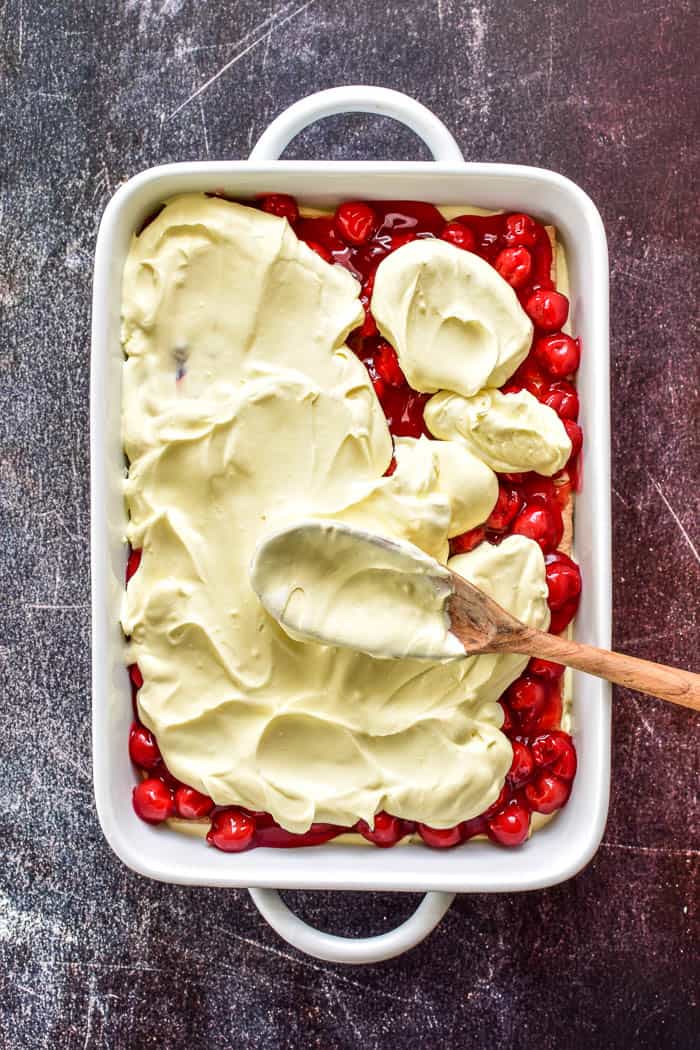 How to make the icing
In a small saucepan, combine butter and remaining 1/2 c. whole milk.
Heat over medium heat until butter is melted.
Add powdered sugar and cocoa powder; whisk thoroughly.
Set aside to cool slightly, then pour evenly over cake.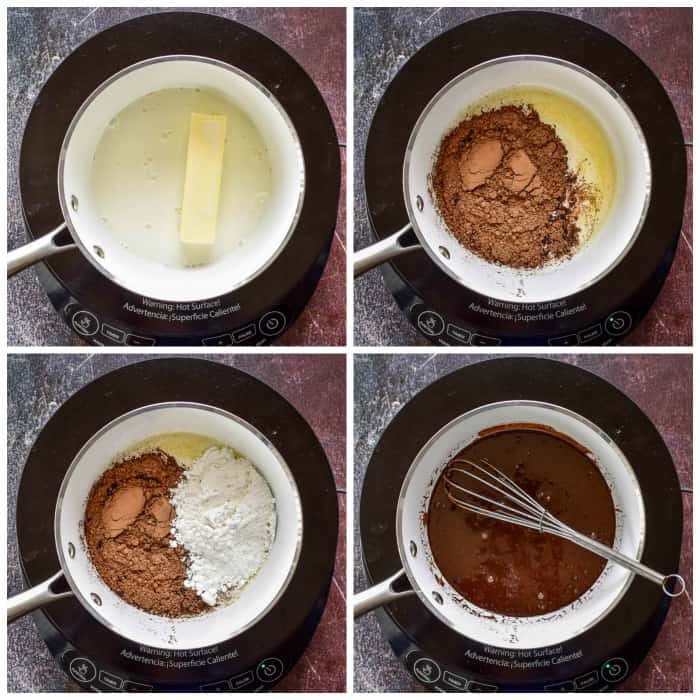 Tips for making Eclair Cake
Choose a 9×13 inch pan that has straight sides, not one that is angled.
For the best results, be sure graham crackers cover as much of each layer as possible.
Don't skimp on the 2 minutes of mixing time for the pudding. It helps make the filling light and fluffy!
Refrigerate for at least 8 hours so the filling can set.
For easiest removal, place cake in the freezer 1 hour before serving.
Serve within 24 hours.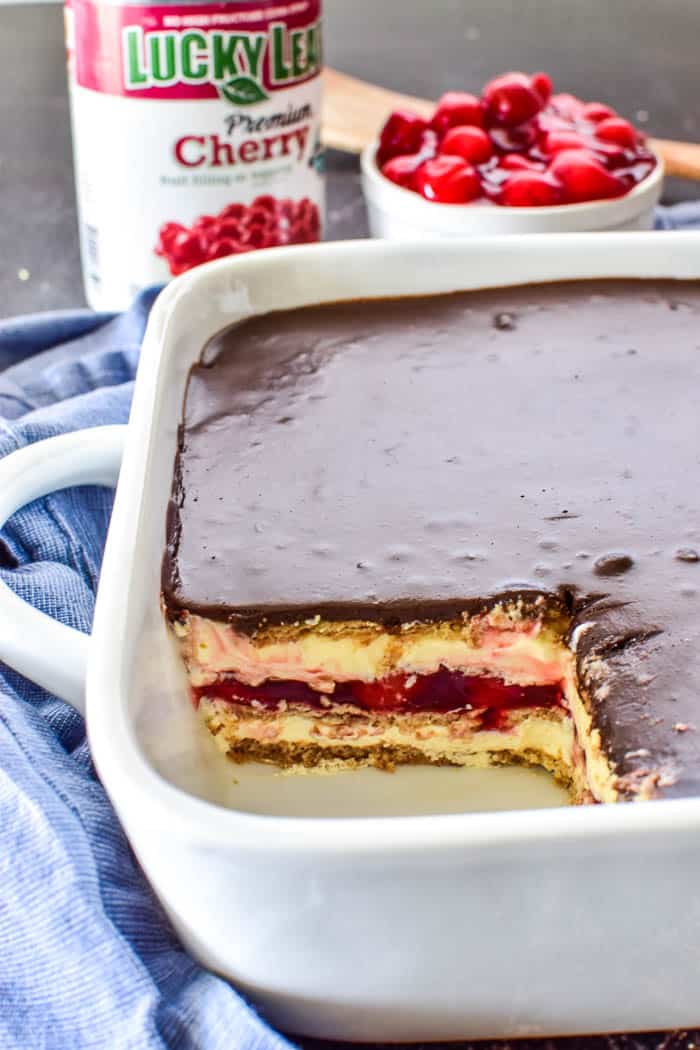 To make in advance
This cake actually needs time to chill before serving. It can be made up to 24 hours in advance and refrigerated until ready to serve.
Freezing
All of the ingredients freeze well, so freezing is a great option. To serve, simply thaw out in refrigerator until cake is able to be cut through with a knife.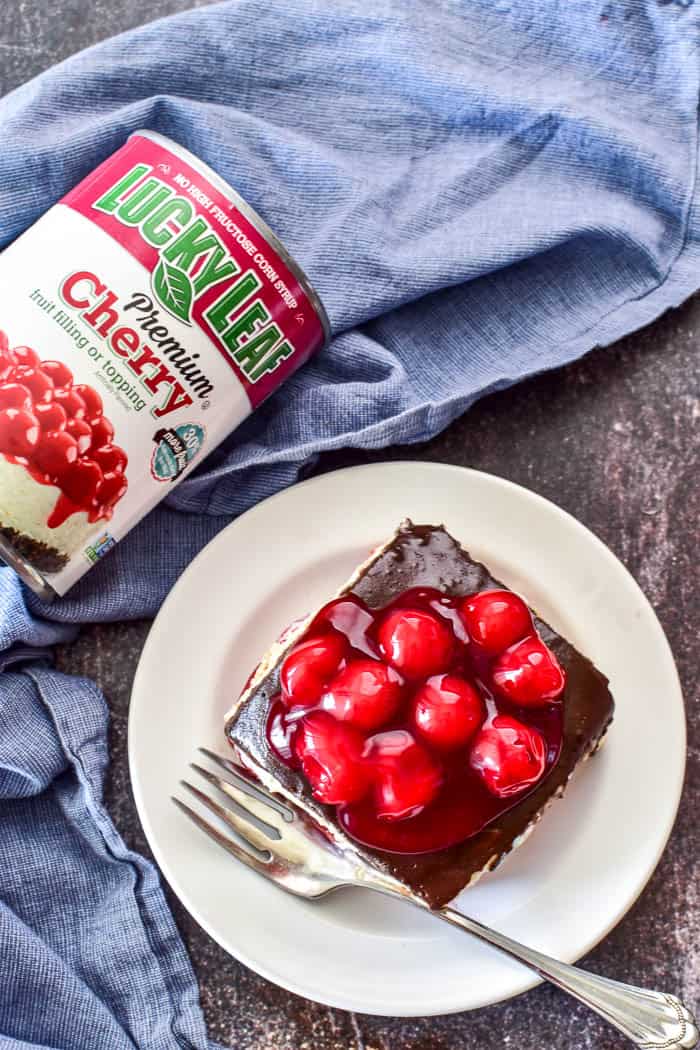 You might also enjoy…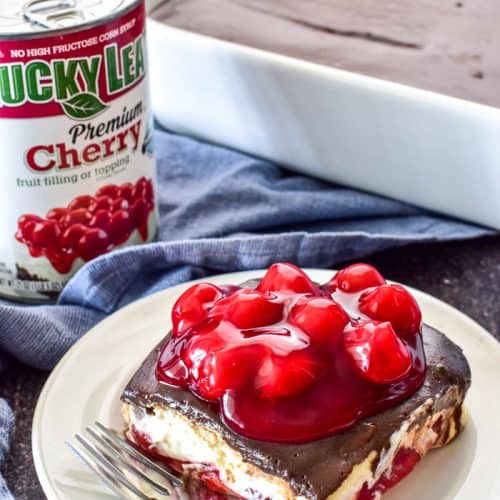 Cherry Chocolate Eclair Cake
Yield: 12

Prep Time: 10 minutes

Additional Time: 8 hours

Total Time: 8 hours 10 minutes
Ingredients
1 box graham crackers
3 c. whole milk (divided)
2 small boxes instant vanilla pudding mix
1 8 oz. container whipped topping
2 cans Lucky Leaf Cherry Fruit Filling
1 stick (1/2 c.) butter
1 1/2 c. powdered sugar
6 Tbsp. cocoa powder
Instructions
In a large mixing bowl, combine 2 1/2 c. milk with instant pudding mix. Use a hand mixer to blend until smooth; continue blending for 2 minutes.
Fold in whipped topping until fully incorporated. Set aside.
Place 1 layer of graham crackers in the bottom of a 9x13 inch pan.
Add half the pudding mixture (about 3 c.) and spread out smoothly over graham crackers.
Add another layer of graham crackers.
Add a layer of Lucky Leaf Cherry Fruit Filling (1 1/2 cans). Reserve remaining fruit filling to use as topping.
Add remaining pudding mixture and finish with a layer of graham crackers on top.
Prepare chocolate icing: in a small saucepan combine 1/2 c. butter with remaining 1/2 c. milk. Heat on medium heat until butter is melted.
Stir in powdered sugar and cocoa powder; whisk thoroughly. Drizzle over the top of the graham cracker layer.
Refrigerate cake 8-24 hours before serving
Nutrition Information:
Yield: 12 Serving Size: 1
Amount Per Serving: Calories: 215Total Fat: 8gSaturated Fat: 6gTrans Fat: 0gUnsaturated Fat: 1gCholesterol: 7mgSodium: 160mgCarbohydrates: 35gFiber: 1gSugar: 32gProtein: 3g