If you love cheesecake, you'll adore these Mini Amaretto Cherry Cheesecakes! The perfect easy dessert for holidays, parties, baby showers, or any special occasion.
Not only is cheesecake a classic dessert that is well loved by everyone, but there are so many tasty ways to personalize them and make them special.
These Mini Amaretto Cherry Cheesecakes start with a graham cracker crust and have the most deliciously creamy amaretto cheesecake center. Top them with cherry pie filling and you have the best combination of classic and unique and absolutely delicious. Sure to become a new favorite!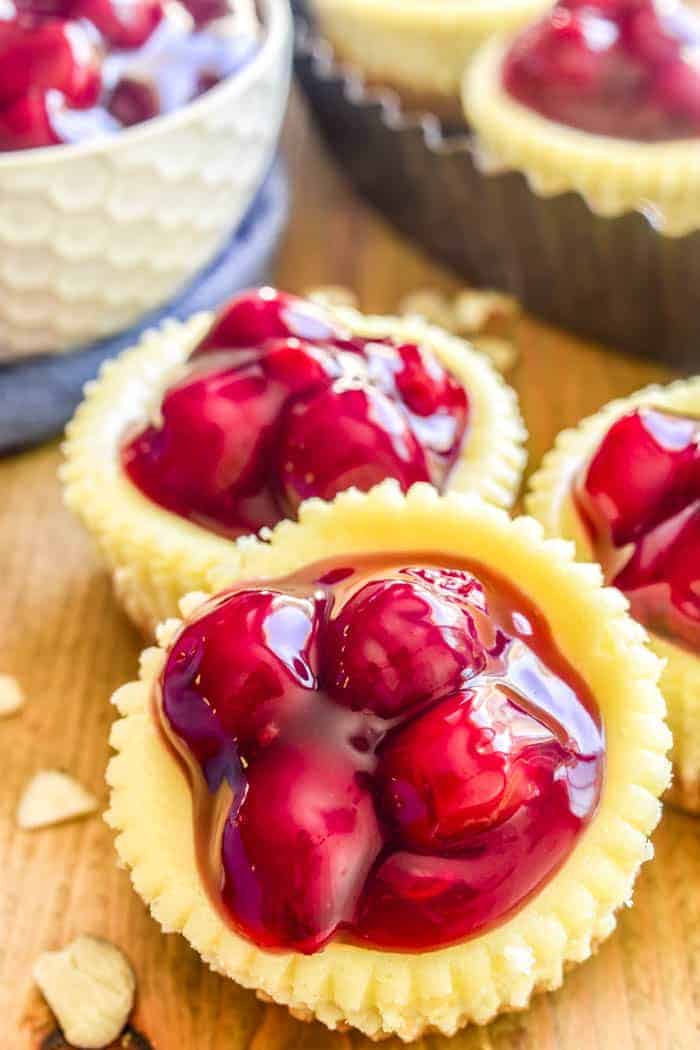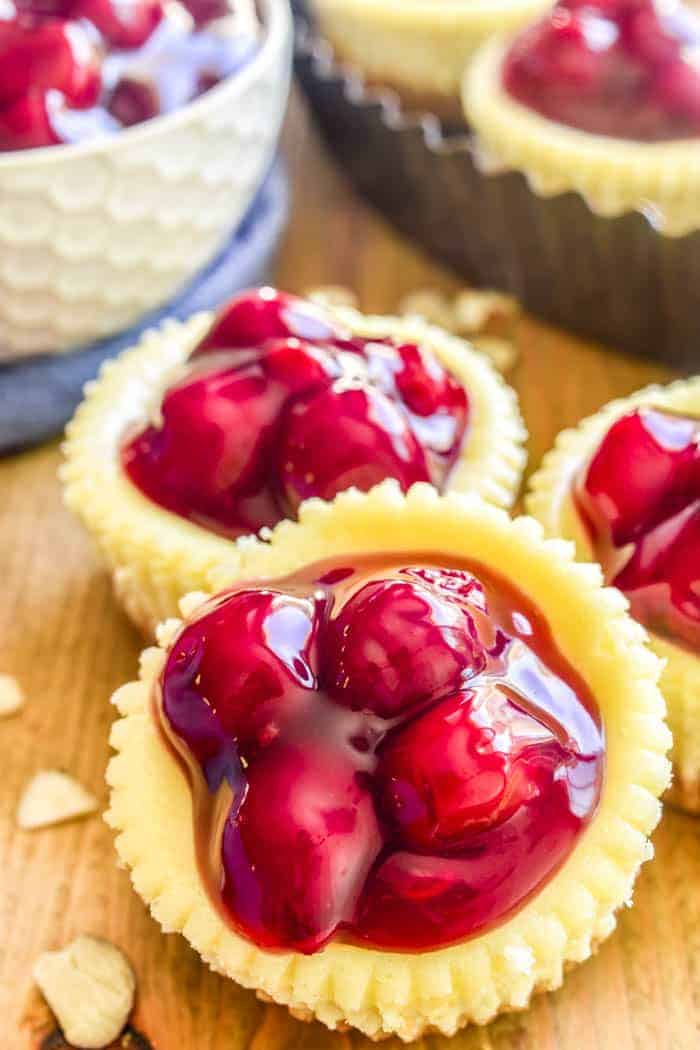 I don't know about you, but if I had to name my top 5 desserts of all time, cheesecake would definitely be on my list. There's something about the buttery crust and the rich creamy center that seriously calls my name, and even though I love a good classic cheesecake recipe, there's something amazing about the endless possibilities.
You can go the no-bake route with these Banana Cream Cheesecake Parfaits or these No-Bake S'mores Brownie Cheesecake Bars. Or you can go the dip route with Baked Caramel Apple Cheesecake Dip or Brownie Cheesecake Dip.
Of you can go the traditional route and still never run out of possibilities! Between graham crackers and Oreos and vanilla wafers and the countless flavors and add-ins and toppings, when it comes to cheesecake there really is something for everyone. Fluffernutter Cookie Dough Cheesecake Parfaits? Baileys Mocha Cheesecake Cups? Yes, please! Which is exactly what makes them the ideal dessert for special occasions!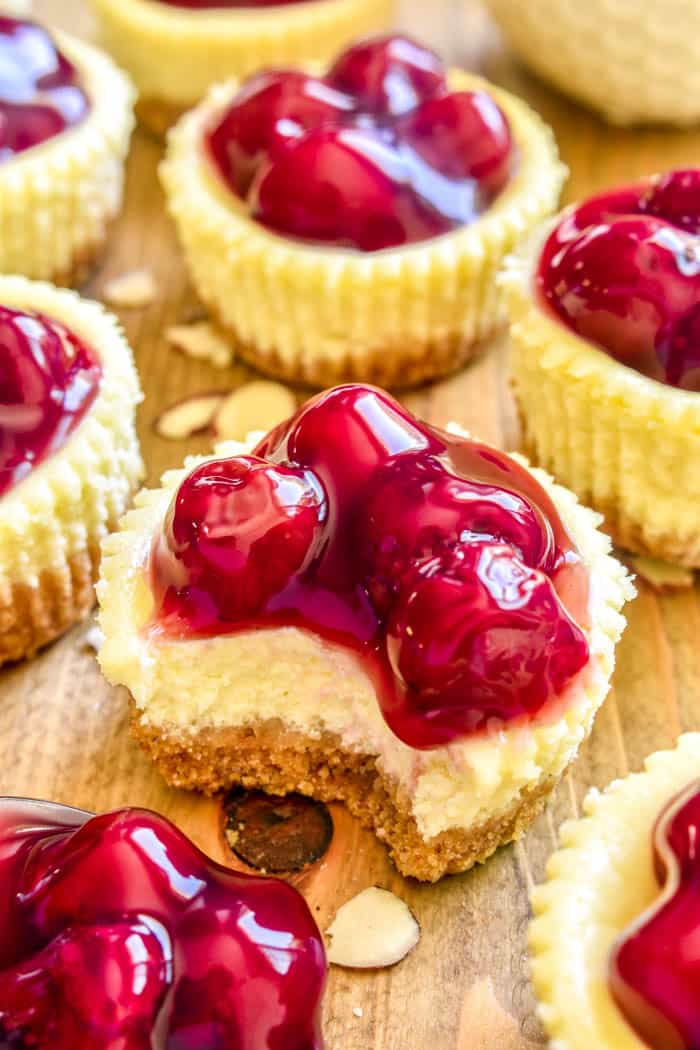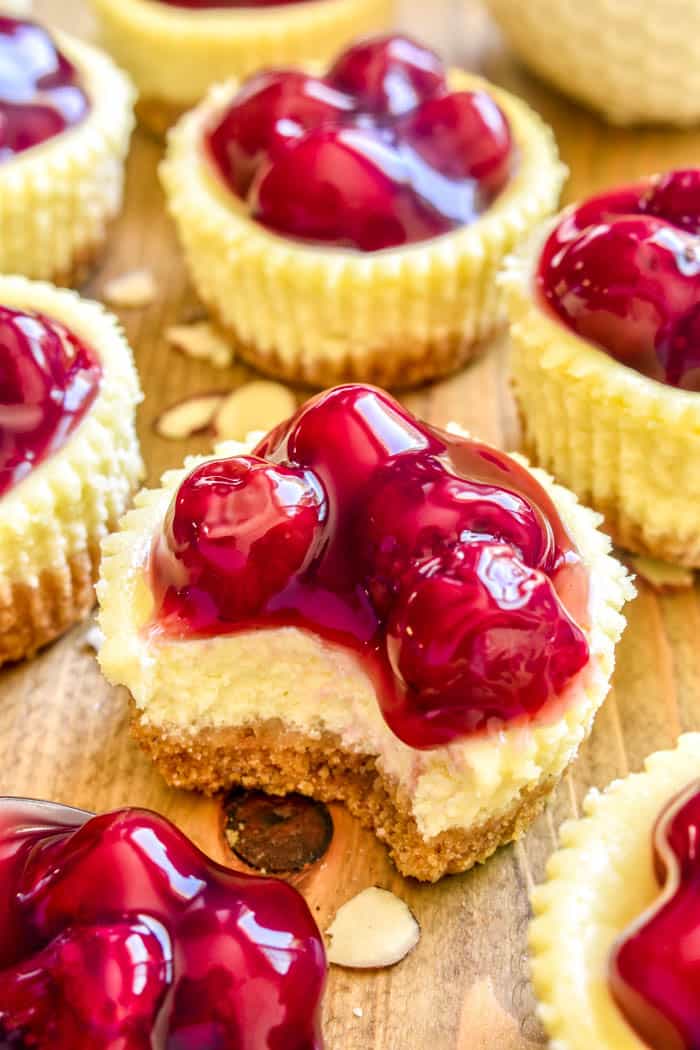 Among the most special of all special occasions? A BABY SHOWER!!! I'm so excited today to be participating in an online baby shower for one of my favorite bloggers, Jocelyn from Grandbaby Cakes! I first met Jocelyn a few years back, at a blogging conference in Chicago.
And even though I didn't get to spend much time with her that weekend, I was instantly drawn to her positive energy, infectious smile, and larger than life personality. And when I got to actually spend a weekend with her at a video conference this past May? It became SO clear why SO many people love her.
Jocelyn is warm and welcoming and instantly makes you feel like you've known her forever. Like an old friend that you're meeting for the first time. Kind of like these Mini Amaretto Cherry Cheesecakes. They have the comfort of the basic cherry cheesecake you know and love, but with a fun new amaretto twist.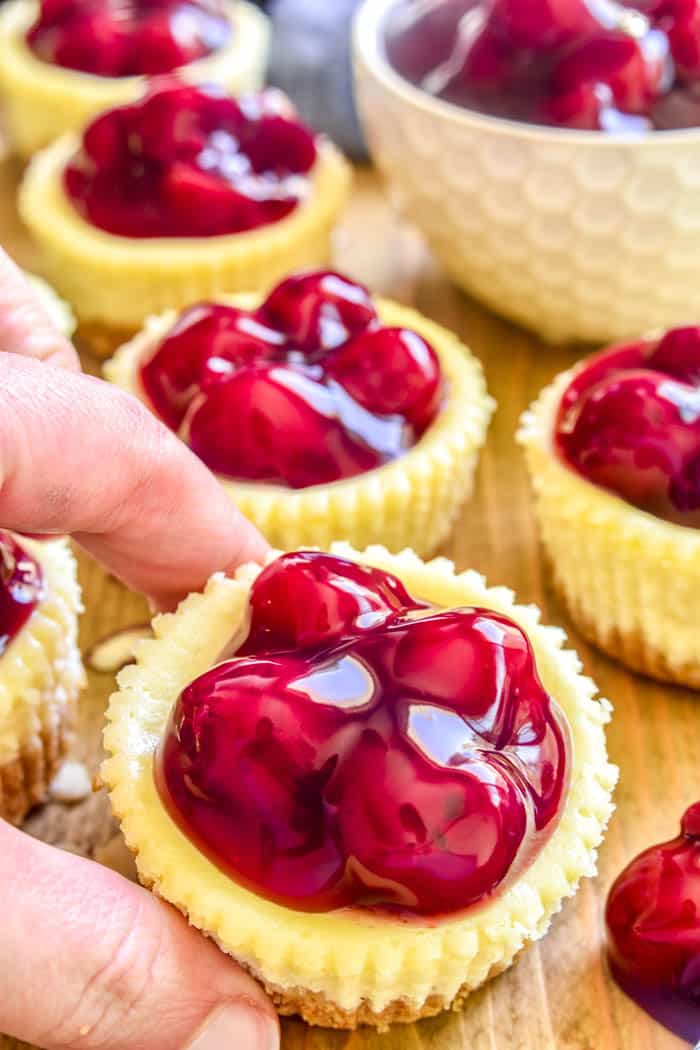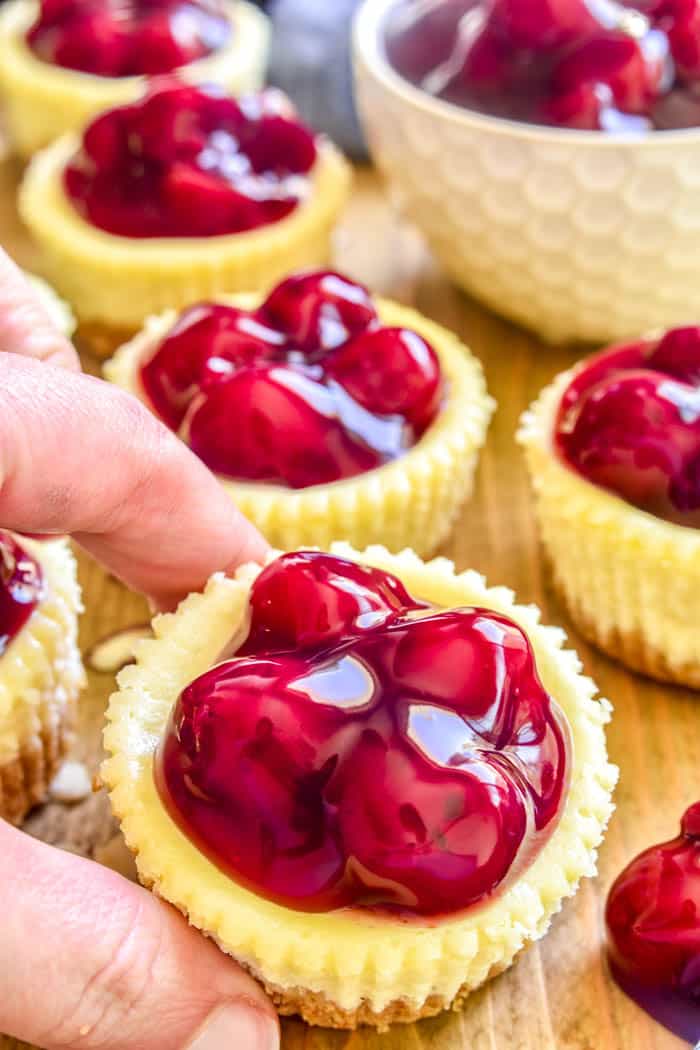 Mini Cheesecakes are the perfect dessert for special occasions!
It's no secret that I love all things cherry cheesecake. My Cherry Cheesecake Dip, Cherry Cheesecake Lush Dessert, and Cherry Cheesecake Gingerbread Trifle are a few of my favorites, and I must say…..these Mini Amaretto Cherry Cheesecakes do NOT disappoint. Especially when you use homemade amaretto! As if the fun twist of amaretto isn't enough, these cheesecakes are MINI! And we all know mini makes everything better….right?Especially when you're celebrating a brand new mini person coming into the world! Congratulations, Jocelyn! Can't wait to meet your new mini!!!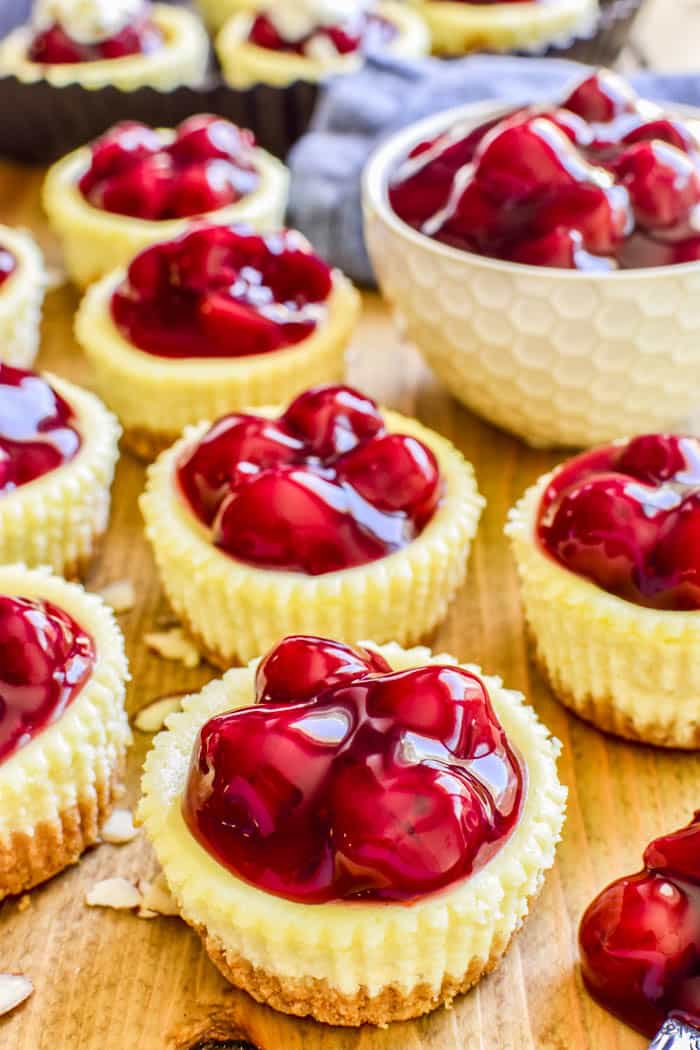 Tips for making the perfect mini cheesecakes:
It's all about the crust! Whether you use graham crackers or vanilla wafers or Oreos or pretzels, starting with a good base is essential. And the crumb to butter ratio is key. For these mini cheesecakes I used 1 cup of graham crackers, 2 Tbsp. of sugar, and 3 Tbsp. of melted butter. Use the bottom of a small glass to press the crumb mixture into the cupcake liners.
Do not overmix! After adding eggs to a cheesecake batter, mix just until blended. Over-mixing may change the texture of the cheesecake and cause cracking in the finished product.
Be generous! Fill the cupcake liners almost to the top. Cheesecake will not rise, so you don't have to worry about the liners overflowing….and the last thing you want is skimpy cheesecakes!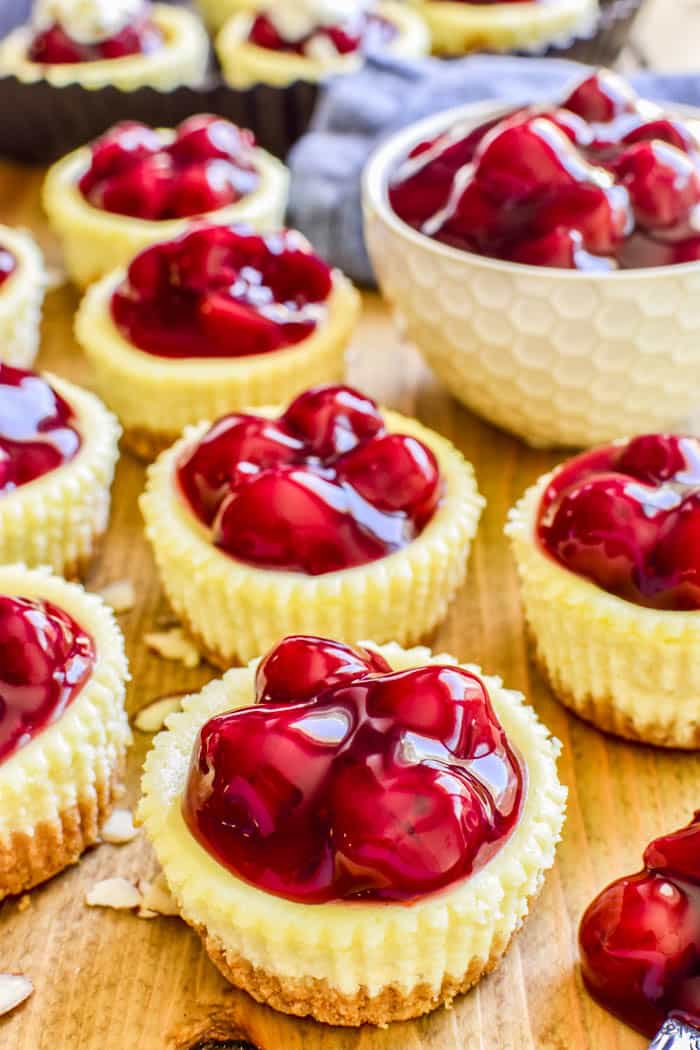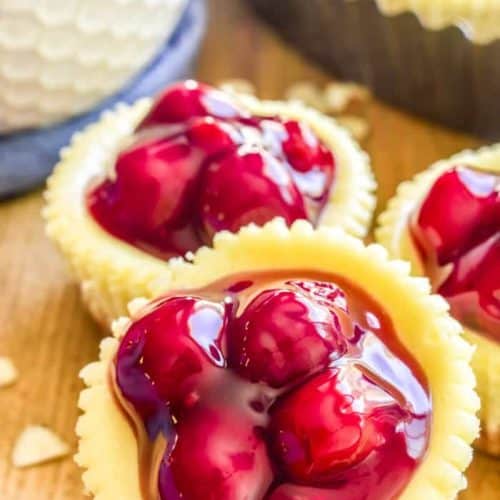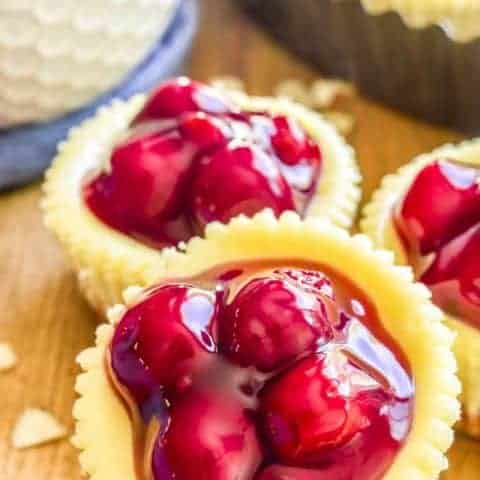 Mini Amaretto Cherry Cheesecakes
If you love cheesecake, you'll adore these Mini Amaretto Cherry Cheesecakes! The perfect easy dessert for holidays, parties, baby showers, or any special occasion.
Ingredients
Graham Cracker Crust
1 1/4 cup graham cracker crumbs
1/4 cup butter, melted
3 Tbsp. granulated sugar
Amaretto Cheesecake Filling
16 ounces cream cheese, softened
1 cup granulated sugar
3 eggs
1 cup sour cream
1/2 cup heavy cream
1/4 cup amaretto or almond liqueur
Instructions
For the crust:
Combine graham cracker crumbs, melted butter, and granulated sugar in a small mixing bowl.
Spoon evenly into 24 muffin tins lined with cupcake liners. Press down with spoon or the bottom of a small glass.
For the amaretto filling:
Beat cream cheese and sugar in a mixing bowl until light and fluffy, scraping the bowl occasionally.
Add the eggs one at a time, beating just until blended after each addition.
Add the sour cream, heavy cream, and amaretto and beat just until blended. Be careful not to overbeat!
Spoon approx. 1/4 cup filling into each prepared cupcake liner.
Bake at 350 degrees 25-30 minutes, until center is set.
Remove from oven and let stand to cool. Chill, covered, at least 2 hours.
Top with cherry pie filling. Add whipped cream as desired.
Nutrition Information:
Yield:

24
Serving Size:

g
Amount Per Serving:
Calories:

200
Total Fat:

13g
Saturated Fat:

7g
Trans Fat:

0g
Unsaturated Fat:

4g
Cholesterol:

59mg
Sodium:

108mg
Carbohydrates:

16g
Fiber:

0g
Sugar:

14g
Protein:

3g
Be sure to check out the rest of Jocelyn's baby shower treats!
Mini Pumpkin Cheesecakes from Show Me The Yummy
Twix Cupcakes from Crazy for Crust
Chocolate Hot Fudge Mini Layer Cake from Averie Cooks
Mini Pink Velvet Cake with Raspberry Cream Cheese from Especially Southern Dishes
Butternut Squash Cake with Coconut Frosting from Taste of Yummy
Toffee Caramel Cupcakes with Bourbon Caramel Buttercream from Beyond Frosting
Chocolate Mousse Cake from Life, Love and Sugar
Chocolate Peanut Butter Brownie Cupcakes from Wine & Glue
Candied Pecan & Caramel Mini Cakes from Brown Sugar Food Blog
Mini Lemon Bundt Cakes with Blackberry Glaze from Confessions of a Confectionista
Strawberry Lemon Cheesecake Bites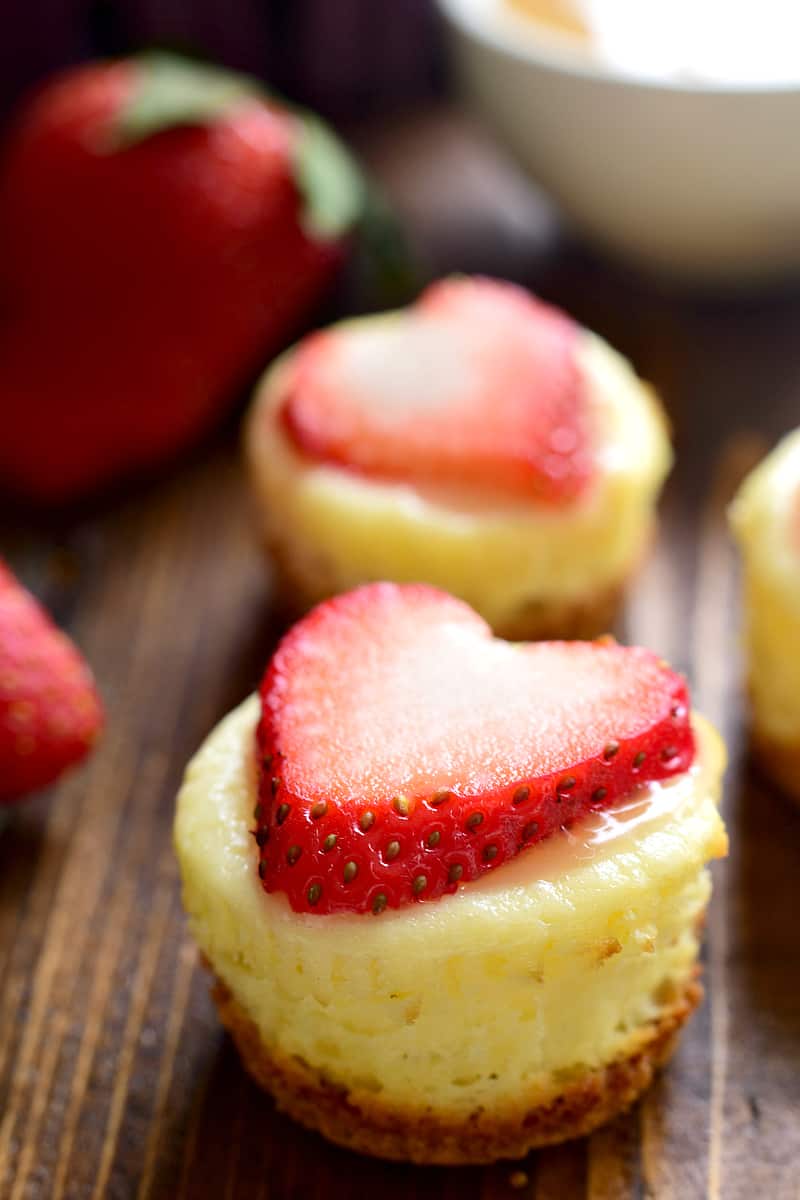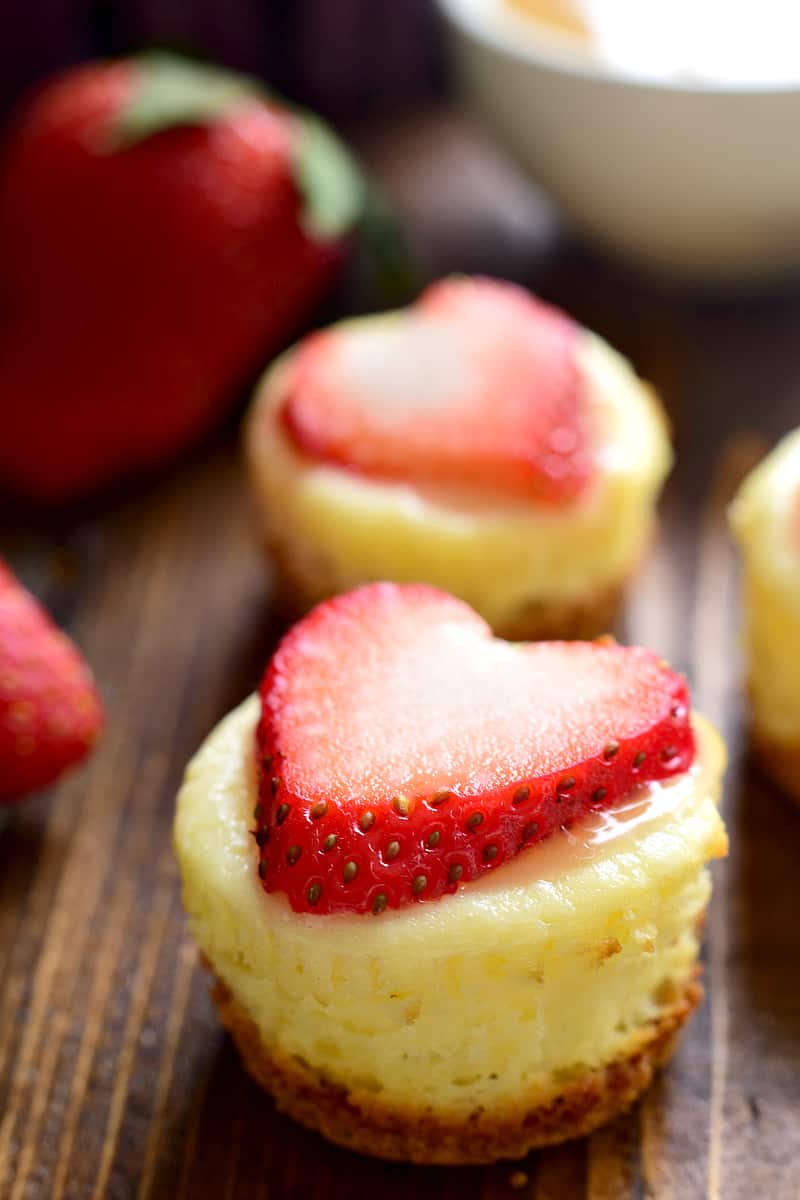 Lemon Berry Cheesecake Parfaits