This Apple Walnut Salad is the ultimate salad for fall!
Loaded with fresh apples, crisp cucumber, crunchy walnuts, toasted pumpkin seeds, gorgonzola cheese, and sweet honey poppy seed dressing….this salad is the perfect balance of savory, sweet, crunchy, and SO delicious. The ideal side dish for Thanksgiving or Christmas, and it makes a yummy lunch, too!
Add some chicken to it and it becomes the most deliciously satisfying dinner, perfect for busy nights or fall dinner parties. Any way you enjoy it, this salad is sure to become your favorite new autumn salad…and sure to be loved by everyone!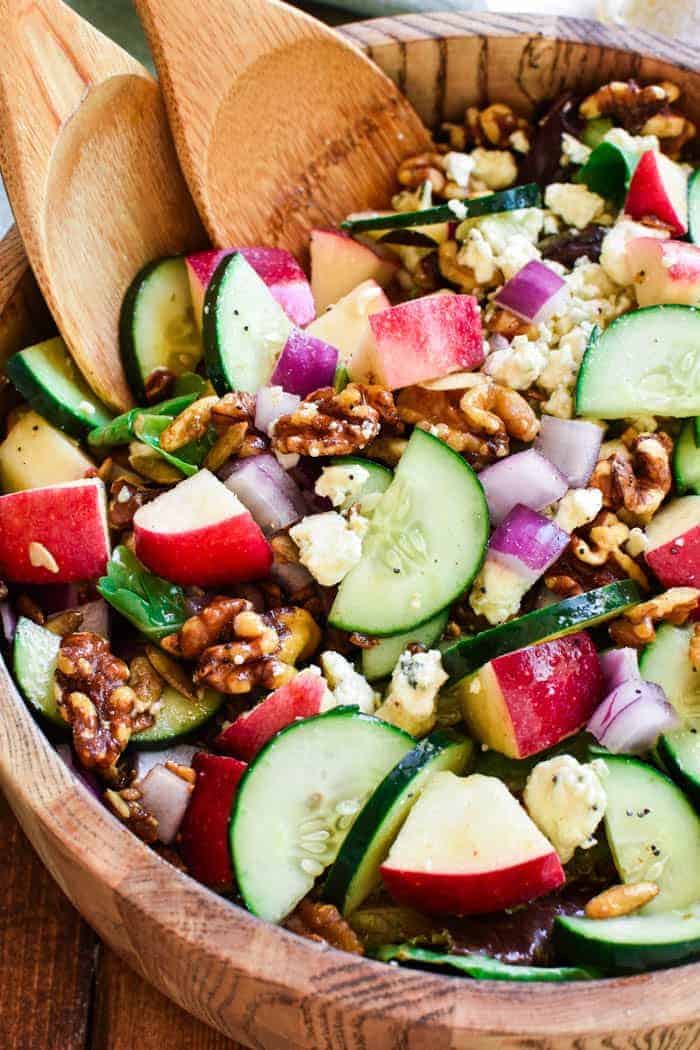 So. Fall has nearly come and gone….(suddenly it's in the 40's and we had to turn on our heat!?!?)….and once again, we never made it to the apple orchard. Despite the fact that my kids made a huge point about wanting to go, and despite our best intentions of making it happen. We just never got there.
And you know what? I blame soccer. Practice 3 nights a week? Games on Saturdays and Sundays? How could we possibly have time to pick apples? Alas, we'll be resorting to pre-picked apples. Again. Not that there's anything wrong with that…..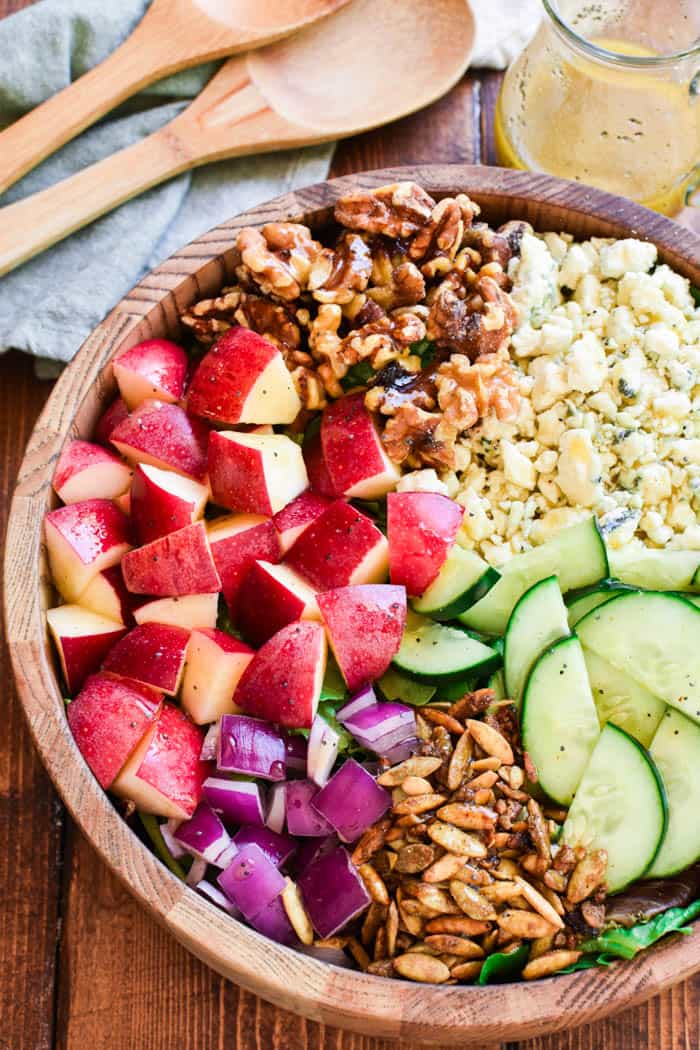 The truth is, as long as I have apples, I'm happy. I don't need bushelfuls of apples for baking….(although I do love them for Homemade Strawberry Applesauce and Caramel Apple Coffee Cake)….but mostly? I want them for eating. And for turning into salads. I have so many favorite apple salads, like my Apple Brie Salad, my Apple Wedge Salad, and my Apple Cranberry Coleslaw. And this Apple Walnut Salad? It's right up there with them.
I love the delicious combination of flavors and textures….the sweet, crunchy apples, the creamy gorgonzola cheese, the crisp cucumbers, the sharp red onions….and when you add in the walnuts & pumpkin seeds, it really is the perfect salad for fall. And let's not forget the honey poppy seed vinaigrette! It MAKES the salad!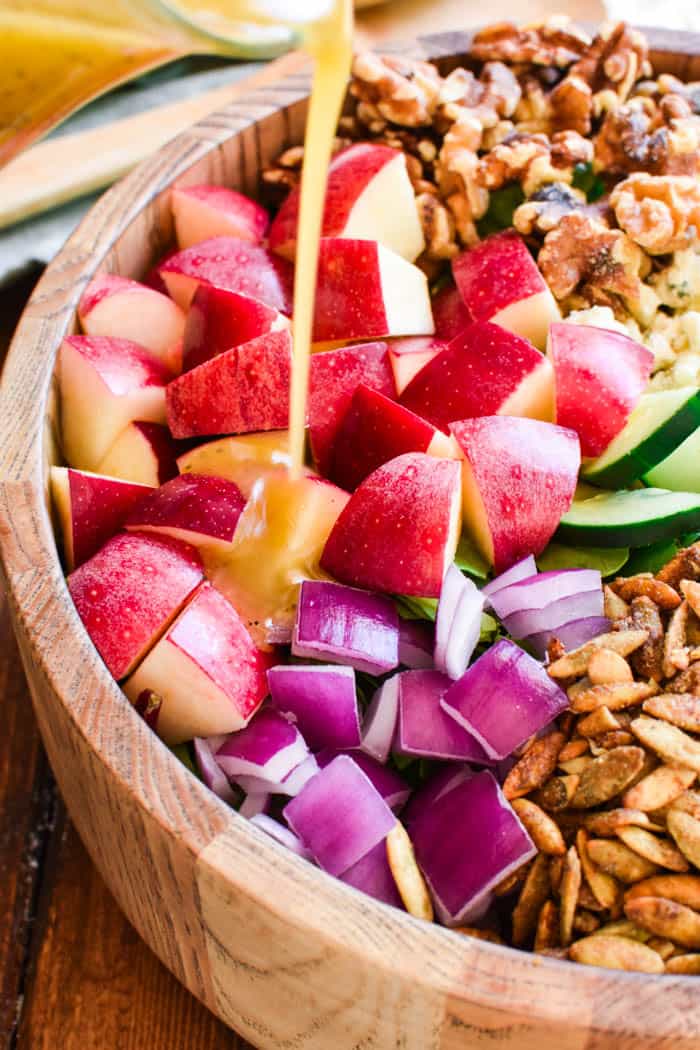 Speaking of making the salad, to make this salad extra special, I used Pumpkin Spice Pumpkin Seeds in place of regular pumpkin seeds (although regular would be delicious, too.) And since I'll be making this Apple Walnut Salad all fall and winter long, next time I plan to try it with these Candied Walnuts for an extra pop of sweetness. Sounds amazing, right??
That's one of the things I love most about salads – the fact that you can so easily personalize them according to your tastes! Not a fan of walnuts? Try it with pecans! Not sure about gorgonzola? Feel free to substitute feta or goat cheese or whatever your favorite cheese might be. You can even make this salad with pears instead of apples and it would still be delicious! There aren't many recipes you can do that with. Just sayin'…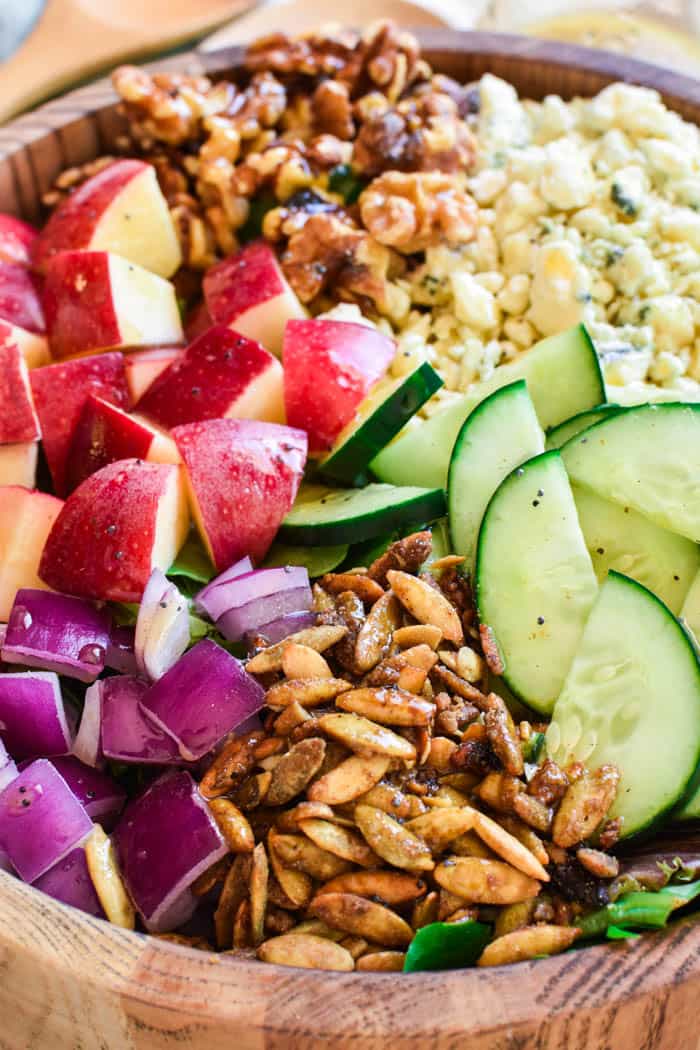 So now that we're talking about mixing things up, let's talk about the dressing. I LOVE the way this honey poppy seed vinaigrette ties all the flavors together. BUT. You could also try the dressing I used in this Fall Harvest Salad…..or mix things up and try it with my favorite Honey Mustard Salad Dressing. And in a pinch? I won't tell anyone if you use your favorite store bought dressing. The salad will STILL be amazing.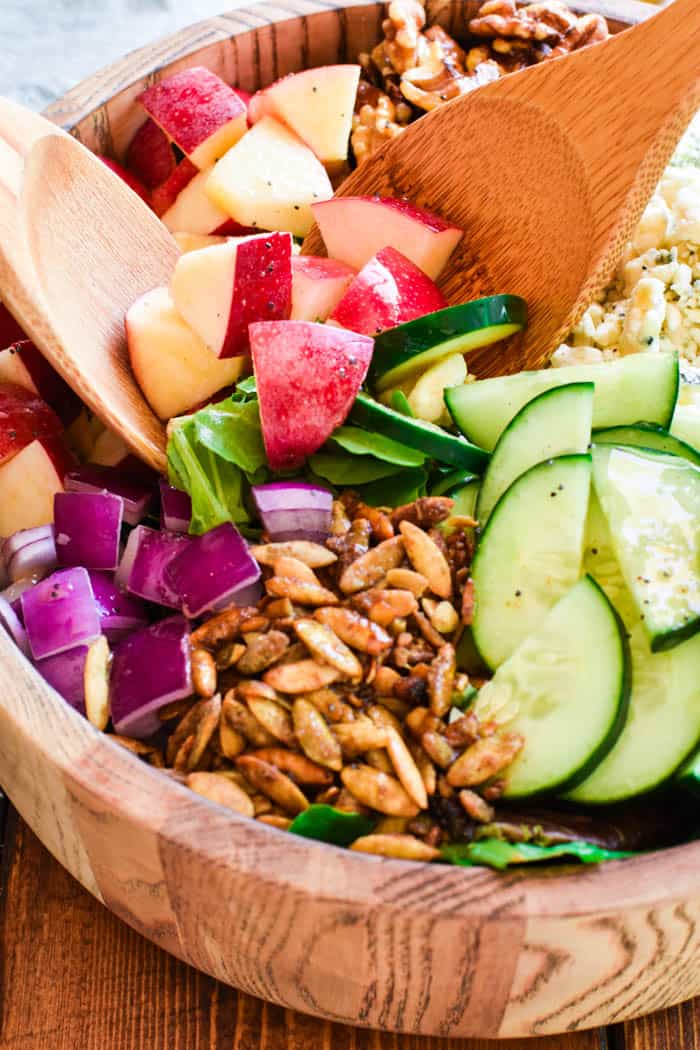 Fresh Salads are the perfect holiday side dish!
This Apple Walnut Salad is the kind of thing I could eat for lunch DAILY. And it can easily be turned into a dinner salad by adding grilled chicken. But what I love most about this salad is how perfect it is for the holidays. I can see it fitting in perfectly with our Thanksgiving dinner, and the colors are ideal for Christmas!
With all the heaviness of the holidays, a fresh side salad is exactly what the doctor ordered. And this Apple Walnut Salad is sure to go well with any holiday meal!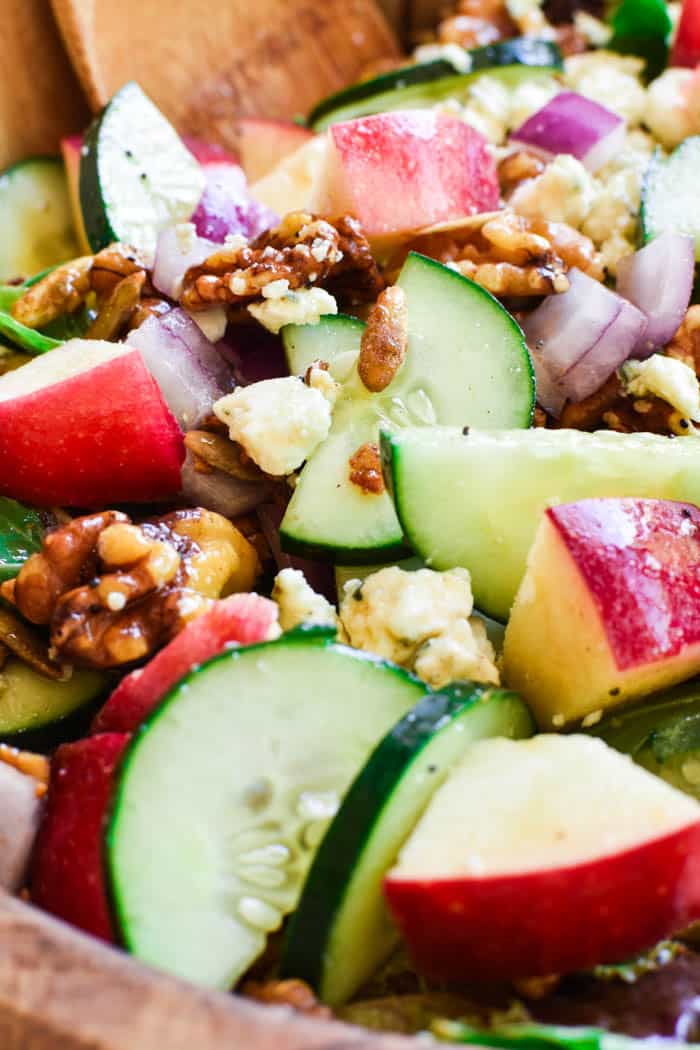 Tips for making the BEST SALAD EVER:
Start with fresh greens. I love using a 50/50 spring mix spinach blend, but you can use whatever you like best. Spinach, romaine, or spring mix are some of my favorites.
Variety is key! Use a variety of colors, textures, flavors, sizes, and shapes to make your salad both beautiful and delicious.
Presentation is everything. Think about the best way to arrange your salad to make it visually appealing. Alternate colors if you can, and wait to toss it all together until it is ready to be served.
Remember: some things are best left until the last minute. In the case of this salad, I always wait until the last minute to chop the apples and add the dressing. This helps to avoid browning or wilting and makes for the most delicious salad ever!
Yield: 8
Apple Walnut Salad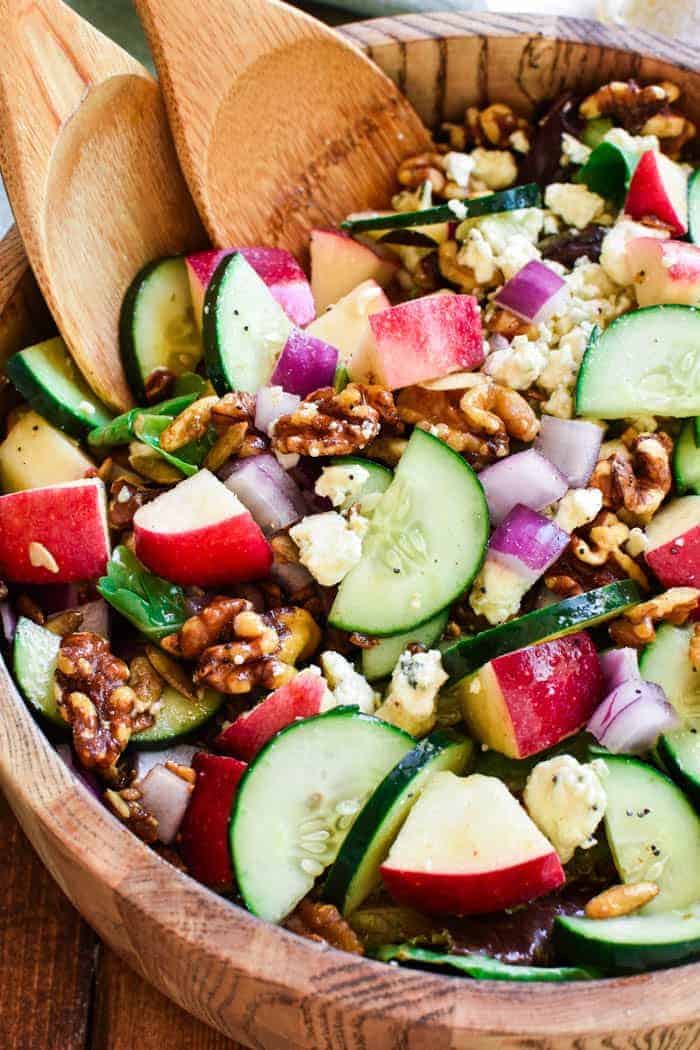 This Apple Walnut Salad is the ultimate salad for fall! Loaded with fresh apples, crisp cucumber, crunchy walnuts, toasted pumpkin seeds, gorgonzola cheese, and sweet honey poppy seed dressing....this salad is the perfect balance of savory, sweet, crunchy, and SO delicious!

Prep Time 10 minutes

Total Time 10 minutes
Ingredients
Salad
10 oz. mixed greens
1 large apple
1 c. sliced cucumber
5 oz. gorgonzola cheese, crumbled
1/2 c. walnuts
1/3 c. red onion, chopped
1/4 c. pumpkin seeds
Dressing
1/2 c. olive oil, extra virgin
1/4 c. lemon juice
1 Tbsp. honey
1 tsp. poppy seeds
1/4 tsp. ground ginger
1/8 tsp. salt
Nutrition Information:
Yield:
8
Amount Per Serving: Calories: 369 Saturated Fat: 6g Cholesterol: 13mg Sodium: 288mg Carbohydrates: 12g Fiber: 2g Sugar: 6g Protein: 9g