Chef Salad is an easy, delicious meal that anyone can make. Also known as Chef's Salad, it's loaded with fresh veggies, eggs, deli meats, and cheeses… and perfect for lunch or dinner. Best of all, it's easy to customize according to your tastes and can be made with ingredients you already have on hand. A classic salad that's sure to become a favorite!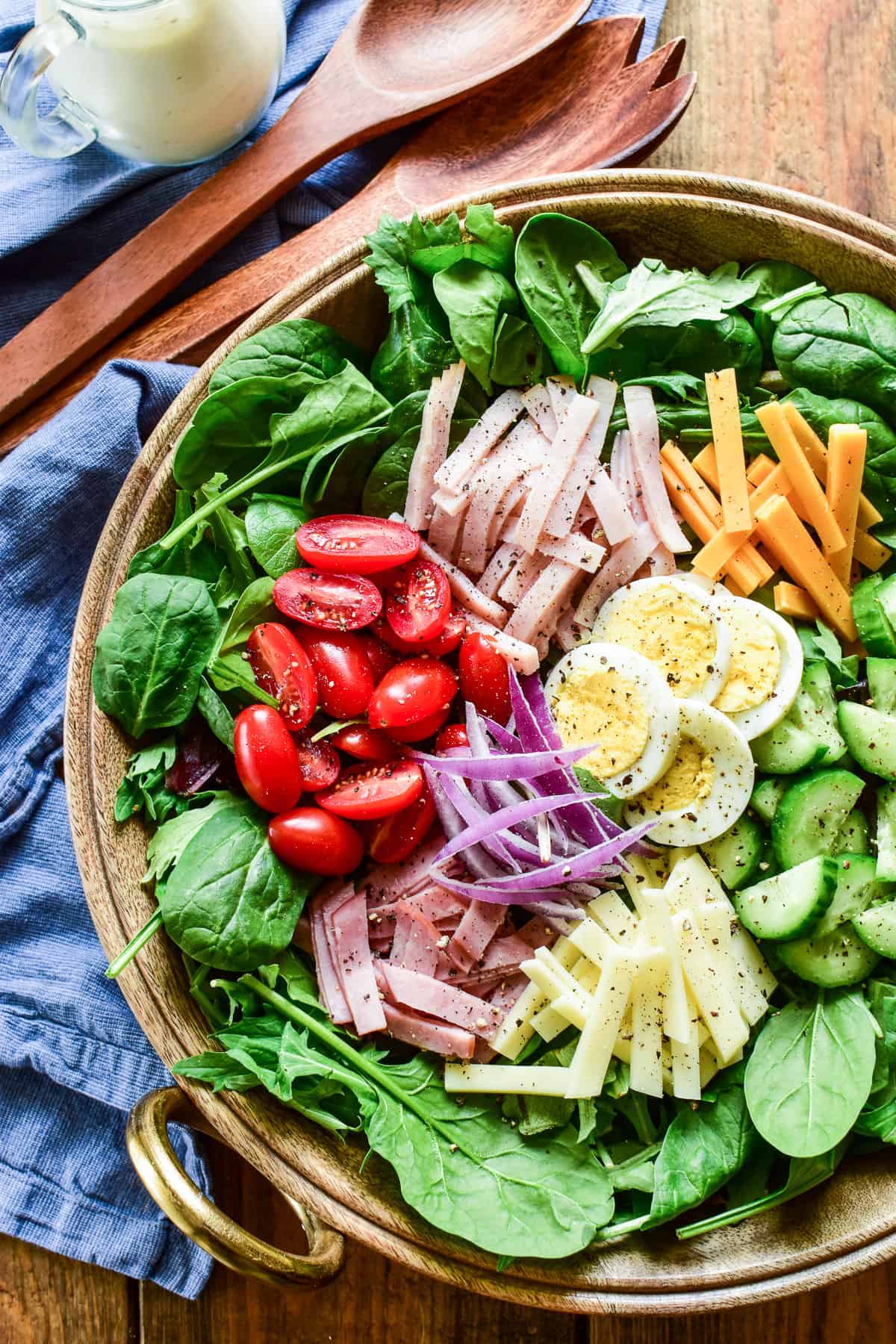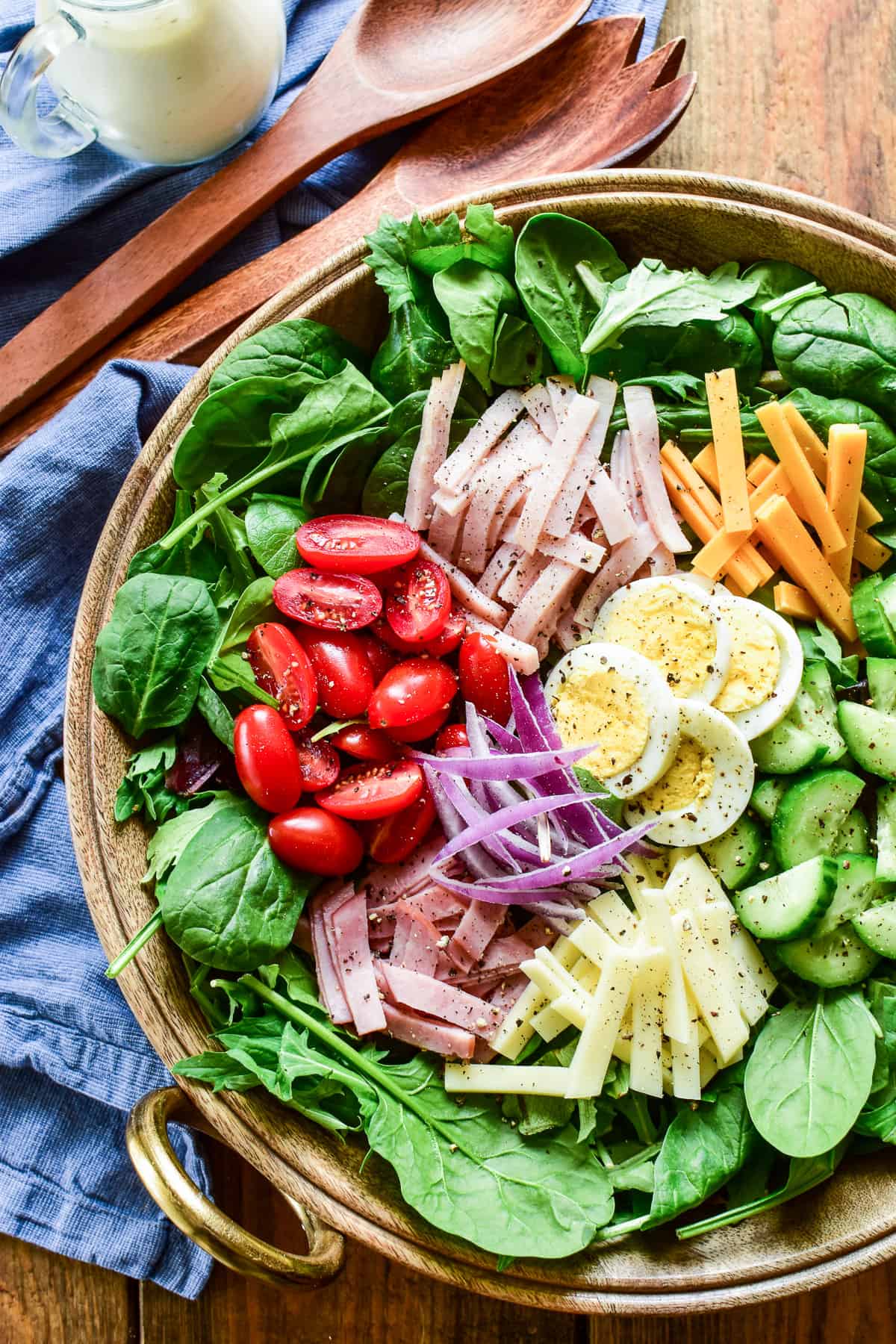 It's no secret that I'm always up for a good salad… and Chef Salad is definitely a favorite.
Not only is it easy to make, and requires no cooking at all, but I LOVE the fact that I almost always have the ingredients for it right in my fridge. Which means no special trips to the grocery store JUST to make a salad!
It's basically a completely delicious sandwich… without all the bread. Which is basically my ideal!
If you've never made a Chef Salad before, now's the time to get on board. I promise you're going to love everything about it!
[feast_advanced_jump_to]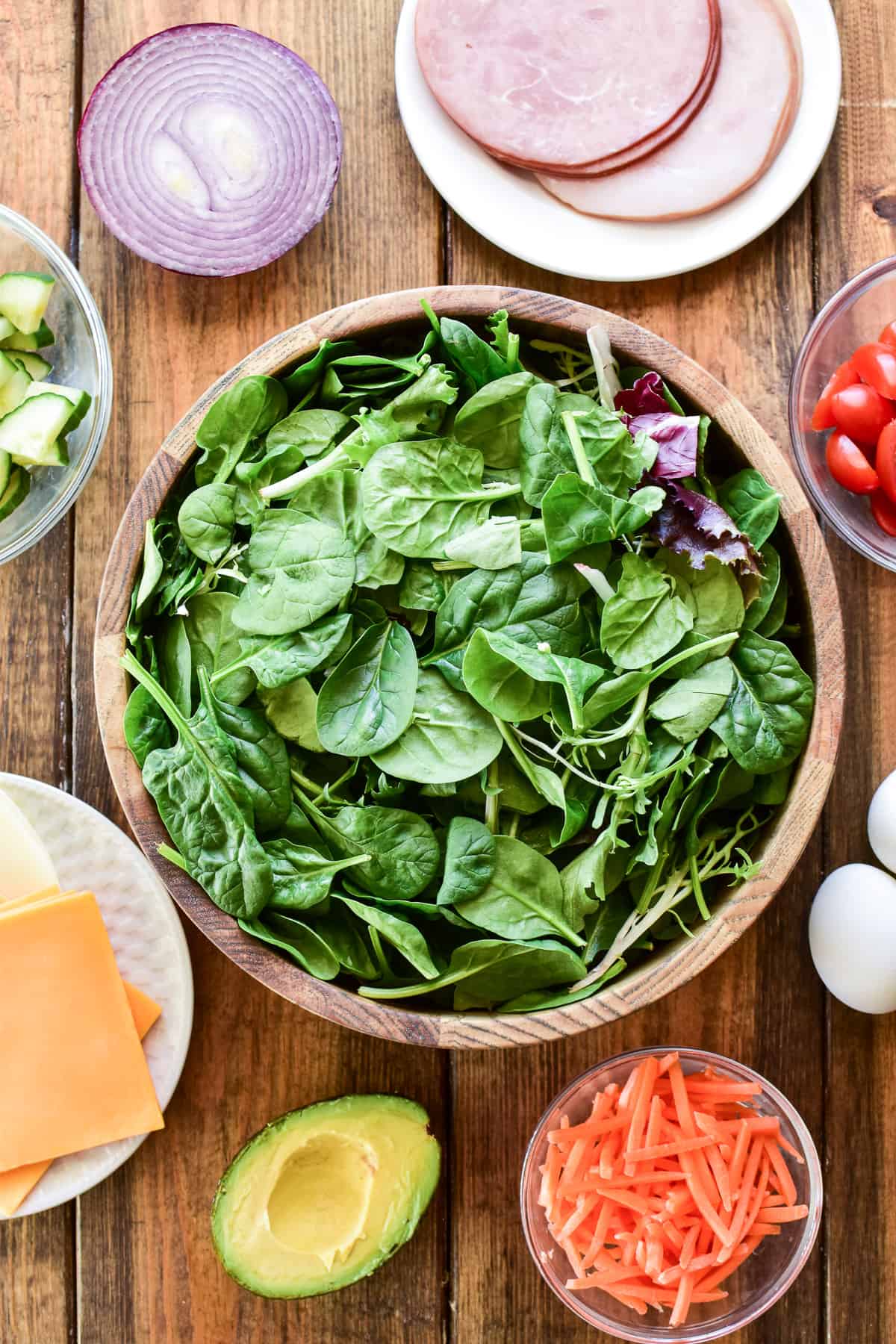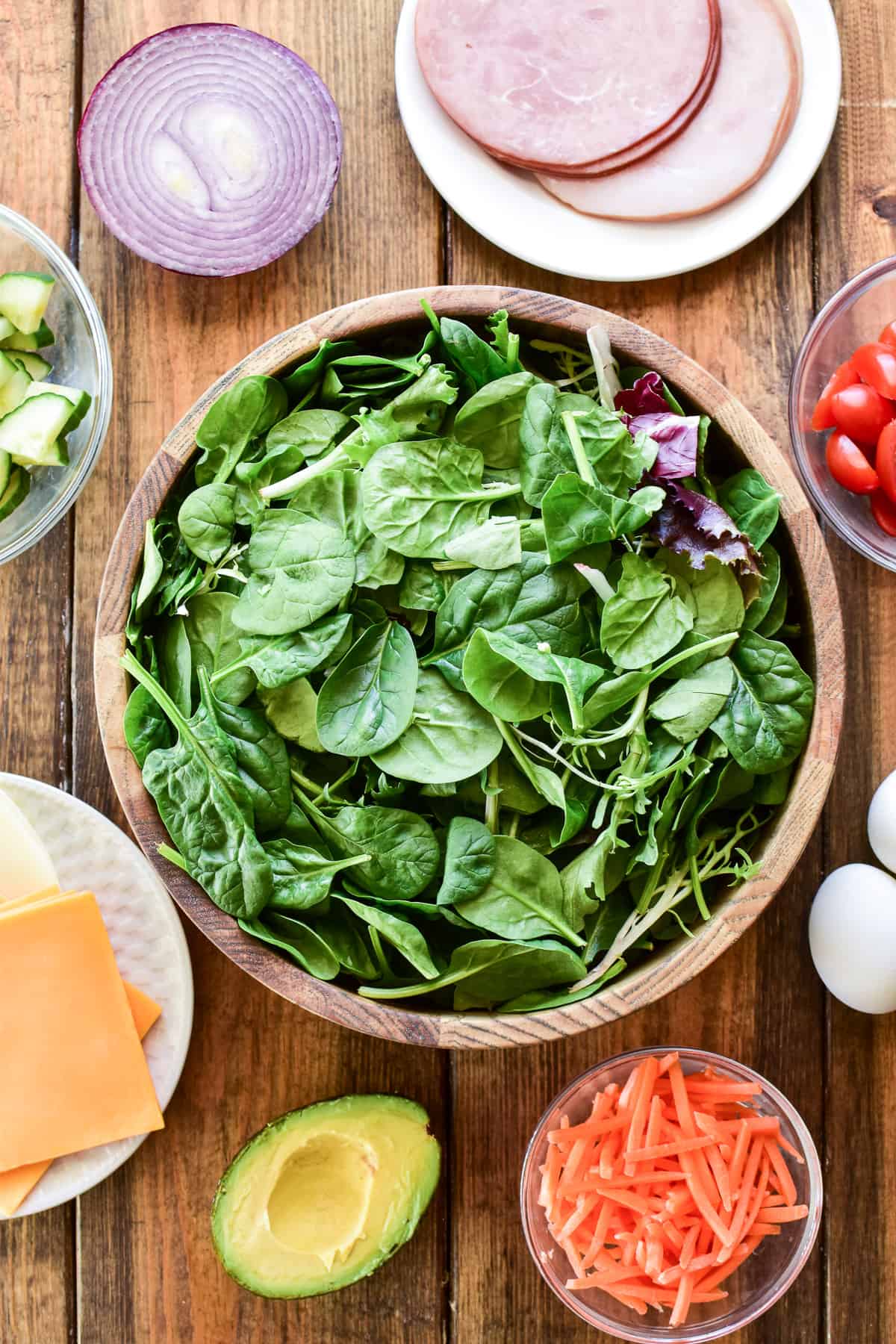 🥗 Ingredients
One of the best things about this recipe is that it's made with ingredients many people keep in their fridge, including deli meats and cheeses, fresh veggies, and eggs. It's also incredibly easy to adjust the recipe based on what you already have, so it can easily be made without a trip to the grocery store.
1 bag salad mix (I used a blend of spinach & spring mix)
3/4 c. grape tomatoes, halved
3/4 c. cucumbers, sliced and quartered
4 pieces deli turkey, thinly sliced
4 pieces deli ham, thinly sliced
4 pieces provolone cheese, thinly sliced
4 pieces cheddar cheese, thinly sliced
2 hard boiled eggs, sliced
1/4 c. red onion, thinly sliced
1/2 avocado, thinly sliced (optional)
📋 Instructions
There are a simple tips when making this salad. The first is to make sure you hard boil your eggs in advance. The second is to chop all of your meat, cheese, and veggies at the same time. You can either do this just before assembling it OR do it ahead of time and store it in the refrigerator for later.
Pour salad mix into a large serving bowl.
Top with remaining ingredients; season with salt and pepper as desired.
Serve on individual plates and top with dressing of choice.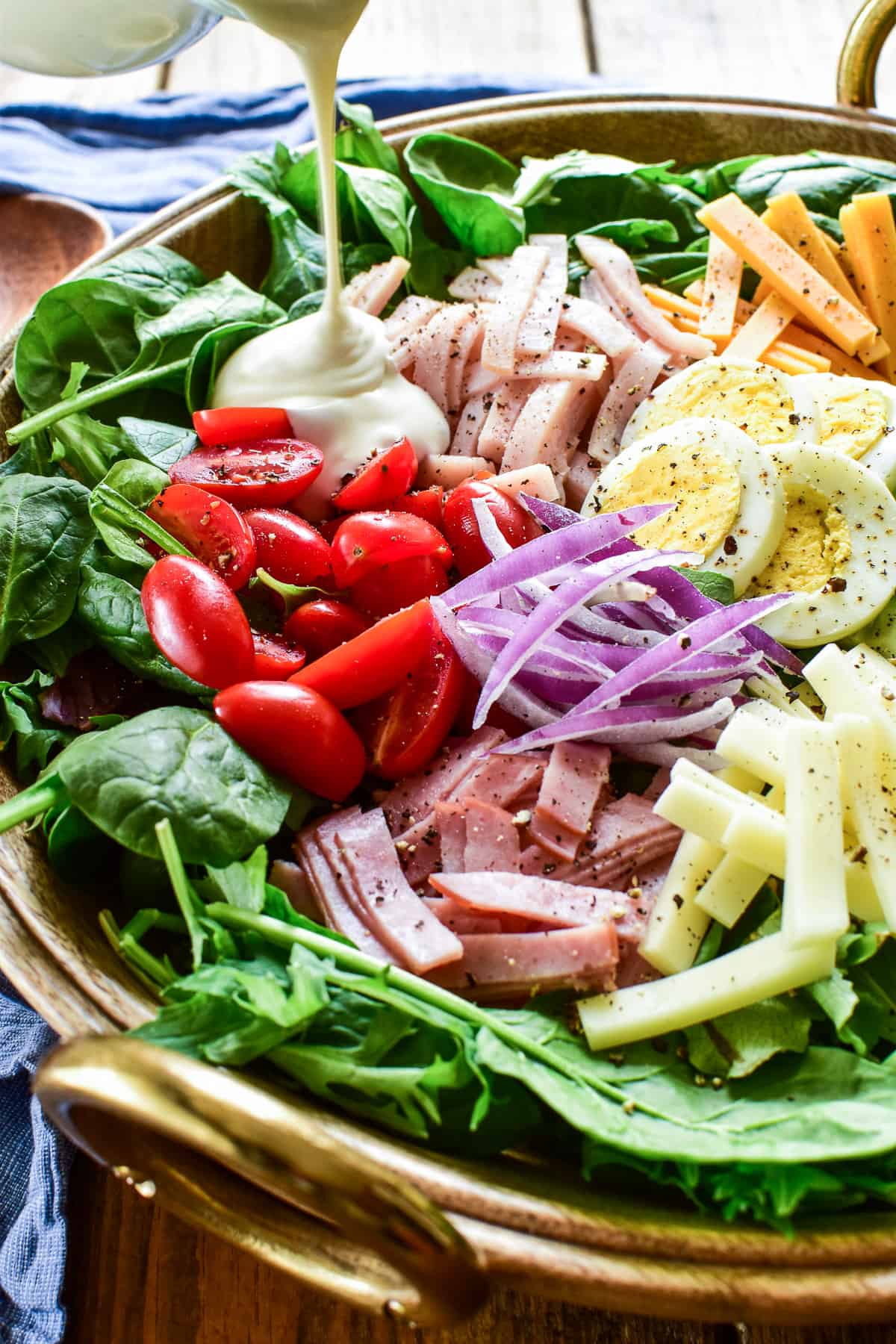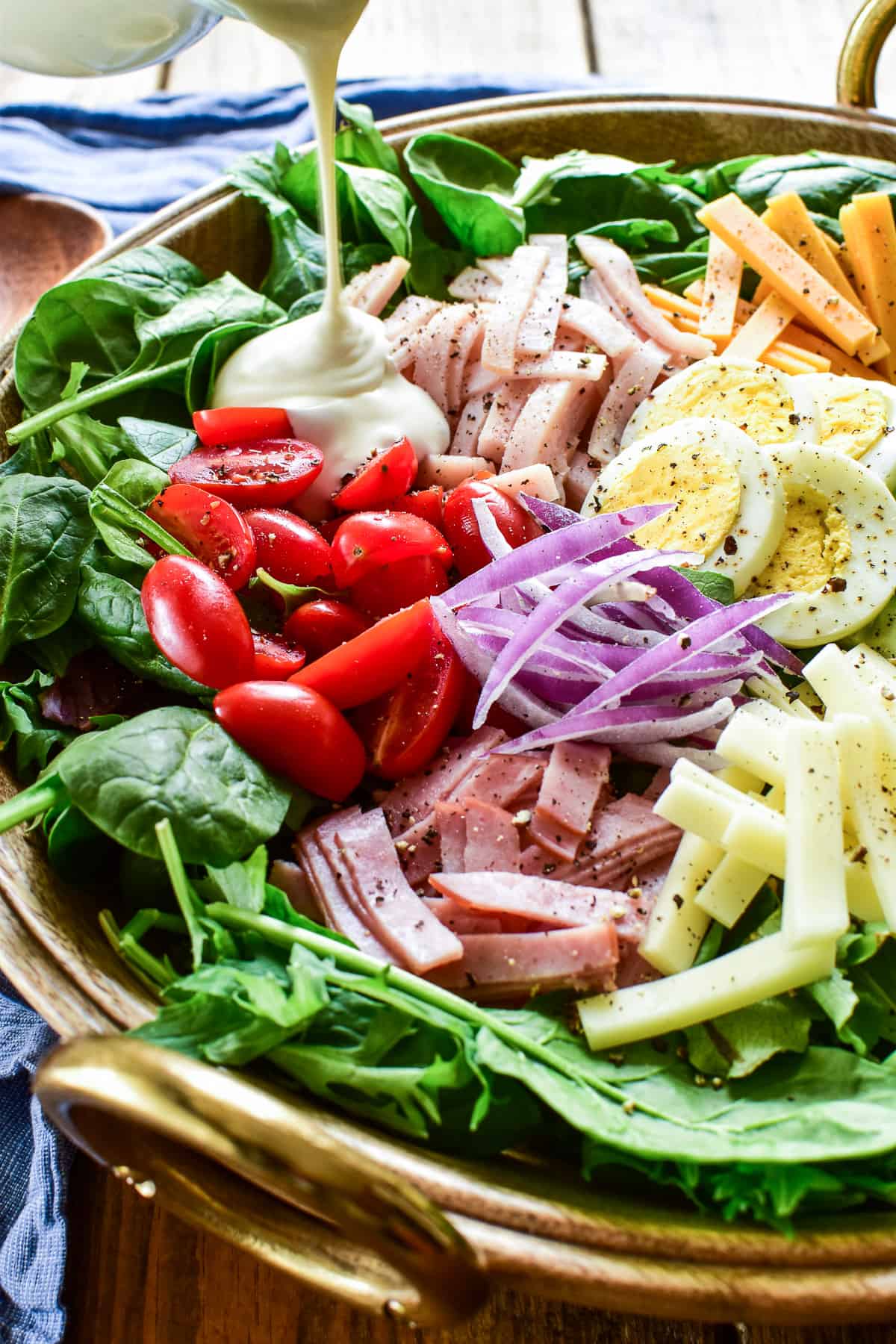 🥑 Recipe variations
The basic components of a Chef Salad are lettuce, one or more varieties of meat, hard boiled eggs, tomatoes, cucumbers and cheese. You can feel free to switch up the meats and cheeses you use, and to mix things up even more, try adding some additional veggies!
Add roast beef or grilled chicken
Substitute Romaine or iceberg lettuce
Substitute shredded cheese for deli slices
Add additional veggies such as bell peppers, cauliflower, or broccoli
Add sliced black olives or anchovies
Top with French, Thousand Island, or vinaigrette dressing
⏳ History of Chef Salad
There are many different explanations of where Chef Salad originated. Some trace it back to Louis Diat, a chef at the Ritz Carlton in New York in the 1940's. Others believe it was created by either chef Victor Seydoux at the Hotel Buffalo in Buffalo, New York or chef Jacques Roser at the Hotel Pennsylvania in New York City. Regardless of who it's attributed to, it's believed that it began as an off-menu item that eventually found its way onto restaurant menus around the country.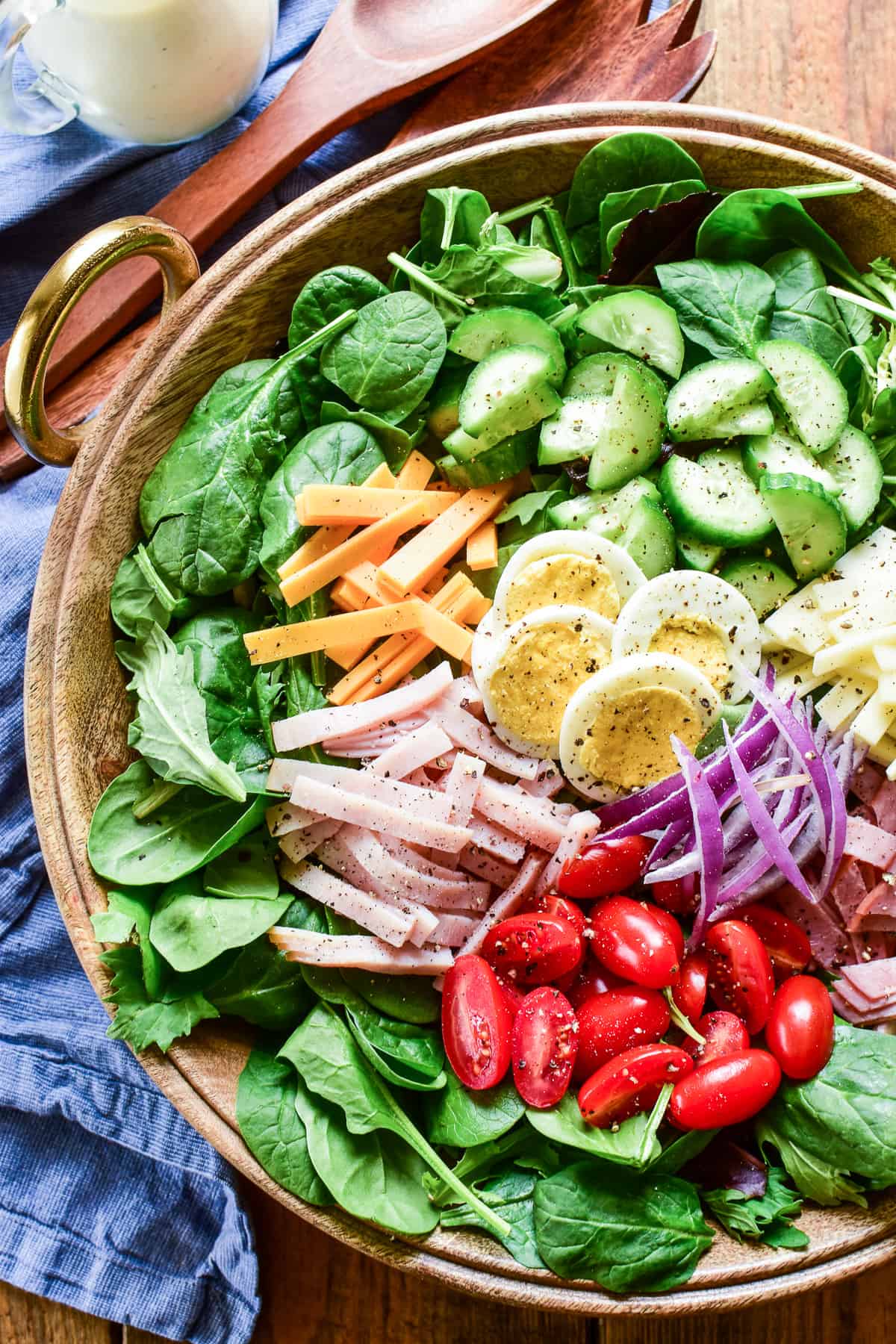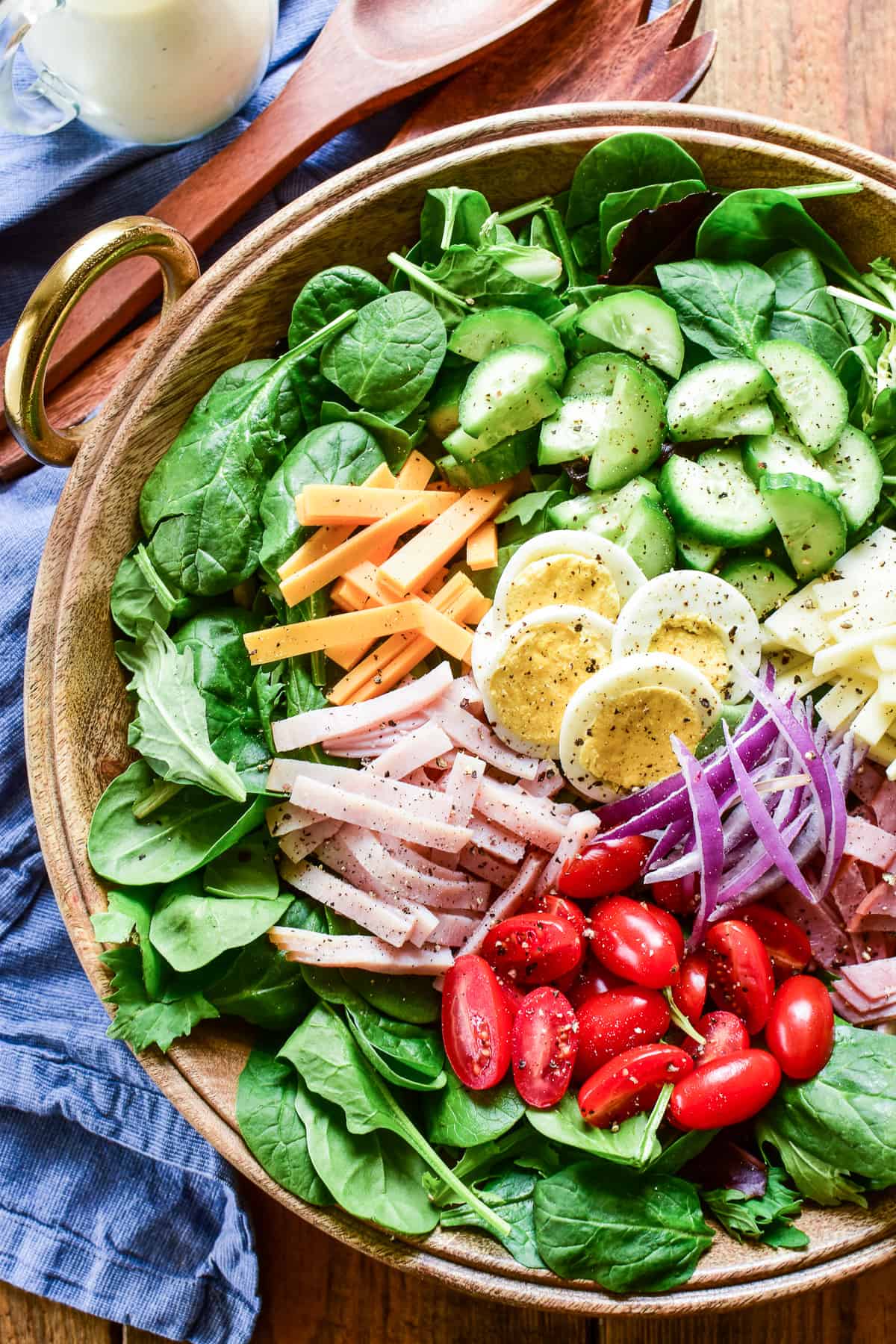 🥖 Sides
Since a Chef Salad is loaded with so many delicious and satisfying ingredients, it's most often eaten as a main dish. Some of our favorite sides are different types of bread and/or soup. Here are some ideas!
🥬 Related recipes
When it comes to salads, the sky is the limit. There are countless combinations of ingredients and dressings, and each one creates a unique flavor profile. Here are some of our favorites!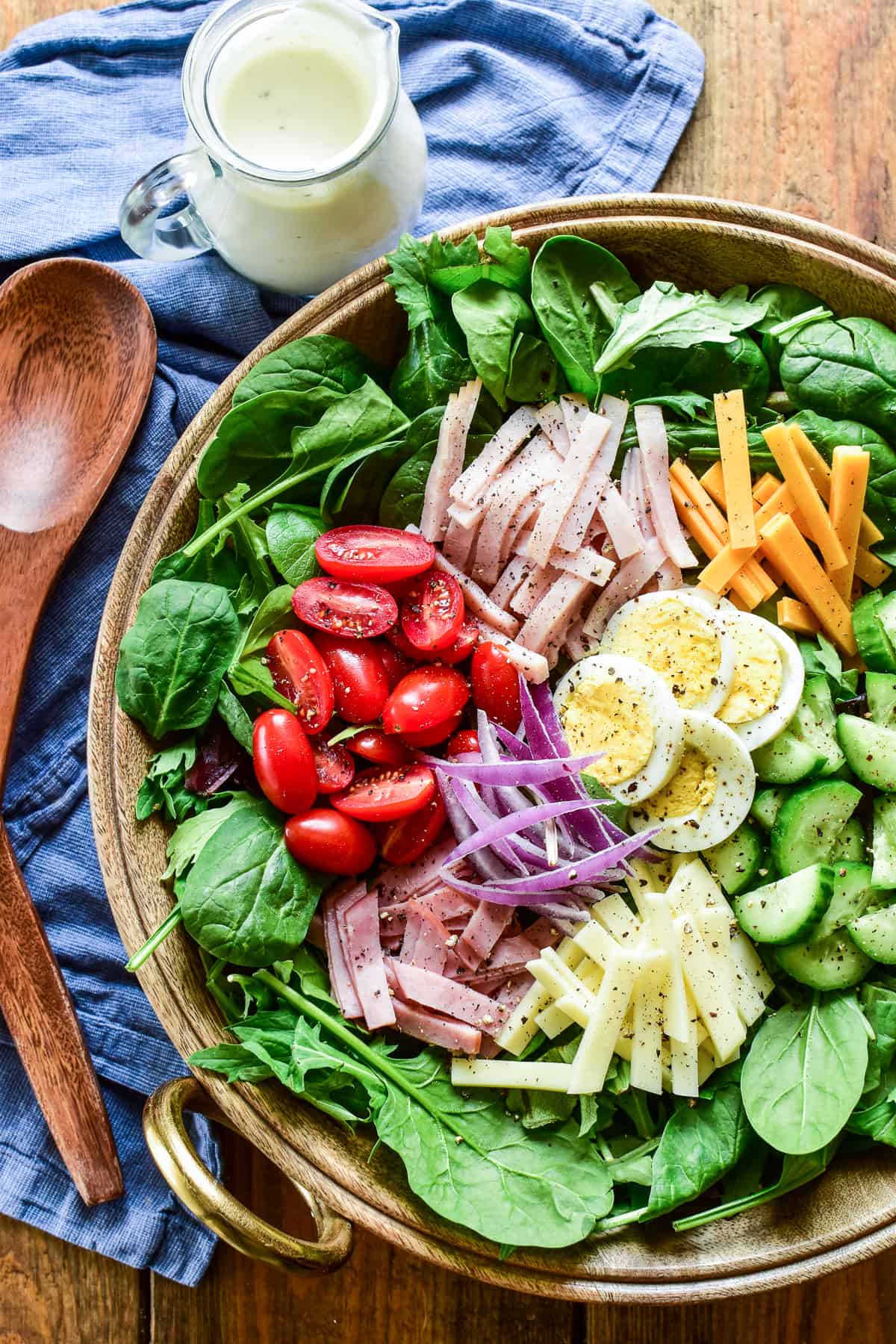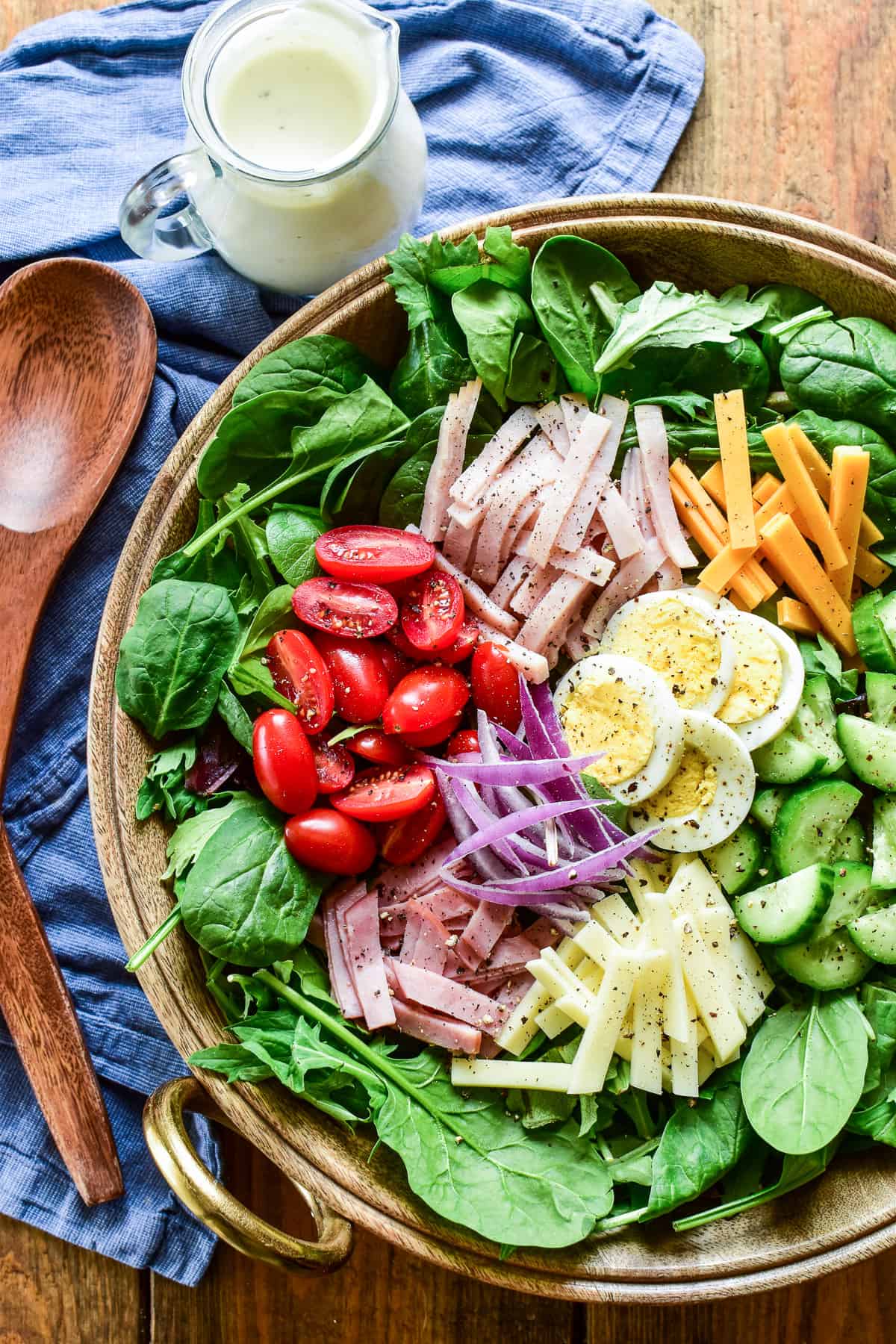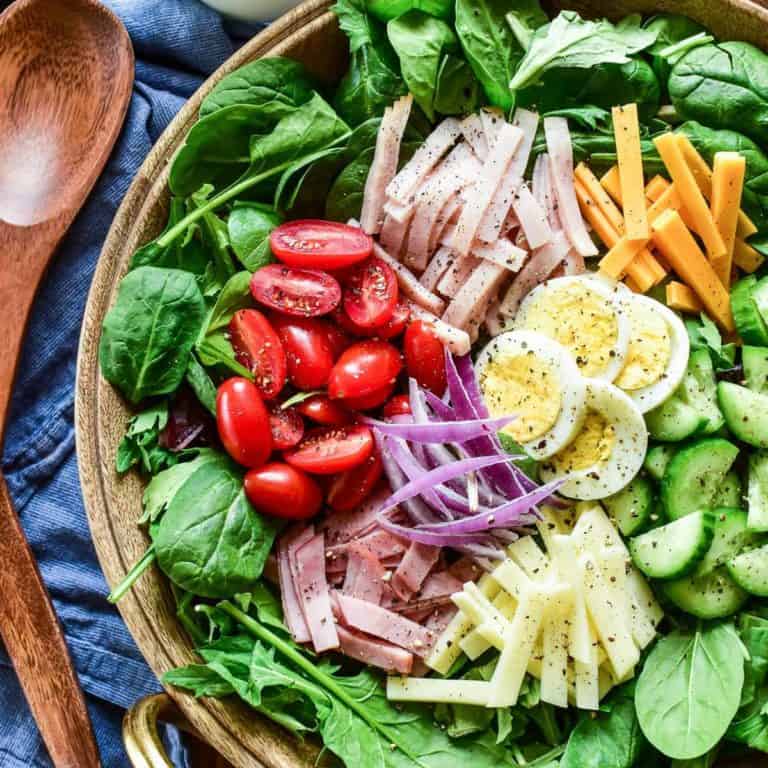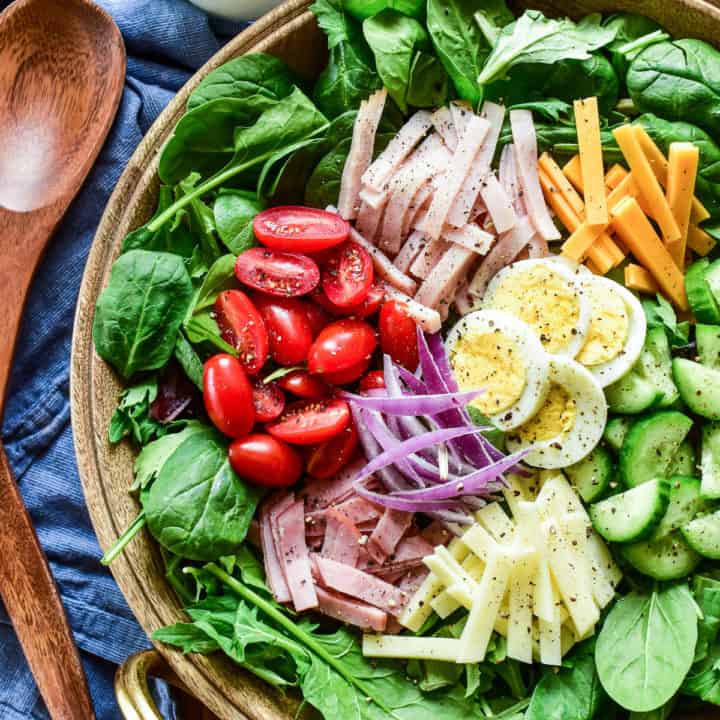 Chef Salad
Yield: 4

Prep Time: 10 minutes

Total Time: 10 minutes
Ingredients
1 bag salad mix (I used a blend of spinach & spring mix)
3/4 c. grape tomatoes, halved
3/4 c. cucumbers, sliced and quartered
4 pieces deli turkey, thinly sliced
4 pieces deli ham, thinly sliced
4 pieces provolone cheese, thinly sliced
4 pieces cheddar cheese, thinly sliced
2 hard boiled eggs, sliced
1/4 c. red onion, thinly sliced
1/2 avocado, thinly sliced (optional)