Delicious cream corn, loaded with bacon, leeks and poblano peppers. The perfect summer side dish….or make it for a meal all on its own! (Great for Father's Day, too!)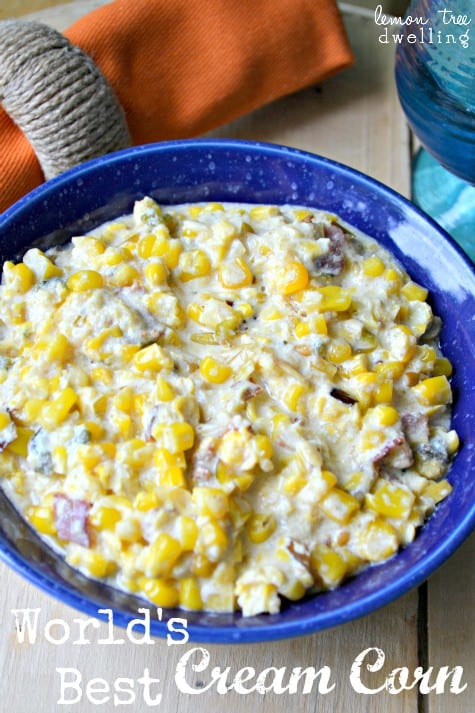 A couple years ago, my mom gave me a recipe for cream corn she had found in the newspaper. But not just any cream corn – the "famous" cream corn from a local restaurant that's known for its use of fresh, local ingredients and handcrafted, homey dishes. At the time, I had never been there, but I had heard enough rave reviews to know that any of their recipes would be amazing. Especially the recipe for their best-selling cream corn.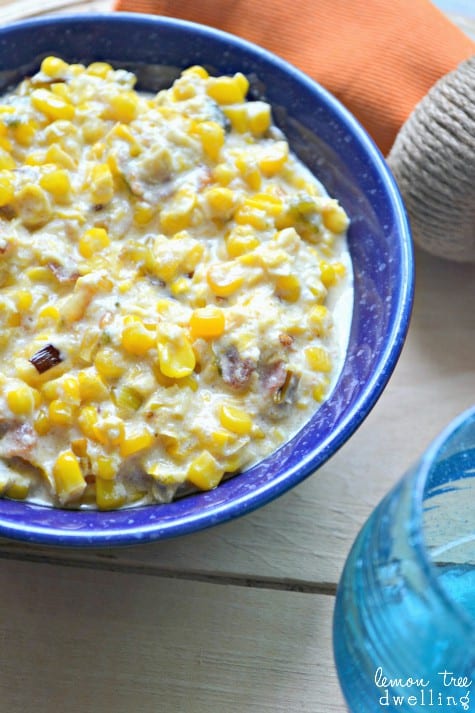 The first time I made it, I adjusted the recipe just slightly from the original. I was a little shocked by how much I liked it! I mean – we're talking about cream corn! You know….the stuff from a can!? At least that's the only kind I had ever tried. But when you make it from scratch, like this, it's a whole different food! It's rich, flavorful, and incredibly satisfying. In fact, I've made it for dinner twice in the last two weeks. Just cream corn and bread. So delicious!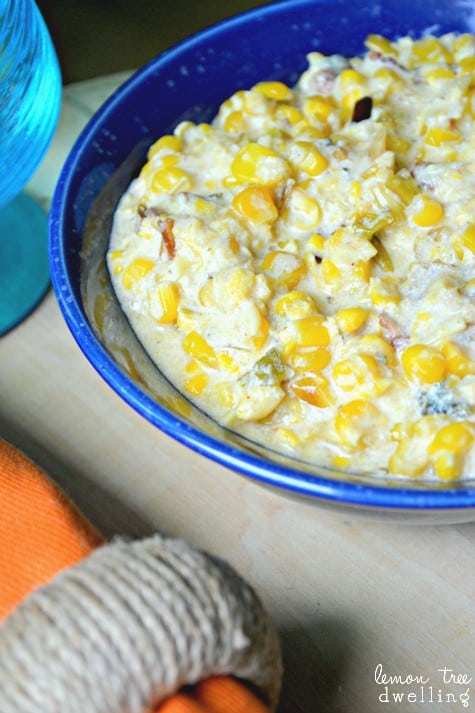 So delicious that you will literally be licking your bowl clean….which is exactly what happened when I made it last week. For some reason, I decided to cut the recipe in half. NOT a good idea!! Jorden and I were both scrounging for more….actually hoping the kids wouldn't finish theirs so that we could! Ha! The other "problem" when I made it last week? I used turkey bacon instead of real bacon. Which wasn't a problem for me….but for Jorden, it just wasn't the same.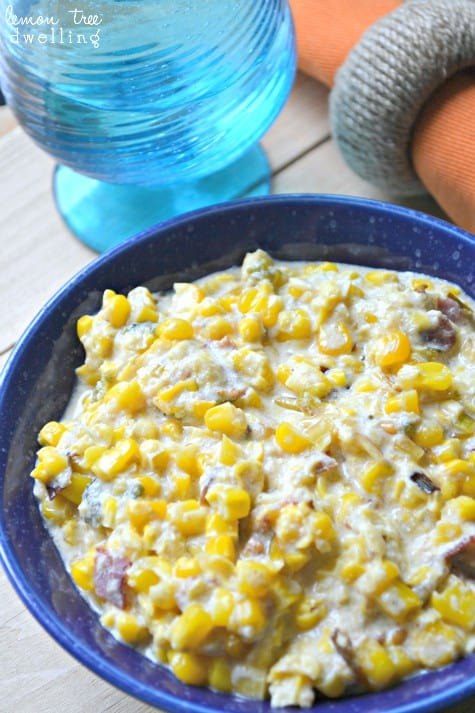 So with Father's Day coming and all, I decided to make it again this week. Because Jorden loves it, of course (it had nothing to do with the fact that I was still craving it!) And this time I used real bacon (for Jorden) and made the full recipe (for Jorden)….and we even had leftovers. Score!! I'm telling you – this is the best cream corn you'll ever have. And it just might become your new favorite side dish…..or dinner….or both! It's THAT GOOD.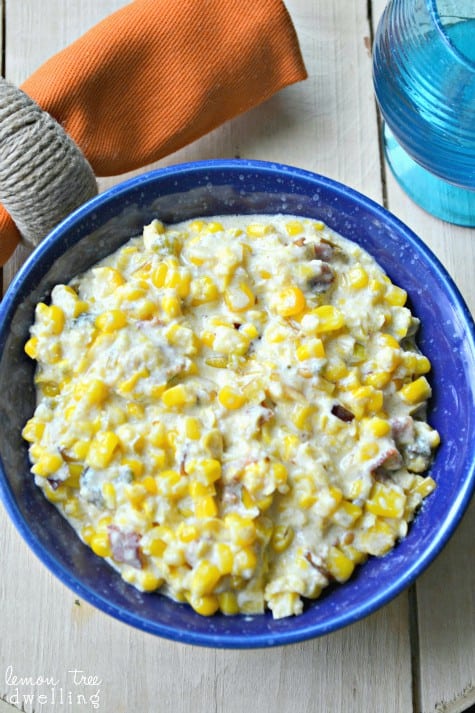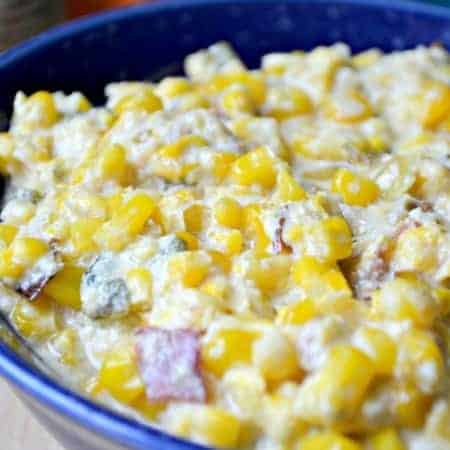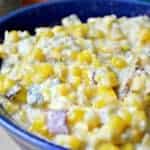 World's Best Cream Corn
Ingredients
2

pounds

frozen corn kernels

2

c.

half & half

I used fat free

1

Tbsp.

kosher salt

1/8

tsp.

cayenne pepper

1/8

tsp.

ground white pepper

1/2

c.

sugar

1

Tbsp.

cornstarch

1

Tbsp.

butter

1/2

c.

diced leek

1

poblano pepper

roasted/skinned/seeded/diced

1

pound

raw bacon

diced

In

advance: roast the poblano pepper by broiling it 2-4 minutes on each side

until skin chars. Remove from oven and place in a medium bowl; cover with saran wrap to loosen skin. Peel skin, remove seeds, and dice.
Instructions
Preheat oven to 350 degrees.

Spread corn on a large pan and roast in preheated oven 10 minutes. Remove from oven and set aside.

In a medium saucepan, combine 1 c. half & half, kosher salt, cayenne and white pepper and bring to a simmer.

In a blender, combine the other 1 c. half & half, sugar, cornstarch, and half the corn and puree until smooth.

Add mixture from blender to simmering cream mixture on the stove top. Continue to cook 15 minutes, stirring frequently.

In a large saute pan, combine butter, leek, poblanos and bacon and saute until bacon is cooked through.

Add remaining corn and mixture from saucepan and stir to combine.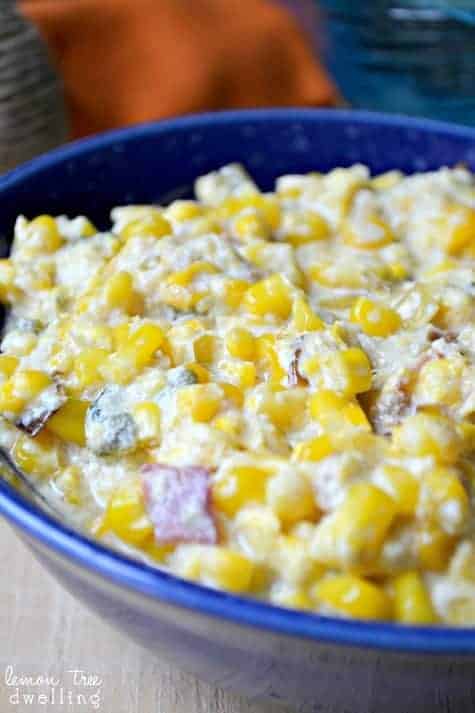 Enjoy!
Looking for another delicious summer side? Check out my Berrylicious Summer Salad!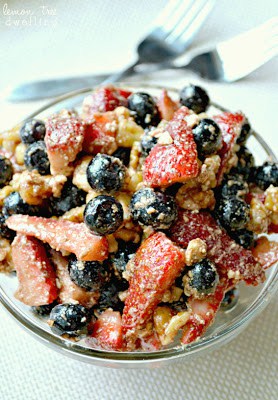 Thanks for taking a peek inside my Lemon Tree Dwelling….
I hope you feel right at home!
-Cathy