Skillet Corn with Brown Butter and Sage will be a perfect compliment to your table. This flavorful side dish is so quick and easy, it's a must-have on your holiday menu!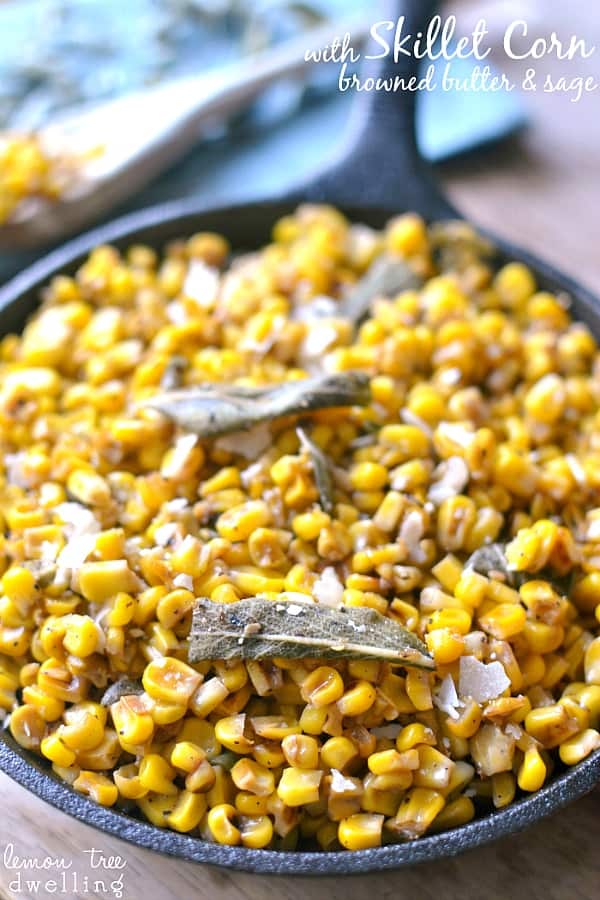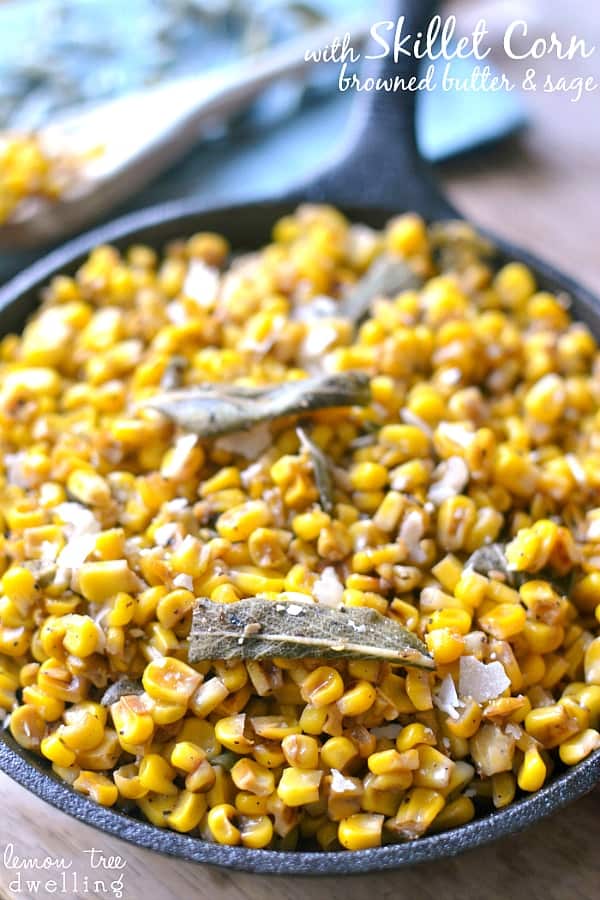 I came to a startling discovery last night, as I was searching through old memory cards for photos of my grandpa. As I scrolled through rows and rows of pictures, I couldn't help but notice that the VAST majority of them were of food. It makes sense, of course……I photograph food nearly every day, and sometimes multiple times a day……but how is it that so many days I have forgotten to turn around and snap a photo of my kids!?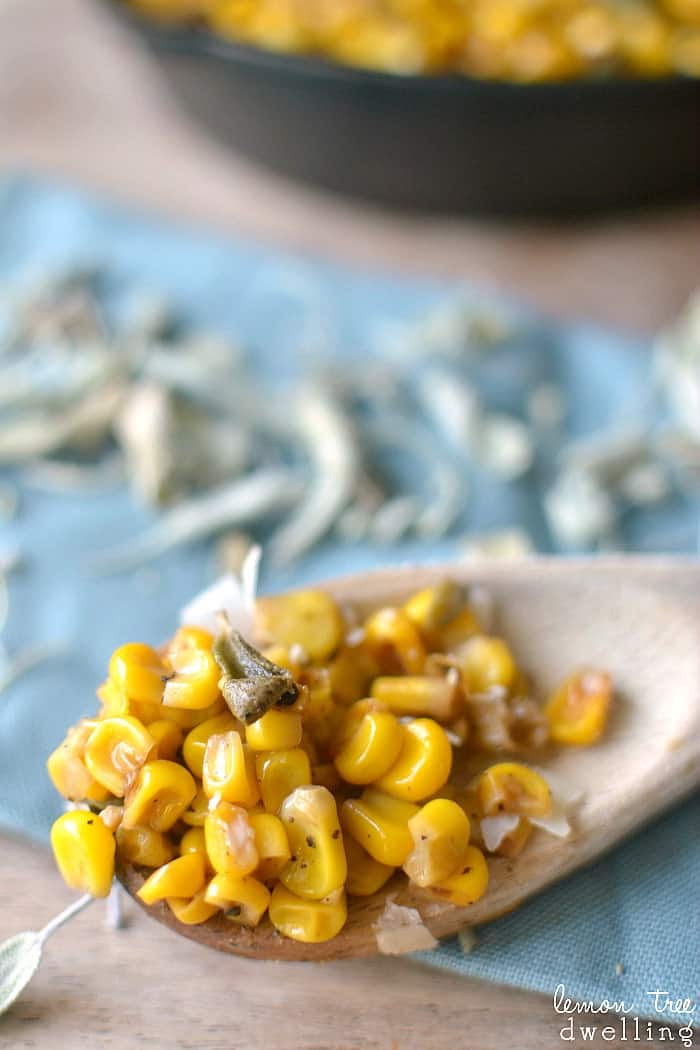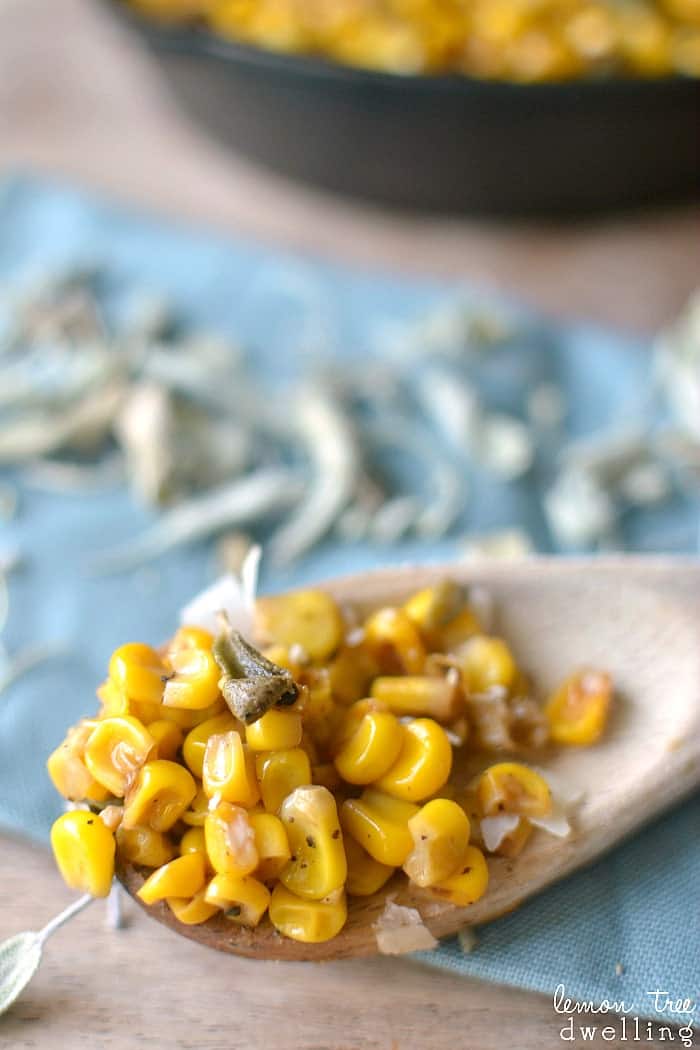 Yikes! So I'm making a new resolution…..one of many…..to take at least as many pictures of my kids as I do of the food that shows up here each day. Not only because I will thank myself in the long run, but because I think it will remind me to be more present in the short run! I'll keep you posted.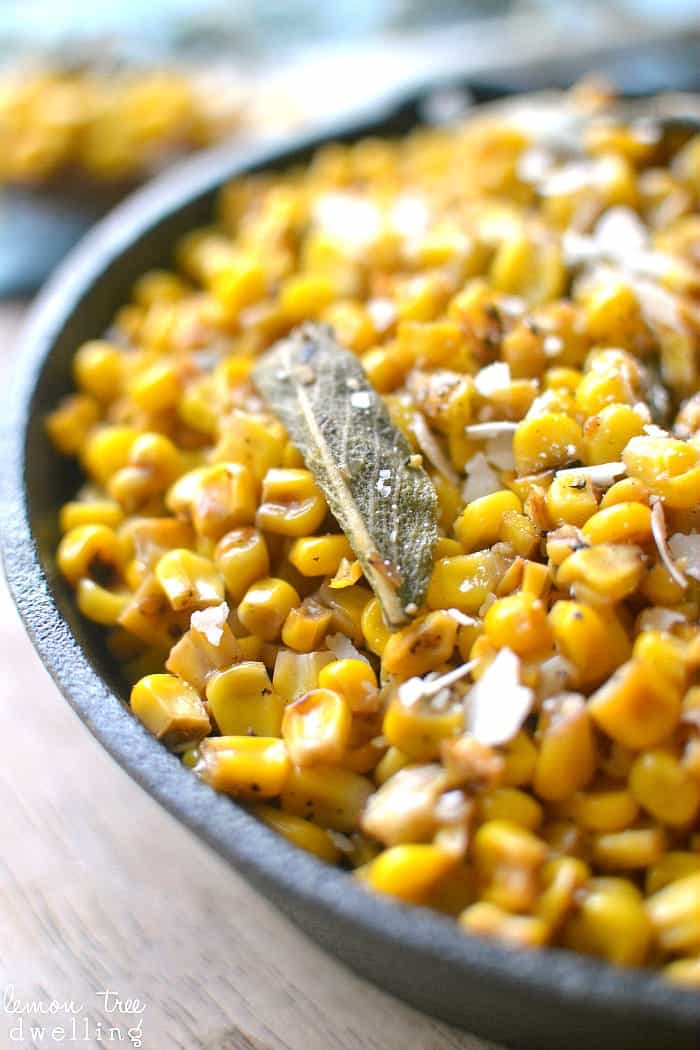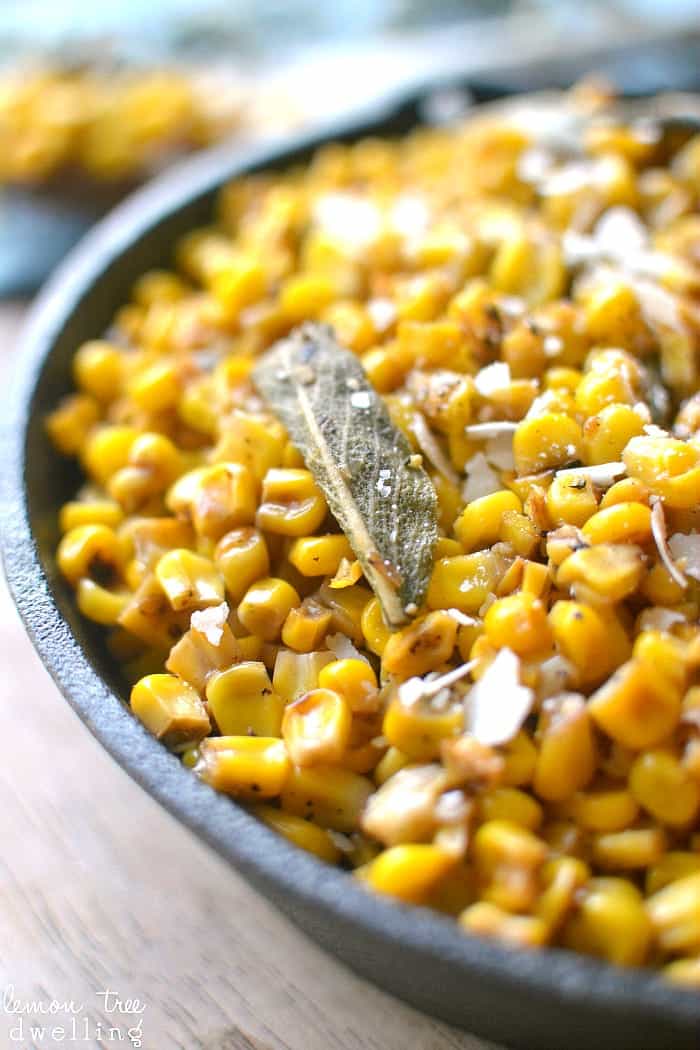 Skillet Corn with Brown Butter and Sage
Okay…..but to be fair…..sometimes food is just so captivating!Can you blame me for wanting to snap as many pics as possible of something as delicious as this Skillet Corn with Brown Butter and Sage? It's loaded with the amazing flavors of browned butter and sage, with just a hint of garlic and Parmesan cheese. Best of all, it's ready in just 15 minutes on the stove top. Who knew frozen corn could taste so good??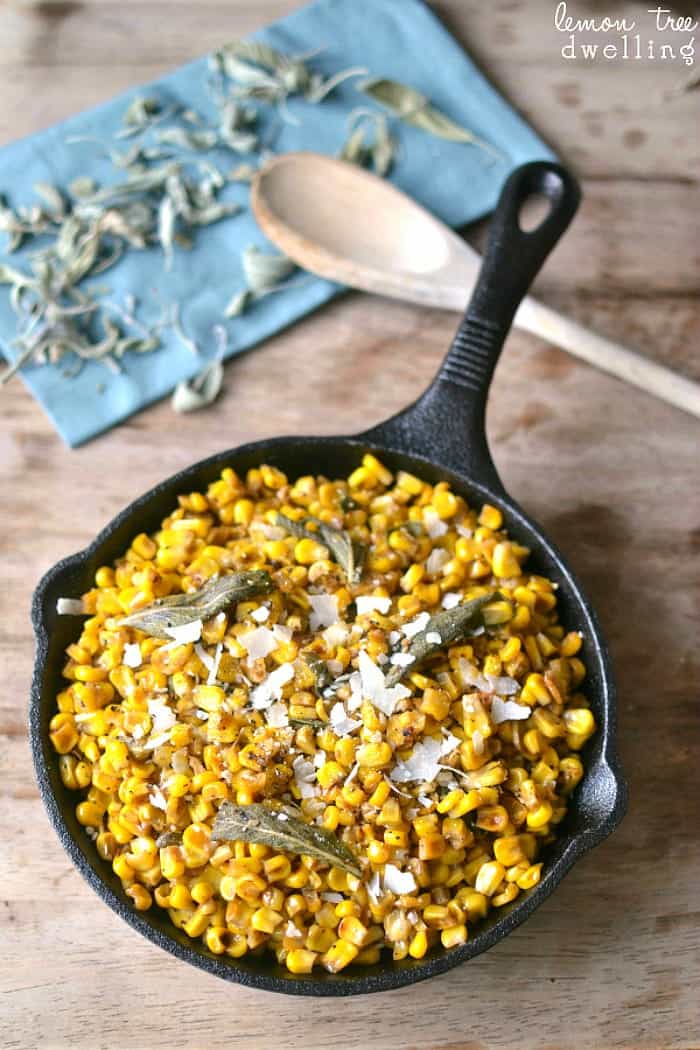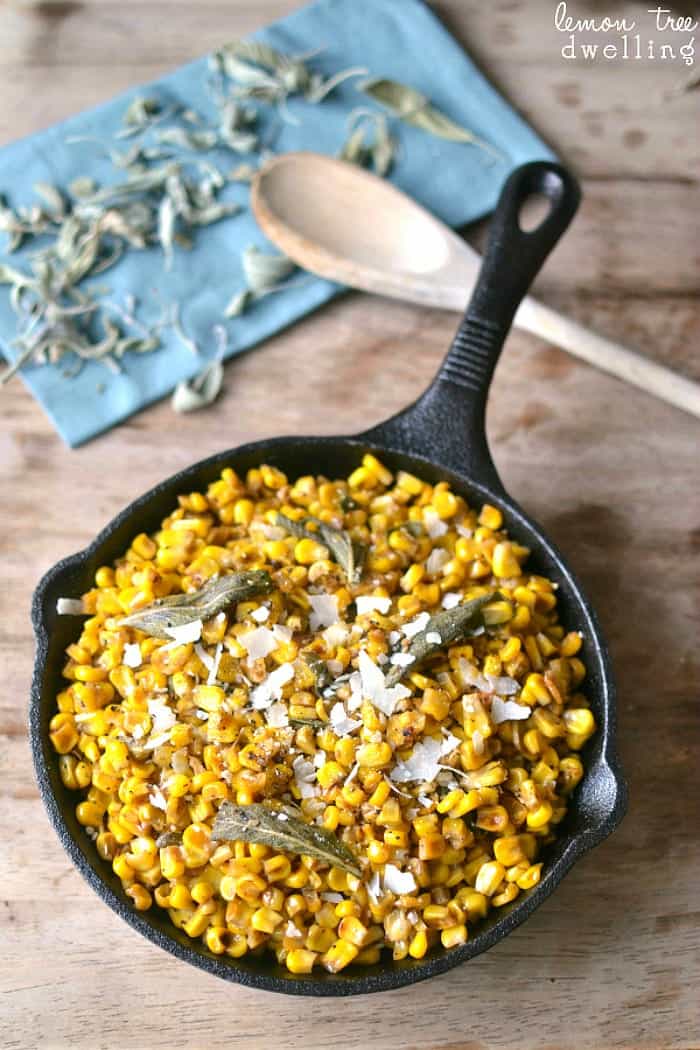 At the end of the day, there's no real way to capture the deliciousness of a dish in a photo. Just like there's no real way a photo can capture the sweetness (or sassiness) of my kids at any given age. But. It's still worth a try…..don't you think??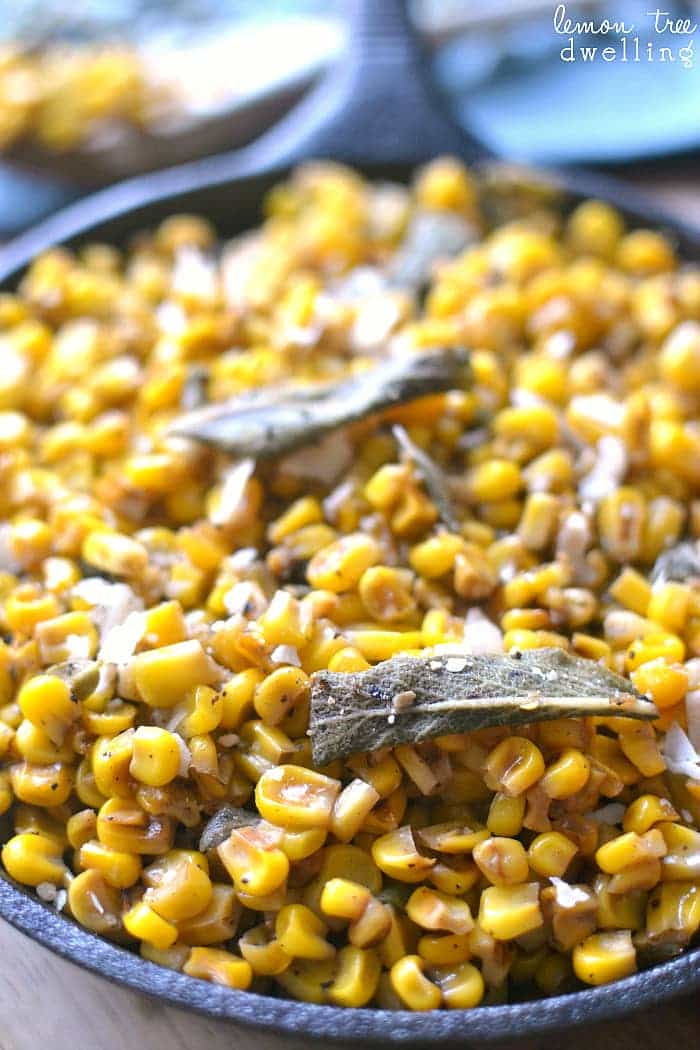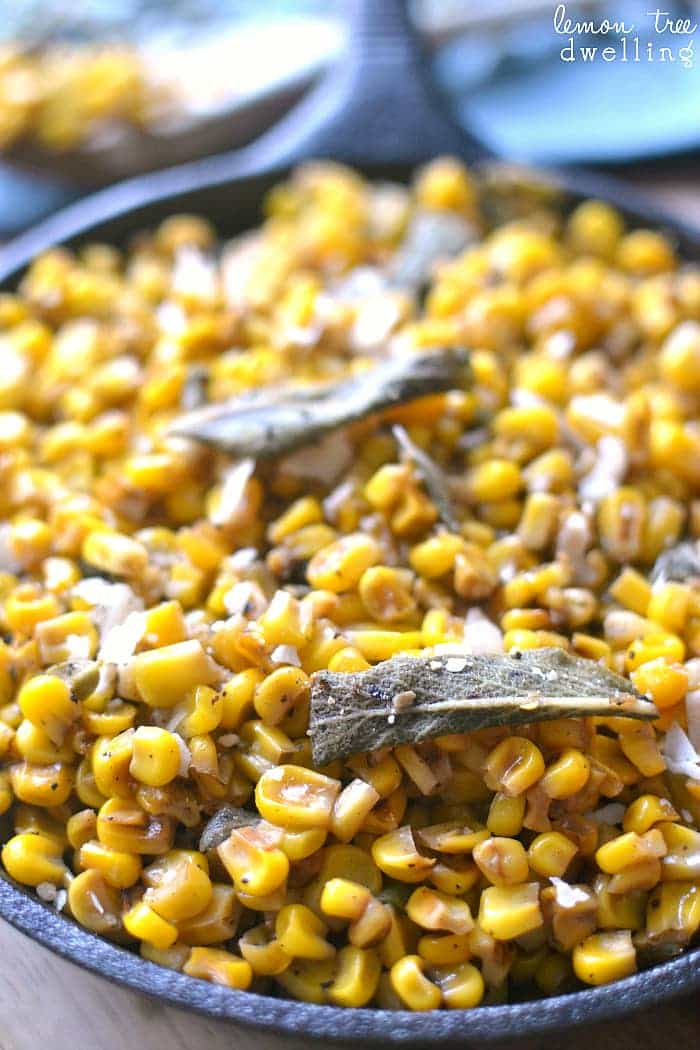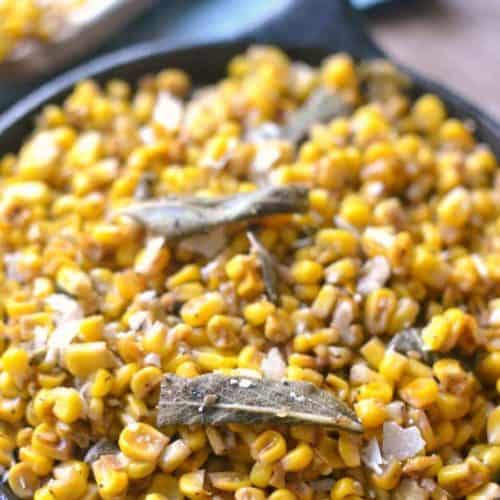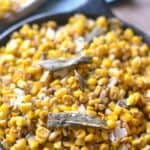 Skillet Corn with Browned Butter & Sage
Ingredients
1

28 oz. bag frozen corn

3/4

oz.

approx. 1/2 cup fresh sage leaves

4

Tbsp.

butter

1

clove

garlic

minced

1/2 - 1

tsp.

sea salt

1/2 - 1

tsp.

fresh cracked pepper

1/4

c.

shaved Parmesan cheese
Instructions
Heat frozen corn and fresh sage leaves in a large skillet over high heat for 10 minutes, or until corn becomes charred.

Add butter, garlic, salt & pepper and continue cooking over high heat 5 minutes, until butter is browned.

Remove to serving dish and sprinkle with Parmesan.
Another Thanksgiving favorite is my Butternut Squash Stuffing. It would go perfect with this skillet corn!


For more great Thanksgiving recipes, be sure to check out my Pinterest page!