White Chocolate Cranberry Macadamia Magic Bars are a great way to take your Christmas treats to the next level! An easy dessert recipe with just 6 ingredients is perfect for the holidays!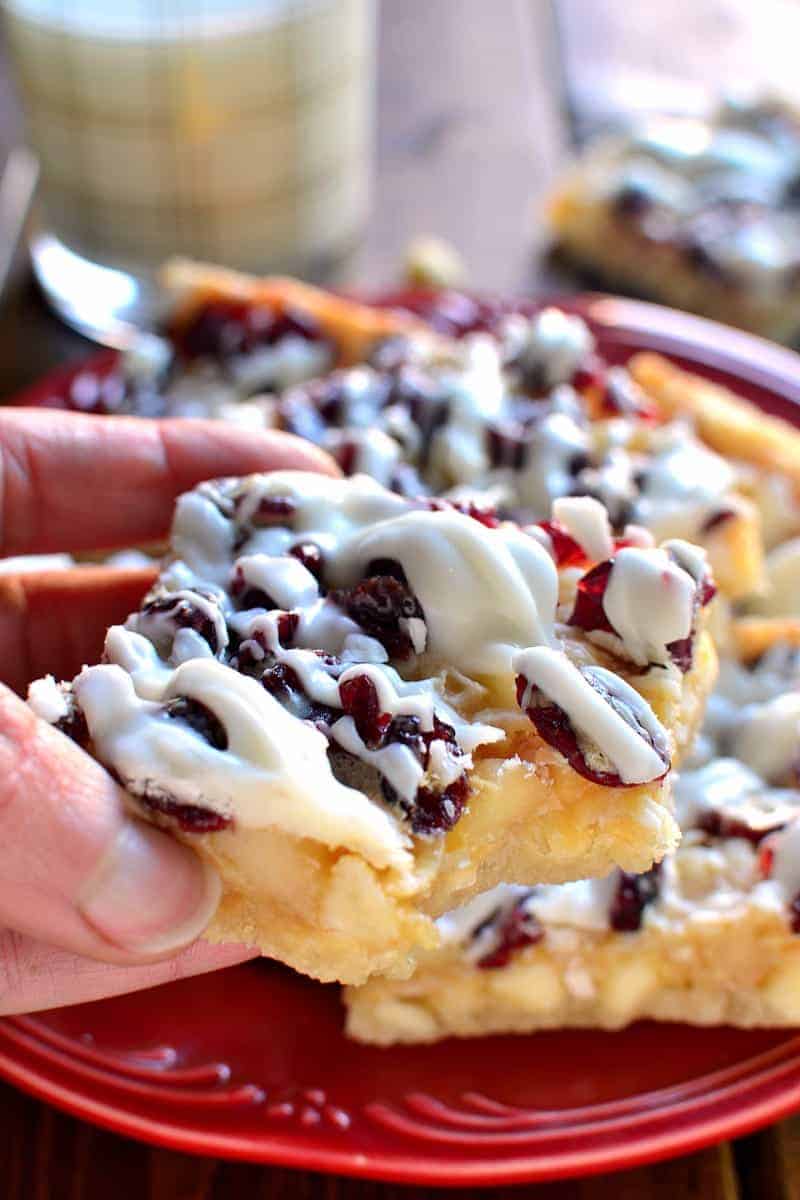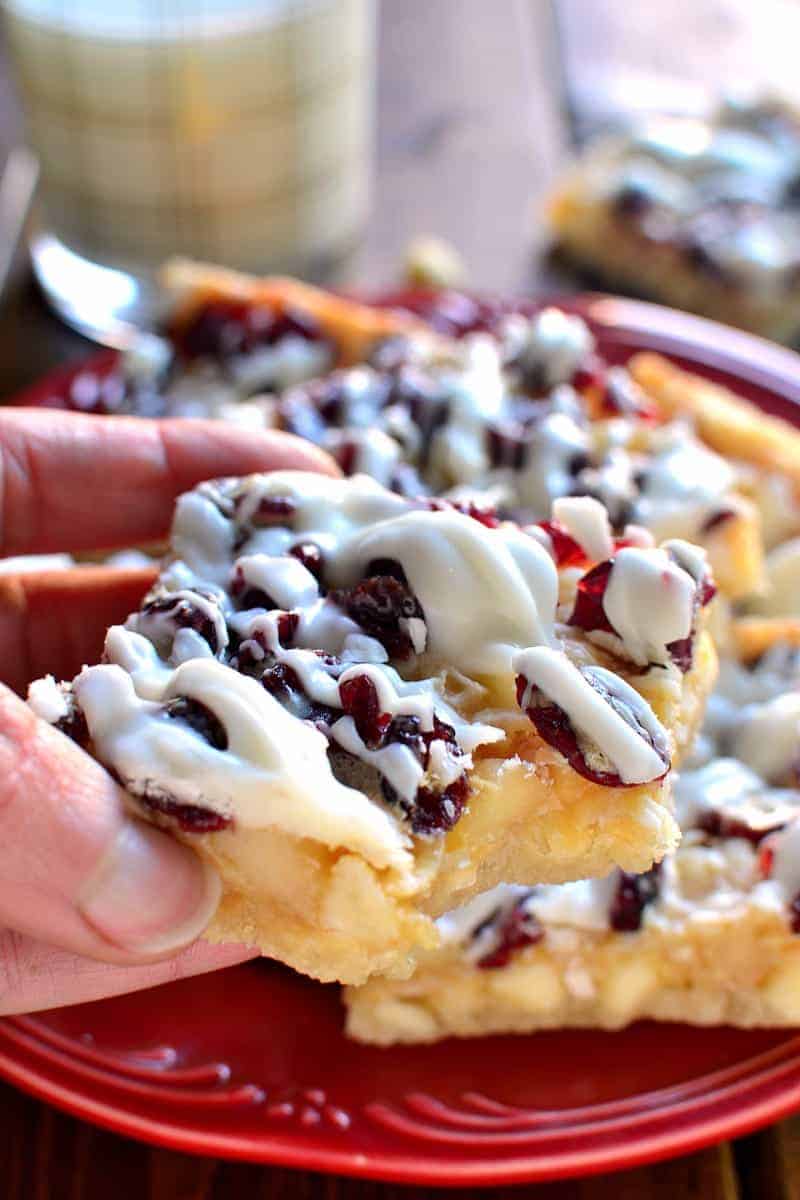 You guys. I love Myla dearly. I really really do. And I LOVE the fact that I get to be home with her. I wouldn't trade it for anything. But I gotta tell you….she's kind of annoying right now!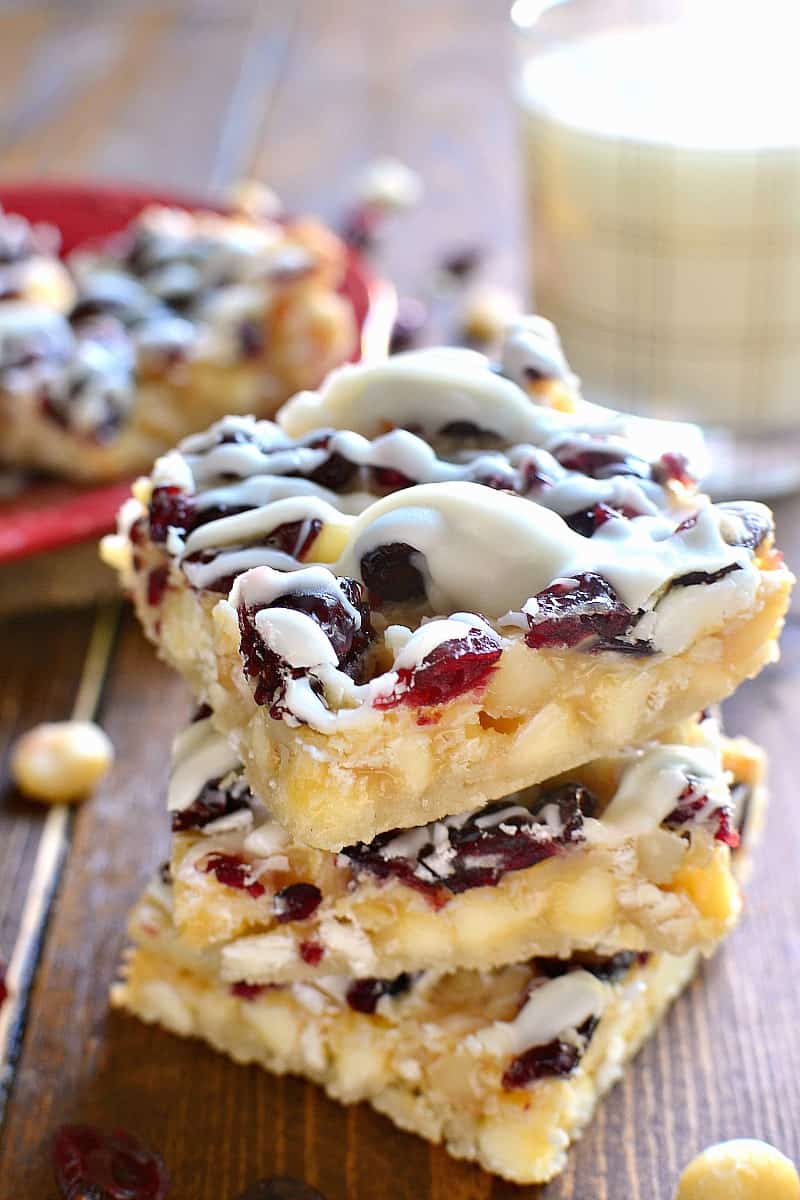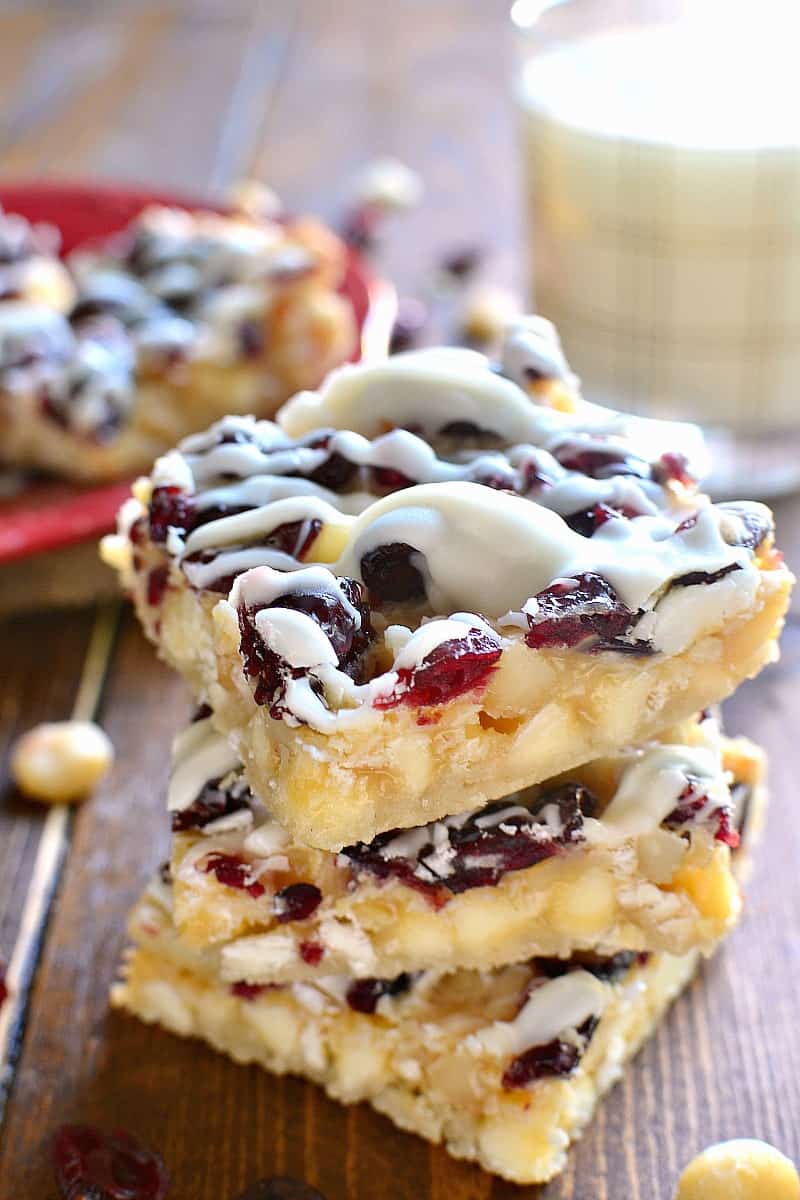 I know it comes with the two year old territory – the strong will, the demands, the need for independence. It's just….I forgot what it's like to live with one. To be constantly ordered around by one. To navigate the seemingly ridiculous requests and ever-changing whims of a little two year old. Let's just say it's testing my patience.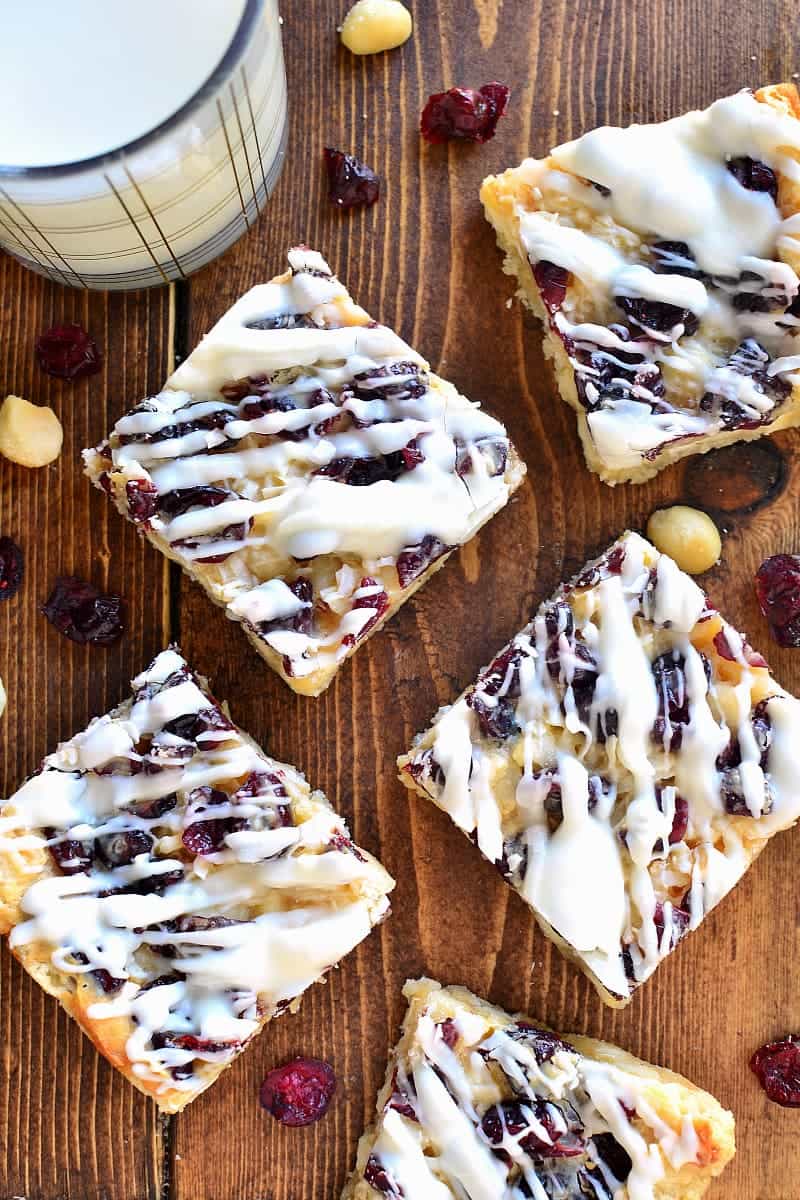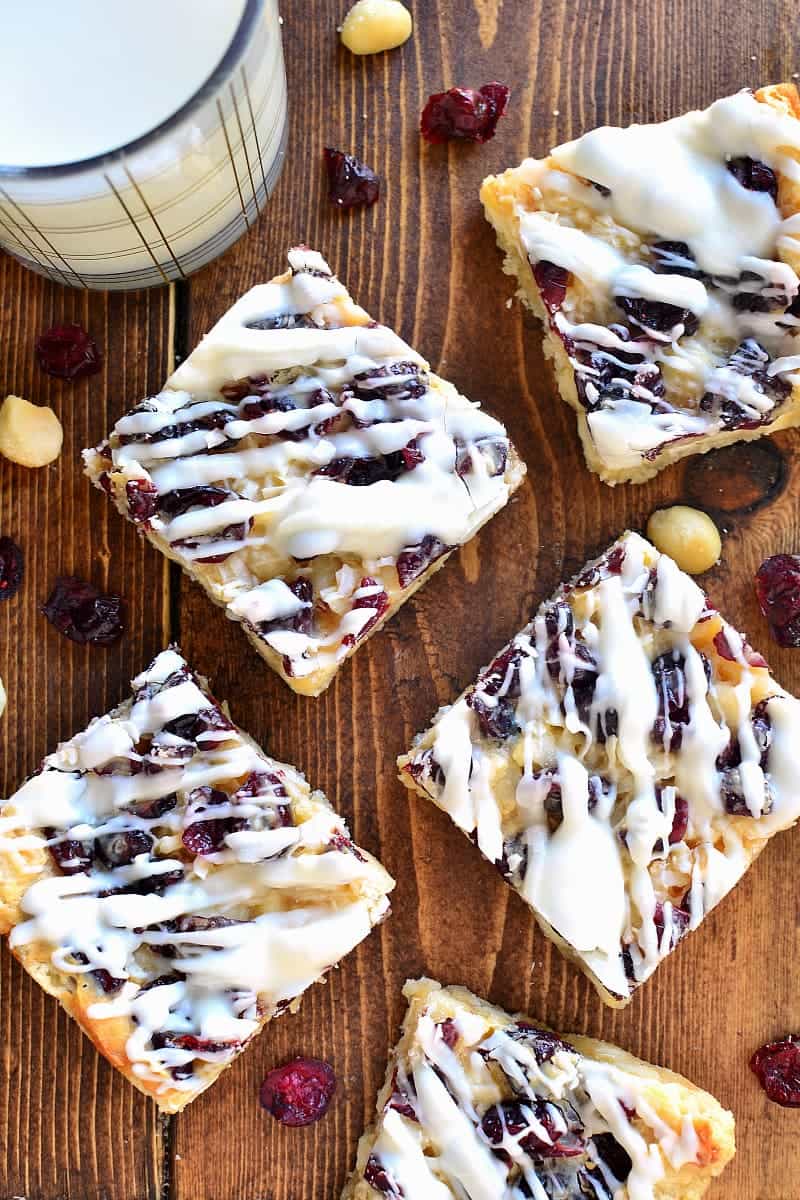 Because she literally wants to do EVERYTHING herself. From taking her pants off to putting her shoes on to getting in her car seat to closing the refrigerator door…..and everything in between. Which means everything takes FOREVER! Especially when I forget, and she demands a redo…..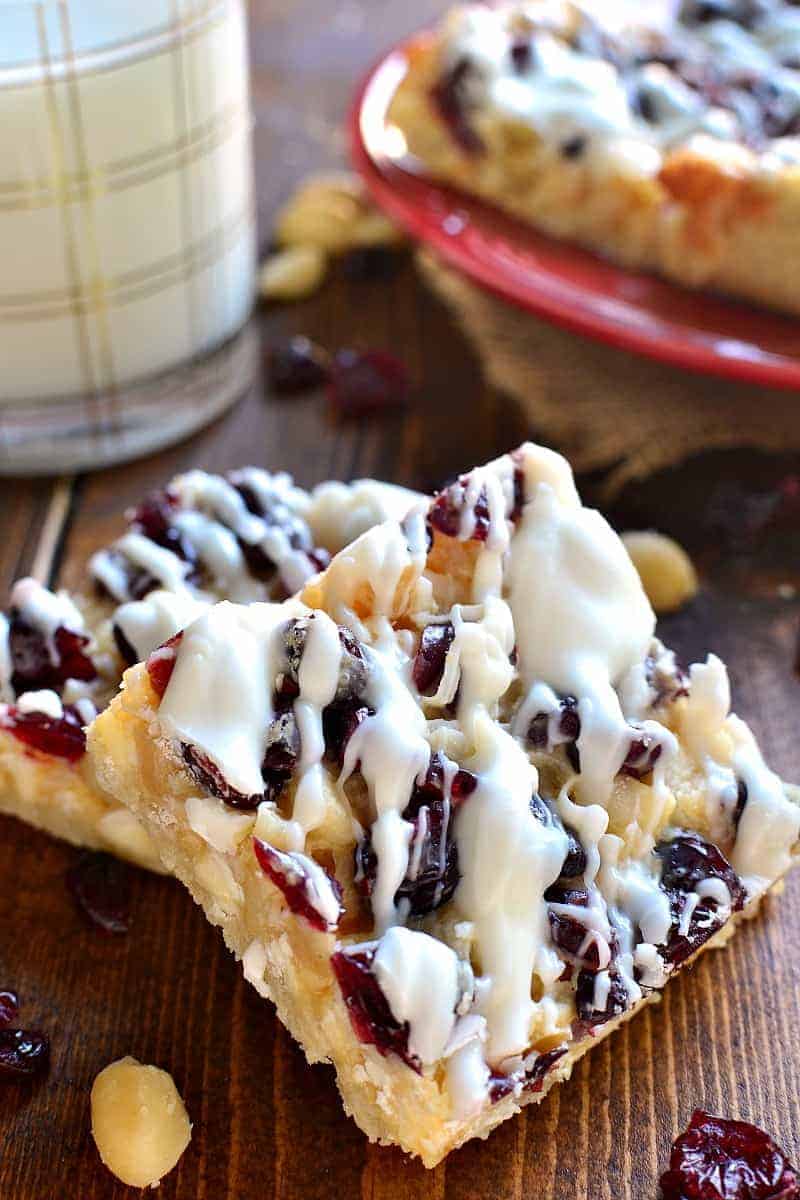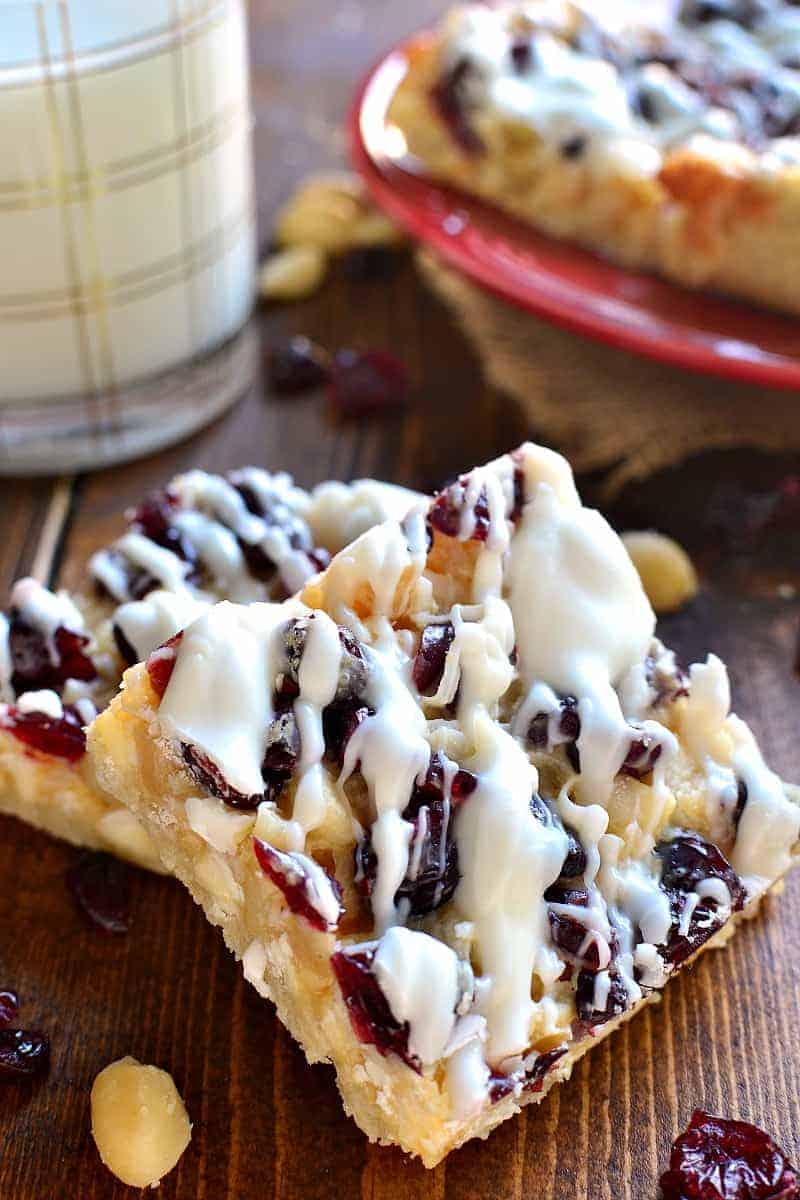 Now, before you tell me it's ridiculous to let a two year old run the show, let me just say: I KNOW!!! I'm finding it ridiculous DAILY. And I'd love to put a stop to it! But I also know that this is a phase….and a necessary one, at that. And rather than shut it down, I feel like it's best to just let it run its course.
And drown my annoyance in White Chocolate Cranberry Macadamia Magic Bars.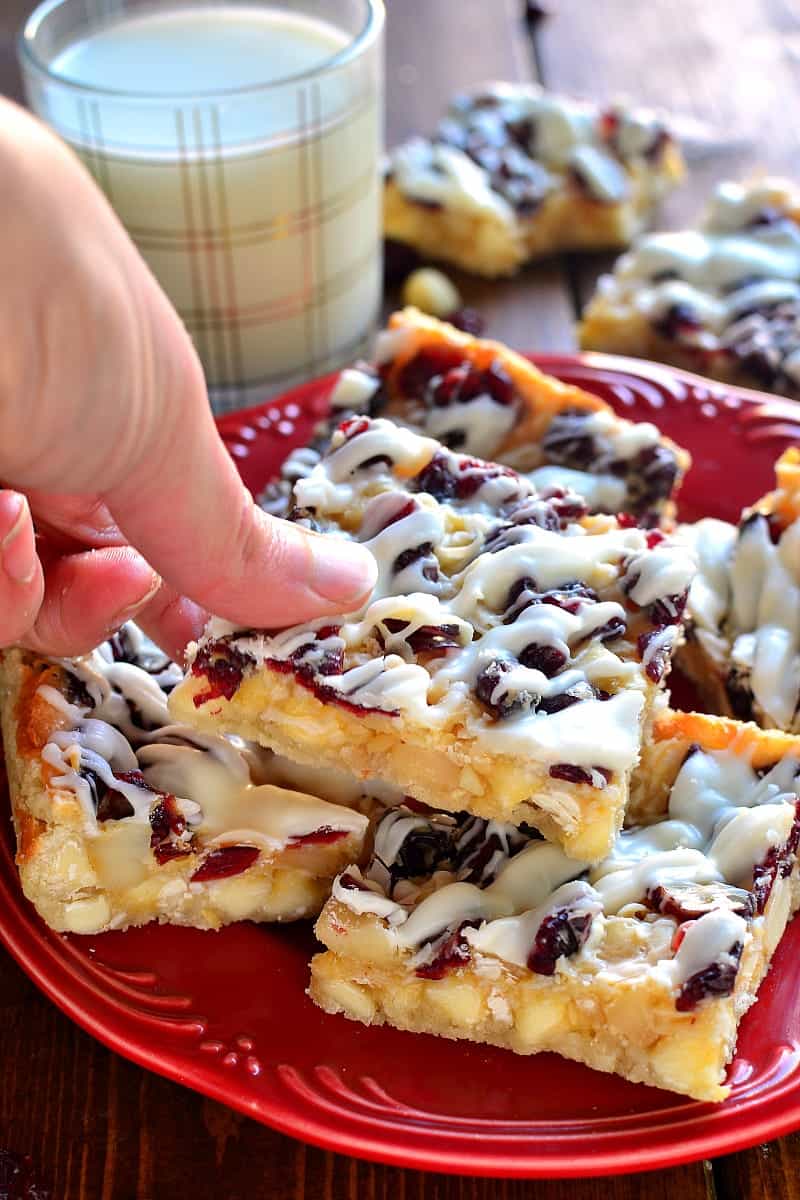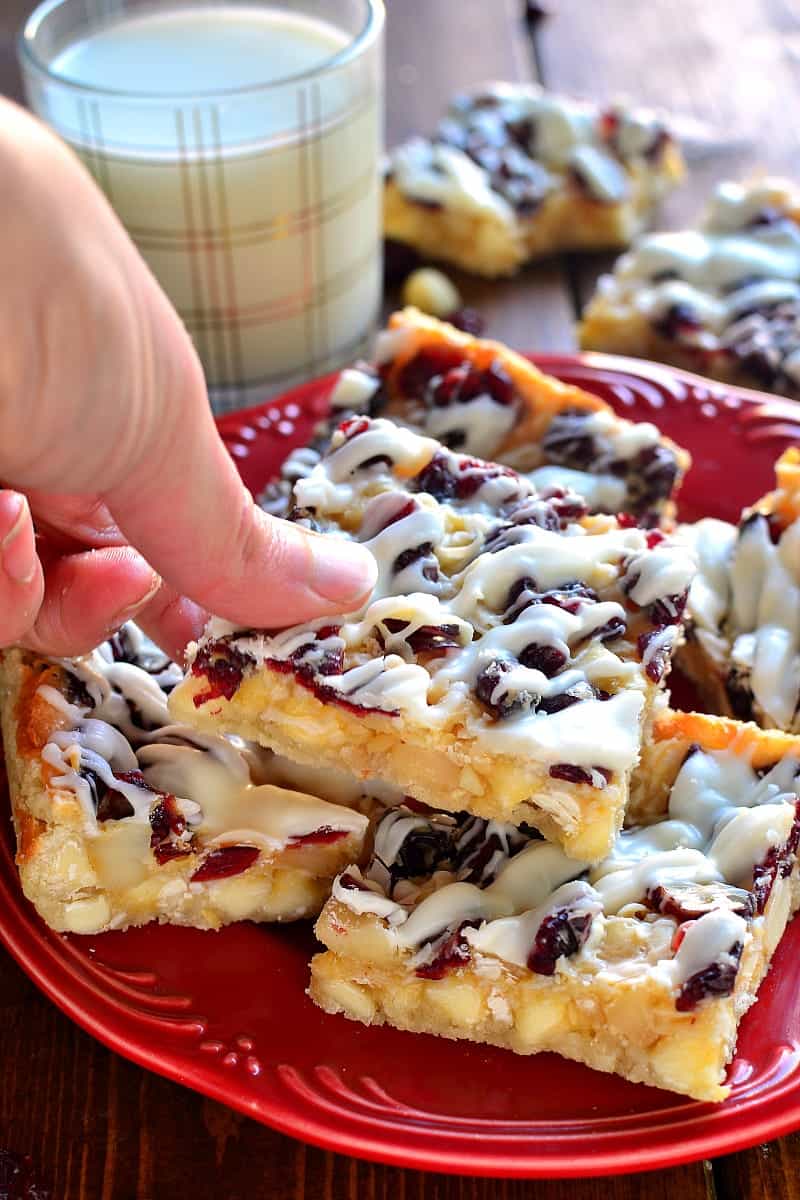 This easy magic bars recipe combines the classic white chocolate cranberry macadamia nut combo with the deliciousness of magic bars. And the result? Well, it's nothing short of magical. There's something about the sugar cookie crust and the cranberries and the coconut and the macadamia nuts….all drizzled in white chocolate and baked to gooey perfection….that's enough to make it all better. At least momentarily. Now let's just hope this phase doesn't last too long. I'd like to have some White Chocolate Cranberry Macadamia Magic Bars to share with the rest of you!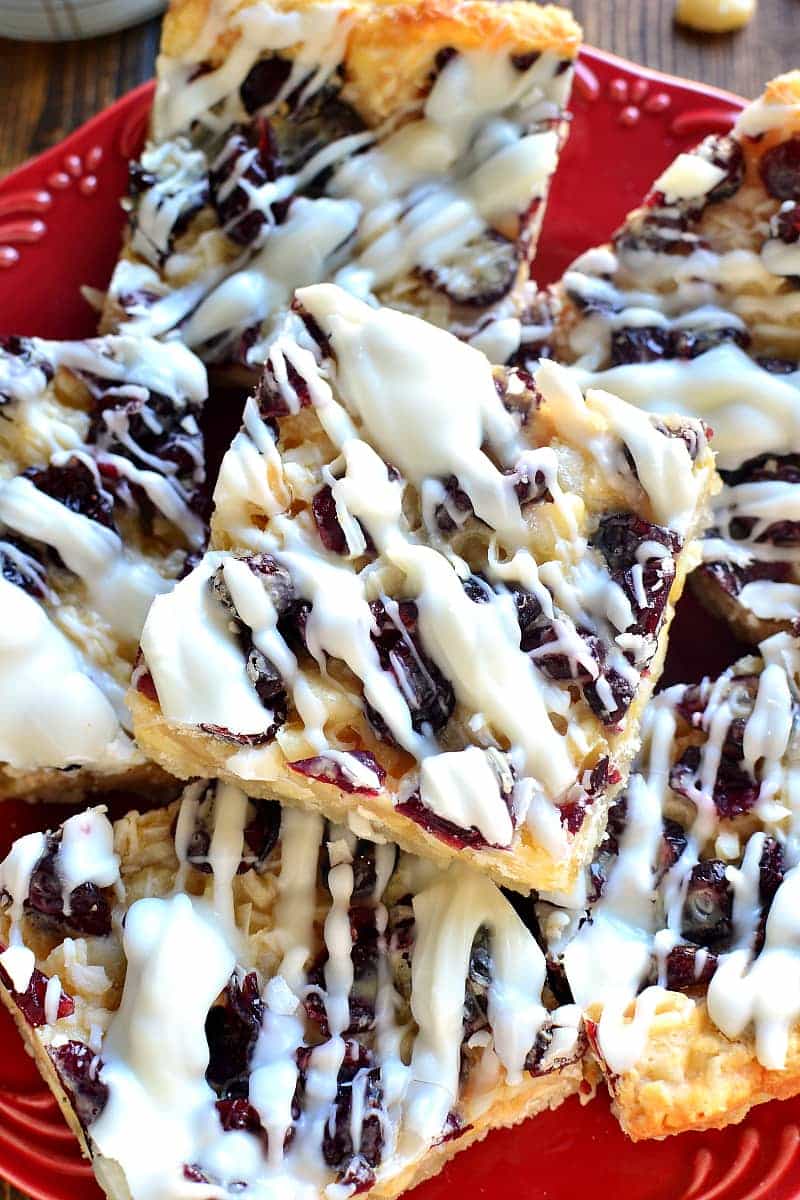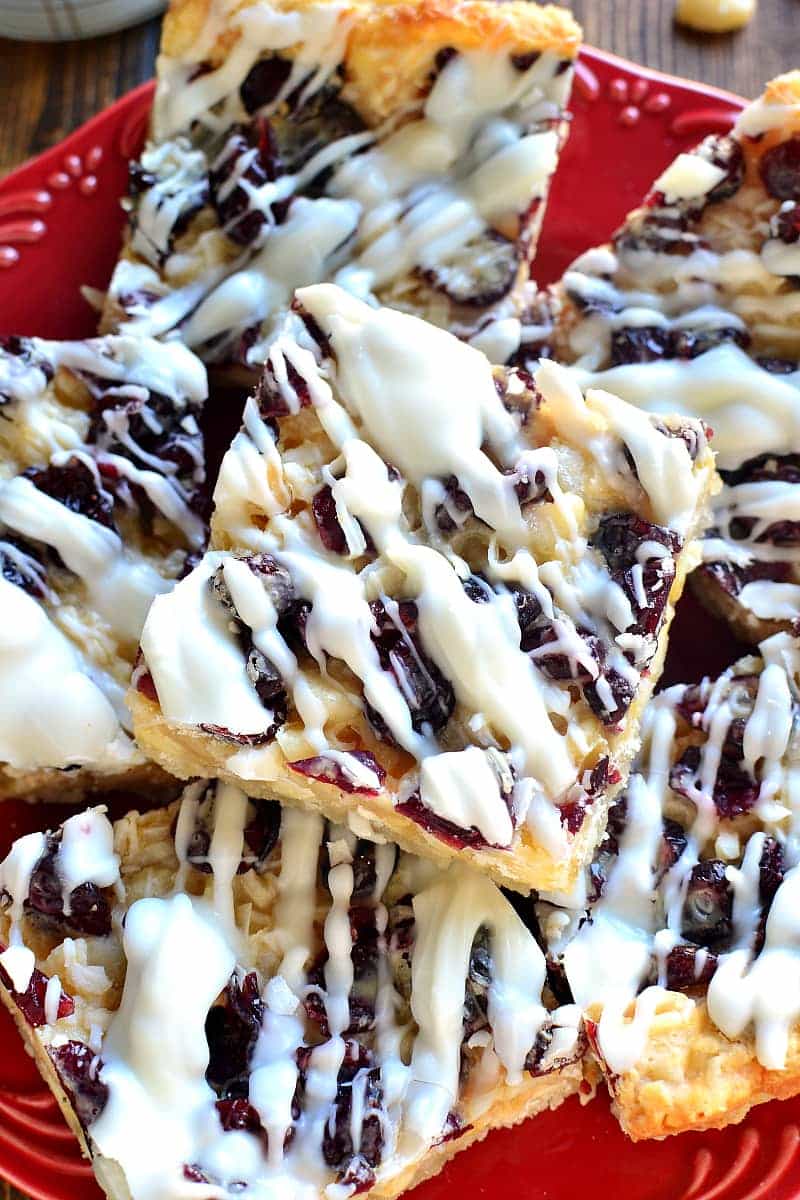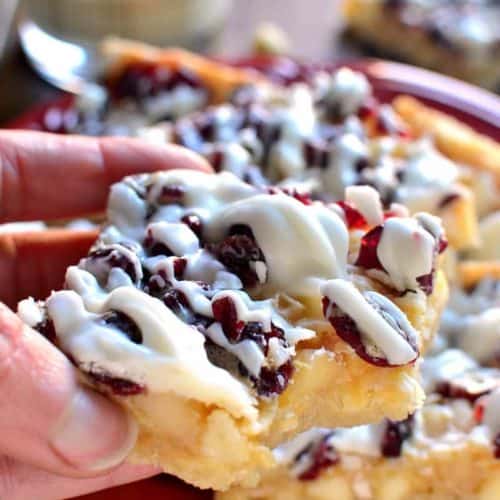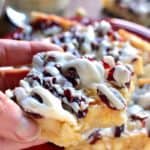 White Chocolate Cranberry Macadamia Magic Bars
Ingredients
1/2

tube refrigerated sugar cookie dough

1

c.

white chocolate chips

divided

1/2

c.

chopped macadamia nuts

1/2

c.

dried cranberries

1/2

c.

shredded coconut

1/2

can

2/3 c. sweetened condensed milk
Instructions
Press sugar cookie dough into greased 8x8 inch pan.

Top with 3/4 c. white chocolate chips, macadamia nuts, dried cranberries, and shredded coconut.

Drizzle with sweetened condensed milk.

Bake at 350 degrees for 25-28 minutes.

Melt remaining 1/4 c. white chocolate chips and drizzle over cooled bars.


More holiday sweet treat recipes: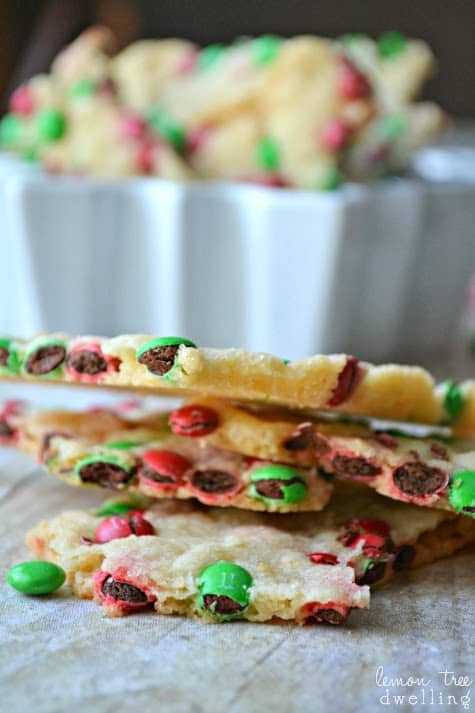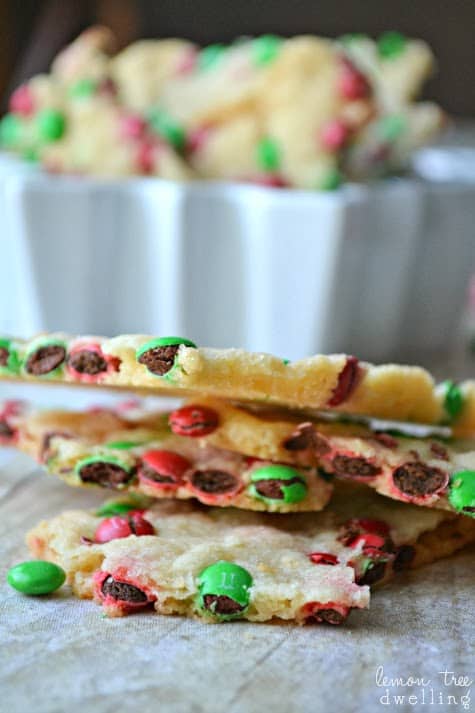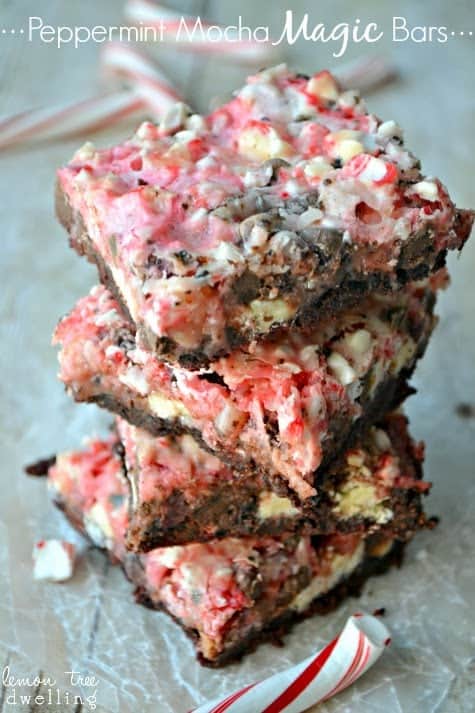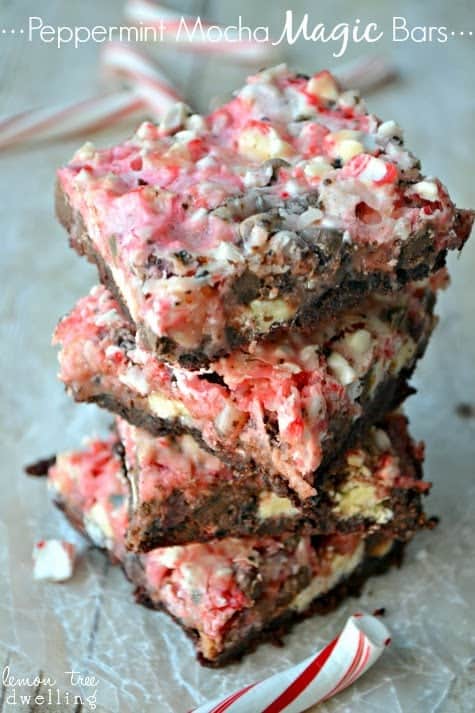 For more great holiday recipes, check out my Pinterest boards!