Cherry Cheesecake Gingerbread Trifle is the perfect dessert recipe for the holidays! It's easy to make, delicious to enjoy, and guaranteed to impress all your holiday guests!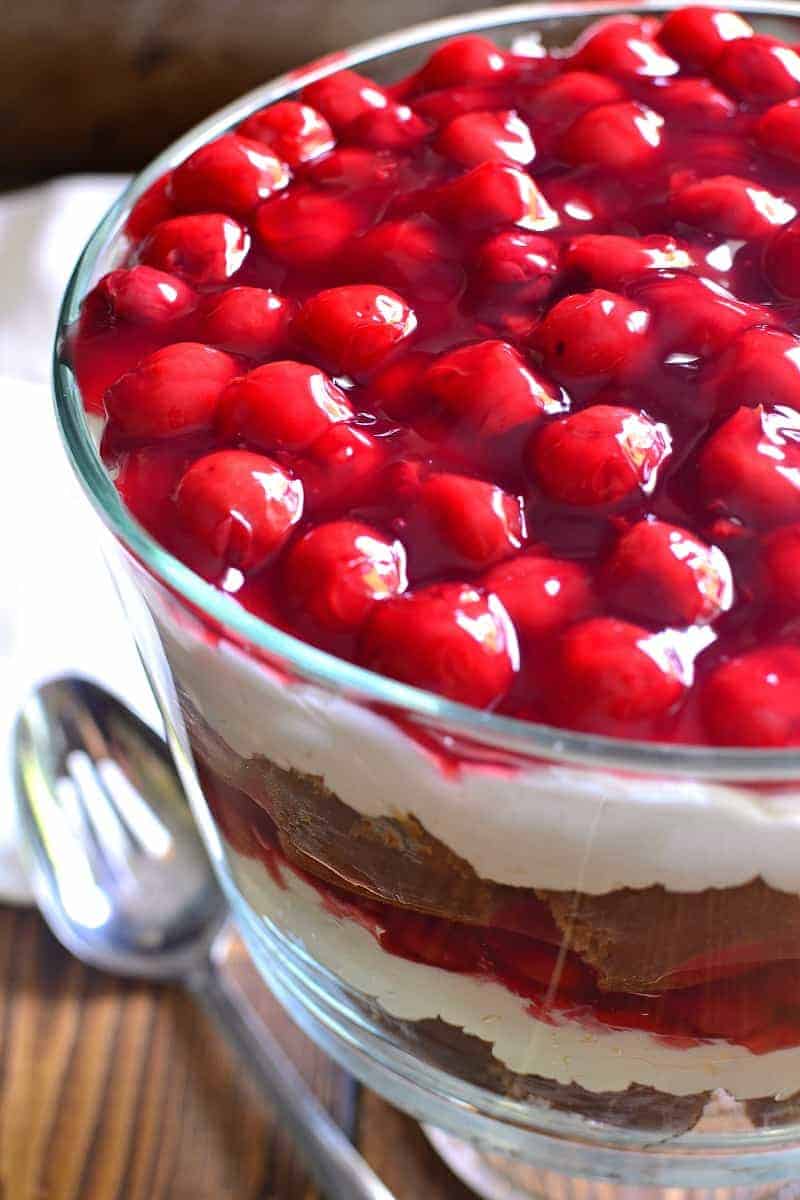 You know those things about your family that you don't really notice until someone else points them out? Like the fact that you're all loud talkers or the fact that everyone gets their humor from Dad or....in the case of my family....the fact that you're ALL obsessed with desserts!?!?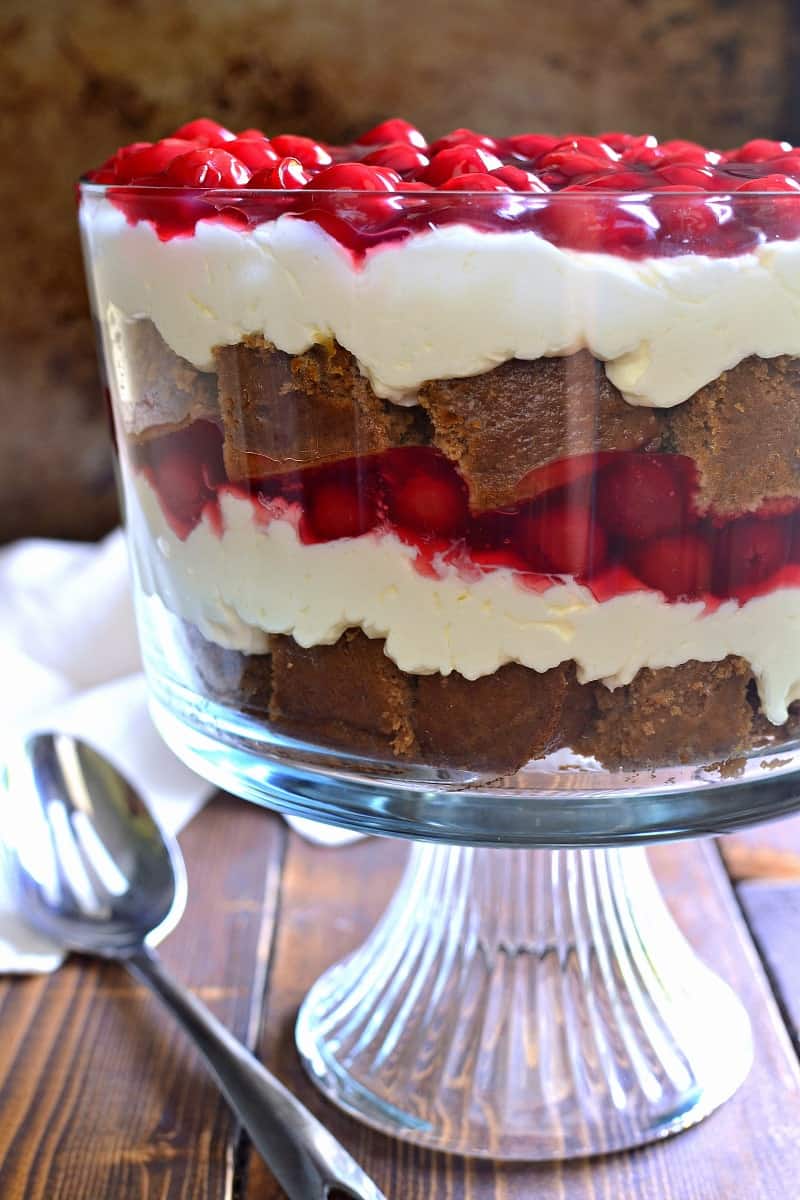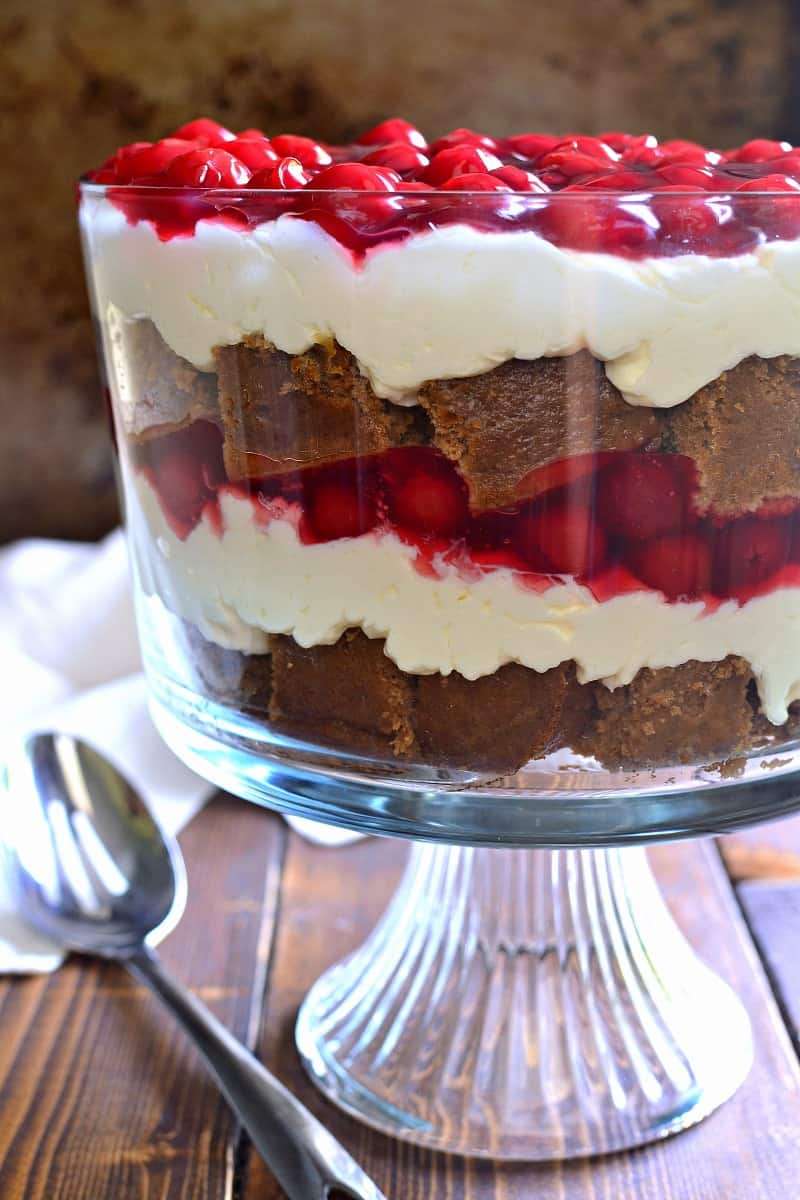 I partnered with Lucky Leaf to bring you this recipe, but as always, all ideas & opinions are my own!
Check out the video for this recipe on YouTube!
It's true. My family has an obsession with desserts! I never really noticed it growing up...because back then, it just seemed normal. But now that I'm an adult, and I have other families to compare mine to, I realize that it's not completely "normal" to have an entire dessert buffet at every family gathering.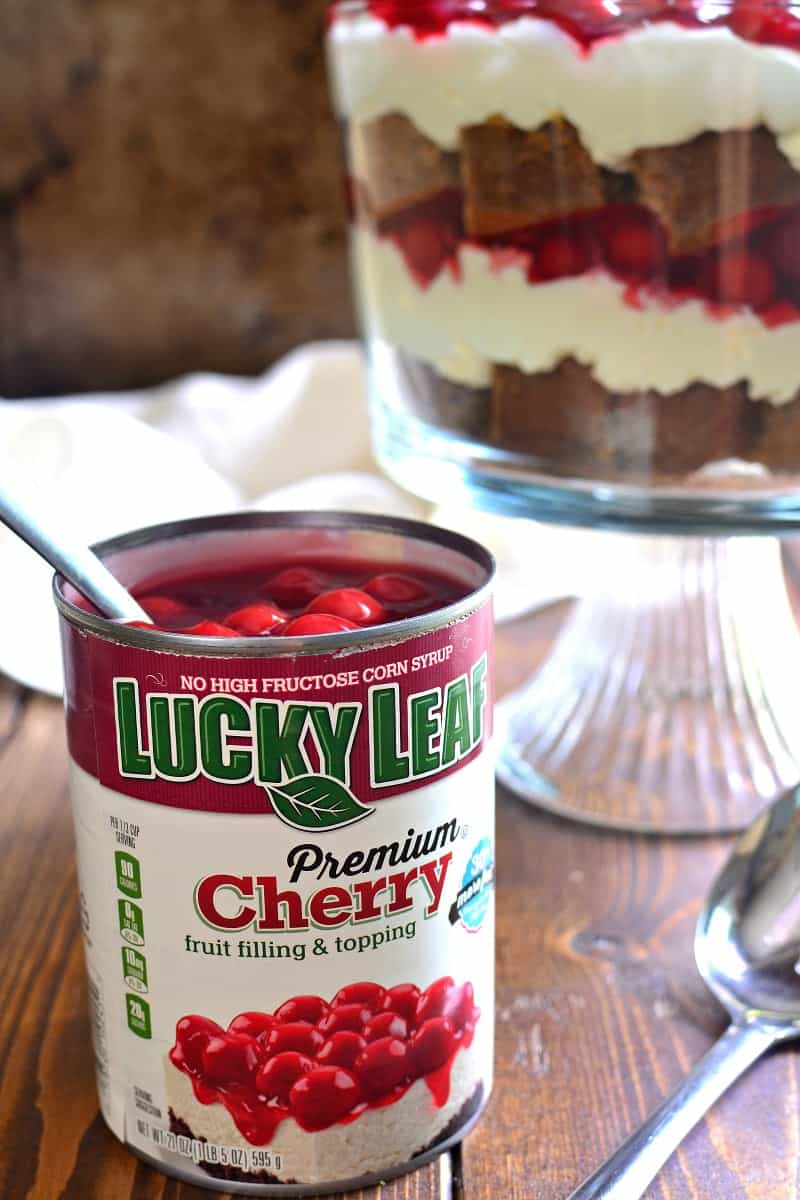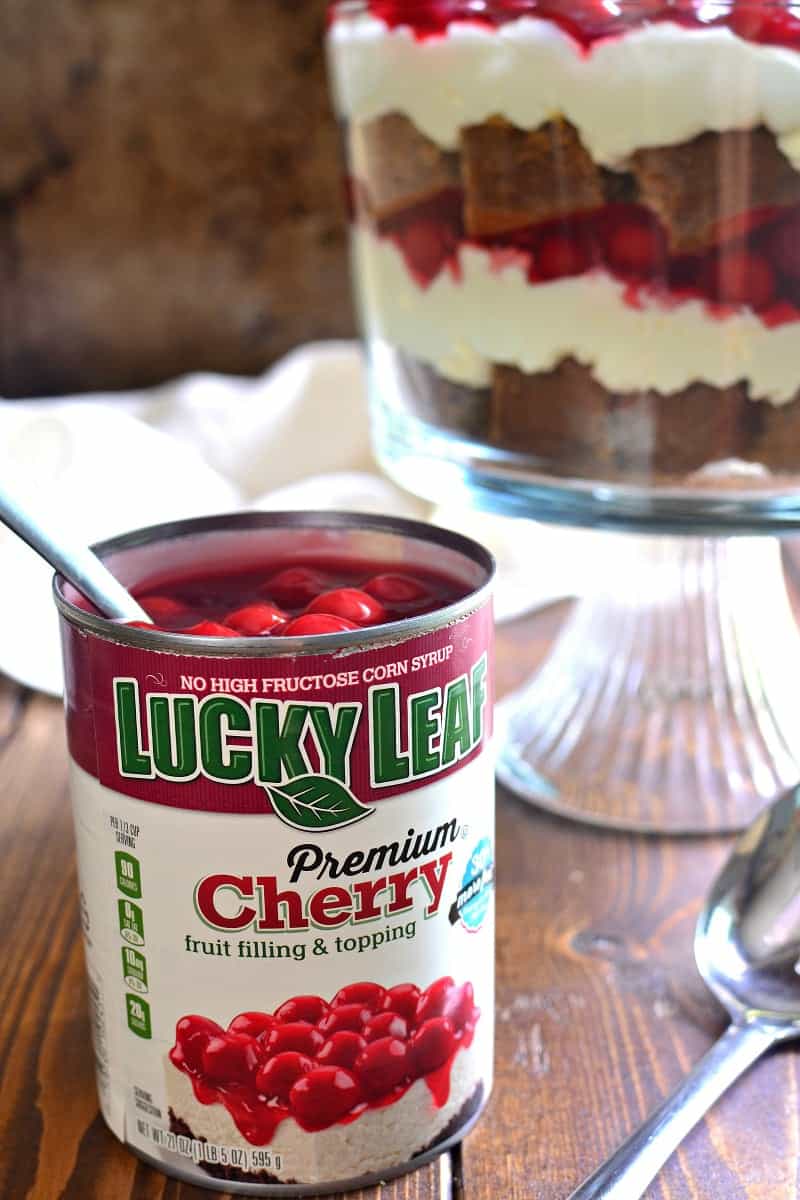 It's true! We typically have at least 3 dessert options any time we get together...and when the holidays come around, you better believe there are even more. And you know what? I wouldn't change it for the world. There's just something about dessert (and lots of it) that feels like home...and family...and togetherness. If there's one thing that's guaranteed to make everyone happy, it's dessert!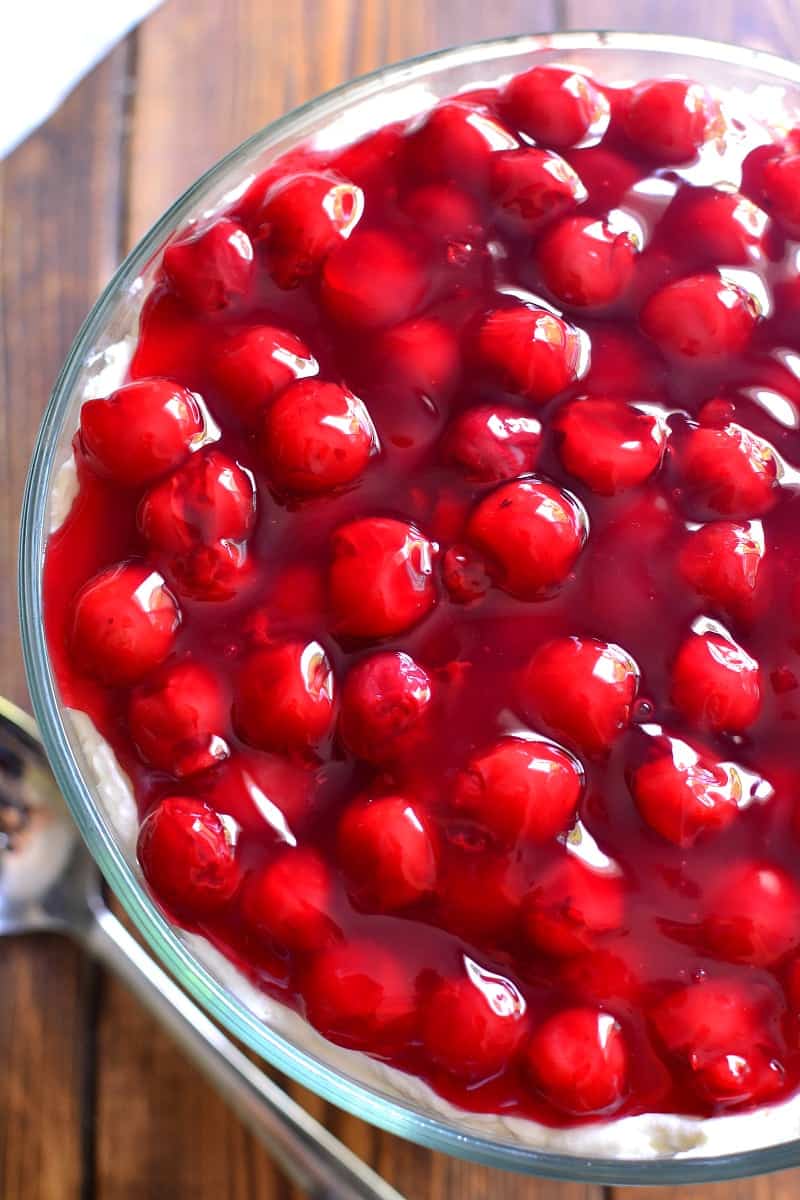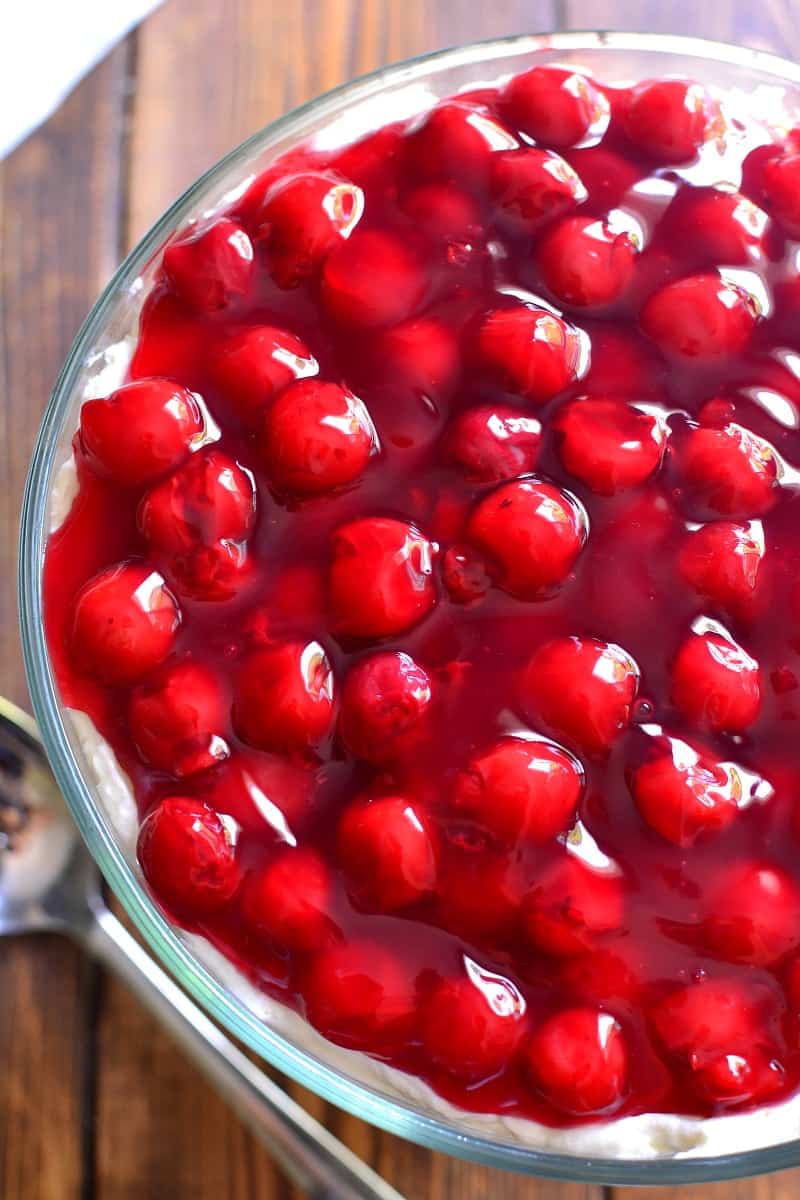 So naturally, I've started to give some thought to what I'll be making for this year's get togethers. And naturally, this Cherry Cheesecake Gingerbread Trifle came to mind! Because, well, it's a no-brainer. Cheesecake is always a holiday favorite, and no holiday season is complete without gingerbread! Add in some Lucky Leaf fruit filling, and you have an easy, delicious Cherry Cheesecake Gingerbread Trifle that's guaranteed to impress.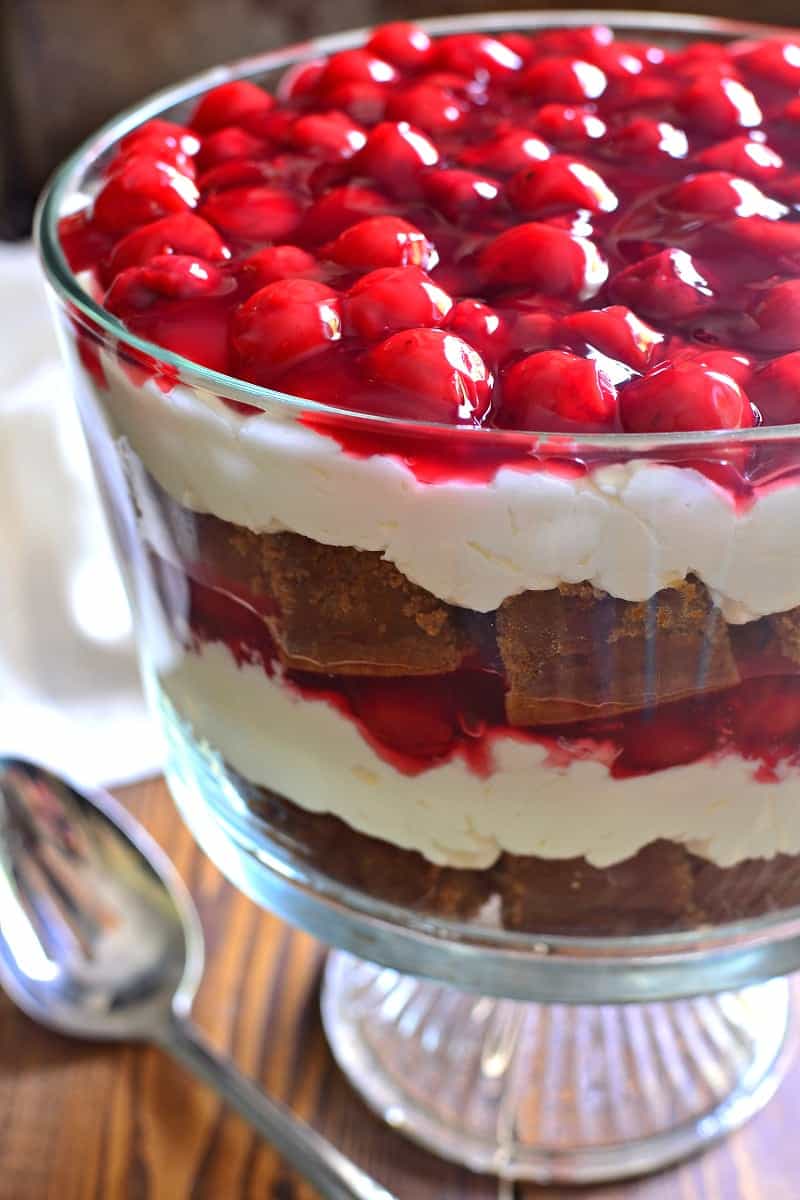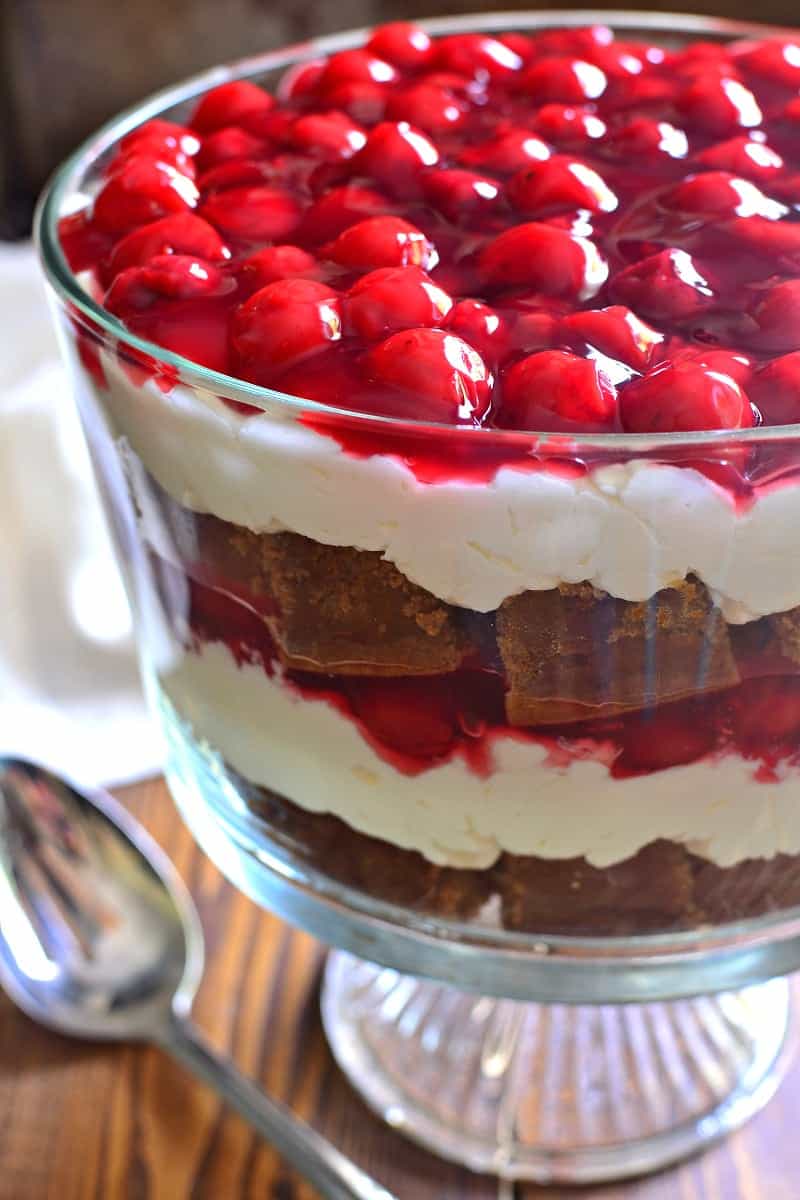 I'm such a fan of Lucky Leaf fruit filling because it's so easy to use and literally makes every dessert better! We all know how crazy the holidays can be, and anything that makes life easier is a total win. This holiday season, Lucky Leaf is offering simple, easy-to-follow holiday recipe videos to help you find YOUR perfect holiday treat. The videos will be shared weekly on Lucky Leaf's Facebook page, and any fan who likes or comments on that week's video will be entered into a weekly gift card giveaway. As if that's not exciting enough, Lucky Leaf is encouraging fans to share their simple holiday recipes by entering on Facebook or the Lucky Leaf website. The top 10 finalists will each receive a $250 Amazon gift card!!
Update: The sweepstakes giveaway is over, but there are still delicious recipes to see on the Lucky Leaf website!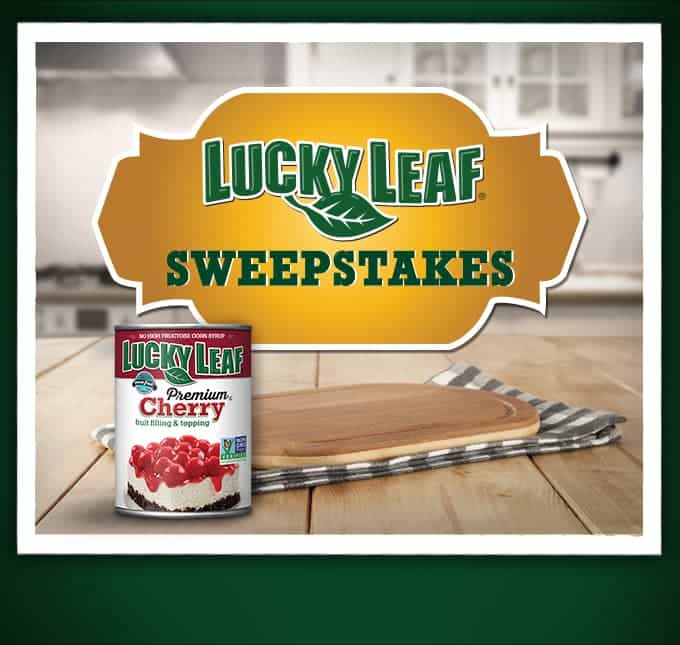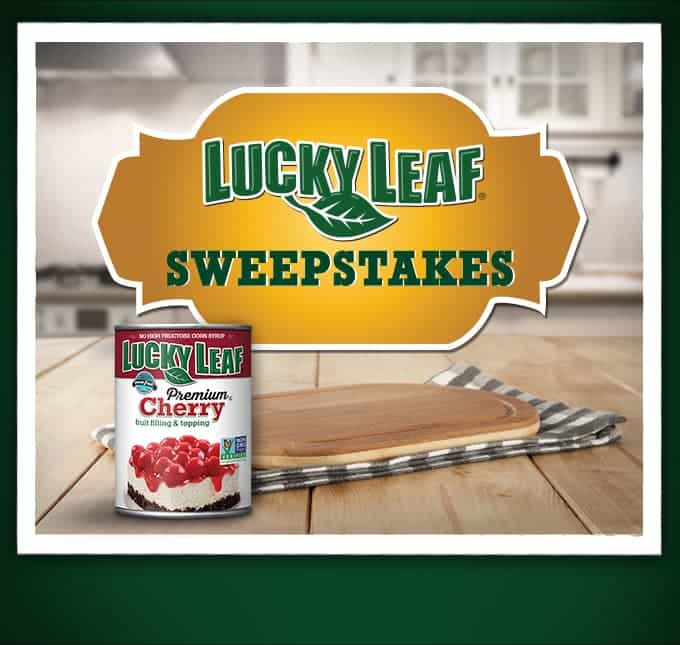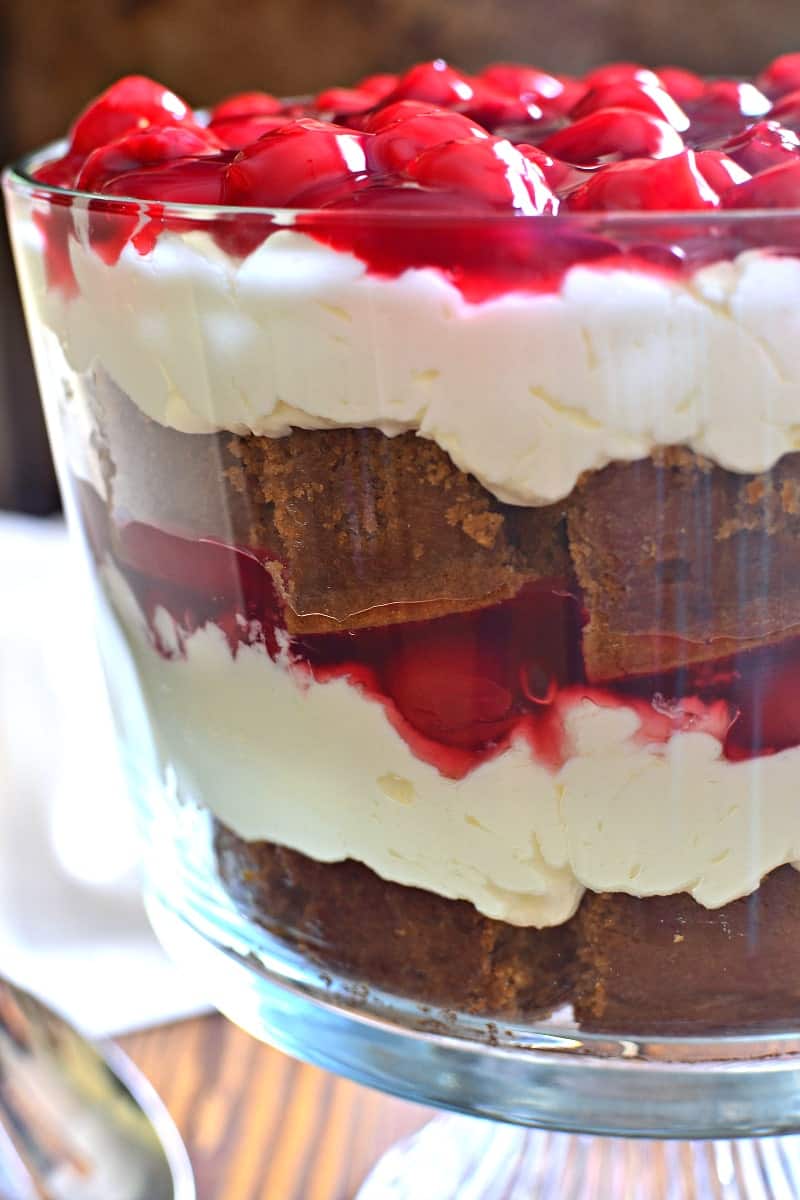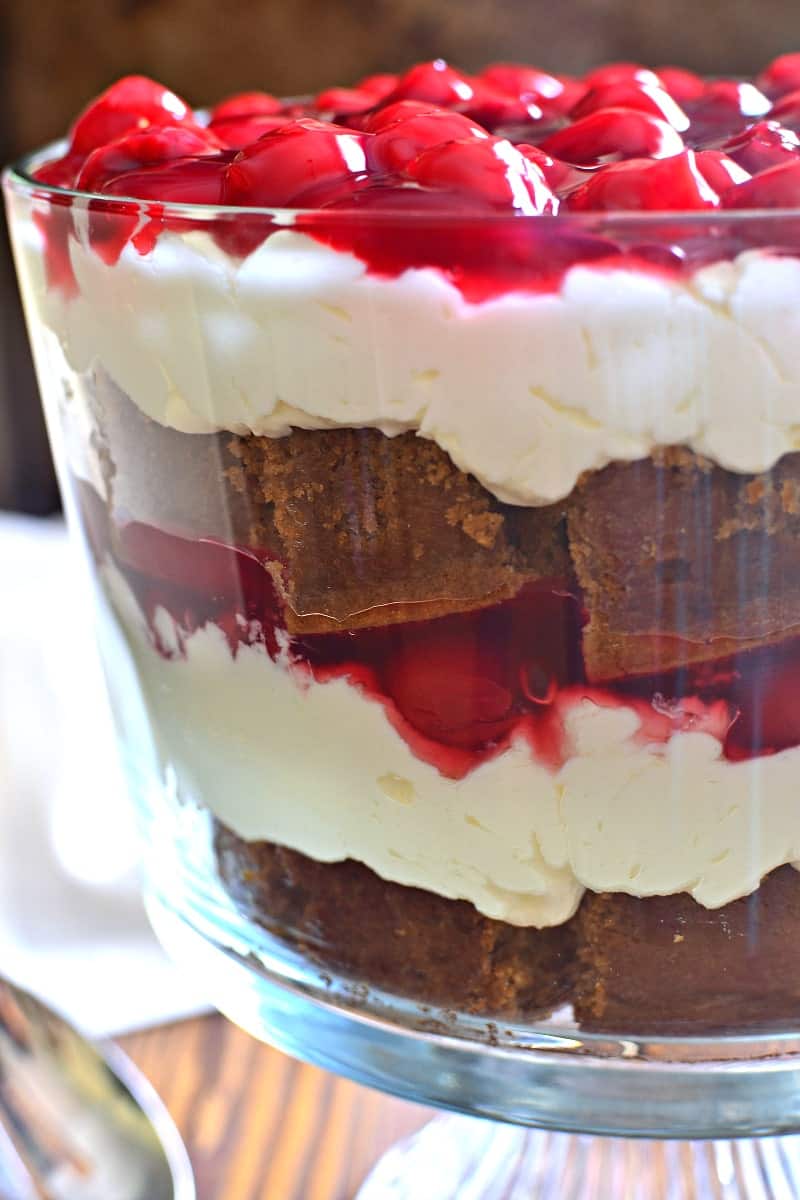 This Cherry Cheesecake Gingerbread Trifle recipe means the holiday season is looking pretty sweet, if you ask me.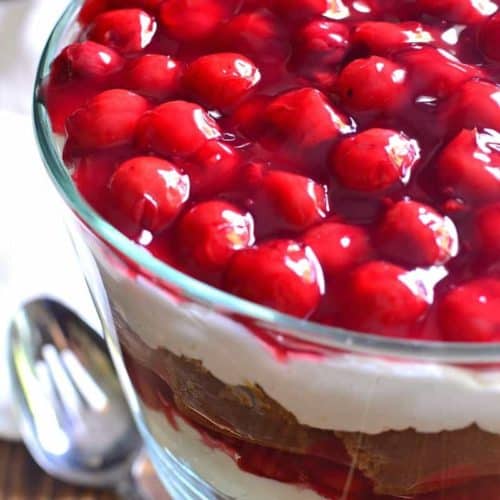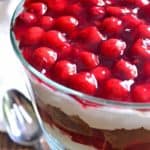 Cherry Cheesecake Gingerbread Trifle
Ingredients
1

box Gingerbread Cake Mix

2

cans Lucky Leaf Cherry Pie Filling

2

c.

heavy cream

very cold

8

oz.

cream cheese

at room temperature

4

Tbsp.

sugar

1

tsp.

vanilla extract
Instructions
Prepare cake according to package instructions. Cool completely.

Cut into 1 inch squares; layer half of cake in the bottom of an 8 inch trifle dish.

In a large chilled mixing bowl, combine heavy cream, sugar, and vanilla extract.

Using chilled beaters, beat on high speed until stiff peaks form.

Cut cream cheese into four pieces and add them to whipped cream.

Continue beating on high speed until cream cheese is fully incorporated.

Layer half of cream cheese mixture on top of gingerbread cake in trifle dish.

Top with 1 can Lucky Leaf Cherry Pie Filling.

Repeat layers, ending with Cherry Pie Filling on top.