The BEST homemade Streusel Topping! This recipe is sweet, crunchy, and completely foolproof. The perfect addition to all your favorite baked goods!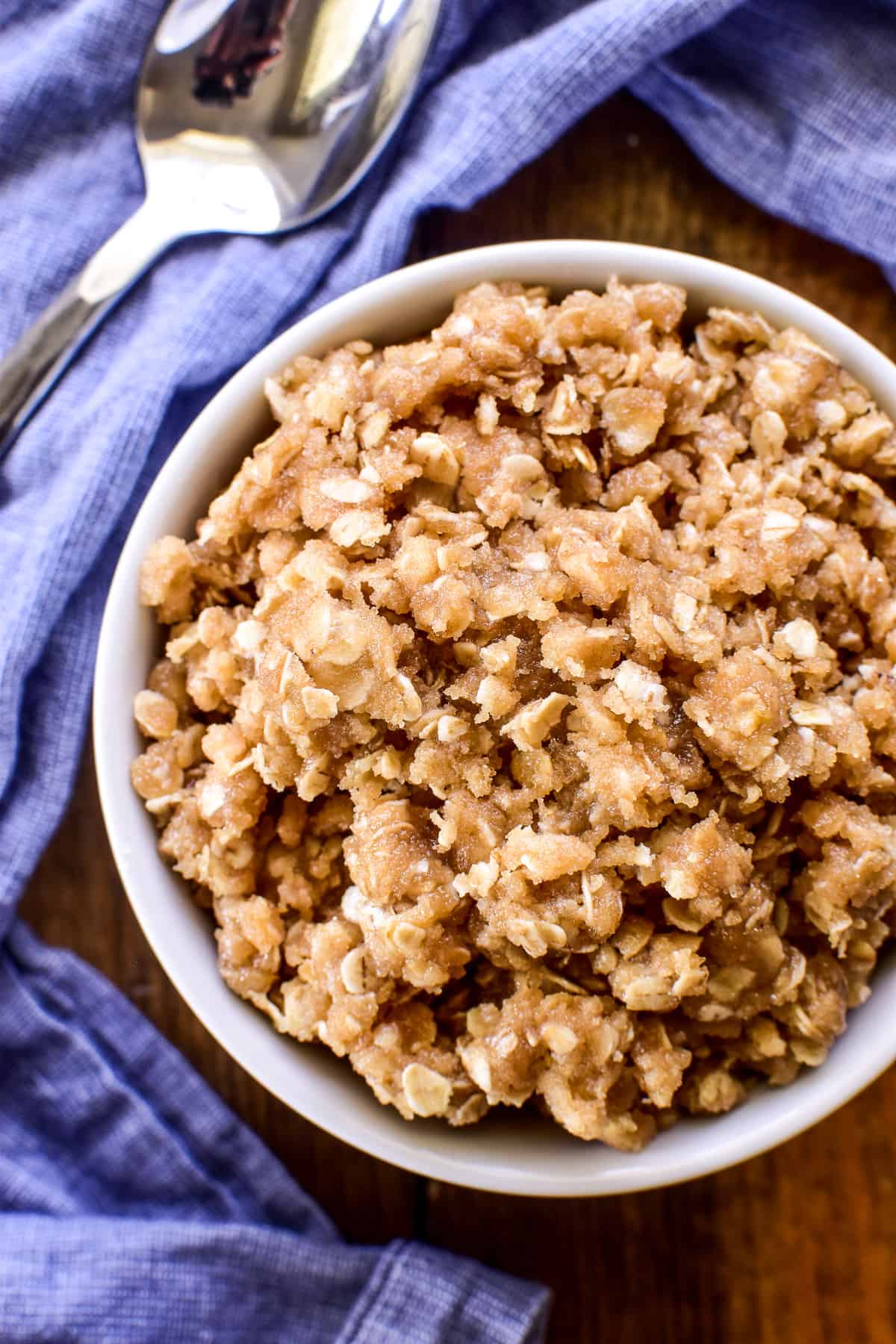 If there's one thing that's true about baking, it's that streusel makes everything better. And I mean EVERYTHING. From blueberry muffins to caramel apple coffee cake to Pumpkin Cheesecake Dip, there's something about a delicious crumb topping that takes all your favorite goodies to the next level.
It's sweet, buttery, and perfectly crunchy… and even though you could argue you don't NEED a streusel topping… the reality is you literally always want it. And when it's this easy to make… why not!?
Just like any recipe, there are countless different ways to make streusel. But. My way is the best way. Because it's SO easy to make… and it's completely foolproof!
What we love about this recipe
There's so much to love about this recipe, but there are a few specific things that set it apart from the rest:
It's EASY! Just 4 everyday ingredients is all you need… and it comes together in minutes.
It's made with melted, not softened, butter. Which not only makes it easier (no pastry blender necessary) but it also makes it foolproof! No wondering whether your butter is at the right temperature or whether it's fully mixed in. It turns out perfect every time!
It's hearty! I love a streusel topping with oats because it's thicker, heartier, and more satisfying than without.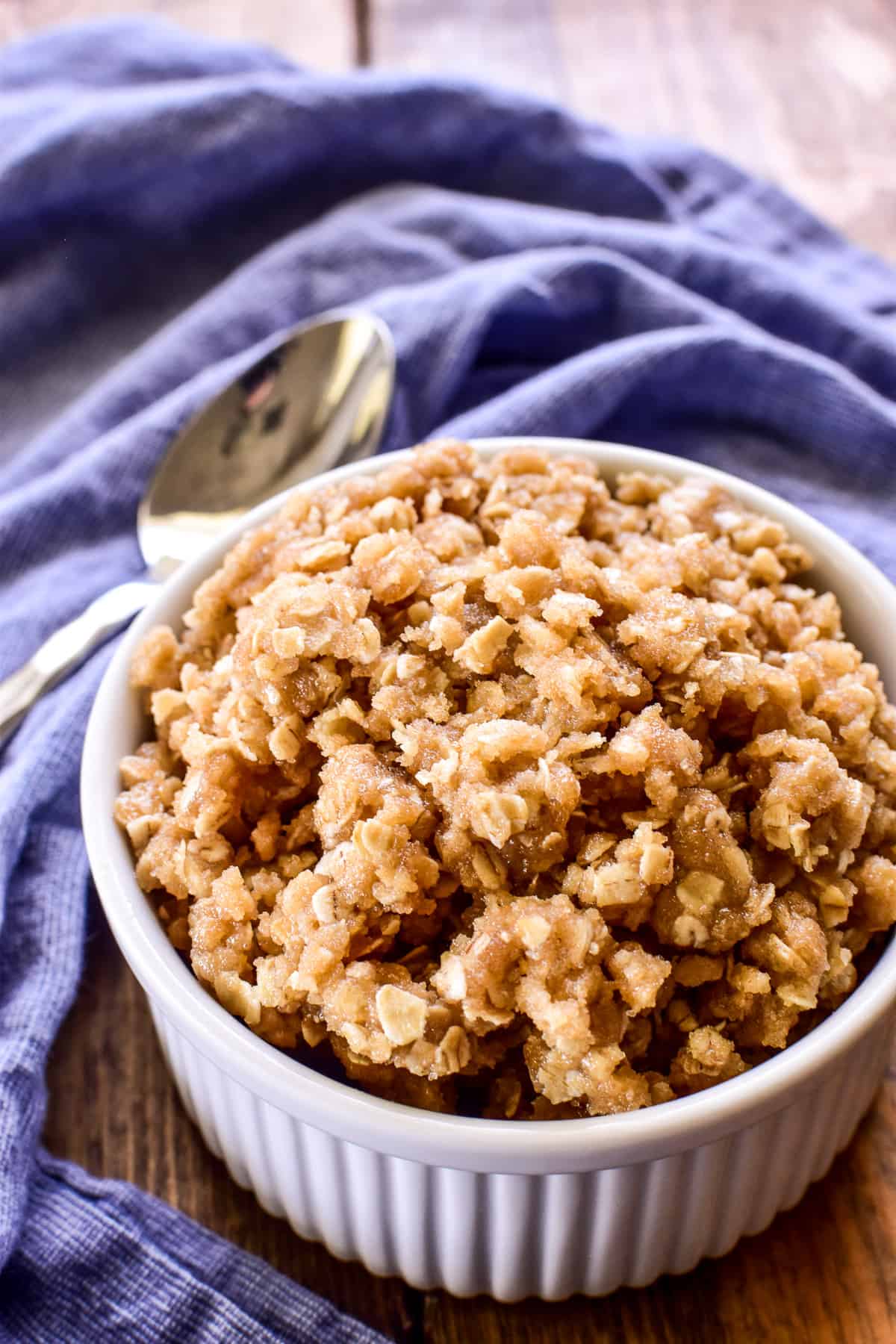 What is streusel topping?
Streusel topping is a crumb topping made with flour, butter, and sugar. It can also be made with oats, nuts, or spices such as cinnamon or nutmeg. Streusel topping is baked on top of muffins, breads, pies, and cakes and can also be layered in the middle of a recipe.
What is streusel topping made of?
Butter – I always use salted butter in my streusel topping because I love the slight salty-sweet combination. If you're trying to cut back on sodium, or if you prefer less salt, feel free to use unsalted butter.
Sugar – I used brown sugar for the flavor, but you can substitute granulated if you prefer.
Flour – All purpose or any kind you have on hand
Oats – Quick oats work best!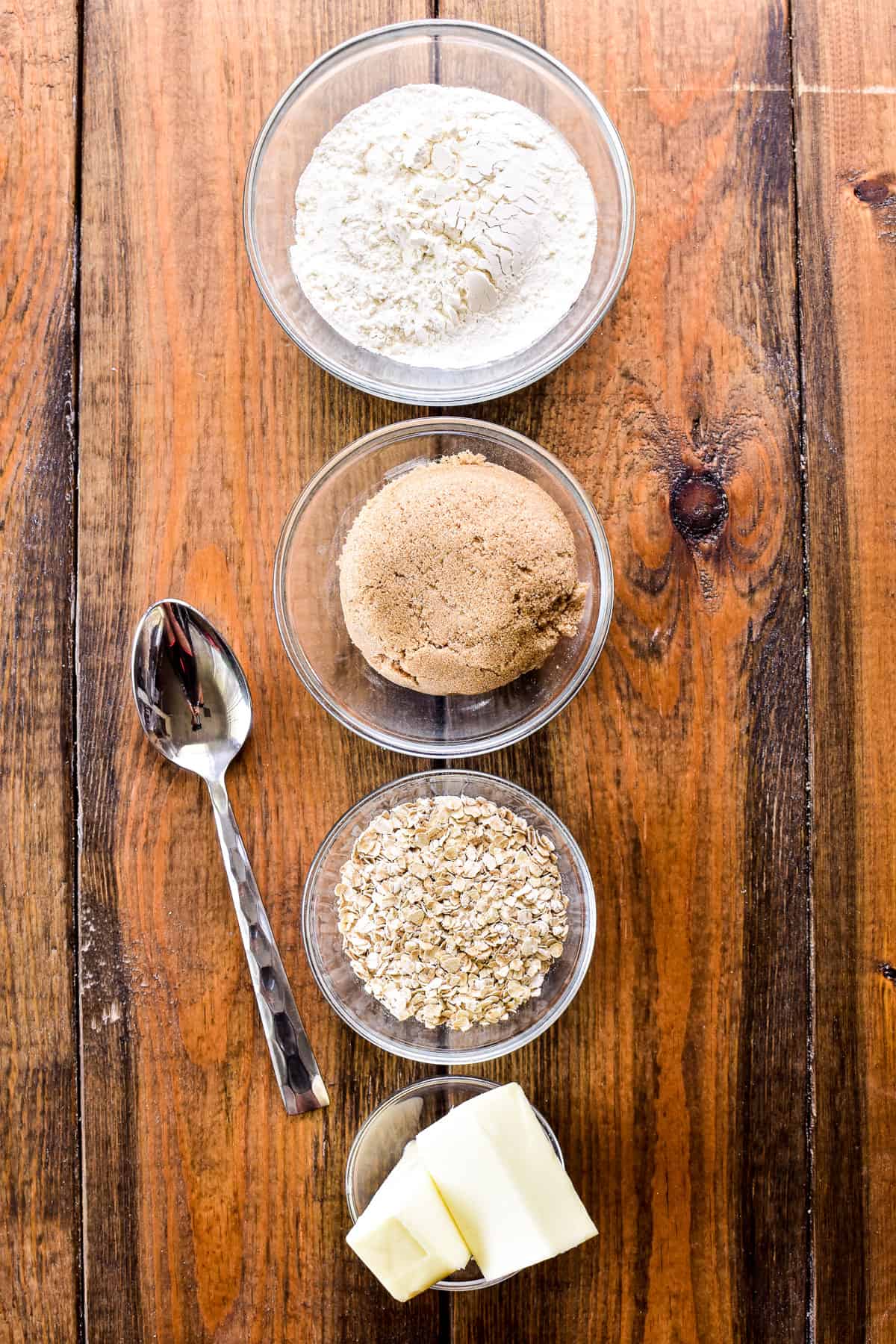 How to make streusel topping
Melt the butter – My favorite thing about this recipe is that it uses melted butter! To save dishes, I recommend melting your butter in the microwave in a bowl that is large enough to combine all the ingredients.
Combine the ingredients – To the melted butter, add the flour, oats, and brown sugar.
Mix with a fork – Use a fork to mix gently until all the ingredients are combined and large crumbs form. Be careful not to over-mix… the large crumbs are what you're going for!
Sprinkle – Sprinkle streusel topping on top of quick breads, muffins, or cakes before baking. Bake according to recipe instructions.
Recipe variations
Add chopped walnuts, pecans, or peanuts
Omit the oats
Add shredded coconut
Add your favorite spices, such as cinnamon, nutmeg, or cardamom
Substitute granulated sugar for brown sugar or use a combination of the two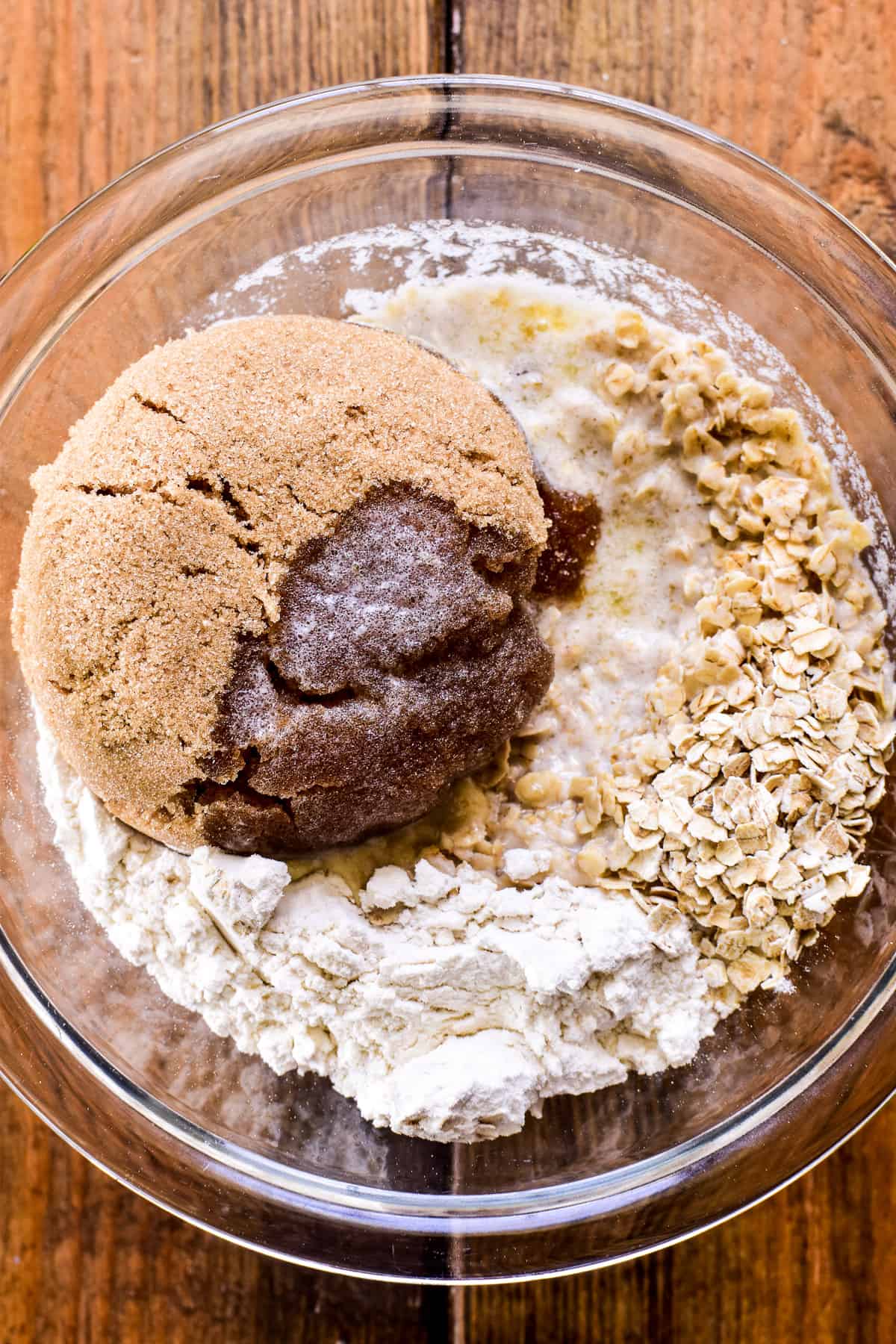 How to use Streusel Topping
This simple crumble topping is the perfect finishing touch to any of your favorite breads, muffins, or desserts. These are some of our favorite recipes to use it with:
Make-ahead and storage tips
Streusel can be made in advance and stored in an airtight container in the refrigerator until you're ready to use it. Likewise, any leftover streusel can be stored in the refrigerator and should be used or frozen within 1 week.
To freeze streusel, place it in a plastic freezer bag or freezer-safe container. Frozen streusel should be used within 3 months.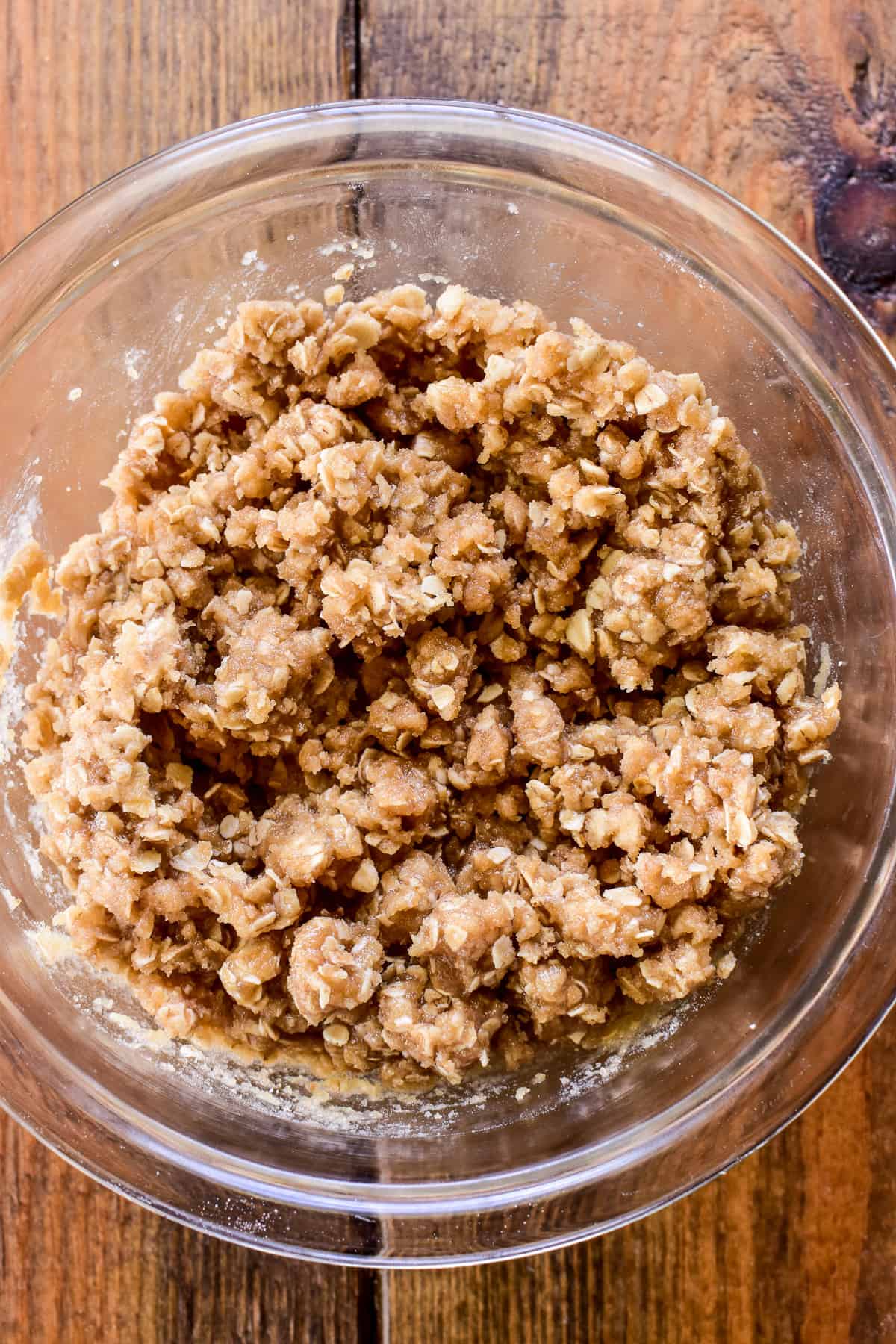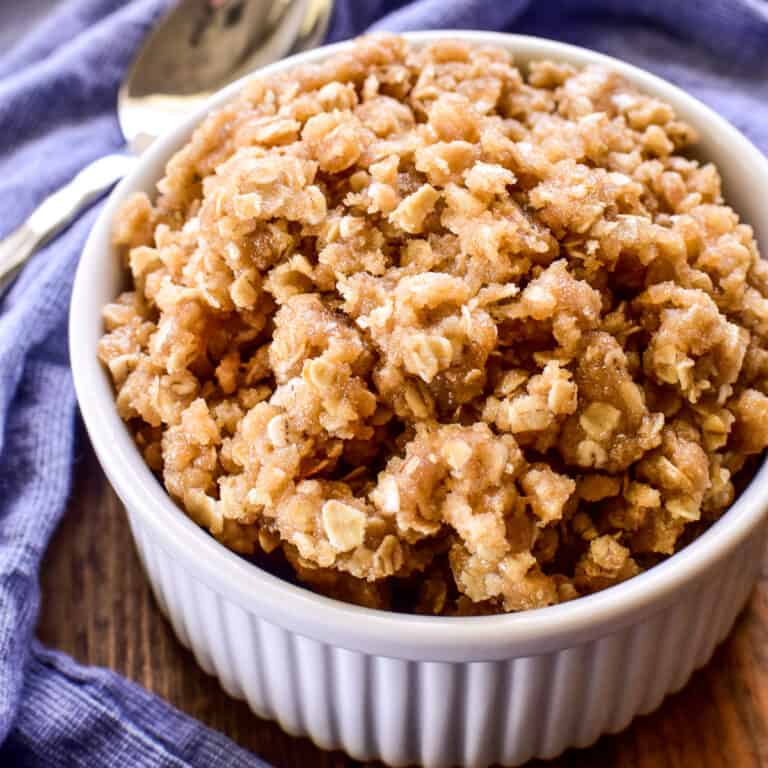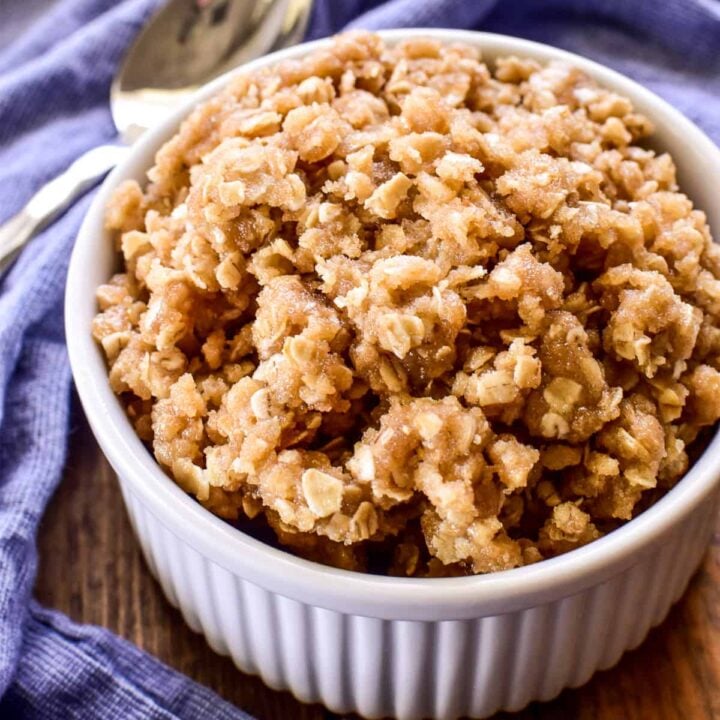 Streusel Topping
Ingredients
1/2 cup butter, melted
1 cup brown sugar
3/4 cup all purpose flour
3/4 cup quick oats
Instructions
Combine all ingredients in a medium mixing bowl.
Using a fork, mix until large crumb form.
Sprinkle over muffins, breads, or cakes before baking.