This Strawberry Pie has fresh strawberries mounded high in a rich, buttery crust. A little (or big) slice of delicious. The perfect summer dessert and my favorite strawberry pie!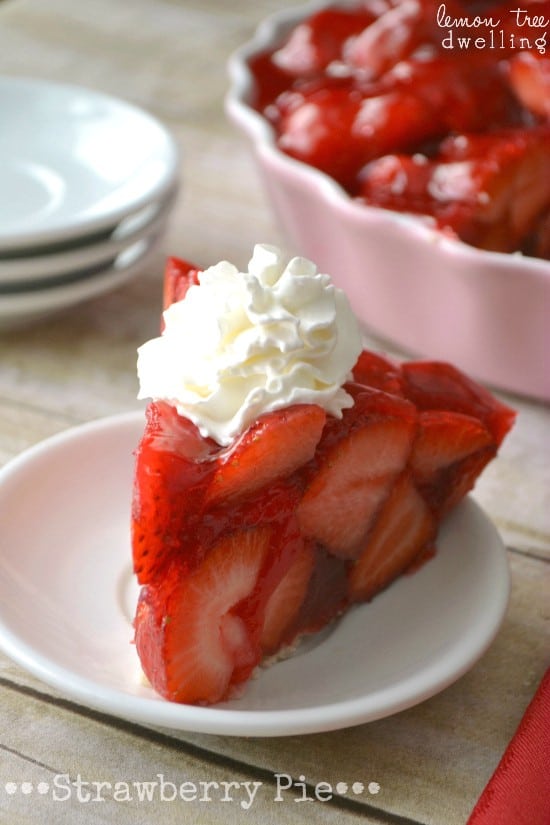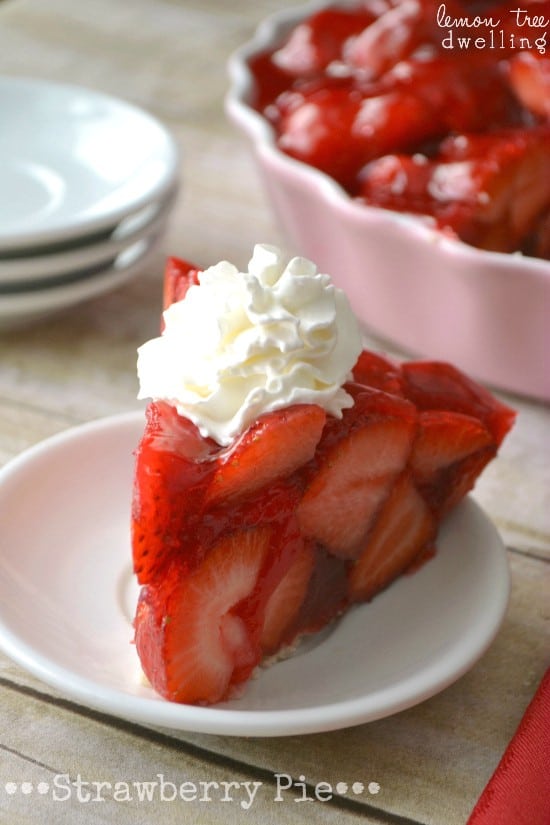 Every summer, since Ellia turned one, we have had a big birthday bash to celebrate our kids! First it was just for Ellia, then for Ellia & Greta, and for the past two years it's been for all three girls. We've had seven different themes, ranging from polka dots to zoo animals to butterflies to bumblebees to princesses to a backyard picnic and, most recently, a Red, White & Blue Garden Party. If we decide to do it again this year, it will be our eighth year in a row…..and…..we will have a brand new baby!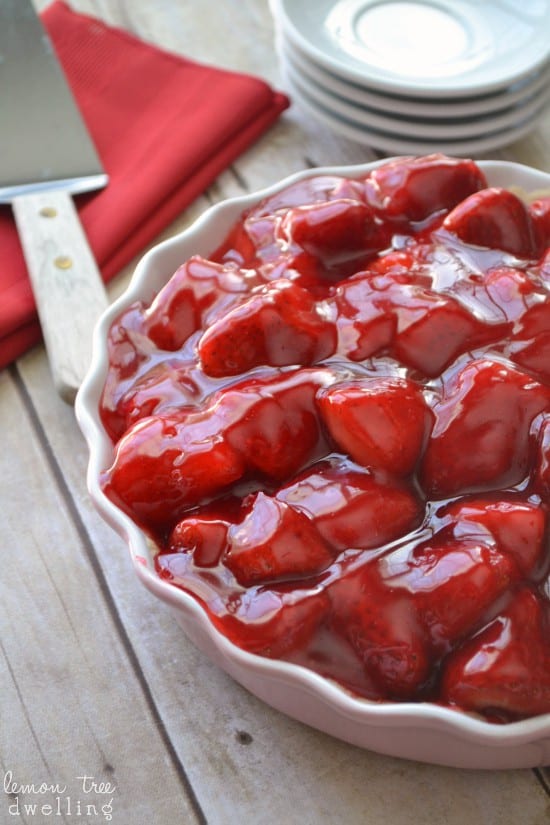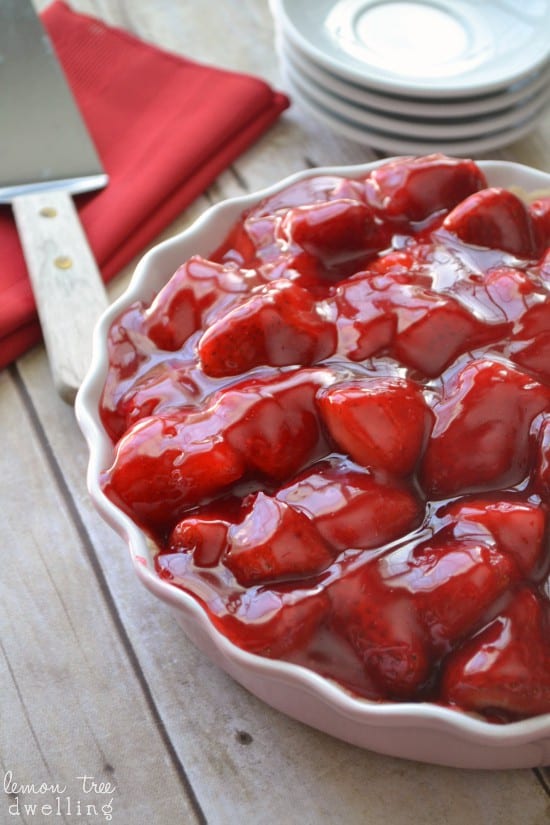 Of course, it wouldn't be the first year we had a new baby…..after all, ALL of our kids have summer birthdays. But there is something particularly daunting about trying to plan a birthday bash with four kids….one of whom is a newborn! I've gone back and forth in my mind, weighing the pros and cons of each decision. The pros, of course, are that we get to see everyone we love in one place, our kids get the fun of a special birthday party, and I get the fun of planning another party! (I really do find it fun…)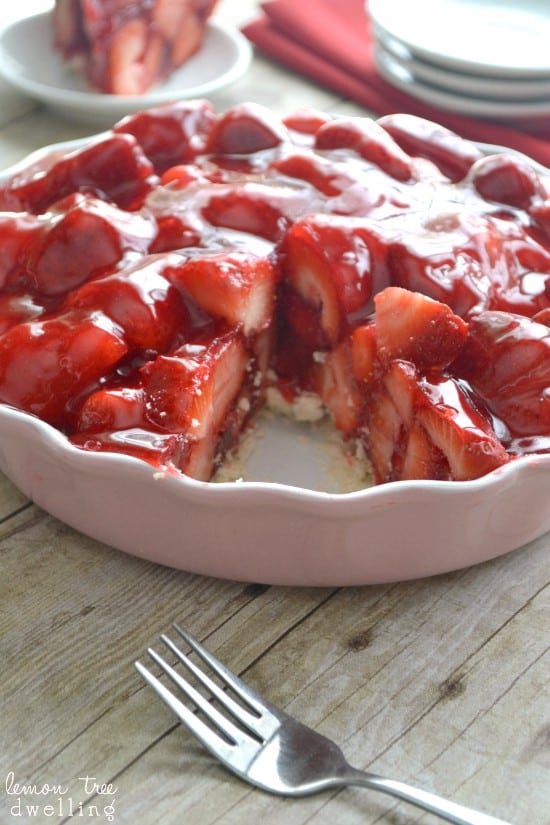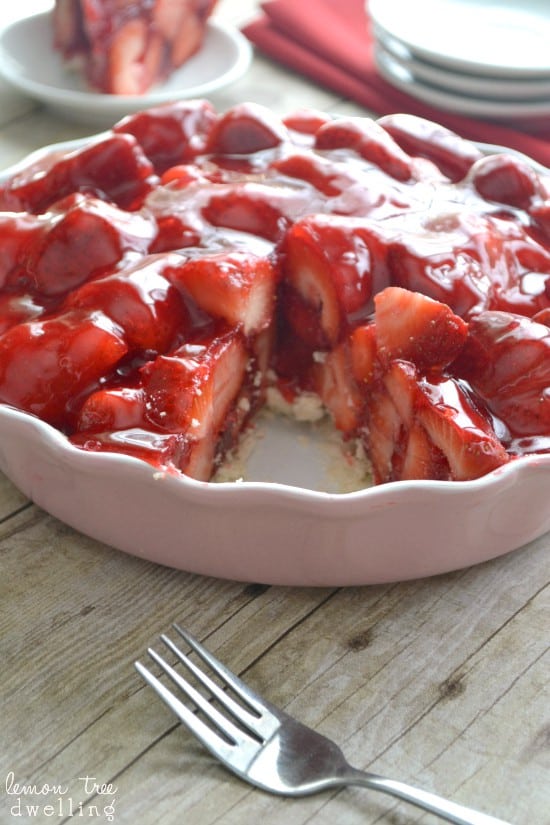 The cons? Well….the stress of planning a party! Even though I love to do it, the truth is, it's stressful. Not to mention the time it takes to get ready for it, the cost, and the amount of new STUFF that comes into our house…. I am really torn. On the one hand, I can't imagine thinking it's a good idea. And on the other hand, I can't imagine not having a summer birthday bash. That means Nora only got two parties, instead of the 7 that Ellia got? I'll never hear the end of it! Aggghhhh!!!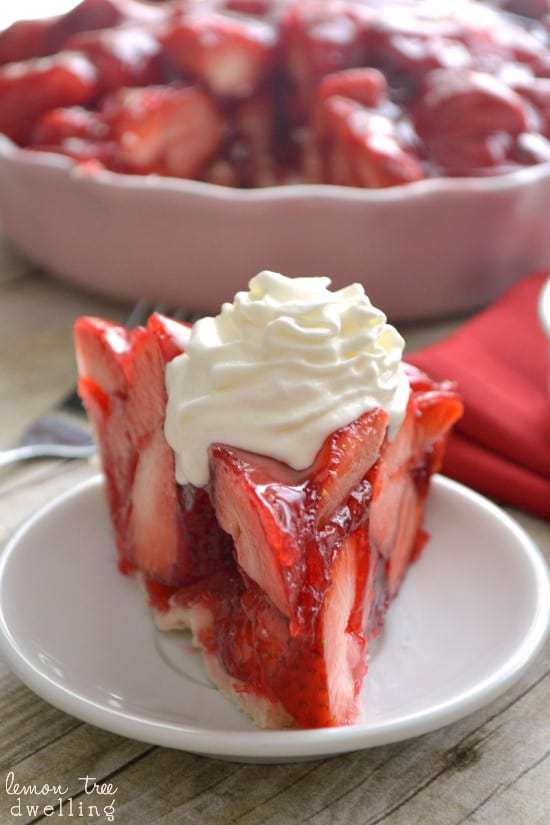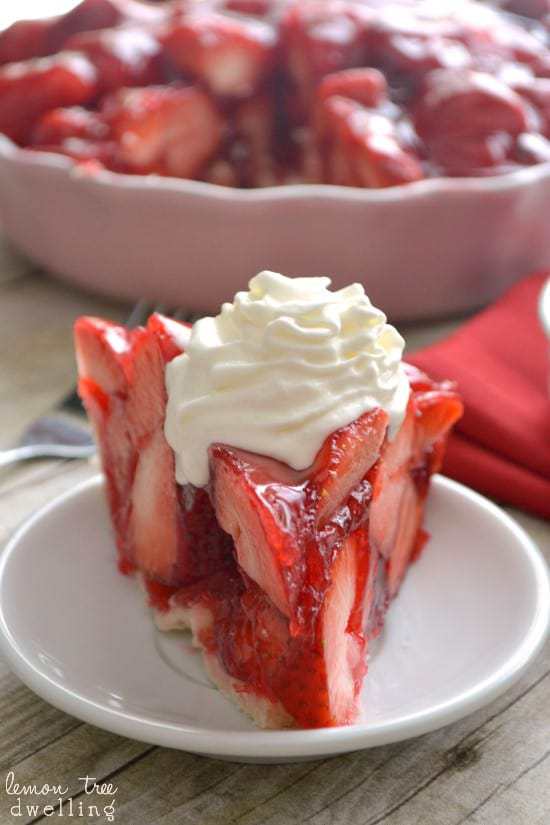 Am I overthinking it?? Maybe I need to focus on something simpler…like all the delicious food I get to eat when we have a party! I am lucky to have awesome friends and family who bring things to help out….like appetizers and salads and, of course, DESSERTS!
This strawberry pie recipe is my mom's signature dessert. She has been making it since we were kids, and it's probably the most requested dessert at any family function! We love it!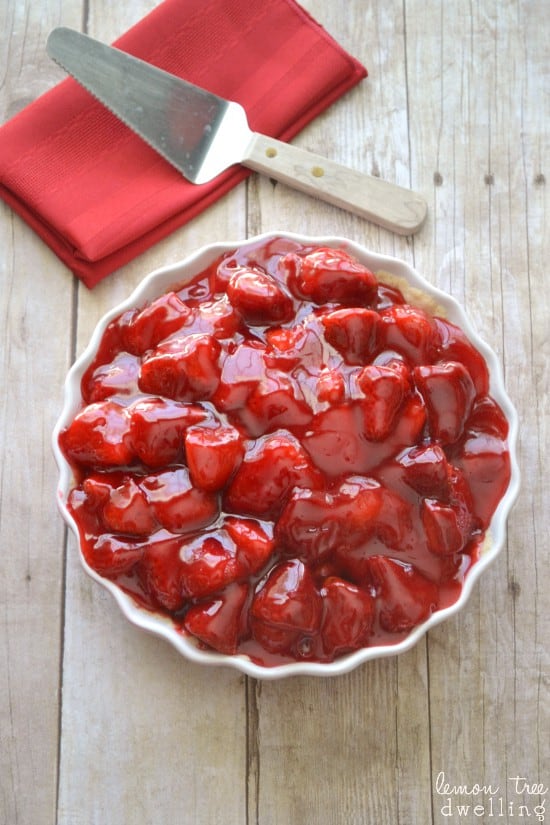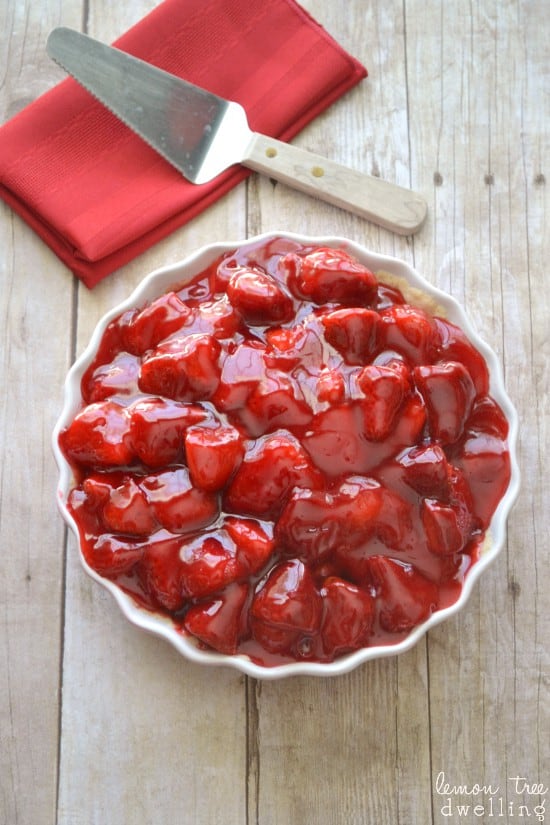 Looking at it, you can see why (am I right?) It's packed to the brim with fresh, whole strawberries and a thick, gooey glaze. But what really makes the pie is the crust. I can't believe I'm saying that, because I'm usually not a crust person…..but the crust on this strawberry pie is my favorite! It's so rich and buttery….almost like shortbread….and so easy to make. Without it, the pie just wouldn't be the same!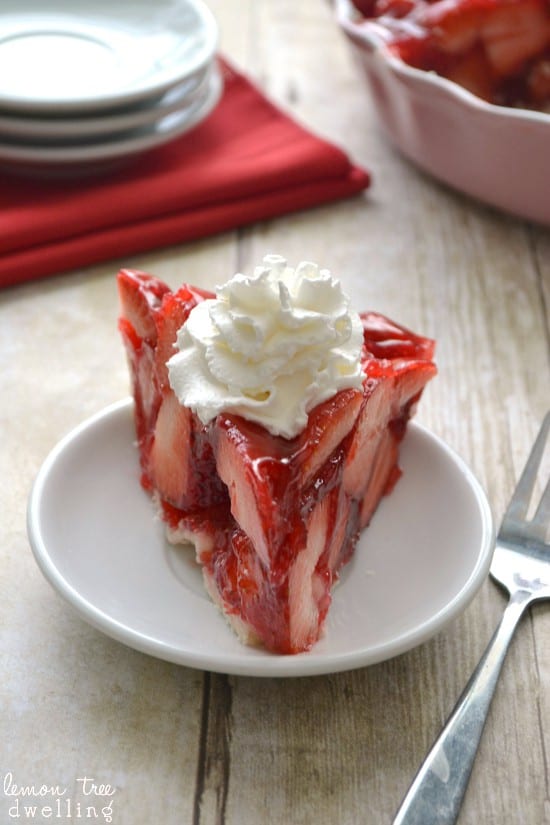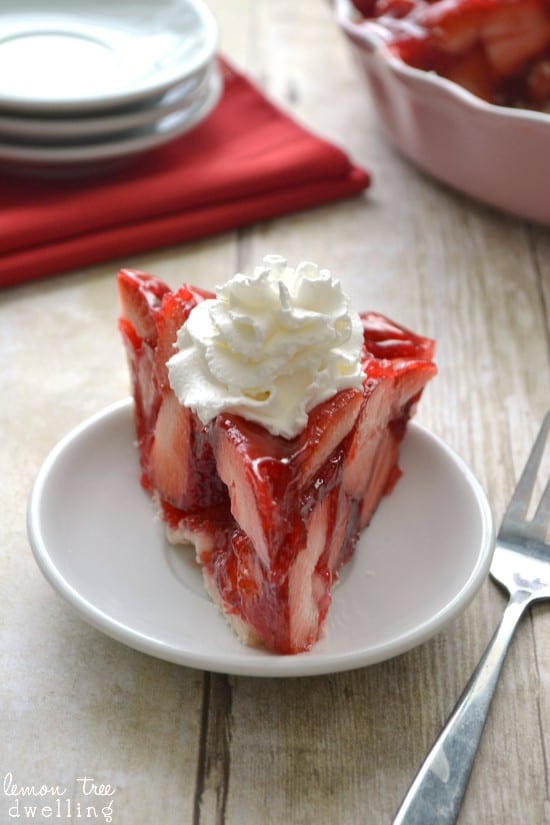 So I guess what I'm saying is maybe there will be a party, after all. We need to celebrate our kids' 8th, 6th, and 3rd birthdays….and at that point, there may still be some people who haven't even met the baby. Why not celebrate with the people we love?? And……with the strawberry pie we love??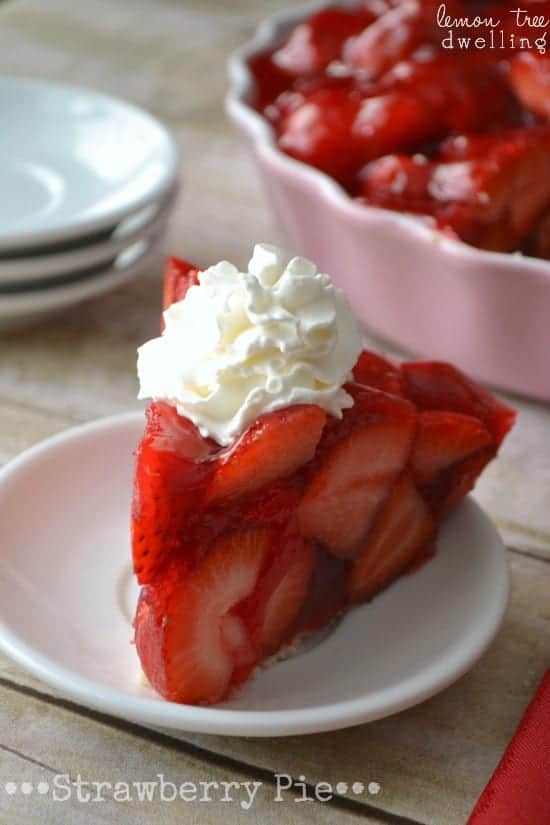 Strawberry Pie
The BEST Strawberry Pie! Fresh strawberries mounded high in a rich, buttery crust. A little (or big) slice of delicious....perfect for summer!
Ingredients
Crust
1/2 cup (1 stick) butter, softened
3 Tablespoons granulated sugar
1 cup all purpose flour
Filling
2 cups water
2 cups sugar
6 Tablespoons cornstarch
6 ounce package strawberry jell-o
3 pounds strawberries, cleaned and de-stemmed
*If you are using a shallow pie plate, cut filling recipe in half.
Instructions
Crust
Mix butter, sugar, and flour and press into a greased deep pie plate. Bake at 375°F for 10-15 minutes, until lightly browned.
Filling
Bring water, sugar, and cornstarch to a boil, stirring, until thick and clear.
Remove from heat; add strawberry jell-o.
Mix well and cool.
Fold in strawberries.
Pour into pie shell.
Store in refrigerator until set; serve with whipped cream.
Nutrition Information:
Yield:

8
Serving Size:

1 grams
Amount Per Serving:
Calories:

371
Total Fat:

2g
Saturated Fat:

0g
Trans Fat:

0g
Unsaturated Fat:

1g
Cholesterol:

0mg
Sodium:

21mg
Carbohydrates:

89g
Fiber:

4g
Sugar:

65g
Protein:

3g