This White Bean Pesto Soup is made with just 7 simple ingredients and ready in less than 20 minutes! A quick, easy, and delicious dinner recipe sure to please!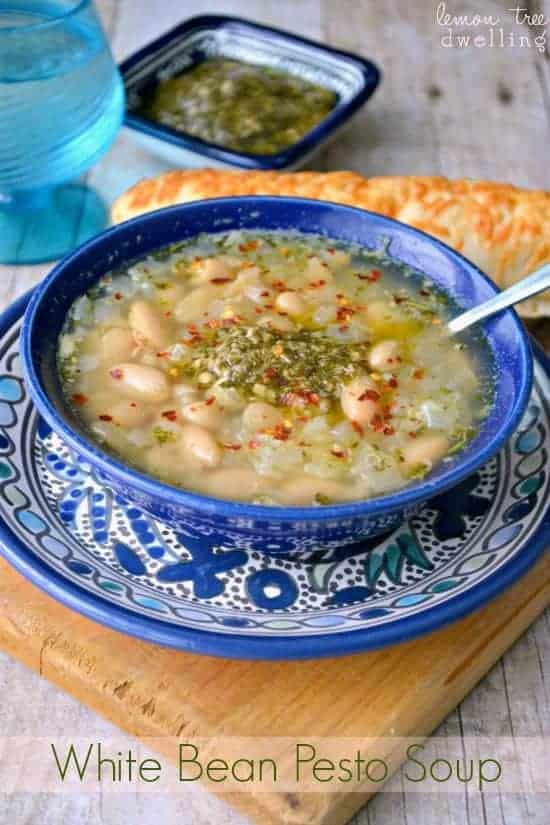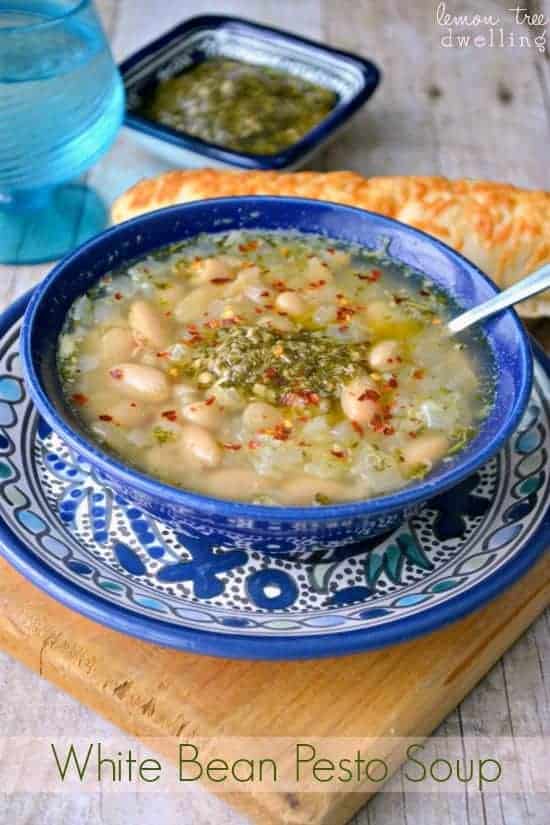 I have something to admit….embarrassing as it may be. I HATE driving in snow. And when I say HATE….I mean I avoid it at all costs! I would rather cancel plans – no matter how exciting the plans may be – than risk having to get behind the wheel when the roads are slippery (or even when they're not!) I'm a wimp!! And I guess if I had grown up someplace where it never snows, the fact that I hate driving in it wouldn't really matter. In fact, it would almost be expected! But that's not the case. I grew up in Wisconsin!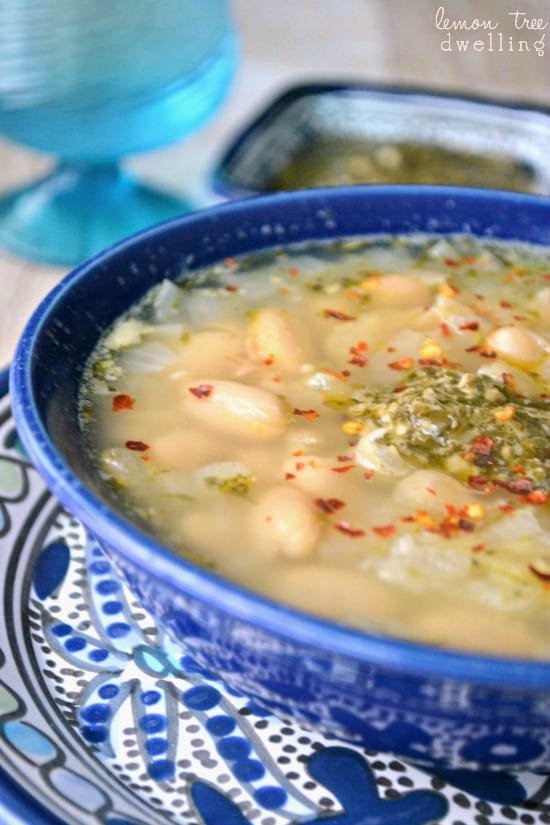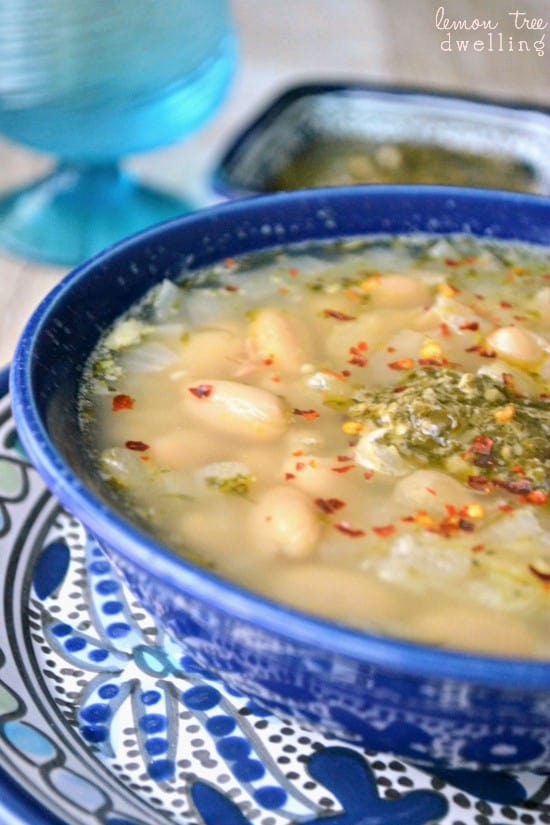 I blame it on the fact that, in high school, the car I drove was a GIANT Chevy Caprice station wagon with a rear-facing third row and rear wheel drive. Rear wheel drive, in case you are wondering, is NOT awesome in snow. I can recall numerous *scary* driving moments, like when the car spun around on my way to a stop sign or when I fishtailed down the windy road home or when I got stuck in a ditch and had to rely on a random stranger to pull me out with chains he had in the back of his truck….. I'm pretty sure I was traumatized for life!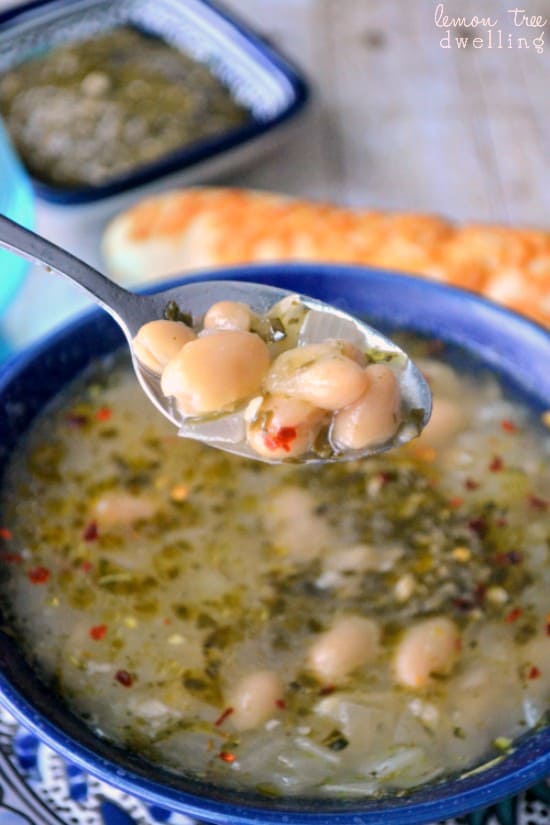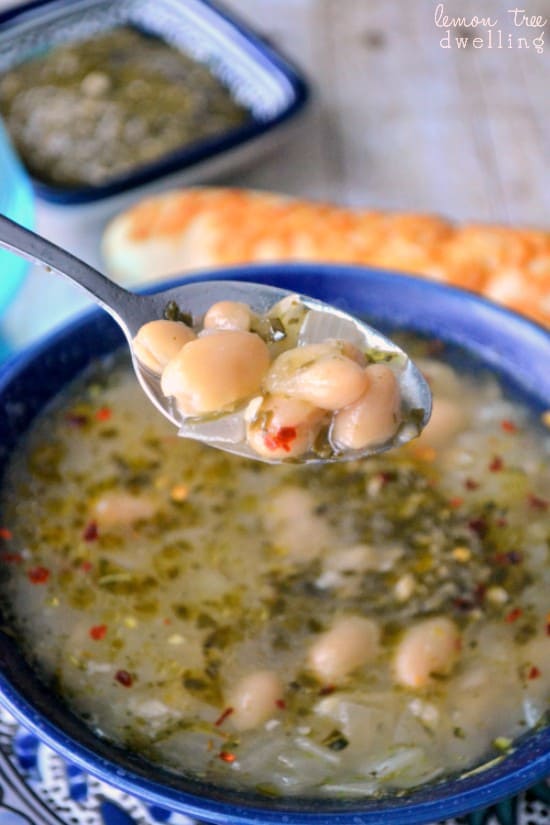 Which is why, when Jorden was home for President's Day yesterday, and it was snowing like crazy, and he wanted to go out for lunch, my immediate reaction was, "NO WAY!!" My plans for the day were to avoid driving at all costs….(clearly!) But….because I didn't want to ruin his "day off" fun, and because I didn't want to listen to his endless comments about my extreme level of wimpiness, I said yes. As long as he was driving….(which, by the way, is still incredibly uncomfortable for me!)
White Bean Pesto Soup
On our way there, the roads were okay….slippery, yes, but not treacherous. We went to our favorite Mexican restaurant and had a great meal while Nora sang and danced and entertained the tables around us. As we were leaving, I noticed that the roads seemed to be just a little more slippery, and the cars next to us seemed to be having a harder time staying in their lane. Luckily, we were not TOO far from home.
But. On the way home, we made a fatal error. We decided to stop at Target for a few essentials….and by the time we were done with our short little stop, the snow was coming down like crazy. And the roads were treacherous. Even for Jorden, who doesn't mind driving in snow. And as we white knuckled it home, I knew that as delicious as lunch may have been, I would have been equally satisfied with a big, warm bowl of this White Bean Pesto Soup. So flavorful, so satisfying, and so very safe….just the way lunch (or dinner) should be!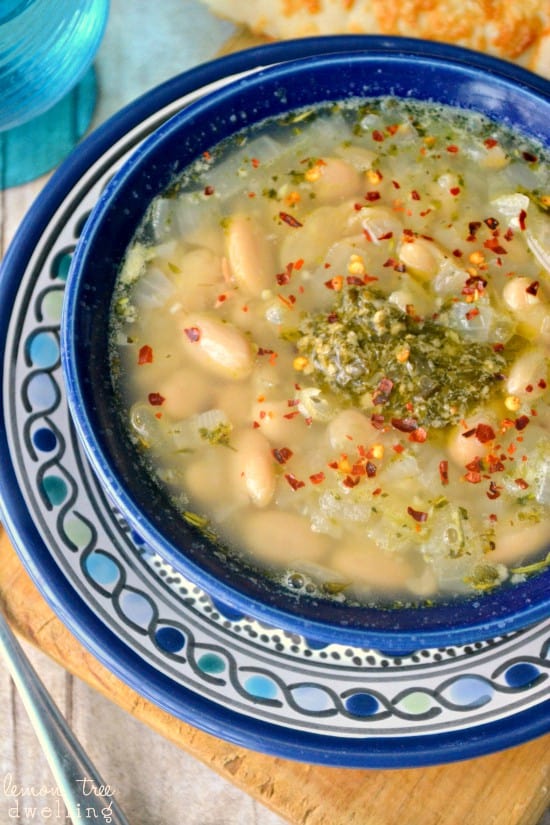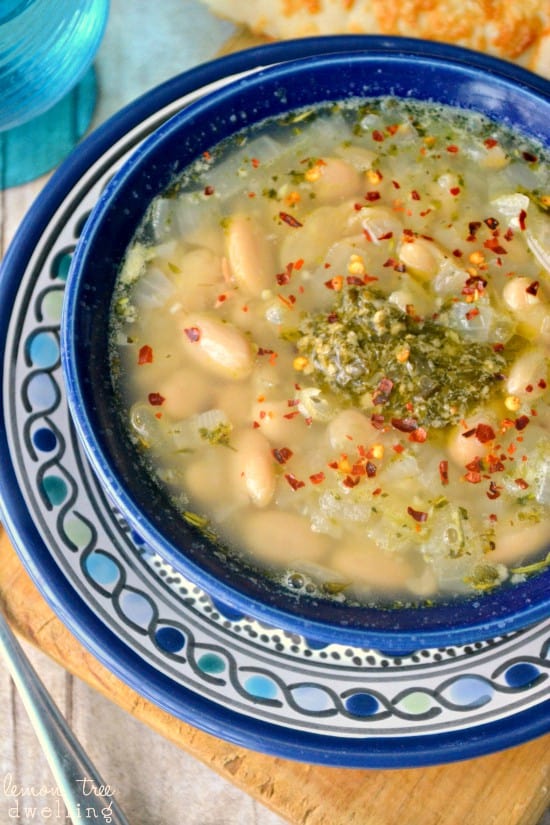 White Bean Pesto Soup Recipe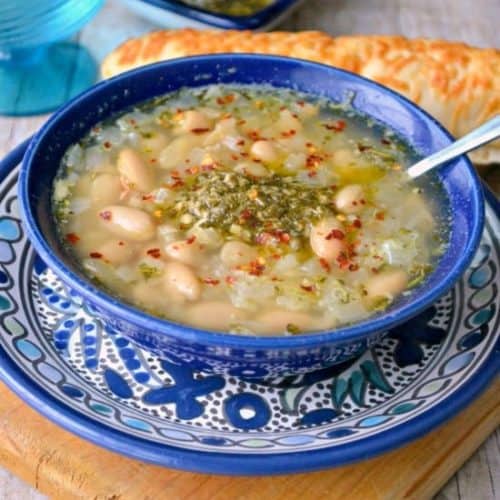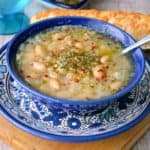 White Bean Pesto Soup
Ingredients
3

15 oz. cans white beans, drained and rinsed

4

c.

chicken broth

1

onion

chopped

2

Tbsp.

olive oil

2

tsp.

minced garlic

1

tsp.

Italian seasoning

basil pesto - approx. 1 Tbsp. per bowl

crushed red pepper flakes

optional
Instructions
Heat olive oil in large saucepan over medium heat. Saute chopped onions and garlic 2-3 minutes.

Add chicken broth, beans, and Italian seasoning.

Partially mash beans and heat soup through.

Serve, topped with pesto and red pepper flakes.
Looking for more warm, flavorful, satisfying recipes?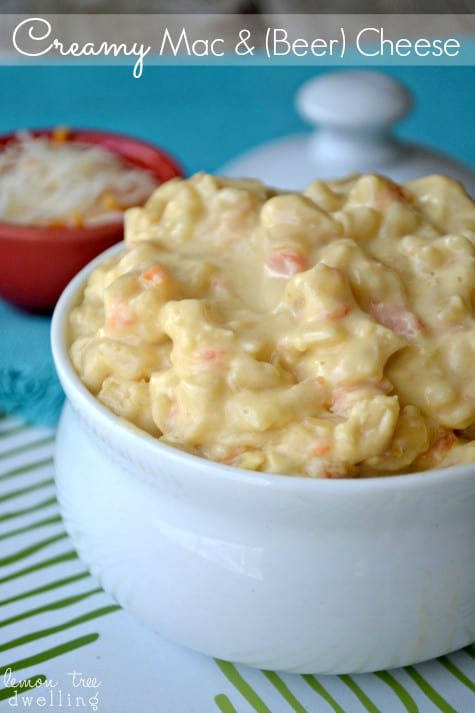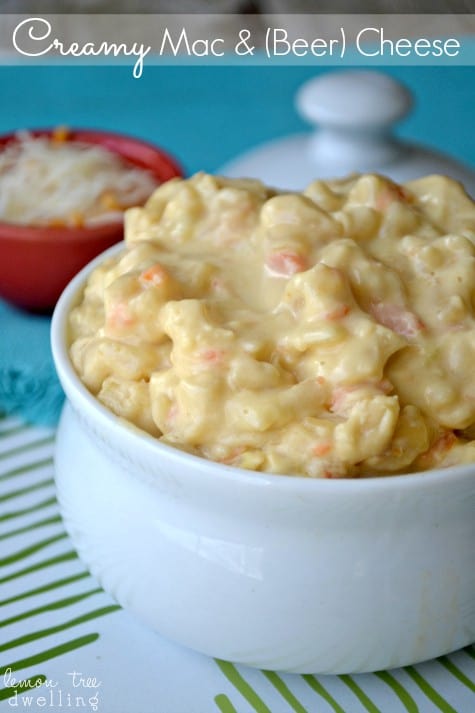 Creamy Mac & (Beer) Cheese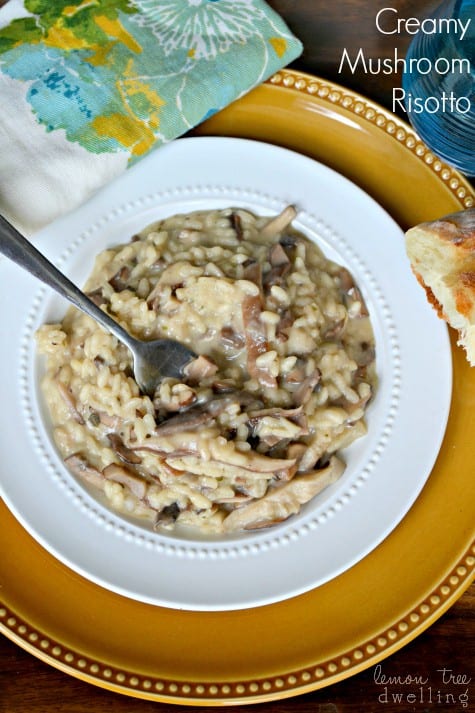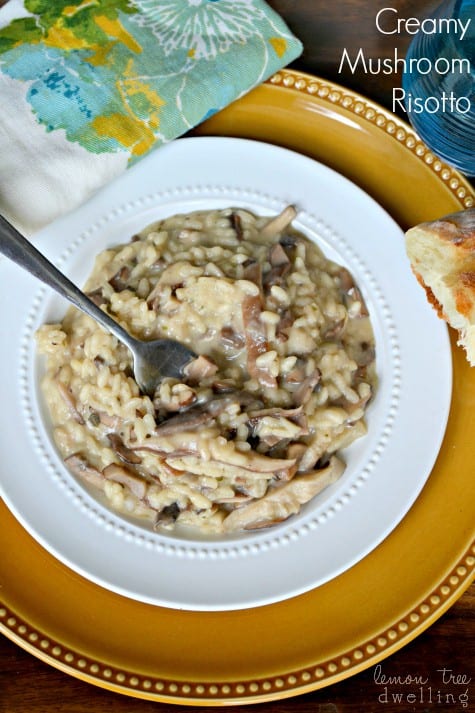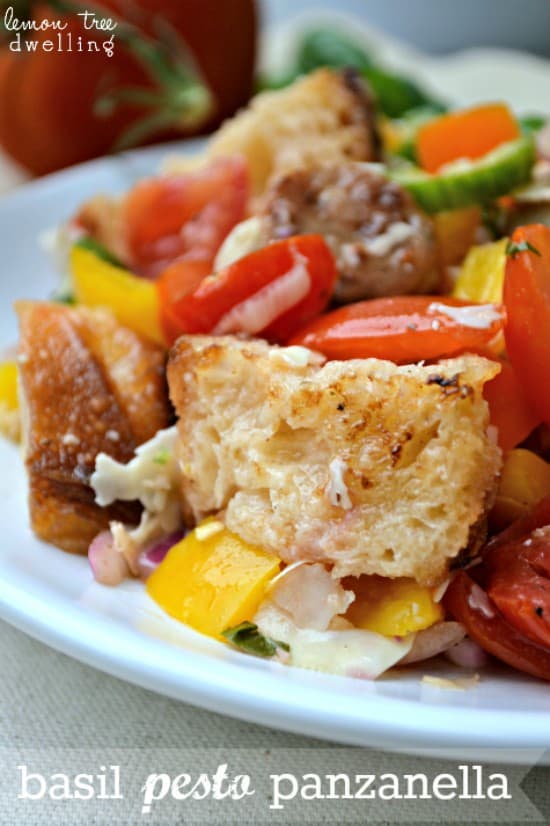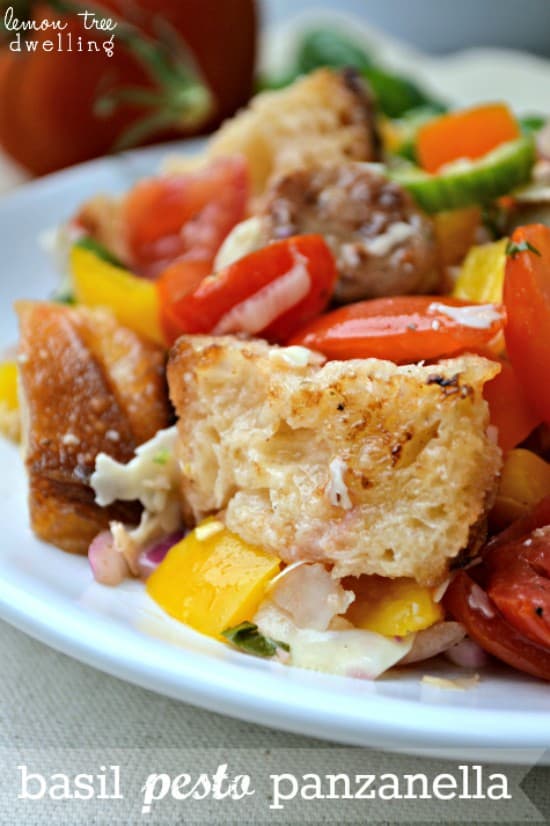 Want to try making your own pesto? Try this recipe from Simply Recipes