Strawberry-Basil Shortcake....the Strawberry Shortcake you love, with a delicious twist of basil! Because basil makes everything better!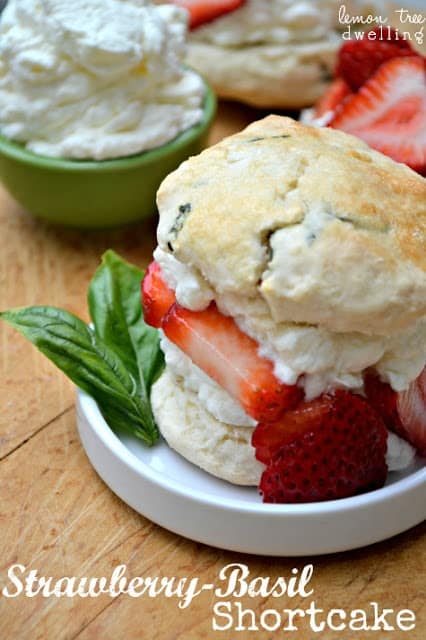 Yesterday was such an exciting day here at our Lemon Tree Dwelling! We picked the first fruits from our little garden! Our poor little garden, that we planted too late and regularly neglect....truthfully, it's amazing that anything is growing at all. So what if our "harvest" consisted of a single strawberry....(yes, one measly little red strawberry)....that's okay. Because one strawberry is better than no strawberries. (Hey - it's the first time we've ever had a ripe strawberry in our garden....so we're making progress!) Sad, I know. But true! I'm just really terrible at keeping plants alive. I understand that they need to be watered regularly...and yet, I can't bring myself to do it. So....year after year, Jorden brings home plants...and I kill them. I kill all of them! So I guess one ripe red strawberry really does feel like an accomplishment. And better yet? It gets me one step closer to another batch of this Strawberry-Basil Shortcake!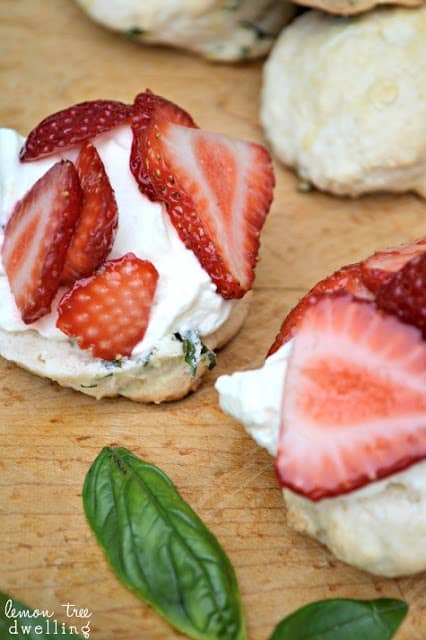 I'm a HUGE fan of all things basil....especially in the summertime...and especially when it's combined with strawberries! Luckily, for as much trouble as we seem to be having growing fruits and vegetables in our garden, our basil has been growing like a weed! We've been using it all summer - in salads, dips, dinners, drinks.....and now (finally) in a dessert. See - when you have basil growing like a weed in your garden, you feel like you should add it to everything! Lucky for you, adding it to Strawberry Shortcake was the best decision I've made in a while.....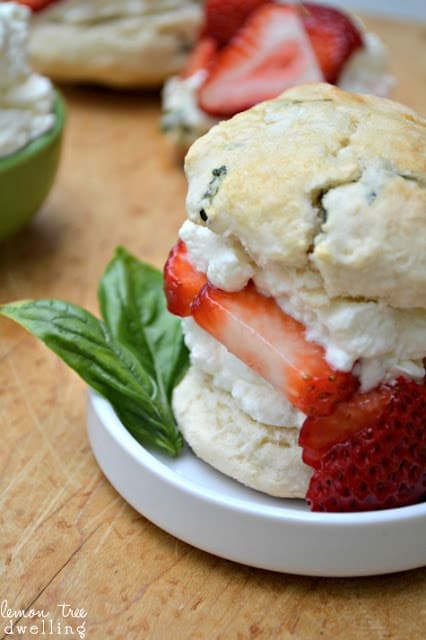 Because not only are the shortcakes infused with the delicious flavor of basil....but the strawberries are literally swimming in it! So instead of a delicious dessert that brings back memories of summers gone by, you have an AMAZING dessert that both brings back memories....AND opens your eyes to brand new possibilities! For those of you who have never tried basil, or who think you don't like it, this dessert will prove you wrong! And for those you who are basil lovers like me, this dessert will be like heaven on a plate. And you will decide that basil is definitely something you need to have in your garden....and that, delicious as they may be, waiting to make this until your own strawberries grow is definitely NOT an option.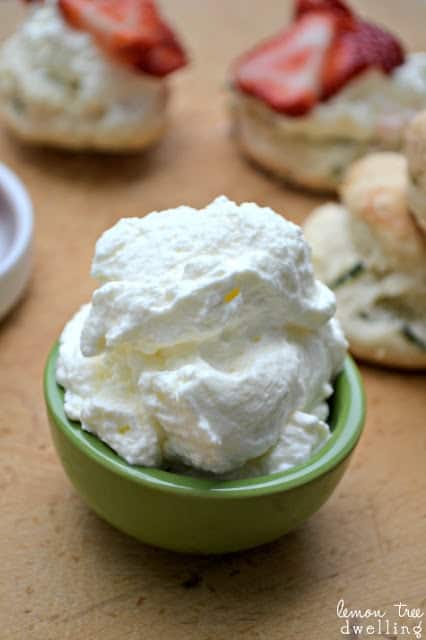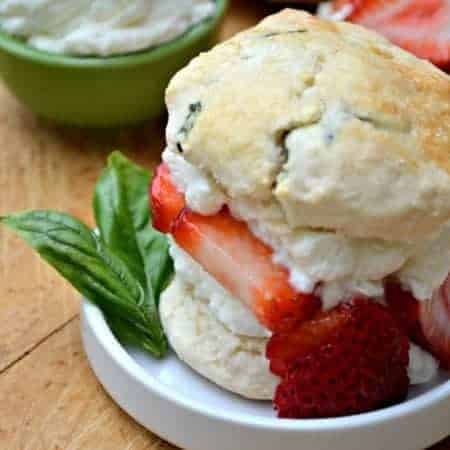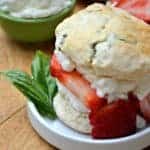 Strawberry-Basil Shortcake
Ingredients
Fruit
4

c.

sliced strawberries

½

c.

basil simple syrup

Bring ¼ c. water and ¼ c. sugar to a boil. Remove from heat and stir in ½ c. fresh basil leaves. Cool before using.
Shortcakes
2

c.

flour

5

Tbsp.

sugar

1

Tbsp.

baking powder

½

tsp.

salt

8

Tbsp.

unsalted butter

chilled and cut into ½ inch pieces

⅔

c.

half & half

1

large egg

lightly beaten

¼

c.

fresh basil

chopped

1

large egg white

lightly beaten
Whipped Cream
2

c.

heavy whipping cream

2

Tbsp.

sugar
Instructions
Combine sliced strawberries and basil simple syrup in a bowl and set aside.

For the shortcakes, combine flour, 3 Tbsp. sugar, baking powder, and salt in a food processor. Add butter pieces and process until the mixture resembles cornmeal. Transfer to a bowl.

Blend half & half with the beaten egg and pour into bowl with the flour mixture. Add fresh basil. Stir until large clumps form; continue mixing and kneading on a lightly floured countertop. *Add flour as necessary until dough is the right consistency.

Pat the dough into a 9x6 inch rectangle about 1 inch thick. Use a floured 2 ¾ inch biscuit cutter or the top of a glass to cut out 8-12 circles (depending on size). Place each dough circle on a parchment-lined baking sheet, brush with beaten egg white, and sprinkle with remaining 2 Tbsp. sugar.

Bake until golden brown, 12-14 minutes.

Prepare whipped cream by combining whipping cream and 2 Tbsp. sugar in a medium mixing bowl. Mix and low speed to dissolve sugar, then at high speed until mixture is light and fluffy and has doubled in volume.
To assemble:
Cut shortcakes in half. Place bottom half on a plate and generously top with strawberries, whipped cream, and the top half of the shortcake.

(*Shortcake recipe adapted from The America's Test Kitchen Family Cookbook)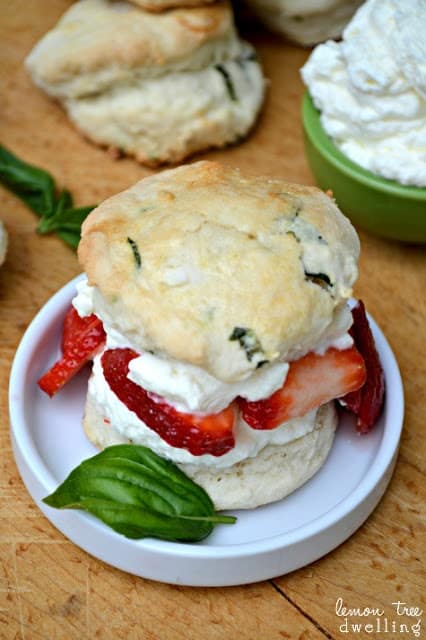 Enjoy!
Be sure to check out these other delicious ways to use fresh basil!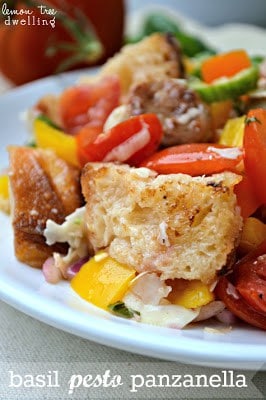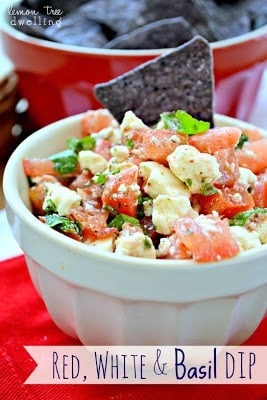 *I originally shared this post over at The 36th Avenue!
Thanks for taking a peek inside my Lemon Tree Dwelling....
I hope you feel right at home!
-Cathy