Orecciette Pasta with spinach, pine nuts, and Parmesan cheese in an oil & vinegar dressing.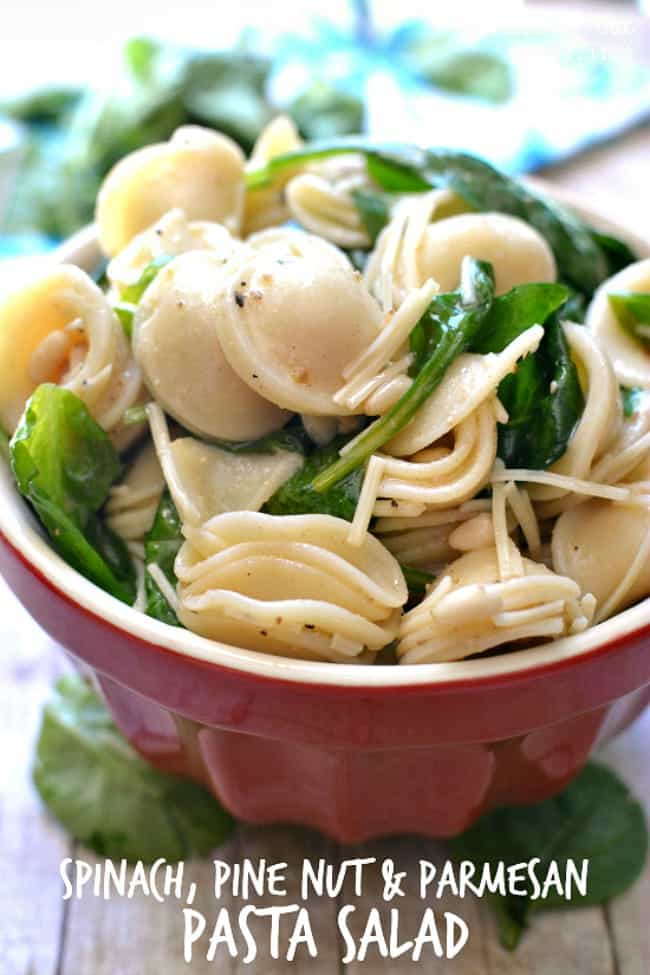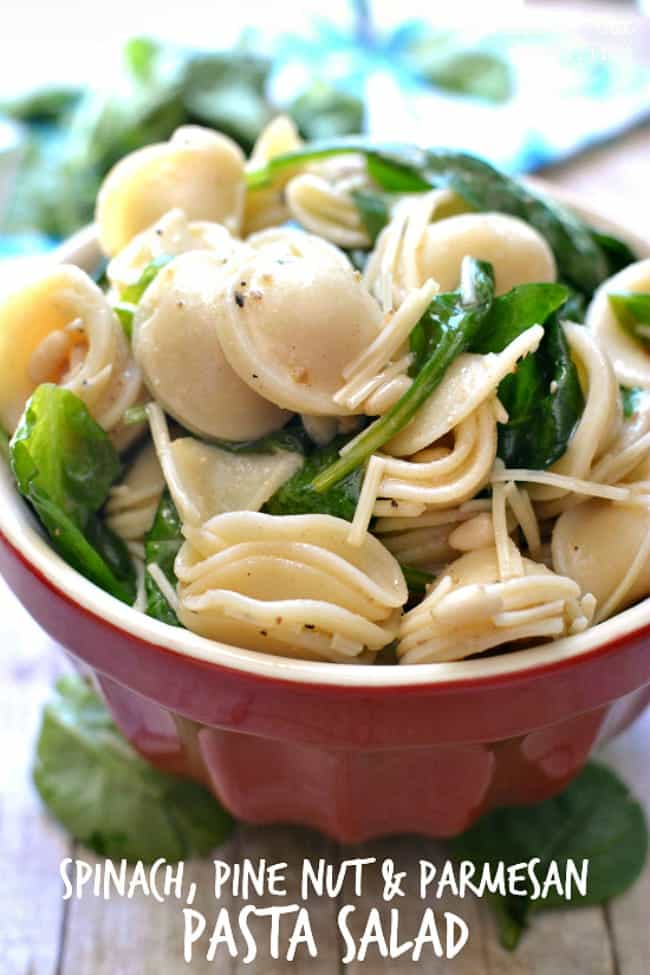 You know that whole idea that less is more? Yeah…..that's something I struggle with. Not so much because I want to have it all, but because I have a hard time letting go of things. Take clothing, for instance. My closet is FULL! So full, in fact, that I recently had to buy two more packs of hangers just so I could hang up my growing collection! It's not surprising, really…..since I continue to buy new things without ever clearing out the old (who knows when I might want to wear that shirt I haven't worn in 5 years!?)….but it IS a problem (or at least it will be when my closet runs out of room to hold it all!)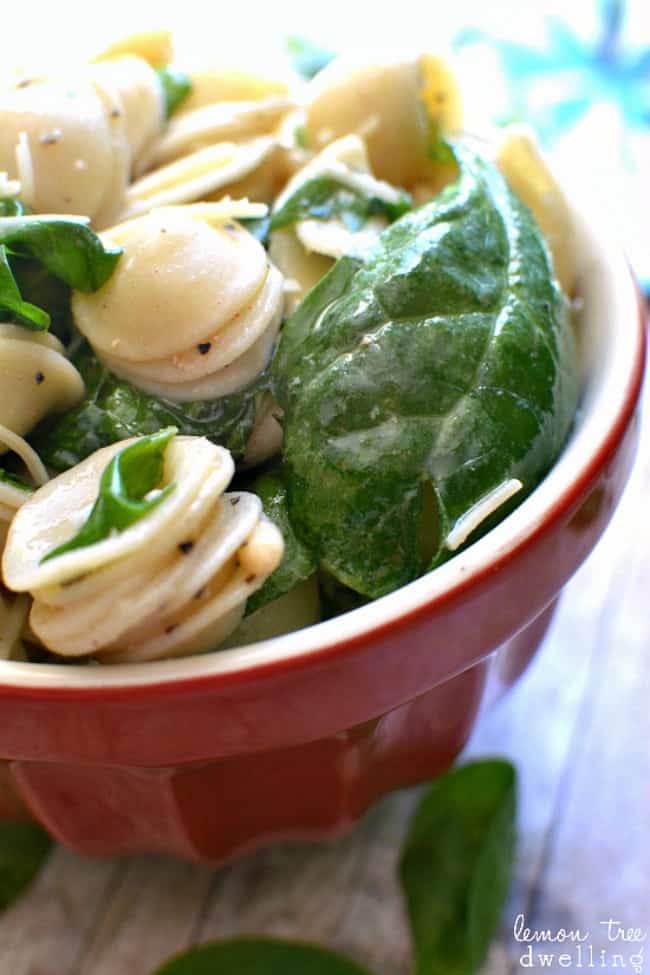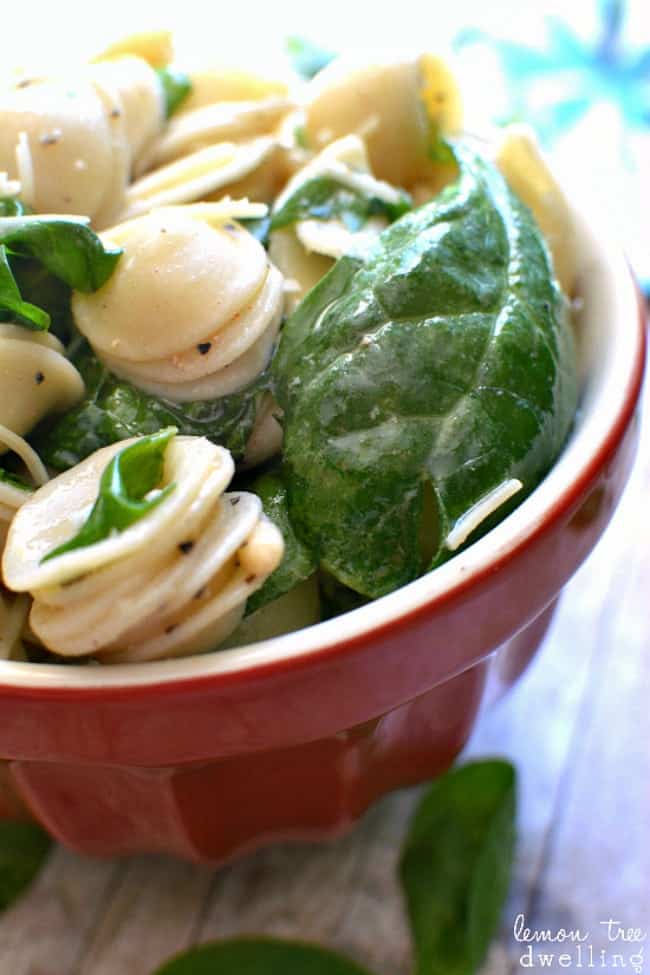 I'm the same way when it comes to home decor. Not that I don't ever switch things up….I do. It's just that I like to keep the old stuff, too…..in case I want to go back to it someday! So I end up with old rugs and lamps and vases and pillows, in addition to the new ones we've bought….and the reality is I will probably never actually want to go back to it. Because why would I??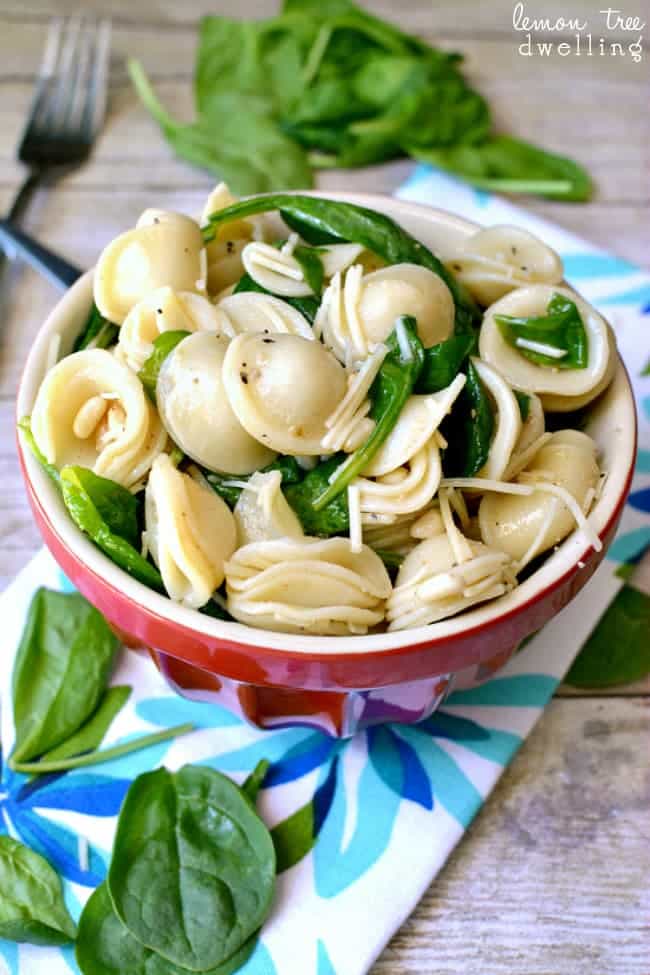 I've been looking around my house lately and realizing there is such a thing as TOO MUCH! More is not always more. In fact, sometimes more keeps you from enjoying the most important things….the things you really want to enjoy! (Hello, rummage sale!!!)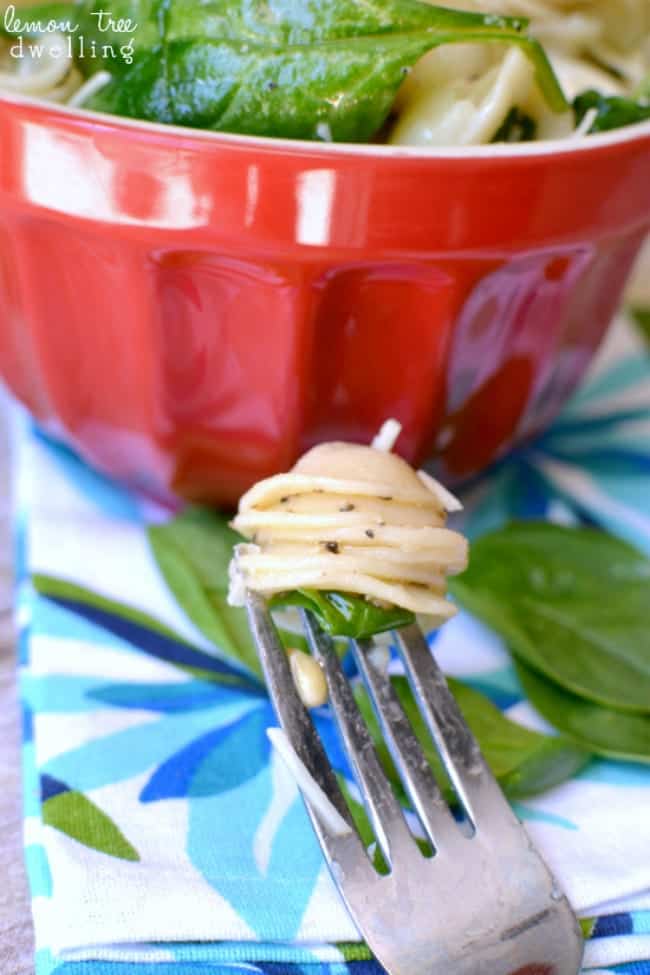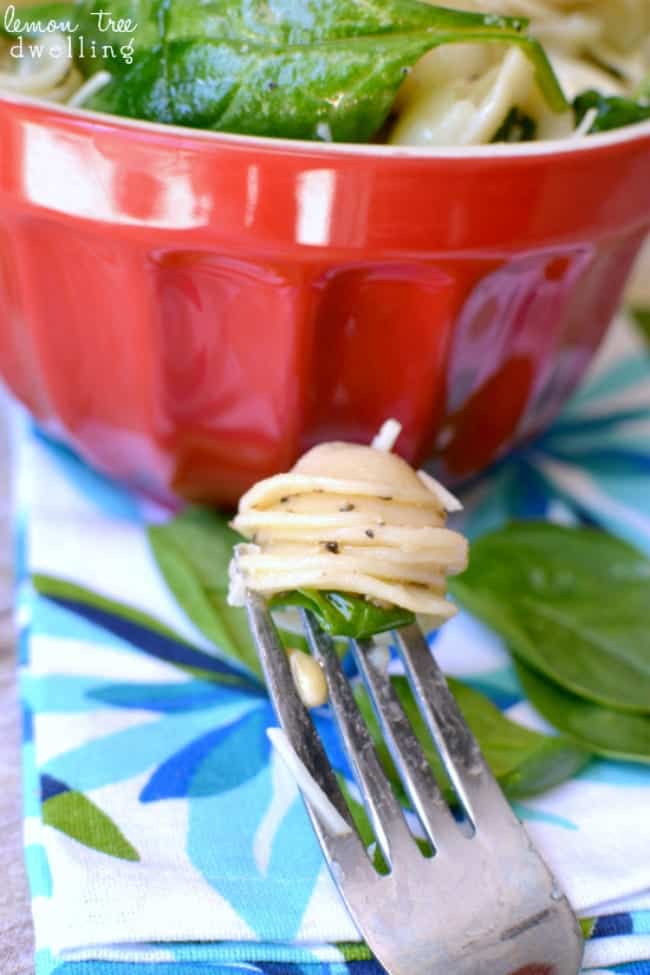 It's easy to let the same thing happen with food. Sometimes I'm tempted to completely load things up….to throw in everything but the kitchen sink! Don't get me wrong….I love "loaded" things just as much as the next person….but every now and then it's good to show restraint. To choose just a few things that I'll really enjoy, and leave the rest for next time. This salad is a great example – just a few simple ingredients that are absolutely delicious together. Proof that less really IS more…..at least sometimes.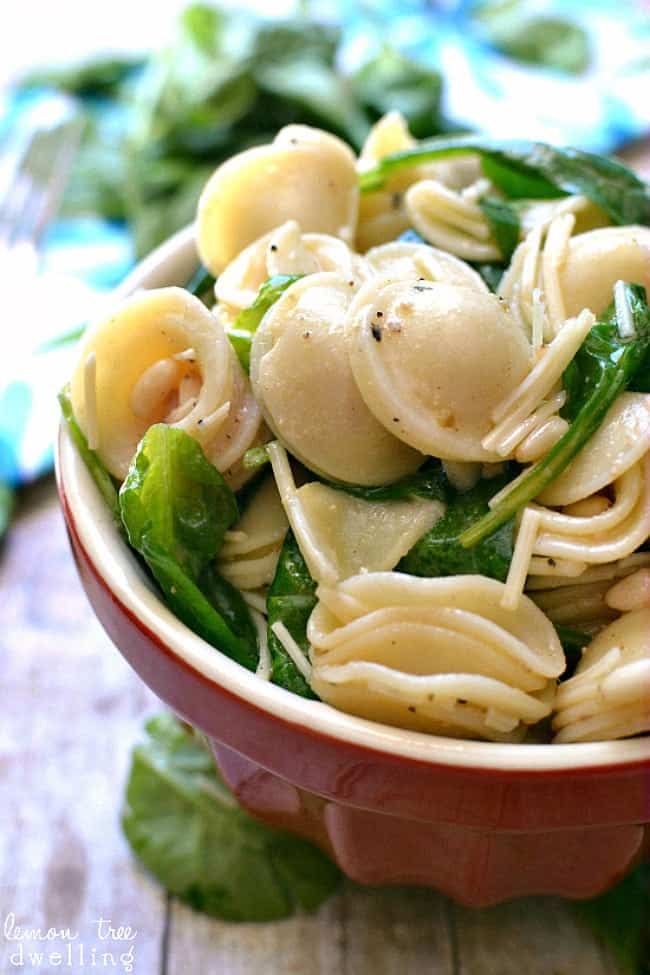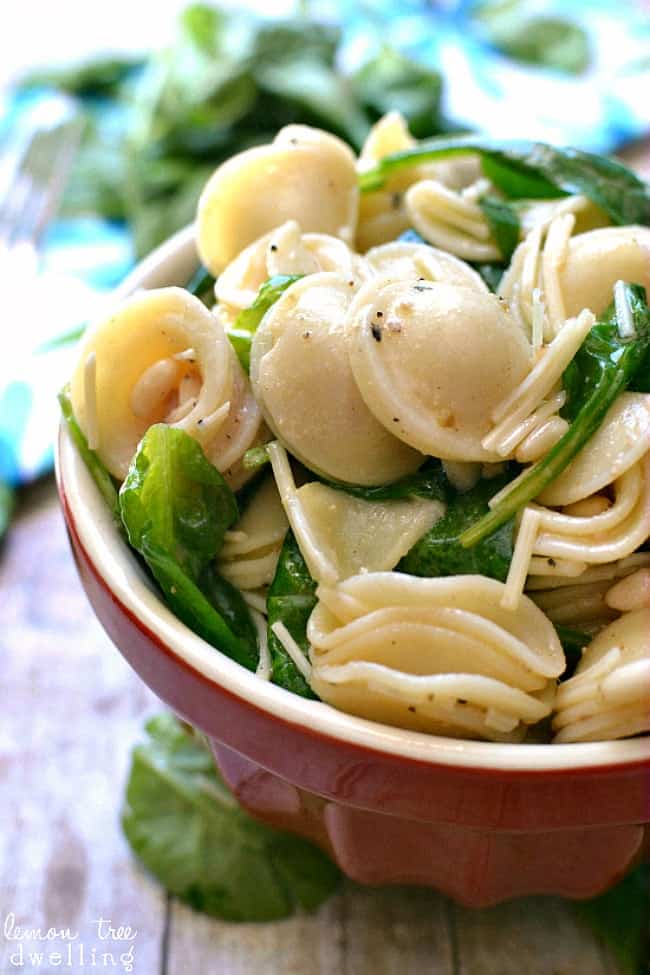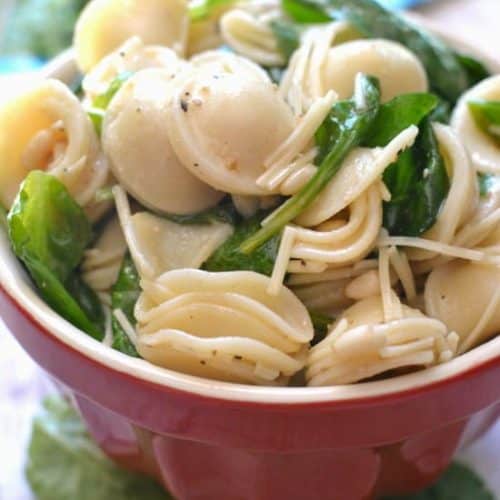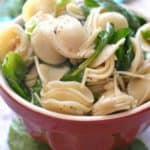 Spinach, Pine Nut & Parmesan Pasta Salad
Ingredients
1

lb.

orecchiette pasta

3

oz.

fresh spinach

1/3

c.

pine nuts

1/2

c.

shredded Parmesan cheese

1

c.

oil & vinegar dressing

bottled or homemade

juice of 2 lemons

fresh ground sea salt and pepper

to taste
Instructions
Cook pasta according to package instructions.

Drain and rinse with cold water. Let cool to room temperature.

Stir in fresh spinach, pine nuts, Parmesan cheese, dressing, and lemon juice.

Top with salt and pepper to taste.