Tortellini pasta with pesto, sun dried tomatoes, pine nuts, and fresh-shaved Parmesan cheese.
It's all about great flavors!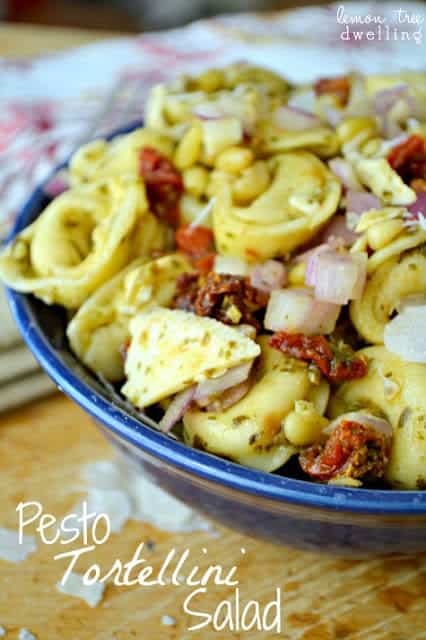 For the longest time, I have been known among my friends as the "hostess with the mostess". I'm not sure why, exactly….but I can tell you that I love having people over to my house and I love going all out to make sure they enjoy themselves! One of the BEST ways I know of to make sure people enjoy themselves? Serve them great food! And by great I don't necessarily mean fancy, or difficult, or time-consuming….I mean SIMPLE food with GREAT flavors.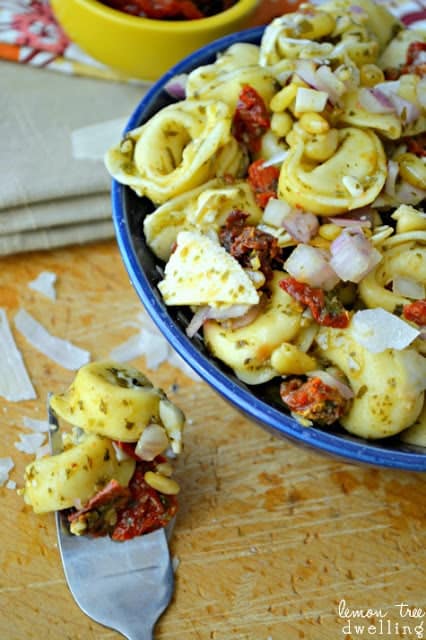 Since salads are one of my favorite kinds of food (and it's easy to incorporate GREAT flavors into them), if you come to my house, you will probably get one…..or FIVE! Yep – when we had the
girls' birthday party
this past weekend, you better believe we had FIVE different kinds of salad on the otherwise very simple menu of croissant sandwiches, potato chips, and lemonade. To be fair, I only made four of them…(my lovely neighbor offered to bring one)…and to be really fair, they were all extremely easy to make! Easy and delicious…just the way party food should be!

The more years we do this party thing, the smarter I am getting about ONLY serving food that is hostess-friendly. No more chopping all the ingredients for fresh, homemade salsa for 40 people….no more last minute giant batches of guacamole. Who has time for that in the last remaining minutes before the party starts!? Everything I made this year can be prepared in advance, pulled out at the last minute, and left out for a while without the danger of spoilage.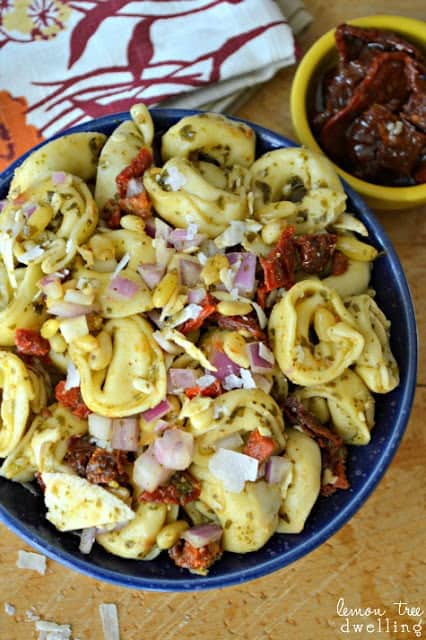 One of my favorites of the day? This Pesto Tortellini Salad with pine nuts, sun dried tomatoes, red onion, and Parmesan cheese. Plenty of bold flavors that work well together….and a variety of textures so you don't get bored! Not that you would get bored when you're eating it at a party, but that's beside the point.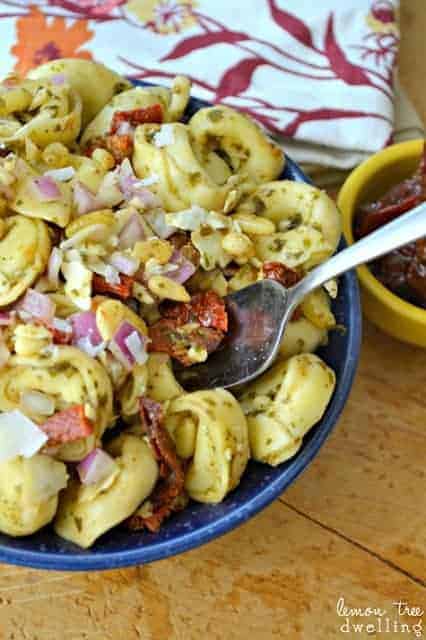 Pesto Tortellini Salad
2 packages (19 oz. each) frozen cheese tortellini
3/4 c. sun dried tomatoes, roughly chopped
1/2 c. red onion, chopped
1/2 c. prepared pesto (or more to taste)
1 c. fresh shaved parmesan cheese
1. Prepare tortellini according to package instructions. Rinse with cold water and let cool.
2. In a large bowl, combine all ingredients and mix well.
3. Serve at room temperature.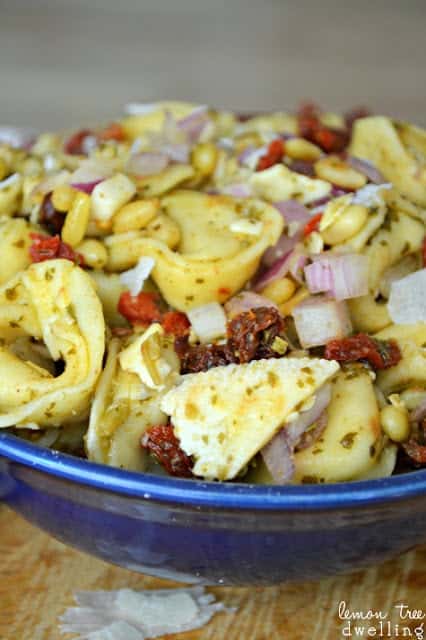 More hostess-friendly party sides coming soon….stay tuned!
Thanks for taking a peek inside my Lemon Tree Dwelling….
I hope you feel right at home!