Deliciously creamy Baked Mac & Cheese, loaded with sour cream, bacon, and chives and topped with buttery bread crumbs. The BEST mac & cheese ever….sure to become a family favorite!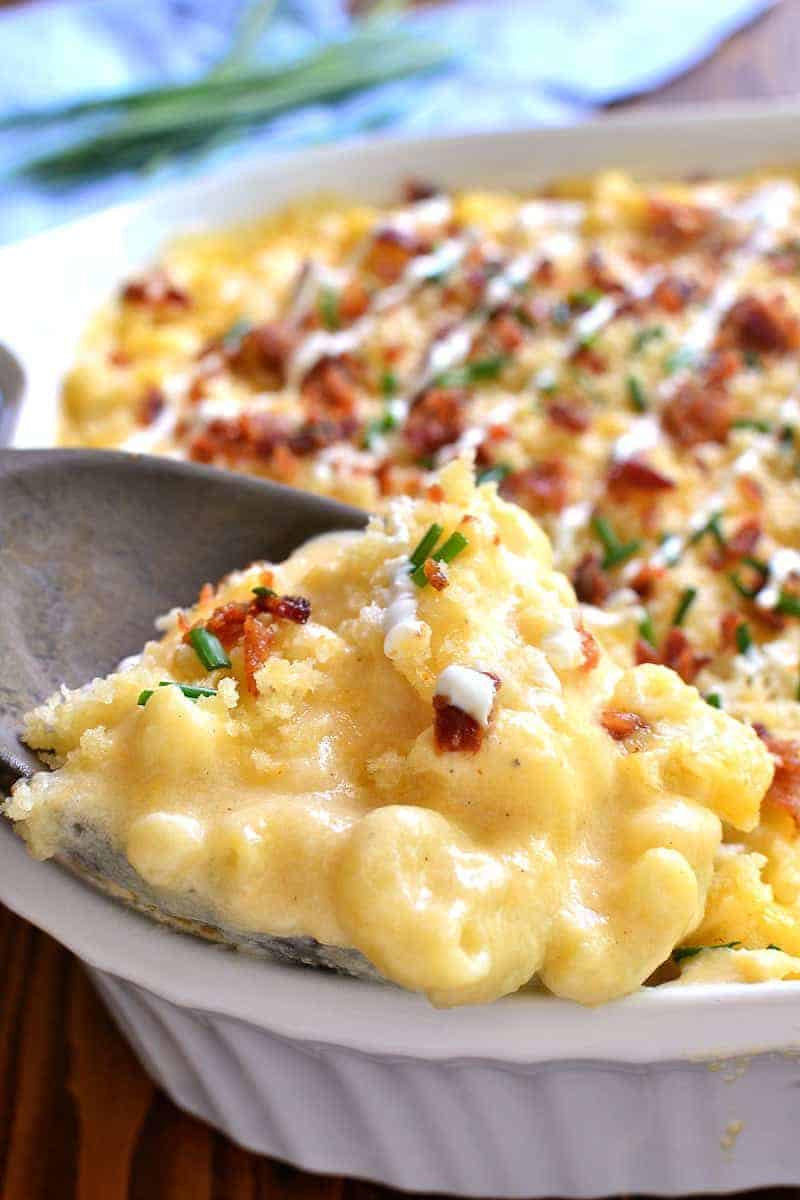 So I've started looking back at old blog posts. Like WAY back….to the time I first started blogging, just over 4 years ago. And let's just say it's a good reminder. Of where I started, why I started, how much my kids have changed in that time, and how far I've come.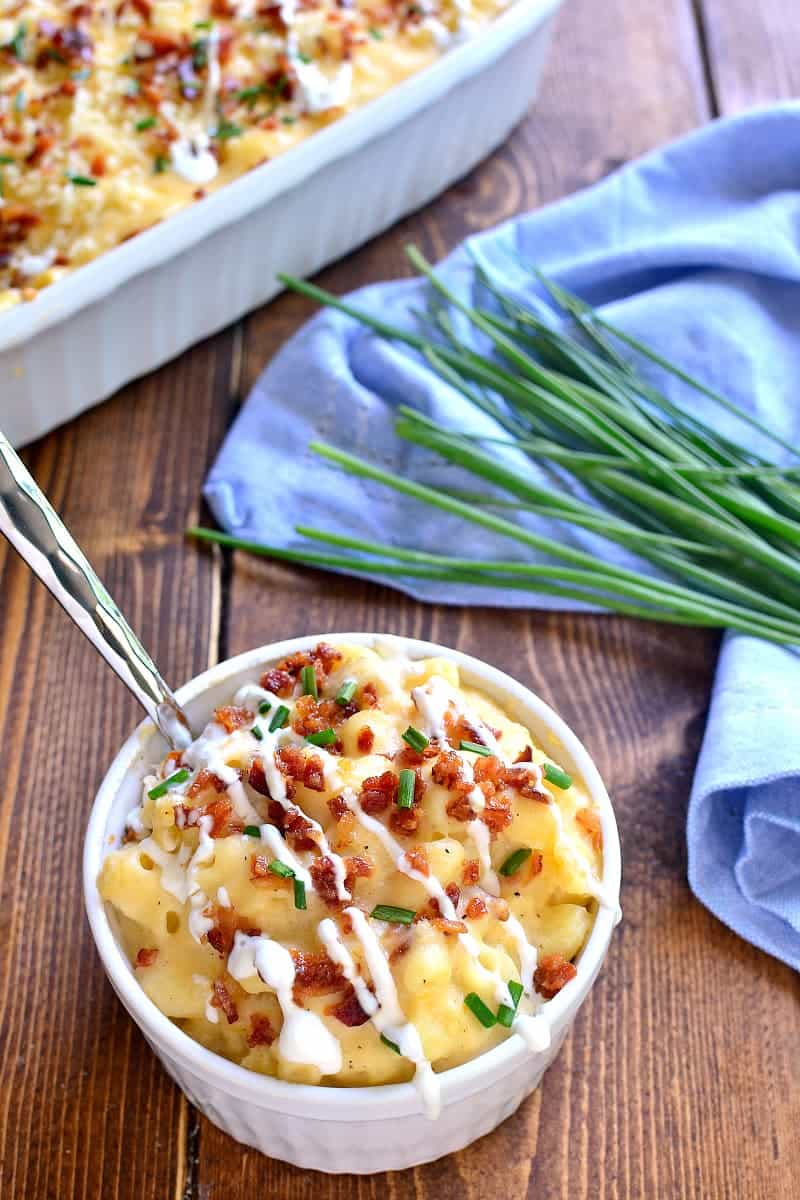 When I first started blogging, my intent was to have a home improvement blog, where I shared updates on the projects we were doing in our new (old) house. And I did a few of those – like two – along with a handful of home decor posts, before realizing that house projects and home decor are not really my forte. House projects take way too long to blog about (I don't understand how people do it) and my ideas for home decor always seemed to fall at least a little short. To be honest, I have to stop myself from cringing as I look back at my posts from 2012 and 2013. I know we all have to start somewhere….but really? Why did I have to start THERE?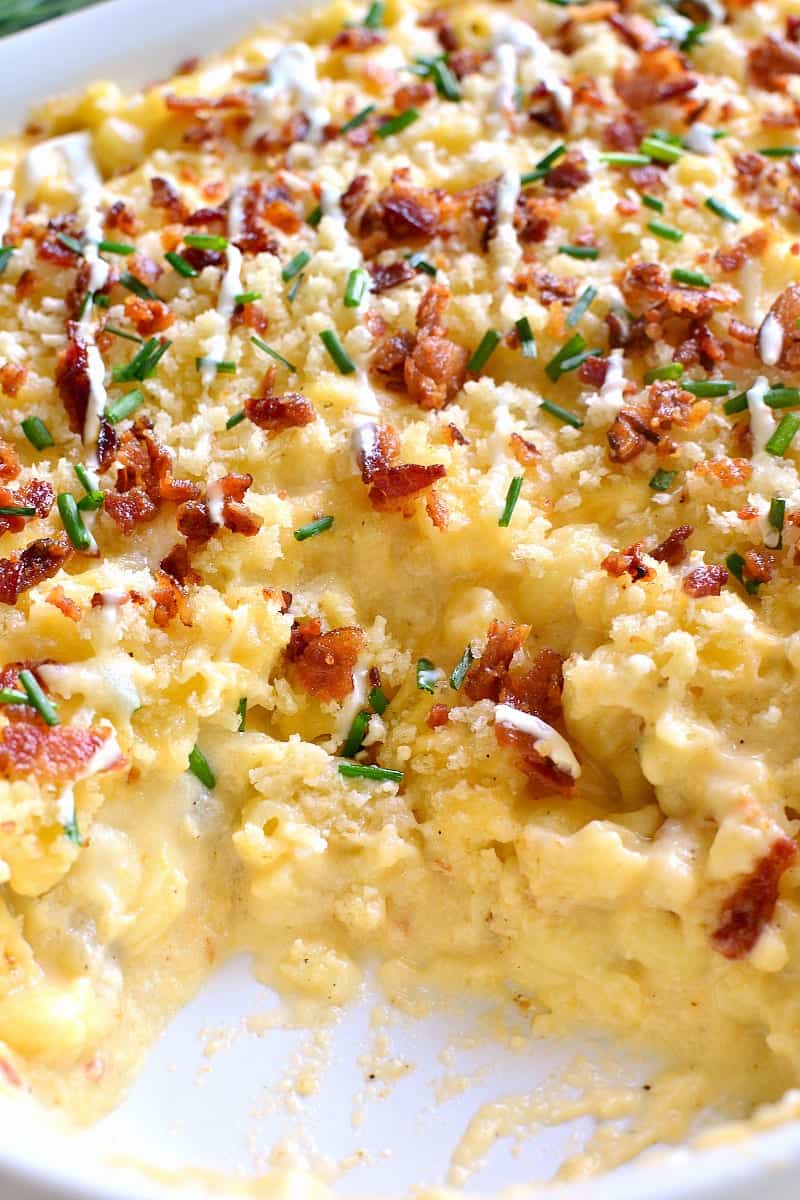 The good news is that at some point I fell into food blogging. And decided that even though I had started out one way, I could totally make the decision to switch courses. And I did. Thank God. But if you've ever wondered why my blog is named Lemon Tree Dwelling….that's why! Because I planned to make it all about my home. My dwelling place.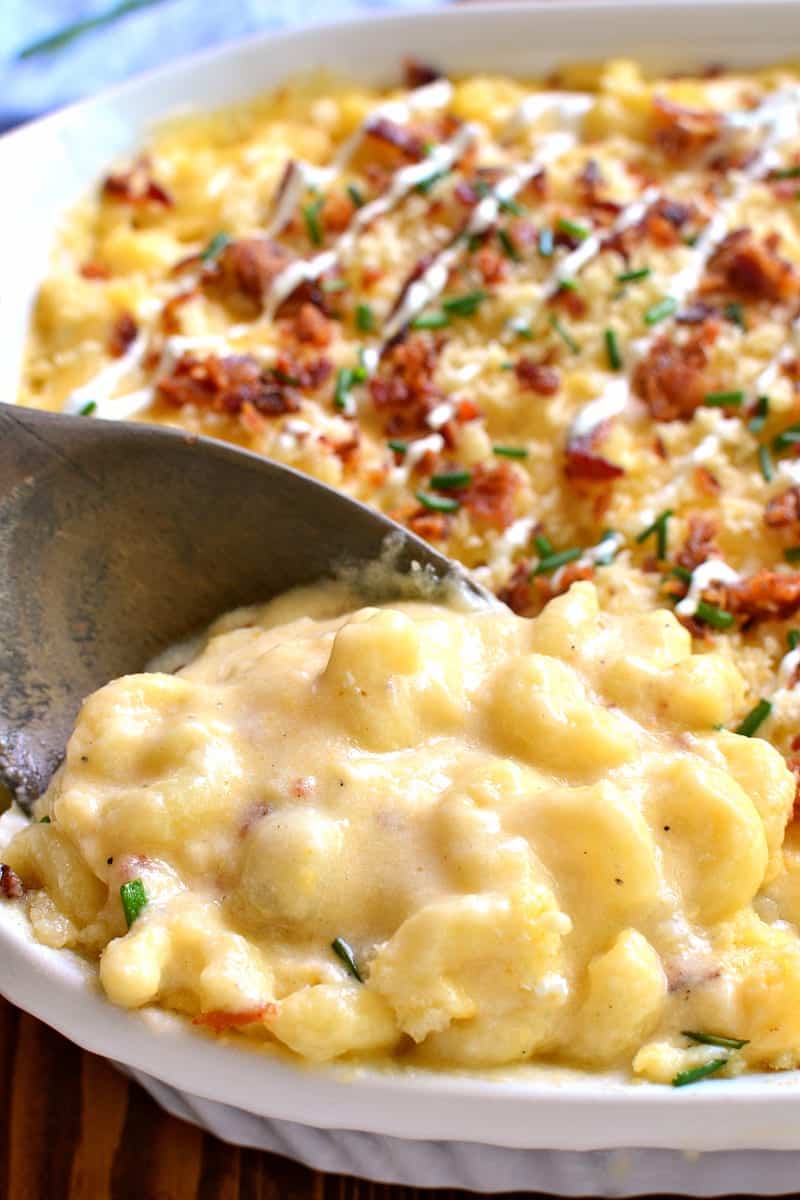 If I had to do it all over again, I'd do it all different. I'd start with a name that was obviously FOOD, I'd take way better pictures (haha) and I'd start with re-do's of some of my favorite family recipes. Like this Loaded Mac & Cheese. The starting point? An old family recipe passed down from Jorden's Aunt Sue…..with a few minor tweaks and the addition of sour cream, bacon, and chives. Because let's be honest. Old family recipes are favorites for a reason! And LOADED makes everything better.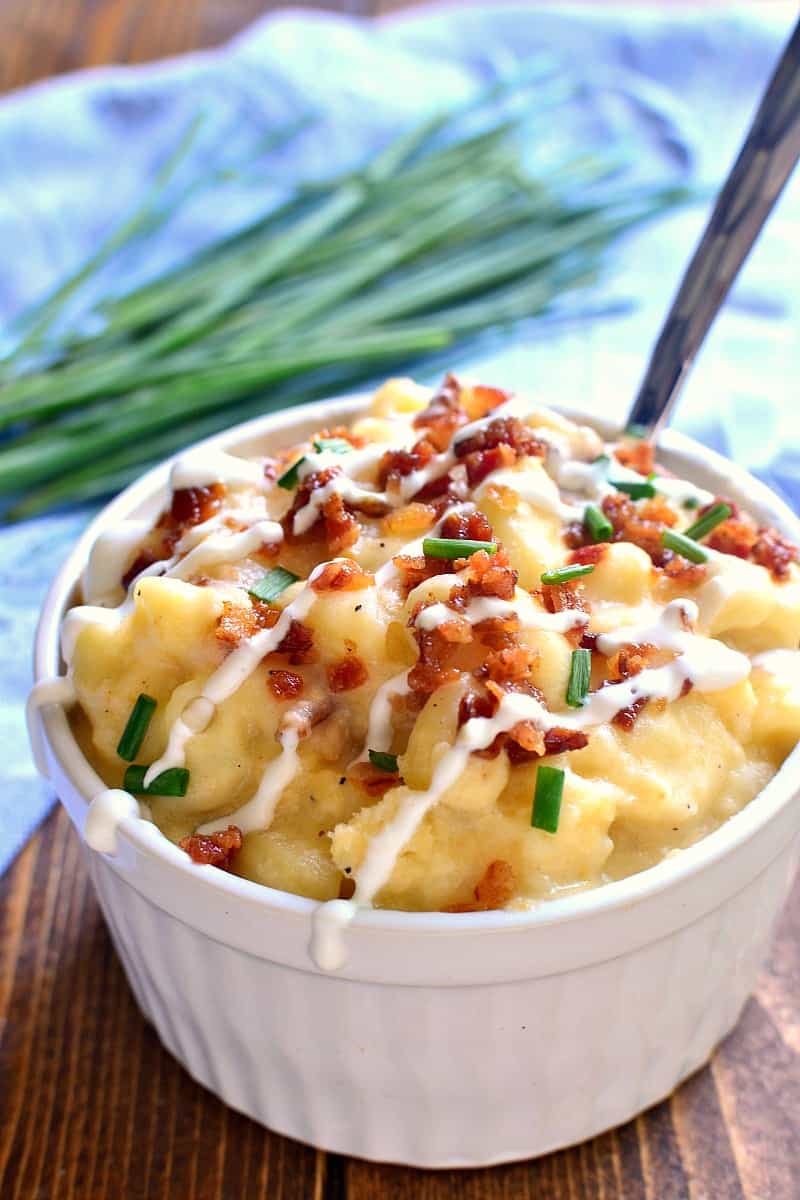 The only requirement for this Loaded Mac & Cheese is that you like your mac & cheese creamy. Because this is the creamiest mac & cheese ever! It's perfect for family dinners, and kids, and feeding a crowd….and even though it's particularly delicious right out of the oven, it reheats well (and makes a big pan), so you can plan on some leftovers. And I'll plan on bringing you some more delicious twists on family recipes….sound good? And we can both save the home decor inspiration to someone else. 😉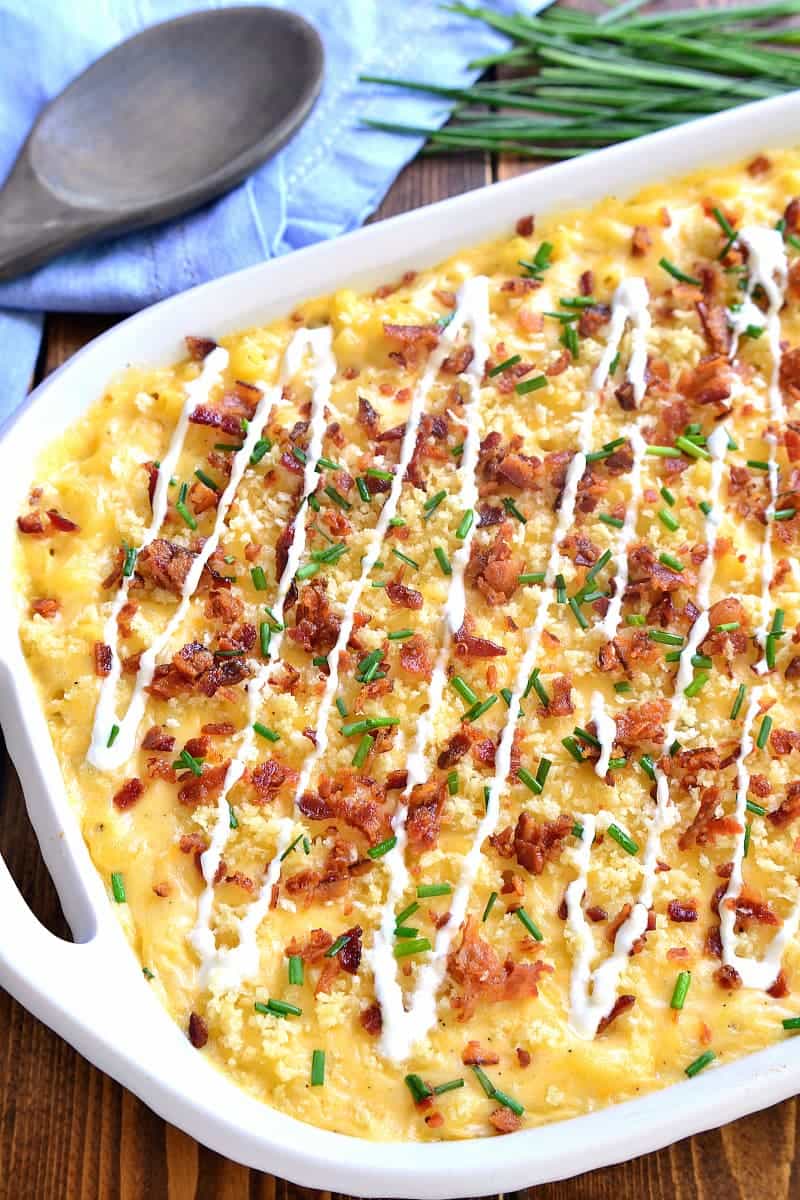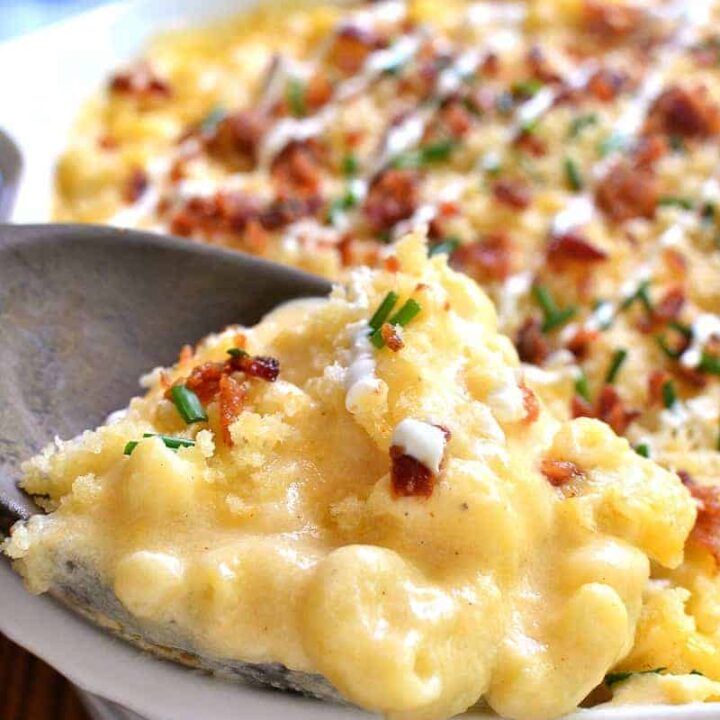 Loaded Mac & Cheese
Deliciously creamy Baked Mac & Cheese, loaded with sour cream, bacon, and chives and topped with buttery bread crumbs. The BEST mac & cheese ever....sure to become a family favorite!
Ingredients
1 pound elbow macaroni
1/2 cup butter
1/2 cup flour
1 teaspoon dried mustard
1 1/2 teaspoons salt
1/2 teaspoon pepper
5 cups half & half, whole milk, or evaporated milk
8 ounces block sharp cheddar cheese, shredded
8 ounces block monterey jack cheese, shredded
Topping
1/2 cup panko bread crumbs
2 Tablespoon butter, melted
1/2 package bacon, cooked and crumbled
1 Tablespoon minced chives
sour cream
Instructions
Cook macaroni according to package instructions. Rinse with warm water and drain completely.
In a large saucepan, melt butter over medium-low heat.
Stir in flour; continue cooking over medium-low heat, stirring constantly, 5-7 minutes or until mixture begins to turn golden. Stir in mustard powder, salt, and pepper.
Slowly add milk. Cook, stirring constantly, over medium-low heat until thickened to the consistency of gravy and bubbly.
Remove from heat; add cheese and stir until melted.
Mix cheese mixture with cooked macaroni; pour into greased 9x13 inch casserole dish.
Combine bread crumbs and melted butter; sprinkle over mac & cheese.
Bake at 375 degrees 20-30 minutes or until bubbly.
Remove from oven; top with crumbled bacon, chives, and sour cream.
Nutrition Information:
Yield:

12
Serving Size:

1 grams
Amount Per Serving:
Calories:

473
Total Fat:

34g
Saturated Fat:

21g
Trans Fat:

1g
Unsaturated Fat:

11g
Cholesterol:

100mg
Sodium:

692mg
Carbohydrates:

26g
Fiber:

1g
Sugar:

6g
Protein:

17g