A delicious grilled cheese sandwich with 4 different kinds of cheese, avocado, oven roasted tomatoes, and dill. Grilled cheese doesn't get any better!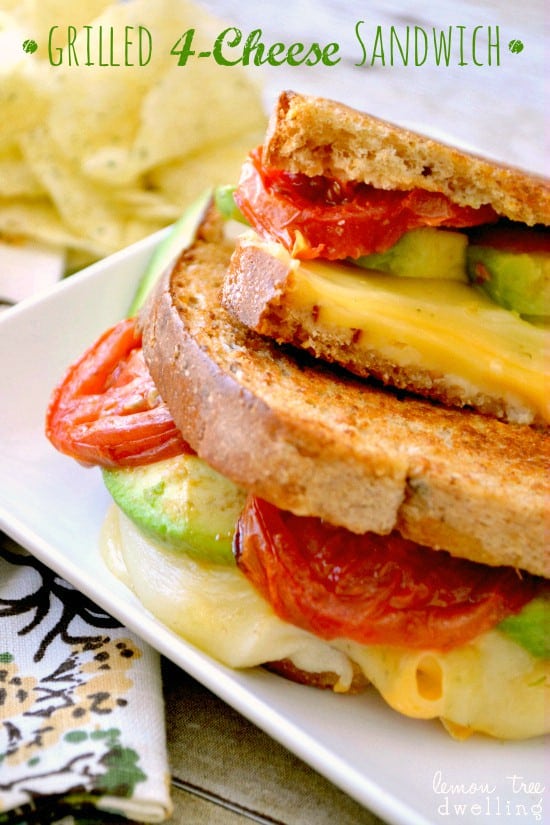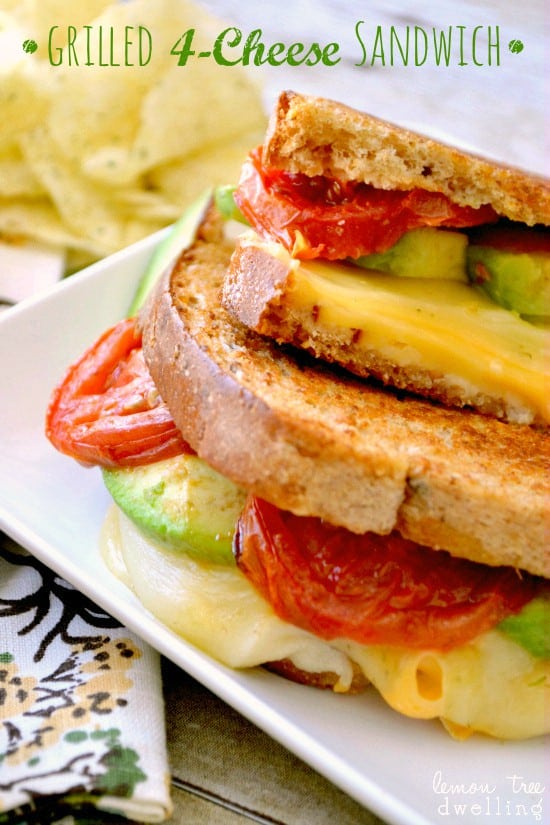 Ah…..Mondays. Nobody's favorite day of the week, that's for sure! Being a stay at home mom, I don't feel it nearly as much as I did when Mondays meant "back to work"….but I definitely still feel it! I feel it in the fact that the girls are usually a little extra tired from the weekend, so getting ready for school feels a little like pulling teeth. And I feel it in the fact that it's the start of a new work week for Jorden, which means I'm pretty much the one on kid duty. And I definitely feel it in the fact that it starts a new week of schedules and appointments and things to remember. But you know where I feel it most?? In the fact that I have to think about an entire week's worth of dinners!!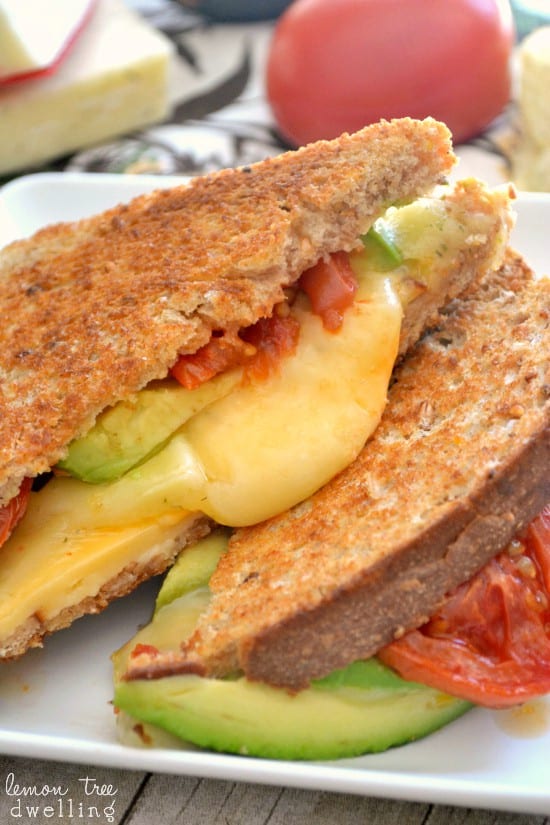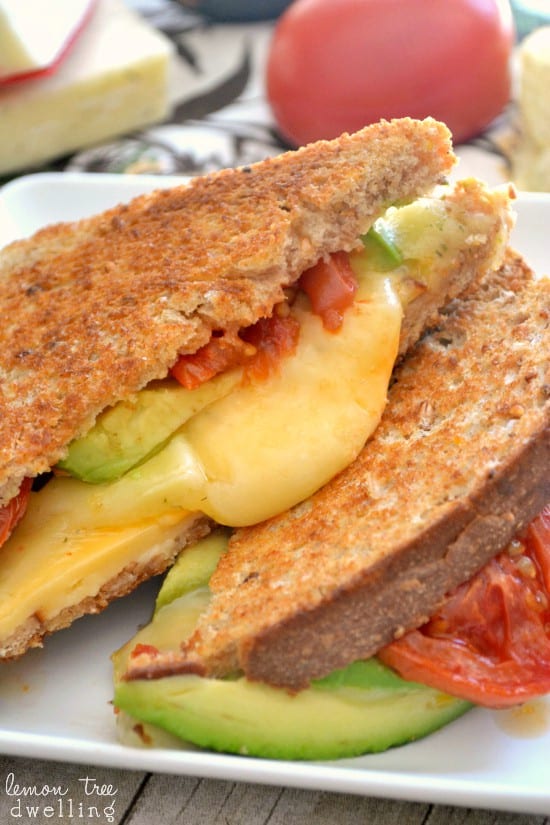 Funny, right? I'm a food blogger who kinda dreads making dinner for my family? I know. But it's mostly because of all the other chaos surrounding dinner, like homework and friends and the fact that Nora never naps anymore and is always overtired by dinnertime….not to mention the complaints I am sure to get for nearly anything I could possibly dream up! (Tell me you can relate!!) I like cooking……but not under these circumstances!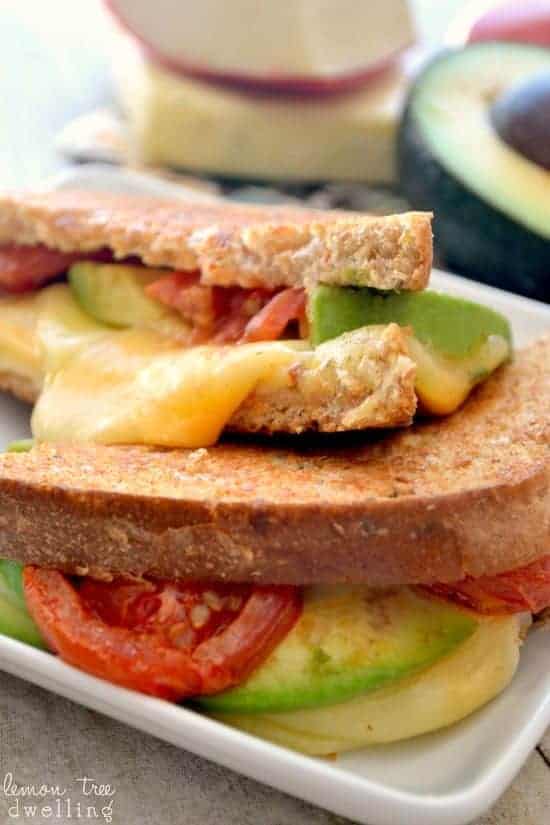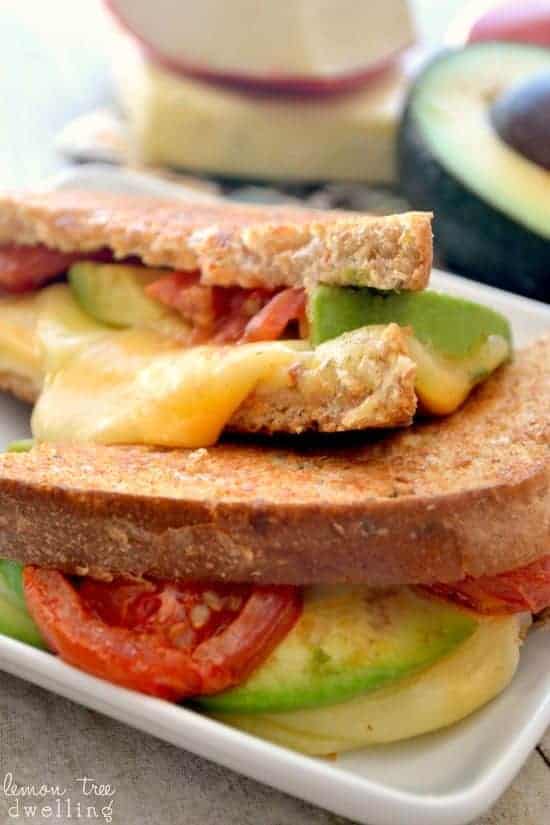 So I find that I have recipes I go back to again and again. Recipes that are sure to go over well, with few complaints, and recipes that are easy enough that they don't require all of my attention. Like tacos, or pizza, or spaghetti and meatballs, or…..grilled cheese! With tomato soup, of course. (Is there any other way??)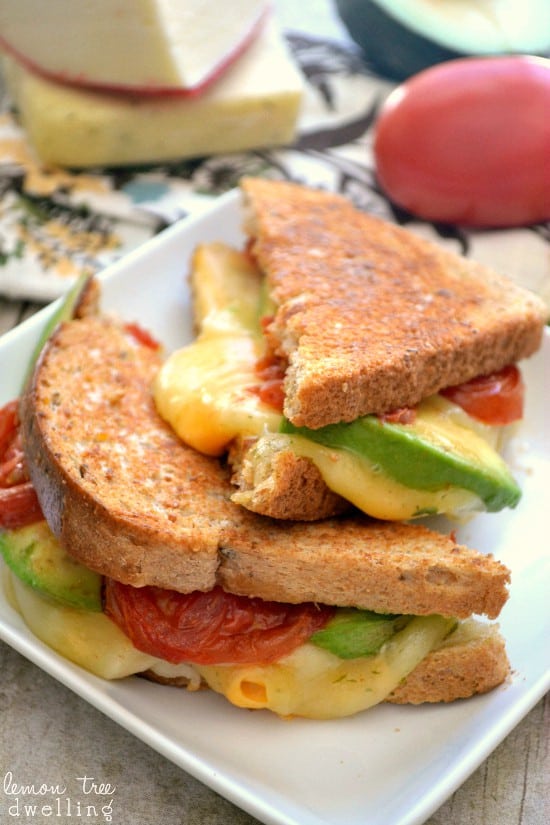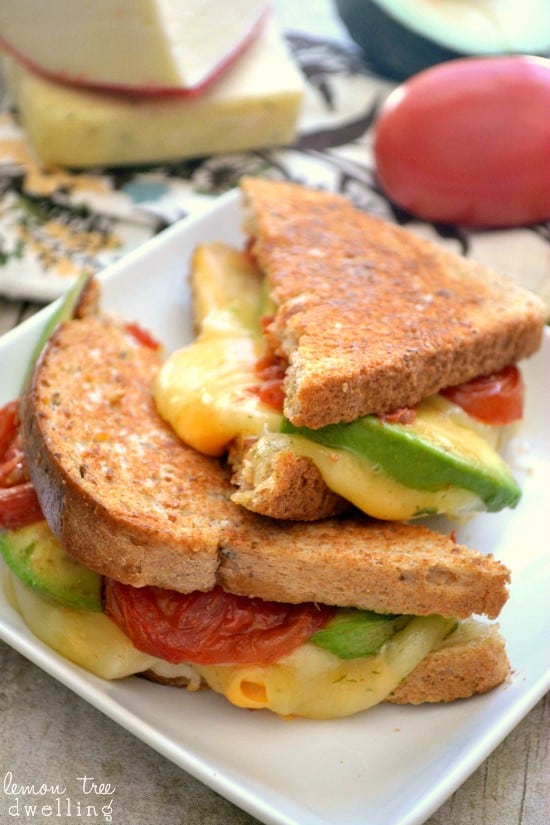 When it comes to grilled cheese, I can be pretty particular. I mean, I love it….but there's a right way and a wrong way to do it! (Hint: this sandwich is the right way!) And it makes sense, since it's actually a copycat version of a sandwich from one of my favorite restaurants. Not only is it loaded with ooey gooey melted cheese, and four different kinds of it….but it has the added bonus of avocado, oven roasted tomatoes, and fresh dill. The ONLY thing that could make this sandwich better might be bacon, although you completely don't need it. (Remember all the cheese??) One thing that's for sure is that having this sandwich in your back pocket will make you dread Monday a little less…..which, I'm sure, is something we could ALL use!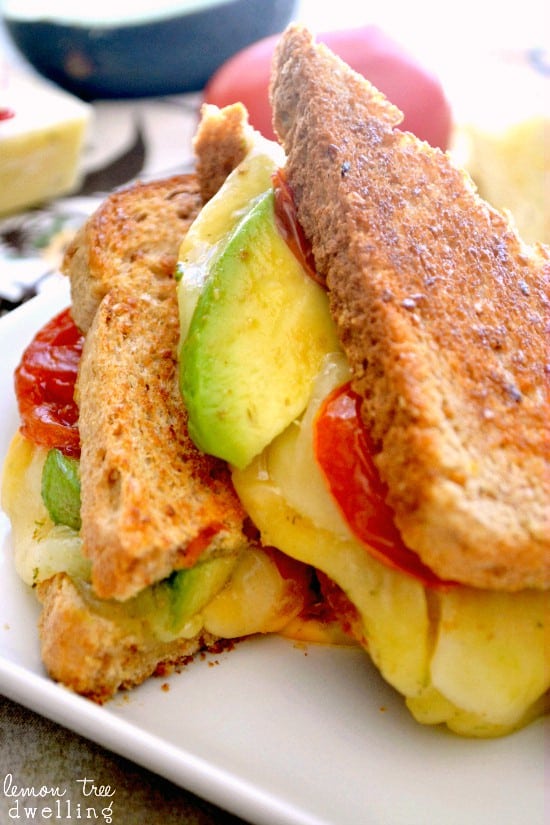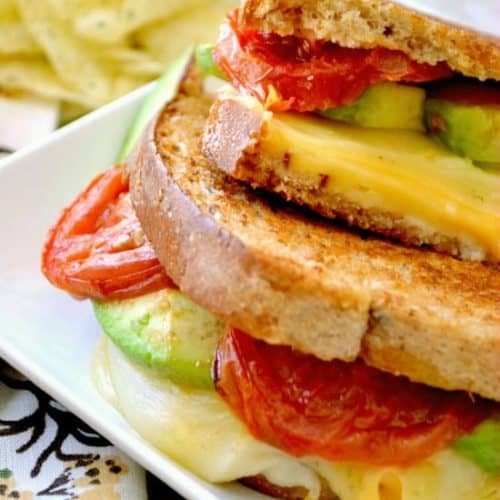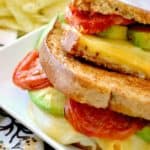 Loaded Grilled 4-Cheese Sandwich
Ingredients
2

slices

whole grain bread

1

tsp.

butter

Smoked Gouda cheese

Dill Havarti cheese

Fontina cheese

American cheese

1

Roma tomato

sliced and oven roasted

½

avocado

sliced

dash of dried dill
Instructions
Drizzle sliced Roma tomato with olive oil and roast in 400 degree oven until blistered.

Assemble sandwich by layering cheeses (to taste), avocado slices, dried dill, and bread.

Melt ½ tsp. butter on griddle and grill sandwich over medium heat until bread is golden brown and cheese is melted.

Add roasted tomatoes before serving.
Looking for some yummy sides to go with your sandwich?