These Iced Raspberry Muffins are loaded with fresh raspberries and topped with a deliciously sweet cream cheese icing. A perfect portable snack or a decadent breakfast treat!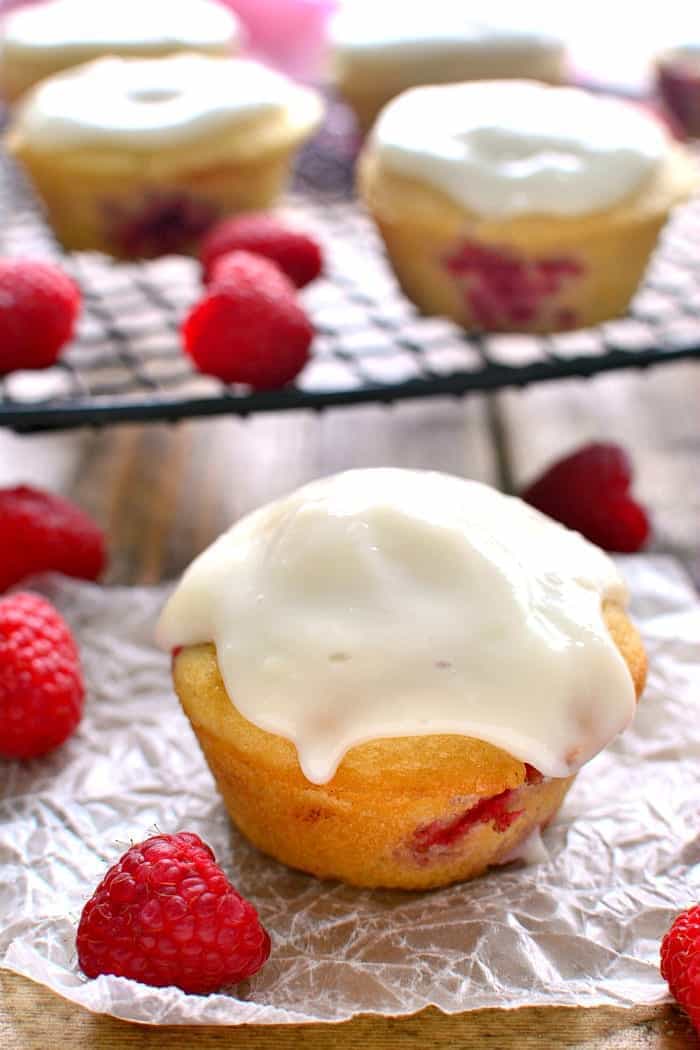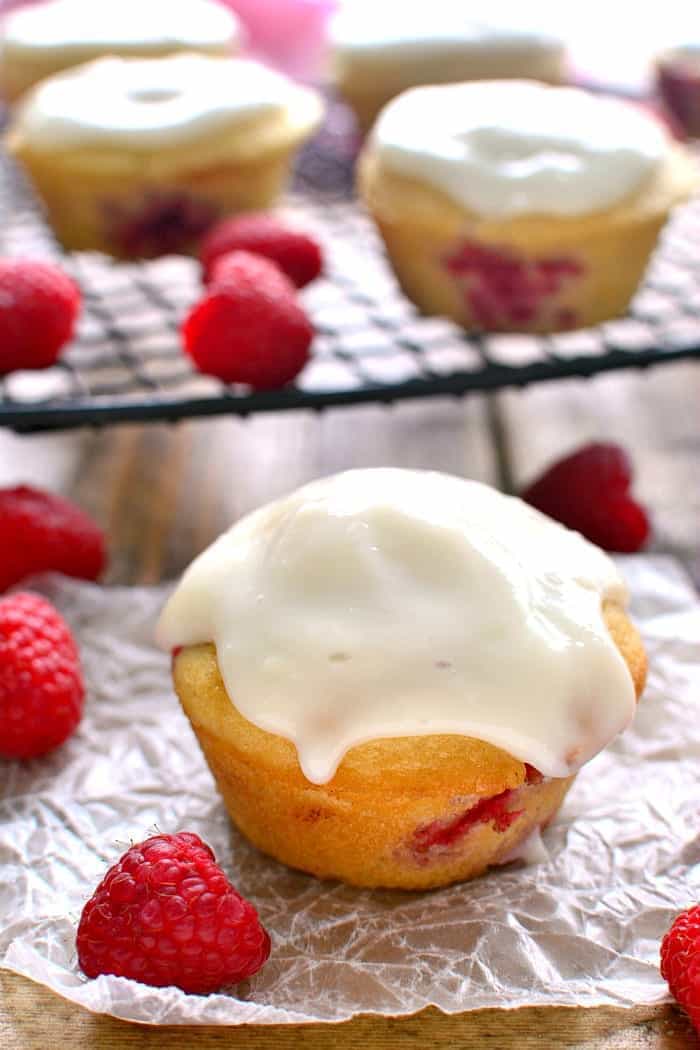 So my kids have discovered a new breakfast love: Dinosaur Egg Oatmeal. Have you seen it? Little packets of instant oatmeal with candy dinosaur eggs that melt when you add the hot water....only to reveal tiny candy dinosaurs? Yep. They've gone crazy for it.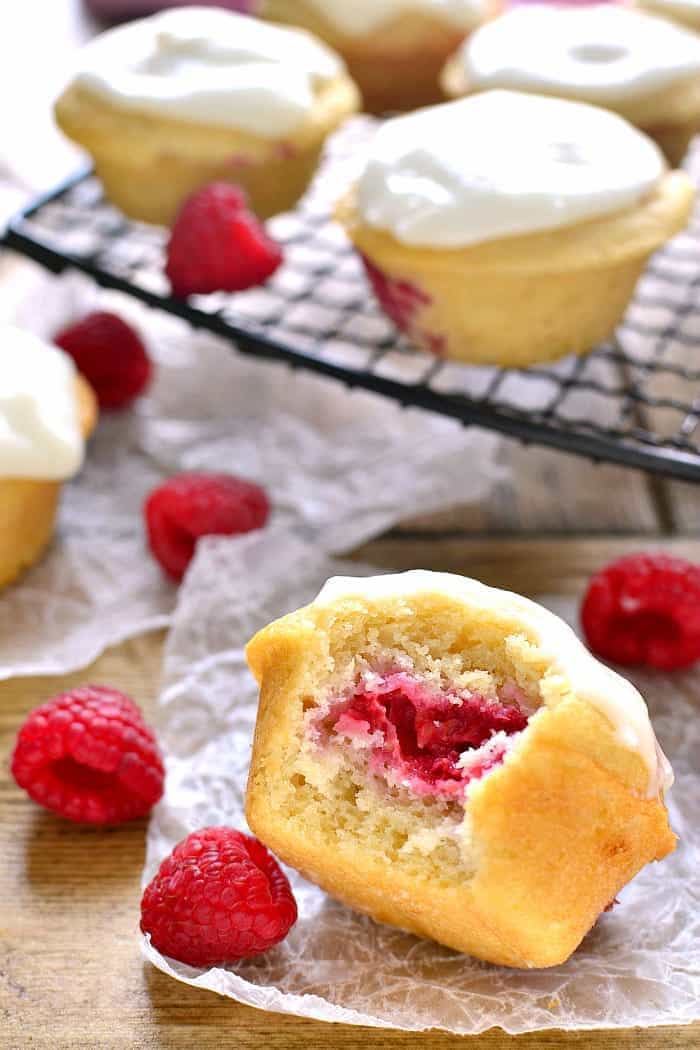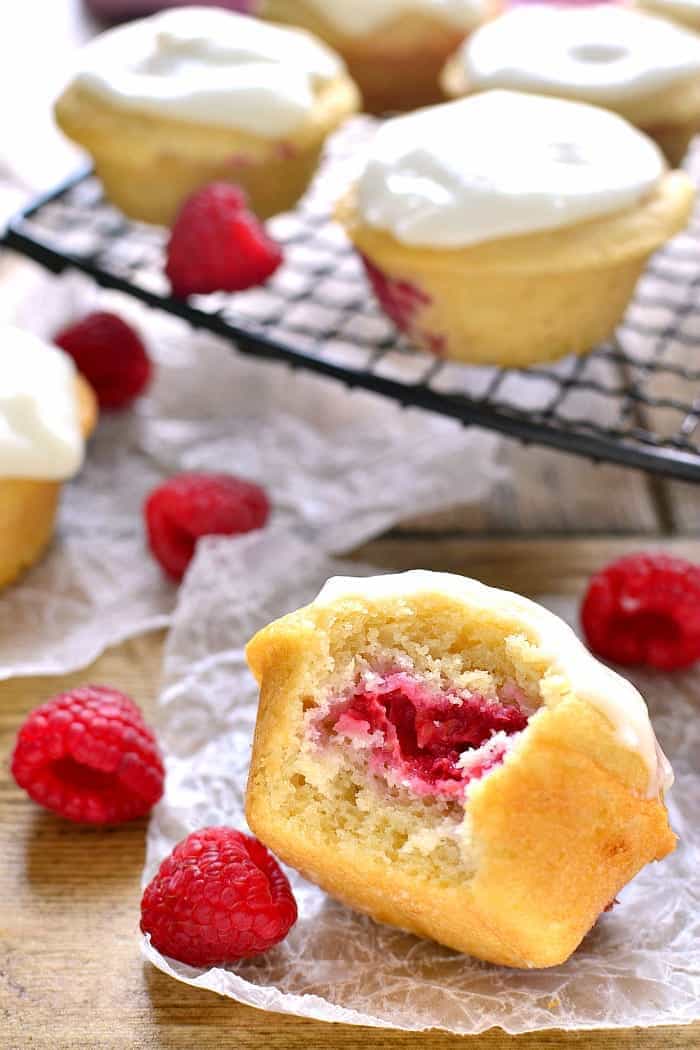 Can you blame them? What kid wouldn't want candy for breakfast? Especially when it kinda feels like magic!?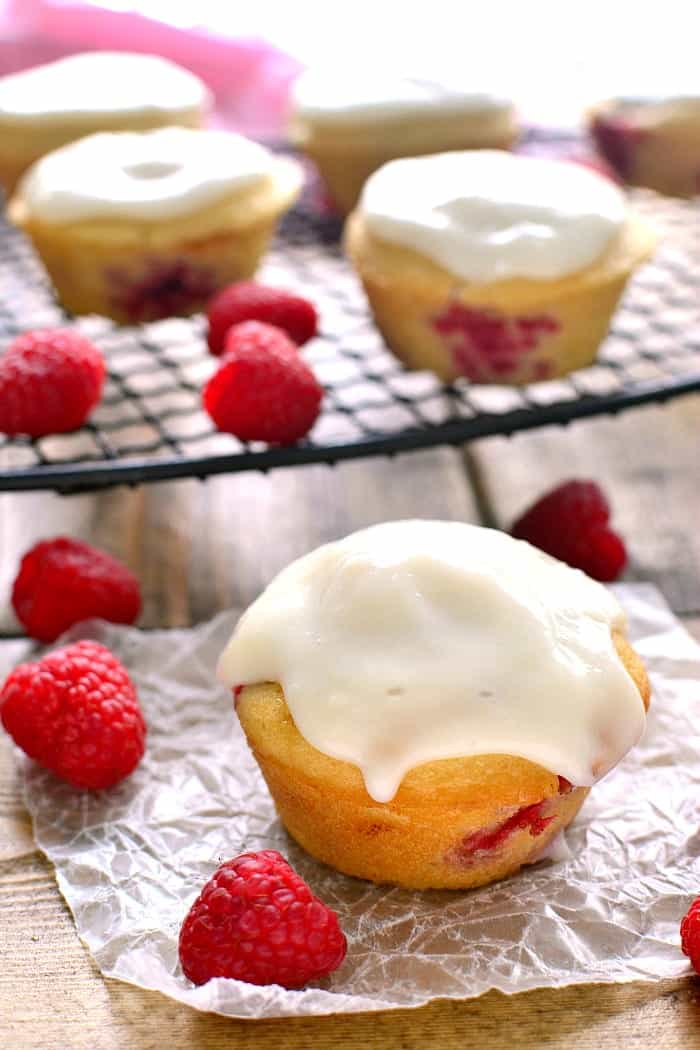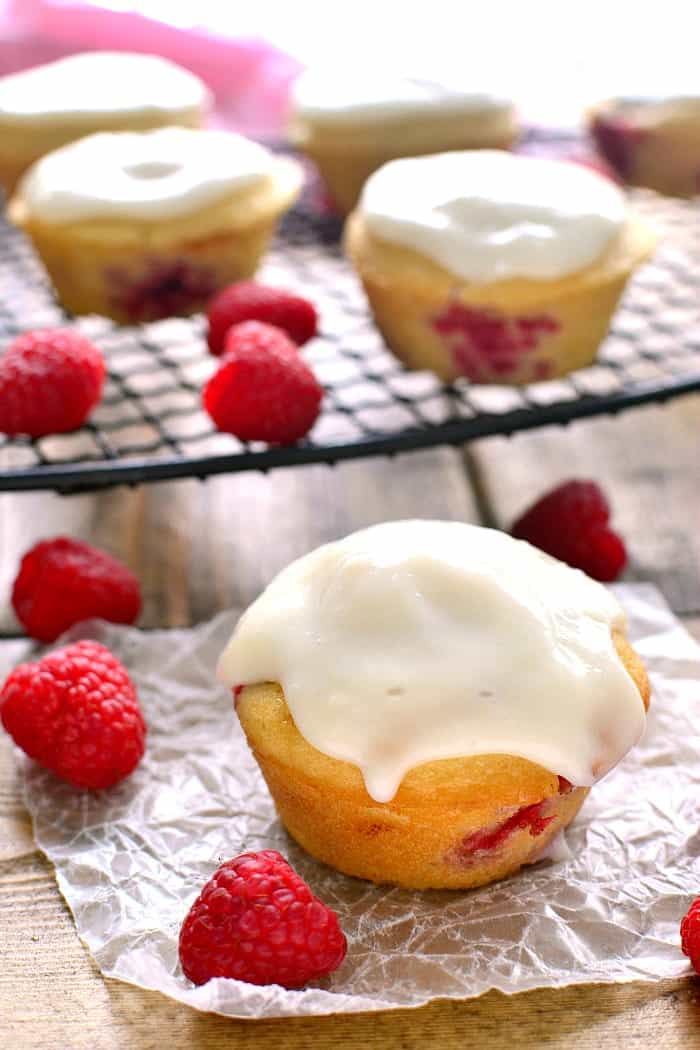 But here's the deal. I'm not actually convinced they like the oatmeal. They certainly don't like it as much as the dinosaurs....as evidenced by the fact that when the dinosaurs are gone, there's a 50/50 chance they'll ever take another bite....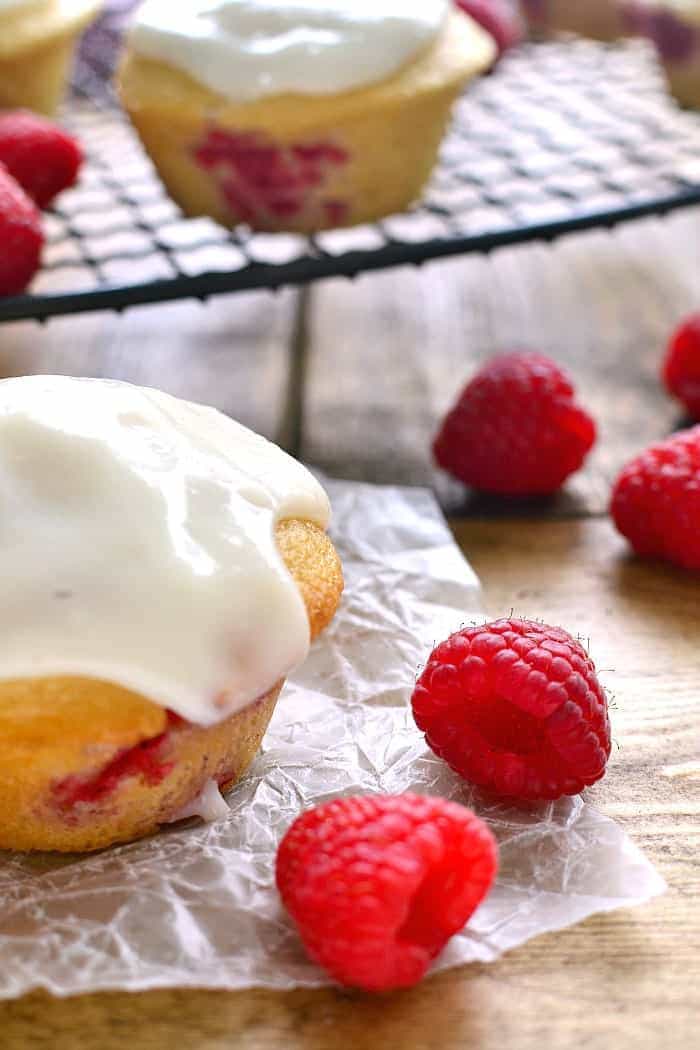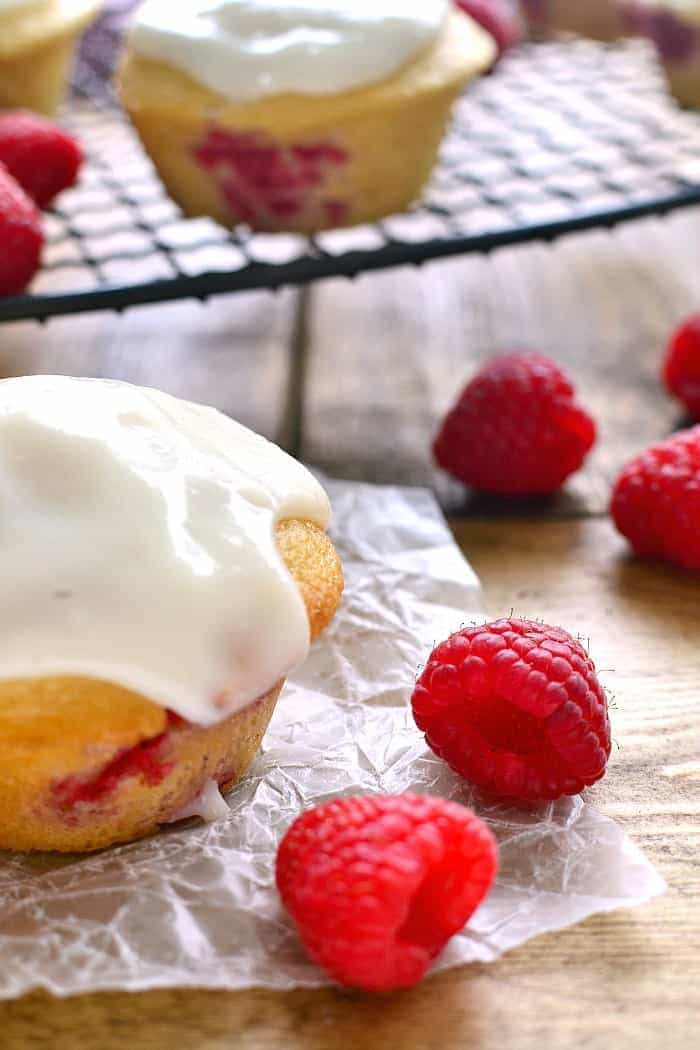 And here's the other deal. As much as they love it, I really don't love it at all. I know it's fun....but candy for breakfast? It goes against every parental fiber of my being! I guess it's time for me to up my breakfast game. Again.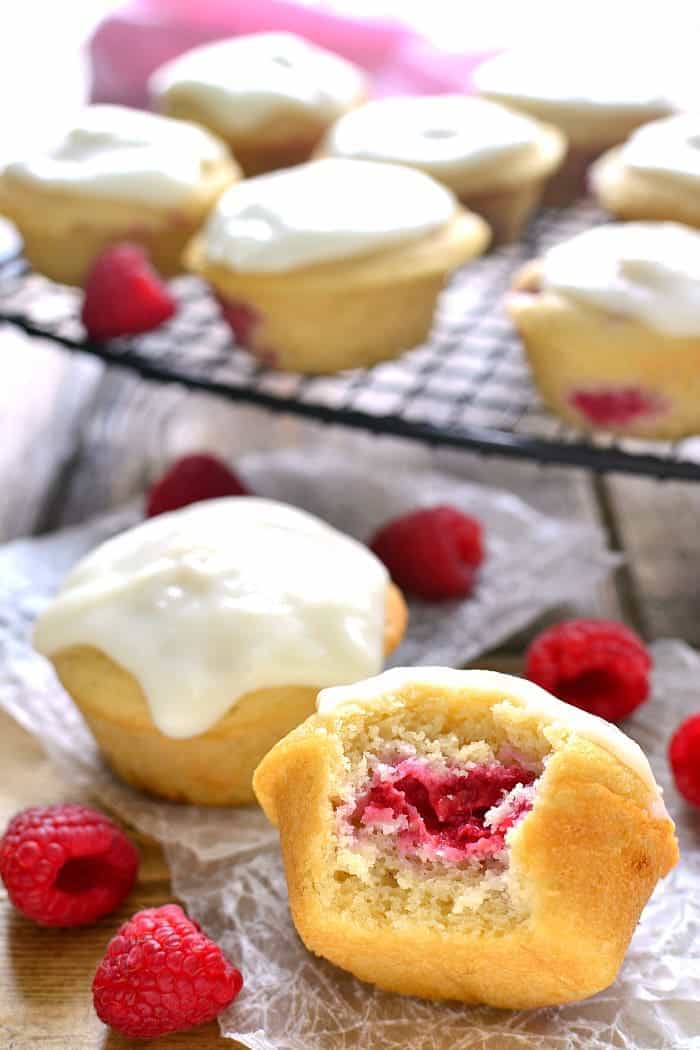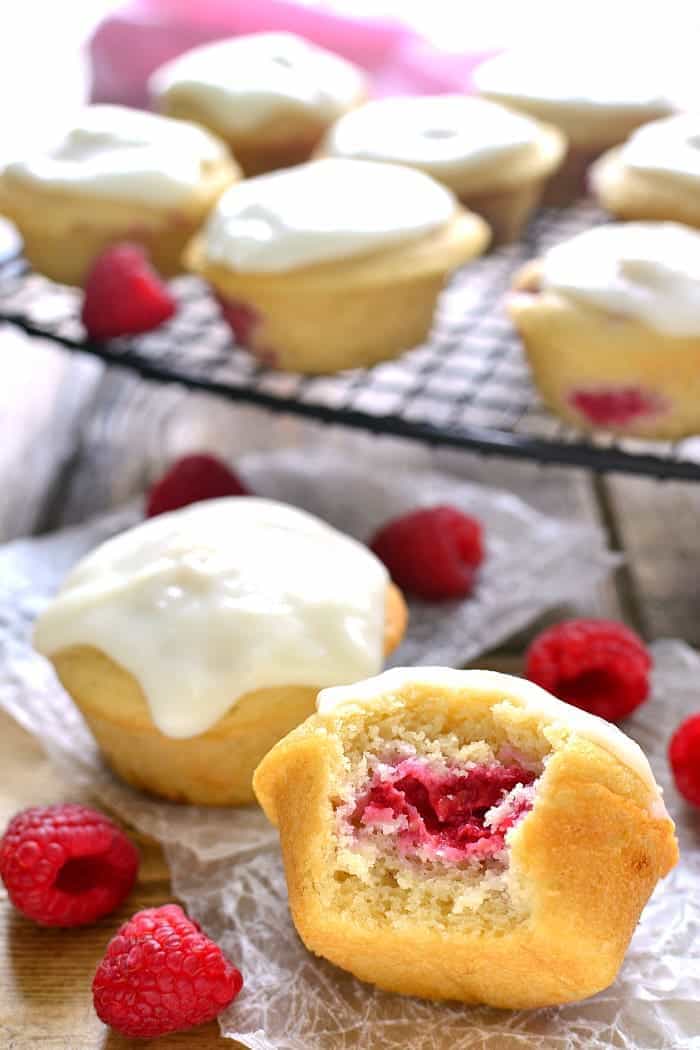 Iced Raspberry Muffins - Candy for breakfast!
Enter: Iced Raspberry Muffins. Loaded with fresh raspberries and real butter. And topped with the BEST cream cheese icing. A whole different kind of breakfast treat....and one I'm totally okay with my kids falling in love with!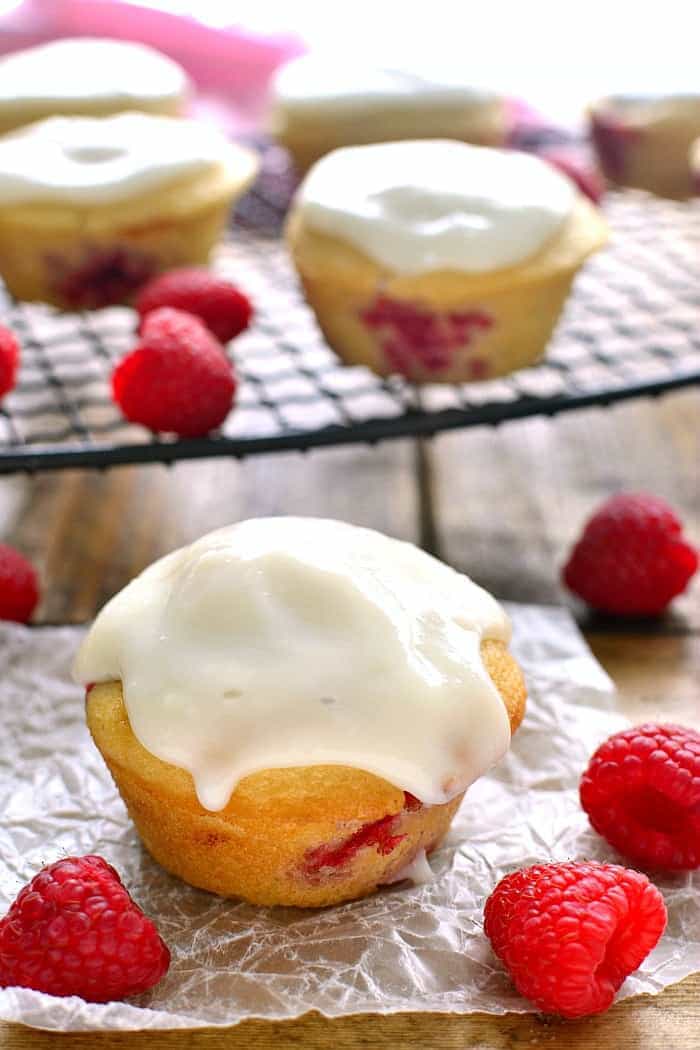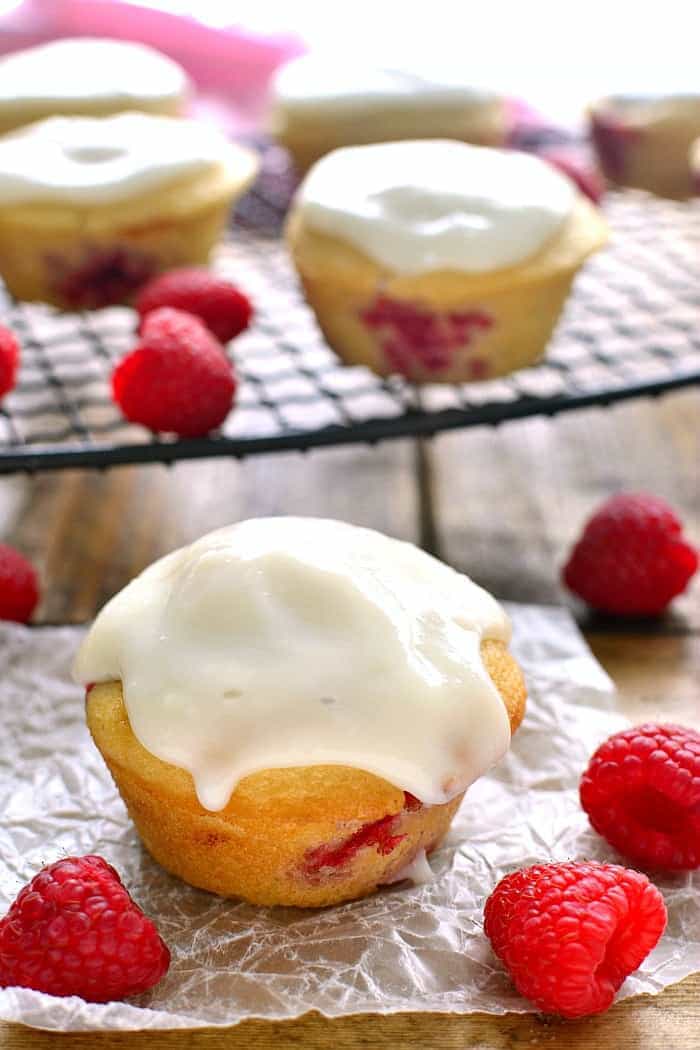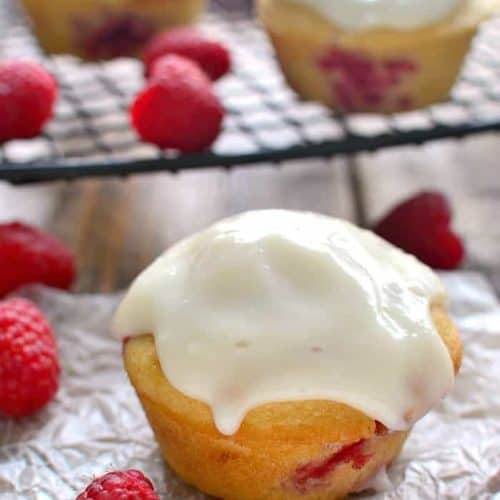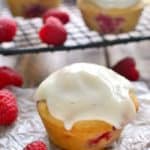 Iced Raspberry Muffins
These Iced Raspberry Muffins are loaded with fresh raspberries and topped with a deliciously sweet cream cheese icing. The perfect way to start your day!
Ingredients
1 ½

c.

all-purpose flour

½

c.

sugar

1 ½

tsp.

baking powder

¼

tsp.

baking soda

¼

tsp.

salt

½

c.

sour cream

¼

c.

+ 2 Tbsp. milk

1

large egg

½

stick unsalted butter

melted and cooled

½

tsp.

vanilla extract

¼

tsp.

raspberry extract

6

oz.

raspberries

2

Tbsp.

flour

For icing:

½

c.

powdered sugar

2

oz.

cream cheese

softened

2

Tbsp.

milk

Recipe adapted from The America's Test Kitchen Family Cookbook.
Instructions
Preheat oven to 375 degrees. Prepare a 12-cup muffin tin with cooking spray.

Mix the flour, sugar, baking powder, baking soda and salt together in a large bowl.

Whisk the sour cream, milk, egg, vanilla, and raspberry extract together in a separate bowl.

Mix the wet ingredients with the dry ingredients and stir gently to combine.

Add the melted butter and stir well.

Roll raspberries in flour to coat. Remove from flour and gently fold raspberries into batter.

Divide evenly among prepared muffin cups.

Bake approx. 25 minutes or until muffins are light golden brown.

Prepare icing by combining ingredients and mixing until smooth.

Remove muffins from oven; cool in pan 10 minutes, then remove from pan and top with icing.
If you aren't a fan of sweet treats for breakfast, then maybe my Breakfast Egg Muffins will suit you better!


For more great recipe ideas, be sure to follow us on Pinterest!