Fruit salsa is a fresh and flavorful summer condiment. My BEST Fruit Salsa recipe couldn't be easier to make! It's perfect for summer parties, picnics, or cookouts and is sure to be a hit!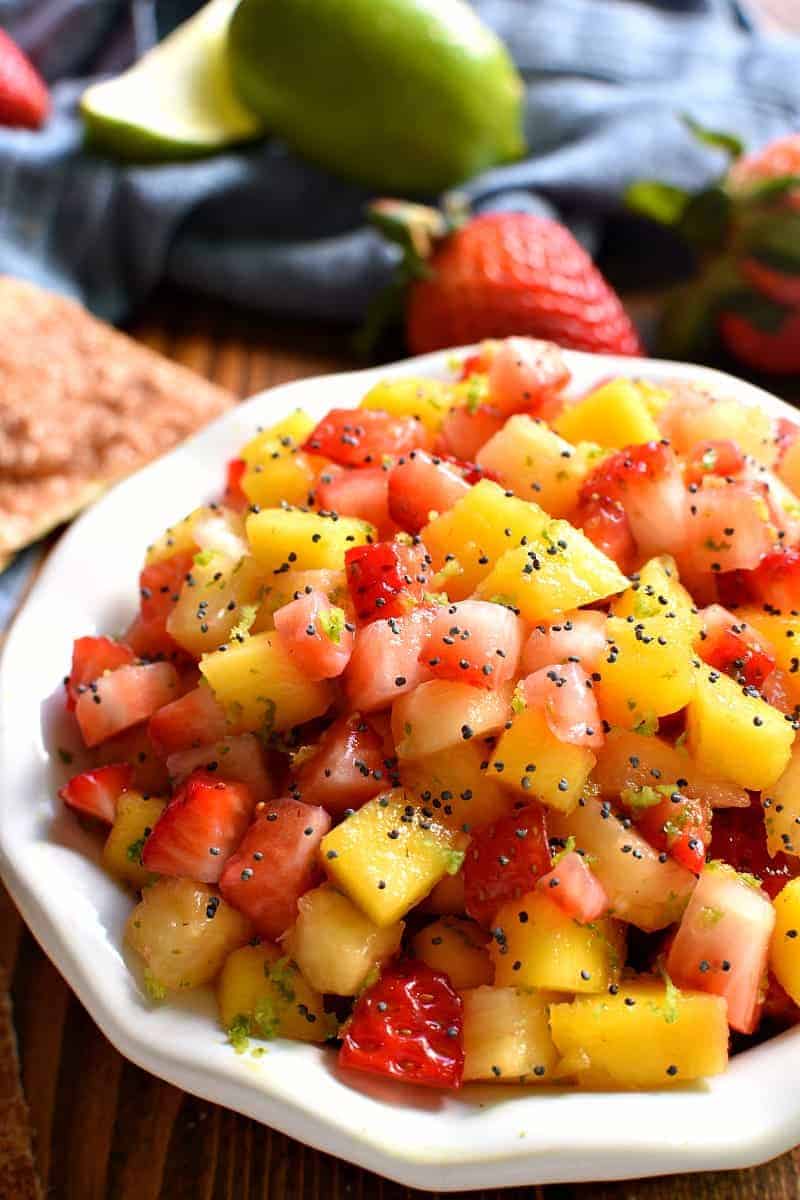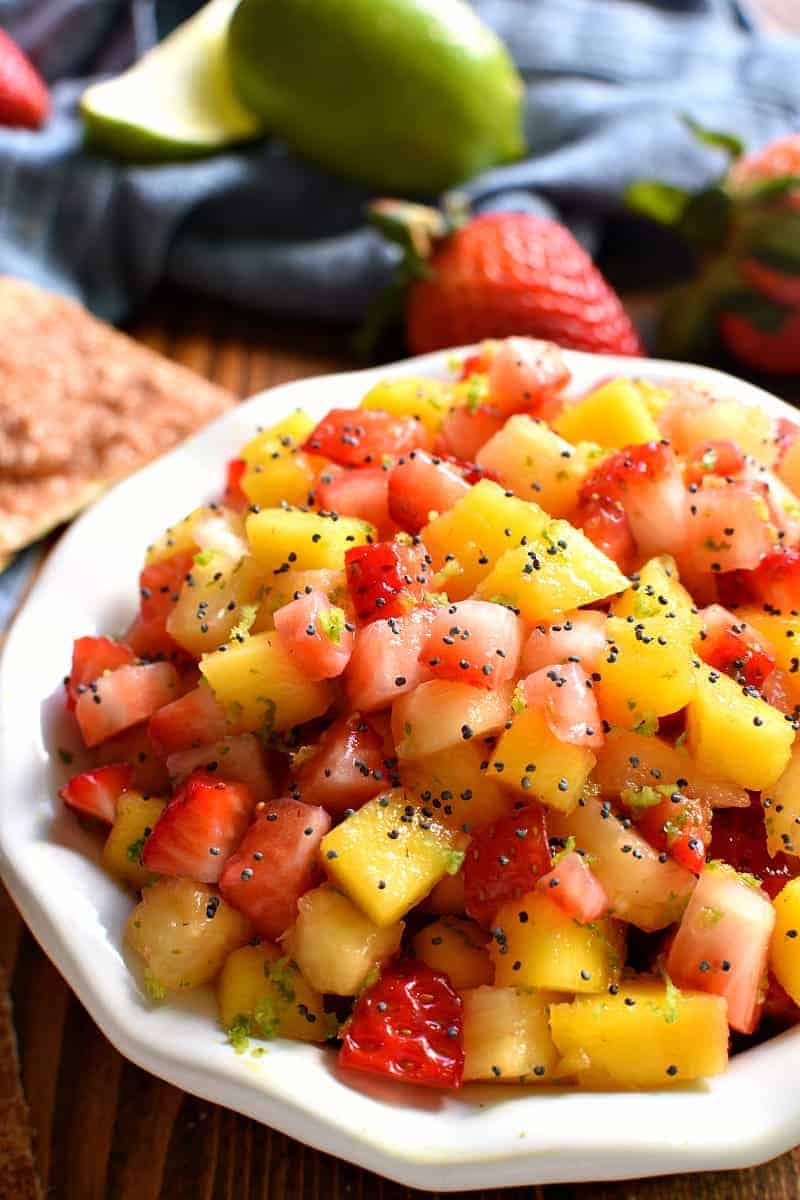 Growing up, I was always a little bit jealous of my friends who had swimming pools. I mean, what kid wouldn't be…right? The ability to swim, or float, or even just sit next to a pool, anytime you wanted? Sounds pretty amazing. Especially when you're 10.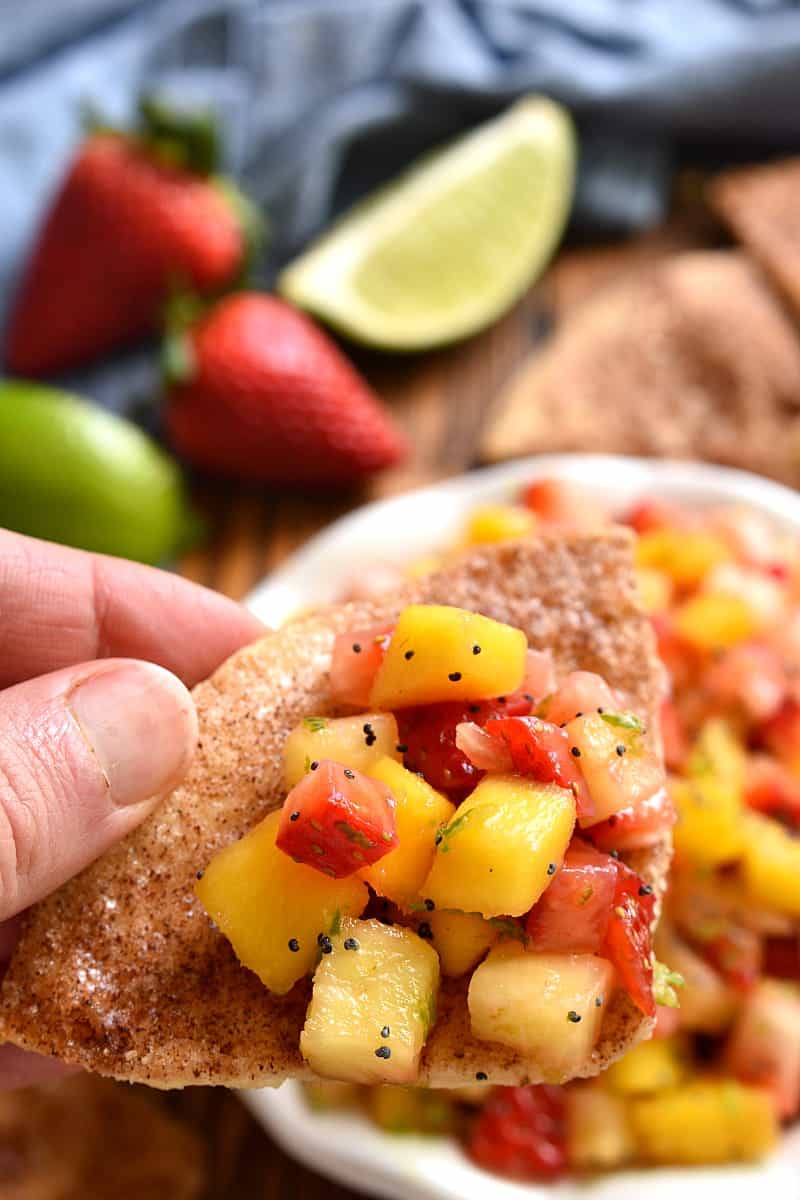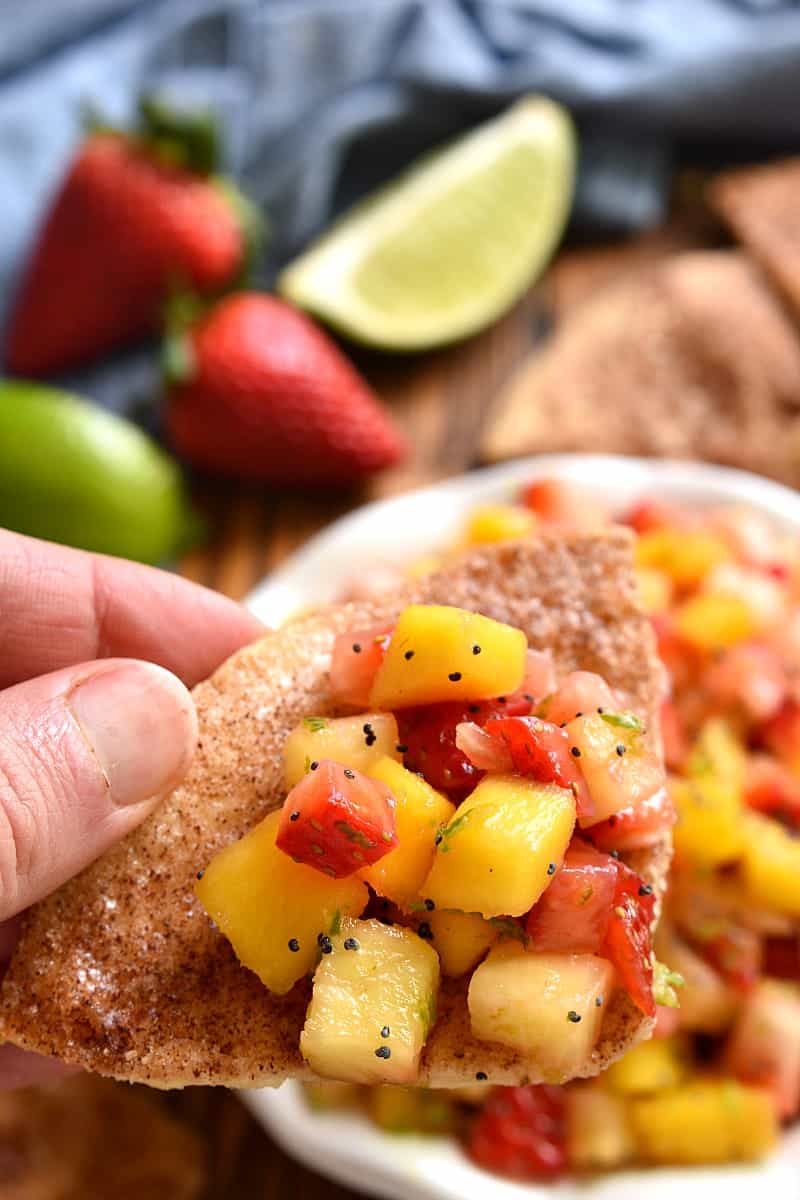 Of course, now that I'm an adult, there's NO WAY I'd want to deal with a pool. Not that it wouldn't be nice….every now and then, especially if I'm holding a tropical cocktail….but in all reality? A pool would make me a nervous wreck. Not to mention all the work that goes into it. So even though our kids are now at the ages of jealousy and begging, I think it's safe to say a pool is not in the cards for us.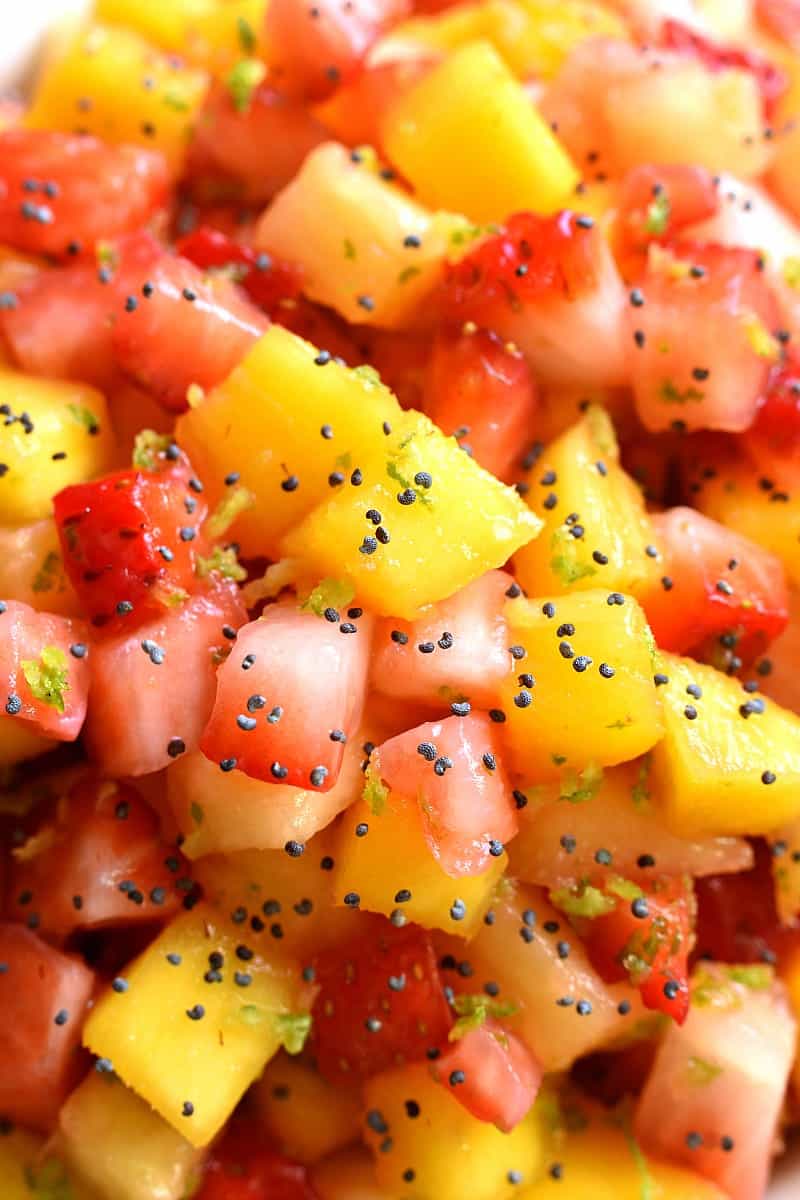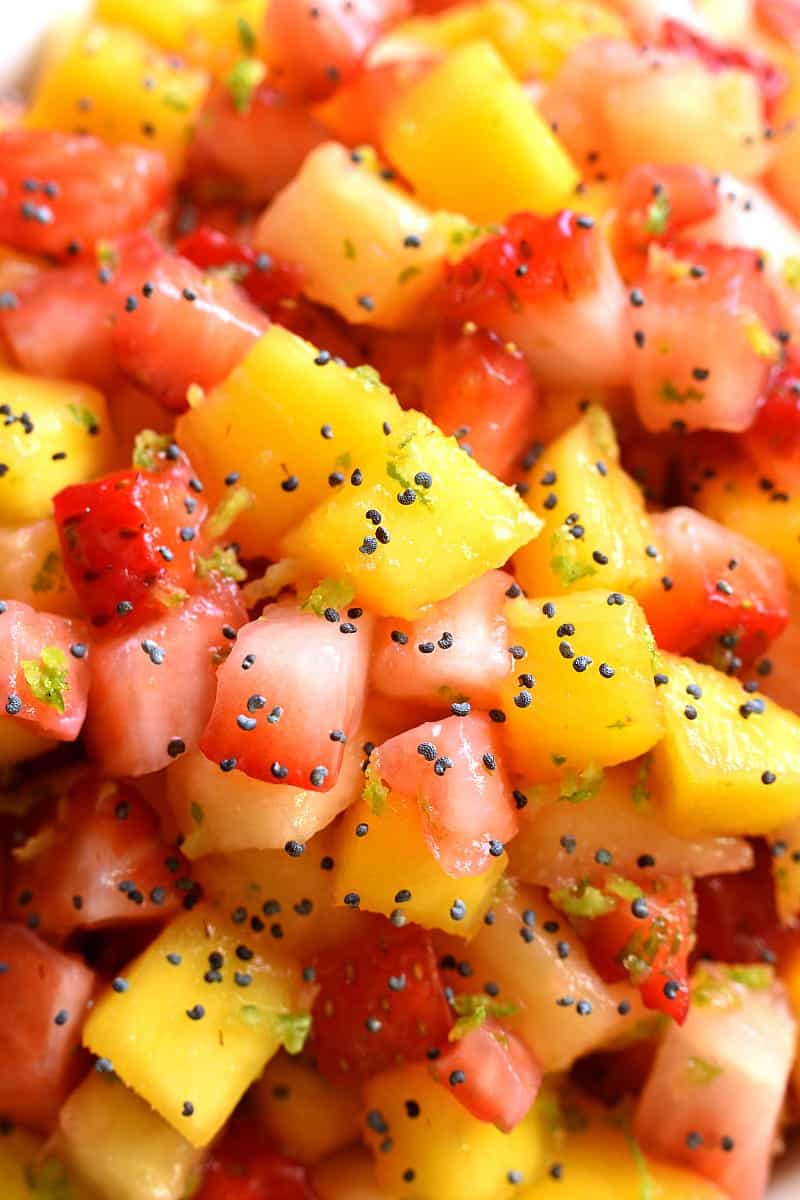 Summer Fruit Salsa
That being said, we seriously need to find some friends who have one! Because summer is almost here…and this Easy Fruit Salsa recipe would be perfect for a pool party. Or a picnic. Or a cookout. Or any summer activity, really. Because it's made with all the best summer fruits! And it's super quick and easy to make….which is what summer eating is all about. It's delicious as a dip, but I think it would also be fantastic served over pork chops or some simple grilled fish fillets.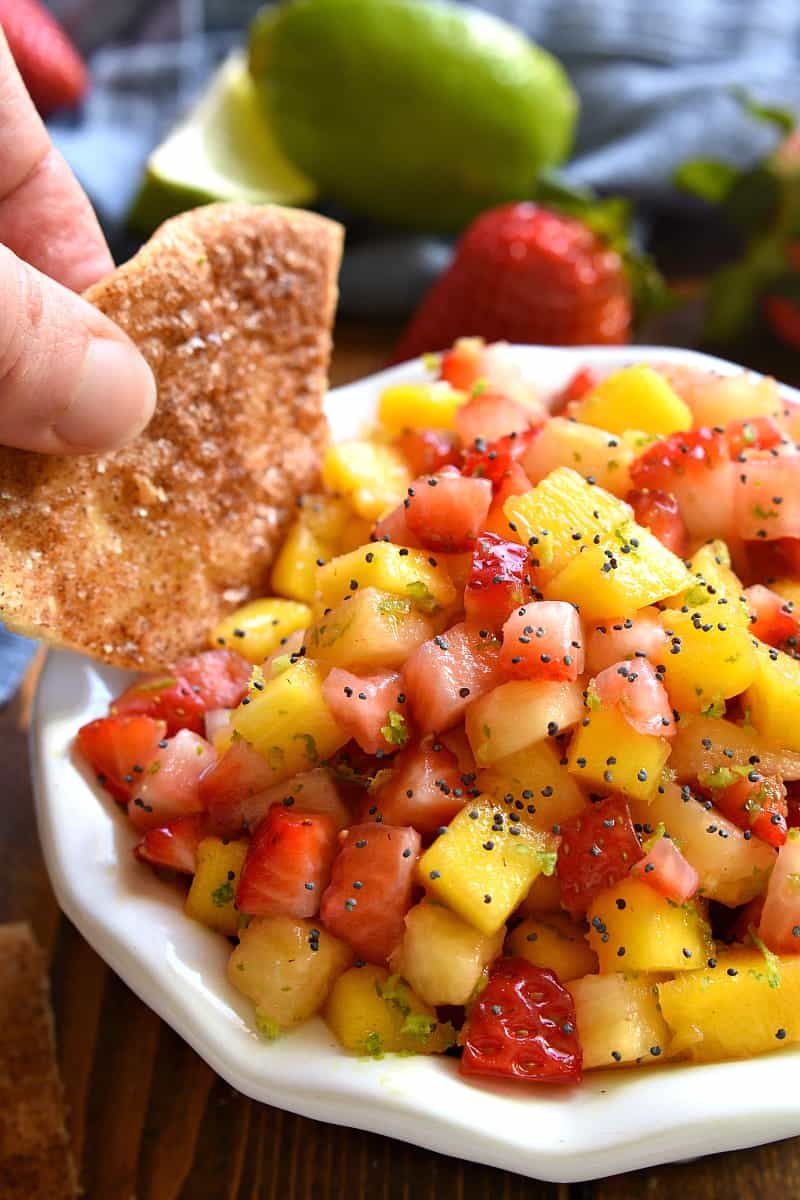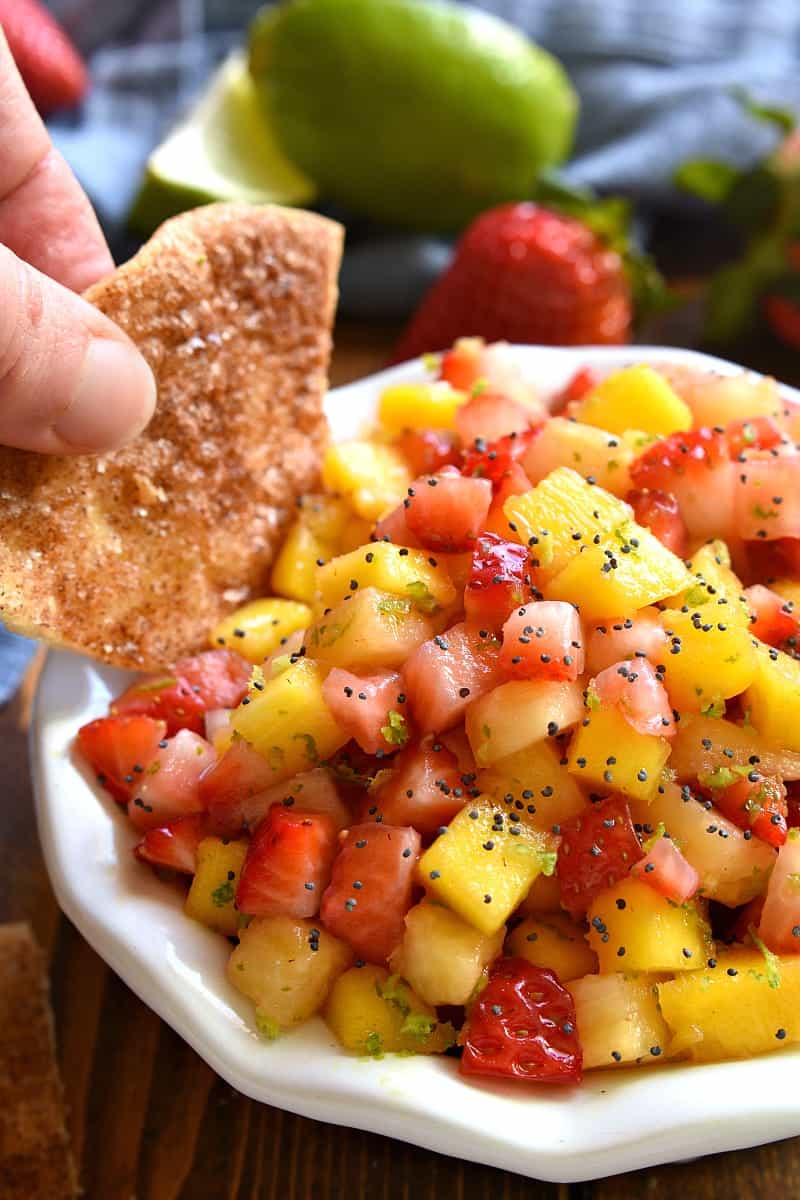 Just chop, mix, drizzle, and dip…..and you're on your way to my favorite kind of summer day. One that's filled with fresh, easy, delicious food. Especially fresh, easy, delicious dips! Like my Creamy Coconut Fruit Dip, my Easy Guacamole Dip, my Wedge Salad Dip, and one of my other favorite salsas – Strawberry Avocado Salsa. Whether you're poolside or not, this fruit salsa is perfect for dipping ALL summer long. And if you can find a friend with a pool? Even better.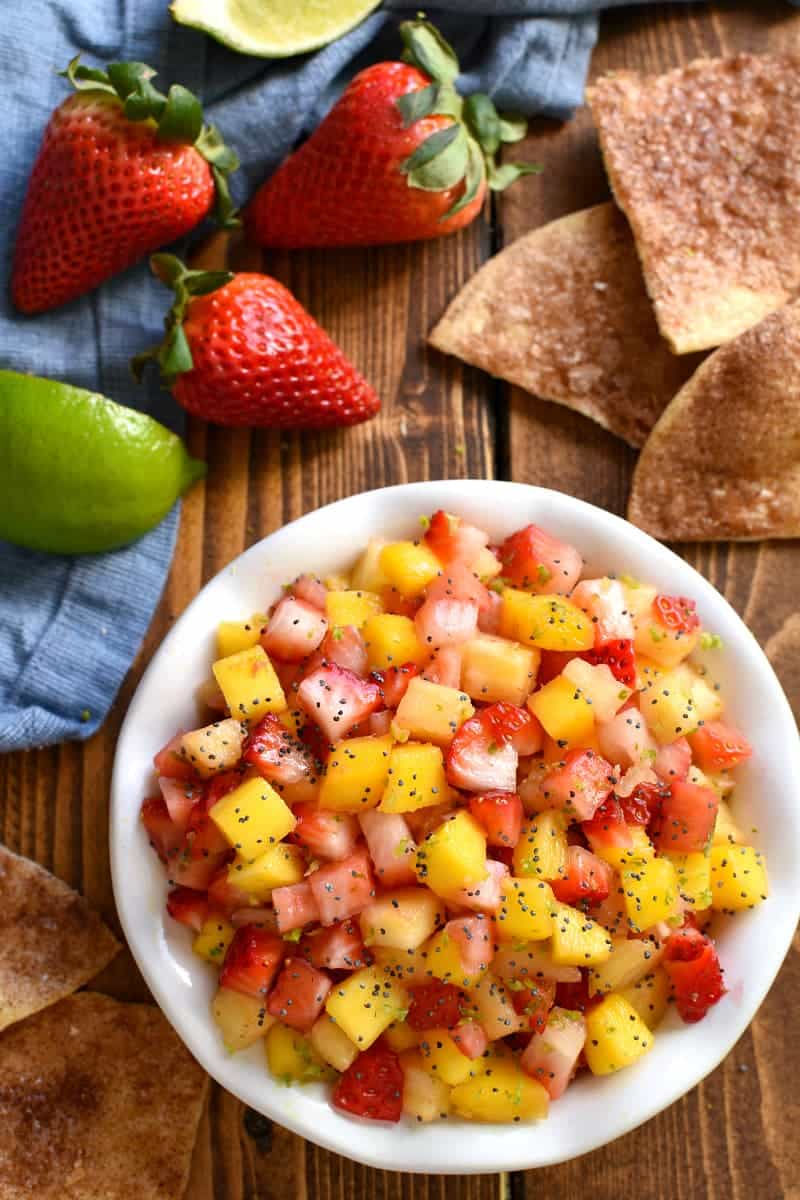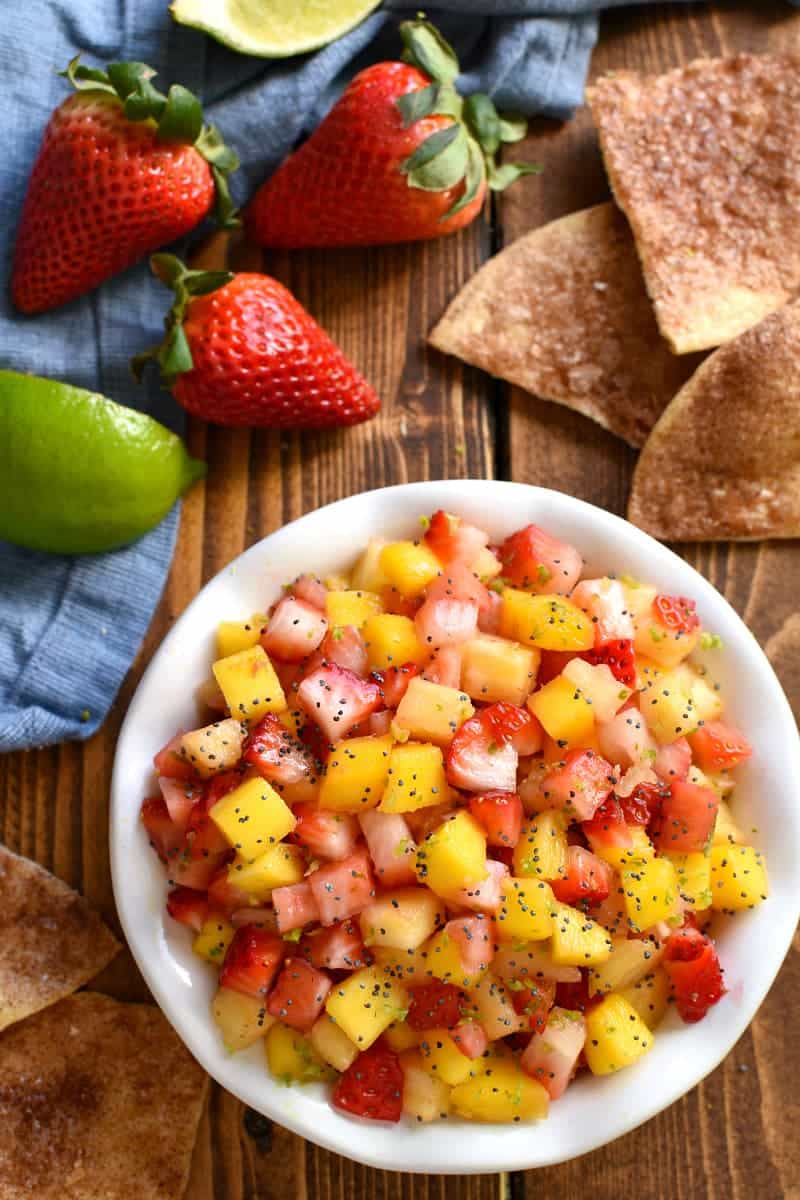 How to Make the Best Fruit Salsa:
To make this easy fruit salsa recipe, you will need lots of these summer fruits:
mango
strawberries
pineapple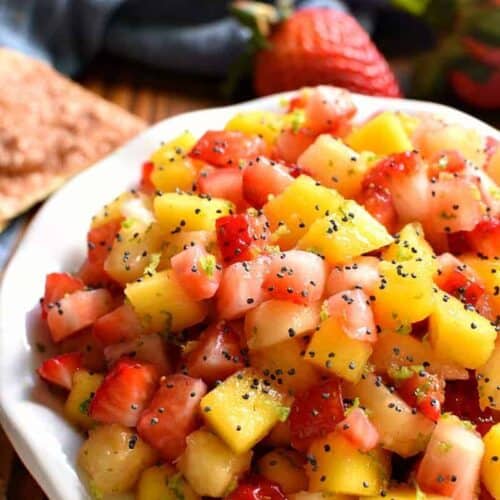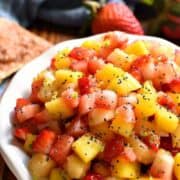 Easy Fruit Salsa
The BEST Fruit Salsa....and it couldn't be easier to make! Perfect for summer parties, picnics, or cookouts, this Easy Fruit Salsa comes together quickly and is sure to be a hit!
Ingredients
Fruit Salsa
1

mango

diced

1

c.

diced strawberries

1

c.

diced pineapple

2

Tbsp.

lemon juice

1

tsp.

honey

zest of 2 limes

2/4

tsp.

poppy seeds
Cinnamon Sugar Tortilla Crisps
5

small

fajita size flour tortillas

2

Tbsp.

butter

melted

3

Tbsp.

sugar

1

tsp.

cinnamon
Instructions
For salsa:

Combine all ingredients in a small mixing bowl.

For tortilla crisps:

Brush tortillas with melted butter.

Combine cinnamon & sugar and sprinkle over melted butter.

Cut tortillas into triangles.

Bake at 350 degrees for 20 minutes or until crisp.