This Bell Pepper Salsa is a deliciously fresh, crisp alternative to classic salsa! Perfect for summer dipping!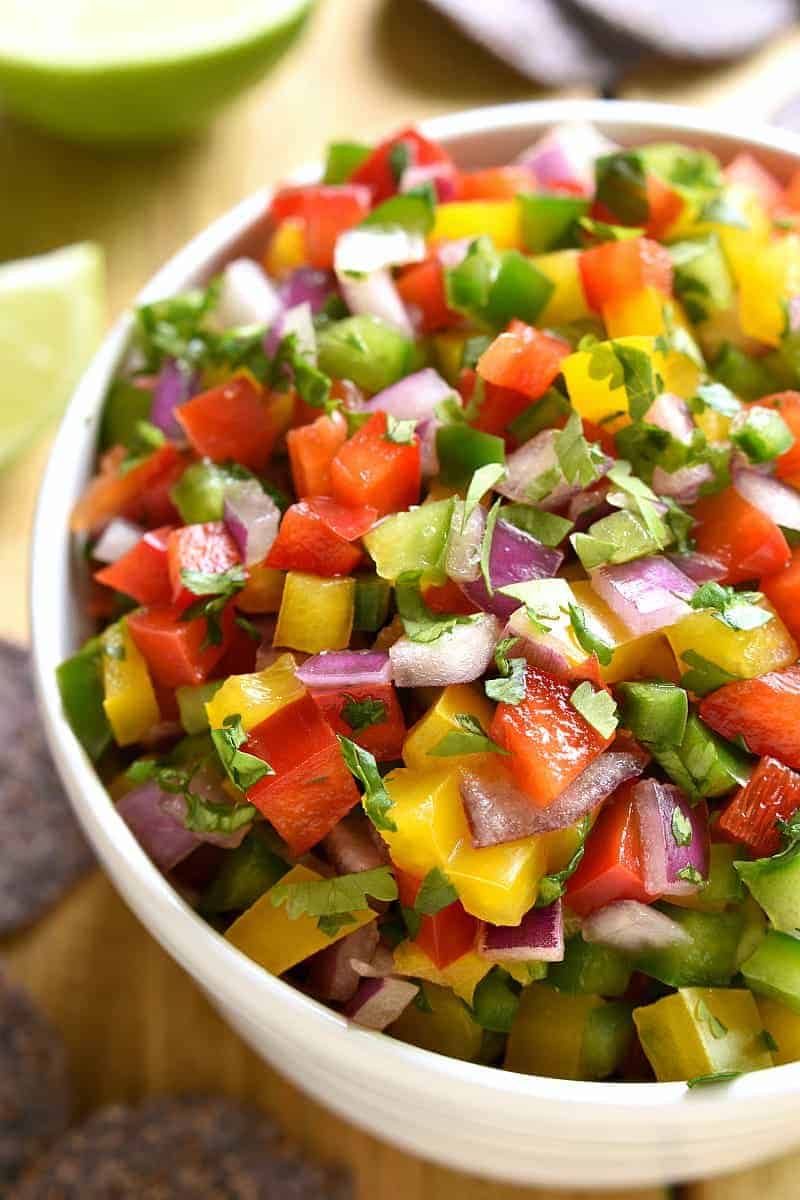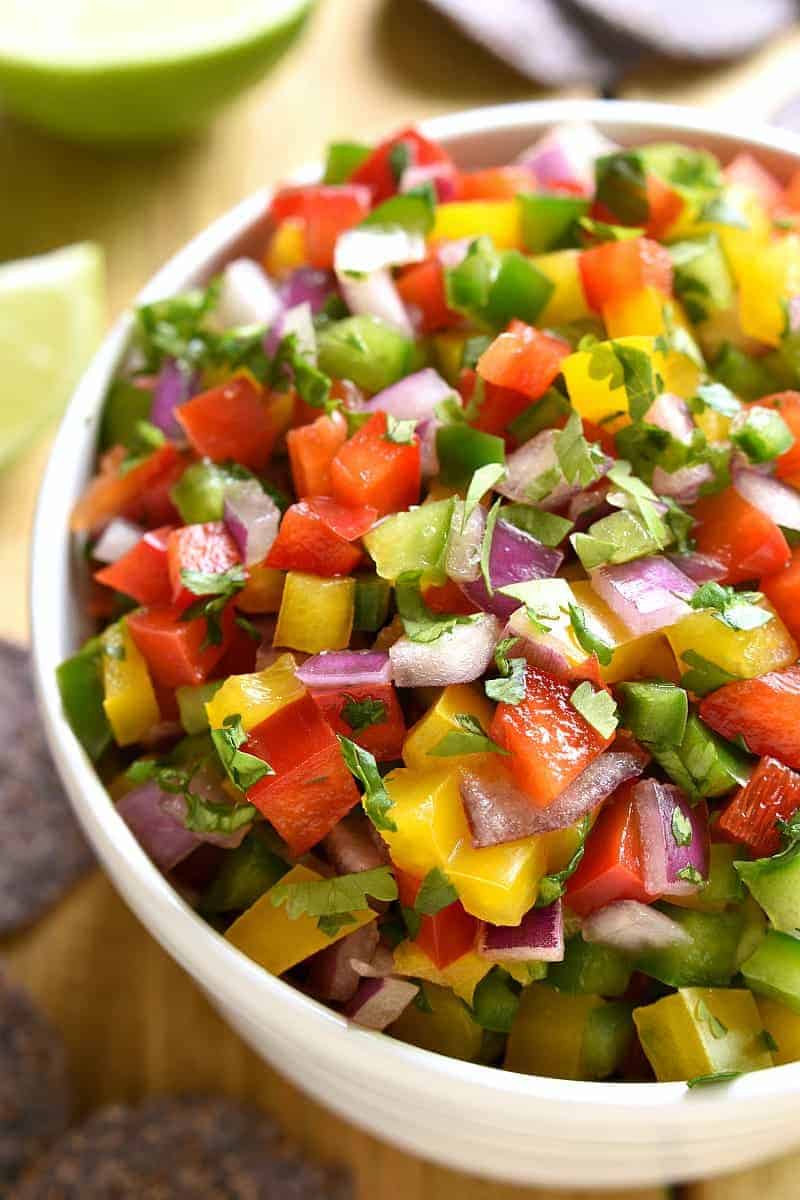 So. I did something today that I've never done before. I missed a school concert. And let me tell you…..it felt pretty terrible! Of course, I can blame a million and one things (namely, our house remodel), and I can tell myself not to feel bad, and I can remind myself that I have a lot going on, and that I'm only human. But. At the end off the day, I missed Nora's kindergarten concert. And not just any concert…..her MOTHER'S DAY concert! Not the best way to start the day…that is for sure.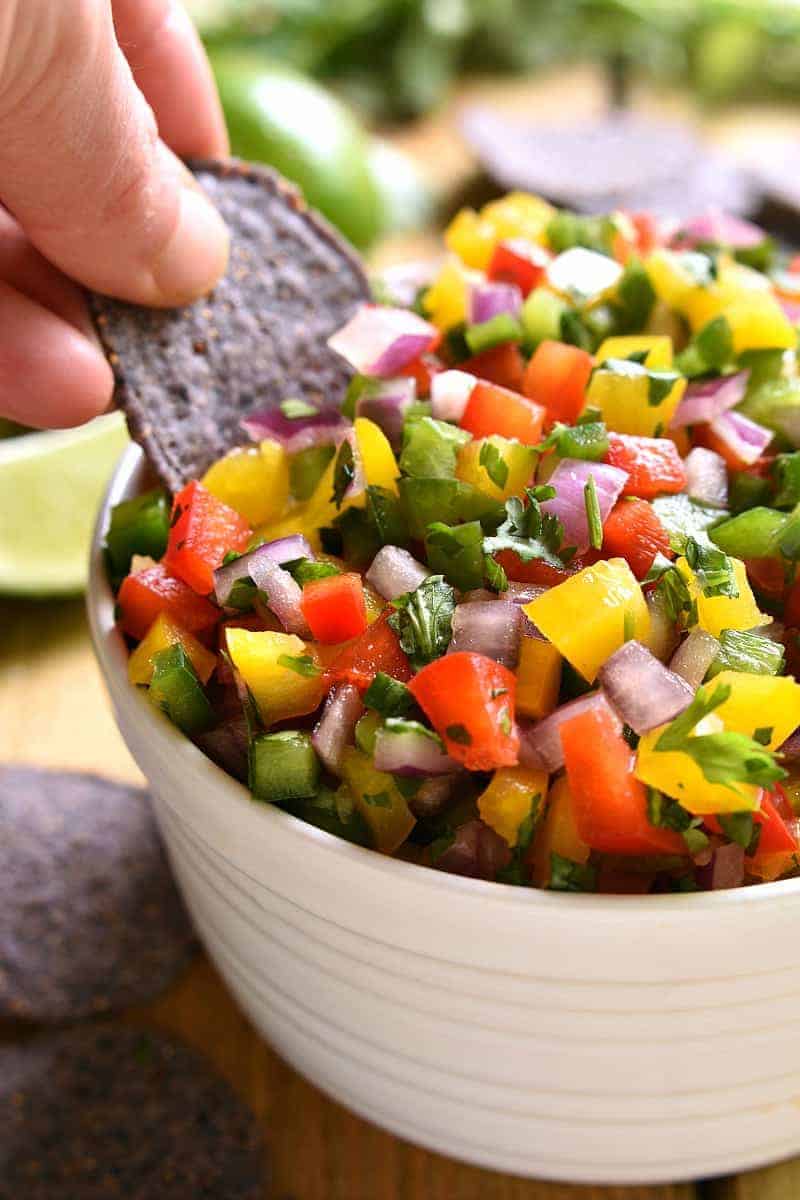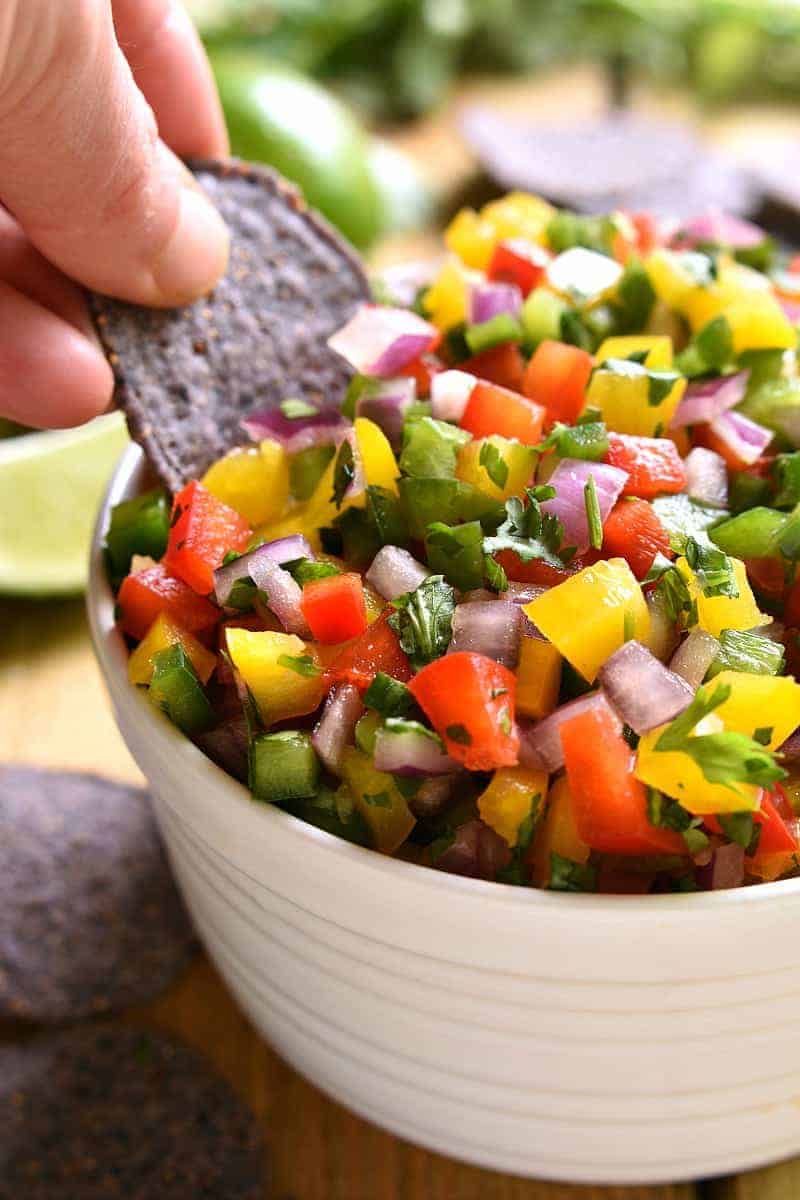 And you want to know the kicker? I WAS AT SCHOOL literally 20 minutes before the concert started. And I had nothing going on! I just completely forgot, so I headed home to check on the status of the kitchen project, and by the time I picked up my phone and saw the text from Nora's teacher, it was too late. The concert was ending.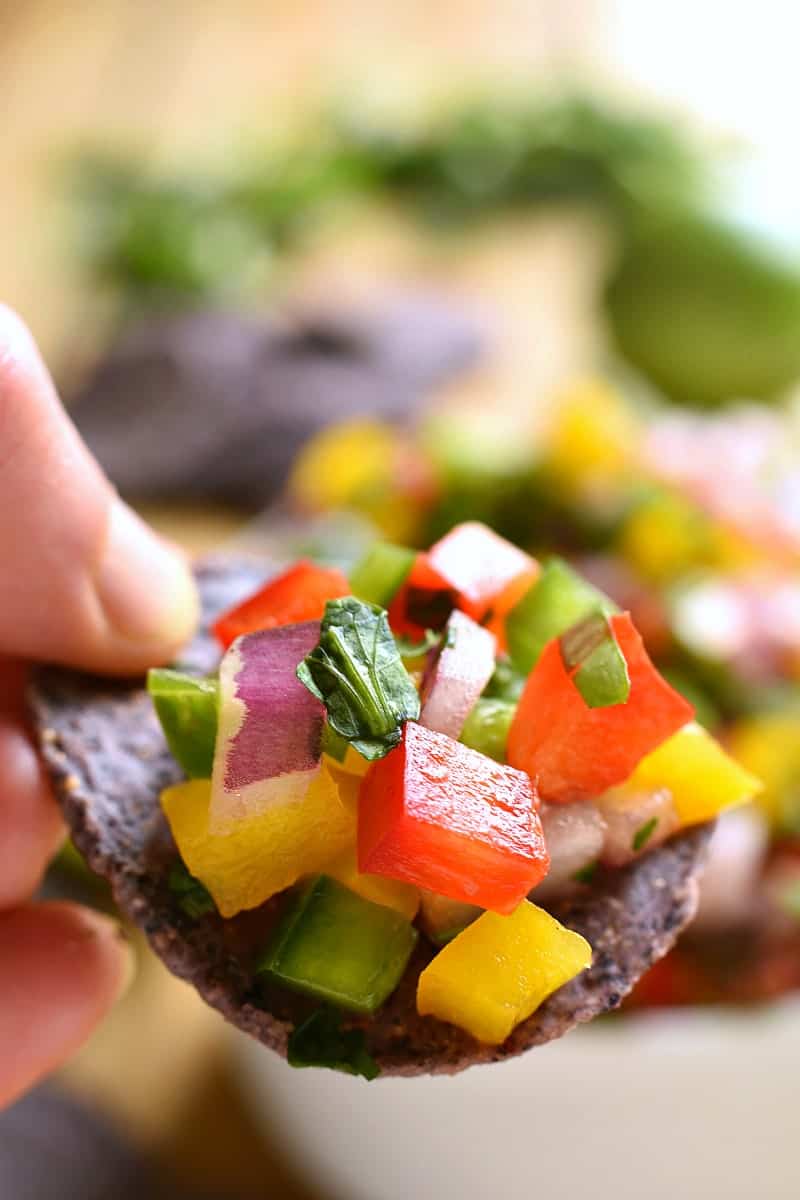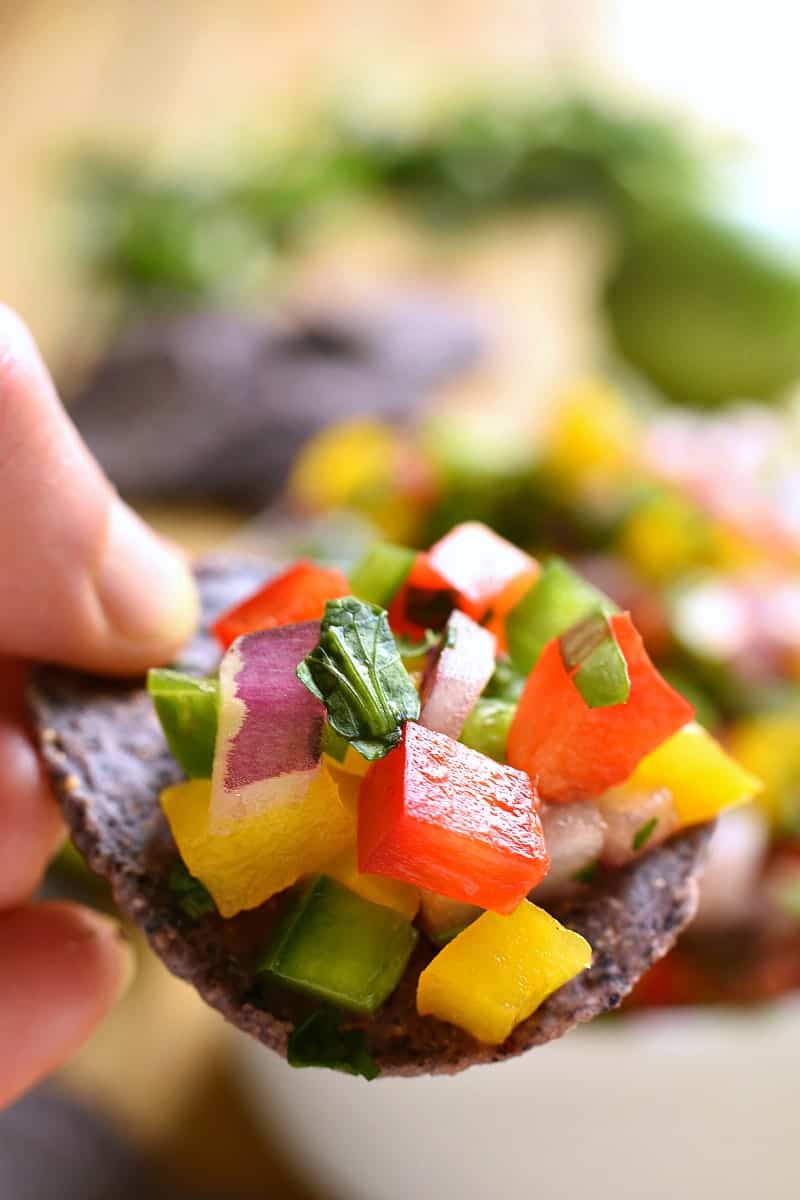 Of course, I still grabbed Myla and threw her in the car and rushed to the school….just in case I could at least catch half of it. But we walked in just as the kids were lining up to go back to class, and I caught Nora's eye, and I couldn't even hold back the tears. Which meant she started crying, too….and I immediately went from feeling bad to feeling worse. I guess we all have our moments.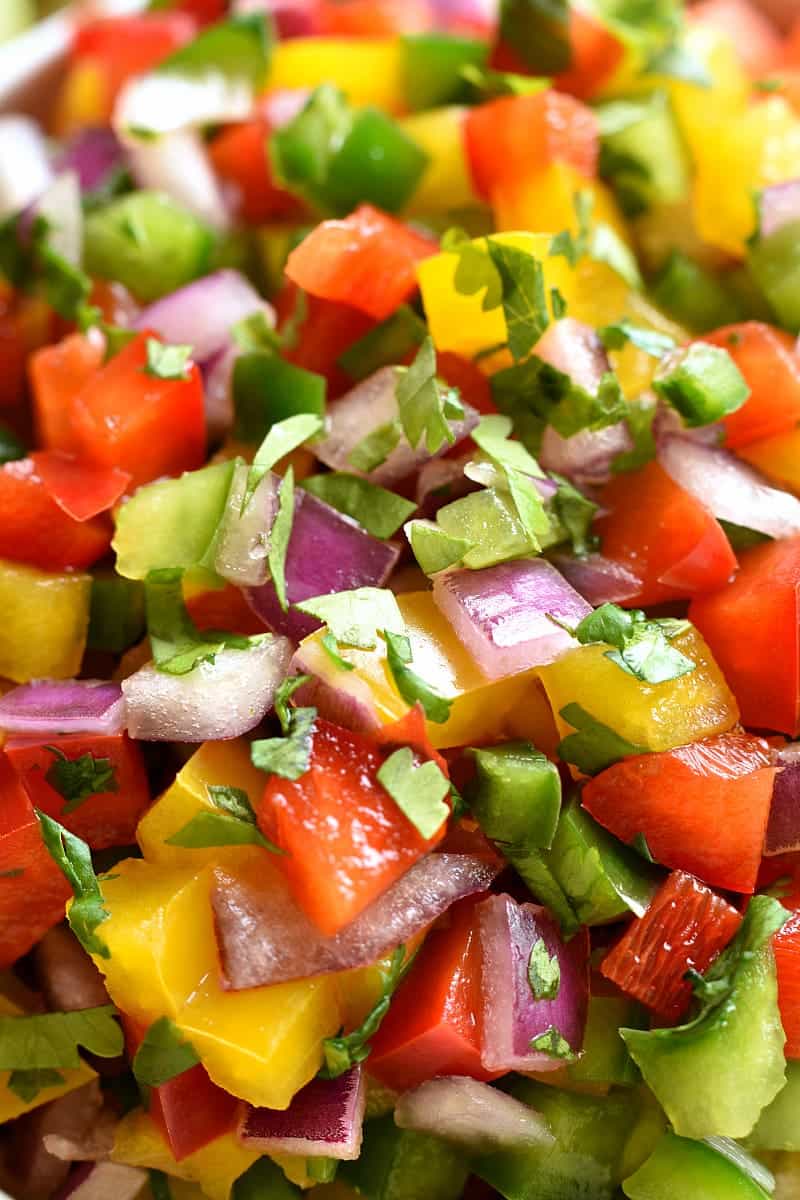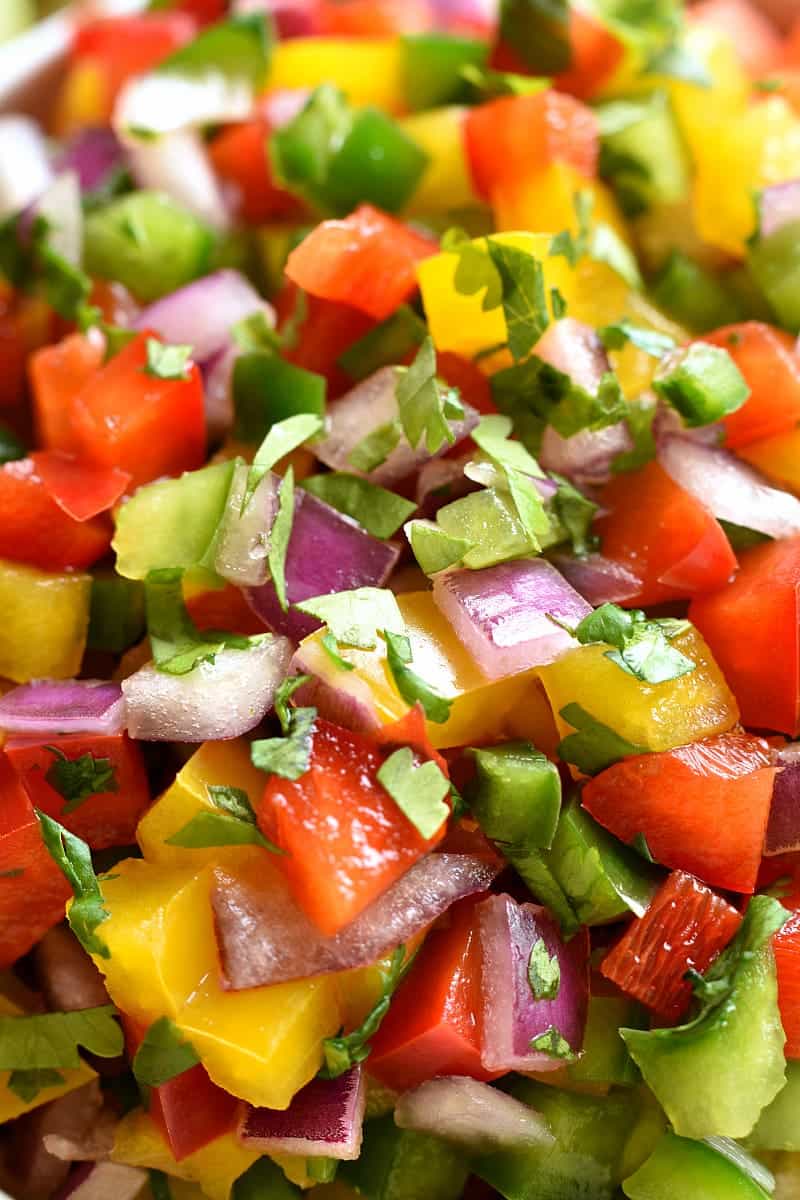 The good news? She's only 5. And she forgives quickly. And as a few different people reminded me….this is probably nothing a little ice cream and mommy time can't fix. And after that? You better believe I'm sitting down with a Pineapple Margarita and a bowl of this Bell Pepper Salsa. Because I something to make me feel better…and I'm pretty sure that will do the trick.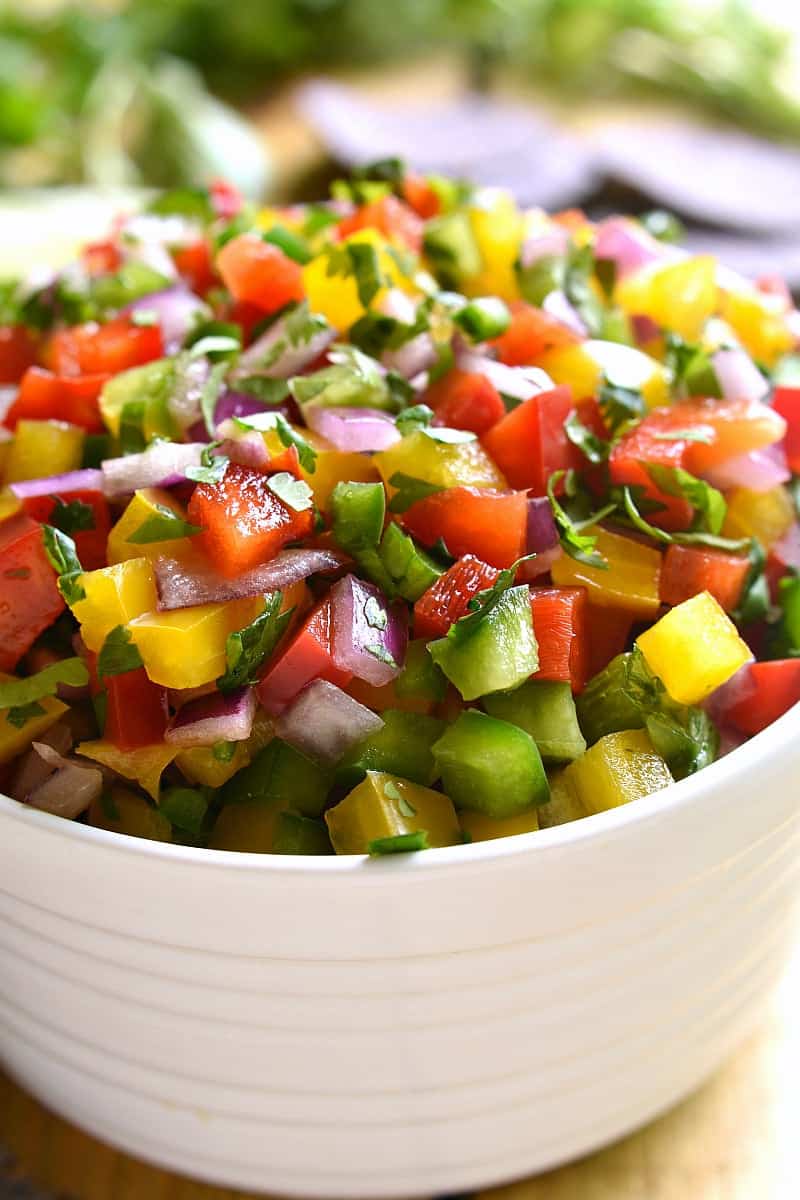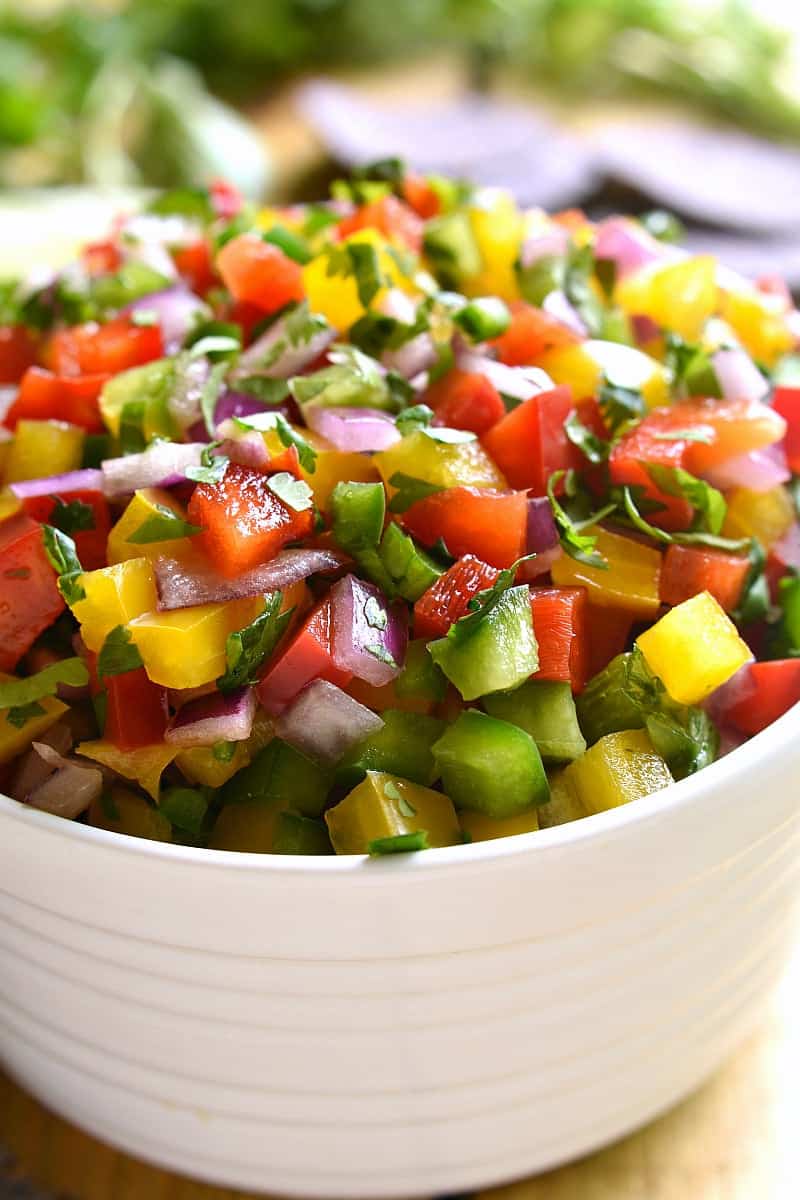 I love this Bell Pepper Salsa, not only because it tastes amazing, but because it doesn't have any tomatoes! Which is perfect for anytime you're looking to switch things up, or any time you don't have any tomatoes on hand, or….if you happen to not like tomatoes….well this is absolutely the salsa for you.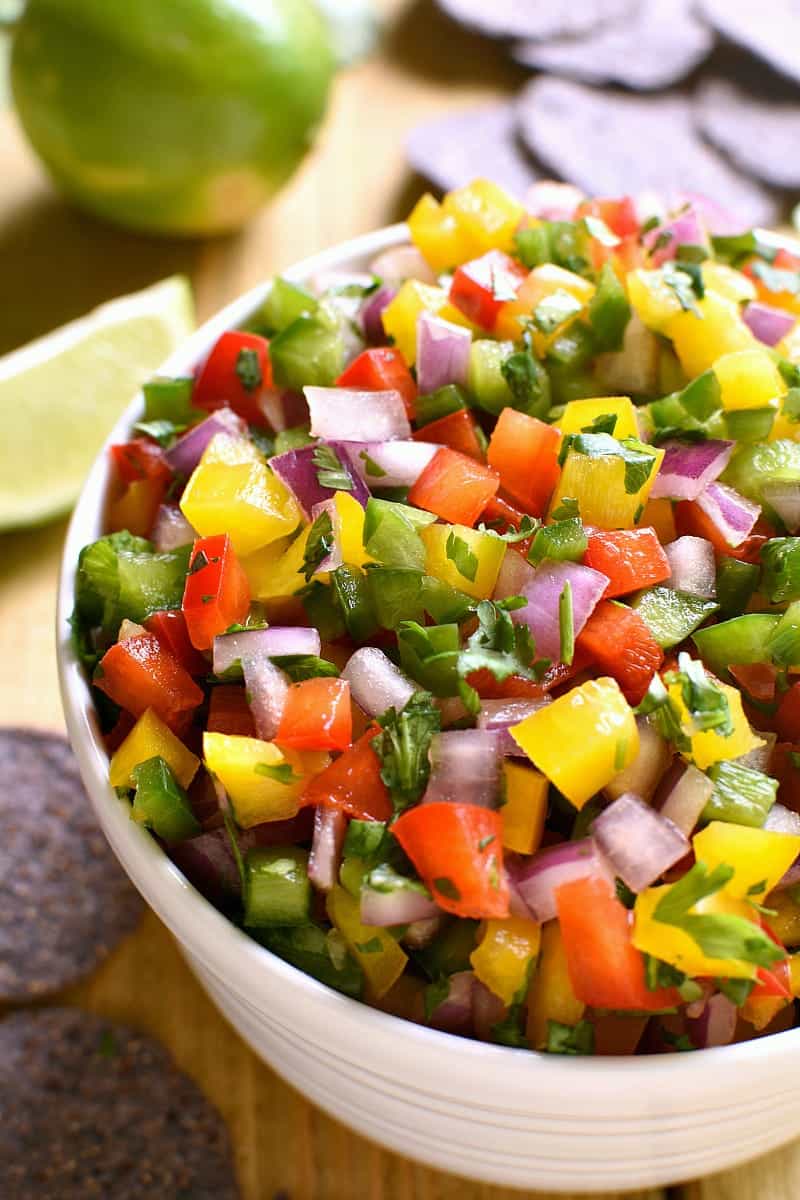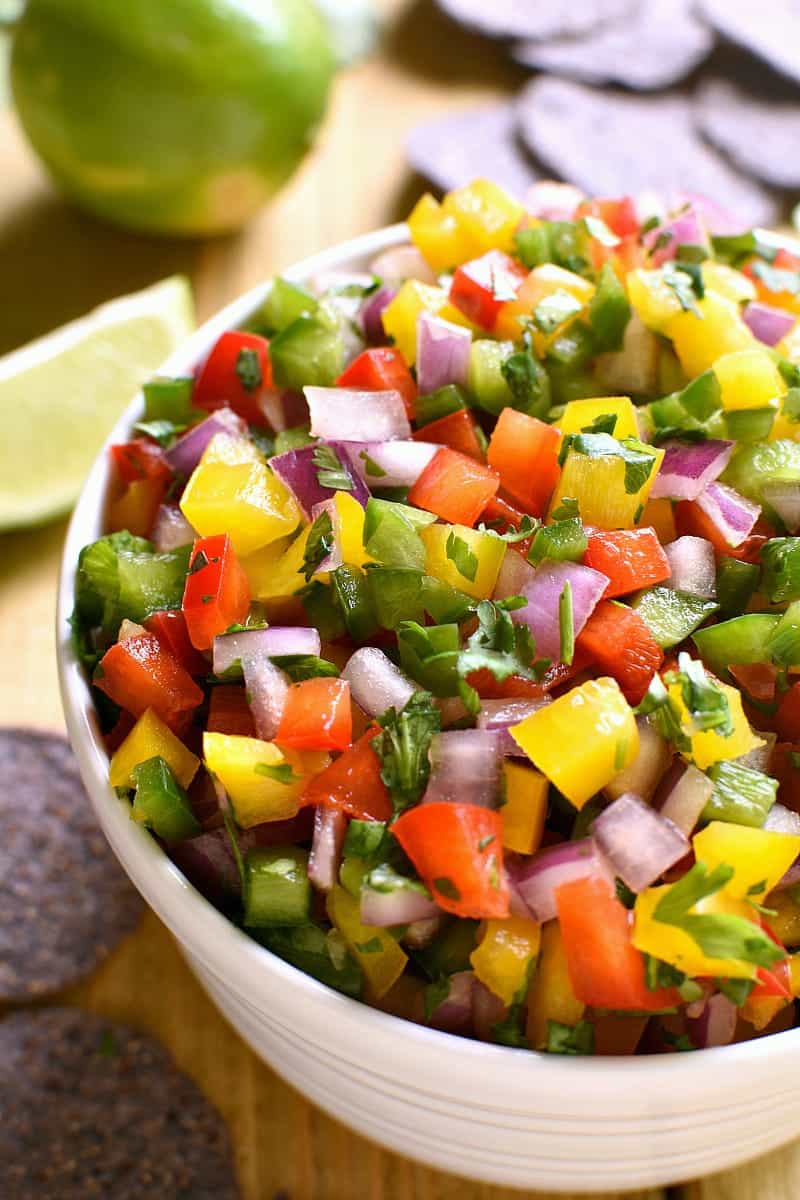 I honestly see myself making this Bell Pepper Salsa all summer long. And, of course, all the drinks to go with it. Like Palomas and Frozen Peach Slush and Skinny Raspberry Mojitos and Strawberry Mango Sangria. Because even though I don't normally miss school concerts, I do normally have one thing or another that a cocktail could help with. You know what I mean? I guess that's life. Especially when you're a mom.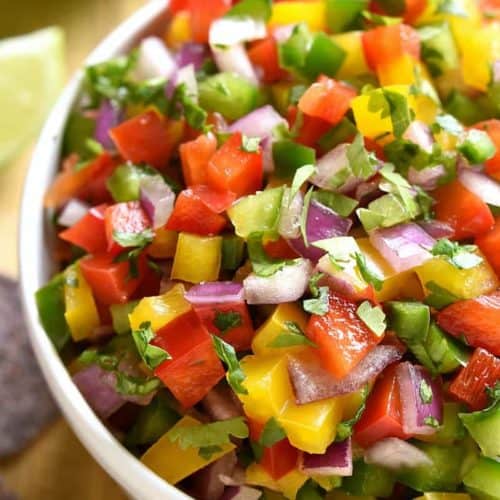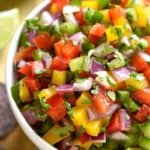 Bell Pepper Salsa
This Bell Pepper Salsa is a deliciously fresh, crisp alternative to classic salsa! Perfect for summer dipping!
Ingredients
1

green pepper

diced

1

red pepper

diced

1

yellow pepper

diced

1/2

large red onion

3

jalapeños

minced (remove seeds for less spice)

1/2

c.

cilantro

minced

1/4

c.

lime juice

1

tsp.

kosher salt
Instructions
Combine all ingredients in a small mixing bowl.

Serve with your favorite tortilla chips.