Take your Aperol Spritz from summer to fall with this delicious cranberry twist! Made with just 4 ingredients and perfect for the holidays!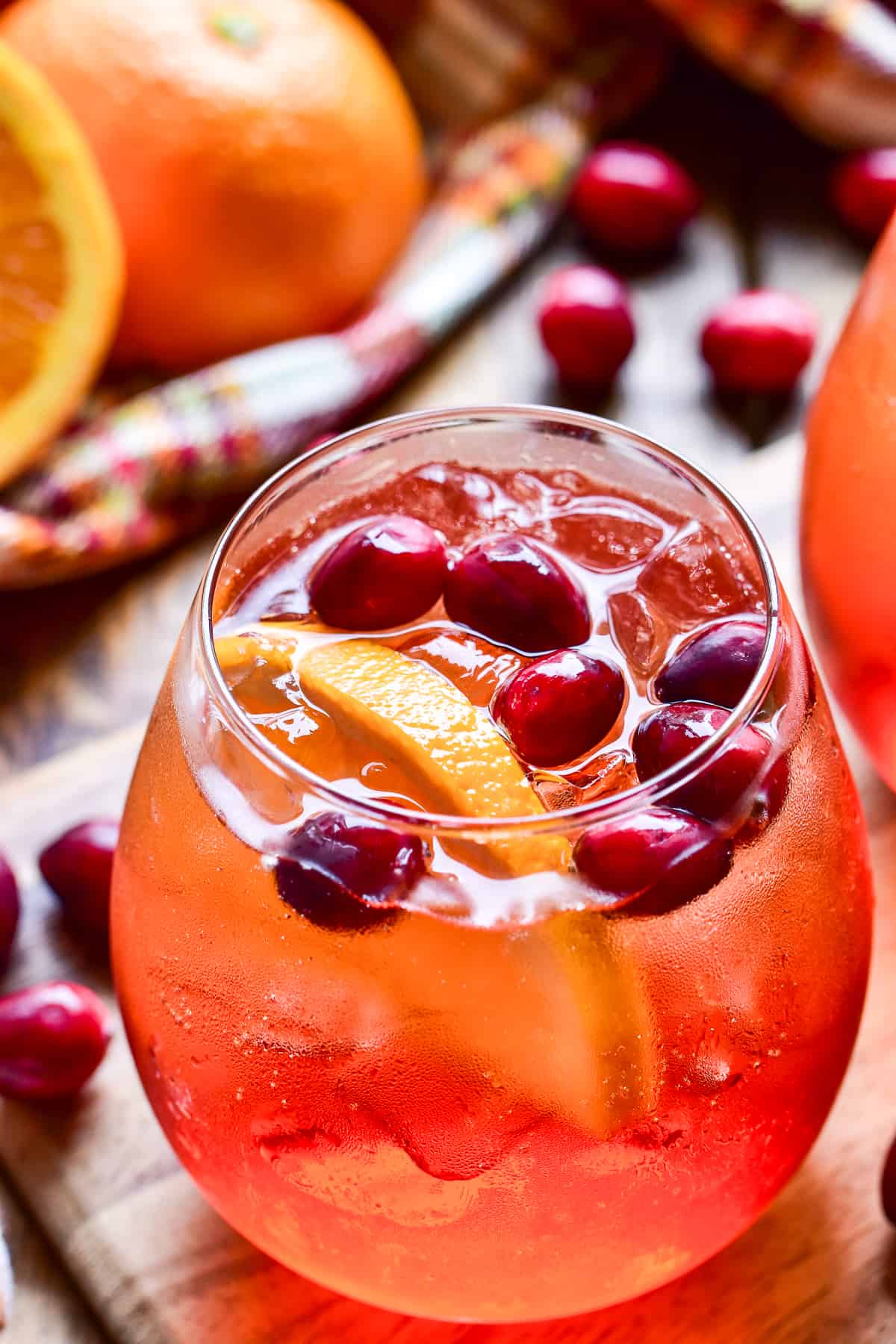 One of my favorite things about fall… or any season, for that matter… is checking out the new seasonal menus at all my favorite restaurants. I love seeing what the chefs have come up with and I love that it's an opportunity to embrace the new season a little more fully.
But. Every now and then… there are things I'm not ready to let go of. Take, for instance, the Jalapeño Honey Hummus I tried this past summer at one of my go-to restaurants. It was so delicious that I've thought about it ever since… so imagine my dismay when I went back last week and it was no longer on the menu.
It's kind of how I feel about an Aperol Spritz. It's light and refreshing and clearly meant for summer… but I'm just not ready to let go of it. So I'm not going to! Instead, I gave it a mini fall makeover to take me all the way through fall and winter. Because some things are just too good to be "seasonal".
what you'll love about this recipe
This Cranberry Aperol Spritz is a simple, fun twist on a classic! You'll love how well the cranberry flavor blends with the other flavors in this drink… and you'll LOVE how perfect it is for all your holiday celebrations!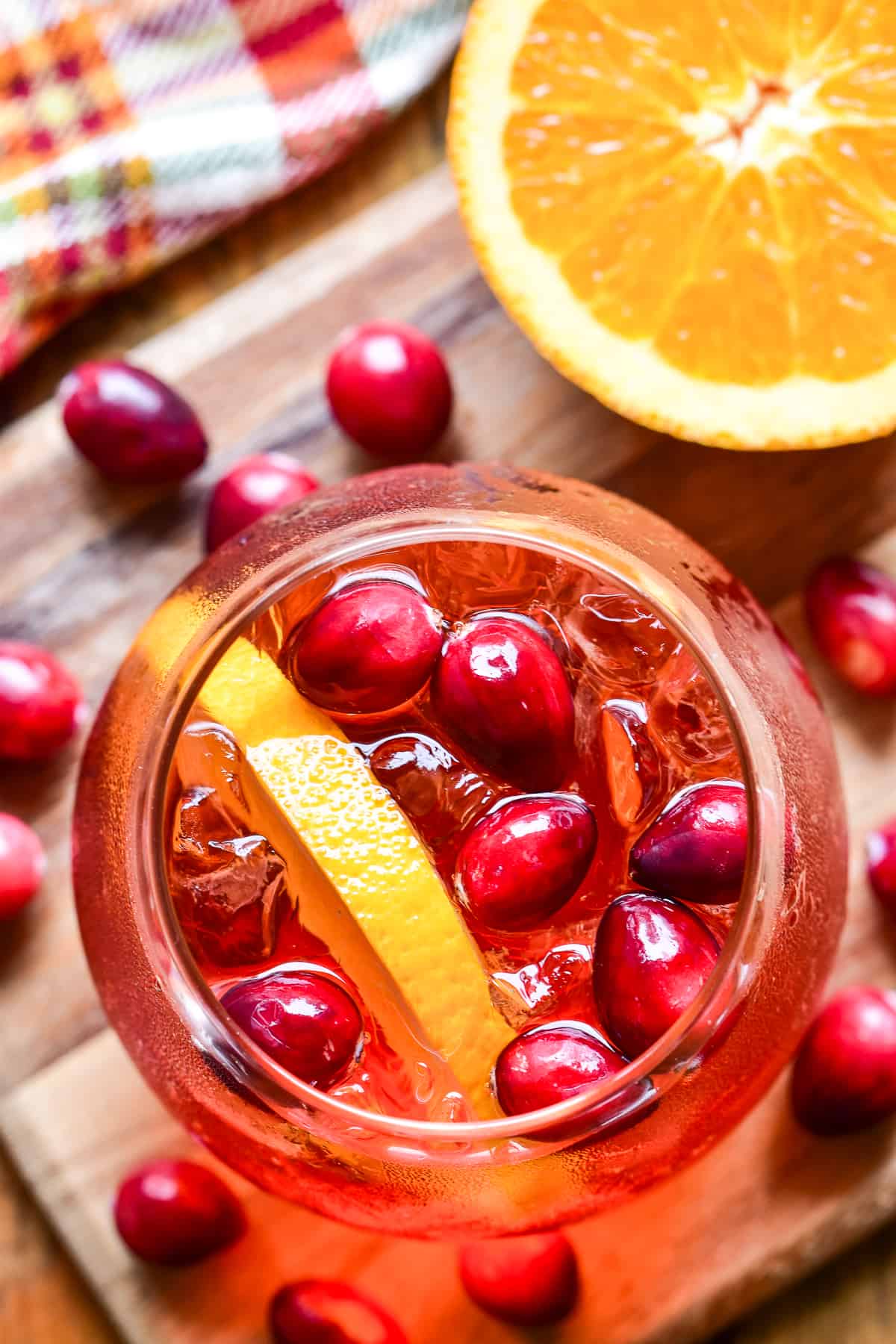 what you'll need for this recipe
Aperol – Aperol is a key ingredient in this cocktail. I used 1 ounce of it in this recipe, but you can feel free to add more to taste.
Cranberry juice – I added 1 ounce of cranberry juice as a twist to the traditional Aperol spritz recipe. You can either use 100% cranberry juice or, for a sweeter flavor, use cranberry juice cocktail.
Champagne – I used 4 ounces of brut champagne in this drink. Brut is a drier champagne, but you can feel free to use a sweeter variety like extra dry, dry or demi sec if you prefer.
Club soda – I topped this drink with a splash of club soda. Flavored sparkling water works well, too!
Garnishes – For garnish, I used an orange slice and fresh cranberries. Feel free to omit the cranberries if you'd like.
what is aperol?
Aperol is an Italian bittersweet botanical liqueur made of gentian, rhubarb, cinchona, and other ingredients. Its name comes from apero, a French slang word for apéritif.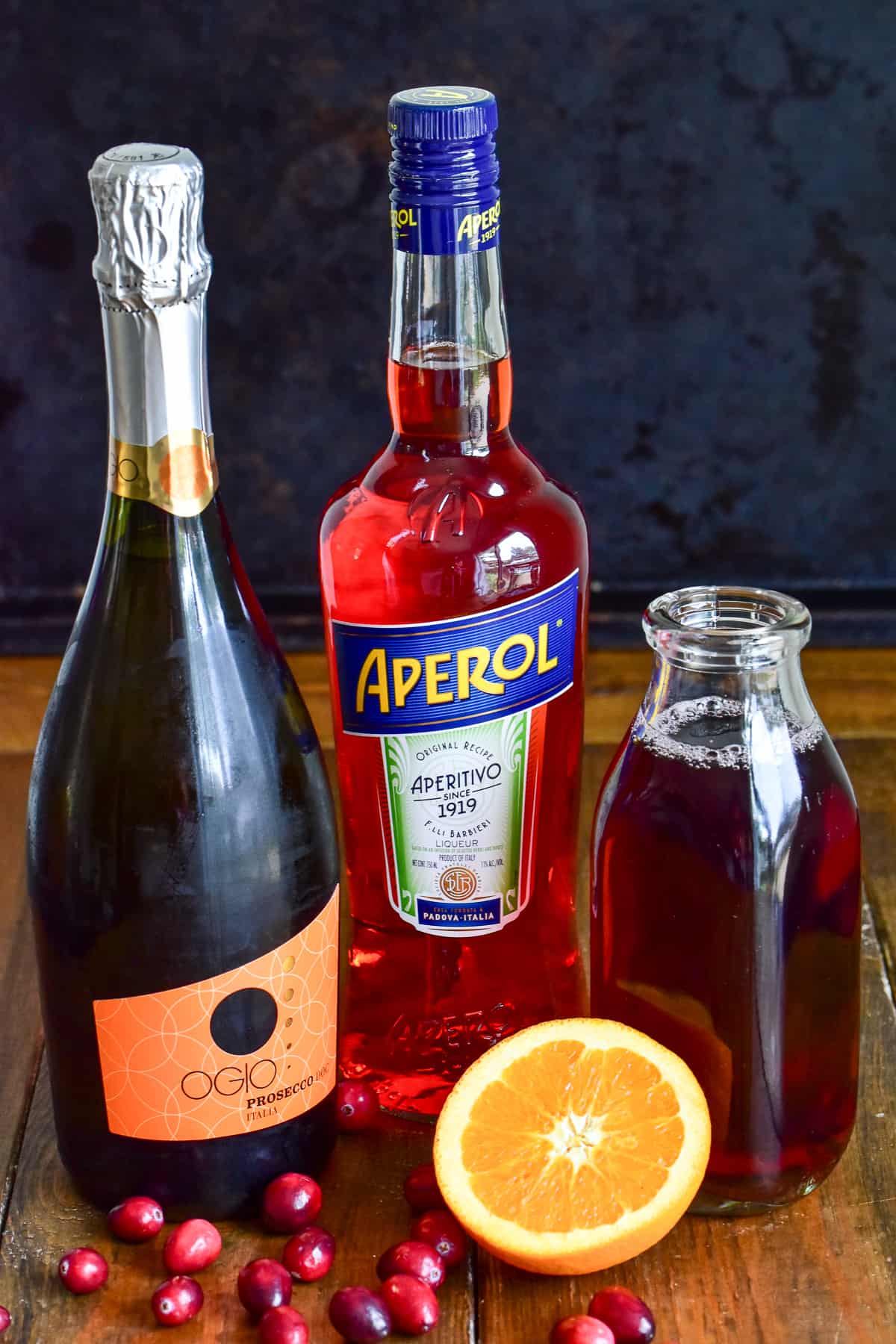 how to make a cranberry aperol spritz
Combine Aperol & cranberry juice. Fill a wine glass 2/3 full with ice. Add Aperol and cranberry juice.
Top with champagne. Slowly top with champagne.
Add club soda to taste. Add a splash of club soda to taste.
Garnish. Garnish with an orange slice and fresh cranberries. Enjoy!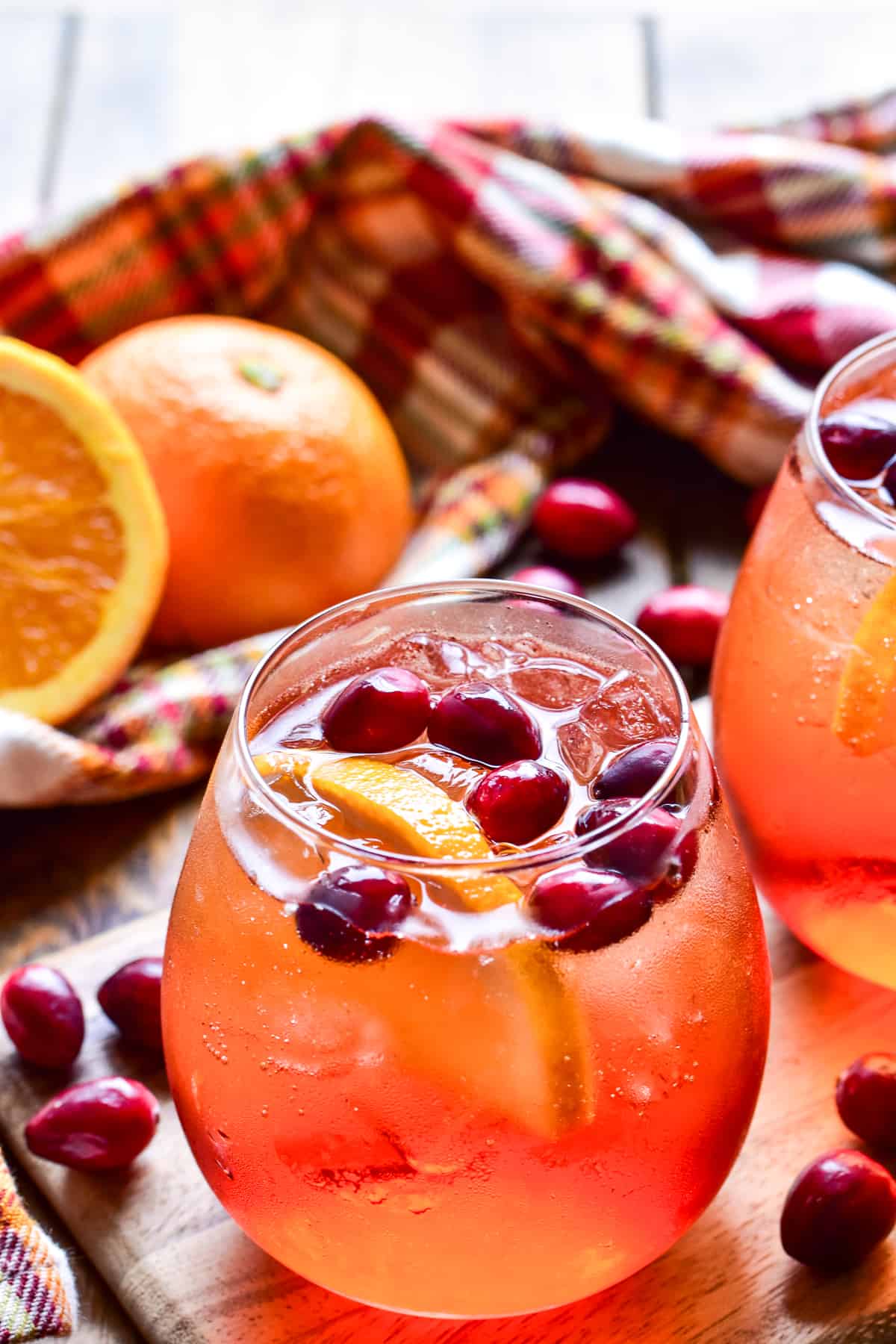 Recipe Variations
Use brut rosé sparkling wine
Use sparkling red wine
Add a splash of orange juice
Use a cranberry juice blend, such as cranberry-grape or cranberry-apple
Add a few dashes of orange bitters
Substitute another liqueur for Aperol, such as Campari, Contratto, Cappelletti, Galliano, or Lillet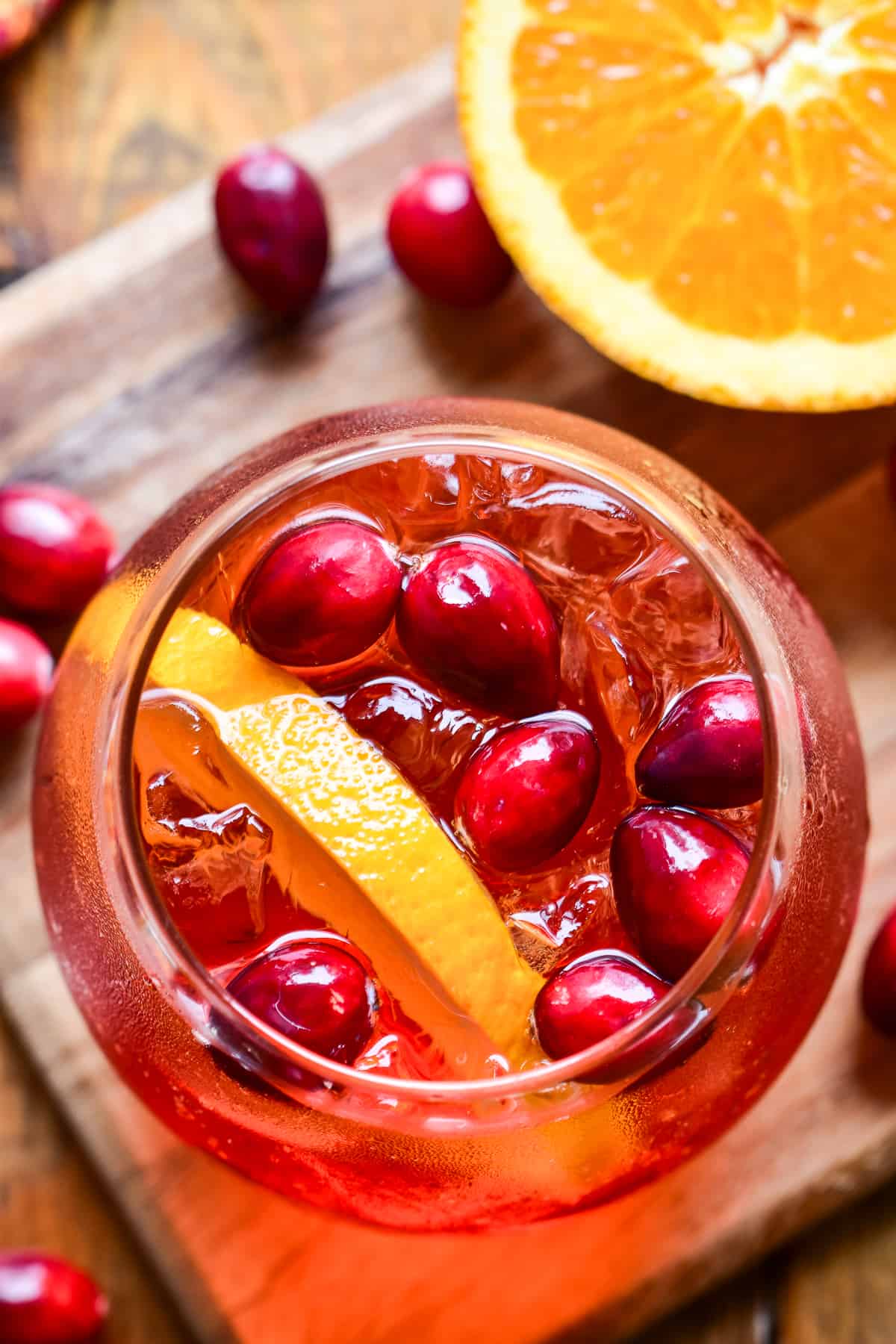 more fall cocktails you'll love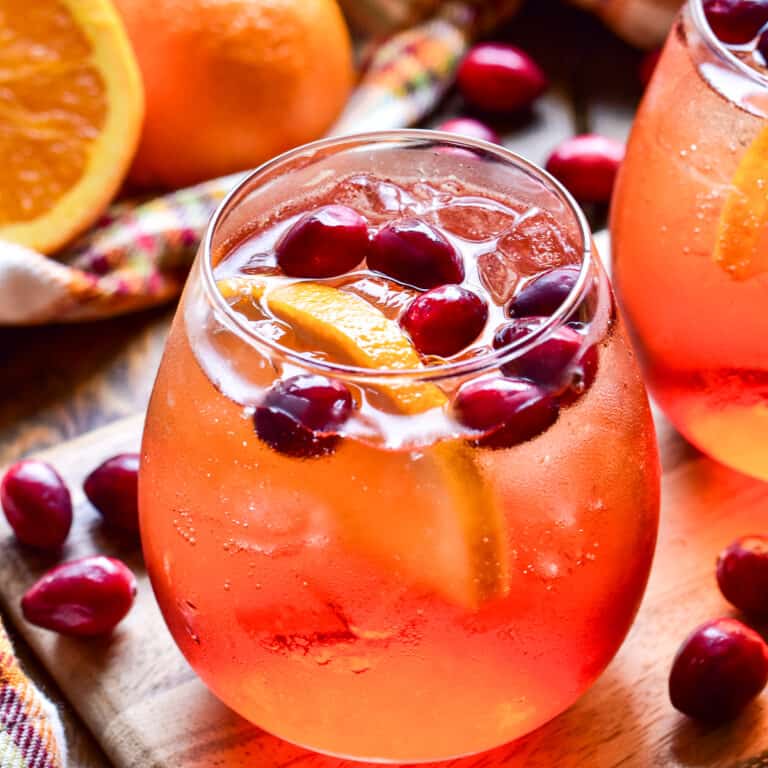 Cranberry Aperol Spritz
Ingredients
1 ounce Aperol
1 ounce cranberry juice
4 ounces brut champagne
splash of club soda
orange slice
fresh cranberries
Instructions
Fill a wine glass 2/3 full with ice. Add Aperol and cranberry juice.
Slowly top with champagne.
Add club soda to taste.
Garnish with oranges and cranberries.