If you love Moscow Mules, these Holiday Cranberry Mules are sure to be a hit!
Loaded with the delicious flavors of cranberry, orange, and ginger, and garnished with a sprig of fresh rosemary, they're the perfect cocktails for your holiday season. And they're not only delicious, but beautiful, too! Which makes them an obvious addition to your Thanksgiving, Christmas, and New Years Eve menu.
Best of all, these drinks come together quickly with just a handful of simple ingredients….and they can be pre-mixed for easy entertaining. If you're looking for a new go-to beverage this holiday season, look no further. These festive cocktails are IT!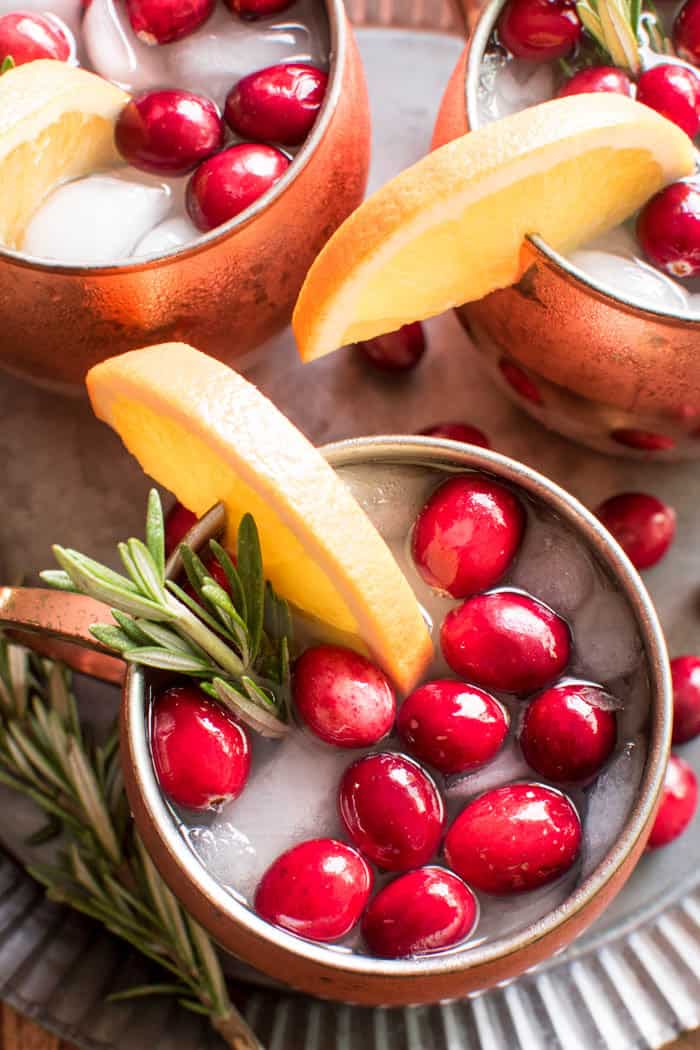 Am I the only one who feels like the month of November flew by? I can't even quite place where it went….but what I can tell you is that it feels like just yesterday that we were Trick or Treating. And now? We're shopping for Christmas.
Sure, we had Thanksgiving in there….and I did a fun little cooking demo at a local food & wine event. But other than that, I'm seriously questioning how I've been spending my days.
I've been busy! I promise. Definitely not just sitting around. But I'm suddenly realizing I never told you about my trip to Breckenridge. And trust me…you're going to want to hear about it. Because my trip to Breckenridge was my inspiration for these Cranberry Mules! You in? I thought so.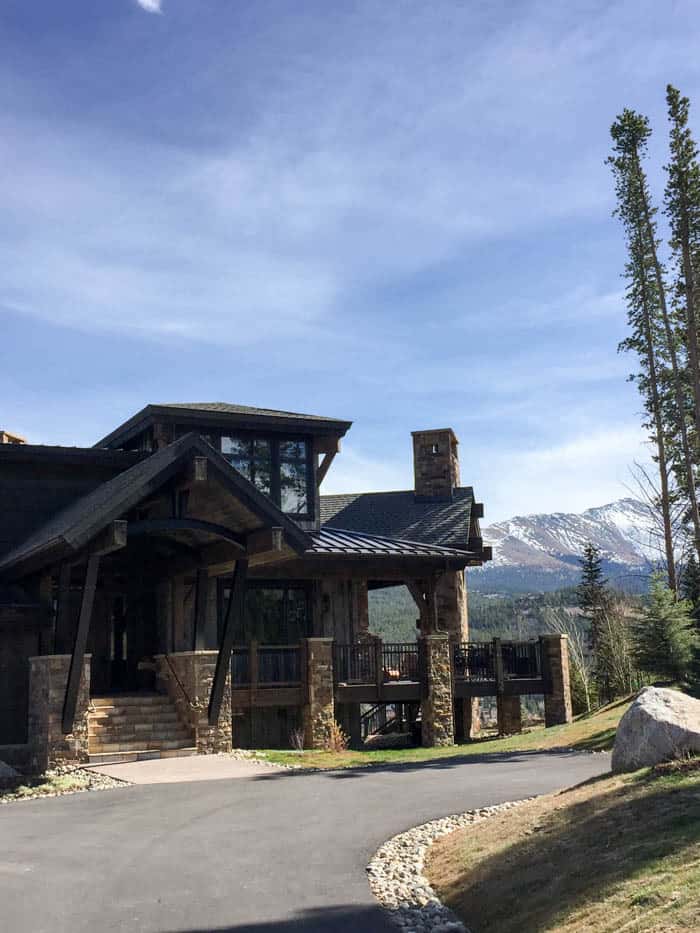 This amazing house is where we stayed. 10 bloggers, 3 nights, tons of food and drinks (thanks to Mediavine – woot!), and nothing to do but hang out and learn as much as we possibly could from one another.
And that's exactly what we did! The trip was organized by my friend Erin from Dinners, Dishes & Desserts, and when I say it was a great group, I mean it seriously could not have been better. We had SO much fun together and I learned so many new things.
And even though we could have spent ALL our time at the house…enjoying the gorgeous views…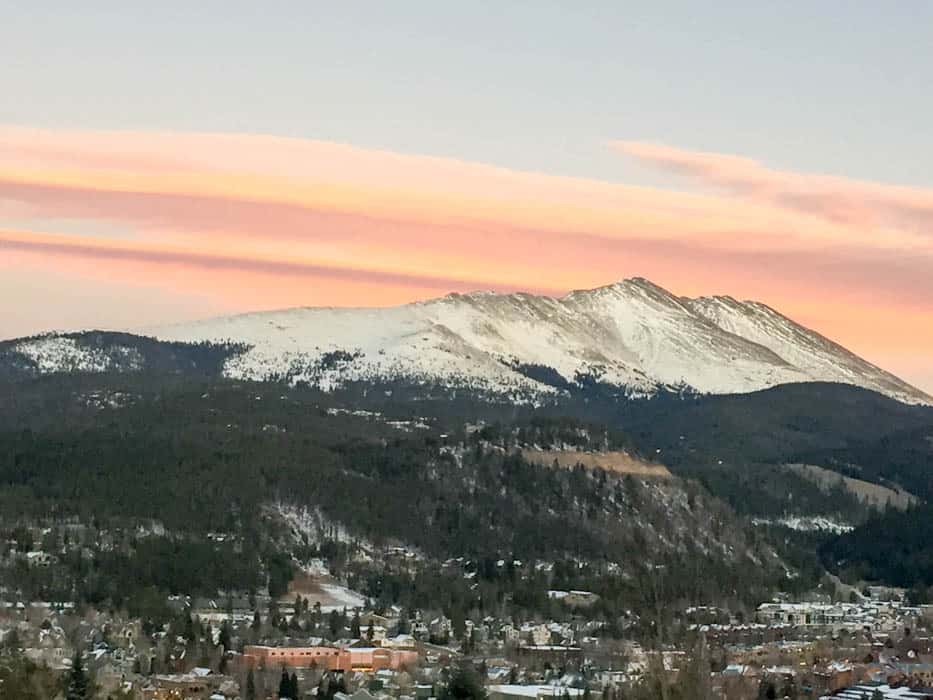 …we actually did venture out a bit. We had a fun, tasty dinner at The Canteen (where I had my first mule of the trip), we did some shopping in town, and thanks to Go Breck, who helped sponsor the retreat, we even had a personal chef come to the house to make us an amazing dinner.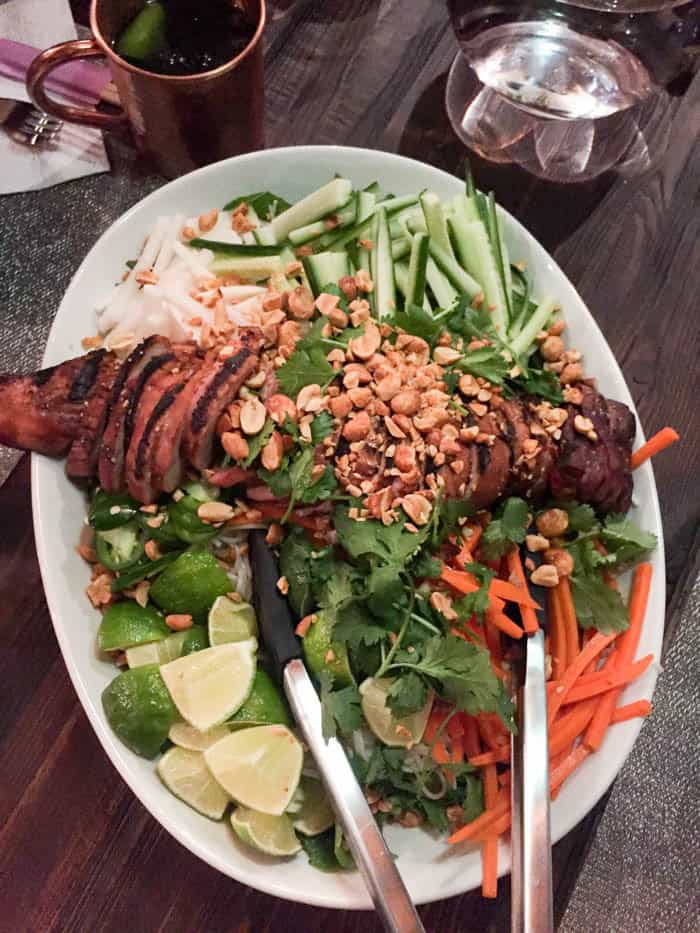 Chef Christian from The Secret Ingredient made us a delicious Vietnamese meal, complete with a signature cocktail, which….as you may have guessed….was a mule! It was spicy and sweet and seriously delicious, and it reminded me how much I LOVE mixing things up and creating my own variations.
I've shared a few different versions over the years, like these Apple Moscow Mules and these Pomegranate Moscow Mules. And since I've pretty much never met a mule I didn't like, I thought the holiday season was the perfect time to create a new one.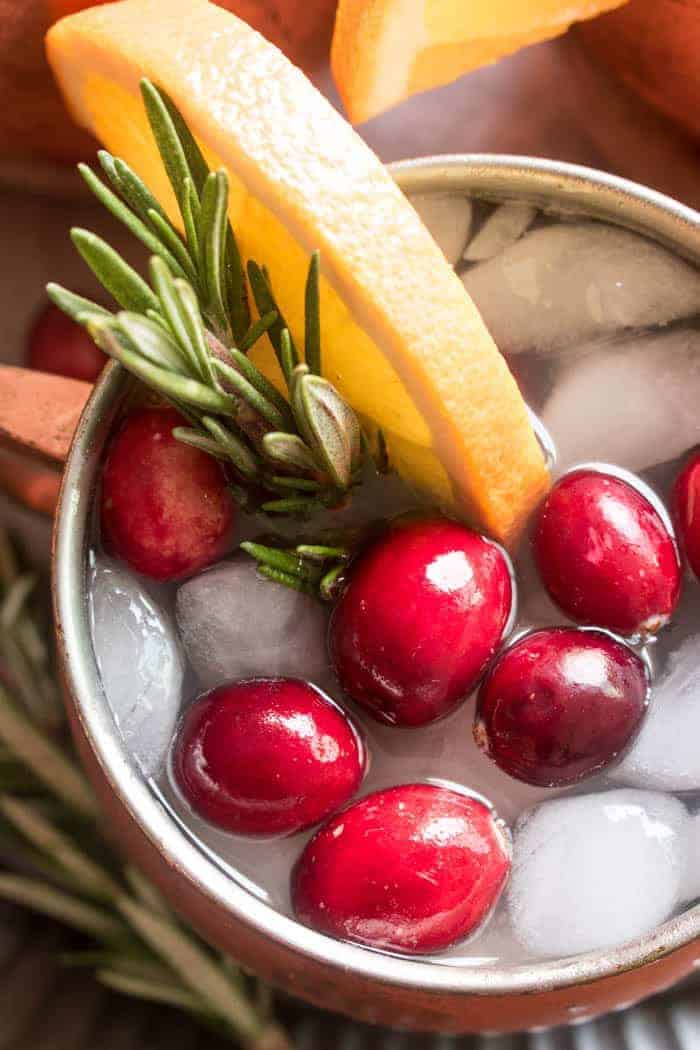 I don't know about you, but I'm always looking for a fun new cocktail to serve around the holidays. And since everyone seems to love Moscow Mules, it seemed like an obvious place to start. Add in the cranberry-orange combo, and garnish it with rosemary, and these Holiday Cranberry Mules literally couldn't be more holiday party ready.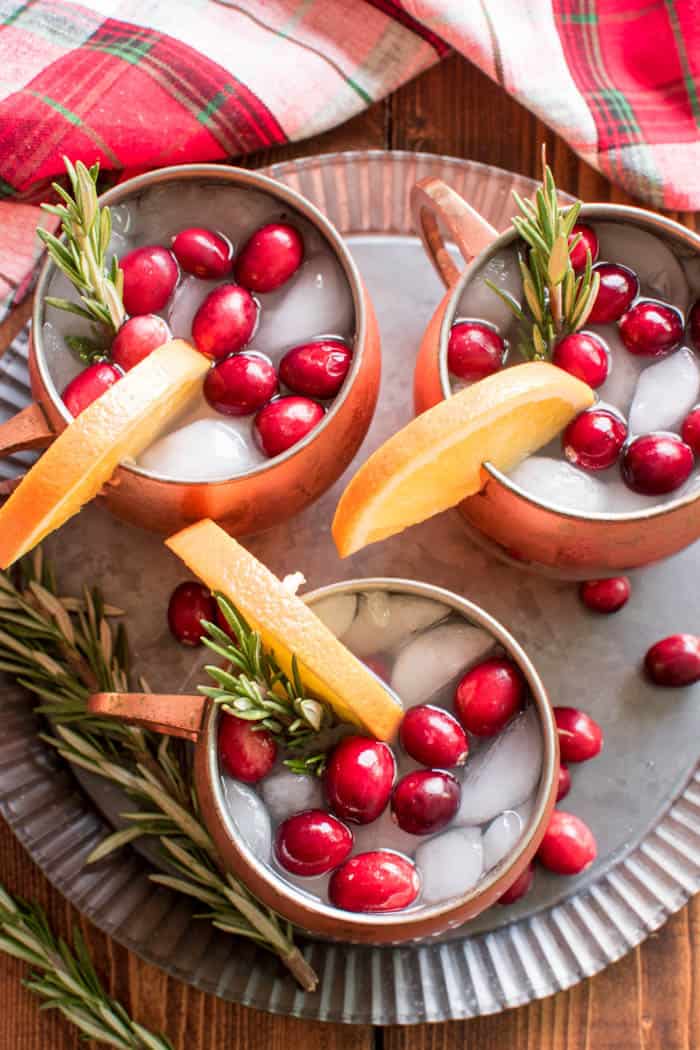 And here's the thing. Even though I usually mix my mules up separately, it would be so easy (and smart for entertaining purposes) to mix up a pitcher of these Holiday Cranberry Mules in advance. Just add the ice and garnishes separately, and you have yourself a ready-made cocktail that's guaranteed to be the hit of the party.
And if you don't have enough copper mugs for all your guests? The good news is this drink is so pretty, no one will even mind.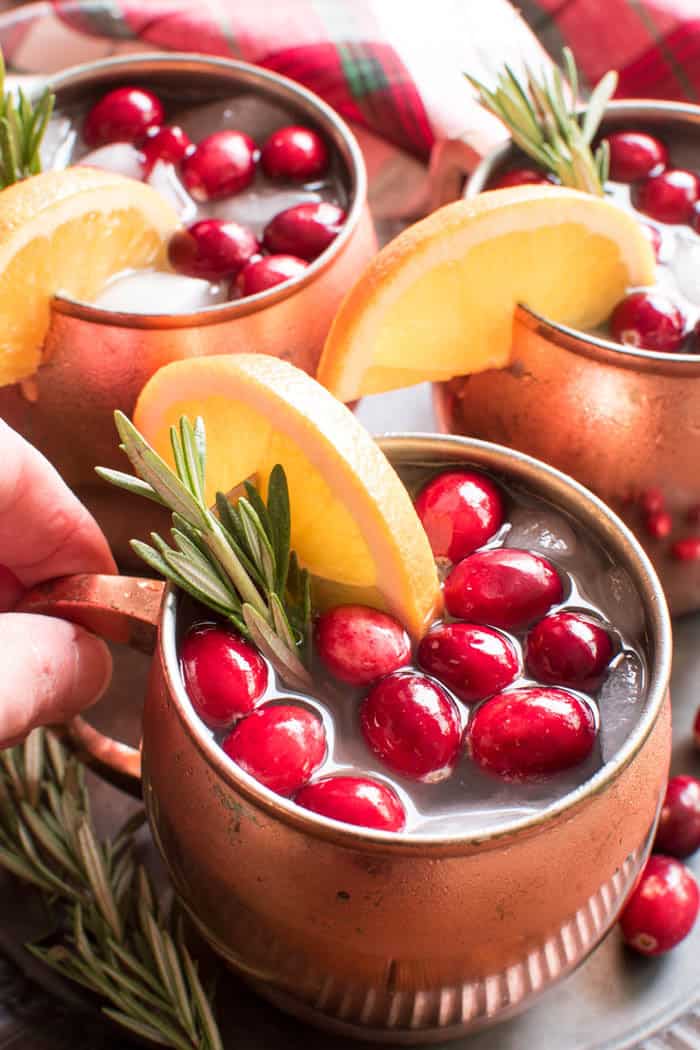 What is a Moscow Mule?
A cocktail made with vodka, ginger beer, and lime juice and garnished with a lime wedge.
Why are Moscow Mules served in copper mugs?
Speaking of copper mugs, have you ever wondered why Moscow Mules are always served in them? Well, there are two simple reasons. The first is that the copper keeps the drink colder without needing as much ice. The second is because of the reaction between the lime juice and the copper. Lime juice tastes sharper and crisper against the copper mug, which makes for a more distinct flavor. Aren't you glad you don't have to wonder anymore?
How do you make a Cranberry Mule?
Combine ginger beer, vodka, orange juice, cranberry juice, and lime juice.


Add ice.

Garnish with orange slice, fresh cranberries, and fresh rosemary.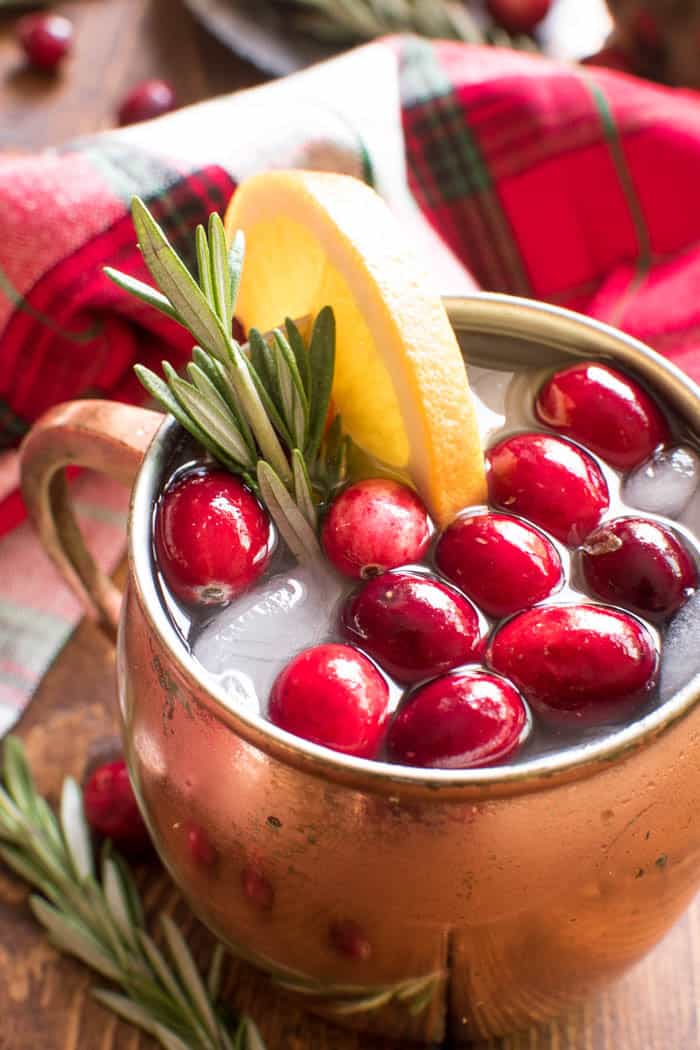 So. Are you sold? On these Holiday Cranberry Mules….and on Breckenridge? I have to admit. As I'm looking back through all my photos and remembering the amazing time we had, there's a huge piece of me that would love to go back for the holidays.
Because as beautiful as Breckenridge was in fall, I can only imagine how amazing it must be in winter. But since that's not an option for this year? I'll mix up a batch of these Holiday Cranberry Mules and dream. There's always next year…..right?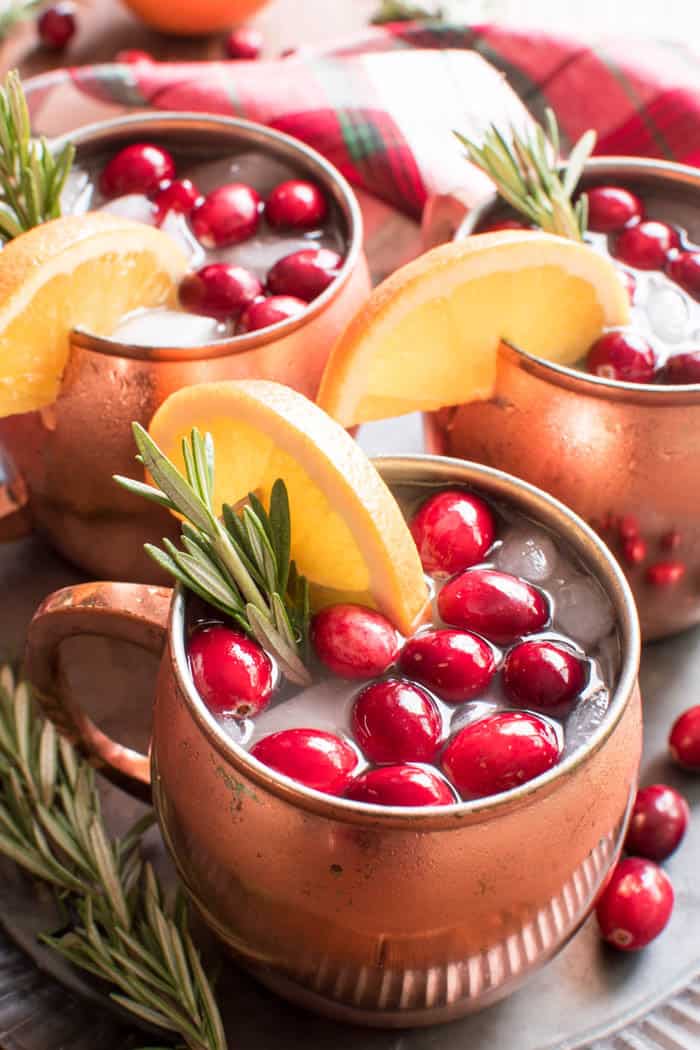 Here are some more of our favorite holiday cocktails!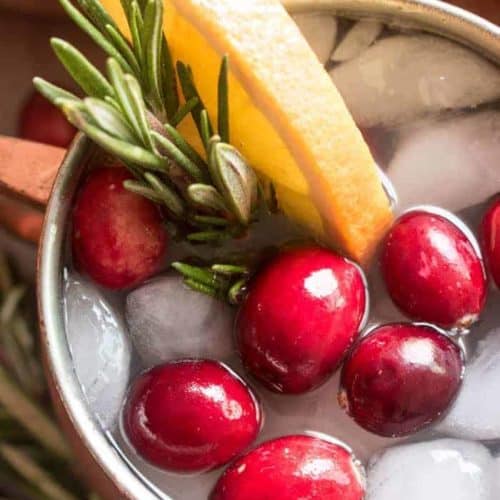 Holiday Cranberry Mules
If you love Moscow Mules, these Holiday Cranberry Mules are sure to be a hit! Loaded with the delicious flavors of cranberry, orange, and ginger, and garnished with a sprig of fresh rosemary, these Mules are the perfect cocktails for your holiday season.
Ingredients
4 oz. non-alcoholic ginger beer
2 oz. vodka
1 oz. orange juice
1 oz. cranberry juice
1 squeeze lime juice
1 orange slice, for garnish
2 Tbsp. fresh cranberries, for garnish
1 sprig fresh rosemary, for garnish
Instructions
Combine ginger beer, vodka, and juices.
Add ice.
Garnish with orange slice, fresh cranberries, and fresh rosemary.
Nutrition Information:
Yield: 1 Serving Size: 1
Amount Per Serving: Calories: 370Total Fat: 0gSaturated Fat: 0gTrans Fat: 0gUnsaturated Fat: 0gCholesterol: 0mgSodium: 30mgCarbohydrates: 62gFiber: 1gSugar: 56gProtein: 1g