Coffee Creamers are great for your morning coffee! These 3 delicious holiday creamers – eggnog, gingerbread, and vanilla mint are the perfect way to add some holiday cheer to your favorite coffee or hot cocoa!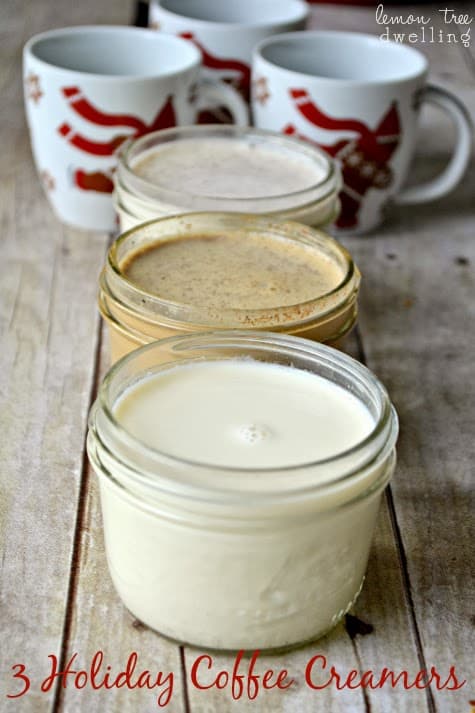 Whew…..it's Friday! And I have nothing planned for tonight but relaxing on the couch and probably going to bed early, while Jorden visits an old childhood friend who is in town from Washington, D.C. It's funny….just yesterday I had breakfast with one of my old childhood friends who I haven't seen in over a year! 'Tis the season, I guess….for reconnecting with old friends!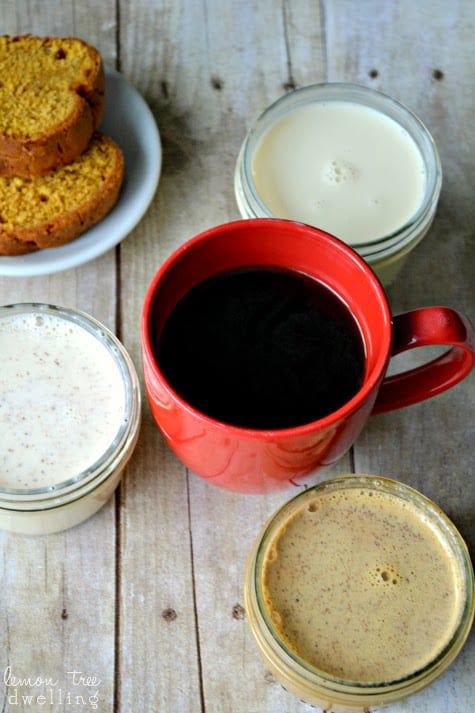 Do you have any old friends you still see now and then? It's interesting, isn't it? How you can just pick up with people you've known forever….and immediately feel a sense of comfort….despite the fact that you haven't talked in months or even years? There's just something about the people we grew up with that feels comfortable….and spending time with them can bring us right back to that place!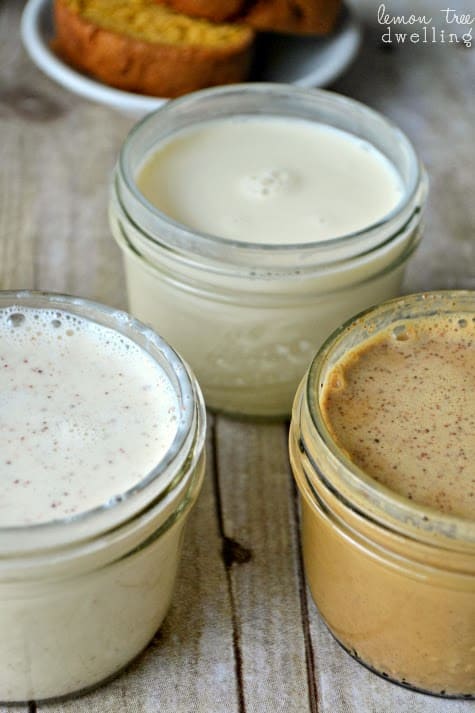 At the same time, of course, what would life be like without all the new friends we've met along the way? The people we've known now since high school or college or our first job…..or the people we've met just recently? Every friendship is a little different, and does something different for us….and I'm so grateful in my life to have some of every kind!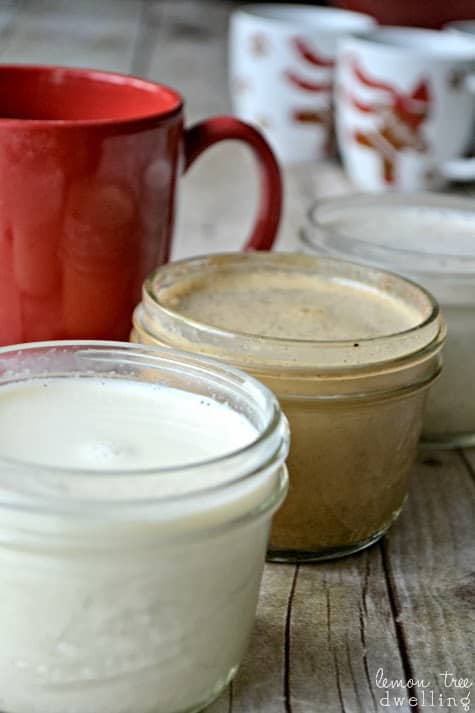 Holiday Coffee Creamers
Kinda like these coffee creamers….in a weird sort of way. They're all a little different, some more familiar and comfortable to us and some a little newer, but all of them add something unique and wonderful to our lives (or coffee!) Here's to friends….old and new….and to all the different flavors they bring to our lives!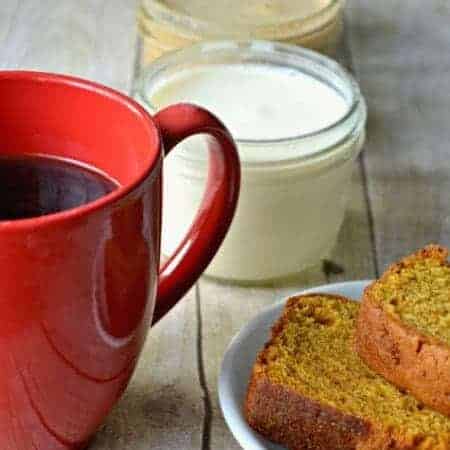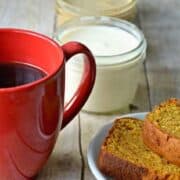 3 Holiday Coffee Creamers
Ingredients
Eggnog Creamer
1 3/4

c.

half and half

1

14 oz. can sweetened condensed milk

1 1/2

tsp.

nutmeg

1 1/2

tsp.

rum extract
Gingerbread Creamer
1 3/4

c.

half and half

1

14 oz. can sweetened condensed milk

6

Tbsp.

molasses

1 1/2

tsp.

ginger

1 1/2

tsp.

cinnamon

3/4

tsp.

cloves

3/4

tsp.

nutmeg
Vanilla Mint Creamer
1 3/4

c.

half and half

1

14 oz. can sweetened condensed milk

2

tsp.

vanilla extract

1

tsp.

peppermint extract
Instructions
For all creamers:

Mix all ingredients in a large mason jar; shake vigorously to combine. Store in refrigerator.

**Try all three by dividing the basic half & half/sweetened condensed milk mixture in thirds! Just be sure to adjust your other measurements accordingly 🙂
For another great coffee creamer flavor, try my Maple Cinnamon Coffee Creamer recipe!