Samoa Chocolate Chip Cookies are a delicious twist on the Girl Scout classic! These flavorful cookies are soft, chewy, and loaded with all your Samoa favorites!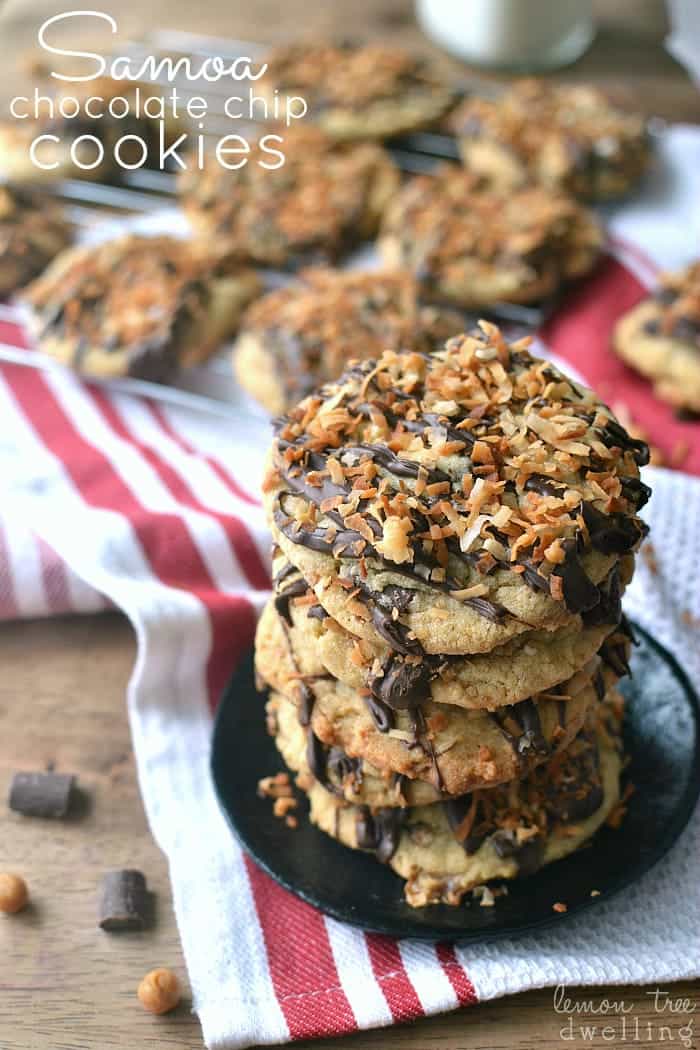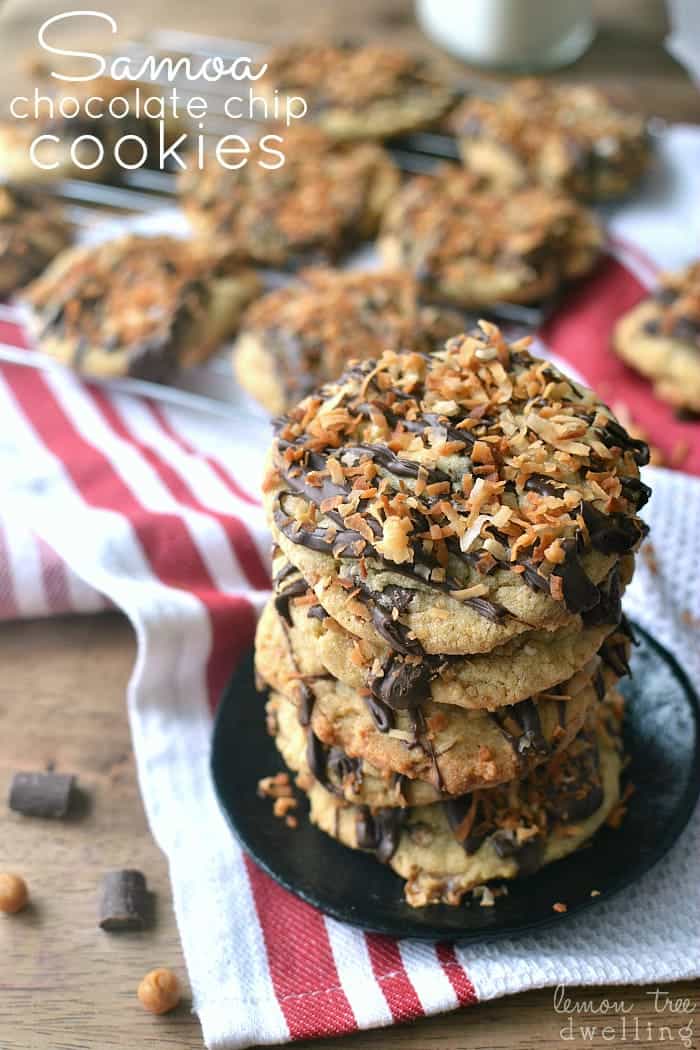 We're at that point in winter where it's hard to imagine it ever coming to an end. The bitter cold month of February…..with temperatures in the single digits, wind chills below zero, and a thick layer of snow on the ground that isn't budging. Somehow I always forget about how bad February is, and I'm never ready for it when it comes……but it does come. Every year!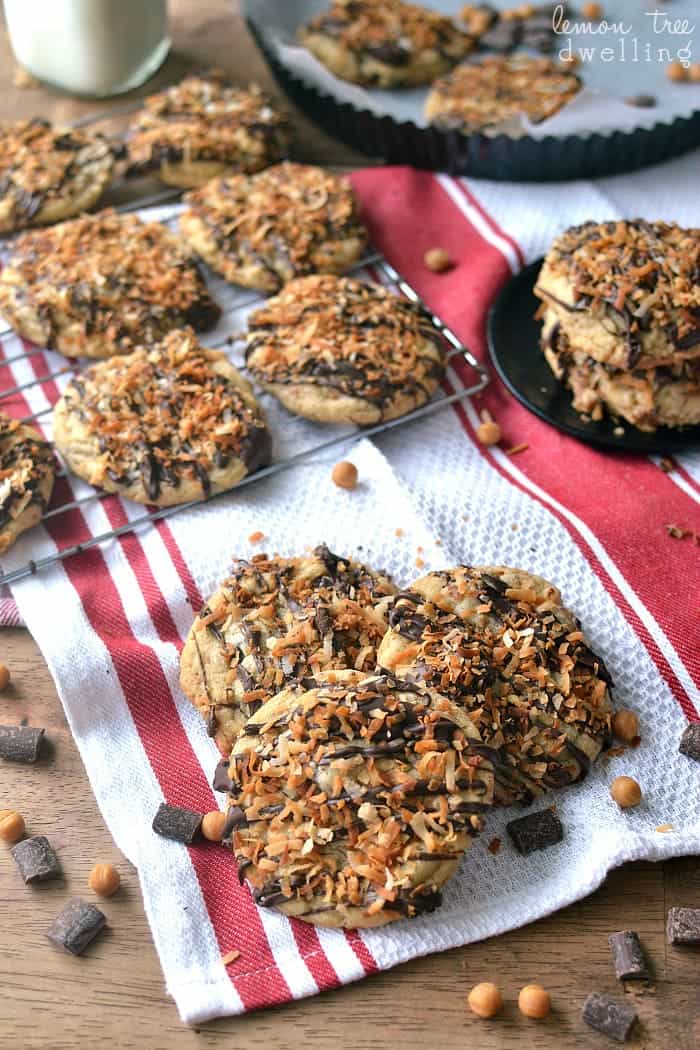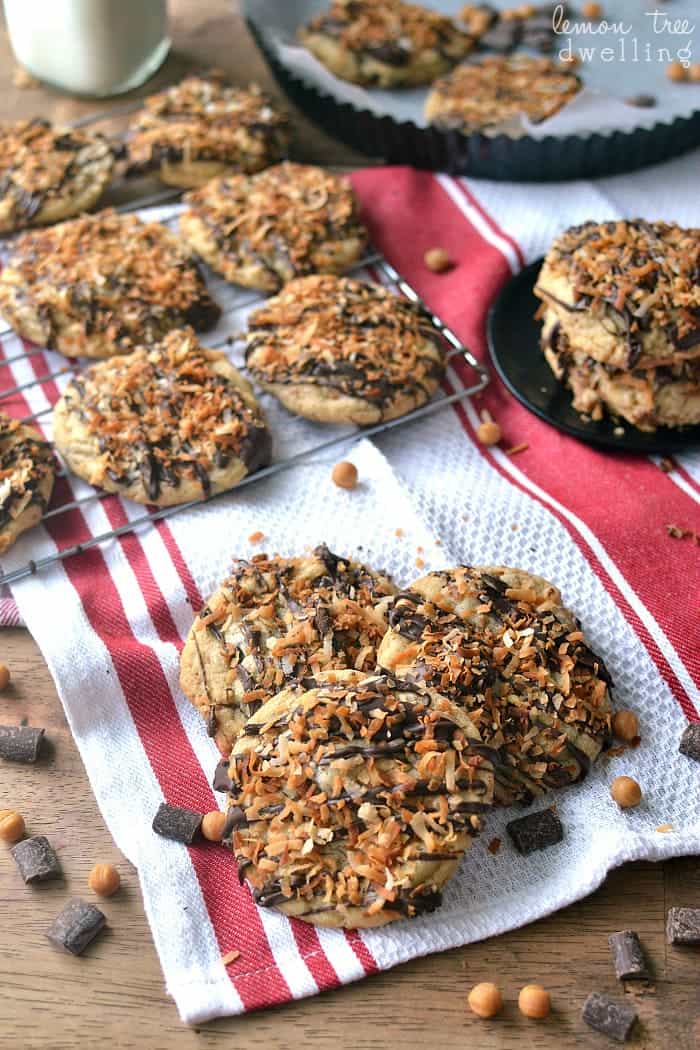 And along with it comes an extreme case of cabin fever, a chill that won't go away, and a whole lot of sickness. In the past week we've had two sick kids, and I'm anticipating we're not over it yet. We've already been to the doctor about 4 times since January…..we've been on 3 antibiotics…..and we've gone through about 6 boxes of kleenex. Something's gotta give!!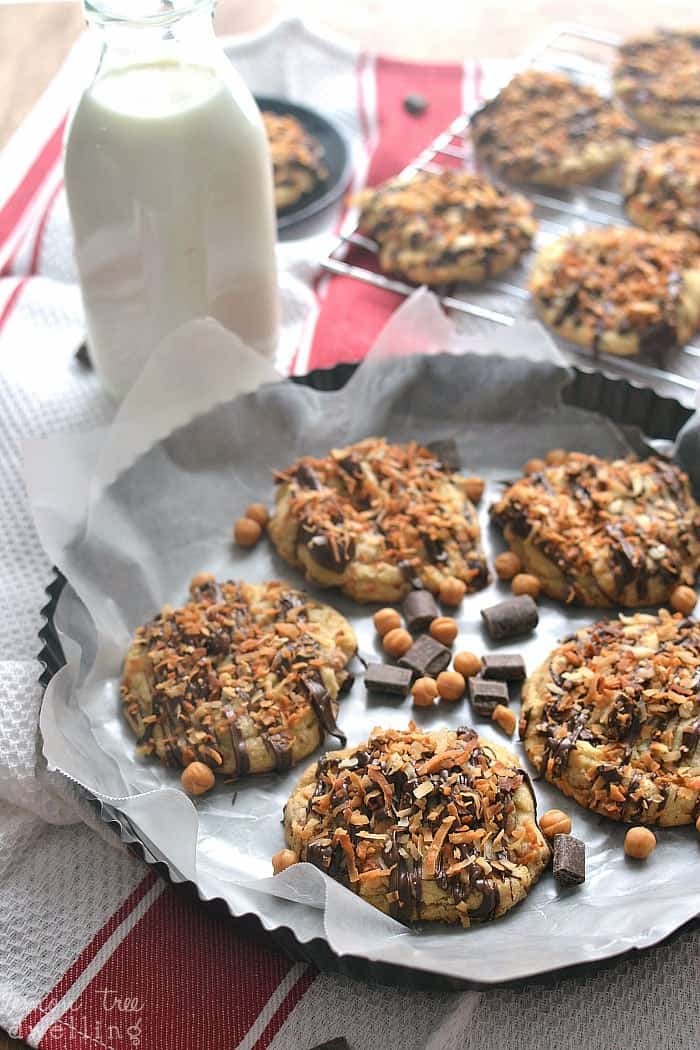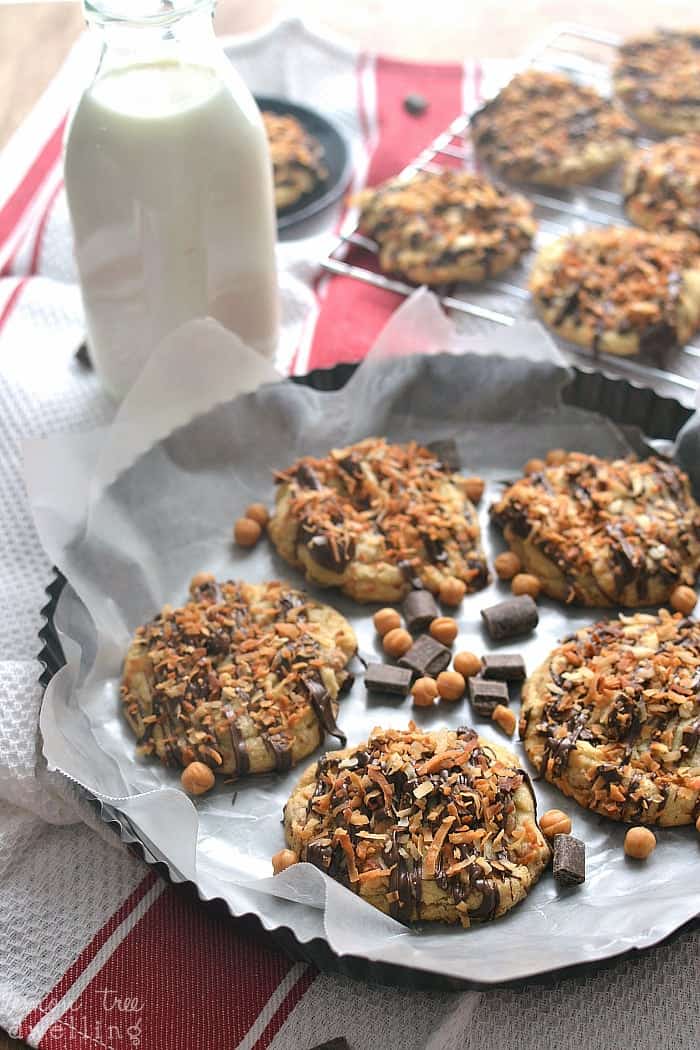 The good news, if you want to call it that, is my kids deal pretty well with being sick. Because they've been sick enough times that it's no big deal! A little Gatorade, some chicken noodle soup, and a couple of cartoons are usually all they need. And, once they're out of the woods a bit, some chocolate chip cookies never hurt!
Samoa Chocolate Chip Cookies
As a special treat for my sick kids, and while we wait for our "real" Girl Scout cookies to arrive, I decided to make these Samoa Chocolate Chip Cookies. They're based on my favorite chocolate chip cookie recipe, but clearly they're one step up. Because…..caramel and toasted coconut and lots and lots of chocolate will do that! All I can say is these cookies might become a February necessity…..in honor of sick kids, cabin fever, and, of course, the Girl Scouts.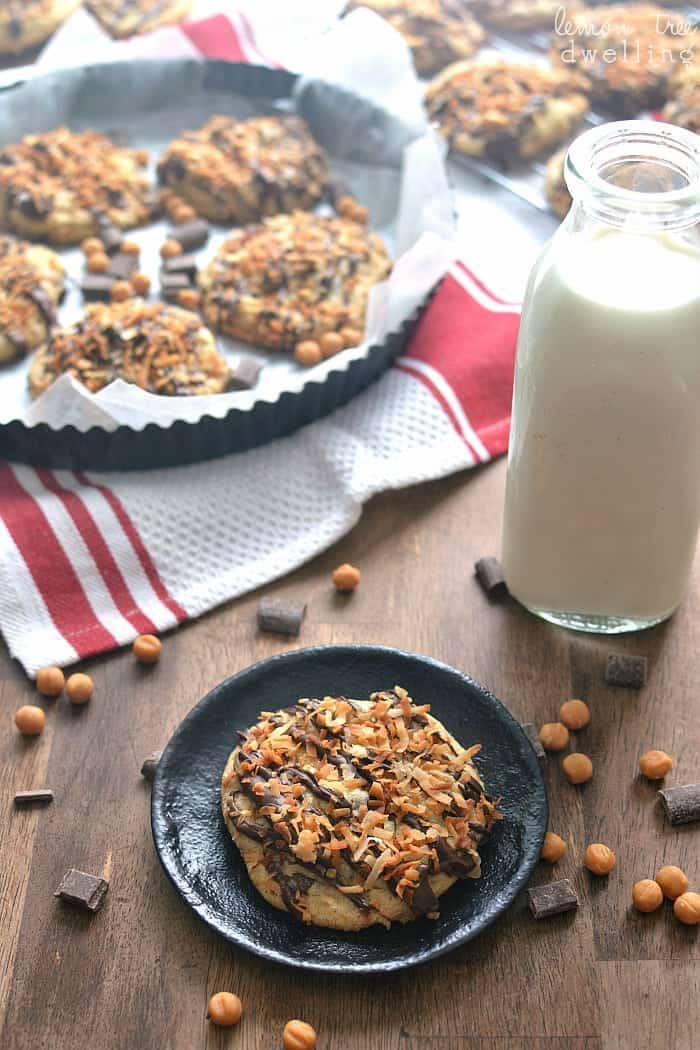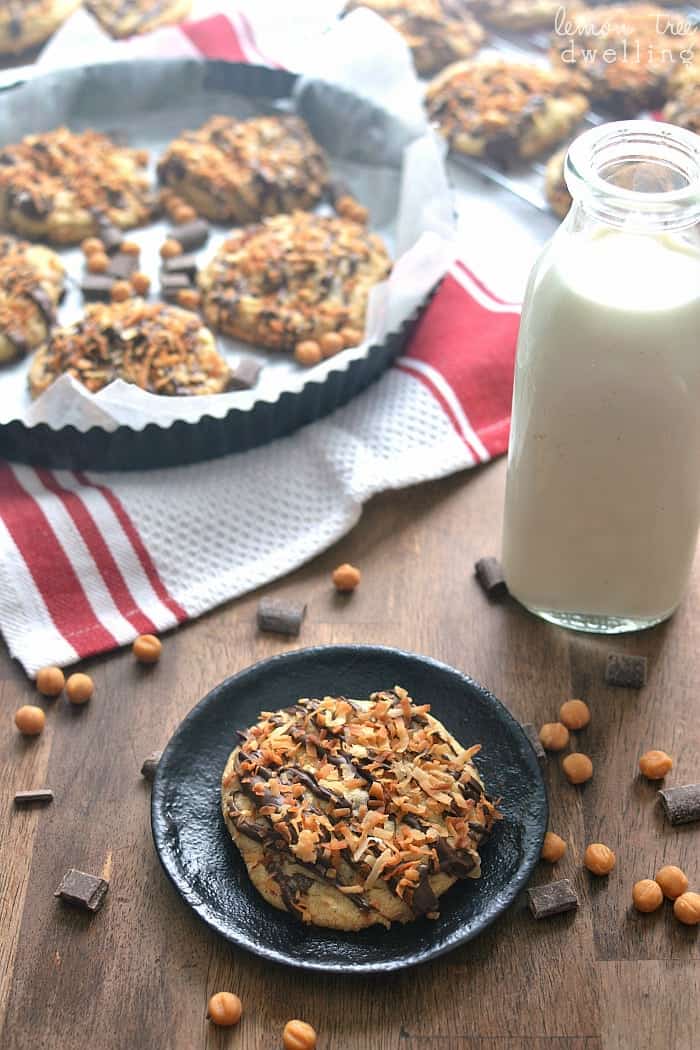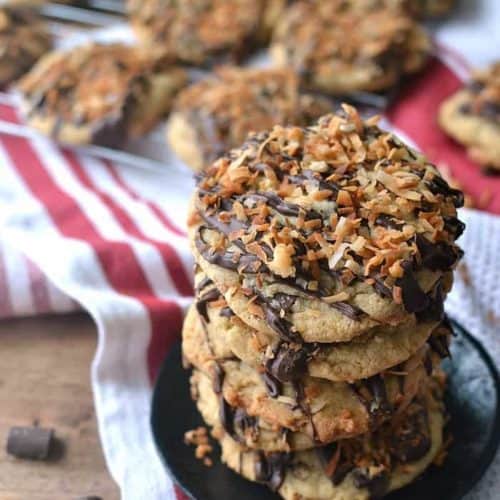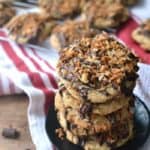 Samoa Chocolate Chip Cookies
Ingredients
1 1/3

c.

butter

softened

1

c.

sugar

1

c.

packed brown sugar

2

eggs

2

tsp.

vanilla

3 1/2

c.

flour

1

tsp.

baking soda

1

tsp.

salt

3

c.

chocolate chips or chunks

2

c.

toasted coconut

1

c.

Kraft caramel bits
Instructions
In a large mixing bowl, combine butter, sugars, eggs, and vanilla. Mix thoroughly.

Combine flour, baking soda, and salt in a separate bowl.

Slowly add to butter & sugar mixture and mix until thoroughly combined.

Stir in 1 1/2 c. chocolate chips, 1 c. toasted coconut, and caramel bits.

Drop by rounded spoonfuls (I used a 2 Tbsp. measuring spoon) onto baking sheet lined with parchment paper (or lightly greased baking sheet).

Bake at 375 degrees for 10-12 minutes or until golden brown.

Remove from oven and cool on wire rack.

Melt remaining 1 1/2 c. chocolate chips; drizzle over cooled cookies and top with remaining 1 c. toasted coconut.
Looking for more Samoa flavored treats??