These Roasted Vegetable Enchiladas are packed with fresh veggies, corn, and black beans, then topped with a creamy chile verde sauce and melted Monterey Jack cheese. The perfect dish for a healthy meatless dinner!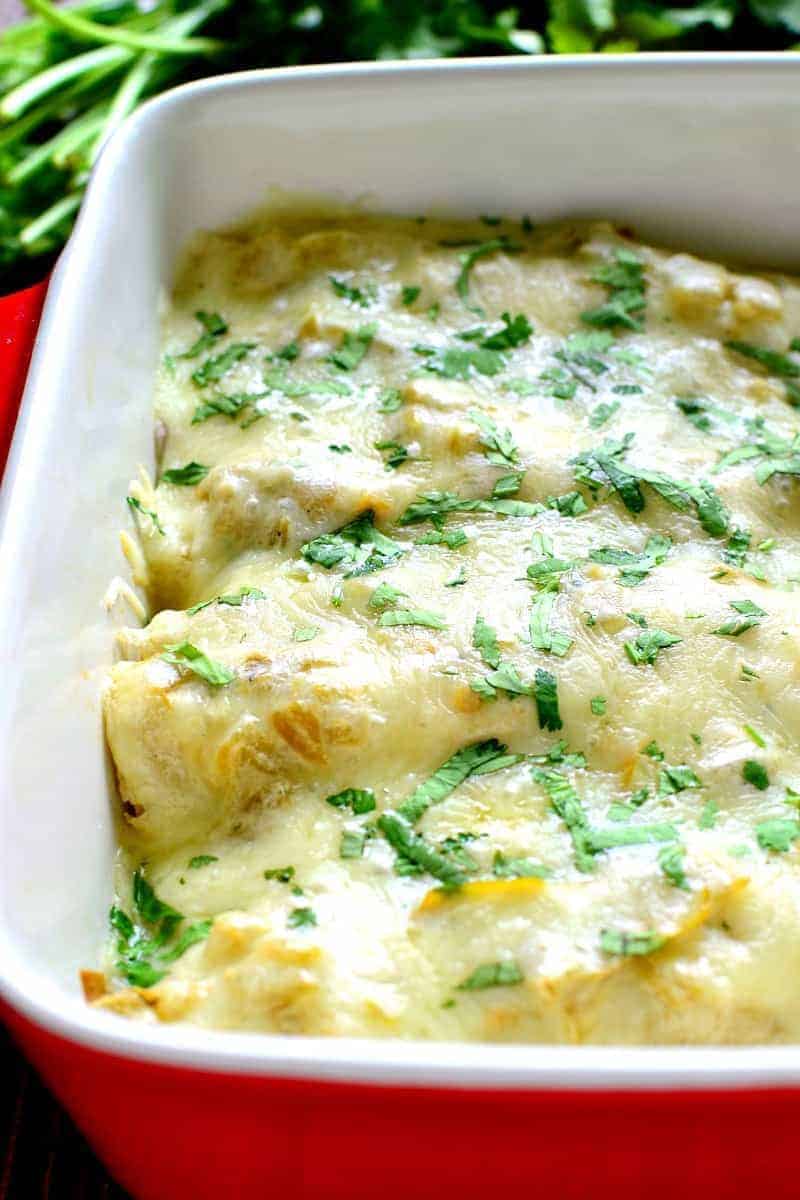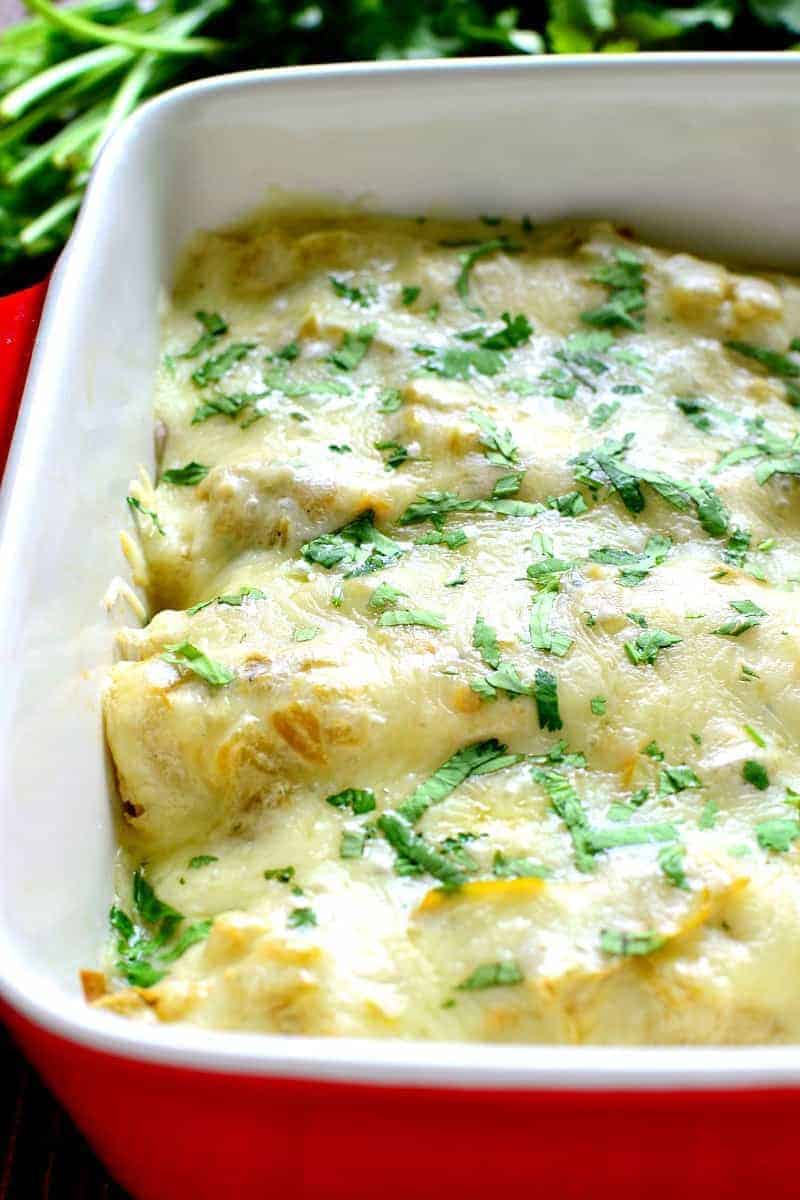 A little known fact about me is that, for many years, I was a vegetarian. I'm not even exactly sure why – except that a friend and I decided to give it a go in middle school, and somehow, it stuck. Needless to say, my parents were not entirely thrilled.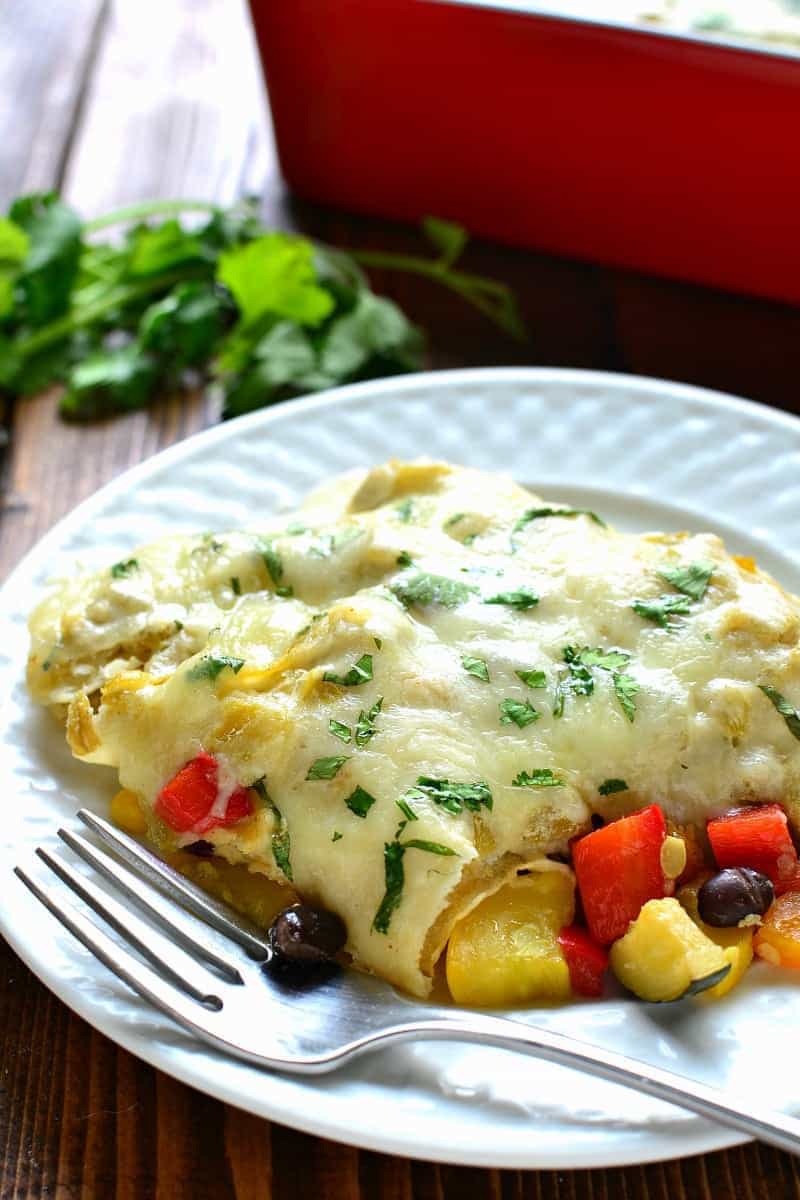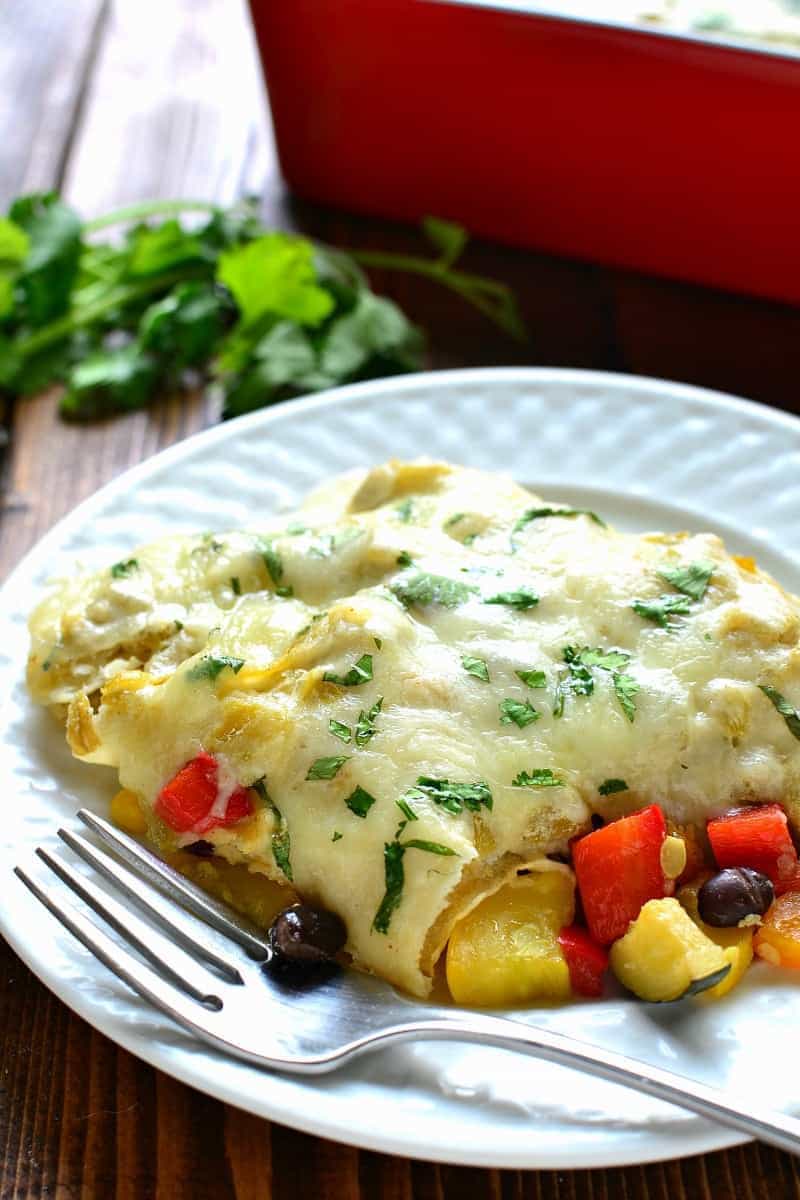 My mom made it clear that she would not be making me separate meals (which, as a mom, I totally understand)….so it was up to me to make it work. Since we had some type of meat with most dinners, I ended up eating a lot of sides. And, to be honest, I was totally fine with it.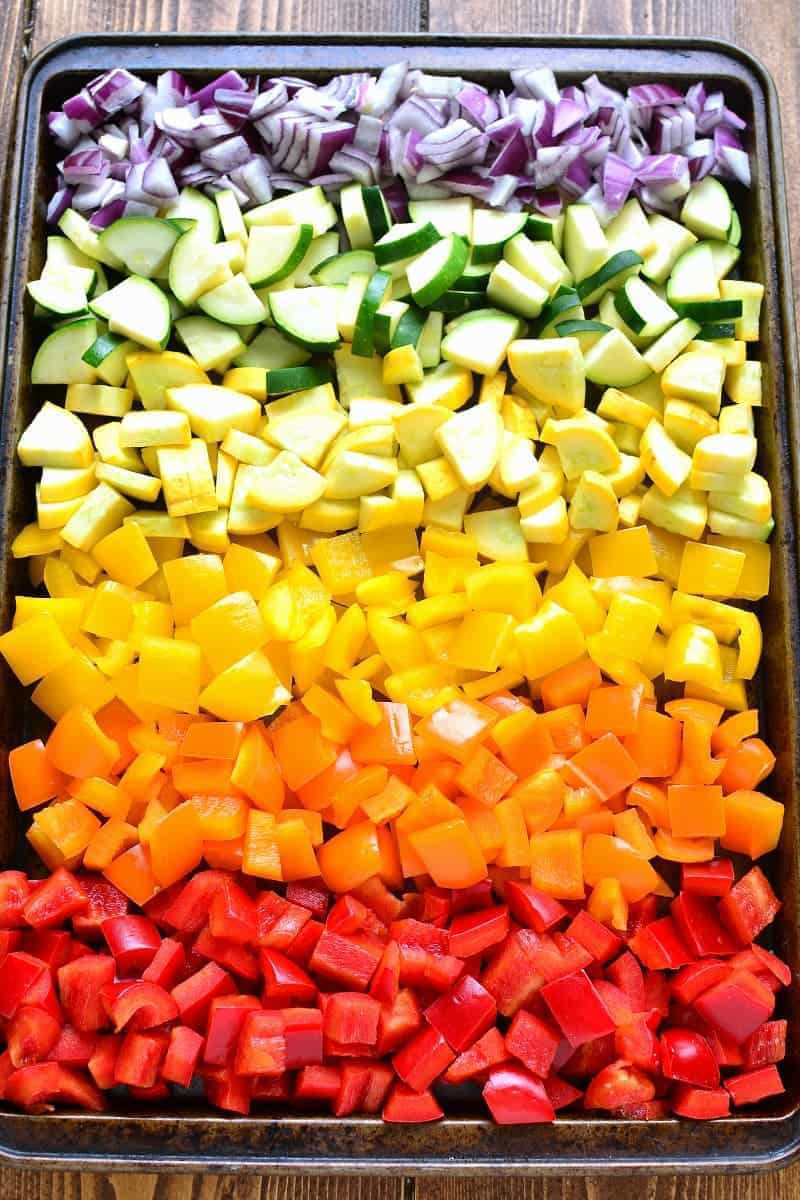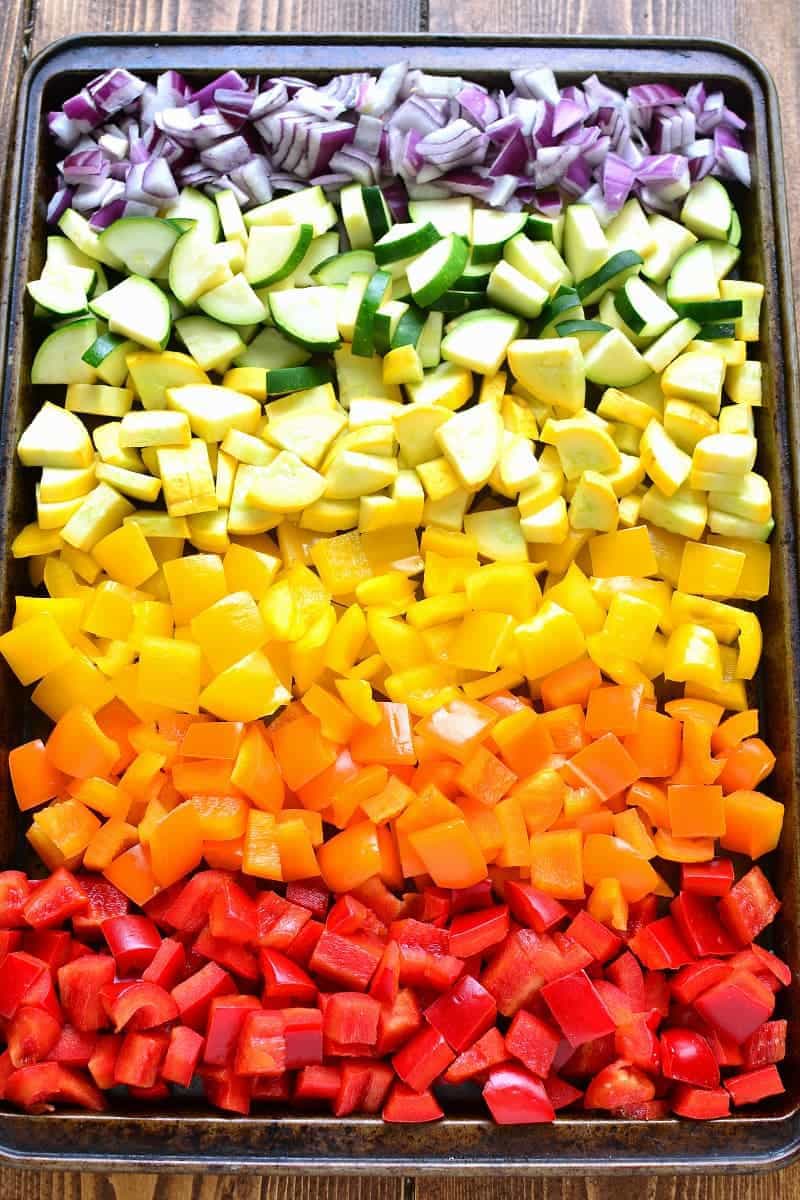 My vegetarian ways continued through high school and college, and then, for some reason, as I was getting ready to graduate from college, I decided to call it quits. And I never looked back.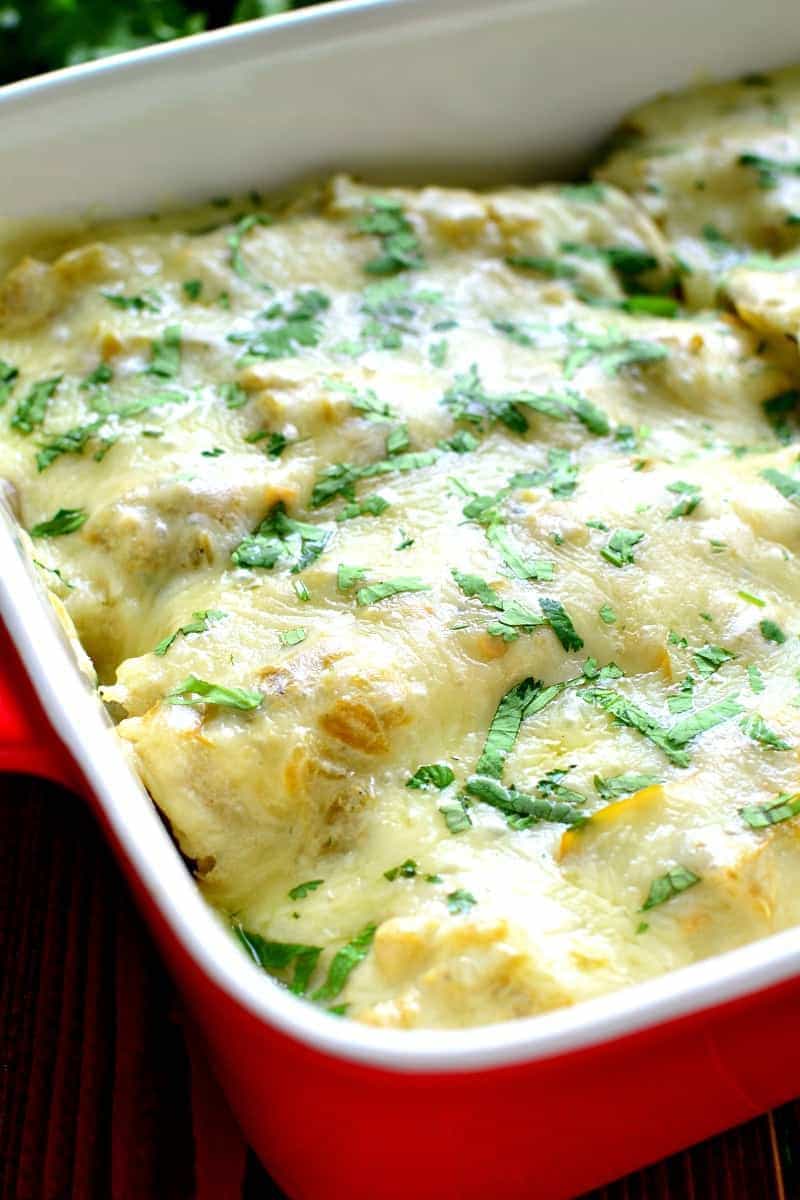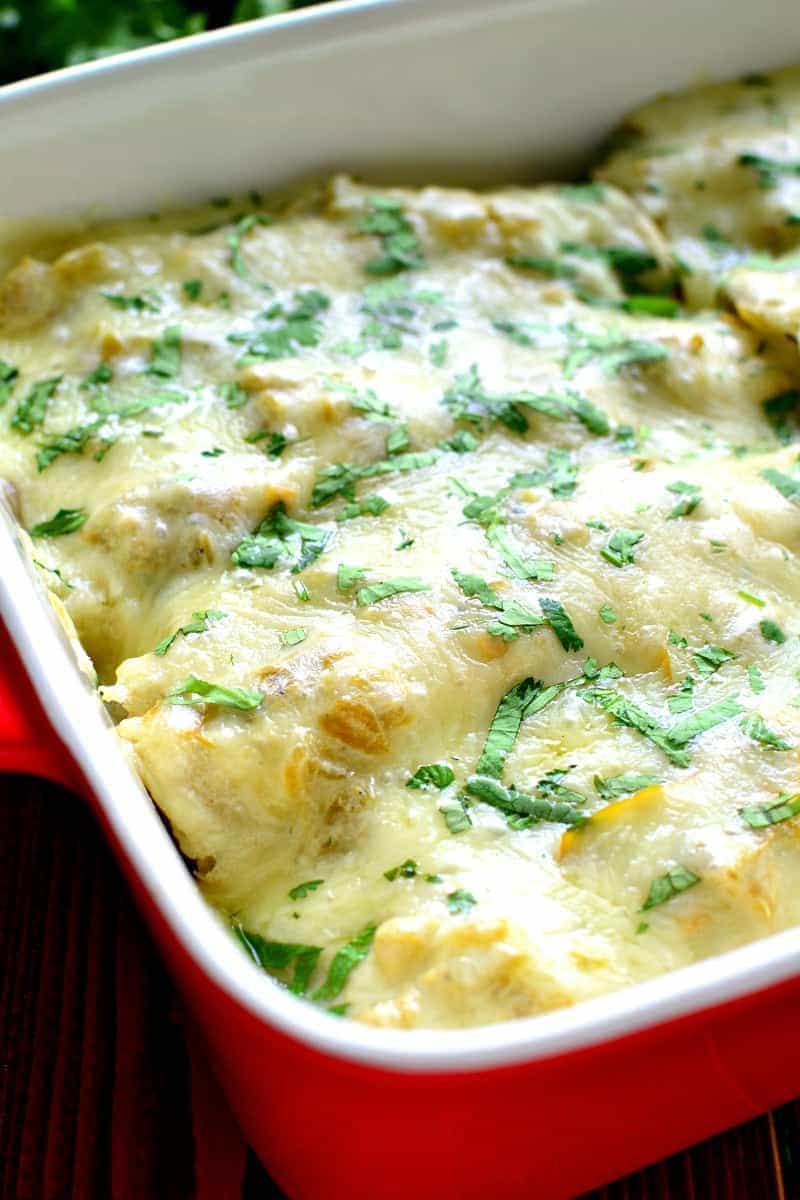 These days, I still don't eat red meat….but for the most part, I'm good with the rest. That said, I still have a special place in my heart for all things vegetarian. And if my family didn't like meat so much, there's a good chance we would eat vegetarian more often than not. But alas, they are carnivores through and through. Which means I need to choose my meatless options wisely!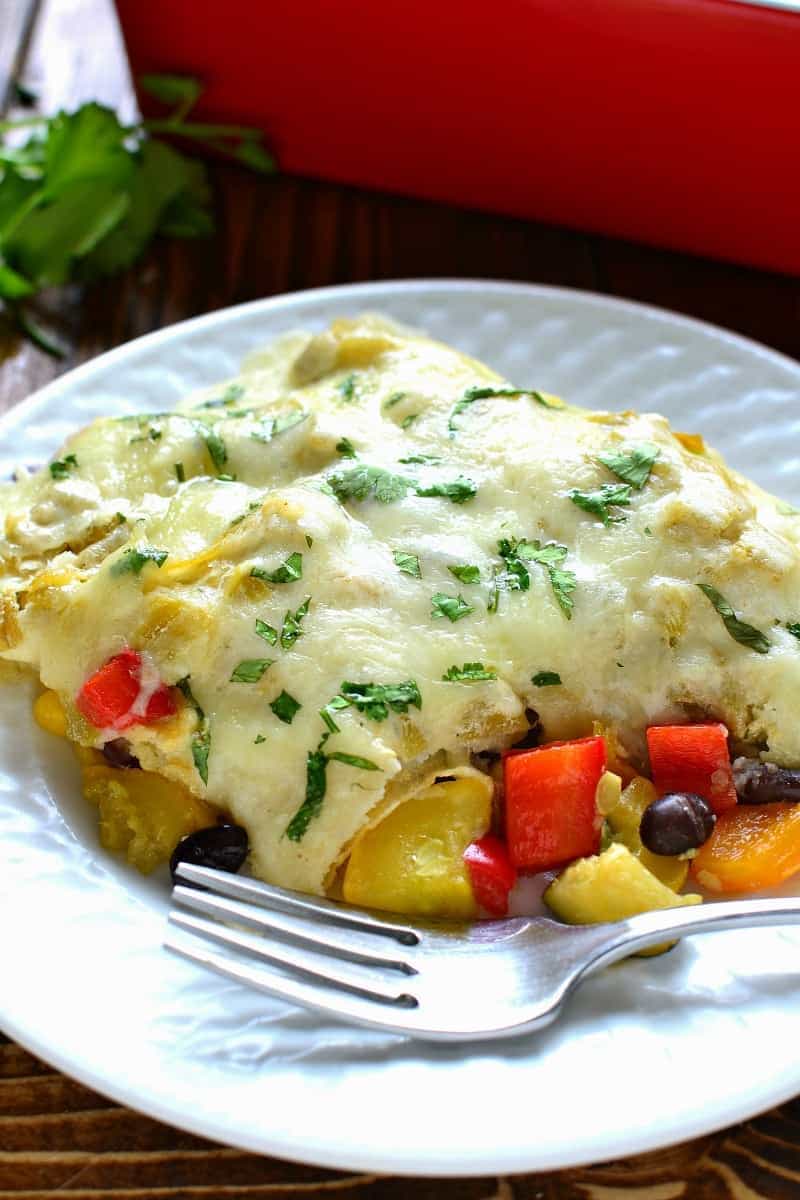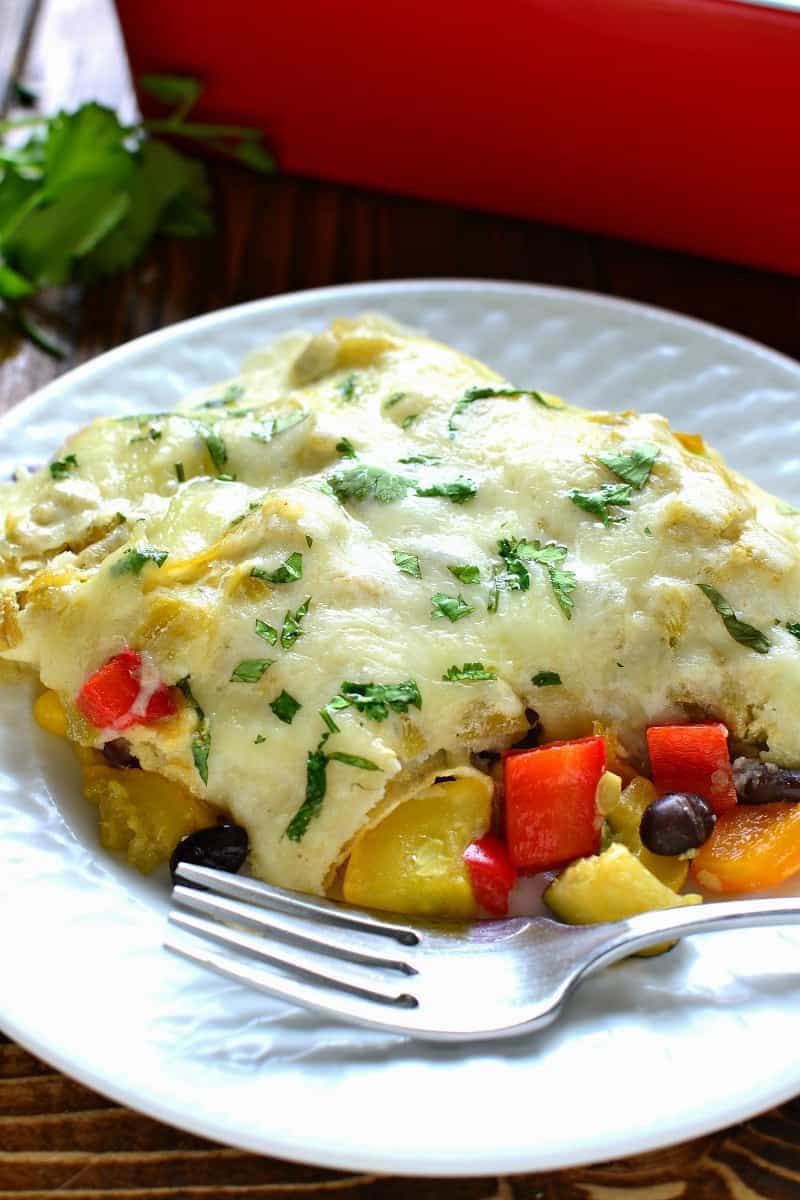 Roasted Vegetable Enchiladas – A vegetarian meal
Luckily, one thing my kids LOVE is roasted vegetables. Anytime I can work them into a meal, it's sure to be a win! Which is why I used ALL the veggies in these enchiladas – three types of peppers, zucchini, yellow squash, purple onion, corn, and fresh cilantro for on top. We literally ate the rainbow with this meal…..and it has seriously never tasted so good.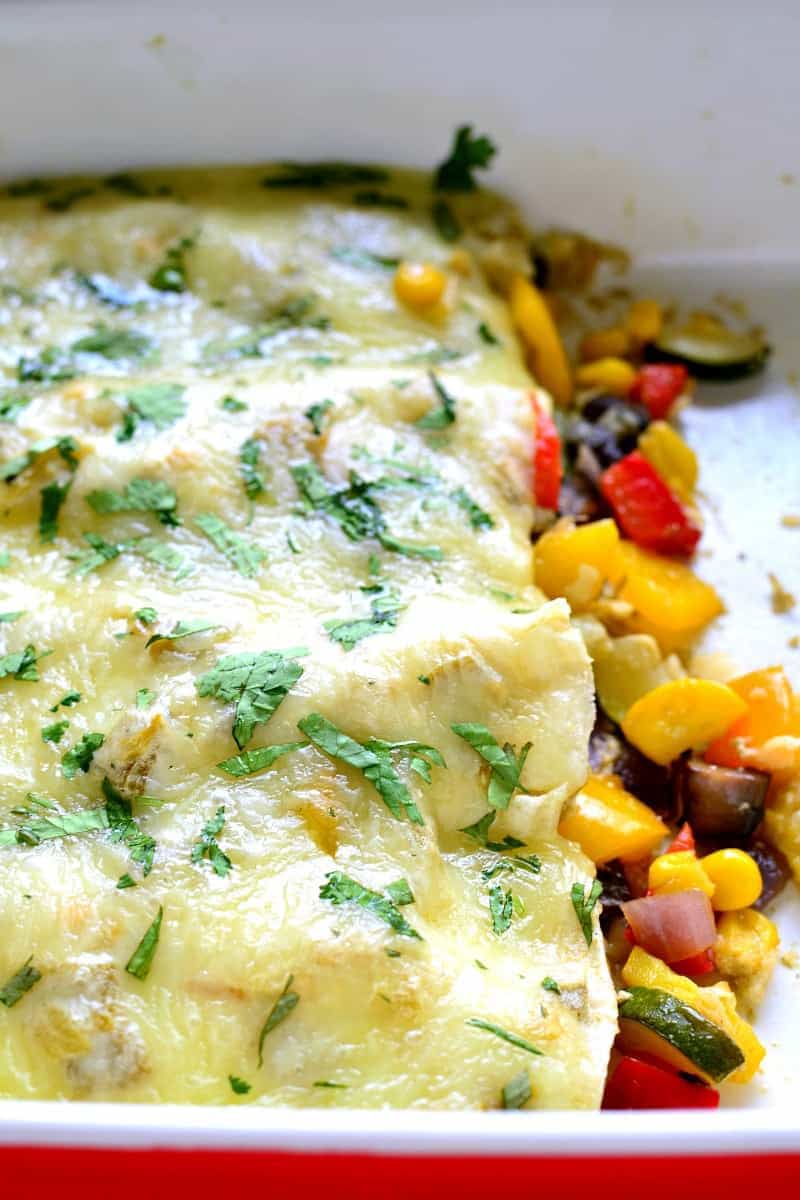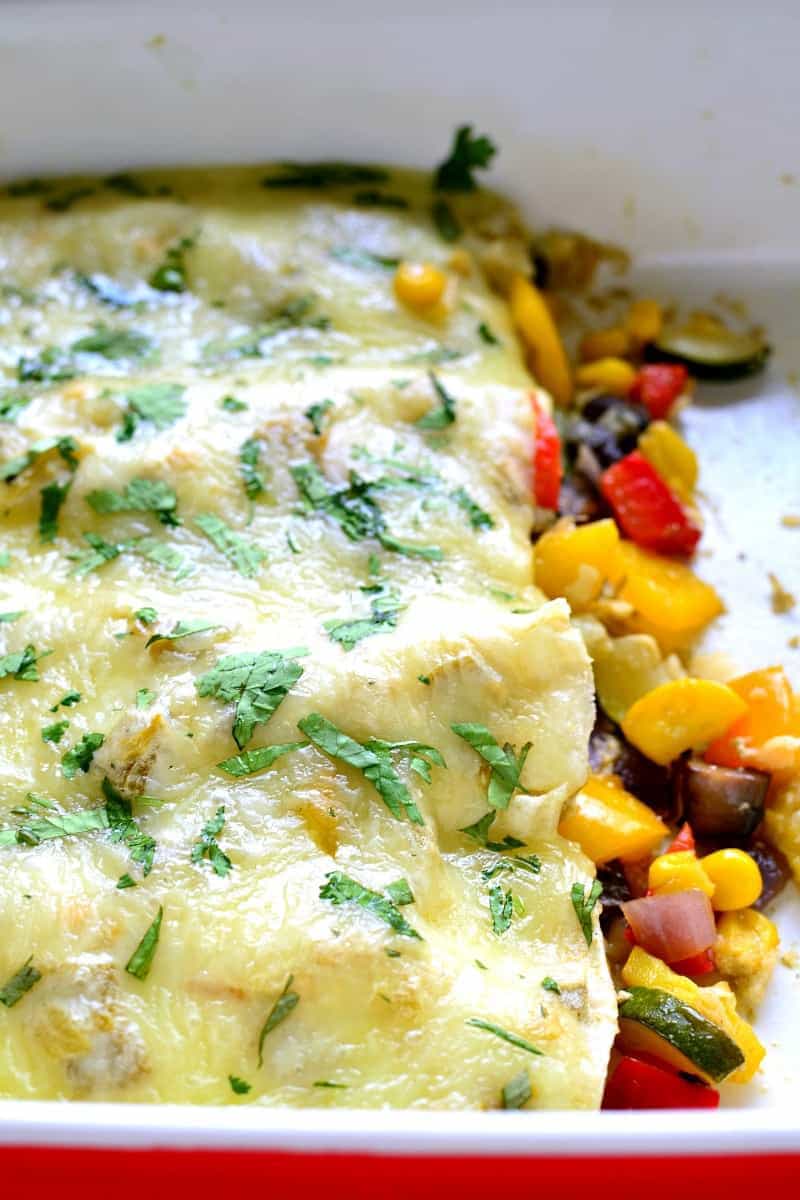 Because the only thing better than a delicious pan of rainbow-colored roasted veggies is roasted veggies stuffed inside white corn tortillas, topped with creamy chile verde sauce and gooey, melted Monterey Jack cheese. Seriously, you guys. It's enough to make a vegetarian out of anyone…..or at the very least…..guarantee that my kids will be totally fine with Meatless Monday!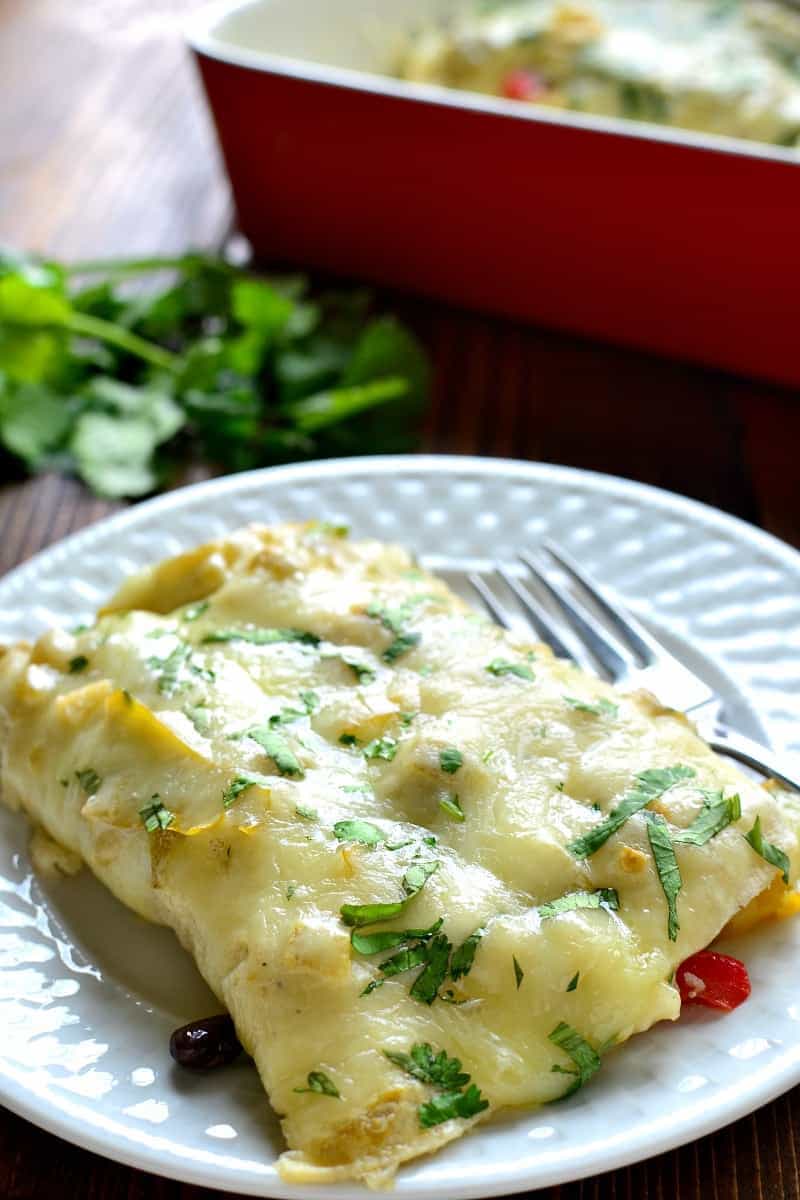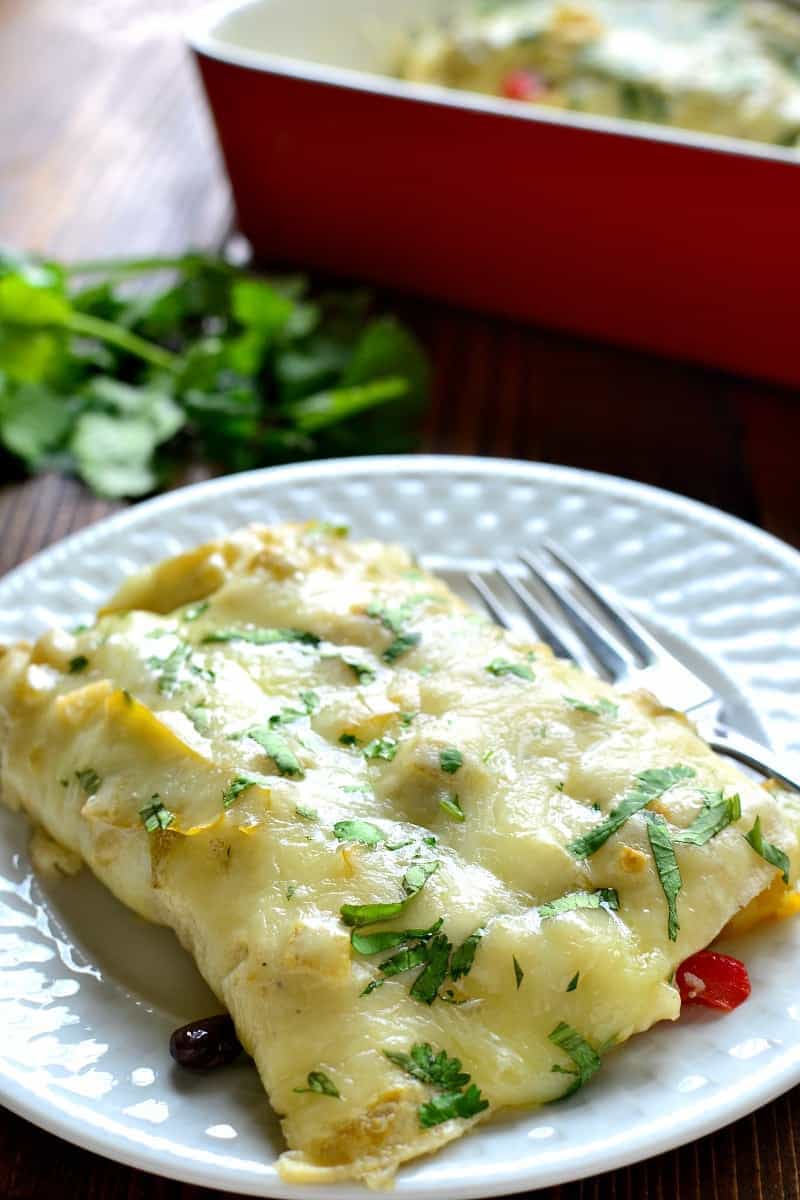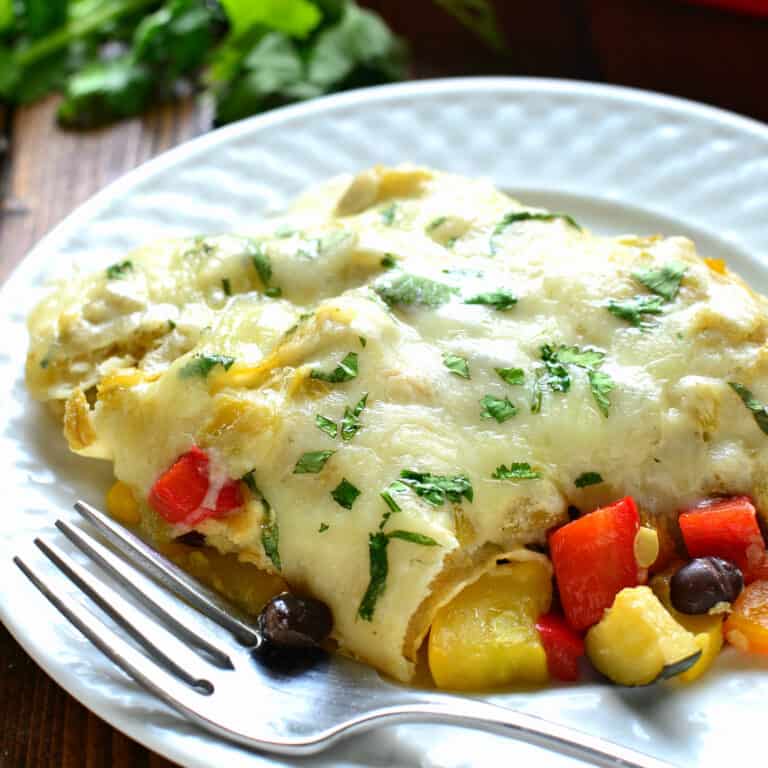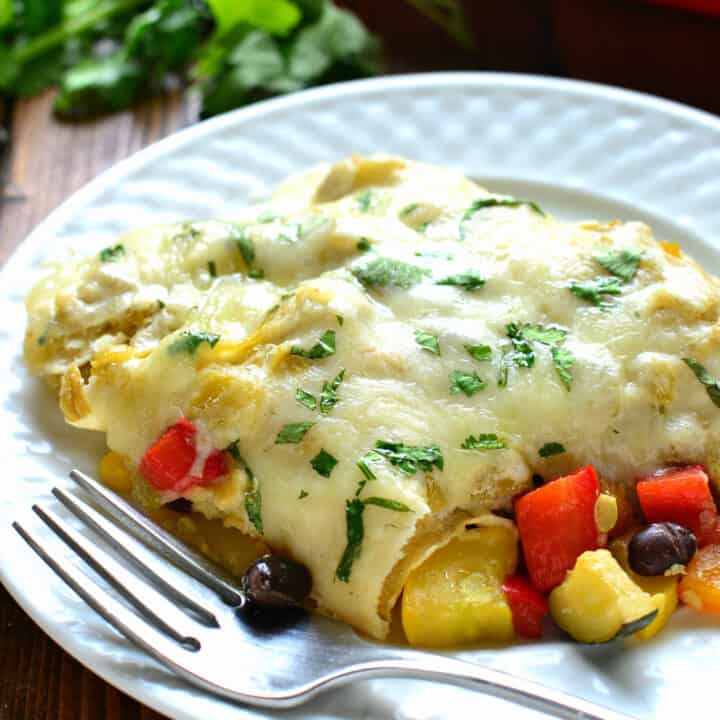 Roasted Vegetable Enchiladas
These Roasted Vegetable Enchiladas are packed with fresh veggies, corn, and black beans, then topped with a creamy chile verde sauce and melted Monterey Jack cheese. The perfect option for a healthy, flavor packed, meatless dinner!
Ingredients
3 Tablespoons olive oil
1/2 red pepper
1/2 yellow pepper
1/2 orange pepper
1/2 small zucchini
1/2 small yellow squash
1/2 cup chopped red onion
2 ounces mushrooms
1/2 cup corn kernels, fresh or frozen
1/2 cup black beans, rinsed and drained
8 corn tortillas
2 cups Shredded Monterey Jack Cheese
For Sauce:
1/2 c. half & half
2 cans diced green chiles
1 1/2 teaspoons cumin
1/4 teaspoon salt
2 garlic cloves, minced
2 Tablespoons chopped fresh cilantro, for garnish
Instructions
Chop vegetables into 3/4 inch pieces.
Toss vegetables (including corn, but not black beans) with 3 Tbsp. olive oil and spread on a large rimmed baking pan.
Roast at 400°F for 12-15 minutes.
Remove from oven; reduce oven temperature to 350°F.
Add black beans to roasted vegetables.
Heat corn tortillas slightly to soften, then fill each tortilla with approximately 1/3 cup roasted vegetable mixture.
Roll tightly and place seam-side down in 9x13 inch pan.
Repeat until all the tortillas are filled.
Prepare the chile verde sauce by combining half & half, diced green chiles, cumin, salt, and garlic cloves.
Pour sauce evenly over enchiladas.
Top with shredded cheese and cover with aluminum foil.
Bake at 350 degrees for 30 minutes or until cheese is fully melted.
Top with fresh cilantro.
Nutrition Information:
Yield:

8
Serving Size:

1 grams
Amount Per Serving:
Calories:

270
Total Fat:

16g
Saturated Fat:

7g
Trans Fat:

0g
Unsaturated Fat:

8g
Cholesterol:

30mg
Sodium:

259mg
Carbohydrates:

22g
Fiber:

4g
Sugar:

4g
Protein:

11g
For another great Vegetarian option try my Cheesy Zucchini Bake, or my 10-Minute Mushroom Marsala Gnocchi!