The BEST Guacamole – made with just a handful of ingredients! This recipe is EASY to make, has the perfect of flavors, and makes a delicious addition to any Mexican meal. Enjoy it with tortilla chips, veggies, nachos, or your favorite sandwich. Guaranteed to become a fast favorite!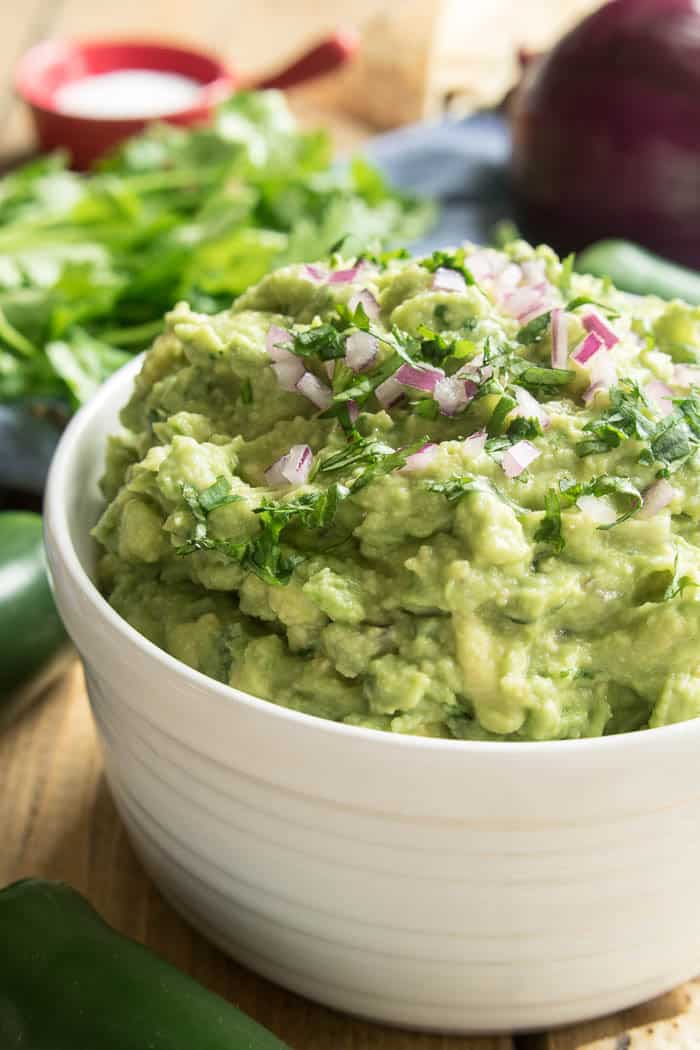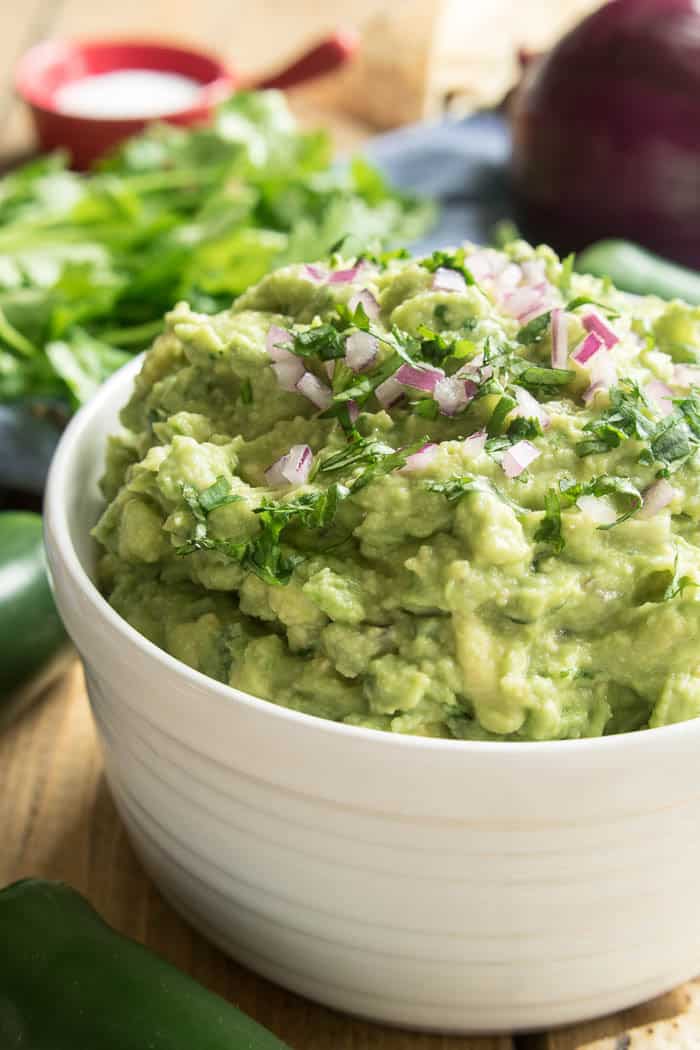 What is it about guacamole? Seriously….has there ever been anything better? I can (and regularly do) eat way too much of it. Because, well, it's delicious. And addictive. And almost too easy to make. If I were smart, I'd set rules for myself. Like only make guac when we're having people over, or better yet, only make it to take to other people's houses. So at the end of the day, I could leave the leftovers with them.
But alas, I have yet to make such a rule. And to be honest? Even if I did, I probably wouldn't follow it. I guess you could say guacamole has a certain hold on me. And I know I'm not the only one.
Perfect guacamole is one of those things that people can't get enough of. However much you make is how much will get eaten. And as much as we like fun twists on the classic, like Pineapple Guacamole or Caprese Guacamole, there's something about the "real deal" that's hard to beat.
It's the ideal appetizer for parties, game days, lazy days by the pool, or…..let's be honest…..every day. And…it's an equally delicious topping for enchiladas, tacos, or quesadillas. Pretty much any way you eat it, it's amazing! And best of all, it's surprisingly easy to make.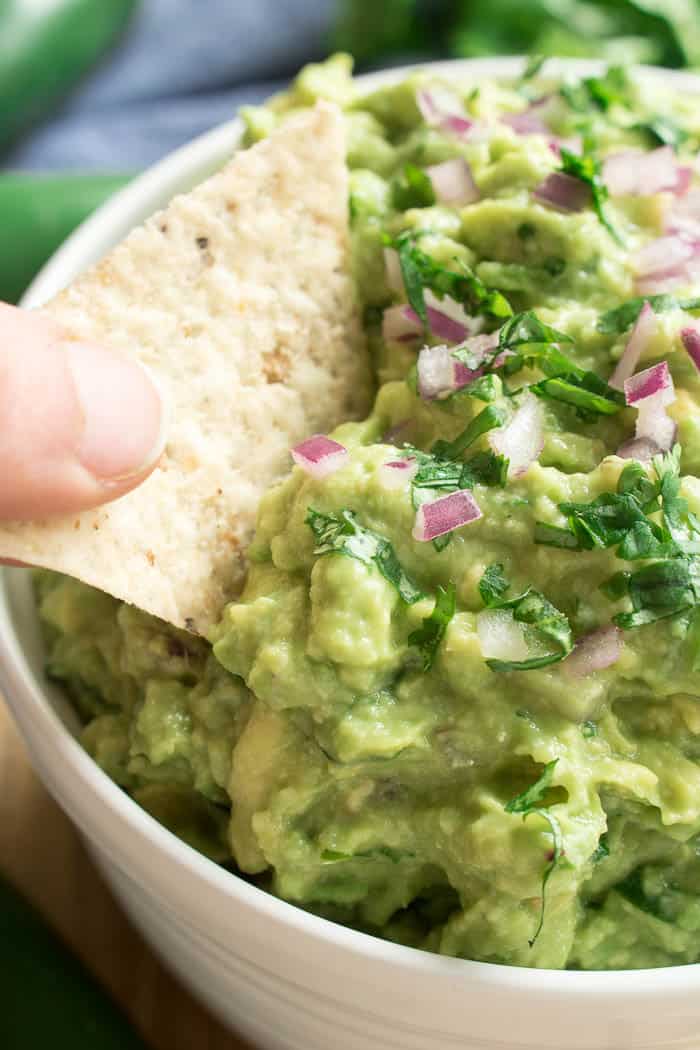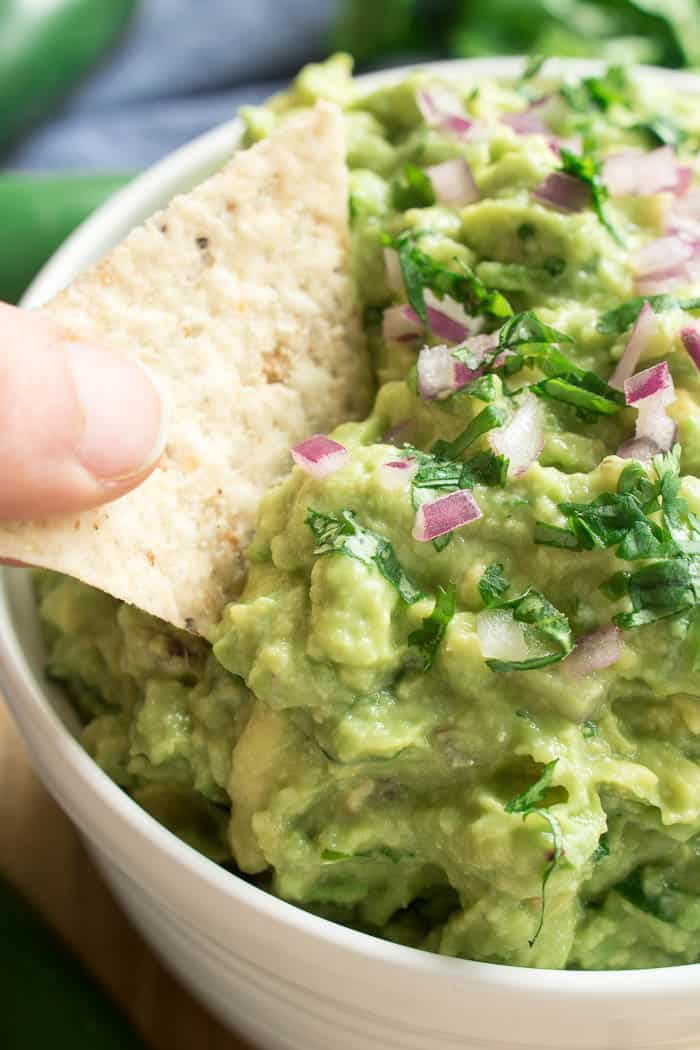 What you'll need for this recipe
Avocados – This recipe calls for 6 avocados (I used Hass). For the best flavor and texture, you'll want to make sure the avocados are ripe, which can be determined both by appearance and feel. Ripe avocados will have a dark green skin to black skin color and will be bumpy in texture. They will also yield to firm, gentle pressure without feeling overly mushy. If an avocado is black and mushy, it's past its prime! If it's bright green and firm, it's under-ripe.
Cilantro – Like any good guac recipe, this recipe has a healthy dose of cilantro. I used a fresh bunch of it, which can be found in the produce section of most grocery stores. It is also often sold pre-trimmed in smaller plastic containers near the other fresh herbs.
Onion – I love my guacamole with a little bit of onion, and my favorite kind to use is always red. Red onion is milder in flavor than other varieties, so it doesn't have the same "bite" to it. If you're looking for a good substitute for red (along with a little more bite!) I would suggest white onion.
Jalapeño – Fresh minced jalapeño gives this recipe just the right amount of heat. For a milder guacamole, remove the seeds and membranes before mincing. For a touch of spice, leave them in!
Lime juice – Lime juice adds delicious flavor to this recipe and helps balance out the creaminess of the avocados. I always prefer to use fresh lime juice, but bottled is fine, too. You can also substitute lemon juice if that's what you have on hand.
Salt – Finally, no guacamole is complete without salt! Adding salt to this recipe brings out the other flavors and helps take this guac to the next level!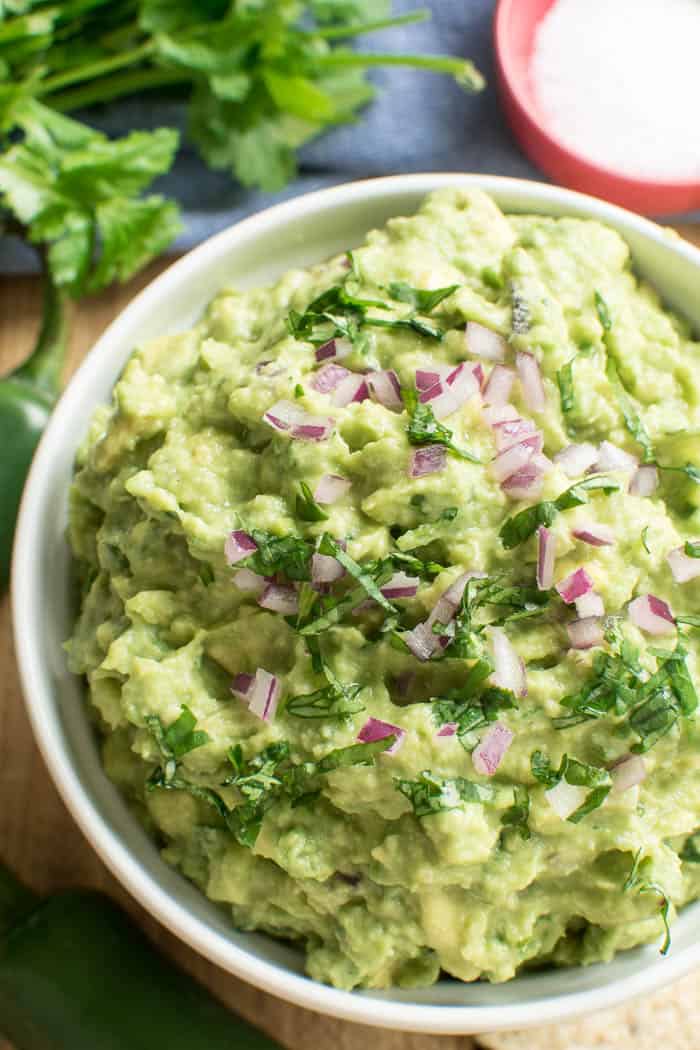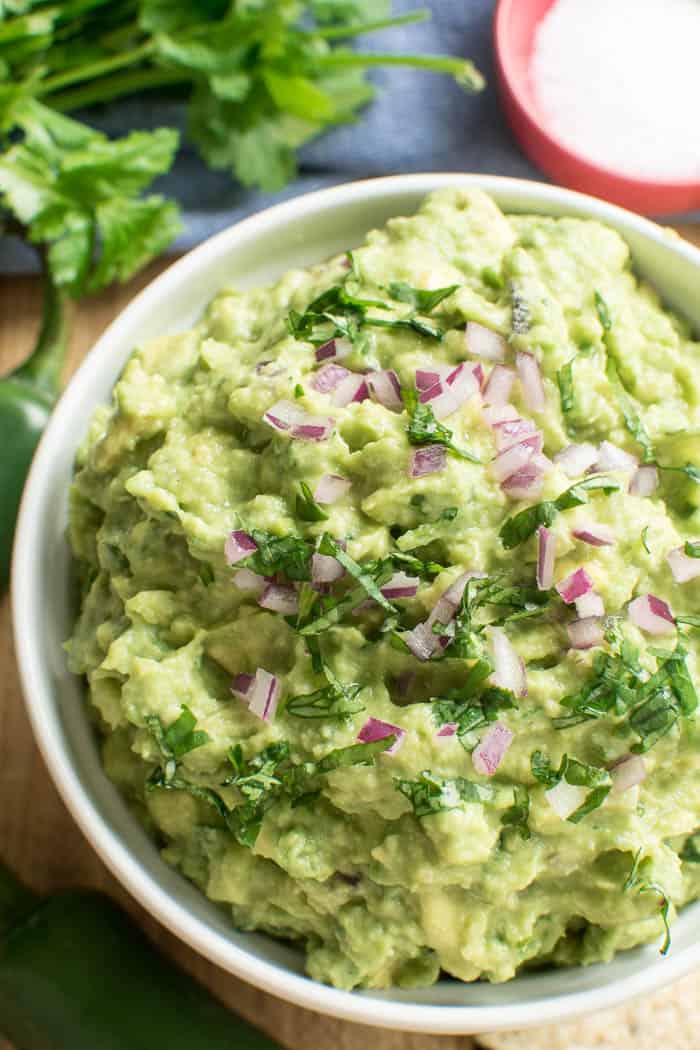 How to make Guacamole
Use ripe avocados. When choosing avocados, I always look for ones that have a smooth, firm skin and yield gently when pressed. You want to avoid any that feel overly soft or mushy.
Start with everything BUT the avocados. When making guacamole, I always start by combining the cilantro, onions, jalapeños, lime juice, and salt in a large mixing bowl, then muddling them together to release the flavors.
Mix according to your preference. Personally, I like a chunky guacamole, so I tend to leave some larger pieces of avocado in the mix. But if you prefer a smoother texture, it's as simple as a little extra mixing!
Always taste test before serving. If your guac is too creamy, add more lime juice. Too salty, add another avocado. It's really about finding the perfect balance….and anything that's not quite right can always be fixed.
How to ripen avocados quickly
If there are no ripe avocados at the grocery store, don't worry! Here are a few ways you can ripen under-ripe avocados quickly:
On the counter – One of the best (and easiest) ways to let avocados ripen is in a warm spot on the counter. Heat helps avocados ripen, so storing them on the counter is always a better idea then storing them in the refrigerator.
In a paper bag – Another even quicker way to ripen avocados is by placing them in a paper bag. Avocados produce ethylene gas, which causes them to soften after they're harvested. When placed in a paper bag, the gas becomes trapped and speeds up the ripening process.
In a paper bag with other fruits – If you're desperate for ripe avocados, you may try this third method, which is placing the avocados in a paper bag along with other fruits, such as apples or bananas. The combined ethylene gases help speed up the process even more than avocados alone, giving you the best chance or ripening your avocados quickly.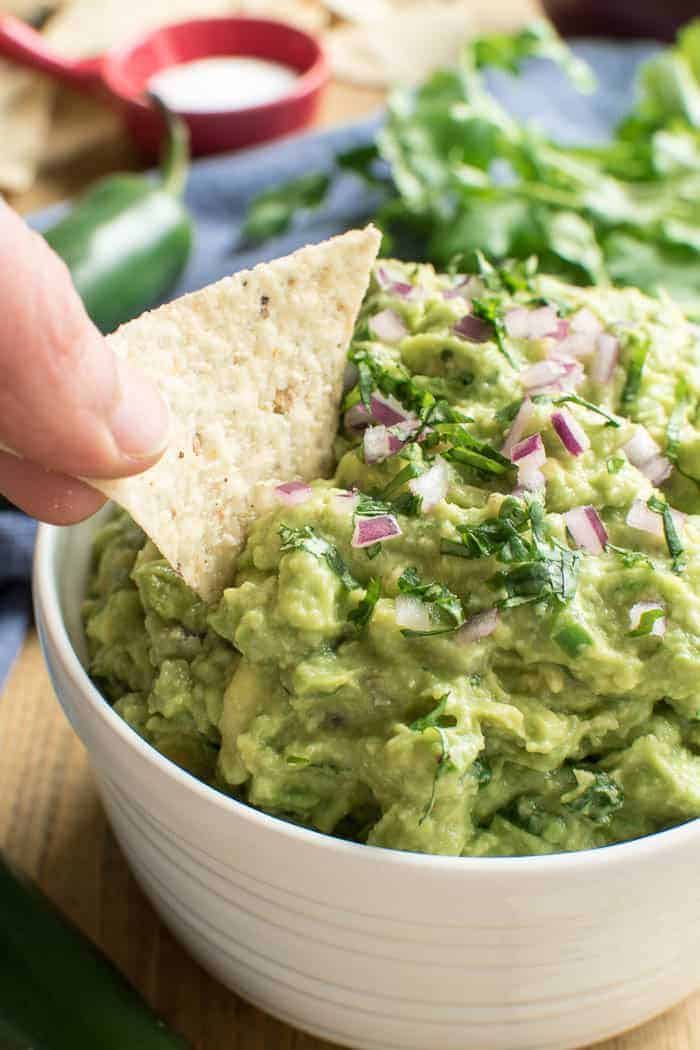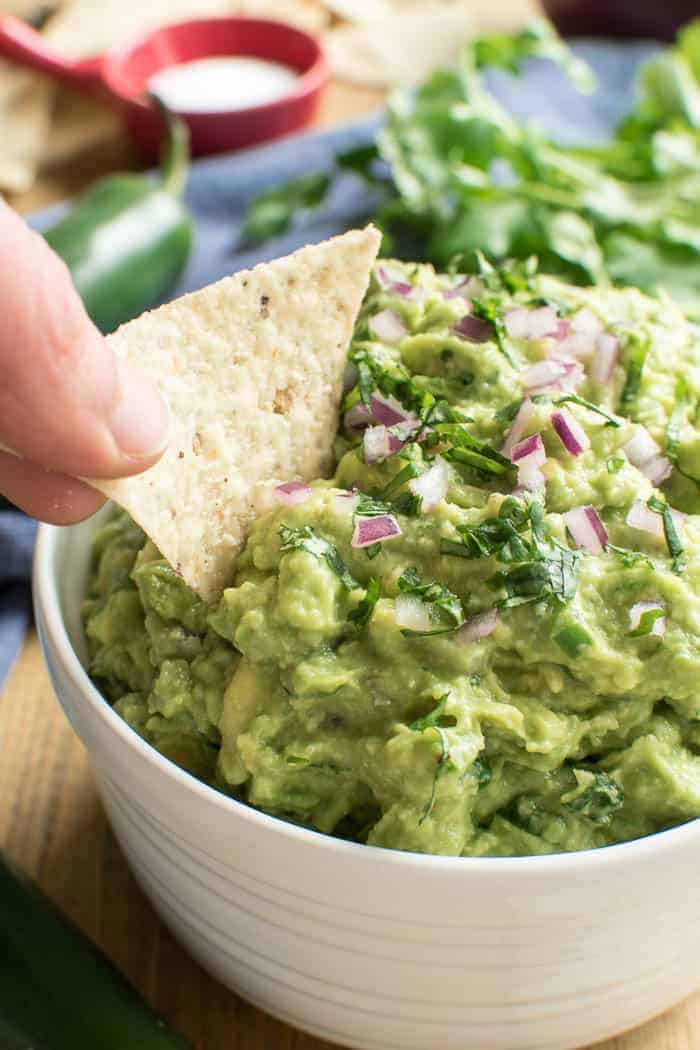 How to keep Guacamole from browning
If there's any downside to guacamole, it's the fact that it doesn't have the longest shelf life. And even though figuring out what to do with leftovers is usually not an issue, there are definitely some ways to make it last longer.
Lime juice! Lime juice is your first line of defense when it comes to keeping your guacamole green. Why? Because the acid in it helps to slow the browning process.
Leave an avocado pit (or two) in your guacamole.
Keep your guacamole covered in an airtight container until ready to serve. For extra protection, lay a piece of plastic wrap directly on top of the guacamole to keep the air out.
The long and short of it? Avocados contain an enzyme called polyphenol oxidase, which causes them to turn brown when in contact with oxygen in the air. The best way then to keep guacamole from turning brown? Reduce its contact with air.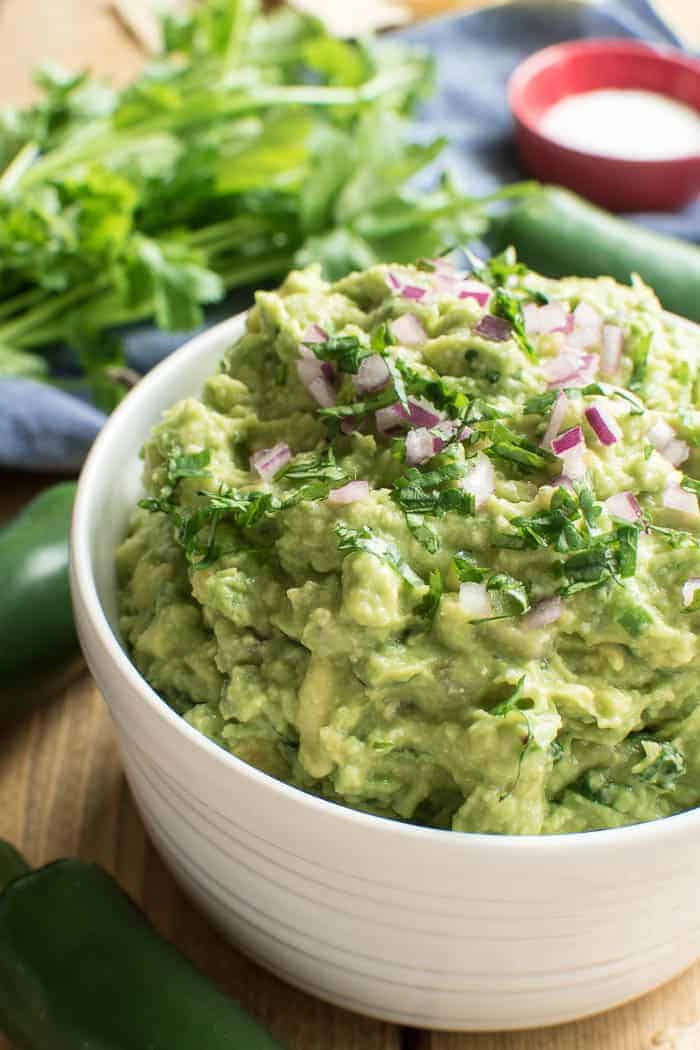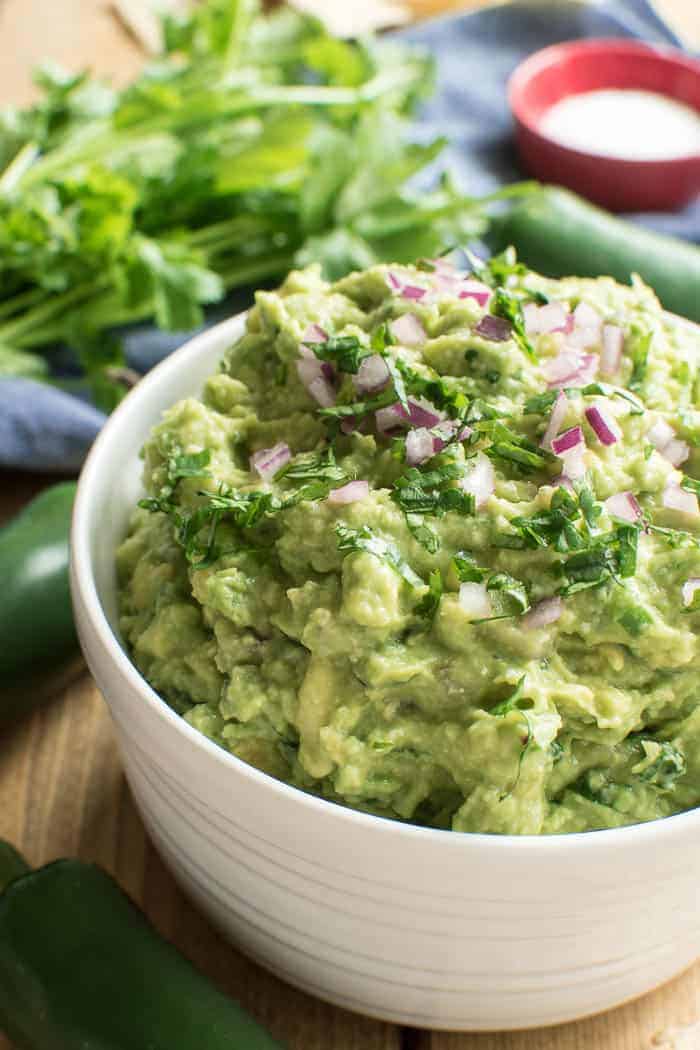 Recipes to pair with Guacamole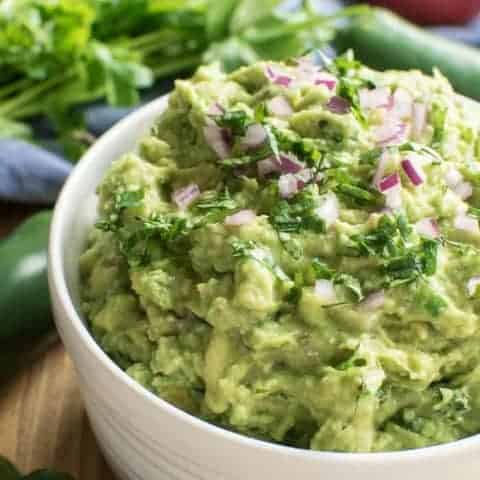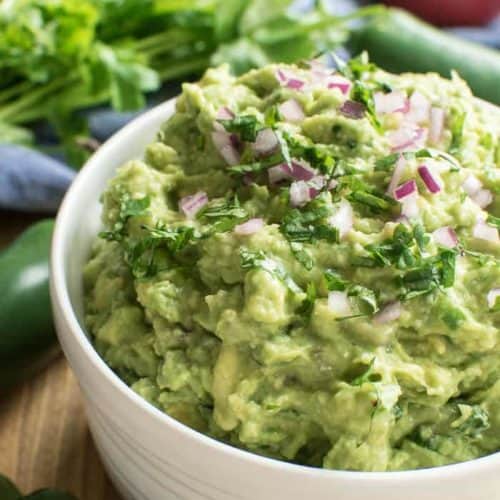 Easy Guacamole
The BEST Easy Guacamole recipe - made with just a handful of ingredients and ready in minutes! This creamy guacamole has the perfect balance of cilantro, lime, and salt, and makes a delicious addition to any Mexican meal.
Ingredients
6 avocados
1/3 cup cilantro, chopped
1/3 cup red onion, chopped
1 jalapeno, minced
3-4 Tbsp. fresh lime juice
1 tsp. kosher salt
Instructions
In a medium mixing bowl, combine cilantro, onion, jalapeno, lime juice, and salt.
Muddle ingredients gently.
Add avocado and mash to desired consistency.
Add additional salt or lime juice as desired.
Nutrition Information:
Yield:

12
Serving Size:

1
Amount Per Serving:
Calories:

168
Total Fat:

15g
Saturated Fat:

2g
Trans Fat:

0g
Unsaturated Fat:

12g
Cholesterol:

0mg
Sodium:

113mg
Carbohydrates:

11g
Fiber:

7g
Sugar:

1g
Protein:

2g