Cranberry pumpkin bread is the BEST pumpkin bread recipe, made better with the addition of fresh cranberries and sweet cream cheese icing! The perfect dessert or brunch recipe for your holiday table!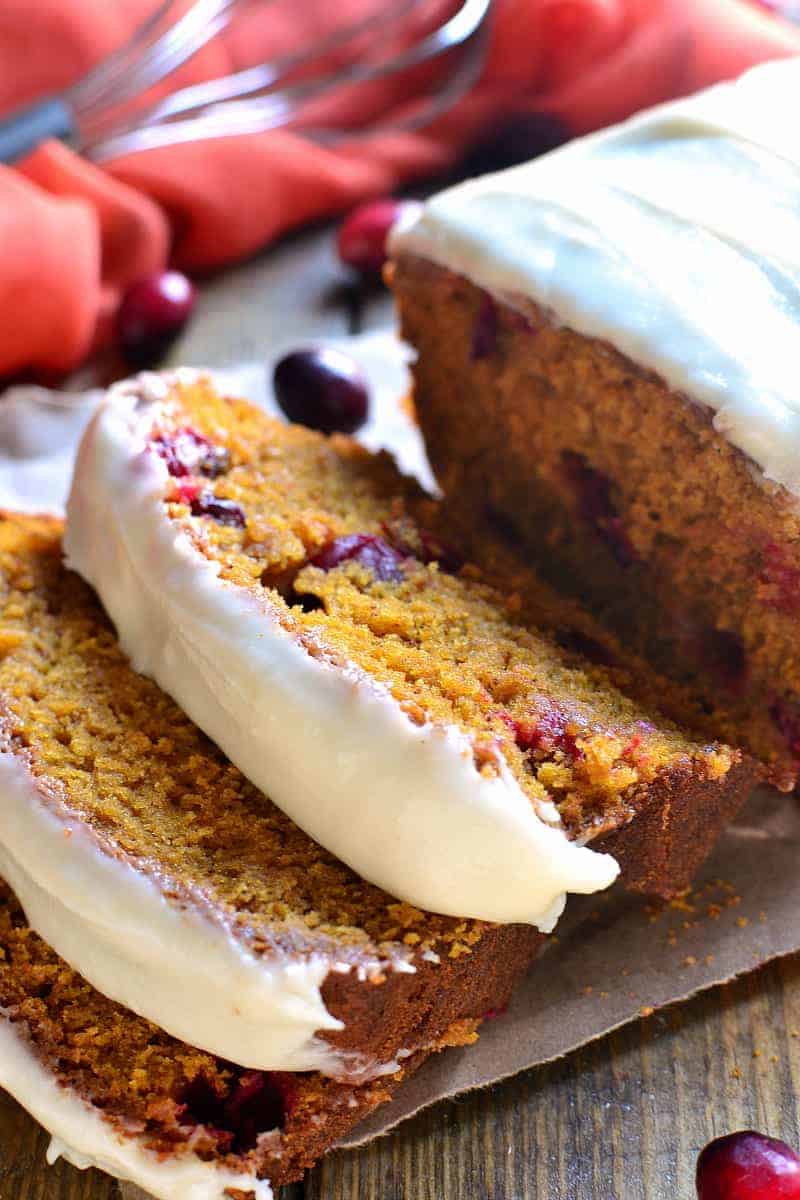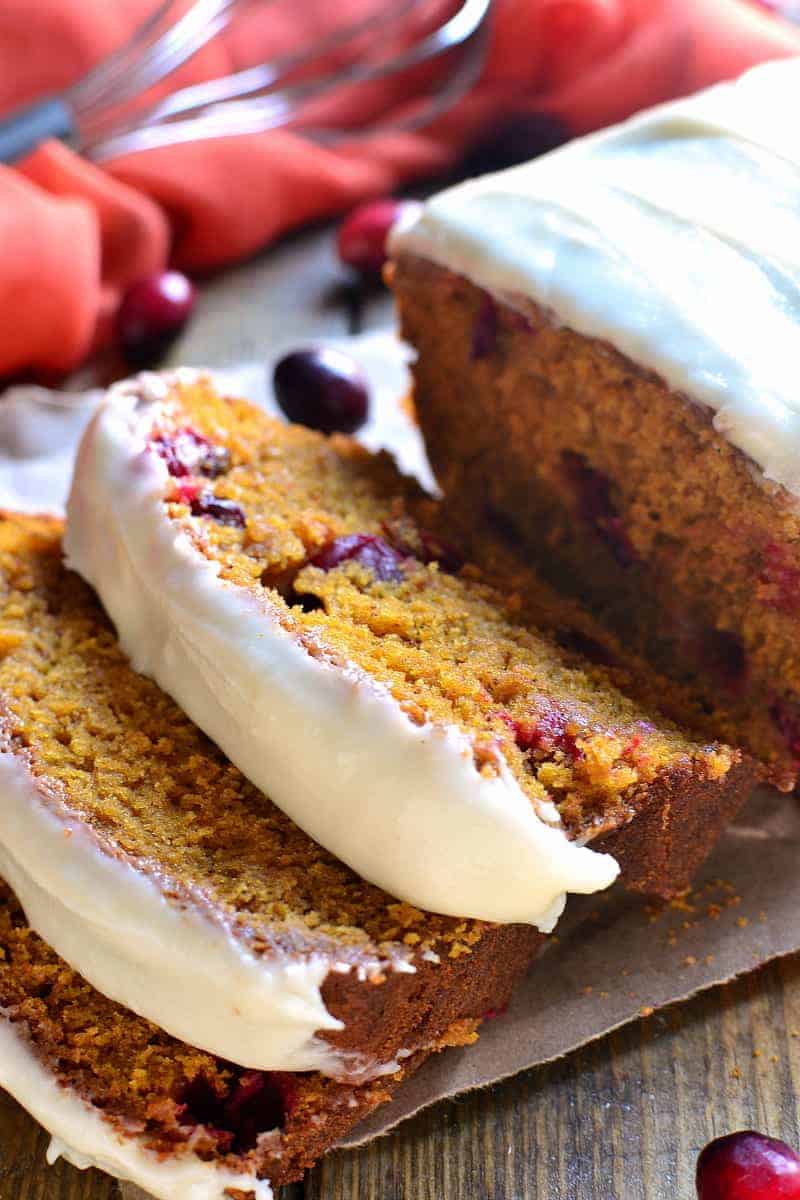 Well, we've officially entered a new era. The era of kids and electronic devices. God help us.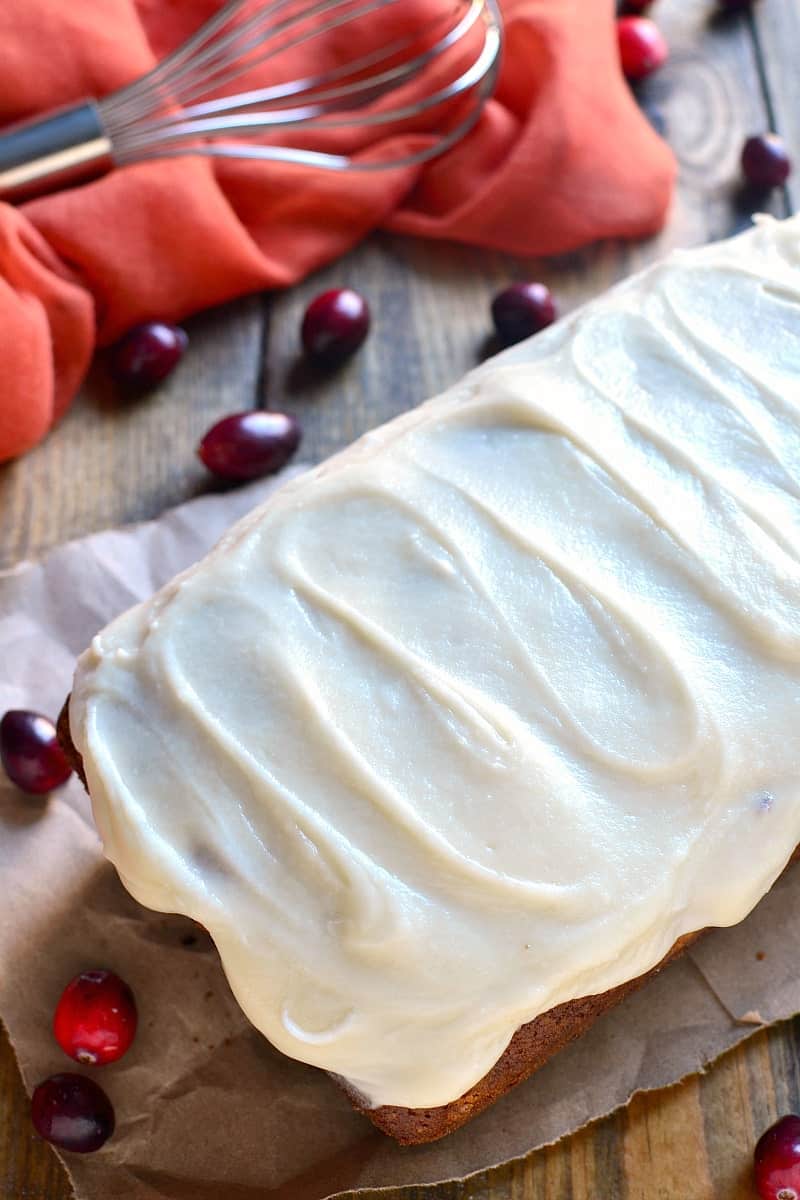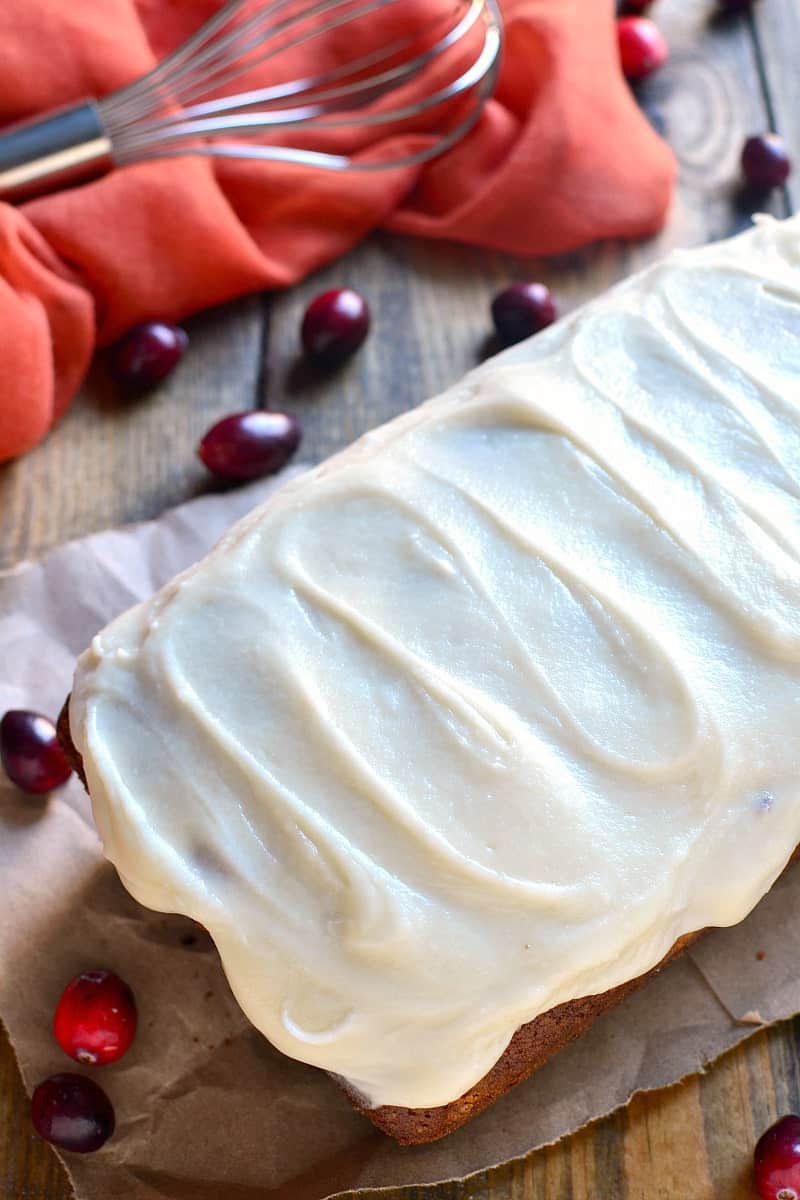 To be honest, it's been a long time coming. Ever since sometime last year, or maybe the year before, Ellia & Greta have been BEGGING us to let them have something…anything…to call their own. Because everyone has something. Obviously. So for as long as I can remember, this has been a discussion. But just recently, they've really turned up the volume. The weekly requests have become daily….and the "we'll talk about it" has stopped working as an acceptable response.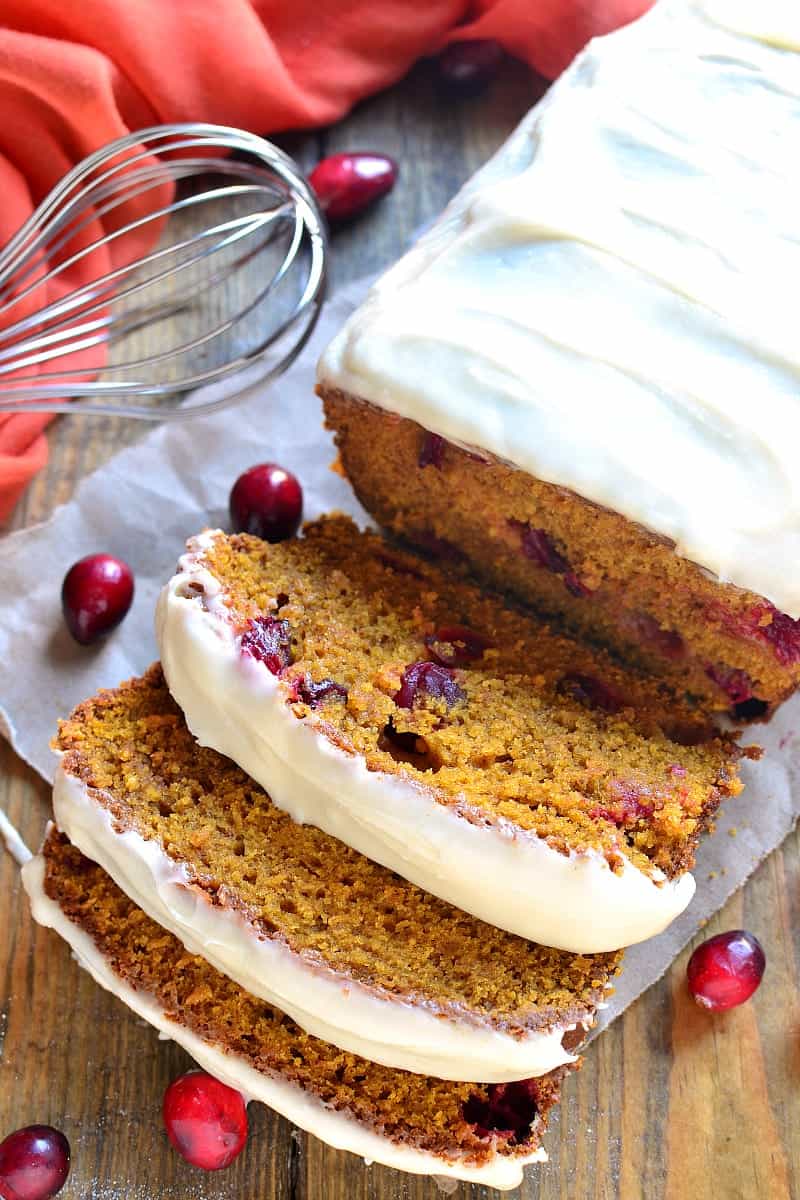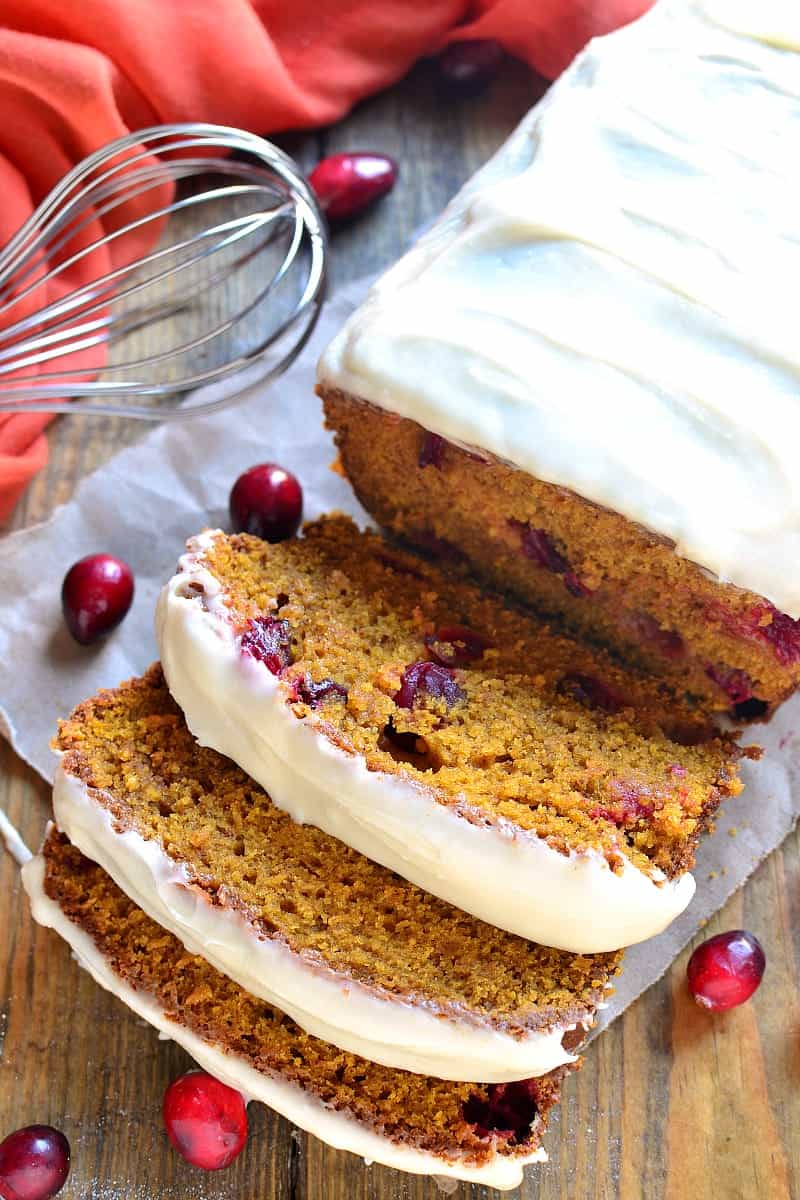 Yes, I knew it was only a matter of time. Of course, I wasn't expecting to wake up this morning and be told by Greta that she has her own phone. And I wasn't expecting Ellia to ask me to charge hers while she was at school today….but sometimes things happen when you least expect them. And apparently the time for phones is now! (To be fair, their phones are actually our old phones….which work more like iPods….and, as Greta told me, I should be happy I don't have to buy anything new….but yes. Times they are a-changin'.)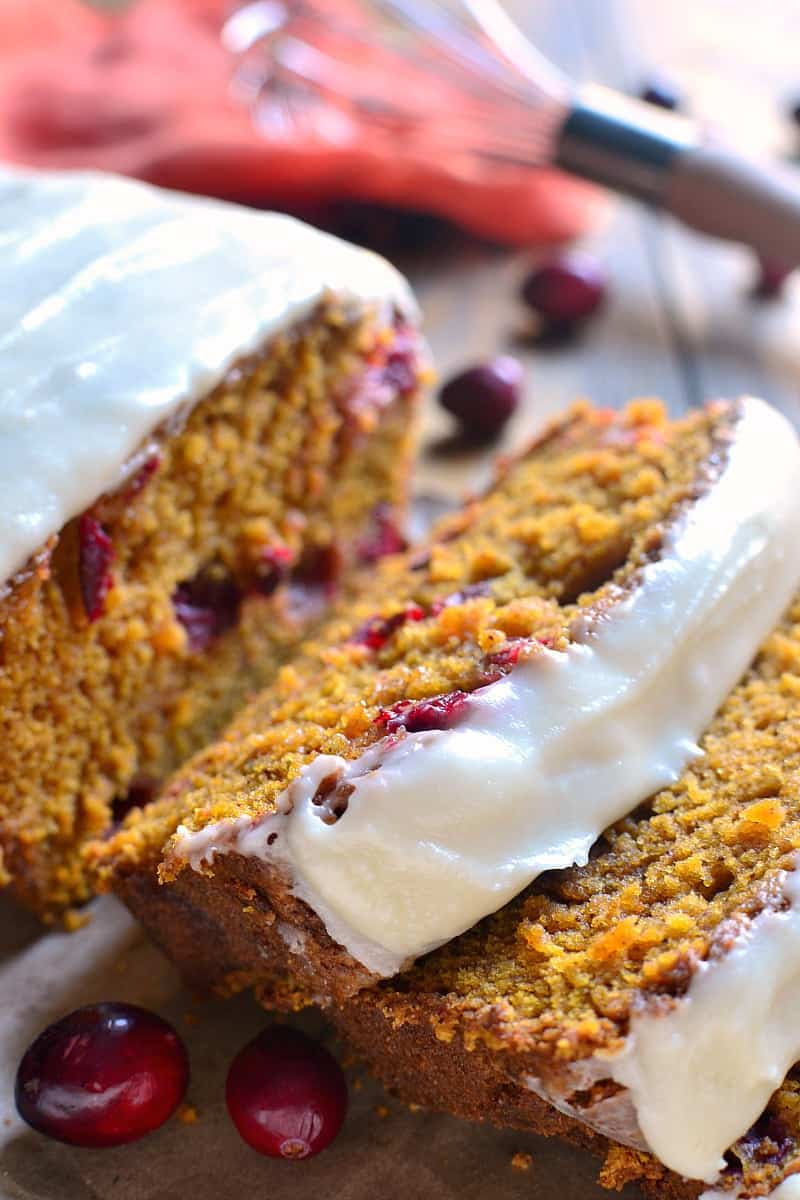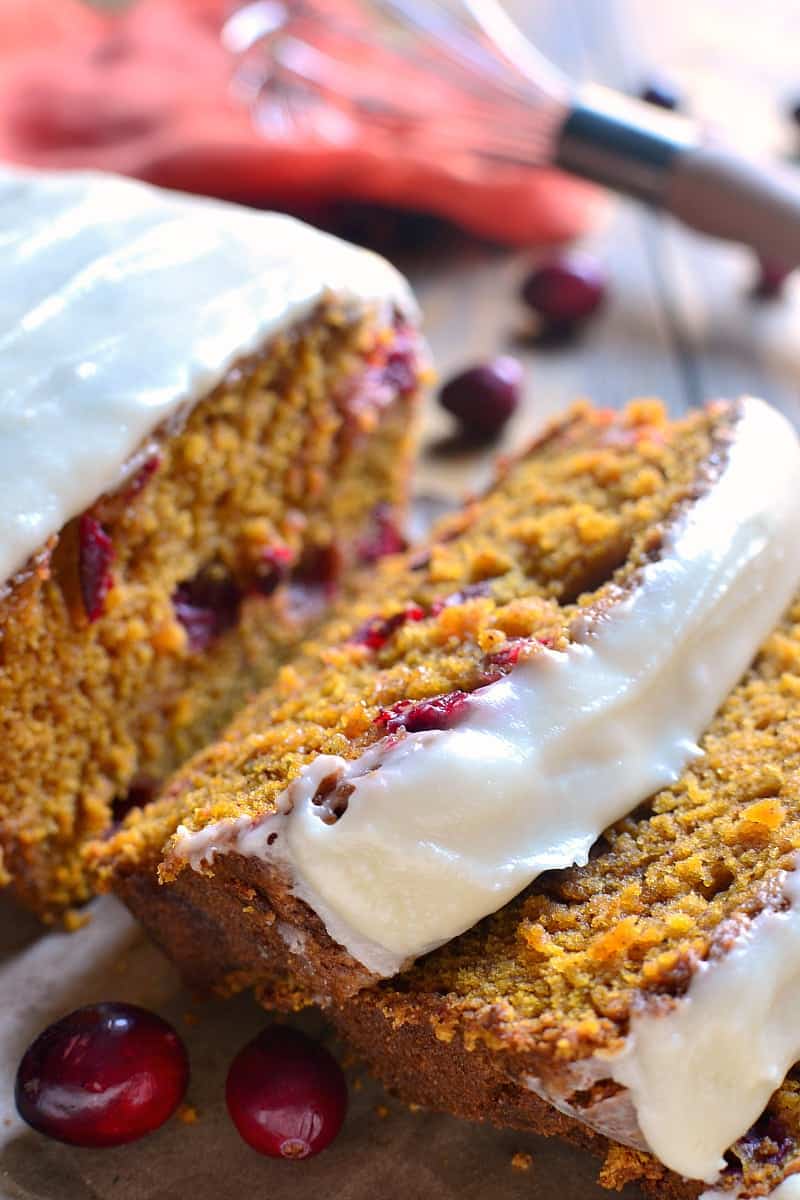 And seasons are a'changin', too. To be honest, I'm not really sure if I should be thinking about Thanksgiving or Christmas right now….so for today, I decided to think about both. With this Cranberry Pumpkin Bread recipe!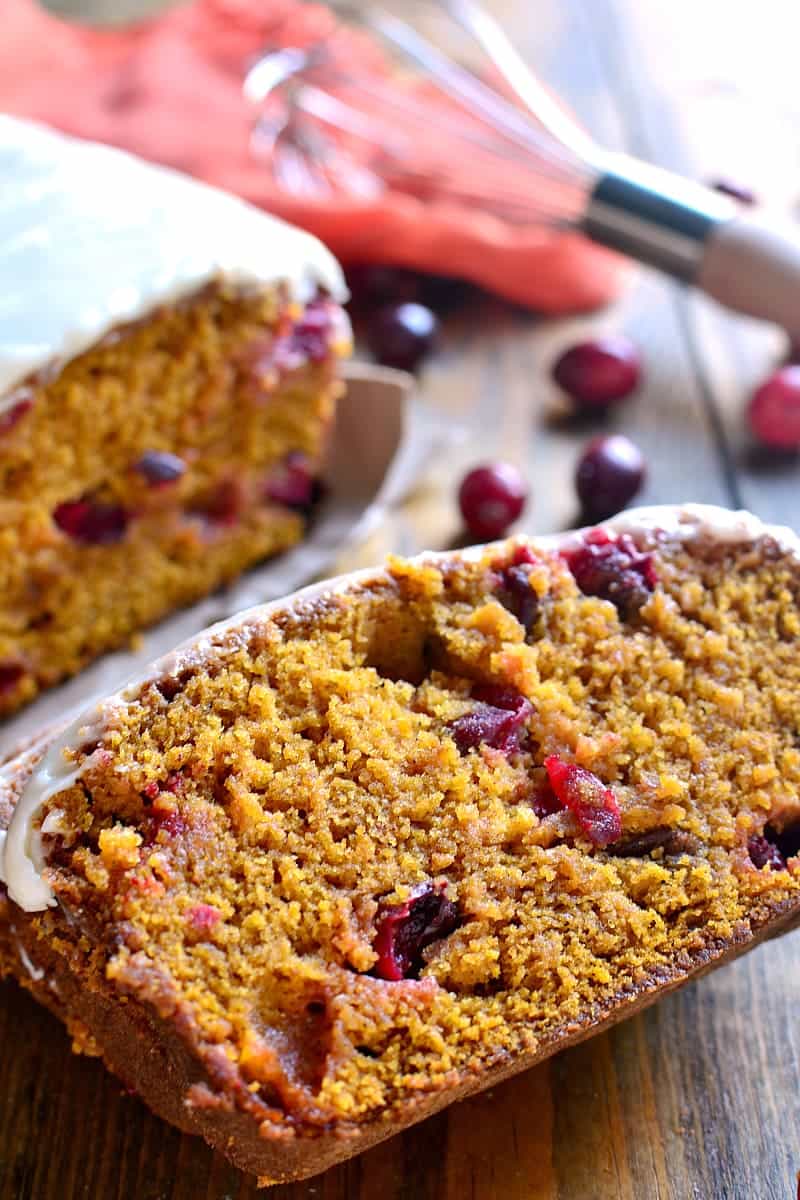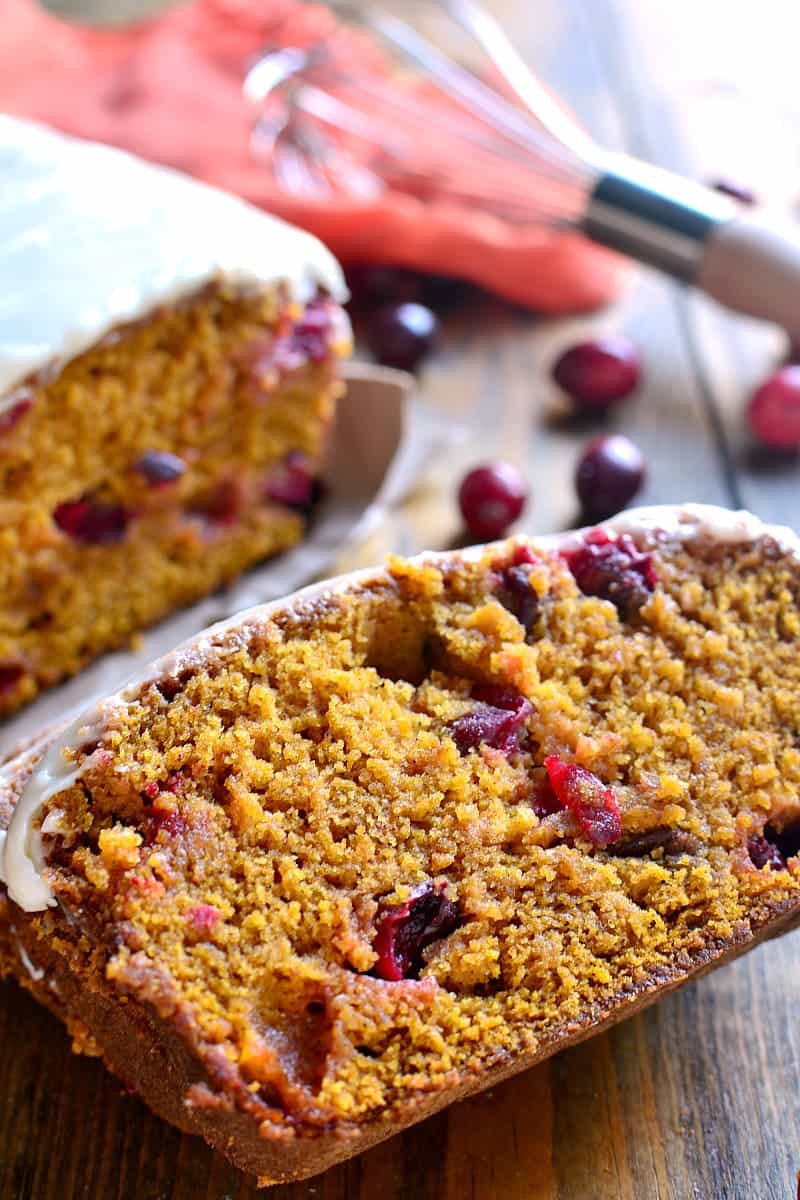 I know, I know….pumpkin bread recipes are everywhere. There are some delicious ones out there… but THIS pumpkin bread is the BEST!!! And not just because it's packed with fresh cranberries and topped with delicious cream cheese icing, but because the bread itself is so incredibly perfect. Of course, the cranberries and icing don't hurt…and they're the perfect additions to take this recipe from fall to winter. And trust me….once you try it, you're going to want it for BOTH. In fact, you're going to want it all. the. time!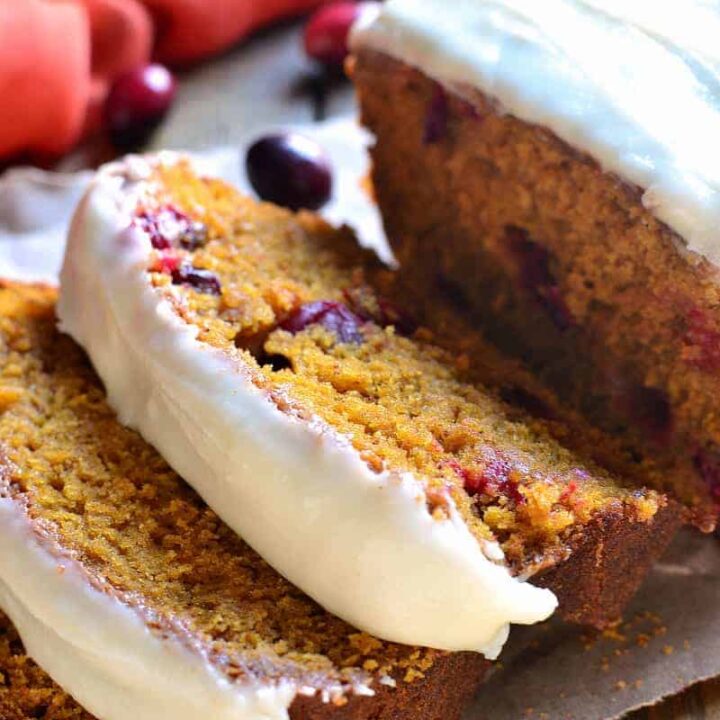 Cranberry Pumpkin Bread
Total Time:
1 hour
10 minutes
The BEST Pumpkin Bread....made even better with the addition of fresh cranberries and sweet cream cheese icing! The perfect addition to your holiday table!
Ingredients
Pumpkin Bread
2 cups granulated sugar
1 cup packed brown sugar
3/4 cup vegetable oil
1 1/2 teaspoon baking soda
1 teaspoon baking powder
1 teaspon salt
1 teaspoon cinnamon
1/2 teaspoon allspice
1/2 teaspoon nutmeg
1/2 teaspoon ginger
15 ounce can pumpkin puree
2 large eggs
3 1/2 c. flour
1/3 c. water
2 c. fresh cranberries
Cream Cheese Icing
1 cup powdered sugar
2 ounces cream cheese, softened
2 teaspoons milk
1/2 teaspoon vanilla extract
Instructions
Preheat oven to 375 degrees.
In a large mixing bowl, combine granulated sugar, brown sugar, and vegetable oil. Beat at low speed until blended.
Add baking soda, baking powder, salt, and spices. Beat until blended.
Add pumpkin and eggs. Beat until blended.
Add flour and water and stir just until blended.
Stir in cranberries.
Pour batter into two (5x9 inch) loaf pans that have been greased and floured.
Bake at 375 degrees for 55-65 minutes or until a toothpick inserted in the center comes out clean.
Remove from oven; cool 10 minutes in pan, then remove to a wire rack to cool completely.
Combine icing ingredients and mix until smooth. Spoon icing over bread. *Icing recipe can be doubled according to taste.
Notes
Basic Pumpkin Bread recipe adapted from An Occasion to Gather.
Nutrition Information:
Yield:

12
Serving Size:

1 grams
Amount Per Serving:
Calories:

527
Total Fat:

17g
Saturated Fat:

2g
Trans Fat:

0g
Unsaturated Fat:

13g
Cholesterol:

36mg
Sodium:

281mg
Carbohydrates:

91g
Fiber:

3g
Sugar:

59g
Protein:

6g