The BEST homemade Apple Pie Spice! This delicious blend of 5 fall spices is easy to make so much better than store bought!
When it comes to fruity desserts, apple is BOSS. Whether it's caramel apples, apple pie, apple crisp, or apple strudel… apples are one of those things that everyone can agree on.
And as delicious as they are all on their own, we all know just how much more delicious they are with a sprinkle of cinnamon or nutmeg or cloves. So… why not combine all three and add a couple more to the mix, too?!
This Homemade Apple Pie Spice combines cinnamon, nutmeg, cloves, allspice AND cardamom for the best apple pie spice ever. The perfect addition to any and all of your favorite apple desserts!
Why make homemade?
So why make your own homemade mix when you can buy apple pie spice at the store? Well… a couple of reasons. First, you can use higher quality spices for greater depth of flavor. Second, you can add additional spices to the mix, which we've clearly done here! Third, you can adjust the amounts of each spice to create a blend that's perfect for you. In other words… why NOT make homemade!?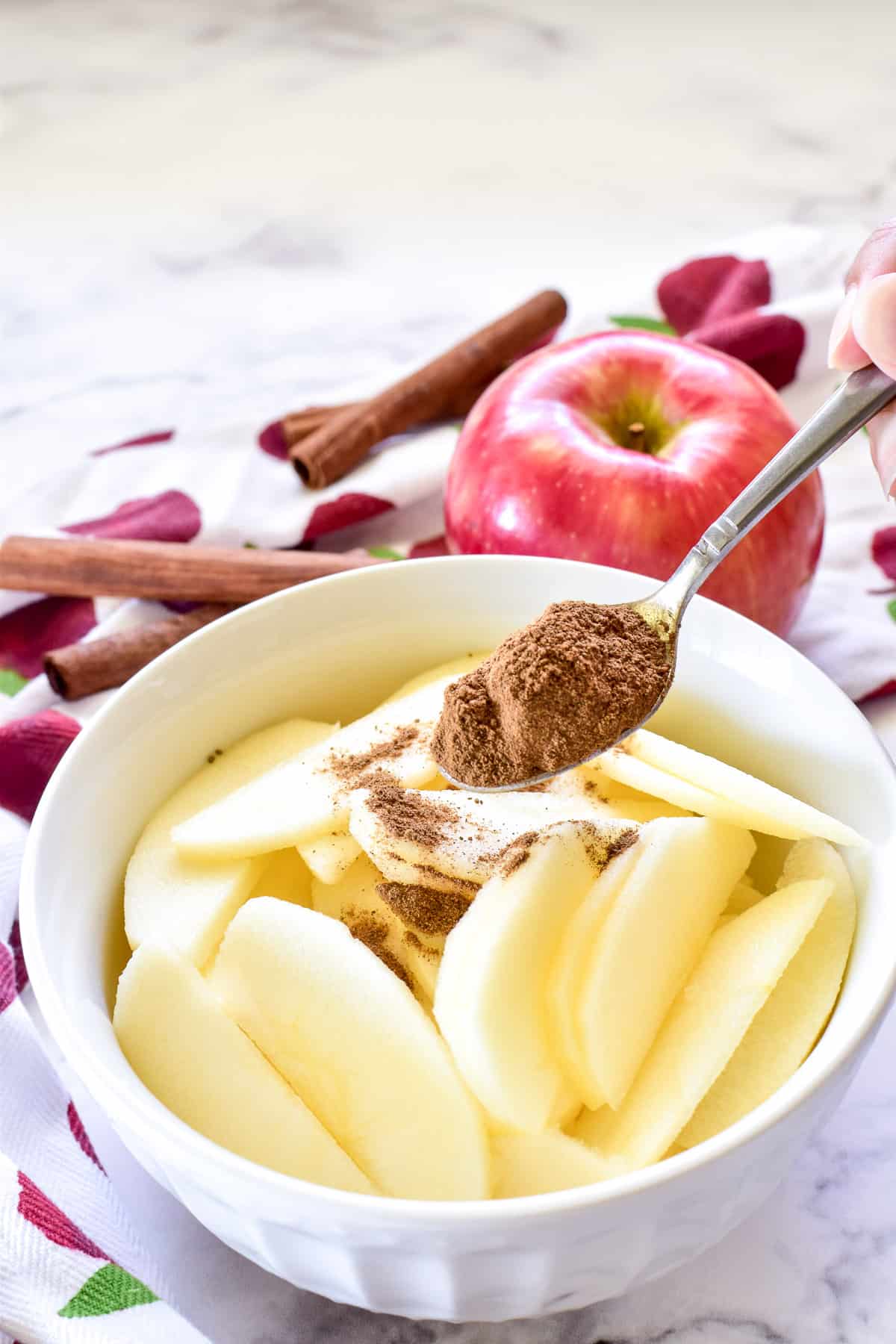 Apple Pie Spice ingredients
Cinnamon – Cinnamon is the main ingredient in apple pie spice, which probably comes as no surprise. It offers a sweet, woody flavor with a slight note of citrus.
Nutmeg – The second key ingredient is nutmeg, which has a fresh, rich aroma and a woody, bittersweet flavor. Nutmeg is a warm, aromatic spice with a deep flavor that's unmistakable in this recipe.
Allspice – Allspice is a warm tasting spice that is aromatic and pungent. It has a flavor that is reminiscent of cloves, nutmeg, cinnamon, and ginger, and it also provides slight notes of pepper to this spice mix.
Cardamom – Cardamom is a complex mix of sweet, peppery, floral flavors used in both savory and sweet dishes. Adding cardamom to this apple pie spice definitely takes it to a whole new level in terms of flavor and depth.
Cloves – Cloves are an intensely aromatic spice with a subtly sweet flavor that adds warmth to any dish. It pairs well with the other sweet spices in this mix and helps to counterbalance the sweetness.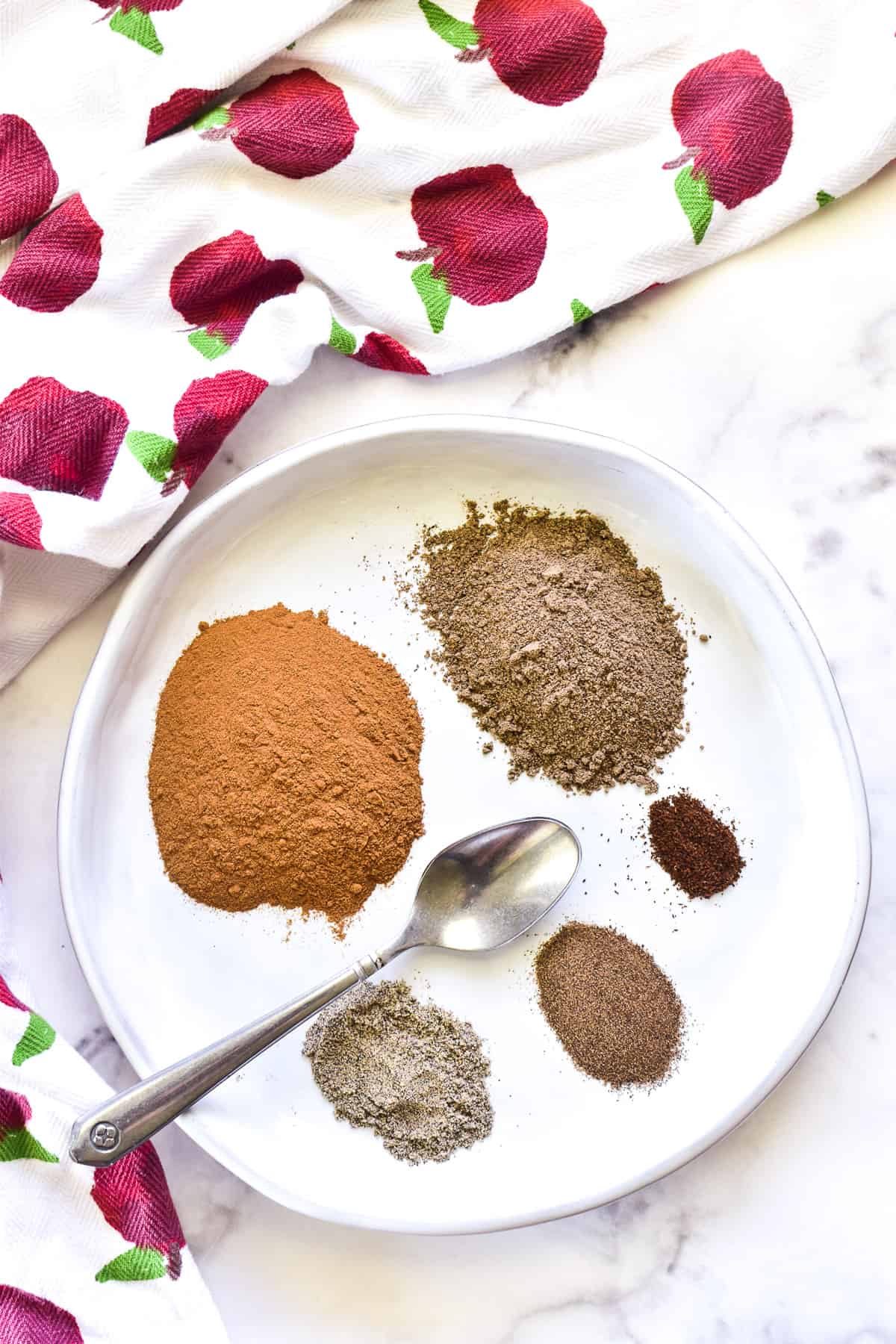 How to make Apple Pie Spice
Making apple pie spice is just as simple as measuring, mixing, and adding to your favorite recipe! The easiest way to make this recipe? Combine all the ingredients in a small spice jar, cover with a lid, and shake well. And… voila! It's all set and ready to be stored.
Storage tips
Apple Pie Spice can be stored in an airtight container in a cool, dry place. As with all ground spices, apple pie spice is best when used within 6 months.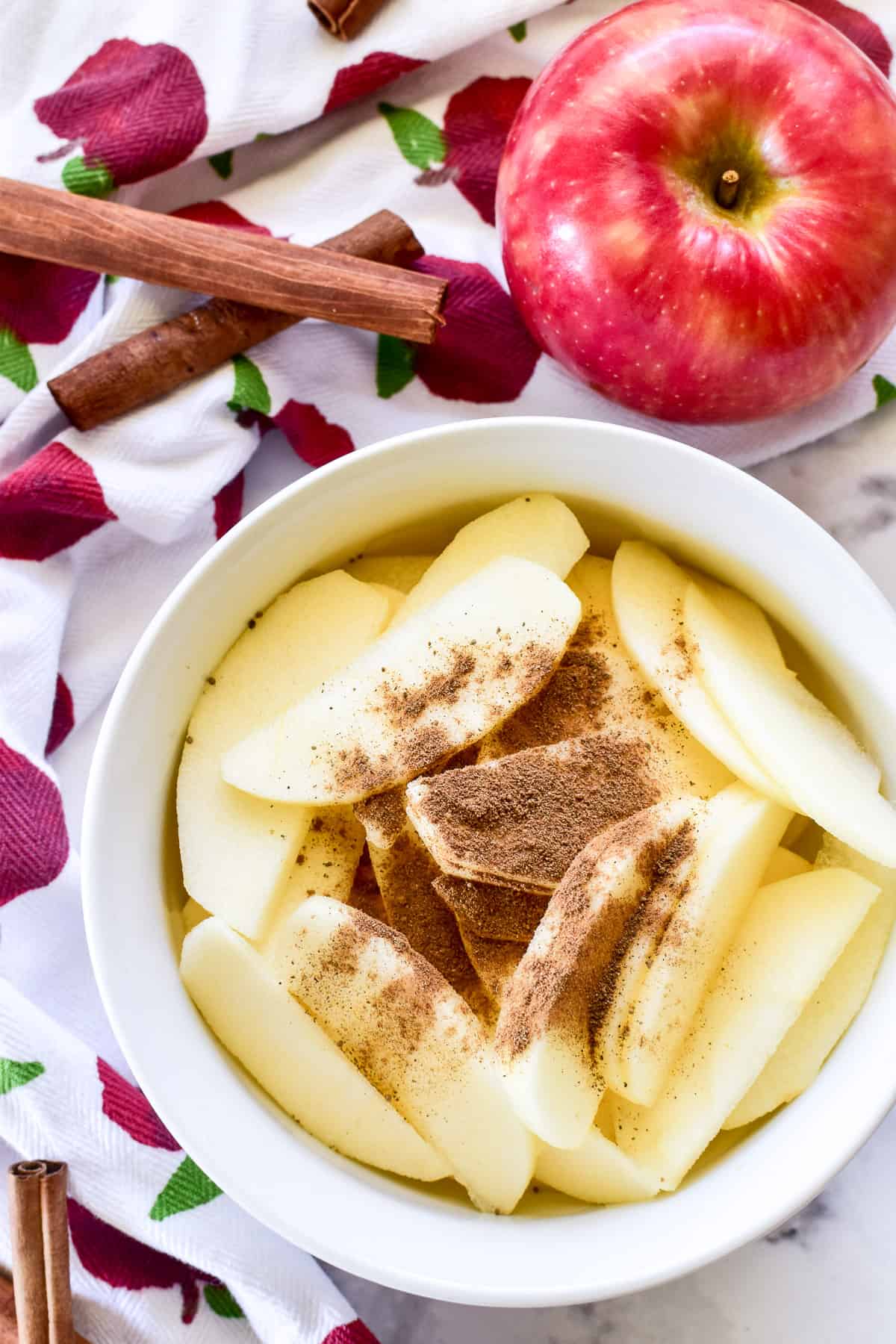 How to use apple pie spice
Apple pie spice adds a delicious level of flavor and complexity to any of your favorite apple recipes. Use it in place of cinnamon or in any recipe that calls for it. Looking for some new apple recipes to try? These are some of our favorites!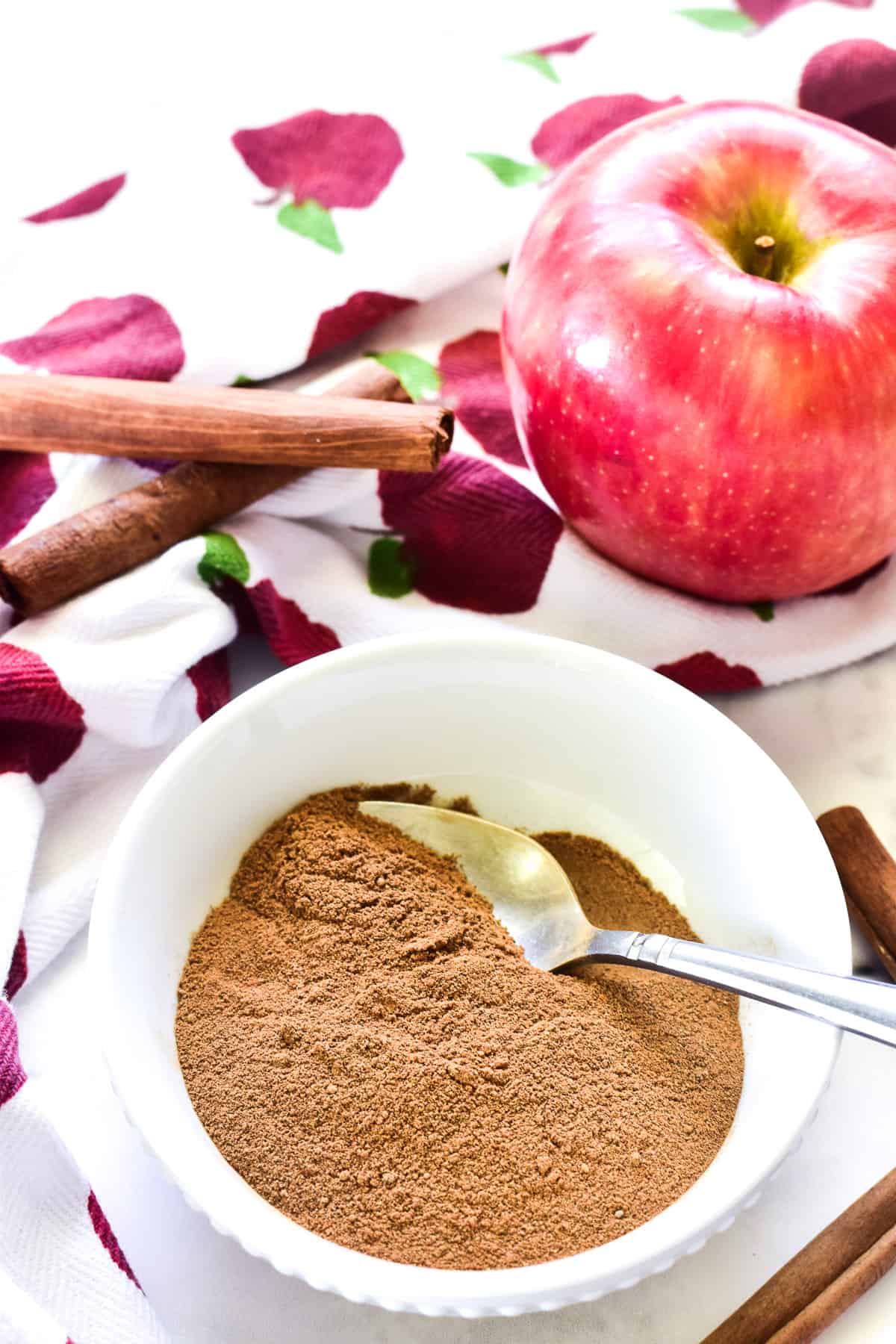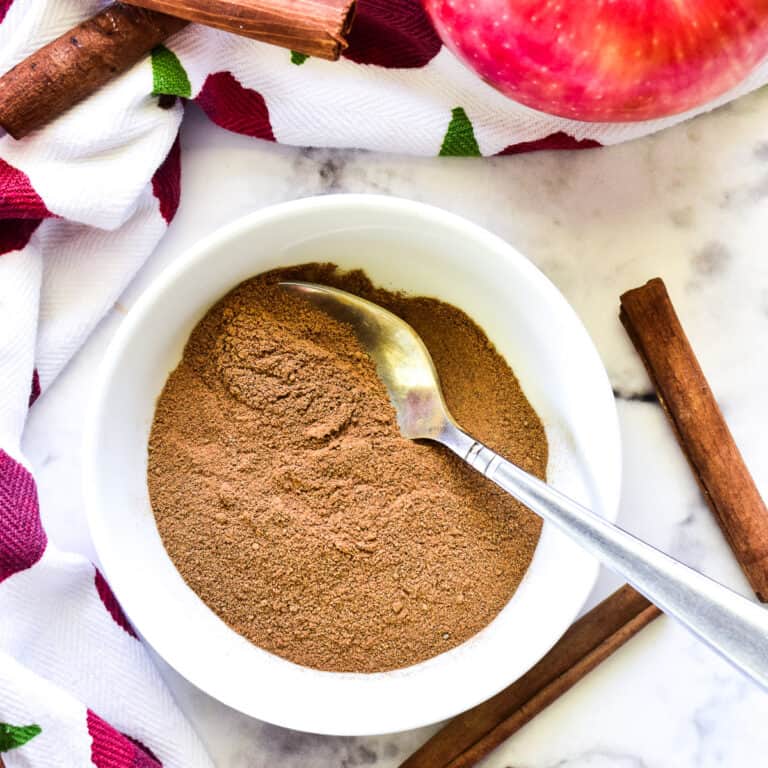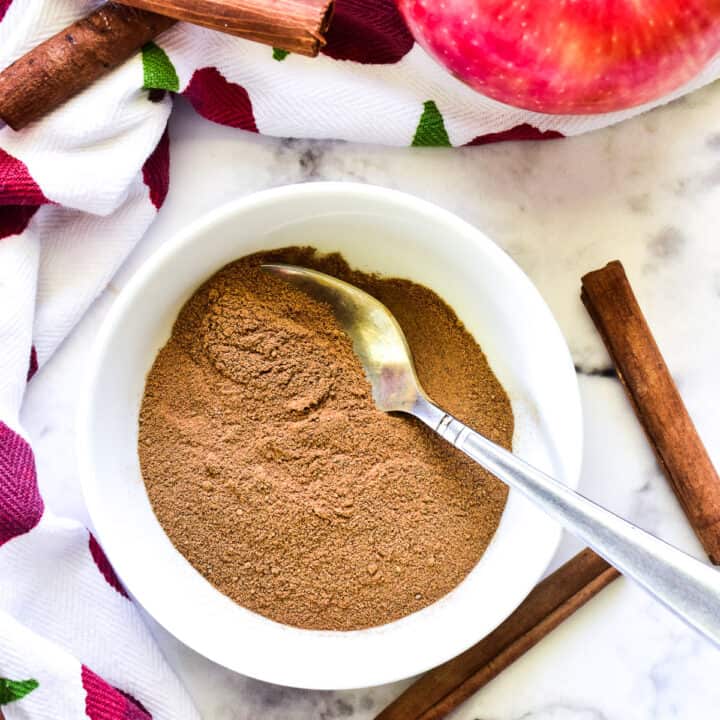 Apple Pie Spice
The BEST homemade Apple Pie Spice! This delicious blend of 5 fall spices is easy to make so much better than store bought!
Ingredients
4 teaspoons cinnamon
2 teaspoons nutmeg
1/2 teaspoon allspice
1/2 teaspoon cardamom
1/8 teaspoon cloves
Instructions
Combine all ingredients in a small bowl or container. Shake or mix with a spoon.
Store at room temperature in a small jar or airtight container.
Use in any recipe that calls for apple pie spice.
Nutrition Information:
Yield:

8
Serving Size:

1
Amount Per Serving:
Calories:

7
Total Fat:

0g
Saturated Fat:

0g
Trans Fat:

0g
Unsaturated Fat:

0g
Cholesterol:

0mg
Sodium:

0mg
Carbohydrates:

2g
Fiber:

1g
Sugar:

0g
Protein:

0g