Oatmeal Cream Pies are back….this time, with the delicious twist of Apple & Spice! The perfect treat for fall….you won't be able to resist the flavors of cinnamon, nutmeg, cloves, cream cheese, and apple that make this twist on a classic over-the-top delicious!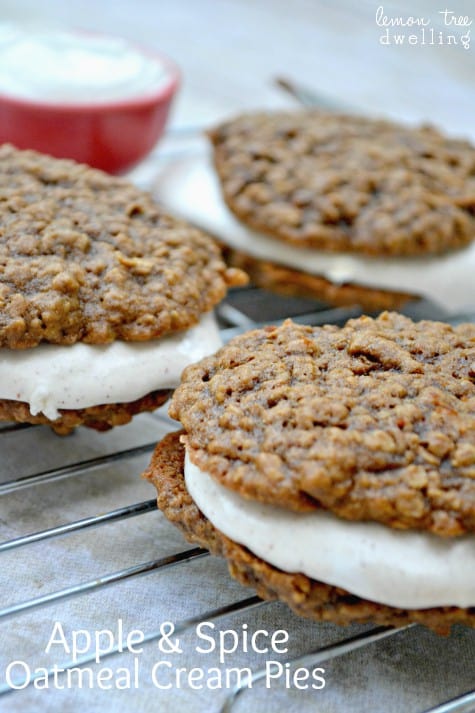 Growing up in a family of 6 when your dad is a social worker and your mom stays at home, money is a little tight….and one thing you definitely get used to is being told no. Don't get me wrong – my parents made all the important things happen – like sports and music lessons and family vacations and college- but when it came to frivolous purchases, like candy in the checkout lane, sodas at the stadium, or individually packaged treats….forget it!!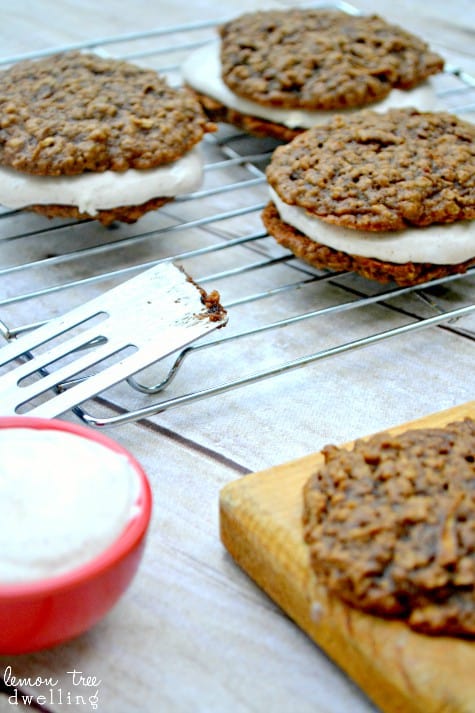 You'd think, since the answer to these things was ALWAYS no, at some point we would have stopped asking. But that's not really how it works with kids…..(now that I'm a mom, I understand this!) So every time we were at K-Mart we asked for an icee and every time we were at the grocery store we asked for a quarter to stick in those little machines and every time we passed Little Debbie snacks, I can guarantee we begged for them…..! And you know what? Every now and then….it actually paid off! Every now and then, my mom would splurge and buy Nutty Bars or Swiss Rolls or Oatmeal Creme Pies! YES!!!!!!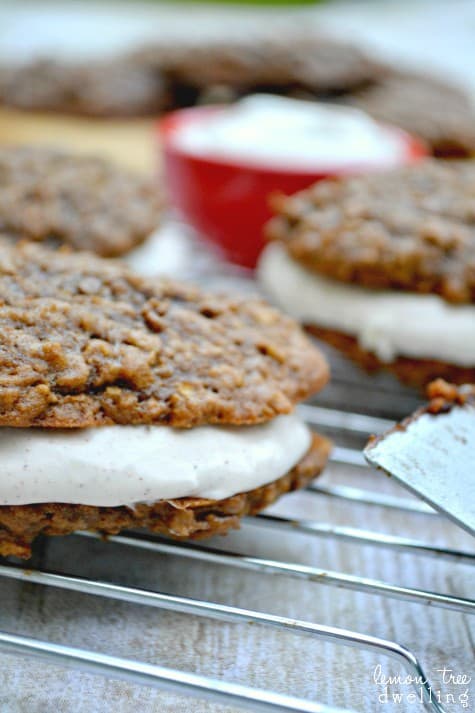 I'm not sure what it is about having a little treat that's all your own, right down to the little wrapper, but when you're a kid, there's nothing you want more! But you'll never believe this – my mom actually made us share anything that had two treats inside!! So as soon as we ripped open the package of our "individually packaged" treat, we'd have to hand over the extra Nutty Bar or Swiss Roll to a sister or brother! Definitely torturous…..which is maybe why I've always had a special affinity for Oatmeal Creme Pies…..because I didn't have to share them!!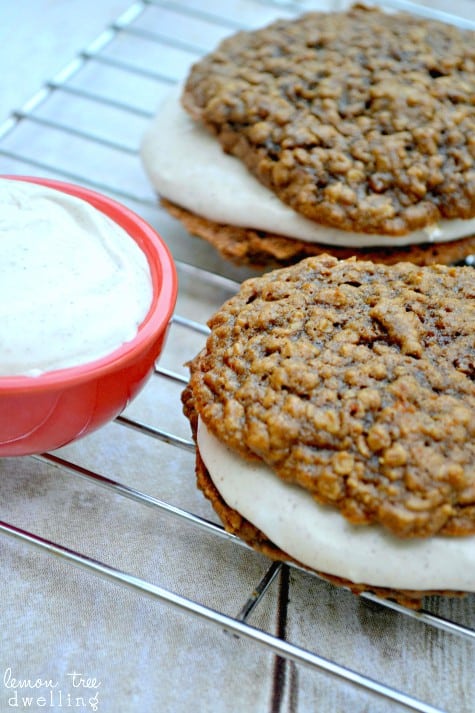 I'd like to think, as an adult, that sharing my treats would no longer be an issue. But let me tell you – if someone asked me to share one of these Apple & Spice Oatmeal Cream Pies with them, I'd tell them to get their own! Because once you bite into the chewy apple & spice oatmeal cookies and taste the spiced marshmallow-cream cheese filling, you won't be able to get enough! The LAST thing you'll feel like doing is sharing! But don't worry….you won't have to! These are Oatmeal Cream Pies, remember?? Swiss Rolls would be another story altogether.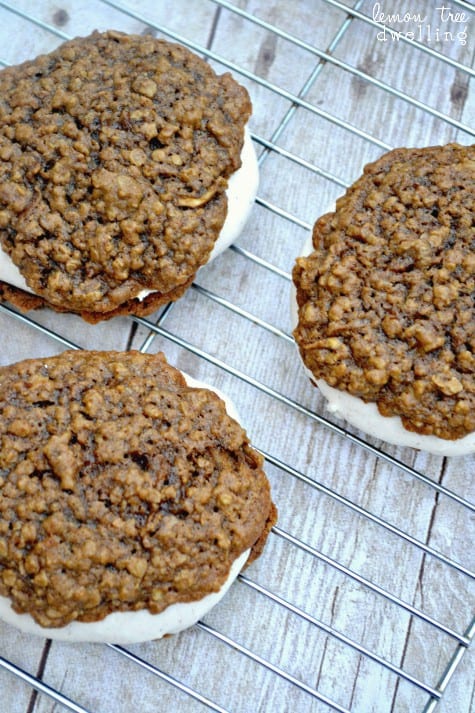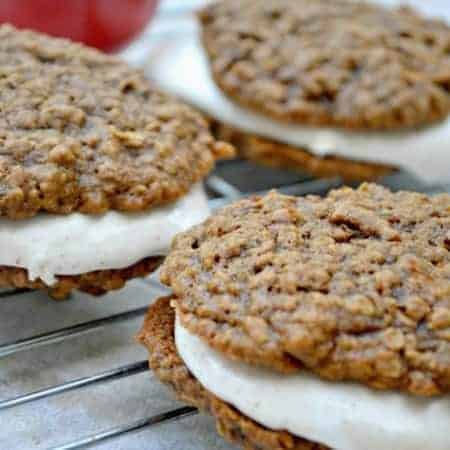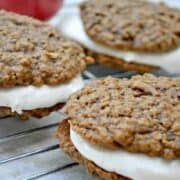 Apple & Spice Oatmeal Cream Pies
Ingredients
1

c.

firmly packed light brown sugar

3/4

c.

butter

melted

1/2

c.

granulated sugar

1/3

c.

molasses

1

egg

1

tsp.

apple pie spice

1

c.

grated apple

with skin

2

c.

all-purpose flour

2

c.

oats

quick or old-fashioned, uncooked

1

tsp.

baking soda
Cream Filling
1

stick unsalted butter

at room temperature

6

oz.

cream cheese

at room temperature

1

tsp.

vanilla extract

3

c.

powdered sugar

1 1/2

tsp.

apple pie spice

2

jars

7 oz. each Marshmallow Creme
Instructions
Heat oven to 350 degrees. Grease baking sheets with butter and set aside.

Combine brown sugar, butter, sugar, molasses, egg and apple pie spice in a large bowl. Beat at medium speed until well-blended. Stir in grated apple.

Combine flour, oats and baking soda in a separate bowl; add gradually to creamed mixture and beat until well-blended.

Drop by rounded tablespoons 2 inches apart onto prepared baking sheets.

Bake at 350 degrees for 12-14 minutes or until center is just set. Cool slightly on baking sheet, then remove cookies to foil-lined baking sheets to cool completely.

(*Cookie recipe adapted from The Great American Cookie Cookbook's Carrot Oatmeal Cookie recipe)
Cream Filling
Beat butter, cream cheese, and vanilla on low speed until smooth and thoroughly blended, about 1 minute.

Add powdered sugar and apple pie spice, mixing until smooth, about 1 minute, then beat on medium speed 1 minute to lighten the frosting.

Add 2 jars Marshmallow Creme to frosting and mix until smooth.

Refrigerate until mixture has set slightly, about 30 minutes.

Spoon mixture between cookies, approx. 1/4 cup per sandwich.

Refrigerate, covered, until ready to eat.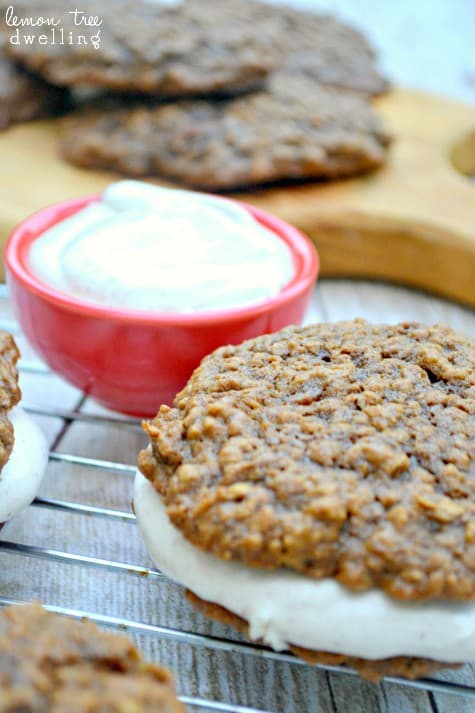 Enjoy!
Be sure to check out some of my other delicious fall treats, too!