This easy White Sangria is the perfect summer cocktail! It's sweet, refreshing, and so easy to make.
Loaded with strawberries, blueberries, and sliced green apples, this sangria is classic and delicious….and just what your summer needs.
Perfect for parties, cookouts, or sipping by the pool…if you love sangria, this recipe is guaranteed to become a new favorite!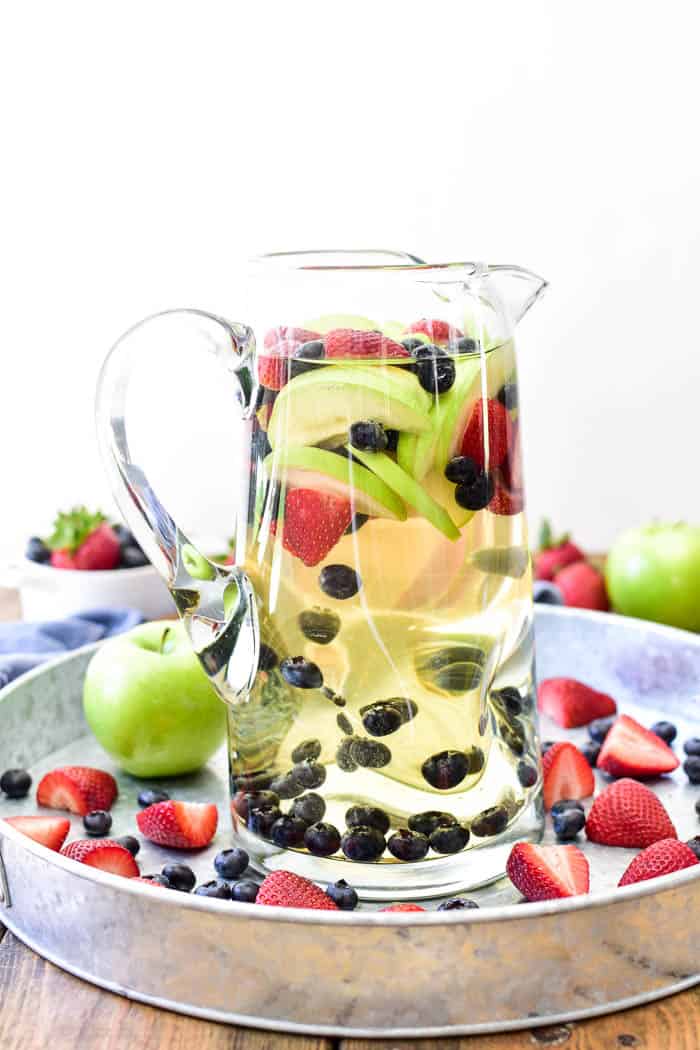 Summer is on its way…which can only mean one thing. Time for sangria!
Seriously, there's something about whipping up a pitcher of it on a hot summer day that just feels right. And you know what I've realized? Everyone loves sangria.
I mean really…what's not to love!? Wine + booze + juice + fruit? Yes, please. Not only is it delicious, and easy to make, but the flavor combinations are endless.
This White Sangria is a simple, classic combo that's perfect for all your summer gatherings. And since it's made by the pitcherful, it's ideal for serving to a crowd!
I'm going to teach you all the tips and tricks for making the BEST white sangria ever. Ready to get started?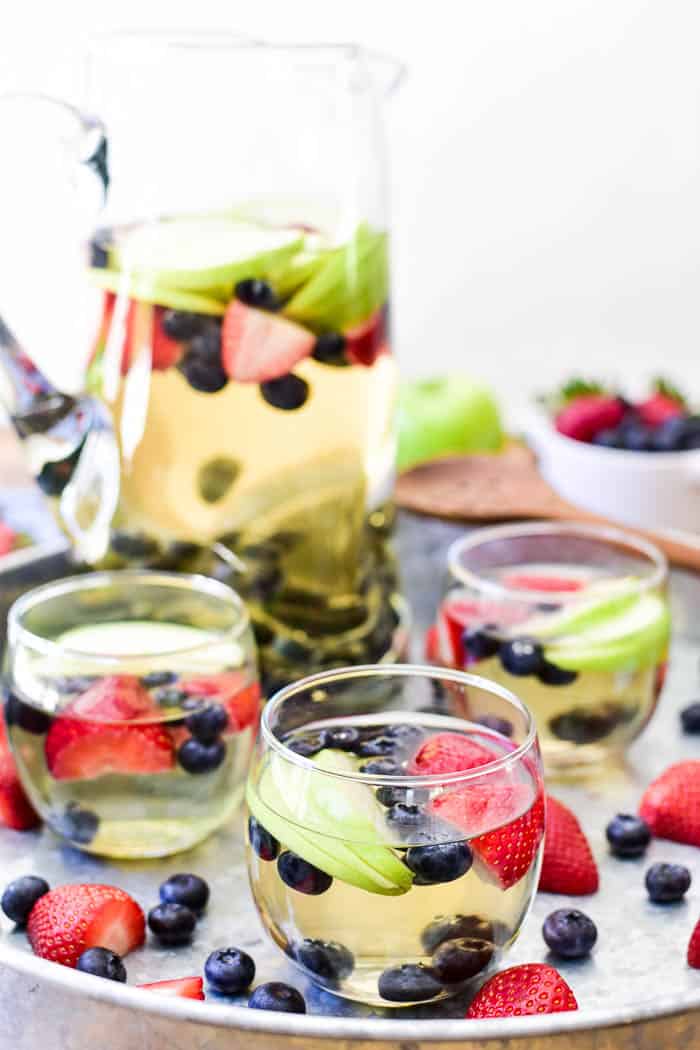 WHAT IS SANGRIA?
Sangria is an alcoholic beverage made with the following ingredients:
wine
liquor
sweetener
soda, juice, or another non-alcoholic mixer
fruit
WHAT KIND OF WINE SHOULD YOU USE FOR SANGRIA?
Traditional sangria is made with red wine, such as Tempranillo, Rioja, or Grenache. Any wine that's fruity but dry, has good acidity, and is lower in tannins is ideal. For this White Sangria, I used Sauvignon Blanc. Other good white wine options include Pinot Grigio, Riesling, or even a dry sparkling wine. Since wine is a key ingredient in sangria, choose a bottle that has a mid-range price point. You don't need the most expensive bottle, but you also probably don't want to use the cheapest.
WHAT KIND OF JUICE SHOULD YOU USE FOR SANGRIA?
The short answer is: your favorite! This White Sangria is made with white grape juice, but I've made sangrias with orange juice, pineapple juice, apple juice, cranberry juice, and even lemonade. The wonderful thing about sangria is that you can adjust it to suit your tastes perfectly.
WHAT KIND OF FRUIT SHOULD YOU USE IN SANGRIA?
Again, the short answer is: your favorite! This White Sangria recipe uses sliced green apples, strawberries, and blueberries. But I've made sangrias with peaches, blackberries, mango, kiwi, oranges, lemons, and pineapple. As a rule, try to add fruits that will pull out the flavors in your wine.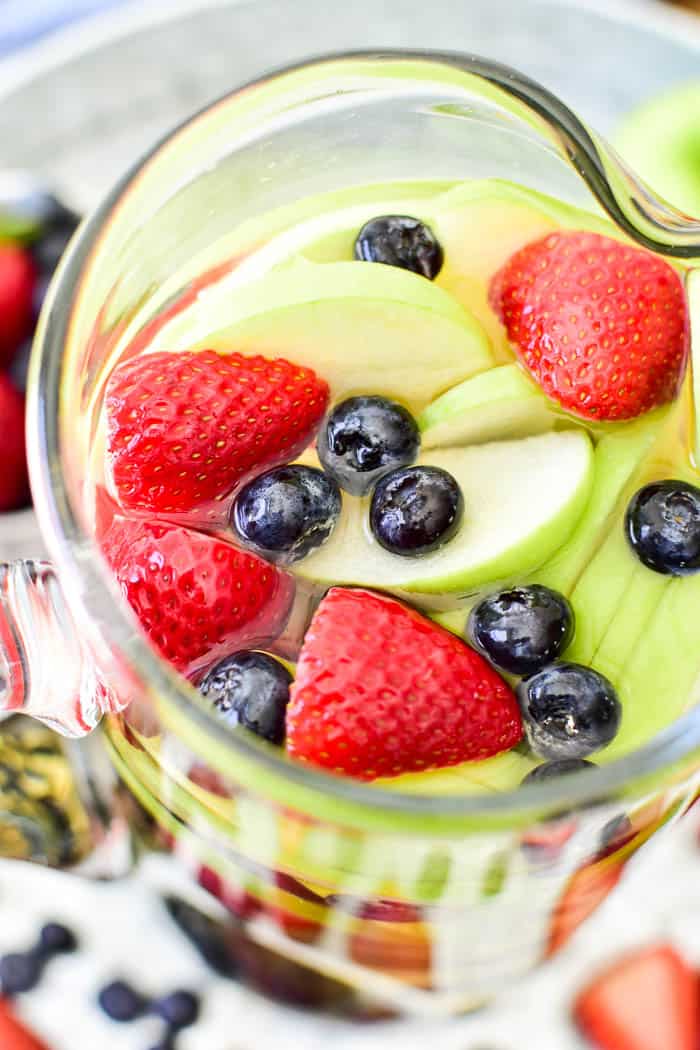 CAN I MAKE SANGRIA IN ADVANCE?
Yes! Sangria actually tastes best when it's made in advance and refrigerated overnight. The extra time allows the flavors to meld. One tip is to mix the liquids and chop the fruit, but wait to add the fruit until serving time.
HOW LONG DOES SANGRIA LAST IN THE REFRIGERATOR?
Sangria will last about 3 days if you leave the sliced fruit in it. If you discard the fruit, it will last up to a week in the refrigerator. For best results, store it in an airtight container.
HOW DO YOU SERVE SANGRIA?
I typically serve it in a tall glass pitcher so you can see all the pretty fruit. For a larger crowd, you could serve it in a punch bowl or drink dispenser. Be sure to include a long handled spoon for scooping out the fruit!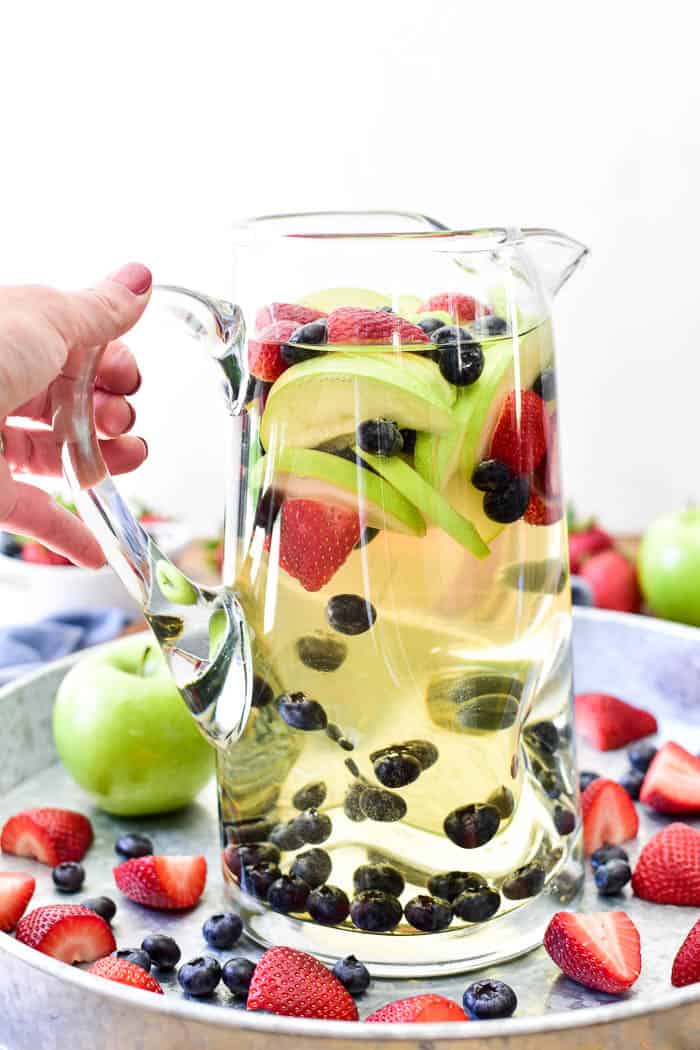 BE SURE TO CHECK OUT OUR OTHER FAVORITE SANGRIA RECIPES:
Yield: 6
White Sangria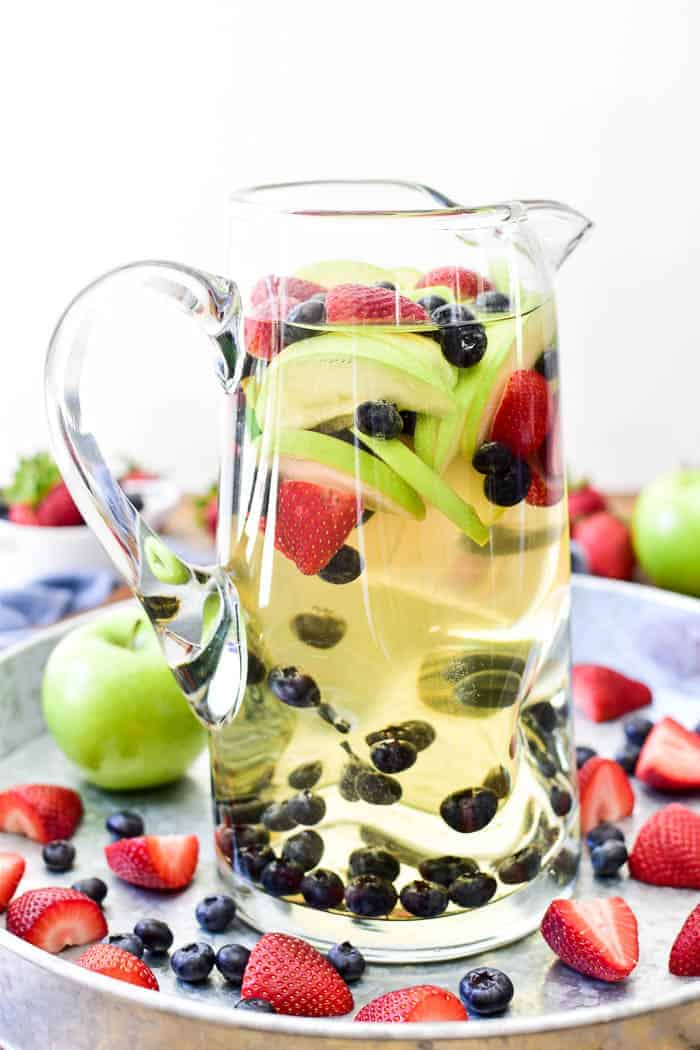 This easy White Sangria is the perfect summer cocktail! It's sweet, refreshing, and so easy to make. Loaded with strawberries, blueberries, and sliced green apples, this sangria is classic and delicious....and just what your summer needs. Perfect for parties, cookouts, or sipping by the pool...if you love sangria, this recipe is guaranteed to become a new favorite!

Prep Time 15 minutes

Total Time 15 minutes
Ingredients
1 bottle dry white wine (I used Sauvignon Blanc)
1 c. white grape juice
3/4 c. white rum
1/3 c. simple syrup
1 large green apple, thinly sliced
1 c. sliced strawberries
1 c. blueberries
Instructions
In a large pitcher, combine wine, grape juice, rum, and simple syrup.
Add fruit and stir.
Refrigerate until ready to serve. (*If refrigerating overnight, wait to add the fruit until you are ready to serve.)
Nutrition Information:
Yield:
6
Serving Size:
1
Amount Per Serving: Calories: 252 Total Fat: 0g Saturated Fat: 0g Trans Fat: 0g Unsaturated Fat: 0g Cholesterol: 0mg Sodium: 10mg Carbohydrates: 29g Fiber: 2g Sugar: 23g Protein: 1g