Say hello to your new favorite… Watermelon Mojitos! Made with fresh watermelon, mint, lime juice, and white rum, watermelon mojitos are a deliciously refreshing cocktail that's perfect for summer sipping!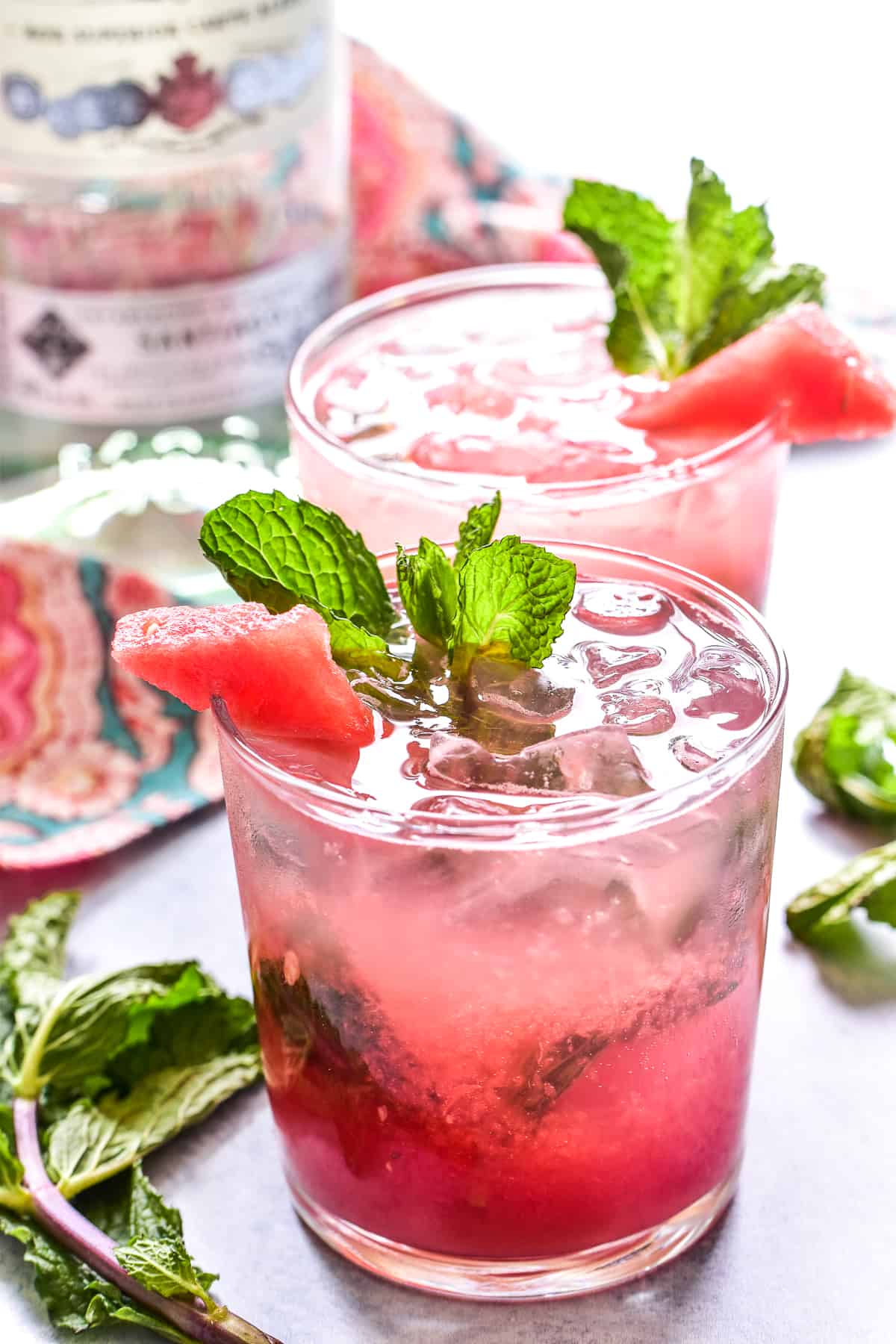 Around here, it's not summer until we devour our first watermelon. And when I say devour… I mean DEVOUR. The second I cut into it there are multiple hands grabbing at it… and to be honest, there are rarely any leftovers.
BUT. On the off chance there are? You better believe I'm making Watermelon Mojitos!!!
If you think about it, it's basically the perfect summer cocktail. Because everyone loves watermelon in summer… and when you combine it with mint, it's always a winning combo.
These Watermelon Mojitos are easy to make by the glass or pitcher and perfect for your next summer party or day at the beach!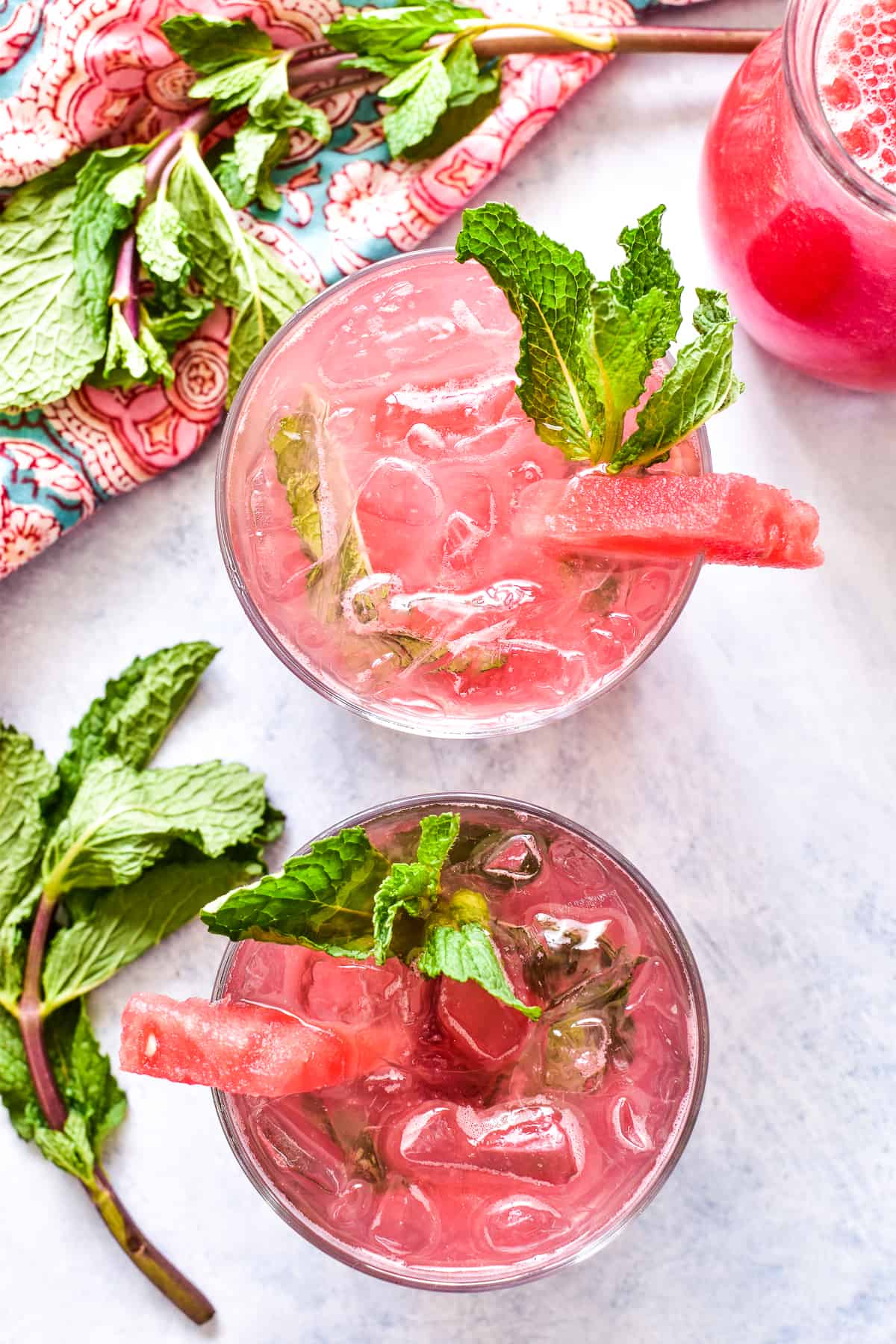 what you'll need for this recipe
Mint – Fresh mint is a key ingredient in mojitos and can be found in the produce section at your local grocery store. It's typically found in small packages in a refrigerated case, and you'll want to be sure you choose a package that has bright green leaves without any browning.
White rum – White rum is the alcohol used in a mojito, and can be purchased at your local grocery or liquor store. The most common brand is Bacardi, but you will likely find a small variety of other brands as well. I used Bacardi.
Lime juice – Fresh lime juice is another key ingredient in a mojito, and even though this recipe uses watermelon juice I decided to add lime juice too. I always prefer fresh squeezed lime juice when possible, but bottled will work just fine.
Watermelon – Fresh watermelon is the star of the show, and the sweeter, the better! The amount you'll need depends on how many drinks you plan to make. We found that 4 cups of watermelon chunks blends down into 3 1/12 cups of juice.
Sugar – A touch of granulated sugar adds just a bit of extra sweetness to this drink. You can also feel free to use agave, simple syrup, or omit the sugar altogether.
Club soda – Club soda is the final ingredient used to top off the drink. It adds a touch of fizz and, depending on whether you use regular or flavored club soda, can also add a touch of extra flavor.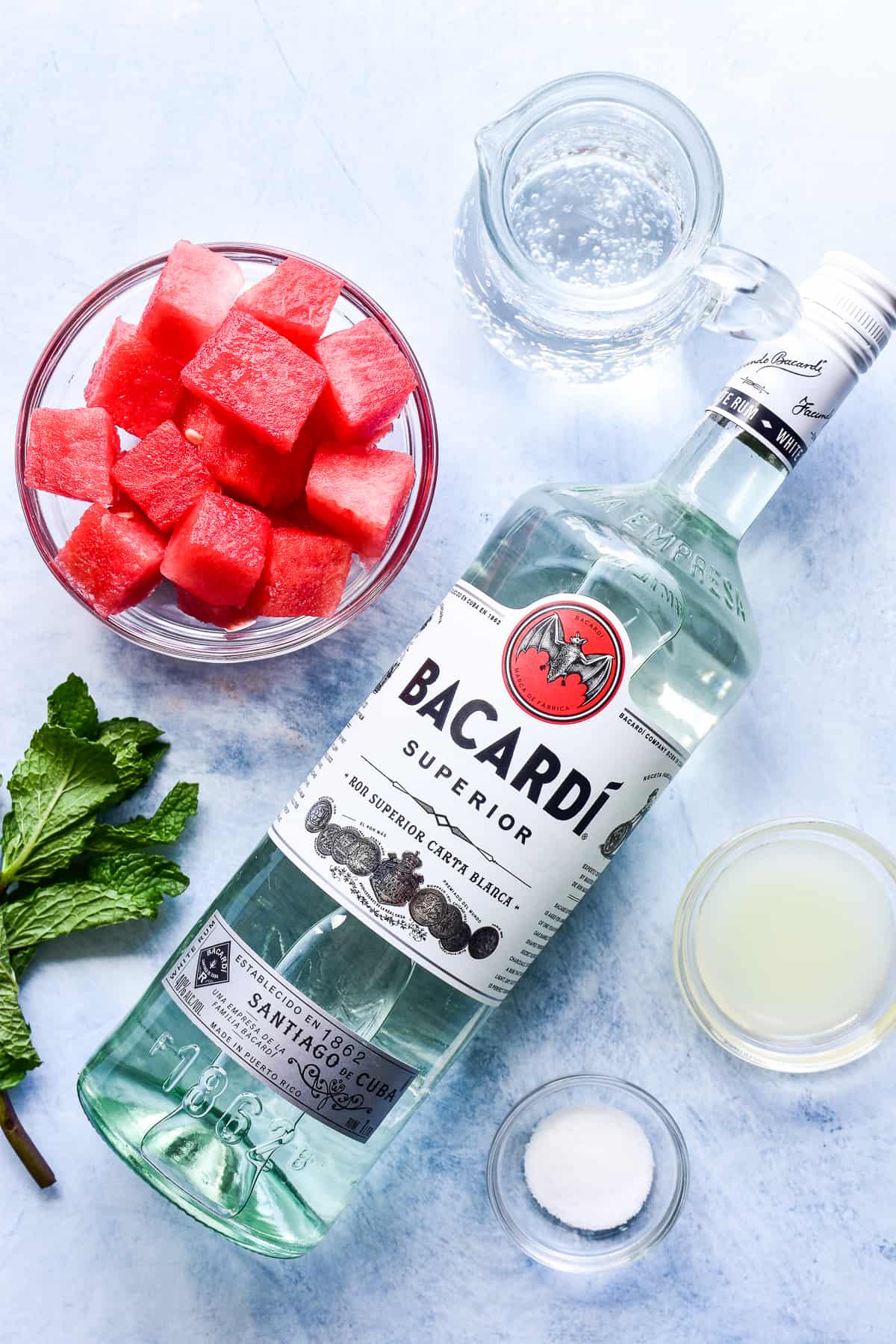 how to make watermelon mojitos
Blend the watermelon. The first step is to make the watermelon juice by cutting your watermelon into ready-to-eat cubes, adding them to a blender, and blending on high until the mixture is smooth. Since each drink only uses 2 ounces of watermelon juice, you'll most likely have enough juice for more than one drink.
Muddle the lime juice, sugar and mint leaves. The next step is to muddle the lime juice and sugar together, then add in the mint leaves and gently muddle some more. PRO TIP: I always "slap" the mint leaves between my hands to release the oils before adding them to a mojito. Slapping them works just the same as muddling them, but doesn't destroy the leaves and leave little pieces floating in your drink.
Add ice, rum, and watermelon juice. Next add ice (about 2/3 full), rum, and watermelon juice.
Top with seltzer; stir & garnish. Top the mojito off with seltzer and gently stir, then garnish with mint leaves and a fresh watermelon wedge.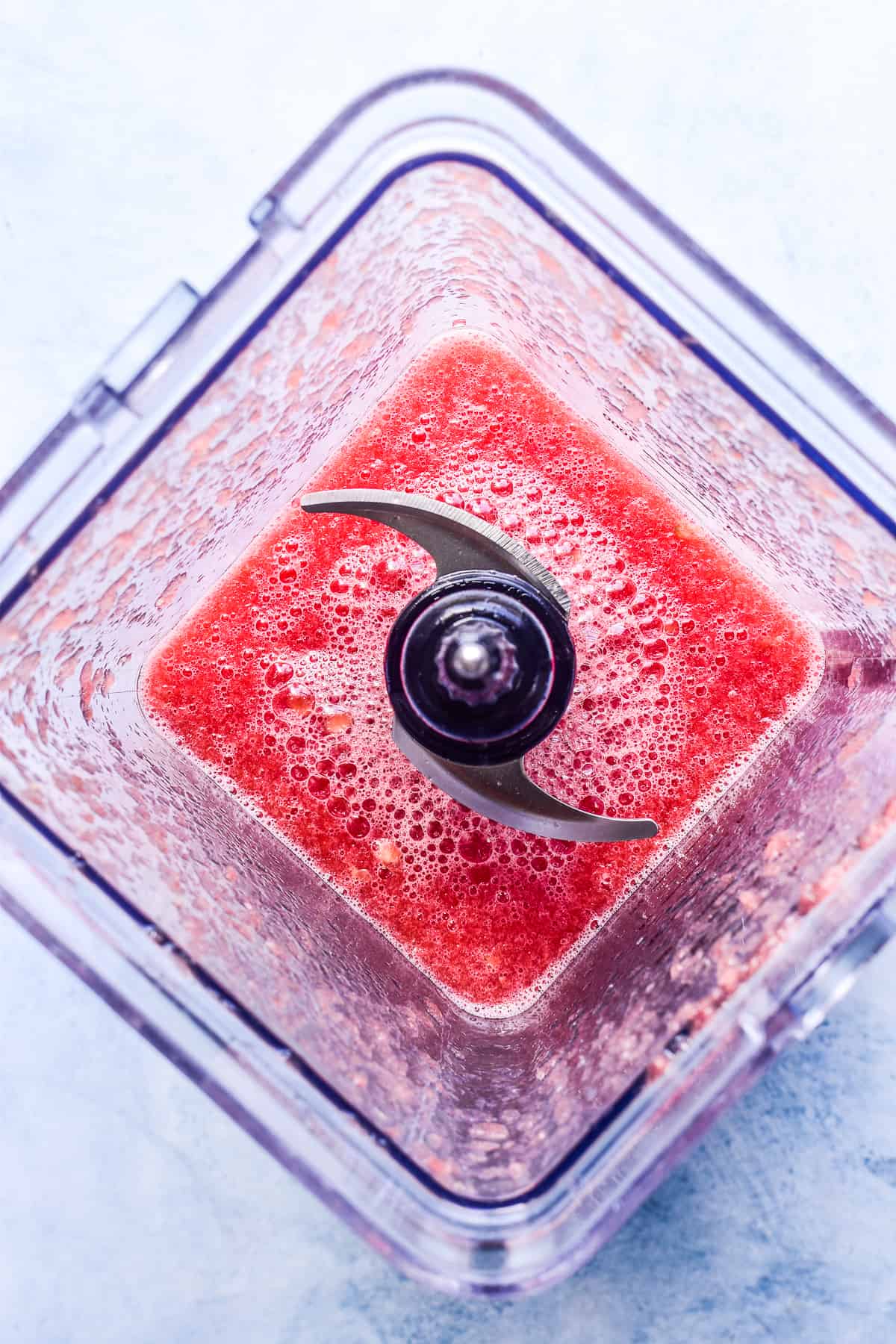 what we love about this recipe
We LOVE this recipe because it literally couldn't be more perfect for summer! Everyone loves a mojito, and this watermelon version is a fun and refreshing twist. It's easy to make by the glass or pitcherful and perfect for your next summer gathering!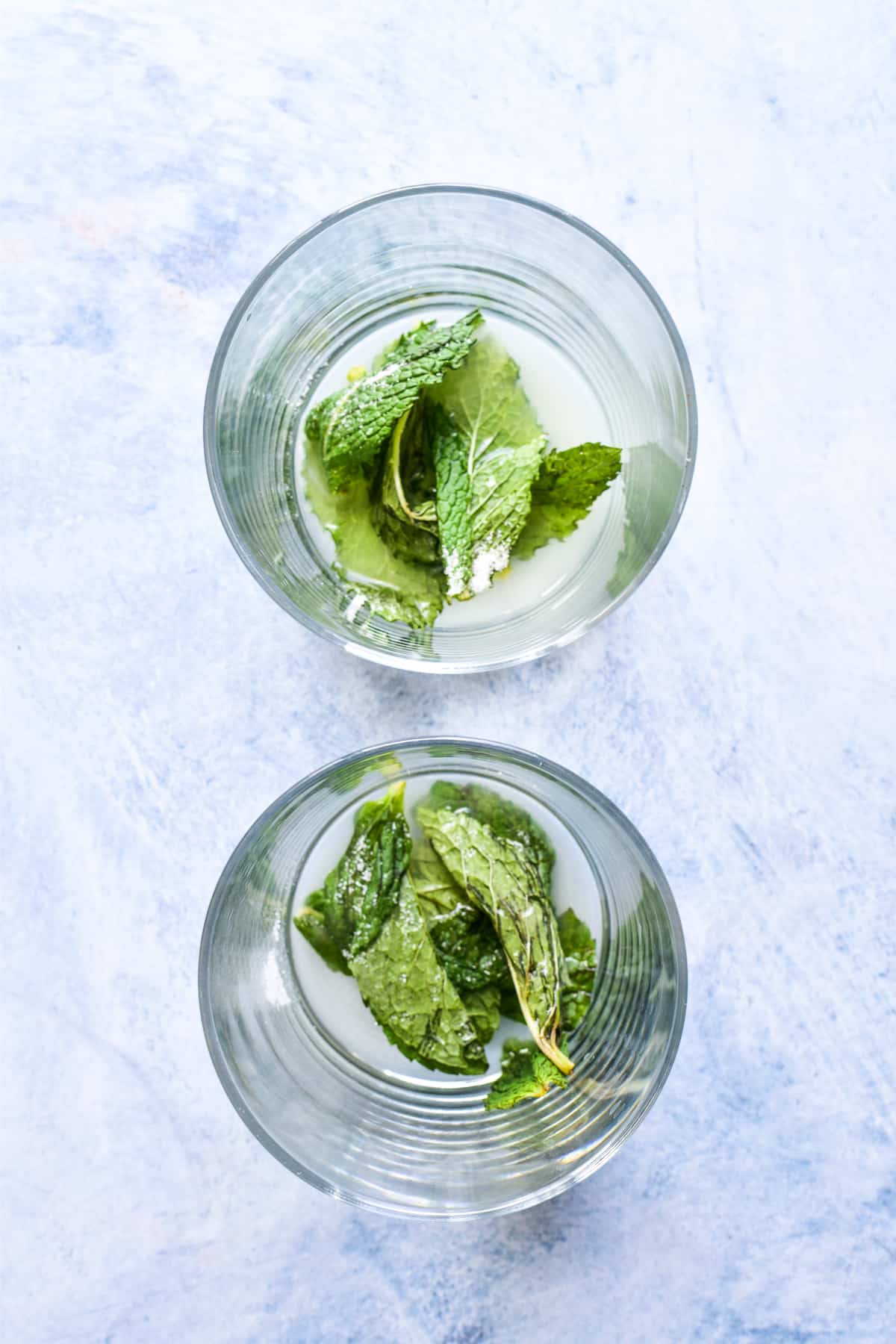 Recipe Variations
Use your favorite flavored white rum
Swap out lemon juice for the lime juice
Adjust the amounts of rum or watermelon juice according to your tastes
Use Sprite instead of club soda for extra sweetness
Substitute agave or simple syrup for the sugar
Use a combination of watermelon and honeydew melon or cantaloupe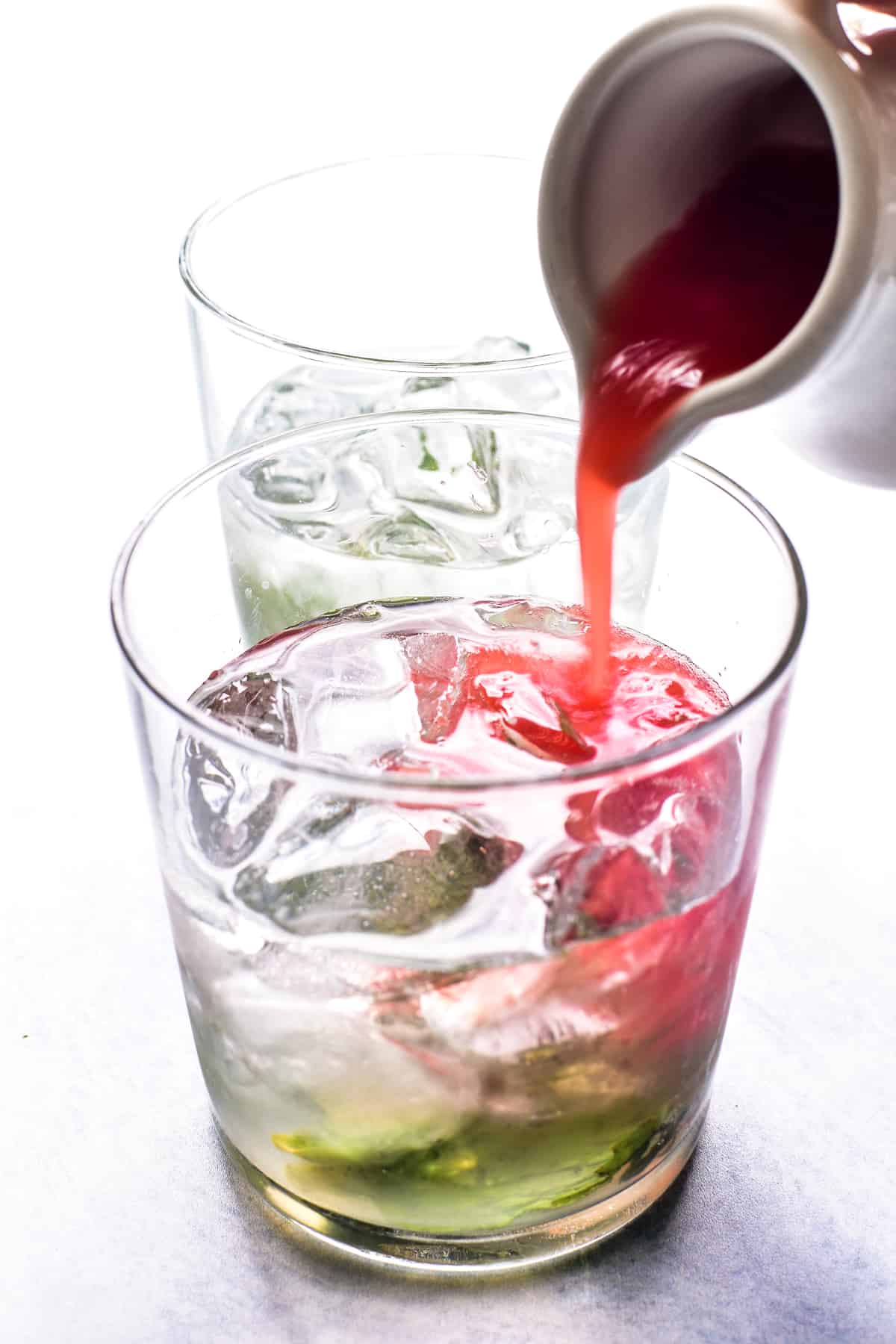 more mojito recipes you'll love
If you're anything like me (always looking for a fun new twist) you'll love these other twists on a classic!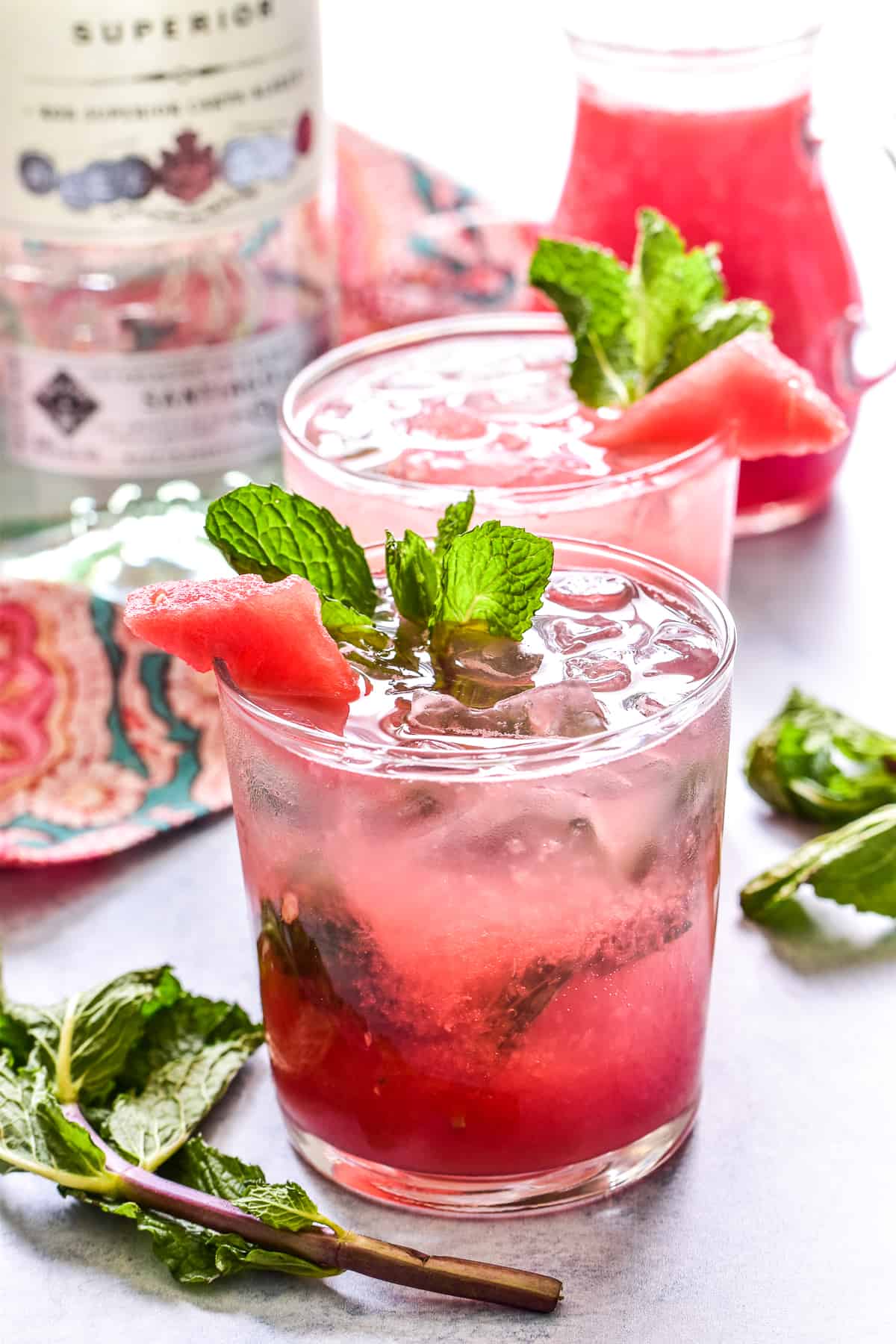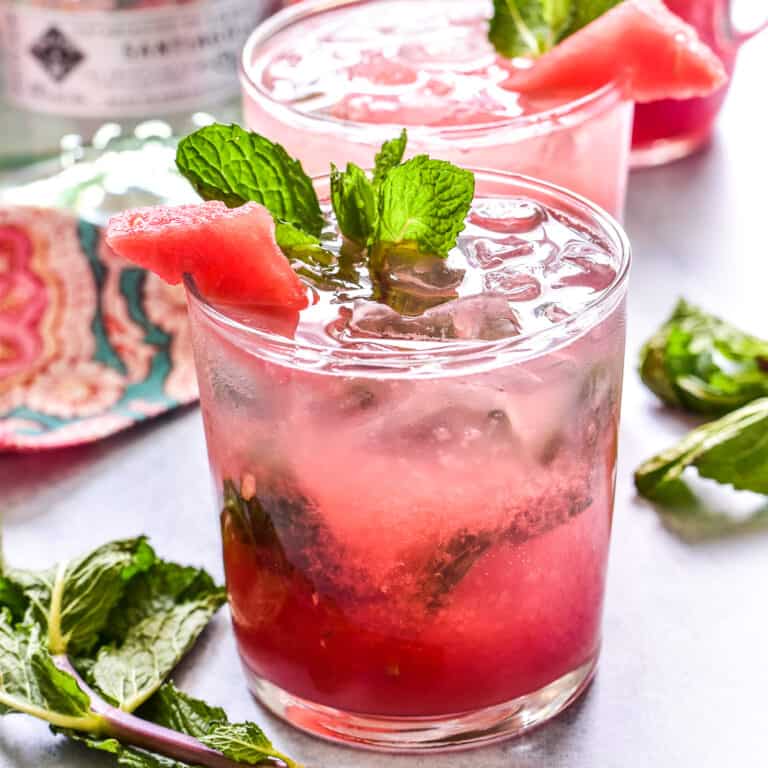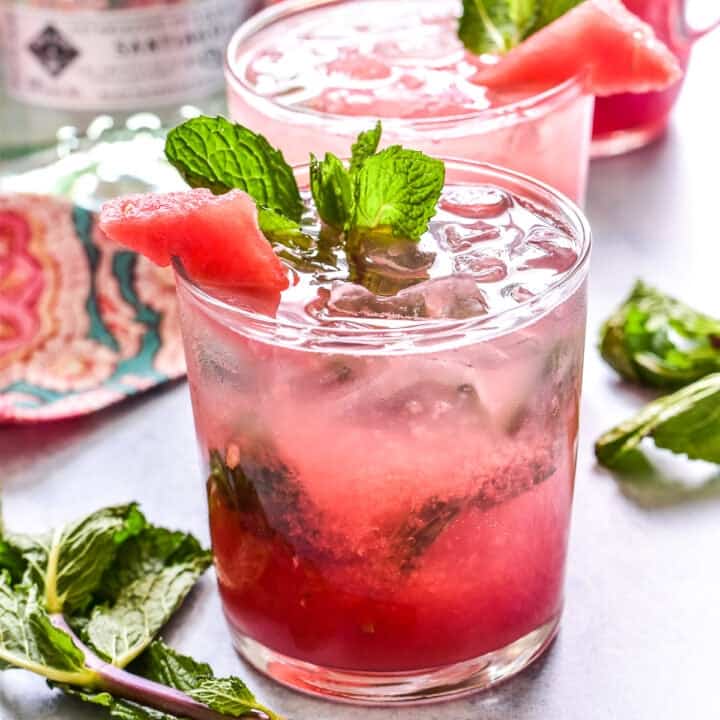 Watermelon Mojito
Say hello to your new favorite... Watermelon Mojitos! Made with fresh watermelon, mint, lime juice, and white rum, watermelon mojitos are a deliciously refreshing cocktail that's perfect for summer sipping!
Ingredients
1 teaspoon granulated sugar
1/2 Tablespoon lime juice
5 fresh mint leaves
2 ounces white rum
2 ounces watermelon juice
club soda
watermelon wedge, for garnish
fresh mint, for garnish
Instructions
Cut the watermelon into 2 inch pieces. Add to a blender and blend on high until smooth. Set aside.
In an 8-10 ounce glass, combine the lime juice and granulated sugar and mix to dissolve the sugar.
Slap the mint leaves several times between your hands, then add them to the glass with the lime juice and sugar. Muddle together gently using a muddler or the end of a wooden spoon.
Add ice about halfway full, then add the rum and watermelon juice.
Top with club soda and garnish with a watermelon wedge and fresh mint.
Notes
Recipe Variations
Use your favorite flavored white rum
Swap out lemon juice for the lime juice
Adjust the amounts of rum or watermelon juice according to your tastes
Use Sprite instead of club soda for extra sweetness
Substitute agave or simple syrup for the sugar
Use a combination of watermelon and honeydew melon or cantaloupe
Nutrition Information:
Yield:

1
Serving Size:

1
Amount Per Serving:
Calories:

282
Total Fat:

1g
Saturated Fat:

0g
Trans Fat:

0g
Unsaturated Fat:

1g
Cholesterol:

0mg
Sodium:

31mg
Carbohydrates:

37g
Fiber:

6g
Sugar:

27g
Protein:

4g