Jazz up your summer fruit salad with the taste of mojitos!! This Mojito Fruit Salad combines the best summer fruits with lime juice, simple syrup, and fresh mint in a fun fruit salad that's sure to become a new favorite!
Perfect for picnics, cookouts, or summer parties, this recipe is easy to make and always a hit.
Keep it kid-friendly or add a splash or rum for an adults-only gathering. No matter how you make it, everyone is sure to LOVE the bright, refreshing flavor of this delicious Mojito Fruit Salad!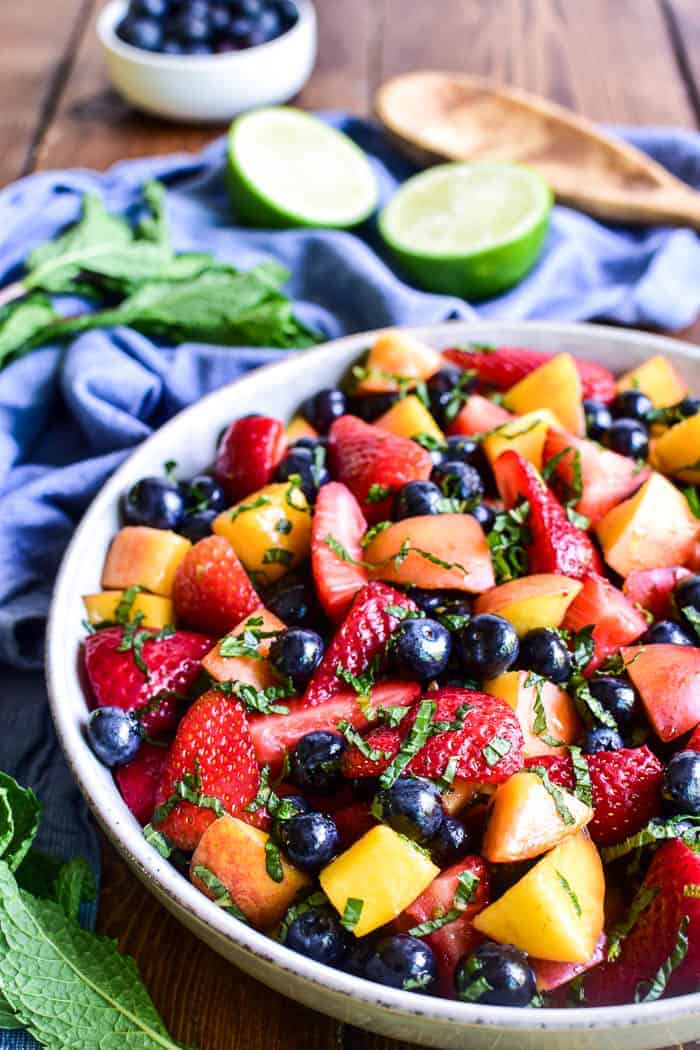 Fruit Salad! It's one of my very favorite parts of summer.
I distinctly remember when I first "discovered" it as a kid and suddenly wanted to make it ALL the time. I would ask my mom to buy as many different kinds of fruit as she could find, and then I'd spend my day peeling, chopping, and slicing it to make a delicious, GIANT fruit salad.
And as an adult? Nothing really has changed! I still love my fruit, and I'm always up for a good salad. And when you combine the two? That's my perfect summer. In a bowl.
Fruit Salad makes an ideal breakfast, snack, side dish, or even dessert…and it's especially amazing when you combine it with fresh mint, lime juice, and simple syrup in this delicious Mojito Fruit Salad.
It's easy to make ahead, easy to transport, and one of those dishes people can't help but fall in love with. In other words, it's the perfect side dish to bring to your next summer gathering…whatever that may be.
Let's get started!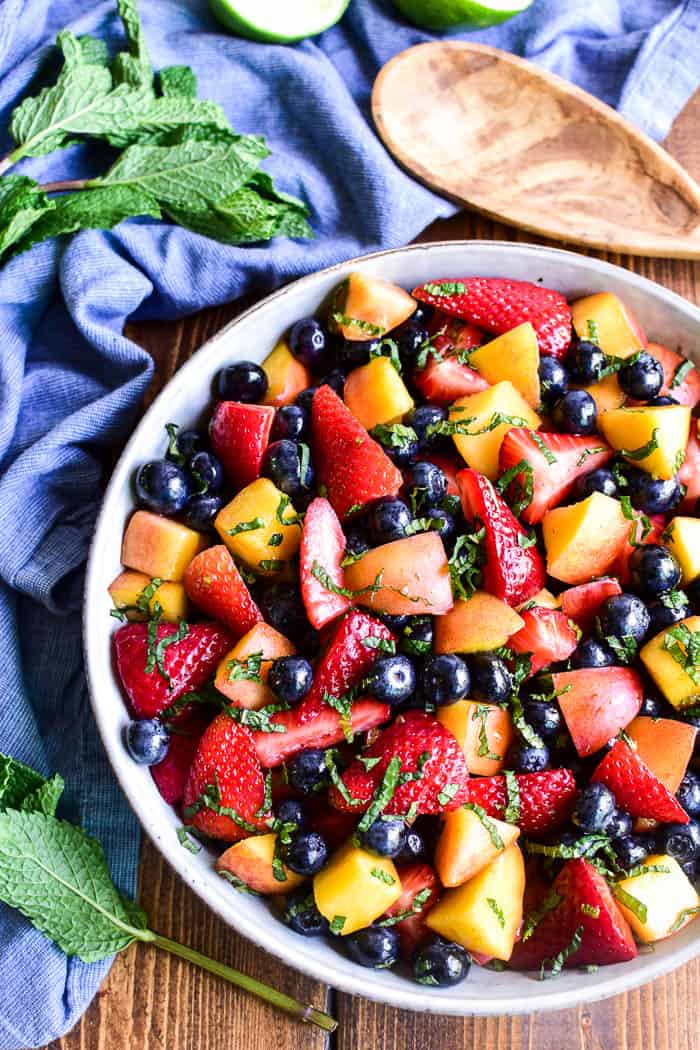 WHAT INGREDIENTS ARE IN THIS RECIPE?
Strawberries
Blueberries
Peaches
Fresh mint
Sugar
Lime juice
HOW DO YOU MAKE MOJITO FRUIT SALAD?
Chop strawberries and peaches into bite sized pieces.
Combine fruit in a large bowl. Add fresh mint.
Add lime simple syrup and toss to coat.
Serve & enjoy!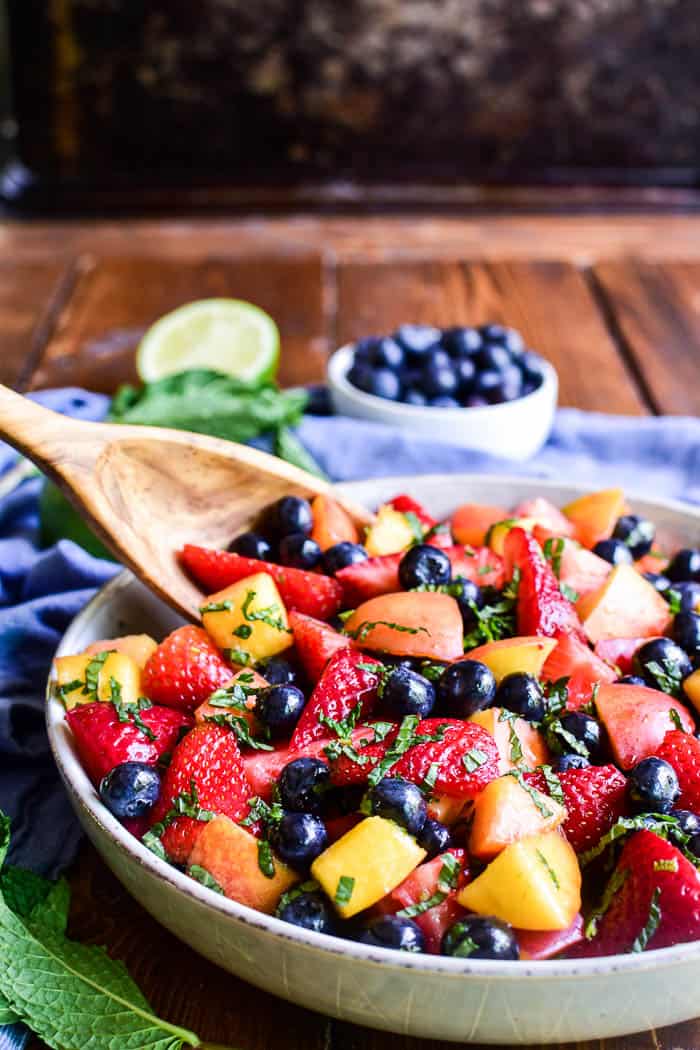 DOES MOJITO FRUIT SALAD HAVE ALCOHOL IN IT?
The basic recipe does NOT call for alcohol, so it's completely family-friendly and safe for kids. Of course, if you'd like to add a splash of white rum to the mix for an adult-only party, feel free!
CAN I USE REGULAR SUGAR IN PLACE OF SIMPLE SYRUP?
Yes. In a pinch, you can use regular sugar in place of the simple syrup. The lime juice and other fruit juices will combine with the sugar to create a type of syrup that will mimic the simple syrup. If you plan to use regular sugar, you may want to make the salad a few hours before serving and let it marinate, stirring occasionally, until the sugar combines with the fruit juices and dissolves.
WHAT ARE SOME OTHER VARIATIONS TO THIS RECIPE?
Substitute fresh basil for mint
Substitute lemon juice for lime juice
Add fresh pineapple, mango, or raspberries
Use mint simple syrup and omit the fresh chopped mint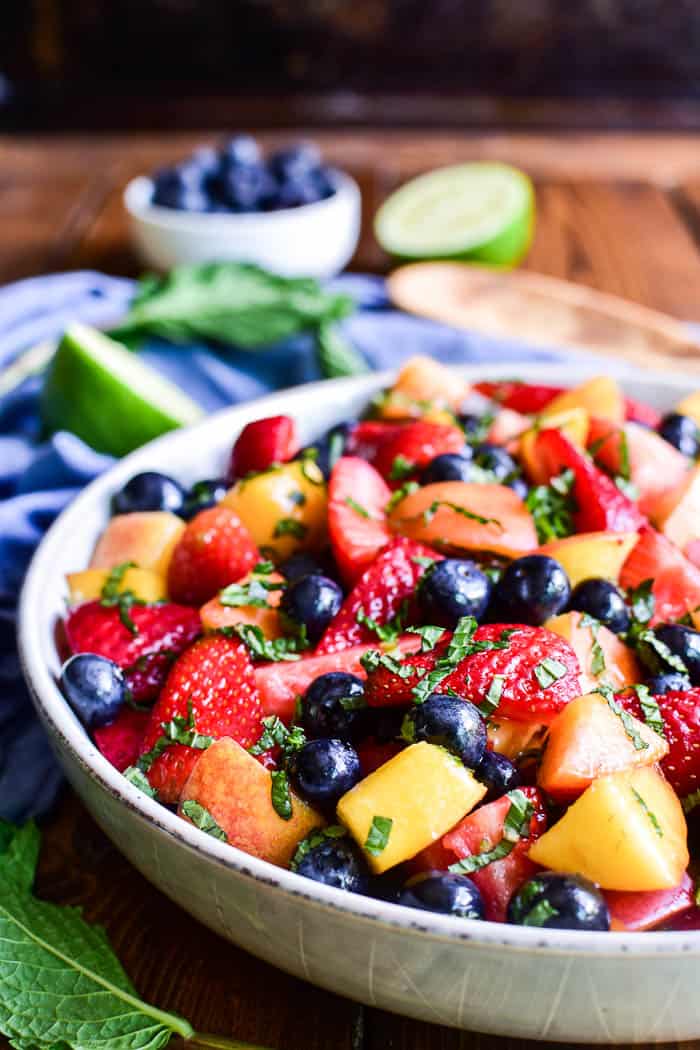 SOME MORE OF OUR FAVORITE SUMMER FRUIT SALADS:
AND A COUPLE WINTER RECIPES, TOO!
Yield: 6
Mojito Fruit Salad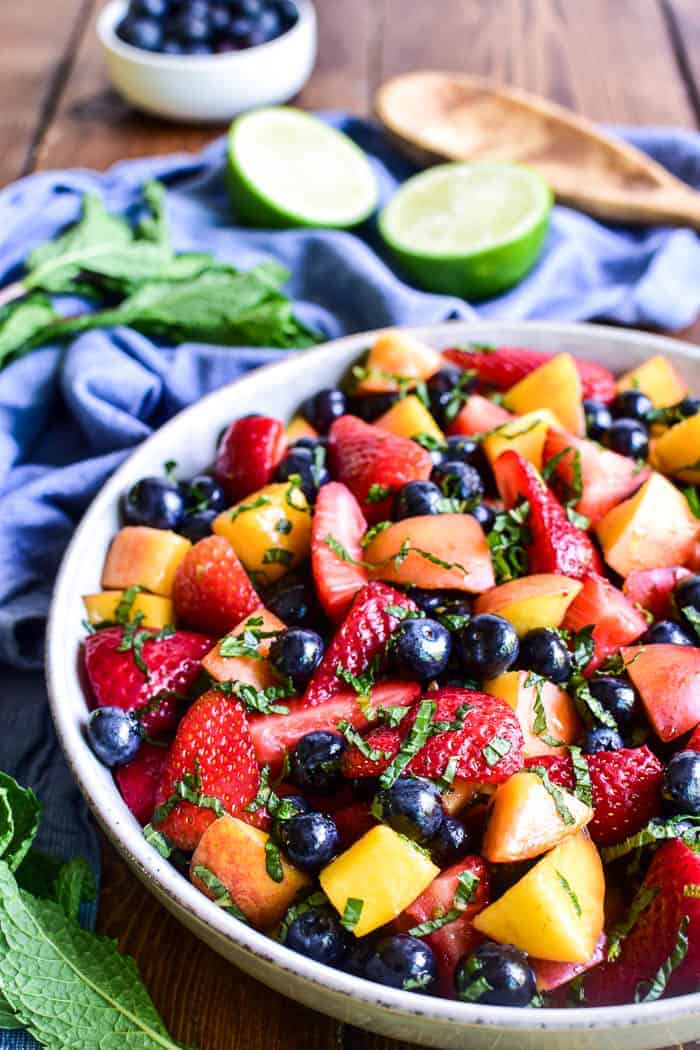 Ingredients
2 c. quartered strawberries
2 c. blueberries
2 c. chopped peaches or nectarines
1/4 c. finely chopped fresh mint
1/4 c. sugar
1 lime
Instructions
Combine fruit in a medium mixing bowl.
In a small saucepan, combine sugar with 1/4 c. water. Bring to a boil, stirring until sugar completely dissolves. Squeeze in lime juice (both halves) and set aside to cool.
Once completely cool, pour simple syrup over fruit.
Add fresh mint and stir to combine.
Nutrition Information:
Yield:
6
Serving Size:
1
Amount Per Serving:
Calories:

115
Total Fat:

1g
Saturated Fat:

0g
Trans Fat:

0g
Unsaturated Fat:

0g
Cholesterol:

0mg
Sodium:

2mg
Carbohydrates:

29g
Fiber:

4g
Sugar:

23g
Protein:

2g