Strawberry Shortcake Sangria is like strawberry shortcake in a glass! Made with whipped cream flavored vodka, Rosé wine, fresh strawberry slices and strawberry simple syrup, it's the ideal summer cocktail recipe!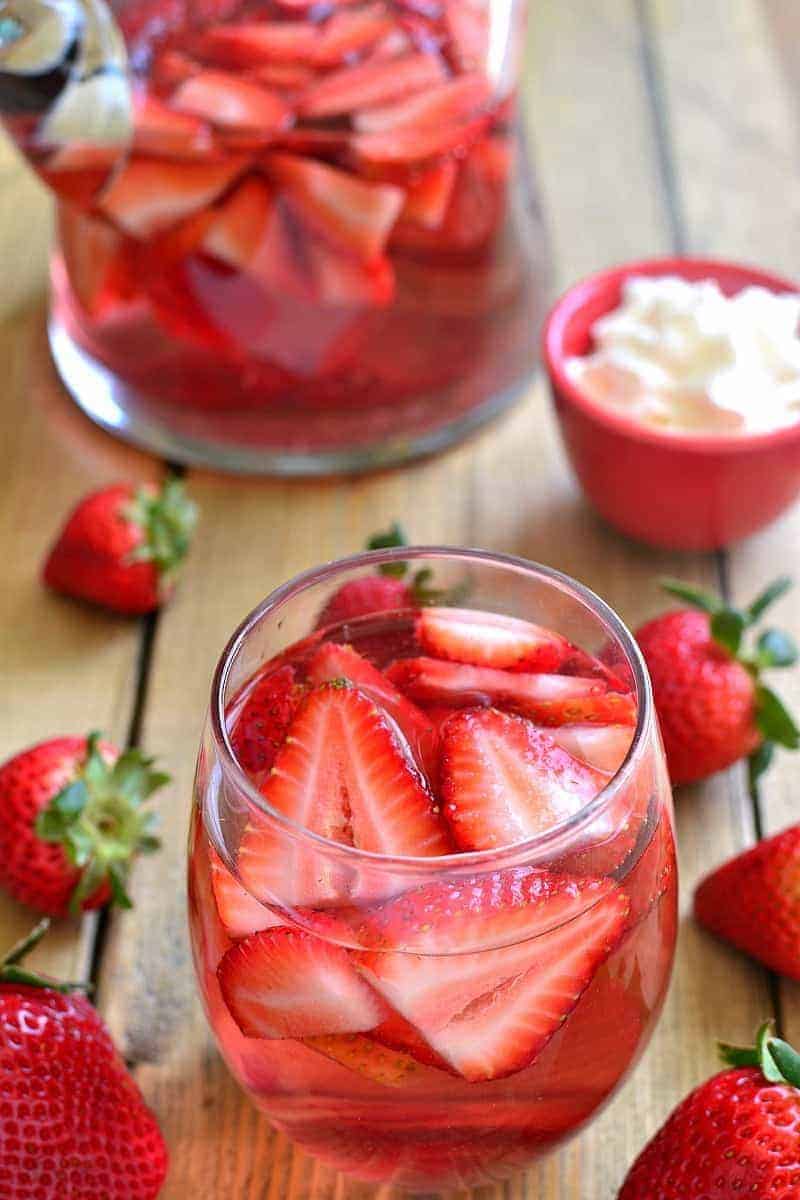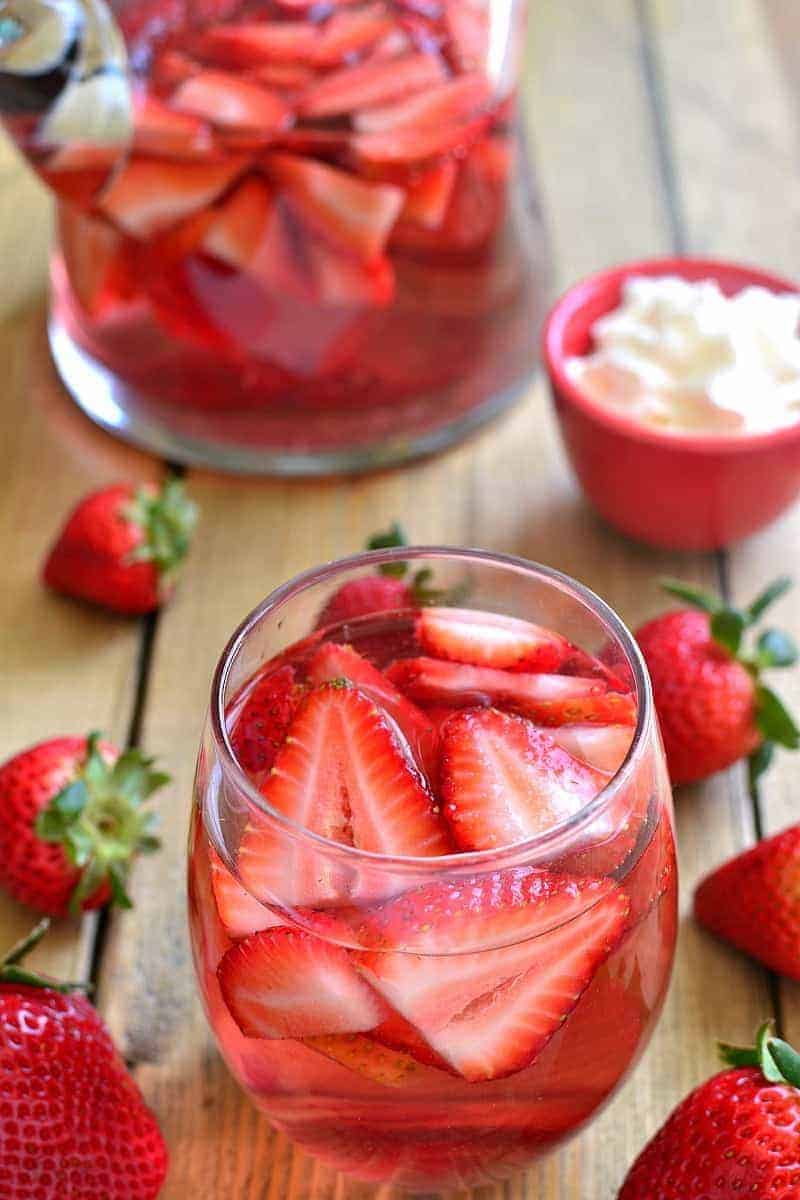 I'm just gonna say it: Being an adult is HARD. Sometimes more than others, but really…always hard. And the older I get, the more I feel it. Sigh. Someone pass me a glass of sangria??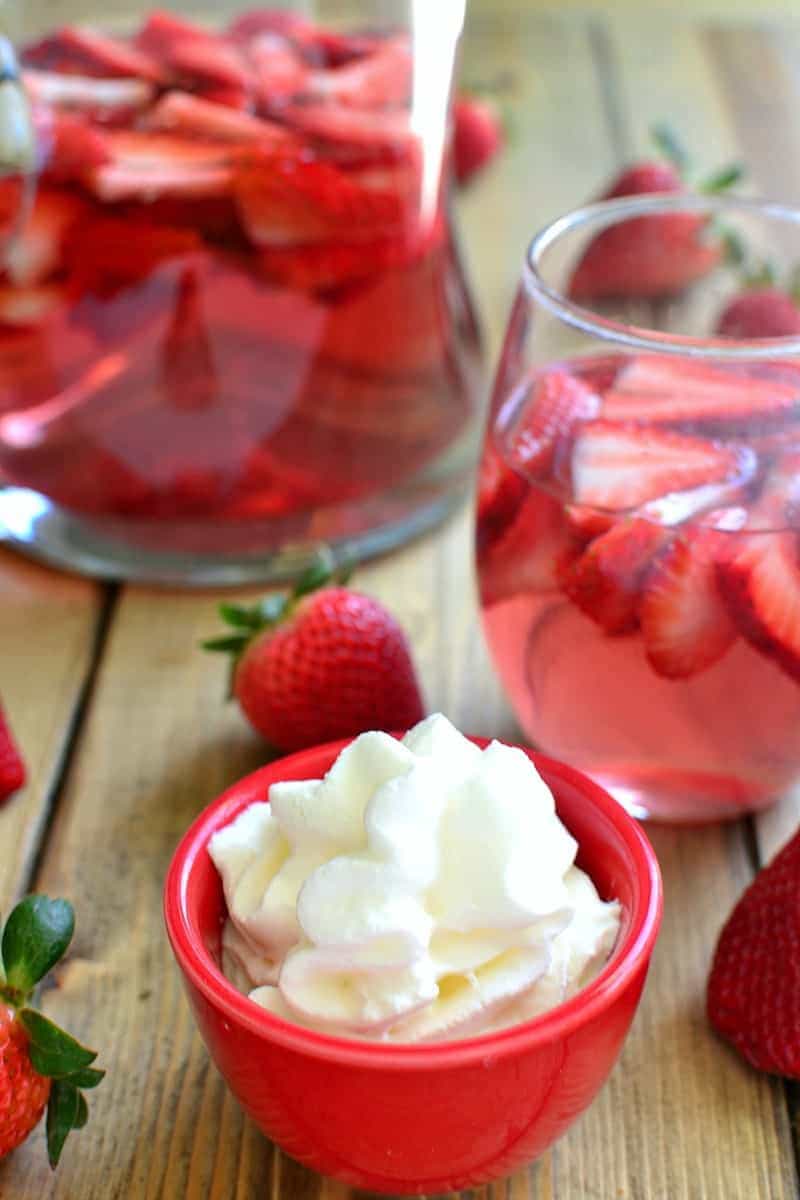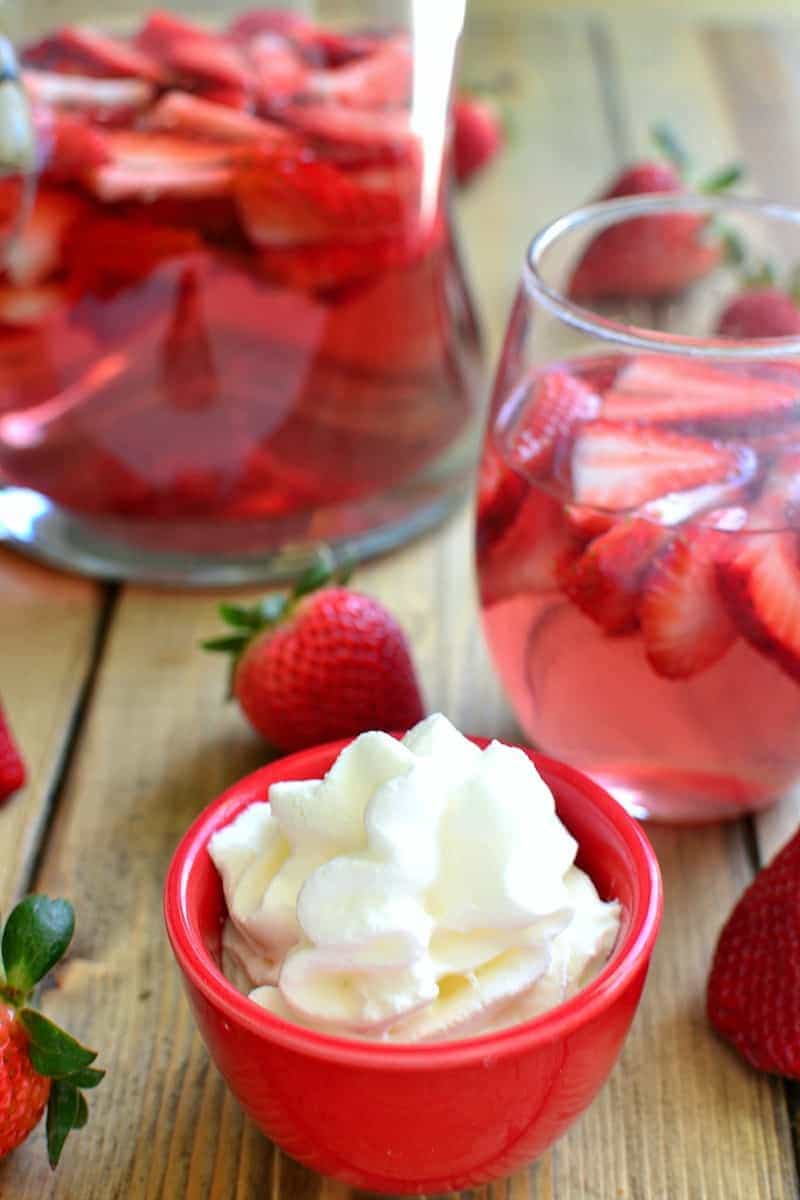 Between day to day responsibilities, hard conversations with your kids, family drama, health concerns, relationship challenges, financial burdens, and worries about what might come to be…it's hard not to feel like the weight of the world is on your shoulders.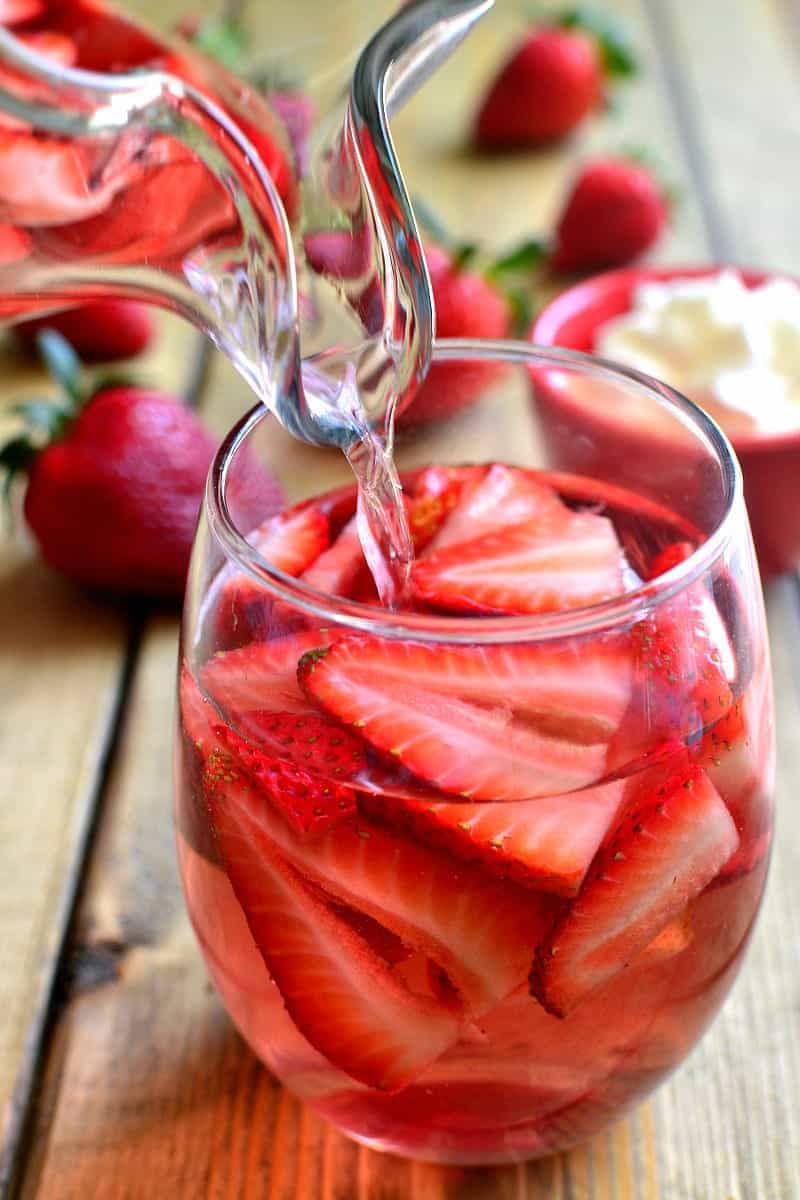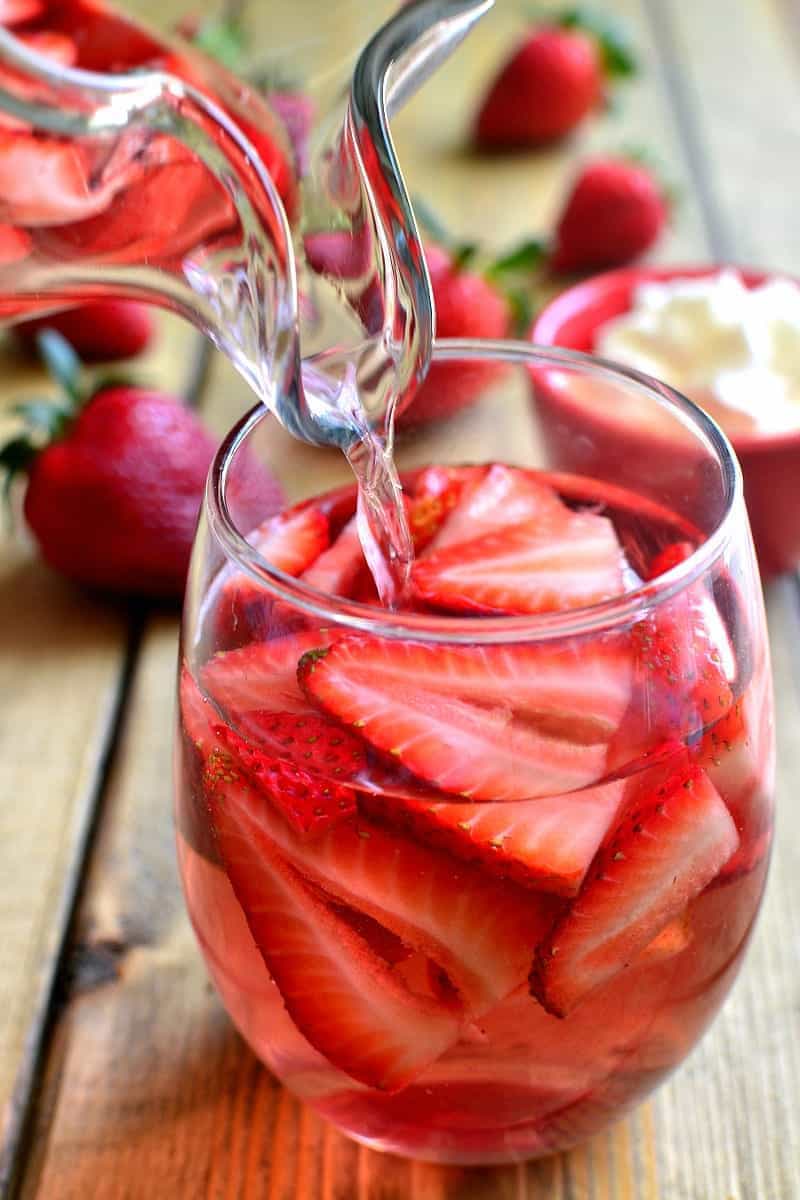 The truth is, I've always been someone who thrives on taking on the weight of the world. When friends and family are struggling, I want them to come to me. And I love the fact that they do! But that doesn't change the fact that it's hard. In a way that makes me long for more simplicity. More ease. More innocence. (I just want to be a kid again…ok!?!?)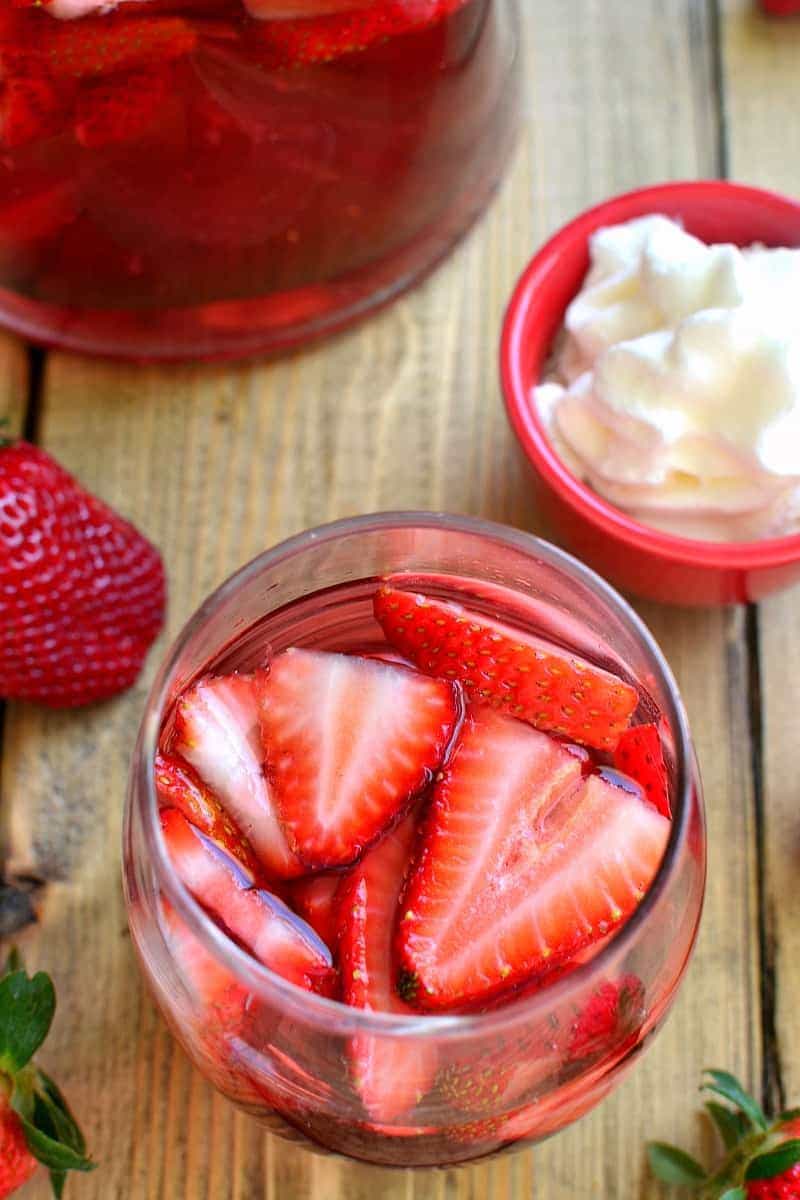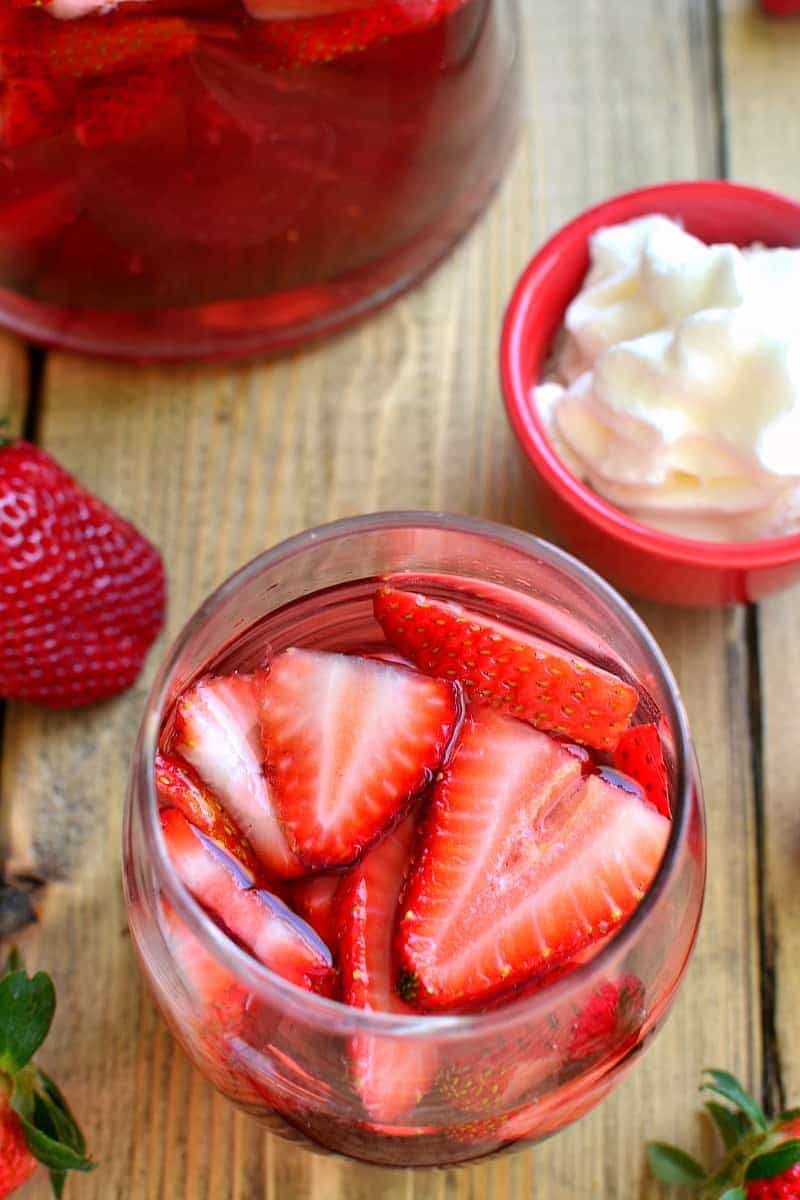 I'm guessing you might be able to relate…which is exactly why I'm about to pour you a glass of this Strawberry Shortcake Sangria. So we can cheers. And commiserate. And pretend we don't have to wake up and do this whole adult thing again tomorrow.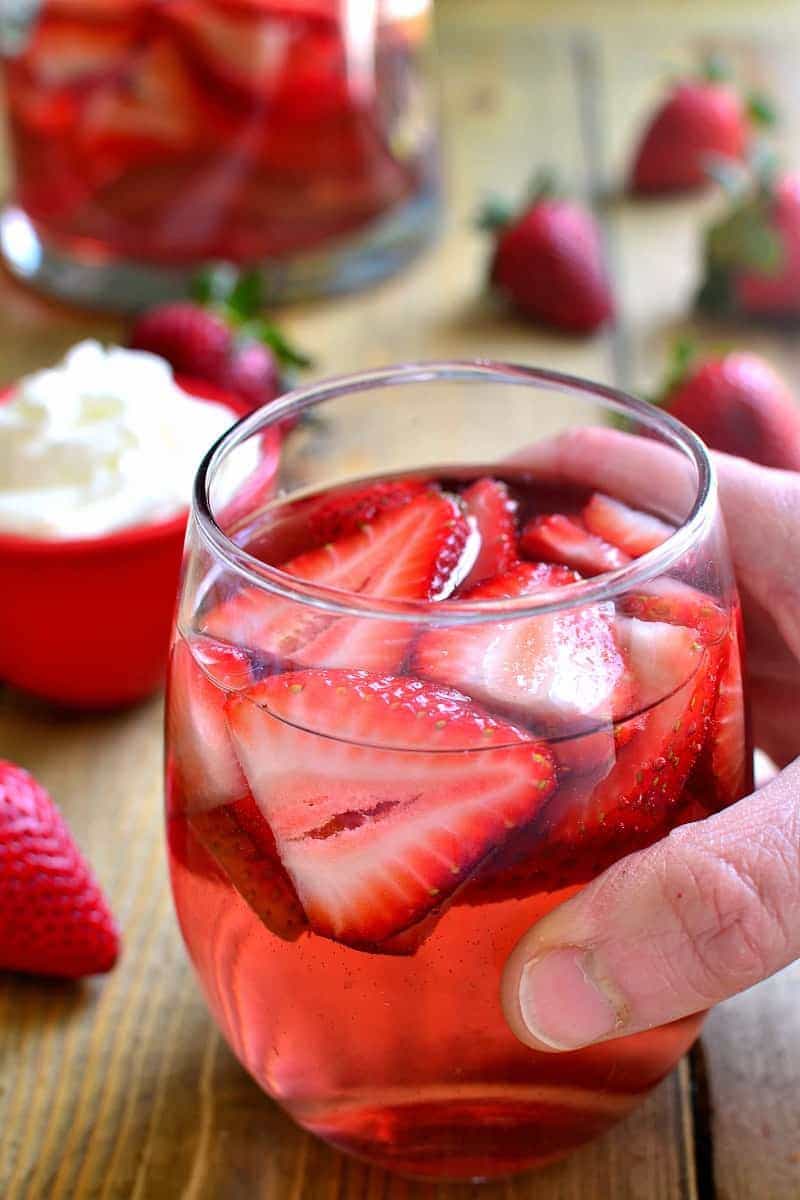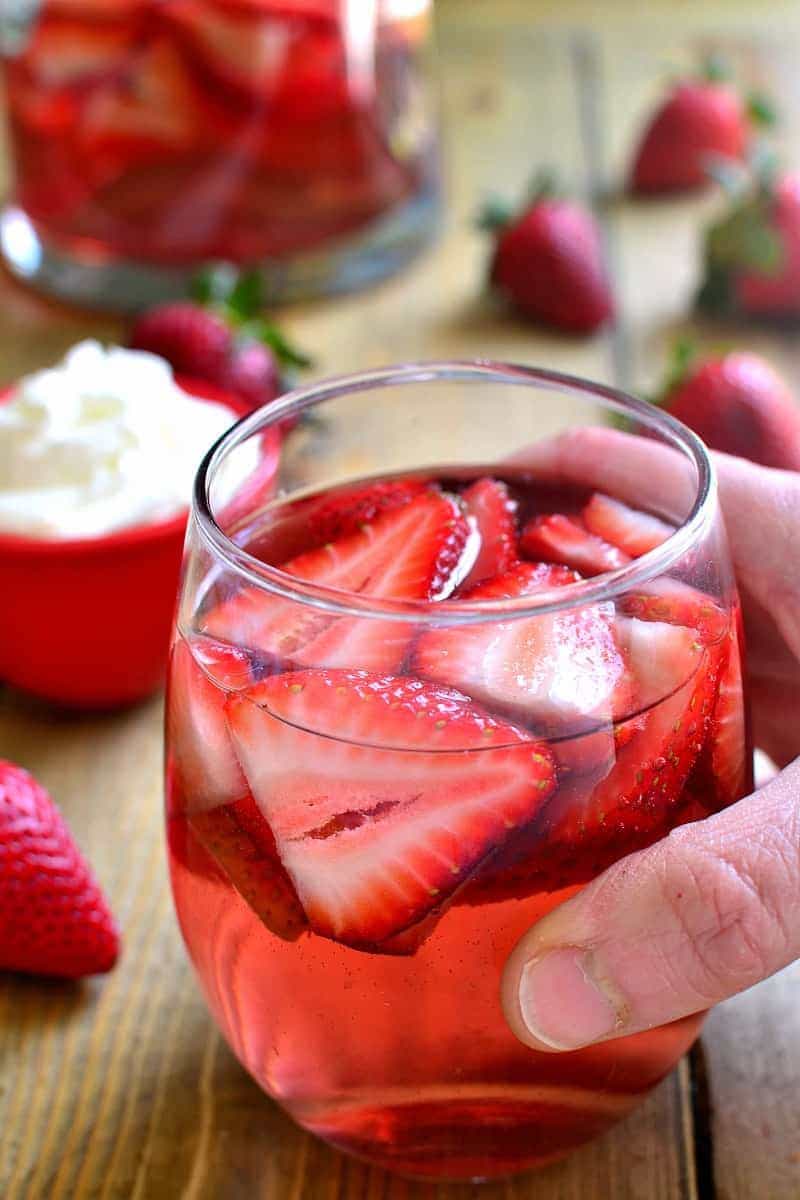 Why strawberry shortcake? I know it's a little bit "different" for sangria. But fitting, right? Because if there's anything that brings me back to simpler times, it's strawberry shortcake. The quintessential summer dessert. Reminiscent of childhood and warm summer nights and playing until parents called you inside. Reminiscent of when life just easy. And if you love strawberry shortcake, what could possibly be wrong with adding the flavors of it to a sangria?
Actually, any of these strawberry shortcake inspired desserts would be perfect to serve along with a strawberry shortcake sangria cocktail: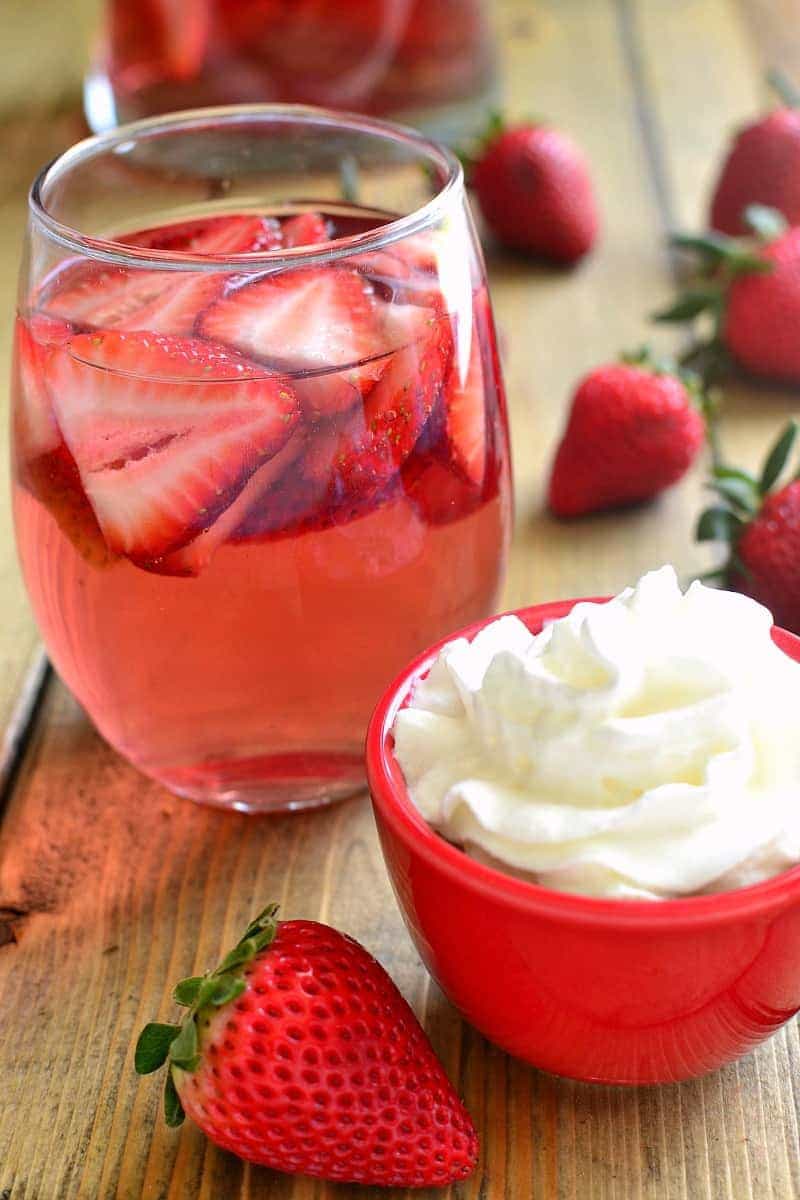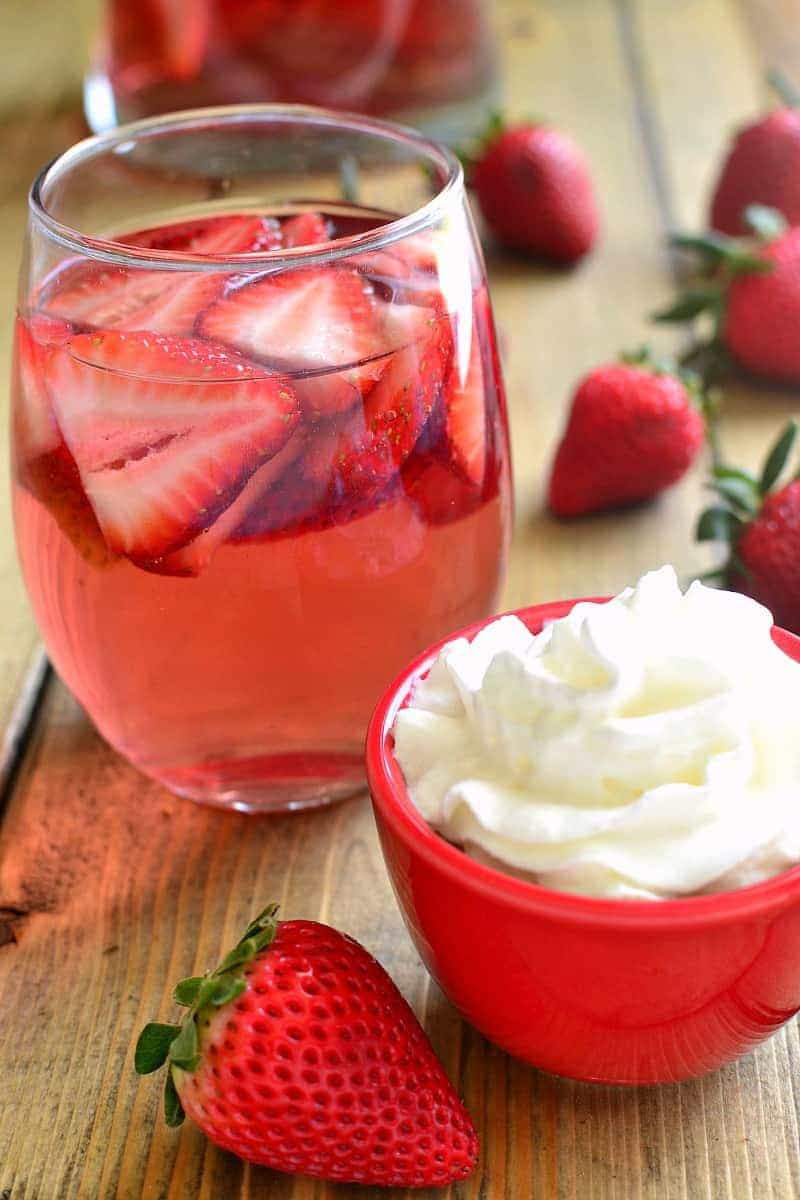 Well, life may not feel easy these days, but if there's one thing I know for sure, it's that a delicious glass of wine sangria makes everything feel a little bit better. And what better way to make things better than by adding the flavors of strawberry shortcake to the wine? Enough said. You need a glass of this summer cocktail, don't you? Happy adulting, my friends!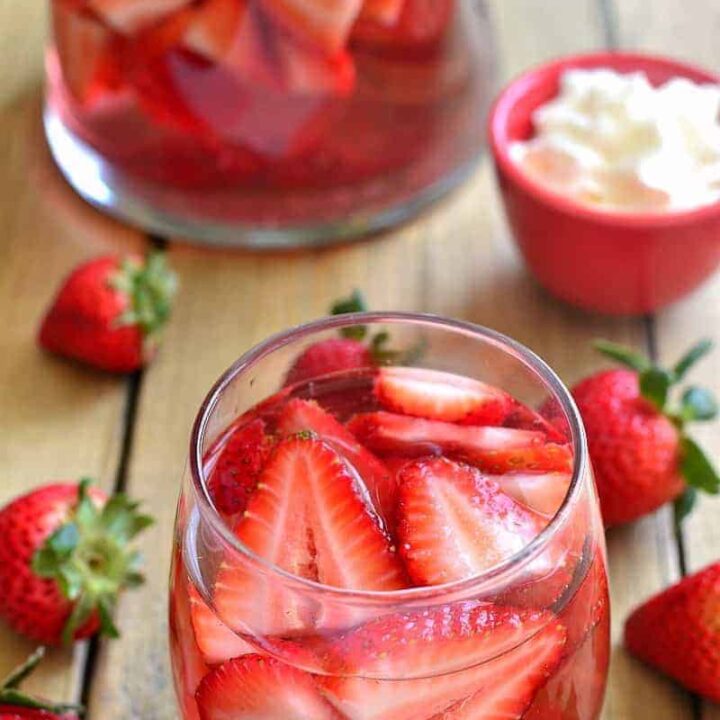 Strawberry Shortcake Sangria
This Strawberry Shortcake Sangria is like strawberry shortcake in a glass! Made with whipped cream flavored vodka and strawberry simple syrup, it's the perfect drink for summer....and Mother's Day!
Ingredients
1 bottle rosé wine
3/4 cup whipped cream flavored vodka
1/4 cup strawberry simple syrup (see recipe below)
1 cup fresh strawberries, sliced
*sparkling water, optional
Instructions
Combine wine, vodka, cooled simple syrup, and fresh strawberries in a large pitcher.
Serve immediately or refrigerate until ready to use.
*For a less sweet sangria, add sparkling water as desired.
Notes
How to make Strawberry Simple Syrup:
In a small saucepan, combine 1/2 c. water, 1/4 c. sugar, and 1 c. sliced strawberries.
Bring to a boil, stirring occasionally until sugar is dissolved.
Remove from heat and muddle strawberries. Cover with a lid and set aside until cool.
Nutrition Information:
Yield:

4
Serving Size:

1 grams
Amount Per Serving:
Calories:

375
Total Fat:

3g
Saturated Fat:

2g
Trans Fat:

0g
Unsaturated Fat:

1g
Cholesterol:

9mg
Sodium:

13mg
Carbohydrates:

50g
Fiber:

1g
Sugar:

48g
Protein:

1g