Roasted Butternut Squash Salad is a perfect addition to your Thanksgiving table. This gorgeous salad is full of tasty fall flavors, comes together quickly and looks beautiful next to your turkey dinner!
On a menu that's full of heavier options like stuffing, mashed potatoes, and gravy, this salad is light, fresh, and so delicious.
Best of all, it's an unexpected flavor combination that's sure to be a hit with your friends and family. Ditch the boring vegetables and mix things up with this fresh new fall salad. Guaranteed to become a holiday favorite!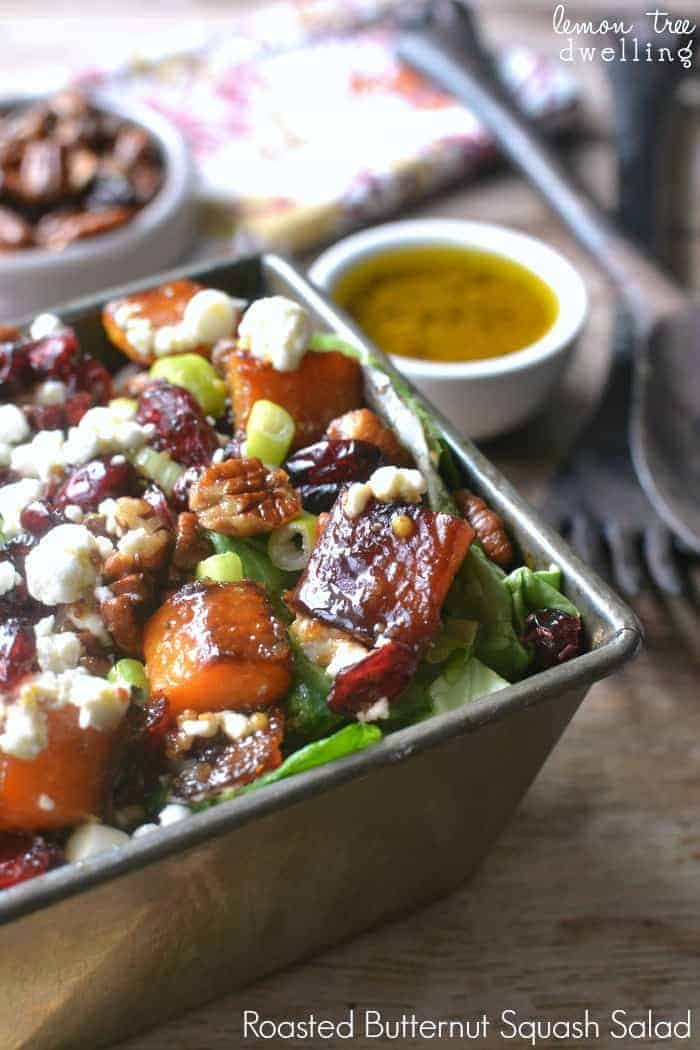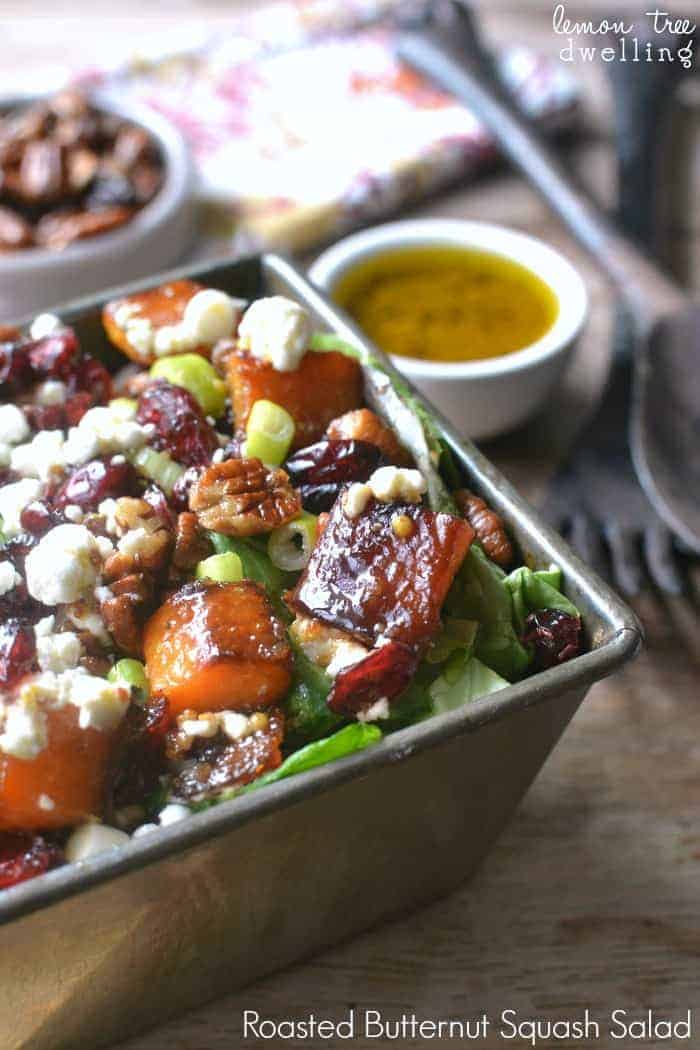 When it comes to bringing food for a holiday meal, I'm most likely bringing salad. Probably because it's something I love to eat, and I love the freshness of it when all the other options are so heavy. In my mind, it's one of the most important parts of the holiday meal!
Well, I've come to learn that I'm pretty much the only one who feels that way. Most people see salad as "filler"… aka the LAST thing you need on an already packed Thanksgiving menu. Sure, people might eat a little bit out of guilt or obligation, but let's be honest. No one's writing home about it.
And even though I know it's true, there's something in me that's bound and determined to change that. Like if I can just bring the right salad, they'll get it! And I'm feeling certain my Roasted Butternut Squash Salad will be it.

What ingredients are in this recipe?
Mixed greens
Butternut squash
Pecans
Olive oil
Brown sugar
Dried cranberries
Crumbled goat cheese
Green onions
Whole grain mustard
Maple syrup
Lemon juice
Salt & pepper
How do you roast butternut squash?
Use a vegetable peeler to peel squash.
Cut off top and bottom; cut squash in half lengthwise.
Remove seeds and cut into cubes.
Season as desired.
Spread squash on rimmed baking sheet and roast at 400° 15-20 minutes.

How do you make Butternut Squash Salad?
Prepare squash & pecans according to recipe (see above for how to roast butternut squash).
Let squash cool.
Assemble salad by combining mixed greens, squash mixture, dried cranberries, goat cheese, and green onions.
Prepare vinaigrette in a small container with a lid. Shake well.
Pour dressing over salad just before serving.
What goes well with it?
This salad pairs well with any fall, winter, or holiday menu. I would suggest serving it with the following:
Turkey
Green Bean Casserole

Can you make it in advance?
Yes! To make this salad in advance, I would recommend roasting the butternut squash and pecans according to recipe instructions, and then refrigerating them until ready to use. You may want to bring them back to room temperature before serving.
You can also assemble the rest of the salad in advance; however, I would recommend waiting to add the butternut squash and the vinaigrette until just before serving.
How do you store leftovers?
Leftovers should be stored in an airtight container in the refrigerator.
NOTE: Once you have added vinaigrette to the salad, it will really only last 1 day in the refrigerator. If you plan to have leftovers, you may want to serve the salad separately and allow guests to add their own dressing as desired.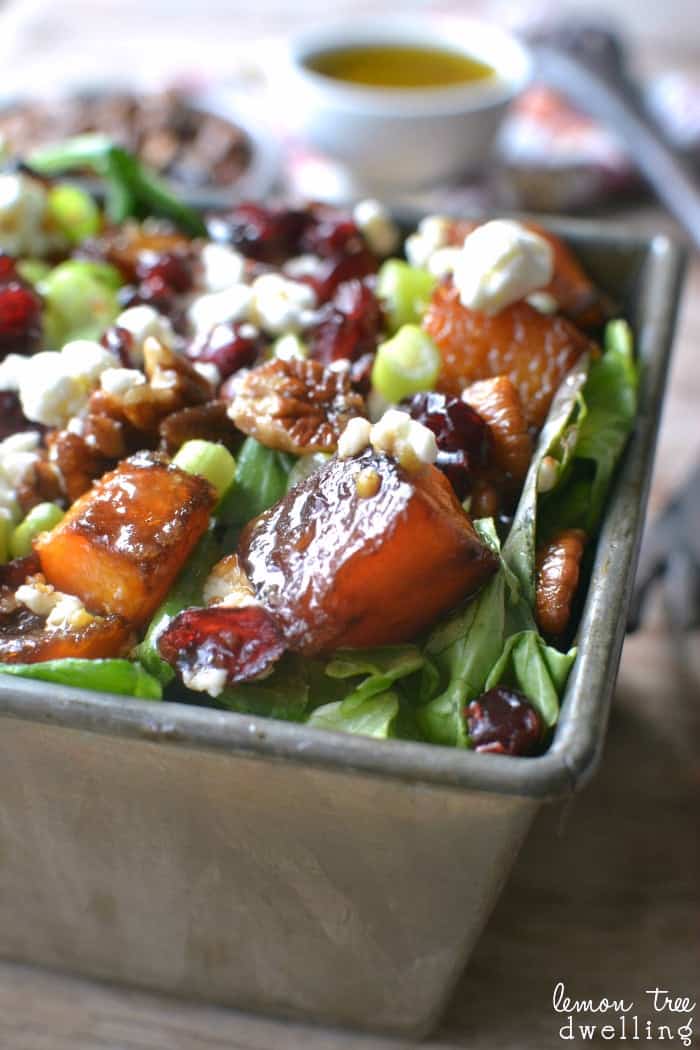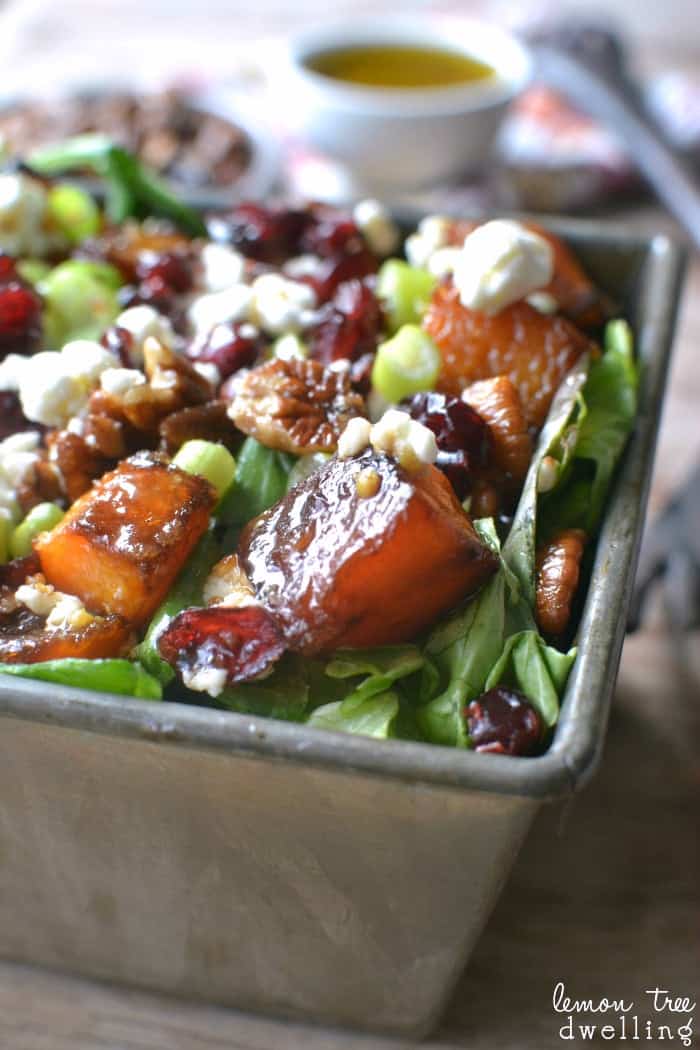 You might also enjoy these butternut squash recipes!
And if you're looking for more holiday salad ideas, here are some favorites!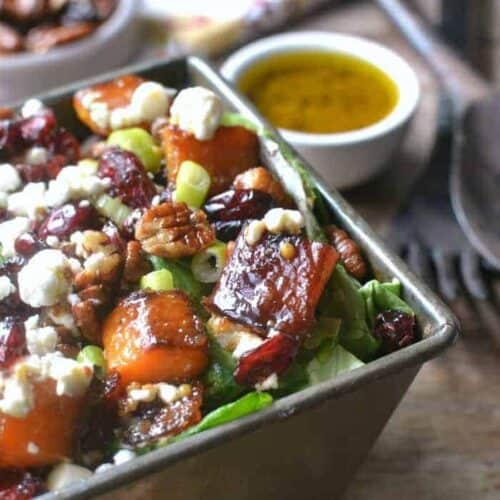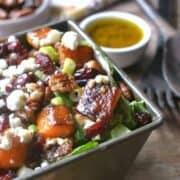 Roasted Butternut Squash Salad
Ingredients
10

oz.

mixed greens

2

c.

cubed butternut squash

1

c.

pecans

2

Tbsp.

olive oil

1/4

c.

brown sugar

1/2

c.

dried cranberries

1/2

c.

crumbled goat cheese

2

green onions

sliced
Maple Mustard Vinaigrette (combine all ingredients and mix well)
3/4

c.

olive oil

1/2

c.

whole grain mustard

6

Tbsp.

maple syrup

4

tsp.

lemon juice

salt & pepper

to taste
Instructions
In a medium mixing bowl, combine squash, brown sugar, and 2 Tbsp. olive oil.

Spread on rimmed baking sheet and roast at 400 degrees 15. Add pecans and roast for an additional 5 minutes.

Remove from oven and cool on pan.

Assemble salad by topping mixed greens with squash mixture, dried cranberries, goat cheese, and green onions.

Drizzle with maple mustard vinaigrette.


Here's another delicious salad option for you!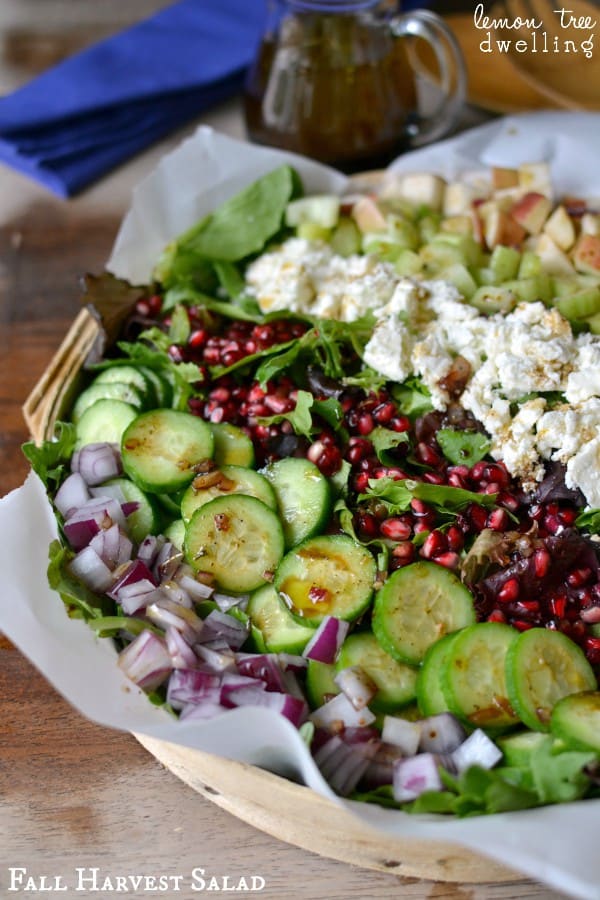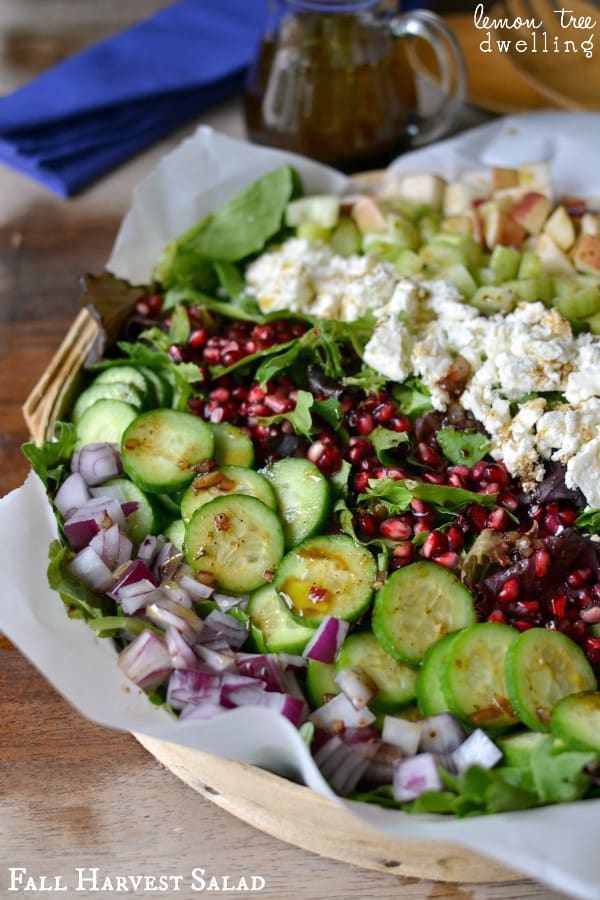 Follow me on Pinterest for more wonderful recipes!